Entries by Joel


Sticky: Please sign the guestbook so that we know you've been here! We'd love to hear from u!


Wednesday, 31 December 2008 - New Year Eve Countdown!
It's the last day of 2008! Time really flies by in the blink of an eye.

We met up for lunch with Soo Kee for pork chop curry rice @ Yong Siak Street, located in the narrow streets of Tiong Bahru. I didn't even know this place existed until he took us here, haha. The food is pretty good! The curry was spicy (but SK and Lydia said no...), and the pork chop with curry and potatoes were very nice. The price was a bit on the high side, for a coffeeshop lunch. Including drinks, 3 elcairs and fried toufu with minced meat, it came up to $32. Nonetheless, I think we'll eat here once in a while cos it really is nice. Heh, Soo Kee said he misses the Tiong Bahru area...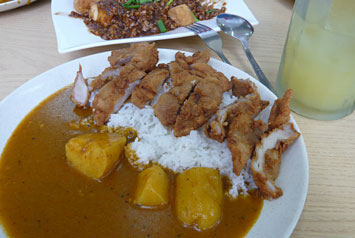 Pork chop curry rice! Yummy!

We went back to our home later as Soo Kee needed to get online to take his PMP (Project Management Professional) exam by end of 2008... which is today, haha! By the time he was done, it was time for our dinner appointment with the rest of our TP friends. Venue: Coca Restaurant @ International Building (Orchard).

Hmm, some of the guys couldn't make it and in the end, it was us, Soo Kee, Desmond and Sherry. Ironically, the one who suggested to have steamboat dinner followed by karaoke isn't here! Anyway, we still had a good time eating and chatting and enjoying steamboat cooking.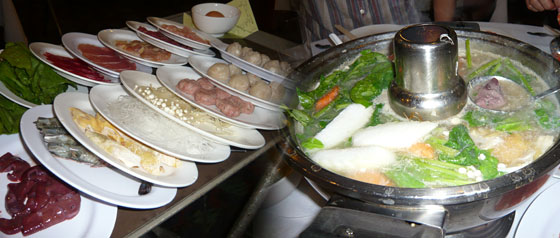 Steamboat dinner! The soup was very tasty!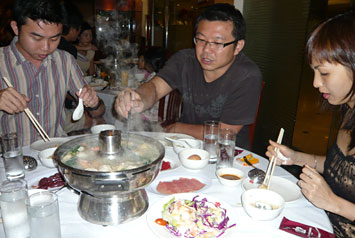 Fellowship of the Steamboat...

After dinner, now that there's only 4 of us (Desmond left earlier), I managed to persuade Soo Kee to go watch fireworks instead of karaoke, heehee! We parked at Riverwalk before making our way to The Central for ice cream, and then to Boat Quay and finally to Marina Boulevard's open field. where it was less crowded (thousands still...) and provided an excellent and unobstructed view of Marina Bay, where the fireworks will be. Only minus point is the dusty ground which we gingerly thread through and found ourselves a good spot.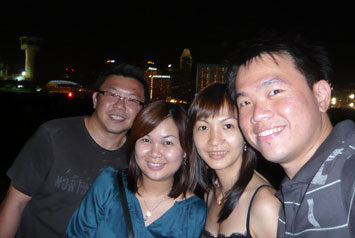 Soo Kee, Sherry, Lydia, Joel

At the stroke of midnight, the skies above Marina Bay were illuminated by a dazzling array of fireworks of all colors and "patterns"! It was really beautiful and awesome!! Woo hoo!! Happy New Year!!!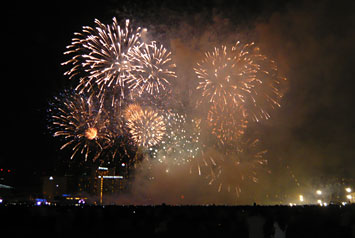 "The skies over Marina Bay have been illuminated..."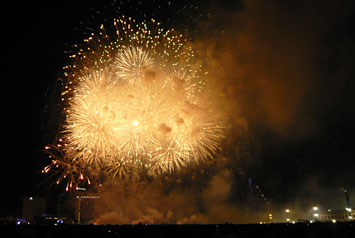 Awesome fireworks for NYE2008!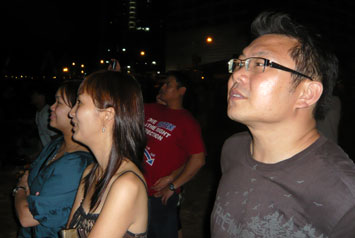 Watching the dust of 2008 and the dawn of 2009!


Sunday, 28 December 2008 - A Good Weekend @ Sentosa
It's always nice to sleep on fluffy white hotel pillows and bedsheets, and of course the bed. :)

We dragged outselves off the bed and had breakfast at 10am. The hotel had a splendid landscaped swimming pool, but it's a pity we didn't have the time to dip in there or to go for another round in the jacuzzi, as we have to check out at 12pm. Late checkout was denied. Hmph. Oh well, it has been a really nice weekend getaway! Sayonara!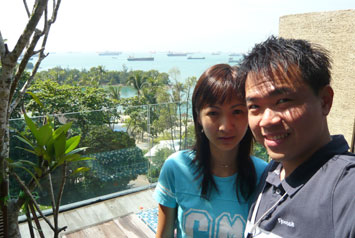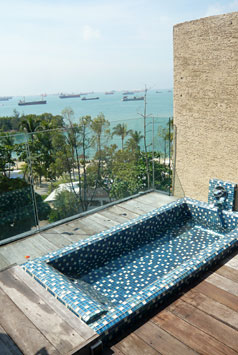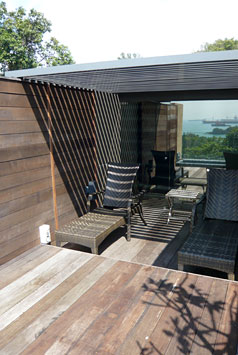 Saturday, 27 December 2008 - 2D/1N @ Sentosa!
Today's my department team building outing at Sentosa! Barely made it just in time to utilise the budget for 2008, heehee! I "volunteered" to organise the event after I asked my boss if we would be having one this year, haha.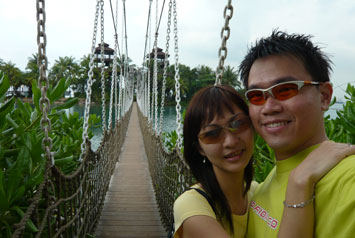 Bridge to Southern Most Point @ Sentosa

Meeting time was 10.30am and the first event was the LaserTag combat skirmish shootout! The organisers (Combat Skirmish Singapore) laid out all the weapons on the sandy beach and briefed us on the use of the weapons and the weapon tracking system. Very cool! The kids took the light-weight 400g Elipse pistol, while the older ones have the choice of the Talon, XM22 or the Charger (3kg!).



The future elite female soldier?

We were divided into 4 teams and pitted against each other, hiding behind bushes, rocks and coconut trees! Each session lasted only 20 minutes, but it was pretty tiring! Gotto run, duck, hide, stoop, squat... what a workout but very fun!

The team with the most kills wins, but individual scores were unfortunately not tracked. The whole event ended about 1 1/2 hours later. My team won both sessions with a narrow margin. :)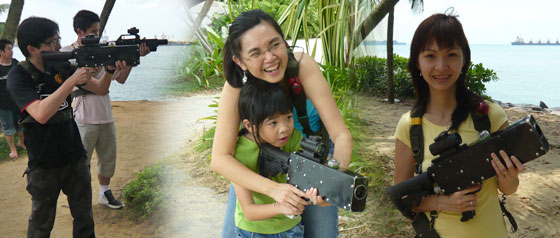 Let the fun begins!

Lunch was at Samundar, an Indian restaurant located along Palawan Beach. The air-con provided a cool relief to the afternoon sun! We ordered chicken briyani and mutton naan, which unfortunately was quite a disappointment. Though the price was not too ex, the portion was totally measly! 4 tiny chicken cubes, and the chicken wasn't very tasty also. But at least the naan was nice.

We checked into Siloso Beach Resort at 3pm and into our Roof Garden suite! The room was small but cosy, with romantic nettings over the bed.The main highlight is the private stairways that lead up to the open air private jacuzzi upstairs! Cool! Unfortunately, it is not totally private, as one can still peer over the edge and look across into the neighbour's area (Gabriel will attest to that, haha!). So, no hanky panky allowed upstairs... :P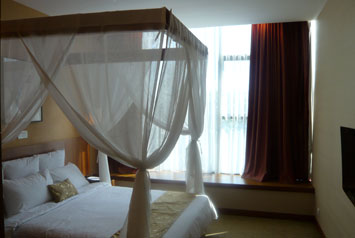 Level 1 of the Roof Garden Suite @ Siloso Beach Resort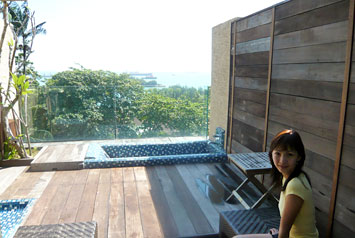 Level 2, where the private jacuzzi is!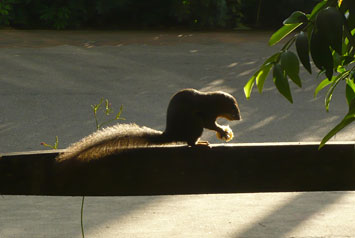 A squirrel with its corn, against the evening sun rays

Our group gathered again at 4pm, intending to go on the Luge and Skyride, but the queue was horrendous and we aborted the idea. We had ice cream instead before breaking up and went free and easy.

Dinner was at 6pm at Trapizza, an Italian alfresco restaurant located at Siloso Beach, near Rasa Sentosa. We ordered 10 pizzas, 8 pastas & a salad, at the first order, and shared and passed the food around. Quite fun! It was very nice dining by the beach definitely!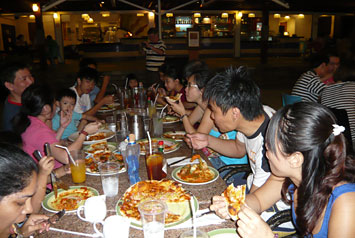 Pizza & pasta foodfest!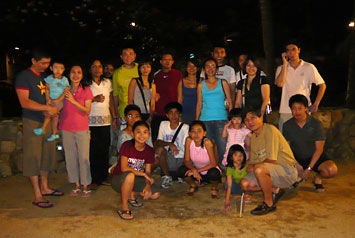 Group photo at the beach

After dinner, it was time for a soak in the jacuzzi! Under the clear open night sky above, it was indeed a very wonderful and relaxing experience.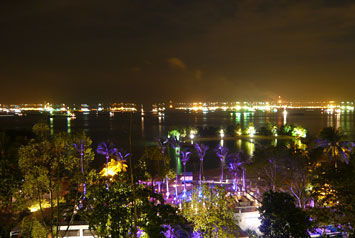 Night view from our suite, Cafe del Mar in foreground


Thursday, 25 December 2008 - Christmas with Lydia's Mum
Merry Christmas!

We didn't go to church today as gotto pick Lydia's mum from the airport. She would be staying in Singapore for one night before going to Vietnam with her friends for holiday.

Whenever Lydia's family are in Singapore, they ain't interested in sight-seeing. It's either shopping or eating, haha. We went to a money changer in Chinatown to get Vietnamese Dong, before going to Marina Square for Kenny Rogers, with its yummy cheese macaroni and corn muffin.

For dinner, we went to Two Chefs Eating Place @ Commonwealth, a zi char stall which is just a short distance down from our favorite beehoon-mee chicken wing stall. It's my first time here, though Lydia has been here with her colleagues before. It was actually featured in the newspaper some time ago also. We ordered black pepper deer meat (tender, but a bit too sweet), deep fried yam stick (nice, but too starchy when eating with rice) and fu yong "dan" (very nice, I even ate most of the prawns).

This year, we didn't have any Christmas ham or turkey. It felt a bit strange. Due to my reservist duty, I don't have the holiday-feeling at all, as it doesn't matter whether it's a public holiday, weekday or weekend.

Let's hope they don't call me back in Dec again next year! I had to forgo a business trip to Dubai even because of my reservist...


Wednesday, 24 December 2008 - Christmas Eve Countdown
Oh great... 12 months in a year and I get called back for reservist over Christmas and New Year. And I'm duty today lor... sianz...

Soo Kee and the gang are all heading to Dragonfly for the countdown. By the time I'm done with my duty, it was close to 9pm already. Tired and hungry also, we decided not to join them. After picking Lydia up, we headed to The Central for dinner at Marutama Ramen. This is still our favorite ramen restaurant, with its superb char siew and authentic ramen.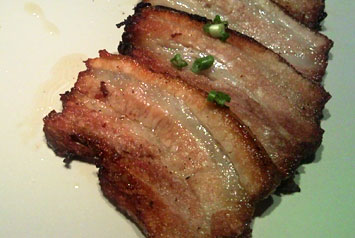 Char siew that melts in your mouth. Heavenly!

After dinner, we went walking along the Singapore River and to Clarke Quay, where there were thousands of Christmas revellers too! It was quite fun being in the midst of the joyful atmosphere!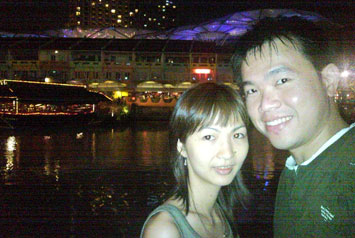 Along Singapore River with Clarke Quay in background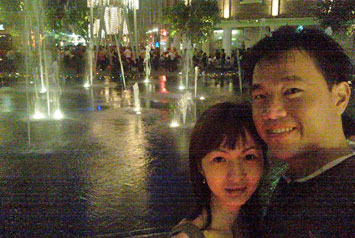 At Clarke Quay fountain

We left the place about 11pm and didn't wait for any countdown celebration. Well, we have each other to do our own celebration at home. :)

Merry Christmas!!


Monday, 22 December 2008 - Is there Six Sense?
The coincidence is remarkable.

Yesterday night, out of the blue, I suddenly thought to myself that it's been a long time since a flying cockcroach invaded our home. It must have been at least a year when that cockcroach flew in through the kitchen window, got so disoriented that it smacked itself twice against the wall and landed flat on the floor upside down.

And tonite... Lydia and I were watching TV in the living room when I heard the distinct buzzing sound of a flying cockcroach. Lo and behold, I caught a glimpse of it behind the living room window curtains before it headed to the ground. I peered below the TV table and there it was, one big, ugly, cockcroach. Only this time, it wasn't upside down.

To cut the story short, thank God for Baygon!

But it was fascinating to think about the coincidence. Was it just pure coincidence? Or was it an extrasensory preception (ESP) experience? A precognition...


Sunday, 21 December 2008 - Playing Santa Claus
We're loaded up with 4 big presents but none of them is for me, boo hoo! Oh wait... I already got my 22" LCD as my Christmas present from my wife. :P For her, she didn't want the shoes, didn't want a Coach bag or a Blue Label bag. She wanna save the "ticket" for a "big ticket" purchase next year!

Anyway, we got Sok Fung and Jack a present each as they've been really nice. A pop-corn machine and a set of cutie walkie-talkies. For my nieces Vannis and Kenzie, we met up with Cheung and Veron for lunch at Causeway Point (Oh my! Very far flung place! :P) and passed them the presents. Lydia had chosen a sticker machine and err.... some pink box present which little girls like.

------------------------------------------

And in the evening, we went to Gabriel & Valentine's Christmas potluck BBQ, with our load of Sunshine garlic bread. Andrew Woon, Dennis, Boon Chong, Cheng How, Boon Teck & Novita, and G&V's family were there as well. It was great catching up with them again, but we couldn't stay long as tomorrow's my first day of reservist. 3 weeks no need to think about office work loh, heehee!


Saturday, 20 December 2008 - Color Me Brown
After almost 3 decades of rich black hair, Lydia decided to color her hair!

We went to our Ann Ng, our regular hairstylist at Head-Quarters Salon @ Raffles Hotel and she was thrilled to see us again, heehee. We haven't been there for like 6 months, haha. I got my hair cut and colored also as I'd be on reservist for the next 3 weeks.

After like 2 1/2 hours, I got a different hairstyle which I wonder if I would be able to restyle it myself at home, haha. But more importantly.... who's that girl grinning and smiling at me, haha!! What a radical change to my wife! The hair was overall colored a dark shade of brown, and then highlighted in different lighter shades of brown for the top half for her to get accustomed to the new color. I think it looks great, but I'm still reeling from the shock of the new color, and to add on to that, her new Japanese-like hairstyle and look! Heehee!

-------------------------------

In the evening, we had a Christmas gathering at Kuan Han's home. Wai Seng & Elaine, Adeline Loh & boyfriend, Desmond, Sherry, Kelvin, Ying Kiat, hubby & boy boy and Chuen Kiat were there. And Soo Kee too, who's back from Sweden!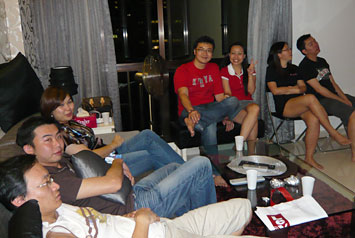 Lazing around in Kuan Han's home...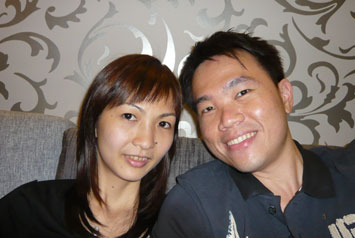 Lydia in her new hair color!

It was fun catching up with the people again, as almost everyone were Tetra Pak or ex Tetra Pak staff, heehee. We also had a $10 gift exchange just for fun!

Soo Kee was craving for durian and some of us accompanied him to Geylang to fulfill his craving. It's a pity it's not the durian season now, so the durians weren't very good.

--------------------------------------

On another note, Blackburn now has a new manager! Sam Allardyce! And in his first game in charge, Blackburn won 3-0 against Stoke! It's the first victory since 27 Sep! Woohoo!


Friday, 19 December 2008 - IT Christmas Dinner
It's my company's IT departments Christmas dinner party today! Somehow, I was "volunteered" to be the representative for Trading IT and for the past 2 weeks, our committee worked together to plan this event, for the venue and the games. Venue: RedDot Brewhouse @ Dempsey Hill.

We arrived at Red Dot about 6.30pm to get ready for the event. Unfortunately, it has rained in the late afternoon and they had decided to house us indoors rather than the private outdoor area on the 2nd level.

The 30+ guests started arriving about 7pm, consisting of staff from my department, as well as Chemicals, Marine and a few retirees. The owner of the brewhouse gave us a tour of the brewery also and explain the process of beer making! Interesting!

Dinner was a special buffet, consisting of mostly finger "class" food, but it was still not too bad. With all of us seated in three long tables, it was a chance to mingle and talk to other people.

Game time! The first game we played was Taboo, where a player had to describe a word or phase without using any of the 5 "taboo" words and the team mates had to guess it correctly. It was quite fun as 2 teams crowded around a table and squared off, heehee! The winning team got a small present of course.

The 2nd game is to decorate a Christmas tree, using the decorations provided. Separated into 3 teams, my team decided to convert the beer tower on a round table into a Christmas tree, haha. Mohan also used the leftover decos to dress himself up as Santa Claus! The other teams had a male and female colleague decorated into a Christmas tree! The winner was... the female Christmas tree!

The last event was the gift exchange, where everyone brought along a gift valued around $20. I bought a 4GB thumbdrive for the gift exchange, and in return, I had a... some sort of a glass container, its purpose I couldn't really figure out.

The event came to a close around 10plus and from the response, I think we did a fairly good job and everyone was in jolly and happy mood! Yay! Well, I certainly enjoyed myself and also for being part of the organising commitee! Merry Christmas in advance!!

*Will pose photos if I ever do get my hands on them!*


Thursday, 18 December 2008 - The Hunt for the Botak Jones
With a $5 Botak Jones voucher expiring in a few days time, we roped in my dad for dinner at Botak Jones (minimum spent of $25 required). After picking him up (my mum had something on already), we went to an unknown outlet at Toa Payoh. As usual, my Samsung Omnia's GPS failed me after a while, but no matter, the route that was etched in my head was sufficient to navigate me to 970A Toa Payoh North. It was located in a canteen of an industrial area.

We ordered the cajun chicken, the ribeye steak and the sirloin steak. The portion was massive as usual, but most important of all, the food was good! Service was great too. It's not too crowded here also. Can come here again next time!


Wednesday, 17 December 2008 - Blackburn Manager Sacked
Under the astounding leadership of Paul Ince, Blackburn was on a run of 3 wins in 17 matches, topping the table in the reverse-order.... 2nd from bottom!

It was with a huge sigh of relief when they finally sacked him. The club was going no where under him. Now let's turn the ship around like what Newcastle and Tottenham has done!

"We're too good to go down!"


Sunday, 14 December 2008 - Legoland in Malaysia!
Hey! Legoland is coming to a place close to home! In Johor Bahru, Malaysia! According to The Straits Times, the theme park will be ready in 2013! Cool!!

The Legoland theme park will be in the Iskandar development zone, an ambitious plan that will turn JB into a hip residential, entertainment and industrial zone.

Well, I dunno whether the Malaysian government will be successful in this mega project, but I sure hope Legoland will open its doors in 2013! I'll definitely be among the first to be there!

Come on, Malaysia! Malaysia boleh!


Sunday, 7 December 2008 - JB Trip with the Sotongs!
It's been a long time since we went to JB and definitely the first time that we're going there with Sok Fung and Jack! My wife actually made me sleep early yesterday to conserve my energy for today's trip, haha!

Arranging to meet at 10.30am at Kranji MRT, we drove down and made our way to the Singapore Turf Club. Well, the Singapore Turf Club's website had stated that parking is $5 per entry. But as I approached the pay booths, I was worried that it might not be opened yet! Thankfully, one single lane was lighted with a green light and to our relief, there is someone in there to collect payment and we got in.

This is the first time we're in Singapore Turf Club actually, haha! As Christians, how can go turf club, heeheehee! Hey, some more on a Sunday morning, hahaha! Well, we're not skipping church, cos church service today is cancelled as the congregation has gone for a church camp in Malaysia.

After figuring out our way out of the turf club, we met up with Sok Fung and Jack at the Kranji MRT station, tested our 2-way walkie talkie sets (they wanted it, heehee!), and then hopped onto SBS bus 170 to cross the causeway.

The ride was fast and smooth. We cleared Singapore immigration fairly quickly. But at Malaysia immigration, there was a shocking long queue! We got stuck there for like 1 1/2 hours! It was such a relief when we finally cleared the area. I thought the car jam was horrendous, but this surely takes the cake.

City Square was our first stop, where we had lunch at Sushi King. I felt like eating sushi and thought the food in JB would be cheaper. It wasn't really cheaper actually. Salmon sushi costs RM4, which works out to be almost the same in Singapore, the most just a bit cheaper. Moreover, the quality wasn't as good as Sakae Sushi. But nonetheless, having not eaten sushi for months, it still was satisfying for me.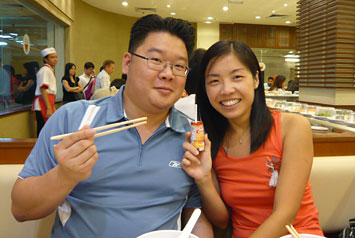 Jack & Sok Fung at Sushi King, shooting a Yacult commercial...

We roamed the shops in City Square for a while before splitting up to continue roaming while Sok Fung and Jack took a breather at Starbucks. The cute, yellow walkie talkies came in handy when we used it to communicate and locate each other, heehee! Saves us money on mobile roaming charges!

We took a taxi to... Holiday Plaza (of coz...!)!! This is a really great place to.... erm, buy.... erm... well, we had kaya toast and teh at the groundfloor coffeeshop! That's it! I can assure you that there is nothing illegal in my bag. Of coz... :)

After shopping, we wanted to bring them to Taman sri terbau where there's the fantastic rundown hawker centre that serves great zi cha BBQ stingray and stuffs. But the two fellows were quite tired and also not hungry yet. So... in the end, we quickly zipped back to Singapore and had dinner at Botak Jones @ Ang Mo Kio! Hahaha!!

It was Lydia's first time eating at Botak Jones (so kampong... her...) and she really liked her Botak Burger. I had the special catch of the day, which I think was an Alaskan fillet or something. The servings were very generous and the fries were good, though it could do with more seasoning.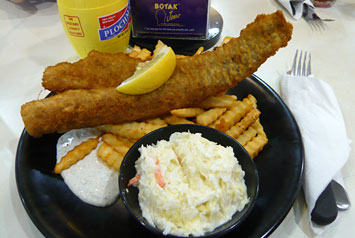 My Alaskan fillet, I think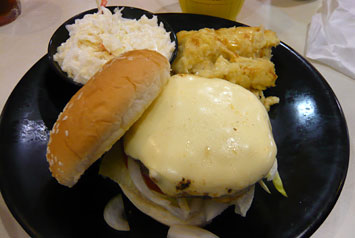 The yummy Botak burger

Overall, it was a great dinner meal to wrap up the fun day we had today! Must have another Sotong outing again someday!


Friday, 5 December 2008 - Dinner with Seng Seng
Even though Wai Seng and Elaine live a few minutes walk away from us, it has always been difficult to meet up for dinner!

Today, we waylaid him few days in advanced and booked a dinner date with him (his wife got away, alas...). Dinner's at Adam Road Food Centre's nasi lemak! Well, he haven't tried it before, so we made sure he didn't miss out on this simple pleasure in life. :D Hopefully he likes it!

After dinner we went to the Redhill Food Centre for the Mickey Mouse dessert stall. Wai Seng said the stall is always closed when he goes. We've been very lucky so far and behold! The luck is with us today also, haha! He finally got to eat the cheng tung!


Sunday, 30 November 2008 - 22" of Pure Ecstasy
The first time I saw it, it captivated my heart. No others came close. And it was on a special offer. With its sleek black glossy frame, it was simply too much to resist and I grabbed it!

The Samsung 2253LW 22" widescreen LCD monitor is simply a beauty! At only $290!

Resolution: 1680 x 1050
Brightness: 300 cd/m²
Contrast ratio: 8000:1
Response time: 2ms
Dimension: 513.7 x 400.3 x 219mm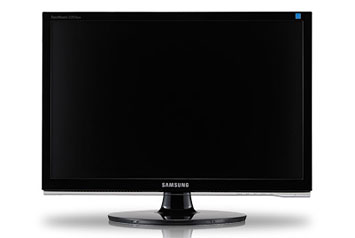 I moved aside my old 17" LCD which had been giving me resolution problems and laid down the 22" on my desk. Oh boy, the width of the screen filled up 3/4 of the width of my desk! It was massive! From a resolution of 1024 x 768, it jumped right up to 1680 x 1050! In an instant, my desktop icons which were almost filling the whole wallpaper suddenly took up a tiny 1/3 of the screen only!

Actually, I used to have reservation about wide-screen LCDs. I thought it would distort the pictures but it looks fine. Conventional screens are more costly also. My old 17" cost me $600 back in Nov 2004!!

The best thing is, this is my early Christmas present from my wife! Yay! :D


Saturday, 29 November 2008 - A Trip to Autobacs
Autobacs.... oh man, it's the shopping haven for car motorists! It took me more than a year sine I got my car to make the trip though, haha!

We went to the Autobacs store at Ubi View. It's a bit ulu, nested in the middle of the Ubi industrial area and in the vicinity of the Traffic Police headquarters. But wow, what you find inside is anything but ulu. They stock a huge variety of car stuffs, from car accessories to car tyres.

We were there shopping for a suitable wheel cleaner (yes... I clean my wheels too. Tyres and wheels are not the same, btw), a sticky mat for the dashboard (so that my 2 mobile phones dun fly away when I bank too sharply) and... LED lights for the car interior. :D Cool mah!

Unfortunately, they were out of stock of blue LED lights, so Mitsu's not going to get his night reading lights installed tonite. But still, it sure was a very fun trip to Autobacs. :)


Sunday, 23 November 2008 - No Payne, No Game
Another game completed! Max Payne 2! Well, after completing Company of Heroes on 24 Oct, I did have a few weeks of rest, okay... installed the game on 17 Nov, and completed it within the week, heehee. :D

May Payne's a great game. The first game had my dad frowning on the disturbing and haunting baby's cries. But it is and still is the only game that features the signature slow-motion, bullet time game play. May Payne 2 carried on from the adventures from the 1st game. Expect comic book style intros (ie. Sin City), sleek and cool game play and dialogues, mafia characters, enemy SWAT teams, plot twists... basically, get ready for some non-stop action!



Max Payne & Mona Sax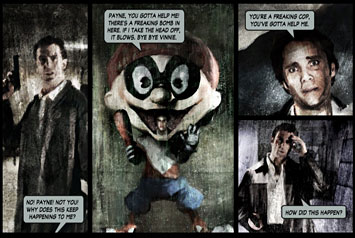 Comic book humor intros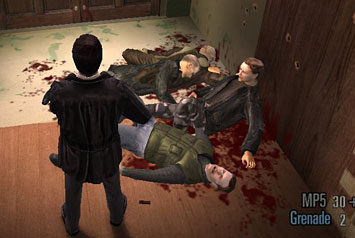 No one touches my Lego toys, you hear?


Saturday, 22 November 2008 - Football Mania!
We headed early in the morning to UberSports futsal arena at East Coast Park before 9am... for the Shell Club futsal competition! Join for fun only lah. :P

Was quite a large turnout, with like 20 teams! We had two teams, and in my team were Gabriel, Kelvin, Rahim and Jason. The first game we won 2-1. Unfortunately, the next game we lost 4-0. Well, our opponent had a walkover and the referee refused to give us a rest and made us play immediately. The 3rd game we lost 3-1. I was playing as the goalie for the 2nd half and couldn't keep out the 3rd goal which packs so much power that though I got a block on it, it still went into the net. My finger feels sprained and I'm probably going to suffer more in days to come.

The last game was quite hilarious. We knew we were out of the qualifying, and our opposing team were out also. They weren't very good and so we thought they would be easy meat. Let's just have a fun game, we told them. Letting our guards down and everyone pushing into attack, we were shell-shocked to find ourselves 3-0 down! Fortunately, our pride and determination crawled us back and when the final whistle blew, it was 3-3, haha!

Our 2nd team fared much better, topping their group. We learnt much later that they actually went on and won the competition!! Steady!!! Wow, they beat the likes of the fearsome Bukom teams, who turned up in coordinated jerseys and had group warm-up exercises...

With the weekend coupon utilised already, it would be a waste to head home. We went to the popular Karu's Indian Banana Leaf restaurant at Bukit Gombak, opposite MINDEF. It's been such a long time since Lydia ate here, when she was working in MINDEF. The food was good! Very interesting and a unique dining experience. Price is a little high but once in a while, it's alrite. Plus there's free flow of briyani rice and papdam!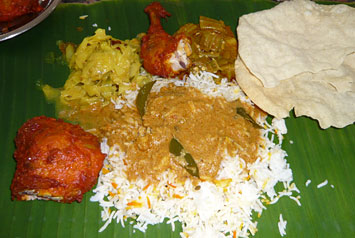 Excellent stuff at Karu's Indian Banana Leaf restaurant

Next stop is at The Premier Pitch @ Turf City.... for more futsal fun with my friends, heehee! Hardcore ya, haha! :P

First time here actually. The pitch is shorter in length, but wider in width. Makes it quite a strange playing area, not really used to it. But the pitch itself is very good. Unfortunately, under the hot sun at 2pm, the white canvas roof simply couldn't keep out the heat and it was like an oven in there. I managed to score one goal for the team, latching on to a through pass before dispatching it into the net with a right footed shot past Boon Chong. But other then that, our team were quite lazy in moving about, in contrast to the spirited challenges of Tzin Mein, and Cheng How, who easily was the top scorer today!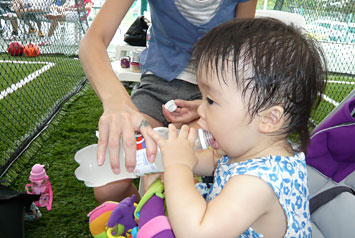 Boy, it's hot watching the uncles play!


Saturday, 15 November 2008 - Weekend Getaway
10 days after our wedding anniversary, we're still celebrating the event, heehee!

In the afternoon, we checked into Orchard Hotel, which is one of the hotels chains that Lydia's company owns. As a staff benefit, the room was ours for $60++ only! Best of all, we got a room in the new wing too!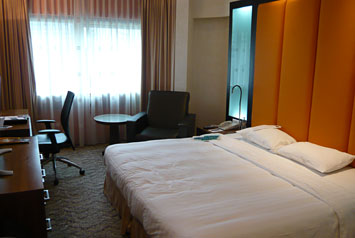 Room 704 at Orchard Hotel. Nice!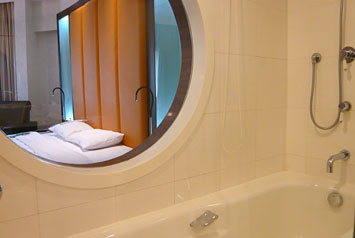 A bathtub-bedroom view. Kinky!

In the evening, we went to Black Angus Steakhouse just across the road at Orchard Parade Hotel, where we had a very hearty meal of sirloin steak and ribeye steak. The restaurant was very crowded with Eurasians/tourists, haha. Well, maybe that's why there's no free starter bread here, but in any case, we were glad we didn't waste our stomach space eating bread cos the steaks were yummy!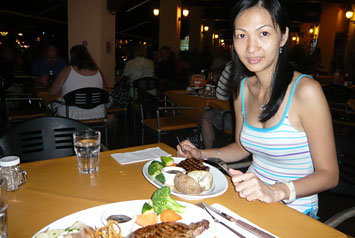 It's nice to see my skinny wife enjoying her steak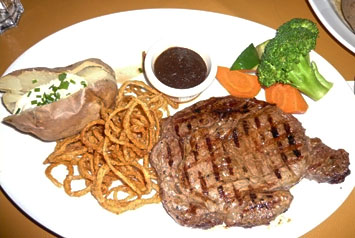 My Black Angus ribeye steak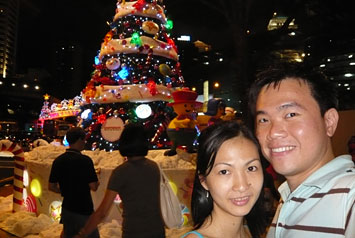 Christmas light-up at Orchard!

Wrapping up our day, we caught a late night movie, Tropic Thunder, at Shaw Centre. Oh man, this is one hilarious action-packed movie, haha! With Ben Stiller and company in cast, it was non-stop action and laughter. Most notably of all, catch Tom Cruise in his role as Les Grossman, the studio bigshot. His acting is so totally real, and funny!


Sunday, 9 November 2008 - Starship Troopers Disappointment
I'm a great fan of the original movie. Loved the patriotism, the cheesy dialogue, the one liners and the casts.

With the Saturday blown away as I had to go back to work, I thought what better way to unwind on a Sunday by installing and playing Starship Troopers, the PC game (2005). The reviews sounded bad but I thought my love for the movie and will be sufficient to sustain me through.

I couldn't have been more dead wrong.

The graphics was simply horrendous, but I gritted my teeth and mouse and stuck through. But just two missions into the game, I simply gave up. I could bear with the poor graphics. But it was too much to tolerate the absolutely moronic engineer (that I was assigned to protect) who charged head-on into hordes and hordes of bugs. Against all sanity and curses, I charged in after him with weaponry that's good enough to take out a small group of bugs at distance, but totally ineffective at sardines-in-a-can mass orgy distance. The outcome was either I died surrounded by slashing bugs while covering the engineer, or the engineer died while I protect my own ass.

I have never, ever, given up playing a computer game before, so it really had to be something to make me give up.

How am I to recover from the damages that the stupid game has done to my Starship Troopers? Starhub TV coincidentally is releasing Starship Troopers 2 & 3 on DemandTV... :)


Wednesday, 5 November 2008 - 3rd Year Wedding Anniversary!
Oh wow! We're married for 3 years already!

To my wife, for the wonderful years we've spent together, thank you for your love in understanding my:

Insensitivity - Blur like sotong sometimes, me...

Laziness - The dishes don't need to be soaked that long actually
Untidiness - Even Luke Skywalker and Optimus Prime are getting crowded out of my computer desktop
Vroom vroom - I'll try to be a safety driver again (but could you ask the uncle to drive a tad faster?)

Yodeling - Sleep "yodeling", that is. You can always give me a poke... :P
Odd sleeping hours - I'm an owl person, but... 11pm to bed! Got it! ;)
Unyielding love - For my computer, my Lego, and of course, you!

------------------------------------

After work, we went to Gyu-Kaku @ Chijmes for dinner to celebrate our anniversary. We ordered one plate of wagyu karubi (oyster blade), wagyu rump cap, wagyu nakaochi, ro-su, karubi, harami, buta karubi, a small bibimbap, caesar's salad and a bowl of rice! Woo! That's 3 plates of wagyu beef, 3 plates of normal beef and 1 plate of pork belly!

Ooh... it's really yummy and heavenly!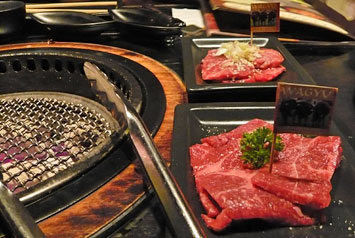 The wagyu karubi and wagyu rump cap. Superb!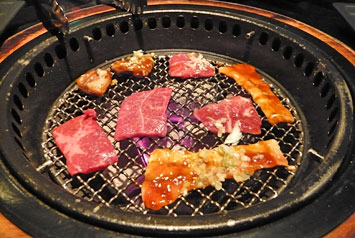 Nothing like fresh raw meat on the charcoal grill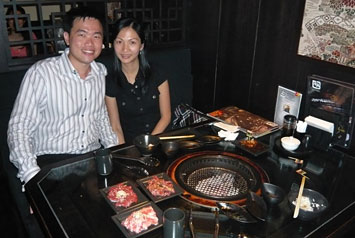 Celebrating our anniversary at Gyu-Kaku

The normal beef ($6.90 - $11.90 a plate) were totally no match for the delectable wagyu beef ($17.90 - $20.90 a plate). After such a splendid and thorough feast where we tried out so many variety of the beef, we really have a good knowledge of how each weird-sounding name tastes like and its worth! I'm really glad we didn't opt for the Set meal, heehee. We'll definitely go ala-carte again next time. :)

Damage: $130+

It was worth the celebration and treat! :D


Friday, 31 October 2008 - Our Halloween Celebration
I was tempted to celebrate Halloween at the Night Safari, where they had a Halloween theme. But the price tag of $50/pax was a quite an effective scare factor and we decided to celebrate it by.... buying popcorns from Golden Village and watching a DVD horror flick at home! Heehee!

I excitedly dug through my "bought already but no time to watch" DVD collections and after careful consideration, I presented the following movies to my wife to choose:

1) The Village - an isolated village with spooky creatures in the surrounding woods
2) Constantine - yes, the one with Keanu Reeves. I haven't watched the beginning yet...
3) Silent Hill - the frightening town of Silent Hill awaits the next victim, in this game movie
4) Hostel 2 - Lust lures the victims to a horrifying death in Hostel 1. There's no free ride, guys...
5) Saw - I know Saw 5 is out already, but I haven't watched a single one yet!

My wife went through the list as I gave my brief synopsis of each movie and explained to her of what frightful horrors awaits in each movie. After a long deliberation, she chose.....

Harold & Kumar: Escape From Guantanamo Bay

???!!

Oh well... Guantanamo Bay is quite a scary place for the 2 guys.
Especially the cockmeat sandwich! *shivers!*


Saturday, 25 October 2008 - Boon Teck & Novita's Wedding!
If the Singapore football federation was anywhere as sincere and determined as Boon Teck, we would have had a football team soccer in World Cup 2010. As it was, Goal2010 came 2 years early for Boon Teck as the wedding bells rang for Novita and him today!

The wedding dinner was held at Hyatt Hotel and we had fun catching up with some "lost" friends. There was Andrew (aka Birdman) & San San (yes, the baby do exists!), Weishun, Kylie & a terror baby, Brian, Cheok Kai, Eric Yong, Louis.... it was great to catch up with them again!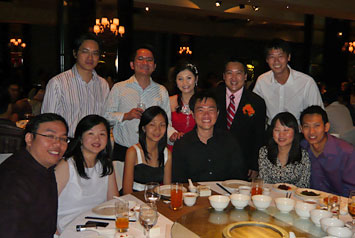 Our table of friends from JC to Uni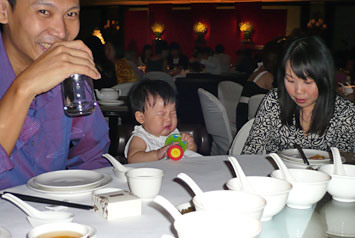 My hostel roommate's a daddy! With his adorable little baby!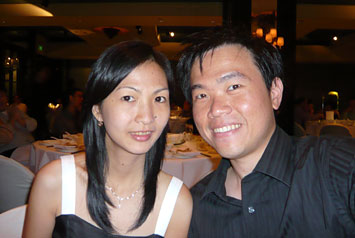 With my beautiful wife... the babyless couple

After the dinner, we hung around and then gategrashed the bridal's suite! It's a pity there ain't no sabo session, like what he did at our wedding!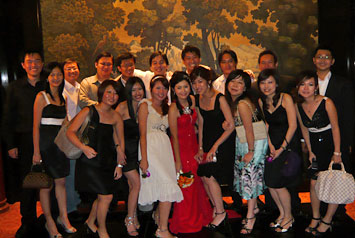 The groom's guys and the bride's girls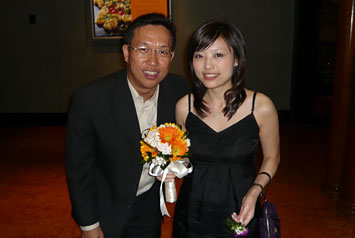 Aww... this is sooo sweet!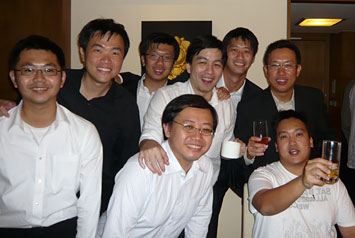 The bridal suite gatecrashers!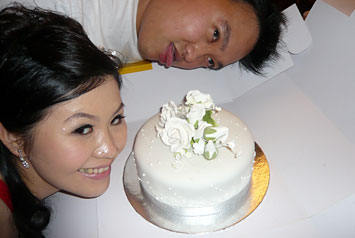 A totally cool photo of the bride and groom with their wedding cake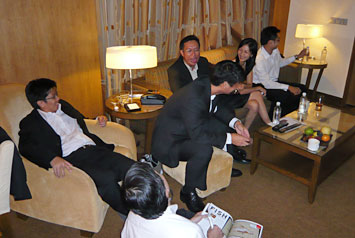 Lots of laughter... at the expense of Boon Chong, heehee!


Friday, 24 October 2008 - Company of Heroes: Opposing Fronts!
I was on leave for 2 days after coming back from Bali. It's always nice to take at least a day's rest to re-adjust to life after holiday. Perfect for me to play computer games, muhahaha!

I completed all 17 missions of Company of Heroes: Opposing Fronts, heehee! I would say it's not as easy as the original game, but the tank battles were fantastic! The Germans with the King Tiger tank and the Jagpanther packs a tremendous amount of armour firepower and rolled over anything in my way. Needless to say, when I had to play the British forces and pitted my Sherman tanks against the almighty German tanks in the final mission, they were lambs to the slaughter literally! My tin-can tanks were blown apart with just 2 shots from the enemy!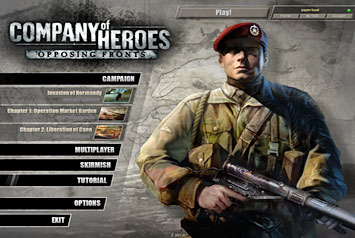 Lead the fight with the British Commandoes!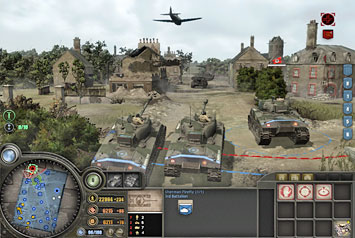 The Sherman Firefly tanks face-off with a German Jagpanther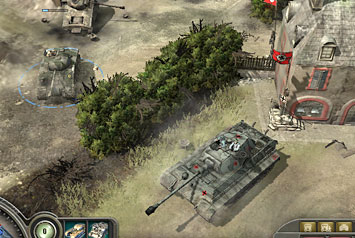 A damaged Sherman tank plays hide-and-seek with the Tiger tank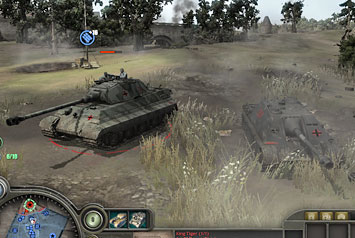 The men ran for their lives when these two counter-attacked

Hmm, now that I'm done and dusted with Company of Heroes..... what's next? :)
Say, Max Payne is screening on the big screen now.... :P


Wednesday, 22 October 2008 - Bali Holiday! Day 5
Our last day in Bali! This has been a really fantastic holiday so far. Very relax, free and easy! We get to see everything from the sun and the beach, the buzz of Kuta, and the sunsets and attractions of Bali. Food is not too bad either!

With an afternoon flight to catch, we decided to spend the morning at the resort itself and explore Legian Beach.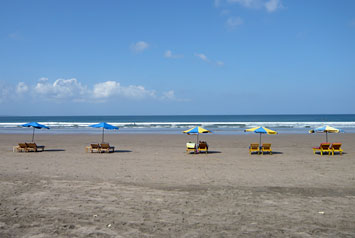 Paradise on Legian Beach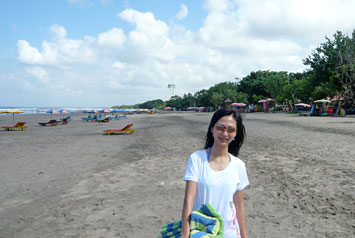 No place to suntan here

Opting not to pay for the deck chairs on the beach, we went back to our resort compound and found a nice spot facing the beach to do some suntanning. I was enjoying the morning sun but my sun-adverse wife soon turned turtle and flipped over on her back, complaining "hot... hot...".



Ahh... this is life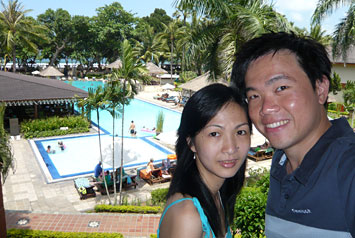 Photo our balcony before checking out

The driver picked us up at 11am and our final destination in Bali was eat the local babi guling (suckling pig) food, which is a must-try in Bali. At Lydia's 2nd sister recommendation to skip the tourist-popular stall, we ventured to another stall which is... wow, really non-touristy.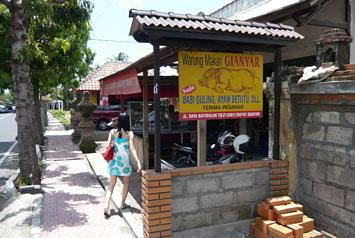 Is this the babi guling stall?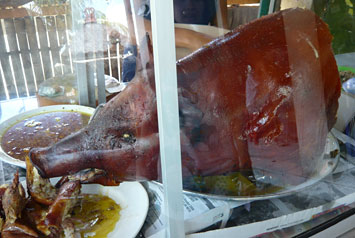 You pig head, you!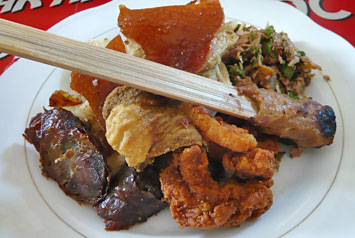 Our babi guling special

I like pork, but... there were some stuffs that I wonder what they are, haha! The pork meat, roasted skin pig and vege were nice, though cold. The fish satay stick was ok. The rest of the food, which I suspect are "lap cheong", fried pig skin and some intestine-stuff, we didn't really touch them. The chilli was super power though, and I enjoyed it very much, given that most Balinese food was lacking in chilli power.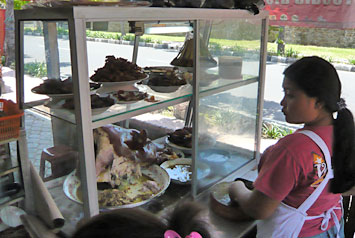 Finding out what we had eaten, after we ate, of course...

We bid farewell to Paolo at the airport and thanked him for his excellent service during our stay in Bali. Though he doesn't talk much, (which is what I like instead of having to entertain the driver, haha), there's sincerity and honesty in him, like when he advised us to avoid certain places, to be careful of, and where admission charges can be waived or chargeable at domestic fares only. Thanks dude!

Farewell Bali! We certainly have very fond memory of our stay here!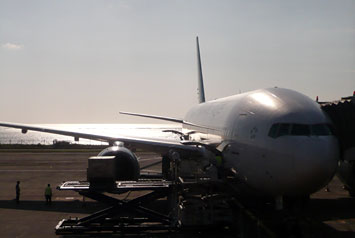 Our SQ Boeing 777 plane waiting to take us home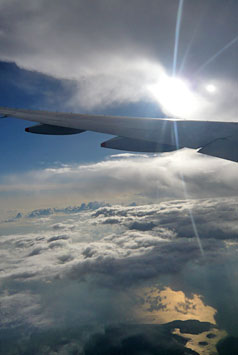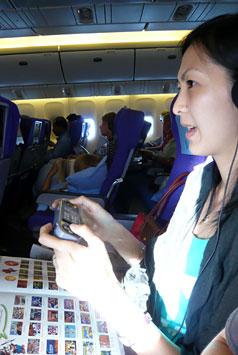 The evening sky Lydia engrossed in the in-flight entertainment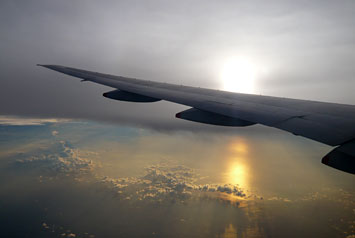 Another lovely sunset, this time from the plane!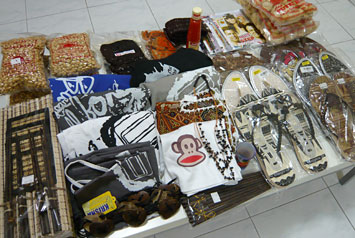 Our Bali souvenirs and stuffs!


Tuesday, 21 October 2008 - Bali Holiday! Day 4
Today's another long day on the road! The common misconception is, what's there to see in Bali besides the beach? Actually, there is plenty! Destination: Lake Bratan @ Bedugul, located north of our resort hotel in the centre of Bali island and high up in the mountains.

Along the way, we dropped by at the Bali bombing memorial. Six years have passed since it happened on 12 Oct 2002. A huge star on the road which we drove over marked the exact location of the first car bomb. Apart from the memorial site and an empty plot of land, the surrounding area has been rebuilt and life and tourism now goes on as normal.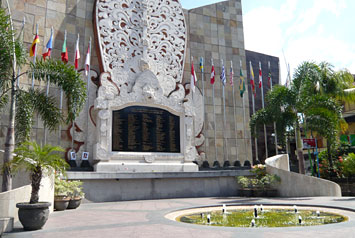 The Bali Bombing memorial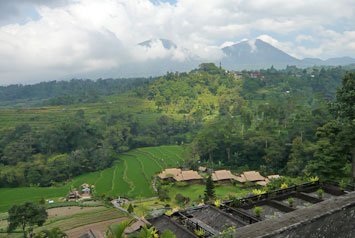 Quick stop at a rice terrace scenery along the way

We arrived at Lake Bratan around lunch time. At more than 1200m above sea level, it's a really lovely place with a cool climate. The Pura Ulun Danu lakeside temple was central to the attraction.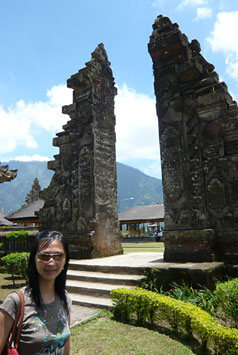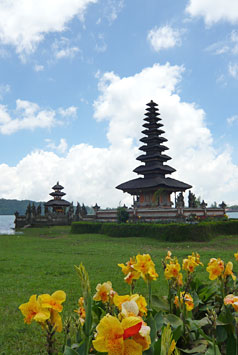 The familiar sight of the columns entrance Lovely shot of the temple



The often-photographed temple's twin towers

After having our lunch nearby, next destination was Gitgit Waterfall. The route took us through steep winding roads through the mountain that forced Lydia to close her eyes or risk puking out her lunch. It was thus a great relief when we arrived with no incidents and got the chance to stand on solid, non-moving ground again.

The relief soon faded away when we realised we have to trek 350m down and up the slopes to get to the 60m-high waterfall. In my orange flipflops, I grit my teeth and followed behind Paolo and Lydia. Thankfully, the stalls along the way and the beautiful rice paddy fields provided some distraction. There was of course the harassing of the "$1 only..." kid peddling his wares, which helped spur me to walk faster to make an escape.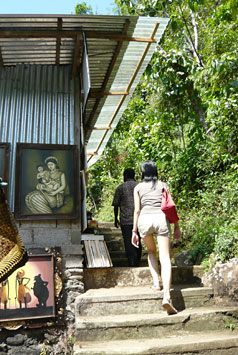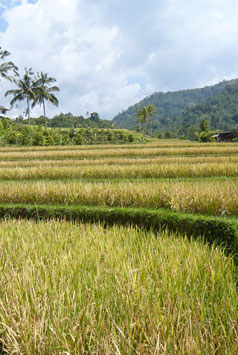 Art painting stalls along the way Fantastic scenery along the way too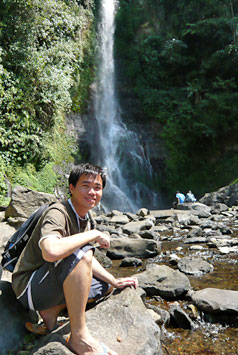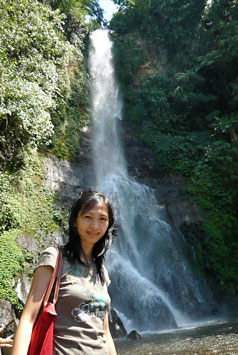 At our destination finally, at Gitgit waterfall!

And it was down those steep winding road again and a long ride as we head southwest towards Tanah Lot. The mountain region turned the sky a misty grey and we experienced a little rain. But once we broke through the mountain region, it was the good old hot sun again.

Our planning was right on track as we arrived at Tanah Lot Temple around 5plus, giving us sufficient time to explore this hugely popular attraction, to do some shopping and take photos before the sun goes down at 6.30pm.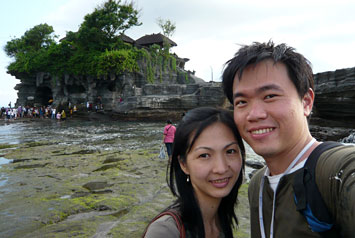 At the shores of Tanah Lot Temple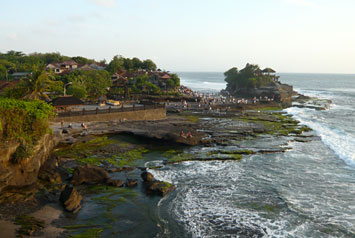 Beautiful overview of the temple below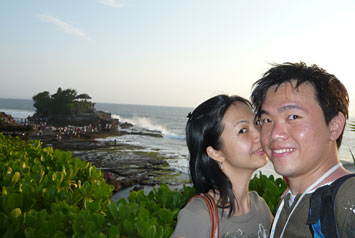 We were trying out some new photo shots... heehee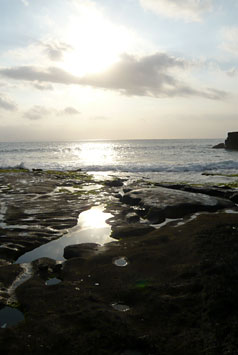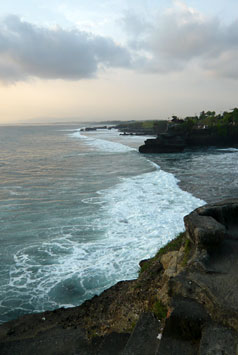 View from the ground shoreline... and view of the other side from a cliff...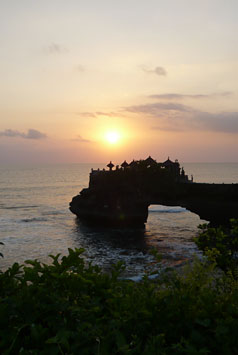 A spectacular sight of the temple outpost The cat actually strolled by and stopped for me!

It's a pity the dark clouds blocked the sun when it was getting low on the horizon, so we missed the actual sunset. But the view and scenery was nonetheless very beautiful. We quickly set off after a while past 6.30pm to avoid the crowd of tourists, and also because it will get dark very fast. We stopped by one of the stalls outside and bought some clothes for like S$4 a piece! It's really handy to have Lydia do the bargaining in bahasa Indonesia, heehee! :)

We dropped by McDonalds' at Kuta Beach and tapao back to our hotel for dinner at our room's balcony. We stayed outside at the balcony for like a minute before retreating inside for the comfort of the aircon and the bed, hehheh!


Monday, 20 October 2008 - Bali Holiday! Day 3
Road trip in Bali!

As usual, our driver picked us up at 9.30am from the hotel. Paolo's his name and our transport is a comfy Suzuki APV (a budget MPV).

On our way to Ubud, we stopped by a number of local production factories/shops, like batik, gold & silver smith, art paintings and wood carvings. It was interesting, but we didn't buy anything as nothing caught our fancy.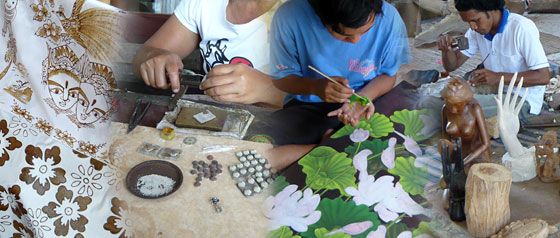 Balinese craftsmanship: batik, silver, paintings, wood carvings

Lunch was at Bebek Bengil (dirty duck diner) restaurant, famed for its crispy duck. The restaurant is a huge open eatery with an open garden in the middle and rice fields at the back! Cool! The crispy duck was very good! Very tender and soft! The potato sautee was amazingly fabulous, which had me in a puzzled delight, haha!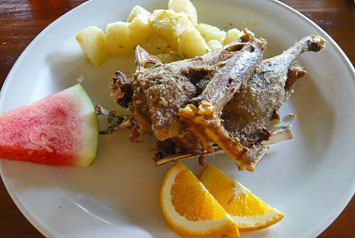 The famous crispy duck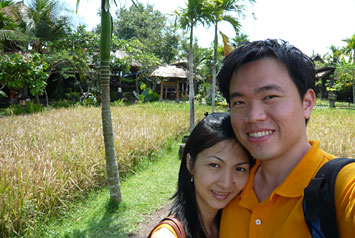 In the backyard of Bebek Bengil restaurant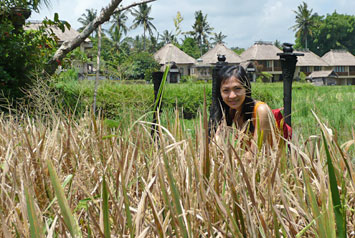 Lydia hiding behind the rice paddy

After lunch, we happened to pass by Ubud Sacred Monkey Forest Sanctuary and decided to stop and check it out. The monkeys at the entrance to the sanctuary were no thieves like their cousins from Ulu Watu Temple, but they were a bit too aggressive for Lydia's comfort, so we decided not to go in.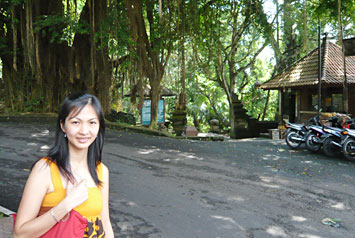 At a safe distance from Ubud Monkey Forest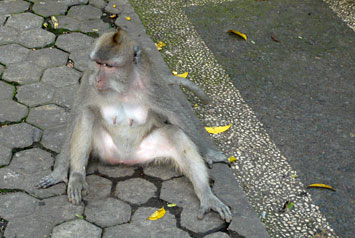 Where's my banana?

Next stop was the rice terraces at Tegallalang Village. The idyllic green pastures of the rice terraces were simply smoothing to our eyes which were so used to urban landscape.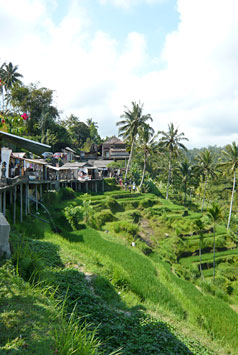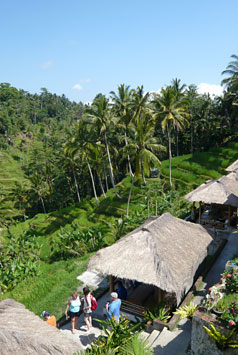 Shophouses lined the top of the slopes The padi cafe below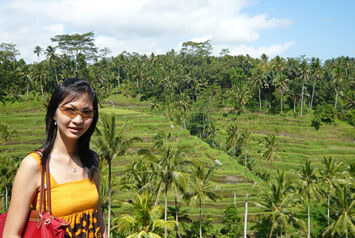 Lush greenery of the rice terraces

We headed further up north of Bali and higher and higher we go until we arrived at Mount Batur Volcano in the Kintamani district! The majestic volcano with a height of 1717m had me in awe, as this is the first time I saw a volcano! It surely is awesome. My dreams of hiking into the mouth of a volcano will have to wait, but this will suffice for now. :)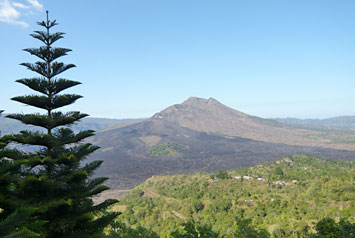 View of Mount Batur Volcano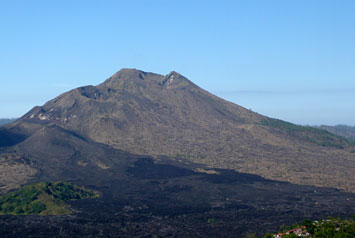 Close up shot of the volcano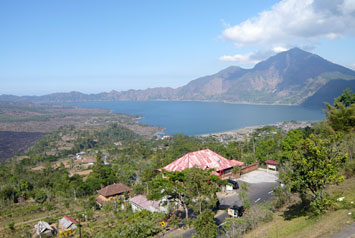 And on the right is Butur lake

Contented and satisfied, we began our long journey back to the Southwest of Bali, stopping along the way to buy some fruits from a roadside stall, and to visit a cocoa plantation.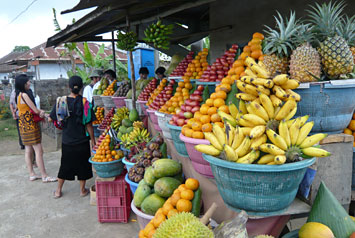 2 green mangoes for S$4, with 3 oranges thrown in :)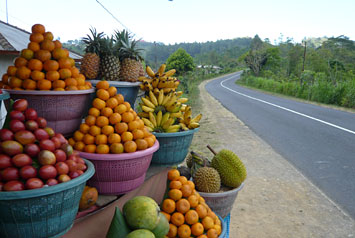 Fruit temptation!

It was almost 1 1/2 hours later before we arrive at Kuta, where we abandoned the vehicle and our driver and roamed around the city and the beach for a good few hours and settled our dinner at A&W, heehee!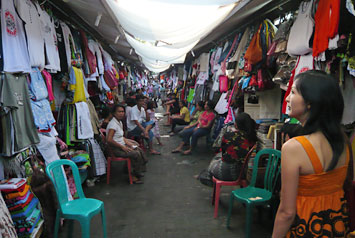 Street peddlers in Kuta region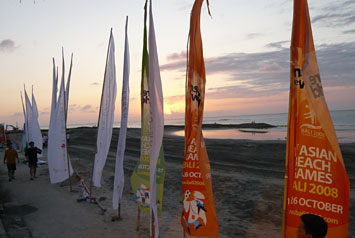 The sunset again, this time at Kuta Beach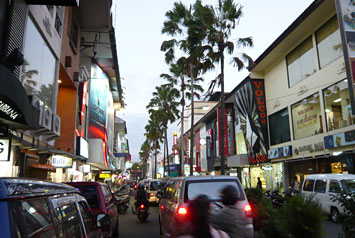 The shopping district of Kuta

It was dark already by the time the driver picked us up about 8.30pm. We dropped off about 1km from our hotel and continued on foot to explore the shops and experience the nightlife along the narrow streets leading to our hotel. Oh boy, It's been a long day!


Sunday, 19 October 2008 - Bali Holiday! Day 2
On a sunny Sunday morning in Bali, first thing we do is to go shopping! :P

We set off at 9.30am after breakfast, when our driver picked us up from the hotel and drove us to the list of shopping destinations which Lydia had came up with, recommended by her sister who goes to Bali frequently.

First stop was at KriSNA, a large souvenir shop which caters more for local Indonesian tourists. This means the price is fixed, cheap and not marked-up for the ang-moh tourists. Titiles was next, a shop recommended for pork lovers, with items like bak kua, fried pig skin, etc. Amazingly, the shop has tigers and lions in the backyard!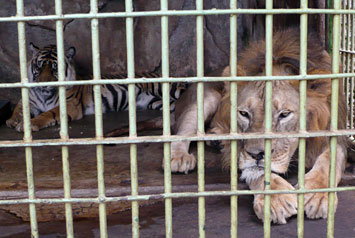 Bali's private zoo!

Next stop was at the famous Kuta Beach, where we checked out the Hard Rock Cafe (pity the shotglass is out of stock!) and took a stroll on the beach under the blazing sun. There were people sun-tanning, surfing, local vendors selling their wares... really buzzing with activities!

We were happily basking in the atmosphere and strolling hand-in-hand when all of a sudden, my wife yanked me to the right and said, "Ok, enough, quick, U-turn!" We agreed to walk to the row of flags just ahead, I protested. "Topless girl ahead!", she hissed and pulled me away! What?? Where??? :P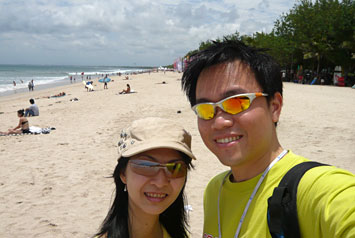 At Kuta beach. Notice the flags in the background?

Lunch was at Malioboro, a pretty nice ayam (*chicken*) restaurant.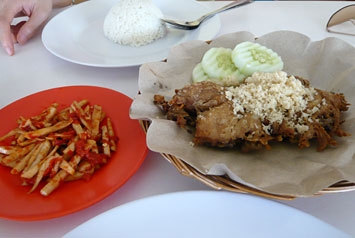 Love the deep-fried pressed chicken!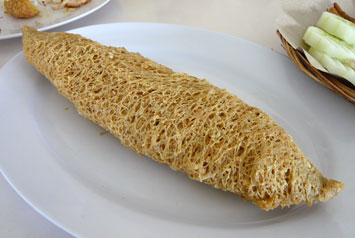 You wouldn't believe what is this...... it's actually a fish!

After lunch, we went to Nusa Dua beach. Nusa Dua is a more exclusive area of Bali, where resorts have their own private beaches. I had the opportunity to stay at one of the beach resorts during my previous company's team building trip. The resort was nice, but the beach just somehow felt different being so private and small. It was lacking the "happenin" factor of human activities and the grandness.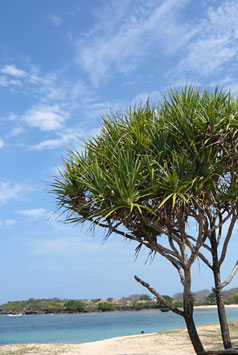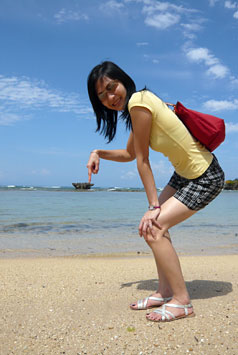 At the public area of Nusa Dua Beach There's something smaller than the little girl

We went to Ulu Watu Temple after that. Had to wear sarongs before we enter the premises, heehee. This place is inhabited by fearless monkeys that would try to snatch anything from you that's not nailed down. Despite being warned, in the brief 20 minutes or so that we were there, there were about 5 occassions that other tourists had their hairclips, spectacles or whatever, being snatched away by the monkeys. A local man and a boy would then retrieve the item (by bribing the monkey with an egg) and ask for US$1-2 from the owner.

Looking left, right and over our shoulders always, we nonetheless explored this beautiful place, where the Indian ocean crashes its waves at the bottom of the cliff, and where the famous temple stands at the edge of the cliff.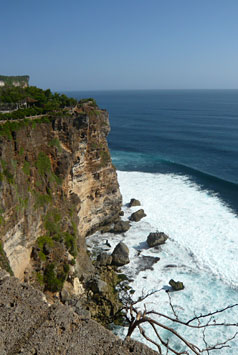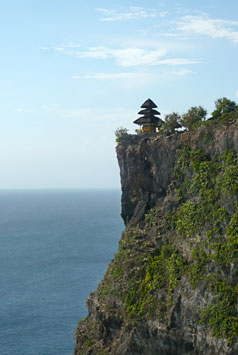 Peering over the edge of the cliff The landmark of Ulu Watu Temple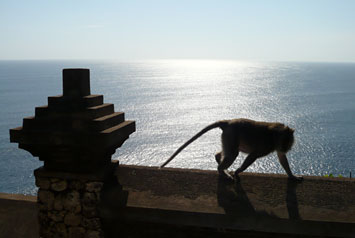 A monkey lurks nearby

Our next destination was the Cultural Park, which was the venue for the opening ceremony of the 1st Asian Beach Games in Bali, that coincidentally runs from 18-26 Oct!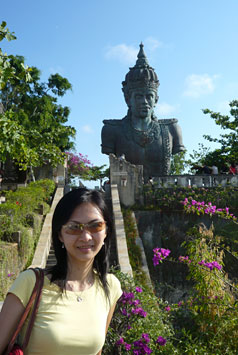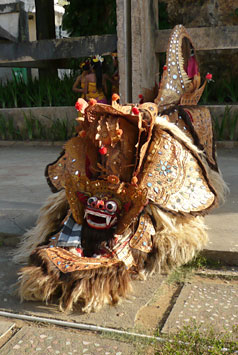 Plaza Wisnu, in the Cultural Park A Balinese Barong spotted in the park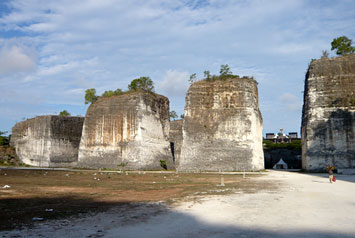 Amazing how the cultural park was carved out of these hills

Wrapping up the evening, we stopped at Jimbaran Beach, where it is famous for its sunset dining. Rows and rows of seafood restaurants lined the beach, awaiting the beckoning of the setting sun. Our driver dropped us off at Bali Sea Cafe, where we reserved a front-row table on the beach, before taking the opportunity to explore the beach while waiting for the sun to go down. In the distant, there were fishermen setting out to sea. The beautiful rays of the setting sun colored the surrounding sky in a rich hue of golden brown.

We ordered a BBQ crab, a BBQ red snapper and fried calamari. And two coconuts. It was really nice watching the sunset together while seated at a table on a beach. Food was served once the sun went down.

The food from this restaurant wasn't that fantastic, but for about S$50 for the dinner and the romantic atmosphere, it definitely was worth the experience!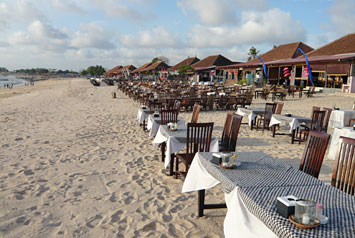 Our table (closest) along Jimbaran Beach and its restaurants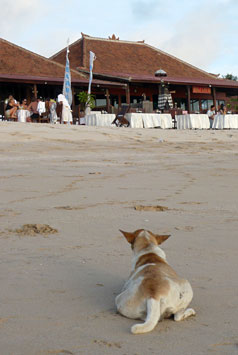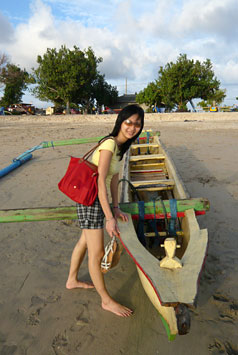 A hungry doggie wants some! A fisherwoman-wannabe?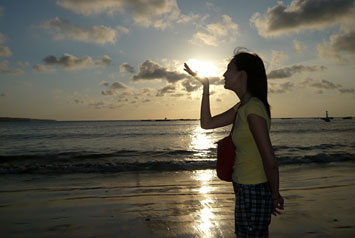 Catching the dusk of the sun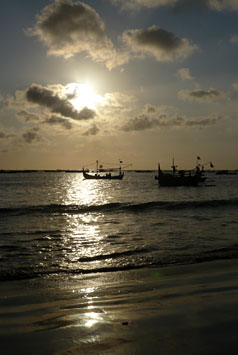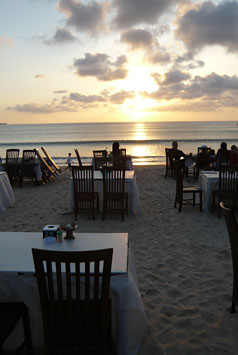 The fishing boats set out to sea Oh, what a sight to behold!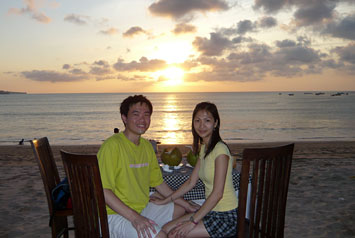 Watching the sunset together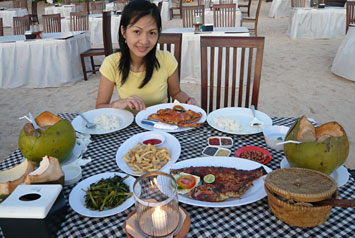 Our sunset seafood dinner at the beach!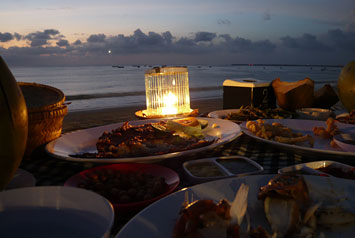 Twilight approaches


Saturday, 18 October 2008 - Bali Holiday! Day 1
Oh yes! A vacation trip finally, this time to Bali! Looking forward to doing some local sightseeing, the sun and the beach!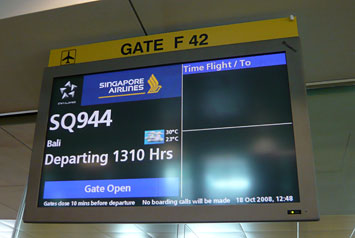 Our afternoon flight on SQ, courtesy of mileage redemption

Upon touchdown, our place of stay for the coming week, The Jayakarta Bali, arranged for a guy to picked us up. As expected, Bali is hot, haha.

After about 30 minutes, we arrived at our hotel, which is located right at the doorsteps of Legian Beach. Fantastic! It was just what I had wanted; a resort with a pool that is a stone's throw from the beach! And there were lots of Eurasian tourists basking around under the sun too!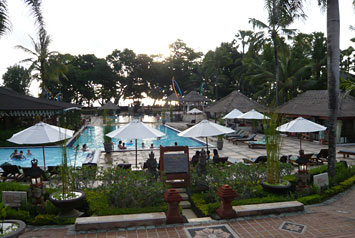 Excellent! The beach is just beyond the background trees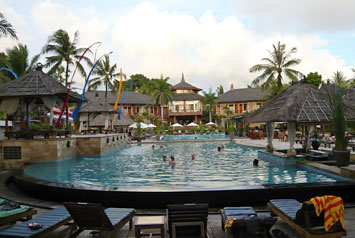 View of Jayakarta Bali from the other end of the pool

With such a happy expectation and atmosphere, imagine our surprise though, when the reception told us that our room is not at the resort area and they brought us to a 6-storey building within the hotel compound. Huh? Aren't we going to stay at one of these cosy resort rooms?

Turns out we are staying at the newly renovated hotel building, but is deep within the compound. The room facilities is great, with a living room and small kitchen area, but.... this isn't what I expected. It felt isolated from the beach and the buzz... :(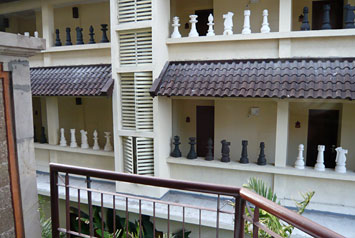 My goodness, where's the swimming pool or beach view?

After a while of trying to psycho ourselves that it ain't that bad, we gave up and called the reception and asked if we could change to a resort room that has a nice swimming pool view. And what luck, they have! Just have to wait for the guest to check out at 7pm. That's fine! :D

We went out to Legian Beach and wow, it was a sight to behold! It's gotto be the biggest beach I ever seen and it just stretches on and on for miles! Even the width of the beach is huge, and there were people everywhere, some strolling, some locals playing football, and some just admiring the sunset.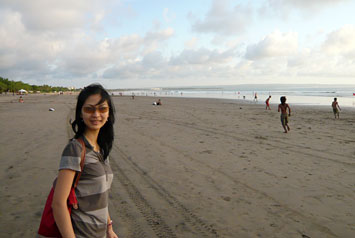 The vast stretches of Legian Beach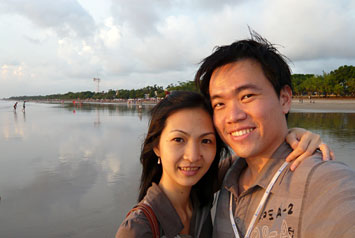 The sunset reflecting on our faces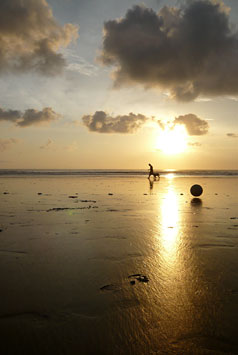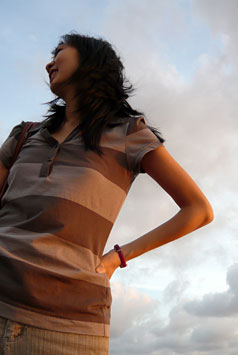 A football rolls past against the sunset A shot of Lydia from a low angle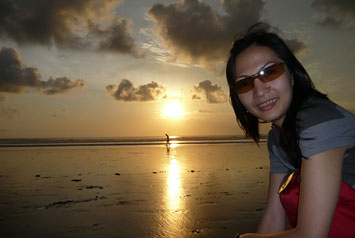 Isn't it a beauty? The sunset and of course, the model... :)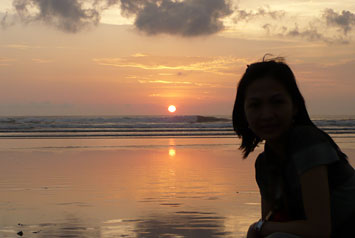 The fading glow of the round orange ball

After the sun went down at 6.30pm, it soon got dark really fast and we made our way back to the hotel. After getting some rest, we got our room changed! Yeah! And oh boy, it was one of the best rooms in, I'd say! Directly above the lobby on the 2nd floor, with a full view of the swimming pool and the beach!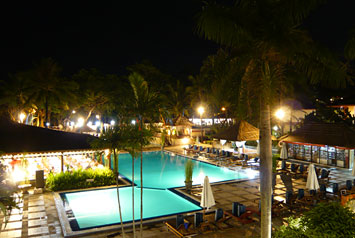 Our balcony view now, yeah!

Now I can sleep happy and eagerly await a full day in Bali tomorrow. :)


Friday, 17 October 2008 - Valencia's One
Valencia's 1 years old today and the parents organised a birthday party for her at their new condo at Haig Court. Coincidentally, Cheng How is staying at the same condo too!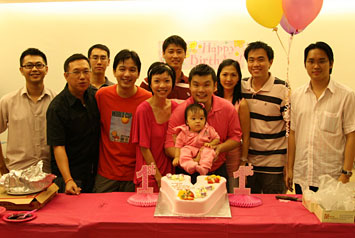 All the uncles

We turned up accordingly to the pink theme and had fun chit chatting with the guys till late at night. As much as we would have liked to stay longer, have to call it an early night as tomorrow we're going to Bali! :)


Saturday, 11 October 2008 - Mission Accomplished!
The relentless Krauts attacked with waves after waves of heavy tanks and infantry, but after 15 gruelling missions spanning over 12 days (since 1 Oct), I have completed Company of Heroes! Against all odds in the final mission against the mighty German Tiger tanks, the Allies are victories!!

This is one tough game to play, especially with the population cap and the need to garner resources. There's no such thing as tank-rush. Charging blindly into enemy territory usually means instant destruction. There's a constant look out to secure your sectors to prevent the enemy from sneaking past undetected. Most missions therefore took time to establish a strong force to secure the base and defensive line before one could venture forward.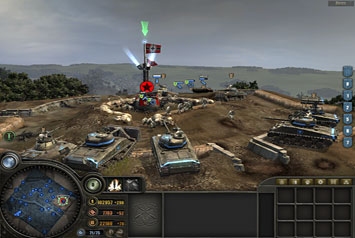 Mission 13, Hill 192: Victorious Allied forces claimed the hill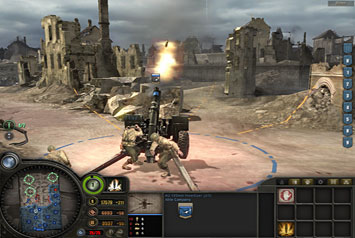 The devastating Howitzer fires into the ruined town of St. Lo



The Sherman tank takes on a Panzer tank...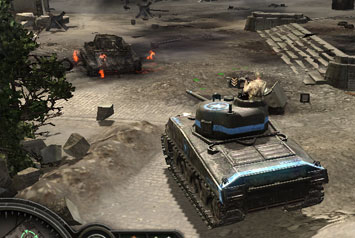 ...and blasts it into a smouldering wreck!

And now... for the expansion pack, Opposing Fronts! :D

-----------------------------------------------

Oh, took the car out in the morning to ICA at Paya Lebar to pay taxes for an imported LV bag shipment, had nasi lemak breakfast at Katong, explored the many interesting eateries at Katong, then in the afternoon played futsal at ECP. It sure is a fun Saturday!


Saturday, 4 October 2008 - No Stamina!
Futsal @ ECP!

The last game I played was on 9 August, haha! Was really looking forward to the game today, though fearing what 2 months of lay-off would do to my body and skills. :P

The bad news is, I was totally drained out of stamina! The last 10 minutes of the 2-hour session, I could barely muster a decent effort of defending and my legs didn't want to move anymore. Though if it was an attacking opportunity, the legs somehow found renewed strength, haha! Ball control was not too good either.

The good news is, I still manage to score two goals today. One was an opportunistic follow up shot after Kian Pang could only parry the ball directly into my path. The 2nd goal was a real beauty to cherish for a long time though! From the middle of the opponent half on the right side, I was watching the activities happening on the left when the ball rebounded off a defender and rolled into my path. I took a few steps forward and hit the ball perfectly with my right foot. The ball screamed towards the top left hand corner in a really straight and rising flight and nested into the side netting! The guys went "wah!!" while I grinned and raised my hands up in celebration and gave my team a couple of high-fives! :D

----------------------------------------

Oh! Corrine's back from US and we dropped by her place to pick up some stuffs.

The item I was waiting for has arrived! The Lego Starwars Luke Skywalker Pilot Maquette! At 6" high, this will be one fun collectable display item for my new home in 2010!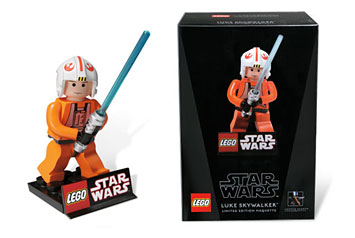 The Force is strong, my dear Skywalker


Wednesday, 1 October 2008 - No Place to Park in a Park
Every once in a blue moon, my wife does the unexpected thing. Today (actually yesterday) was one of them, where she suggested to go to a park! No picnic-mat-type of park, she clarified, just walk walk. It was still a good offer and so we headed to botanic gardens in the late morning.

But horror of horrors, the botanic gardens car park is full! Didn't everybody go to the East Coast Park instead? Sigh. After a while, we gave up and headed to Turf City instead. Car lots aplenty over there.

With an afternoon to kill, I decided to play my new computer game that I just bought few days ago! Company of Heroes (gold edition, with expansion pack Opposing Fronts)! Desmond is the one who psycho me to buy lah, saying CoH was the game of the year in 2006, and it only cost $19.90!



The men of Able company

This WWII RTS (real-time strategy) game is fun, though it requires serious strategic planning, very unlike Command and Conquer, where unlimited quantities of units can be produced. You have to fight to gain every inch of enemy territory!