How We Met
Once upon a time in NTU Hall 9 block 47, there lived a boy named Joel. He was a diligent guy *cough* who spends his time studying *double cough* and playing computer games while pursuing his degree in Computer Engineering. Since his first year in NTU in 1997, he has been the Hall's photographer and has been covering all the Hall's events. The summer of July'99 Hall 9 Freshman Orientation Camp (FOC) for the freshies was just another event for him. Or so it seems...

At around the same time, a gal from Indonesia has just arrived in Hall 9 to start her new life and new course in NTU Accountancy. This is the first time she's in Singapore. She's all alone, no friends, just her two large suitcases, and lots of instant mee. Her name is Lydia, and she has signed up for the Hall orientation.

It was not until the last day of the orientation on 10 July (Sat) that the two characters met on the Jam and Hop floor. But the story that unfolds proves to be very different from each individual perspective! Here is their story:

His story:
The Jam and Hop was the last event I had to cover as Hall's orientation photographer. I was having fun dancing with my different groups of friends, enjoying the party, the drinks, the music, and checking out the new freshies: the gals of course. ;) And it was on the dance floor that I started to notice a gal that I had never seen before. She was in a group just beside mine. I think she's looking at me and we caught each other's gaze. She looks pretty sweet and I can't help checking periodically to see where she goes. Sometimes she's at the perimeter of the dance floor, sometimes she's resting outside alone. I wonder how come I've never noticed her before?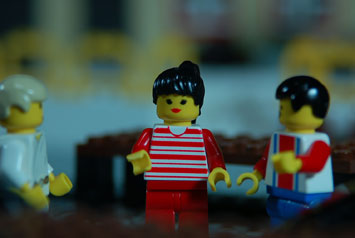 The mysterious girl

Needing a rest from the dancing, I went out to get a drink. Noticed Xingling sitting alone, I sat beside her and we chatted for a while. Hey, saw that mysterious gal again and I smiled at her. To my pleasant surprise, she sat down nearby on my right. I must find an opportunity to talk to her...

The DJ suddenly changed to slow dance music. I was contemplating what to do when Meiling came along and took Xingling to the dance floor. Perfect. That leaves me alone with her. But then, her Secret Pal (SP) appeared and practically pulled her to the dance floor even though she resisted. I guess it's not my luck.

But surprisingly, she passed her SP to another gal and came back and sat beside me! I was very, very happily surprised indeed! That means she likes me and wants to know me better! :D We sat there, silent for a while as the music plays away in the background. After psychoing myself for a while, I finally picked up the courage and leaned over and talked to her.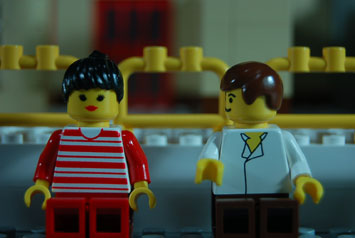 Initiating the conversation

I asked her why she doesn't want to dance and she replied that she doesn't like dancing. I found out that her name is Lydia and she is an Indonesian. Hey, she stays in block 47 too! Same as me! She asked me why I am not dancing with my girlfriend and I told her I don't have one. And then I pretty much directly asked her if she has a boyfriend and she told me she's too young to have one. That's fantastic, I thought.

It's now or never! I asked her if she'd like to dance... and she nod her head! :) I had a feeling that she'd say yes, but it was still very exciting! I stood up, stretched my hand towards her and she held my hand as she got up. We walked hand in hand as I led her to the dance floor.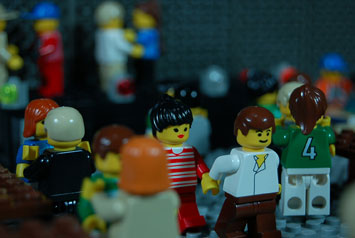 Hand-in-hand we walked to the dance floor

I put my hands round her waist and she put her hands round my neck. And we danced. We tried to talk but it only ended up pulling us closer together as we leaned forward to hear what each other was saying, cos the music was drowning out our voices.

I asked her why she didn't want to dance with her SP. She just shock her head. And then she asked me why did I ask her to dance. I though for a second and said, "Becos I think you're pretty". She laughed and quipped, "Then do you dance with all the pretty gals?" I looked at her in her eyes and said, "Oh no... only you."

She kept quiet and looked down to the floor. Perhaps it was my imagination, but I thought I felt her hands tightened round me as we got closer. Close enough to be barely centimetres apart. Close enough to send my heartbeat racing.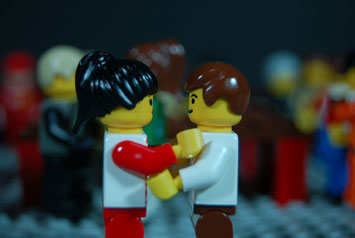 Sharing a slow dance together...

We must have danced through like 3-4 songs before the idiot DJ switched back to mambo music. She headed out of the dance floor and I followed her. She sat down at the same place and I went to get a drink.

Damn! Her SP is sitting beside her now and he doesn't look happy. I felt it would be bad of me to cut in and decided to leave them alone to sort things out. Unfortunately, that was to be the last time I got to talk to her. I didn't have any more opportunity and the Jam and Hop party soon ended. No pager, no email address, no phone... all I know is that she stays in block 47. I must see her again!
Her story:
Have you ever wondered why certain things happen in your life? I do. I wondered why I had wasted 1 1/2 years studying Accountancy in University in Padang. Why was I not sent overseas straight after my graduation from my Senior High School in 1997?

Even though I must abandon my course half way in Indonesia, I was quite happy that I could skip the 1st year Accountancy in University Technology of Sydney. I felt blessed that there was Uncle Allan & Aunt Lian who took care of me in Australia. Very well in fact, with lots of cheese cakes & desserts!

However, before I could settle down in Sydney, my parents wanted me to go to NTU in Singapore, as it is nearer to my hometown. This time round though, I had to retake the course from the very first year. Can you imagine how depressed I was. Again I wondered why this has to happen? But now, I understand. It was all part of His beautiful plan.

Here's how we met, my version: :)

----------------------------------------------------------------------------------------------------------

I was not very keen with the orientation program but I enjoyed meeting new friends (especially Suti, who is also from Indonesia and staying just a few doors away). Nonetheless, it was finally the last day of orientation and it was the Jam and Hop program. I danced a little with my OG but after a while, I felt tired and decided to rest at a corner with my roomie. Soon after, a senior came over and chatted with my roomie, leaving me alone. Then I felt that someone is looking at me (women has sixth sense!) and glancing around, I found the person. When I looked at him, he looked away nervously.

I don't know his name but I think he is the photographer. Every time he passes by, everyone will shout "Take photo! Take photo!"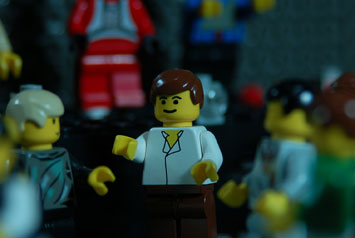 The photographer who keeps looking at me

After a while, I joined my OG again on the dance floor. Hey, that guy is still looking at me. Who cares!

Not long after that, my group (including our seniors) decided to take a break. We headed out and sat down by the corner to chit chat. After some time, we decided to hang around the disco arena and left our belongings on the seats (flowers from my SP & gift exchange).

There must be something wrong with the DJ. The music was starting to get really bad and un-danceable. We finally gave up and returned to our seats.

Hey, why is this photographer sitting on the seat next to my chair (where I had left my stuff)? Since my stuff is there, I walked straight to the chair and sat down.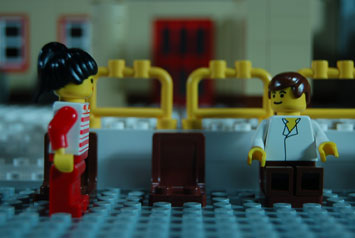 What's he doing here?

Silence...

Then the crazy DJ started to play slow dance music and my SP appeared and asked me for a slow dance. Since I am not interested and did not want to disappoint him, I grabbed his hand and one of my group's girl friend's hand and fixed them together to dance. So naturally I walked back to my seat and sat down.

Suddenly, the photographer who was sitting on my left quietly all these while, asked why I did not want to dance with my SP.

" I don't want to dance" I answered.

He started asking what's my name and where do I stay. Then I heard him asked, "Do you want to dance with me?"

I shook my head.

Then I heard the same question again: "Would you like to dance with me?"

Again I shook my head.

To my surprise, he stood up and stretched out his right hand. I looked at him and wondered, "Why this guy is very persistent? Told him that I do not want to dance. But he still keep pestering me to dance and even stand in front of me."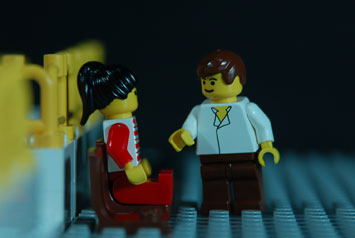 Why this guy is very persistent?

I felt something about his persistency, so I stretched out my hand as well.

As we walked hand in hand to the dance floor, I could feel that lots of eyes were looking at us. My SP will surely be not happy as I turned down his invitation. Some seniors might also be thinking, "Another junior being caught.."

I could feel his hand around my waist and we danced. It was silent for a while before he said, "Why you did not want to dance with your SP?" I just shook my head (I was still wondering what was I thinking to have accepted his invitation).

Then I asked him, "Why did you ask me to dance?".

You know what his answer was? "Because you are pretty".

"So do you dance with all the pretty girls?", I asked. He was not expecting my question and he answered "Oh no…only you" (What a typical buaya's answer).

Guess we danced through 3-4 songs before the disco music was played again. I walked out from the dance floor and went back to my seat. Not long after, my SP came and talked to me.

The photographer didn't appear again and the Jam & Hop ended after a while. I went back to my room with my roomie. She asked me about the guy dancing with me and what do I think of him.

What do I think of him?

"Nothing", I replied.

-----------------------------------------------------------------------------------------------------------

But who would have expected, this was the beginning of our story. God made "nothing" to become "something" and brought us together. And on 5 Nov 2005 (6 yrs, 3 mths and 26 days since we met), we will start a new chapter in our lives.