Her Perspective
It was the 10th of July 2002 and it was just another normal day. Although Joel said that he is working at 9am today instead of the usual 8am, and we'll catch a ride from his parents. He told me that we will be going out for dinner today. Well... it's not our first dinner date, so I did not suspect anything.

After lunch, I received a phone call from the receptionist. I walked out and was surprised that there was a lovely bouquet of flowers for me. She thought that it was my birthday. Strangely, the sender did not leave his name, but I could only think of one person who will send me flowers (unless I have a secret admirer :D). My other colleagues were also wondering why I received flowers even though it was not my birthday nor any anniversary.

But then I remembered that this was the day that we first met 3 years ago. I was pleasantly surprised that he actually remembered this day (cos his memory is hopelessly poor for date-related stuff). I was about to waive it off as just another one of his romantic gestures until one of my colleagues popped a question: "Will he propose today?" My heart ponders a bit, but I don't think that he will propose that fast. And I did not notice any weird behavior from him, such as searching for a proposal ring.

I decided to call him on his handphone (he told me earlier that he'll be away from his desk and I should call his handphone instead of the office phone) and mentioned about the flowers. He denied it though, although I'm sure it is from him.

After work, I did not bring the flowers with me becos I didn't want it to be squashed while taking the public transport. Who knows that he borrowed his father's car to pick me up. It's a bit strange here becos he will not borrow the car unless it is for an important matter. With the car, I thought we will be heading to some remote and special restaurant, like East Coast.

Imagine my disappointment when he drove into Raffles City car park. I mean, what's the point in taking the car just to take a 5min drive from Beach Road to Raffles City? Anyway.. no comments, just keep quiet.

From the car park, he led me to the reception area of Swissotel The Stamford. We turned left and he approached a waitress. The waitress then led us to a lift and surprise, surprise! The restaurant is on the 70th floor with a wonderful view of the city landscape. It's my first time here. I've heard about it many times but there was no chance, no money and no ocassion to come. It was a great experience. Nice place, nice ambience and nice food as well. I remember that I ordered Sirloin Steak. Yummy! Dinner went well but apart from that, there was no action from him. Hmm, curious to know what is his next action...

After dinner he drove down to Kallang Basin and we walked up and down. Again, there was still no action from him. Suddenly, he reminded me that Meteor Garden (the Taiwanese F4 series that I have been following everyday) will be showing soon at 9pm. But since we had the car, I was willing to miss an episode. But he said it was alright and didn't want me to miss it. So nice of him. What a surprise again.

When we reached home, I went upstairs to the bathroom to brush my teeth and wash my face. Then he called me into his room, saying that he has a surprise for me. It was a DVD of Meteor Garden and Love Hina X'Mas Special. Looking at the DVDs, I asked him why we have to rush home to catch Meteor Garden on TV if we've got the DVD? Anyway, I was very happy as I have missed the first few episodes. I was still engrossed with my new DVD collection when he turned on the TV. The Channel 8 News was ending soon with the familiar weather forecast announcement. I continued admiring my new DVD collection while the familiar Meteor Garden theme song soon played in the background.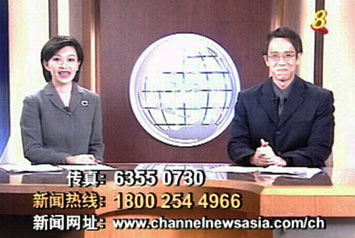 Suddenly, he asked me to look at the TV. On the screen, there were the subtitles "This is an important notice". And then it changed into "Will you marry me?" I am wondering how come got subtitles one? Even though my Chinese is poor, I don't think that is the translation of the theme song. Puzzled, I turned around and wanted to ask him about it.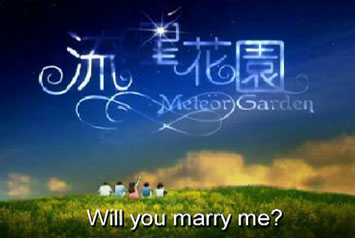 It was then I saw him on his knees. And in his hands, a diamond ring in a black box.

"Will you marry me?" he asked.

Words can't describe my feelings at that time. Even though I know that he will propose to me one fine day, I never expect that he will propose to me 3 years after we met and plan such an interesting sequence.

Of course my answer is "YES".