His Perspective
The morning of 10 July 2002 started off innocently enough. I have informed her that there will be a dinner date tonite and that she can dress up if she wants to. I changed into my working clothes as she ponders what am I up to, and what to wear for tonite. We then caught a car ride with my parents and I watched her dropped off at her office.

Except that I am secretly on leave today! The moment she's out of sight, I headed straight to River Valley to meet Kian Pang at his office. His colleague has what I was desperately looking for: Meteor Garden (Liu Xing Hua Yuan) VCD. The Taiwanese series is showing on Channel 8 tonite and she will definitely watch it. Which is exactly what I wanted: the plan is to add "Will you marry me" into the Meteor Garden opening theme scene and make it look like it is happening live on TV. :)

After getting hold of the VCD, I rushed back home to do the video editing. To make the processing story short, the video footage of a Channel 8 news broadcast (which is shown before Meteor Garden) captured earlier was merged with the opening theme scene. This is followed by a photo montage of us together with a background music of "Everyday I Love You". The phases: "This is an important notice" followed by "Will you marry me" were added in somewhere halfway through the opening theme scene. This took me till late afternoon to complete!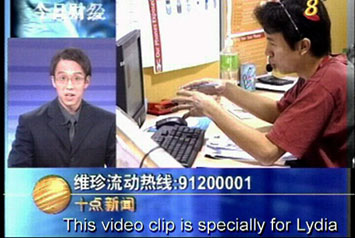 I had also arranged for an annoymous bouquet of flowers to be sent to her office in the afternoon. With her inquisitive mind, I'm sure she could guess that it was from me, especially when today is exactly 3 years since we first met. She'd probably suspect I'm up to something (like proposing), but that's the whole idea! To let her anticipate when am I going to pop the question. :)

The 2nd part of the surprise was borrowing my dad's car and going down to her office to pick her up. When she saw the car, she was really wondering what on earth am I up to. "Nothing, just for dinner" I said. I drove down to Raffles City and led her to the entrance of Equinox. The waitress ushered us in and led us to a silver lift. And as the lift opens at the 70th floor, there lay a breath-taking view of the city landscape. Resisting the urge to stay and admire more of the scenery, we were led to our seats.

What's the menu? Unfortunately at this time of writing, I can't remember what I ate! But it was like fusion (western - chinese). I think there was a duck or something and the waitress recommended some special 5-course dessert that normally I would have rejected without hesistation due to the prohibitive price! But this is a special day, and I probably won't be coming back for seconds. The atmosphere was good and we had a good time chatting and watching other diners. She asked why we had come to such an expensive place and I replied that it's to celebrate our 3 years since we met anniversary. Somewhere into the dinner, I wondered how it would be like if I opted to propose in here. That embarrassing thought left me cringing in my seat!

The dinner ended uneventfully as I called for the waitress to settle the bill. In my heart, I was wondering if she was thinking whether I was going to propose or not. I think there was a look of "Is this it?" in her eyes. :D

On the way home, I stopped at Kallang Basin and asked her to come out for a stroll by the river. She asked me what are we doing here and I just told her that I feel like walking along the river. We held hands and walked for a while... and then I looked at the watch and commented that it is coming to 9pm. I told her that her favorite TV show will be starting soon, so let's go home. She commented that it's okay to miss an episode. But I insisted, heehee!

When we got home, we went up to my bedroom. The tricky part now is how to find the opportunity to press the "Play" button on the DVD player hidden under the bed without her noticing. This I have already planned for. Reaching under the bed, I told her I've got a surprise for her. I took out a Meteor Garden DVD (imagine my horror then when I could not rip the theme scene from DVD, which was why I had to borrow a VCD version) and a Love Hina X'Mas Special DVD. While she was distracted, I quietly slid my hand under the bed and hit the play button. Then I took the remote control and turned on the TV, which was already preset to video channel of course.
Okay! The dubbed Channel 8 News is playing. Oops, the video quality is not that good as it was recorded off the TV and done in VCD format. There's a slight yellowish tone and it's a little blur. I certainly hope that she doesn't notice it...

The opening theme of Meteor Garden kicks in. And my heart starts kicking faster as well. My hand reaches down under the bed again and fumbled around before feeling the comforting velvet touch of the box containing the ring. The box doesn't need to be that hidden now and I moved it to the foot of the bed.

Oh no, she's still engrossed with the DVDs I bought her. That's not how it's supposed to go. She's supposed to be looking at the TV! I watched anxiously as the opening theme progresses while replying I-dunno-what to some question she asked or commented. If she doesn't start looking at the TV soon, it's not going to work...

The words "This is an important notice..." appears. She's still not looking. Ok, I can't wait anymore. "Hey, what is that?" I called out and pointed at the TV. She stopped and look at the TV and looked a little bewildered by the funny text.




And then the words "Will you marry me?" appeared. I got off the bed, got down on my two knees (cos there wasn't enough space between the bed frame and the radio table), picked up the box and popped open the cover to reveal a Tiffany diamond ring.

"Will you marry me?" I asked as I looked into her eyes.

"Yes!" she replied after a pause. Takes a while for her to comprehend wat's happening, I guess. :)

I took out the ring, took her hand and slipped it on her finger. The photo montage soon appeared. We cuddled together and relived the past we had shared and looked forward to another chapter in our lives. I'm just so glad that it caught her by surprise, that she was touched, and everything had worked out fine!