Entries by Joel


Sticky: Please sign the guestbook so that we know you've been here! We'd love to hear from u!


Wednesday, 1 Jan 2014 - Happy New Year!
Happy New Year!

Last year's resolution to update the blog regularly was unfortunately quite Mission Impossible. Our little pumpkin kept us super busy and wow, she is already more than 2 1/2 years old!

2013 has been a really interesting year of growth for Carissa; from a toddler who couldn't really communicate with us and needs to be fed home-cooked food where ever we go, she has now grown so much! We can engage in a full conversation with her and she understands what we say and what she says, 90% potty-trained now, highly observant (can spot a lizard hiding in the gap of the ceiling-mounted Exit sign while we walked past it), intelligent (I like to think so!) and really lovable and adorable. Like her mummy also, she can have quite a temper and pride if she doesn't get what she wants too!

Looking forward to what 2014 may bring and hold for our family. Happy New Year everyone!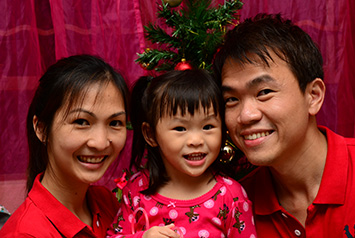 Photo from X'mas party on 24 Dec 2013


Sunday, 10 Feb 2013 - Happy Chinese New Year!
Happy Lunar New Year! 新年快乐!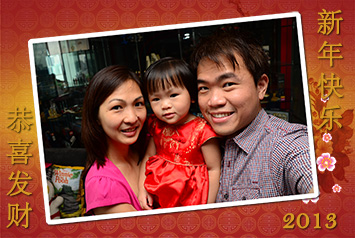 We were supposed to return to Lydia's hometown in Padang over CNY, so we had an early reunion dinner at my place on 2 Feb. But Carissa had a viral fever and we made the difficult decision to cancel the trip. So we had another reunion dinner on 9 Feb, this time at Jason's place!


Saturday, 26 Jan 2013 - Picnic @ Botanic Gardens
Together with my parents, J & family, Ah Seng & family and Ah Keng, we had a great relatives picnic at Botanic Gardens today. The weather was perfect too!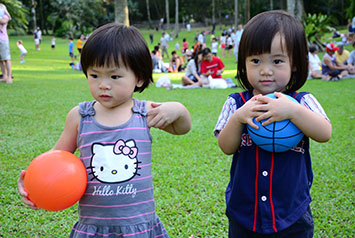 The two cousins playing with the balls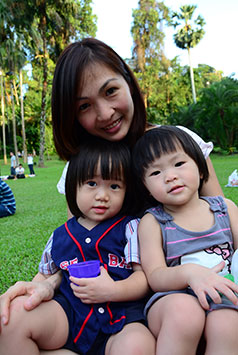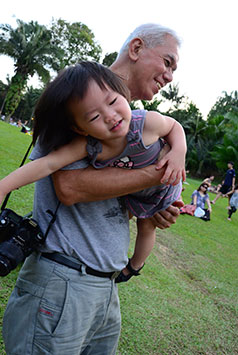 Getting cosy on Lydia's lap The "little worm"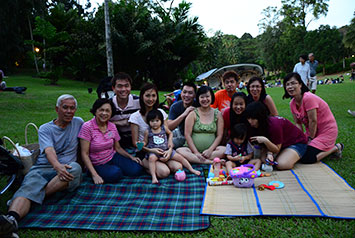 Group photo. Had a great time!


Monday, 21 Jan 2013 - A Tale of Two Lucks
Lydia and I are on leave today to spend some couple-time together as well as to run some errands and shopping while Carissa is dropped off at the childcare centre. :)

First stop was to Marina Bay Financial Centre to collect my Lego prize that I won in "The History of Lego" quiz. Wow, the building is impressive (Lift that scans your visitor pass and brings you automatically to the registered floor!), but most of all, Lego office looks awesome!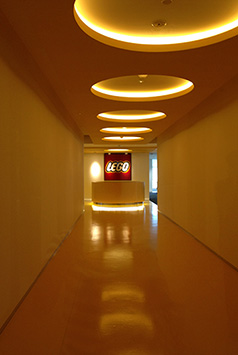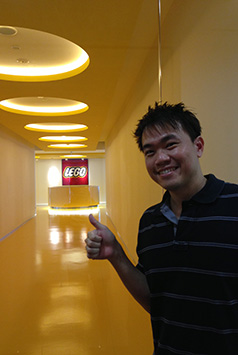 Entrance to Lego office @ Marina Bay Financial Centre

The big Lego logo is actually made up of hundreds of minifigs! So cool! The receptionist was very friendly and we had a good chat with her, like awe-struck kids! Anyway, the prize I won was 1 set of Lego Games Sunblock and 1 set of Lego Games Banana Balance. Ain't much, but a good start to the new year!

The rest of the day was spent shopping in Orchard Road, buying stuffs for Carissa and also actually buying clothes for ourselves too! If only all Mondays are so relax and fun. :)

Unfortunately, the LTA letter in the letterbox spoilt the mood. A $200 fine for forgetting to buy the weekend car eday supplementary license on 3 Jan! Suddenly I vagued recalled that there was one time MobilePay rejected the purchase due to bank error... My fears were confirmed when I checked my old SMS. :(

Damn, $200 is a lot to pay for forgetting to buy a $20 supplementary license. Planning to go LTA this Saturday to appeal. Hopefully they will be understanding and let me settle at $30. Keeping my fingers crossed!


Tuesday, 1 Jan 2013 - Happy New Year!!
Happy New Year!!

In the blink of an eye, 2012 has already flew by and Carissa is already 20mths old! The little pumpkin is no longer a baby but a toddler, and boy, how fast she has grown! From 3.1kg and 51cm long, she is now about 11.5kg and 84cm tall. It has been an amazing (and hair wrenching) time being the parents of our dear little girl. :)

New Year resolution for 2013:

1) Update the blog
Yay! Resolution achieved!! Haha. Well, I figured if I keep trying to backfill and catch up on the blog, it is practically mission impossible. So there's a 20 months gap. But better 20 months gap than a lifetime gap, especially during the most exciting part of our lives, during Carissa's growing up stages.

2) Be a good daddy and mummy to Carissa
We're not perfect and learning as we go along, but I'd like to think we have so far been doing a good job in bringing her up, nuturing her, caring for her and loving her. We will continue to ask God to teach us and guide us to be good parents to Carissa.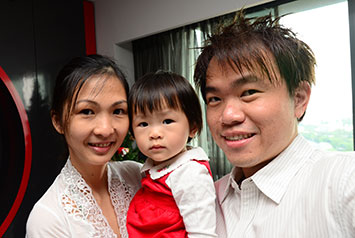 Alrite, 2 resolutions to strive for! Both life-time commitments, haha.

Happy New Year everyone and have a good 2013 year ahead!


Friday, 13 May 2011 - Baby's Adventure Begins



We're parents now. Ha!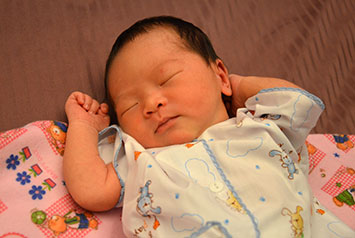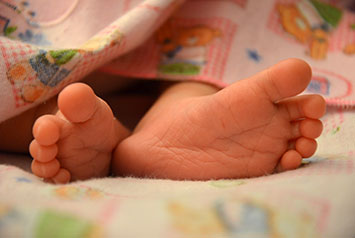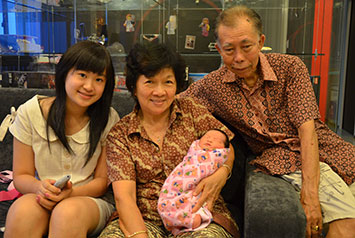 Lydia's parents and Pipin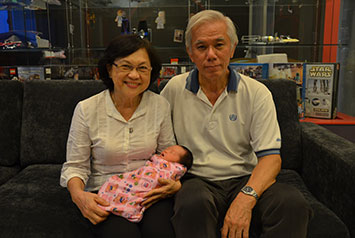 My parents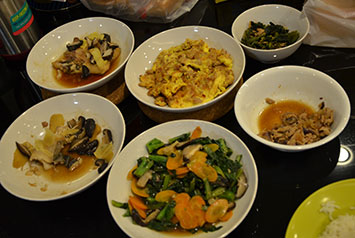 Typical confinement food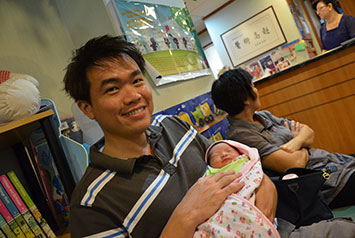 First trip to the pediatrician!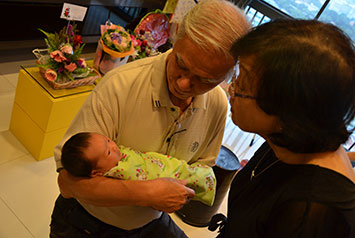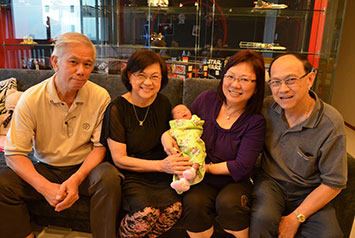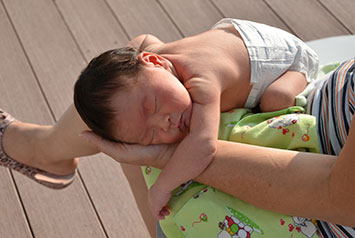 Her level of jaundice was quite high, so some suntan needed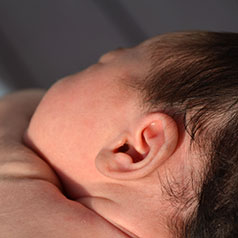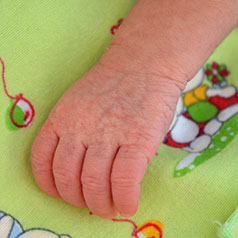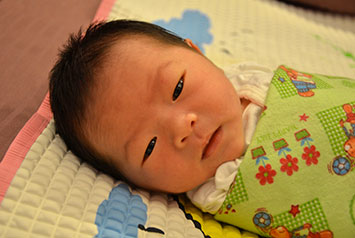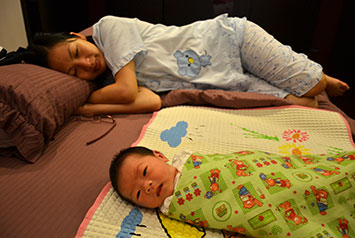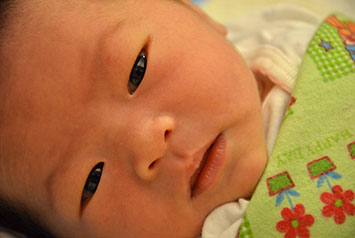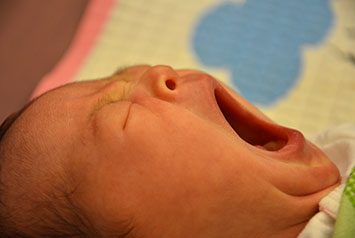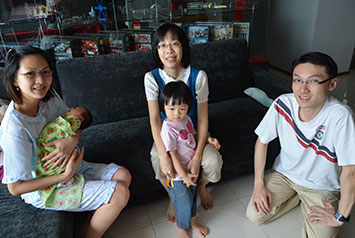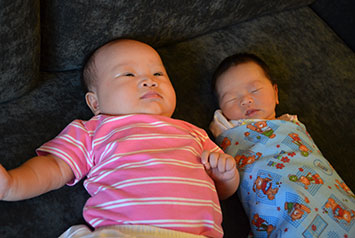 With her 6-weeks older cousin, Jacqueline! Lol!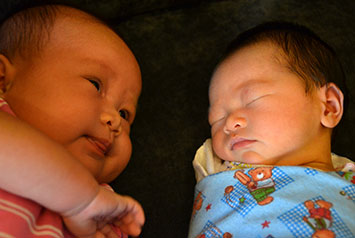 Jacqueline's so big compared to Carissa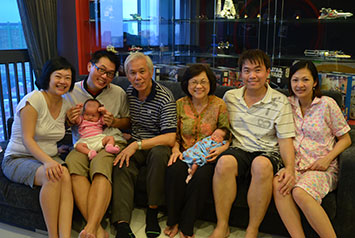 The new members to the Teo family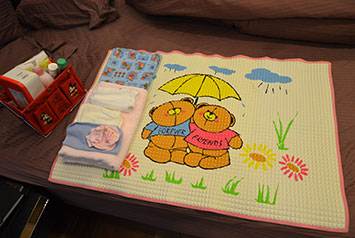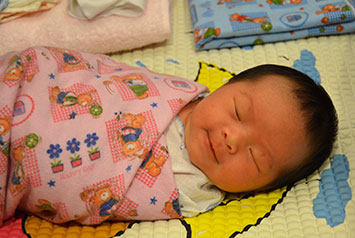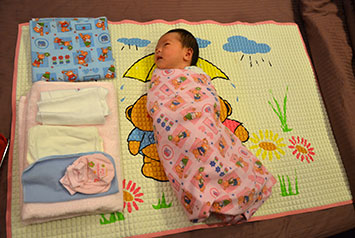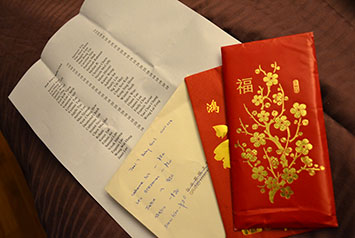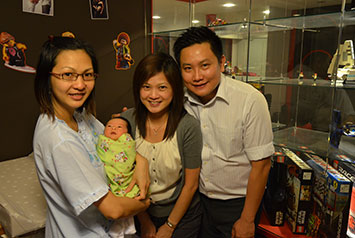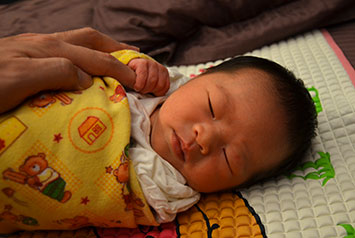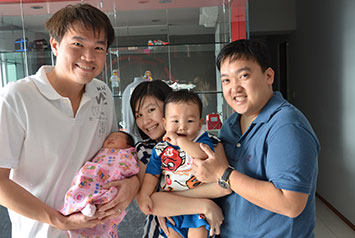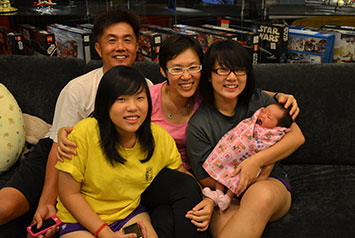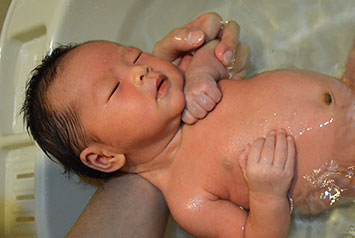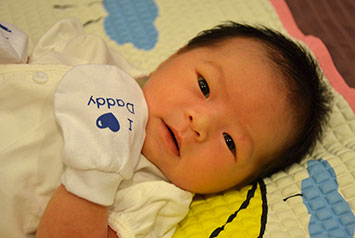 "I love daddy" :)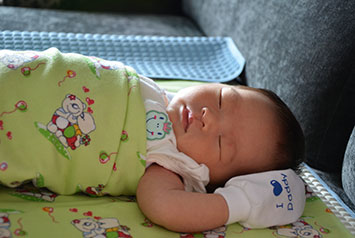 Thursday, 21 Apr 2011 - Home Sweet Home
After a 4D/3N stay at Mount Alvernia Hospital, we're going home with baby Carissa! Was worried that her jaundice level would be too high and the hospital would keep her behind, but thank God the photo therapy helped and she can go home with us. :)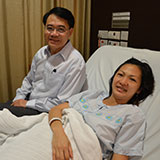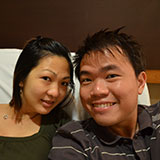 With our gynae, Dr Ho K.K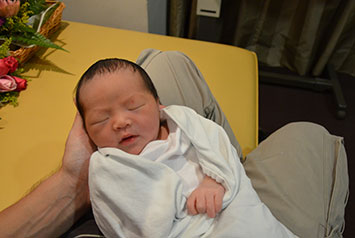 Going home soon baby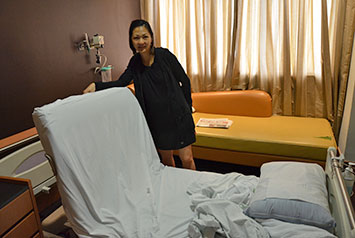 Lydia with her bed for the last 4 days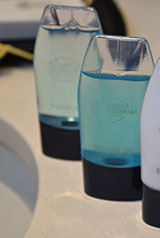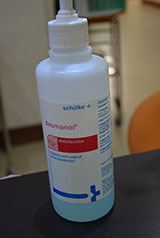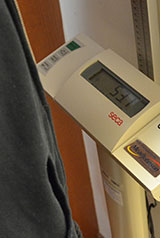 Memories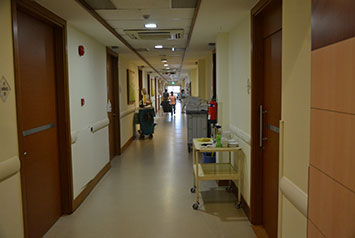 The ward corridor that I walked past countless times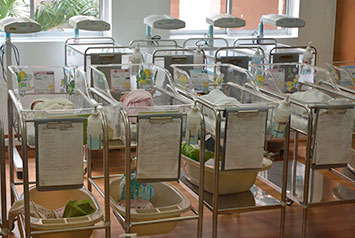 The one in pink in the nursery room



Ready to be discharged!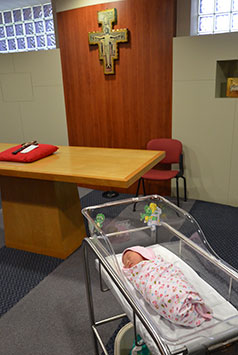 A blessing service! How nice!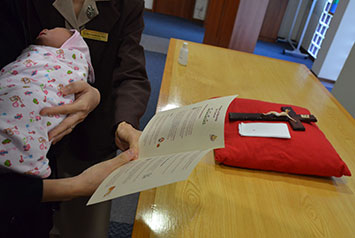 Reading the prayers of blessings specially prepared by Sister Bernadette Yeo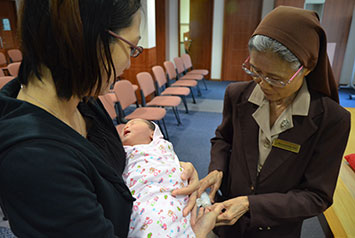 Sister Bernadette annointing the baby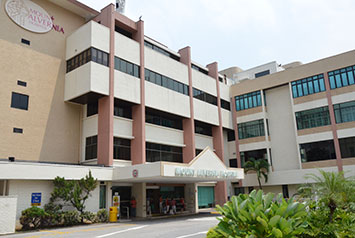 Farewell to Mount Alvernia and thank you for everything!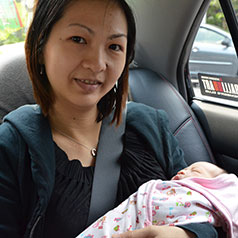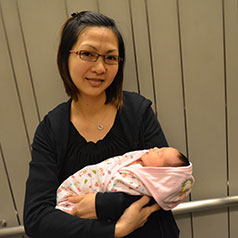 Baby in mummy's arms in the car In the lift to our flat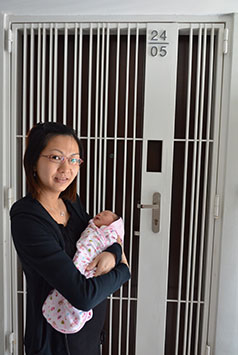 Outside the gate to our flat!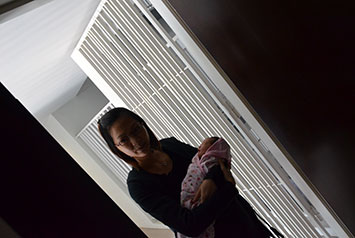 Home sweet home!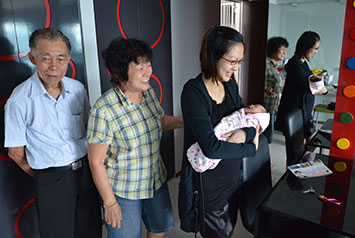 Lydia's parents were thrilled to see the baby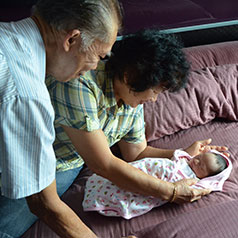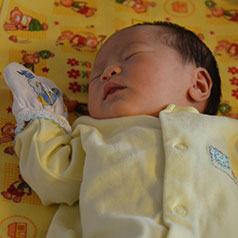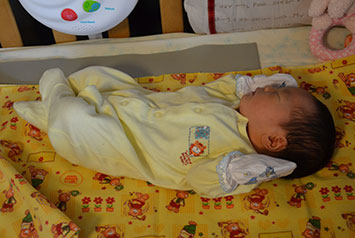 What a cute "praying" position, heehee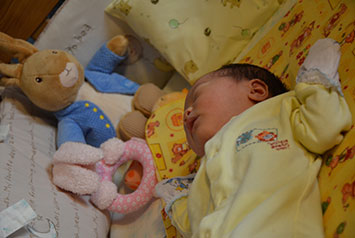 Peter Rabbit watching over baby Carissa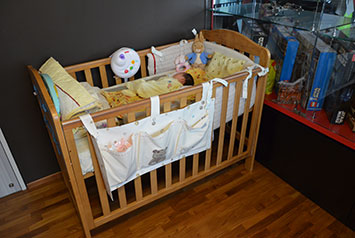 Baby's cot in my Lego computer room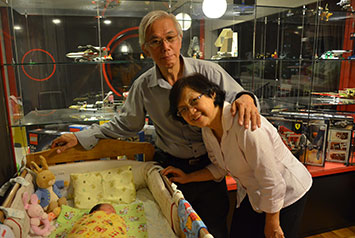 My parents dropped by to visit at night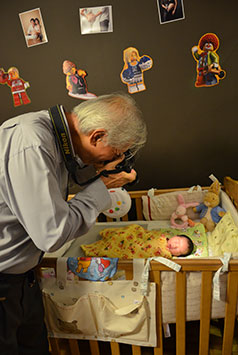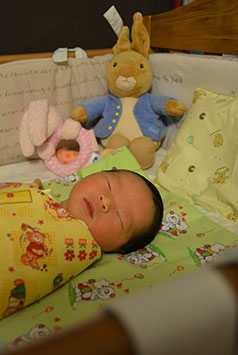 Taking photos of baby

The real challenge of having a baby begins now, outside the safe haven of the hospital. The baby's needs, cries and wants are now entirely in our hands and responsibility. We do have a confinement nanny to help things along during the crucial 1-month period, to care for Lydia who's recuperating from her caesarean, to cook, and to take care of the baby also.

How exciting! :)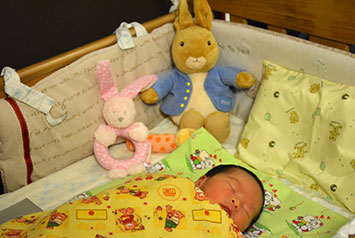 1st night at home. Good night baby!


Wednesday, 20 Apr 2011 - Thanks for all the well-wishes
Many thanks to all who visited, as well as for your gifts and Facebook/SMS well-wishes. Last day in Mount Alvernia Hospital and tomorrow will be a brand new step into the world outside the safety of the maternity ward.

Carissa went straight into ICU after delivery as the doctor noticed her breathing was very fast and heavy, and her chest depression was quite deep. After almost 7 hours of anxious wait and to-and-fro trips to ICU to check on her, the doc finally released her close to 4pm. Thanks God!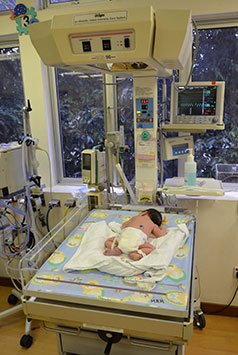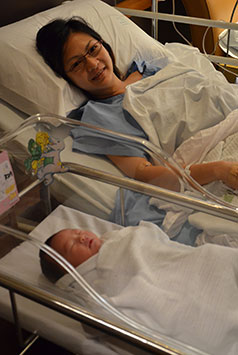 Poor Carissa in ICU for observation Making her first appearance to mummy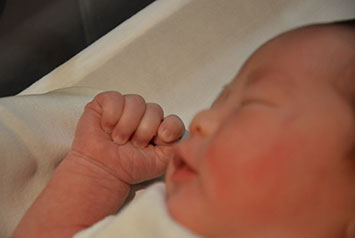 Little hands...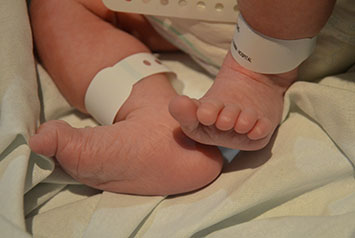 and little feet...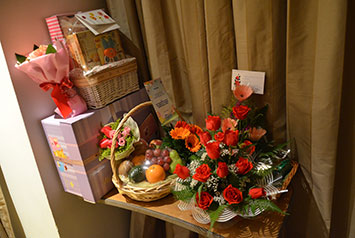 Thanks for the gifts!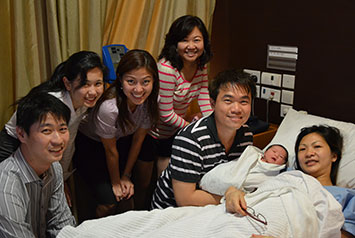 My office colleagues. Thanks for visiting!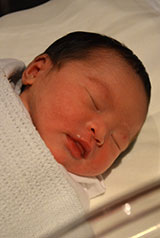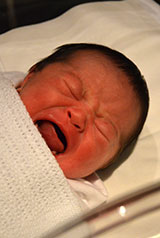 One moment sleeping.... Next moment wailing, heehee

I did my first diaper change after this. The reason for her wailing, hehheh. I could have called the nurse, but hey, I'm now her daddy and sooner or later, I will have to know and learn how to do it. And it was done, after using like 15-20 wet wipes, haha! Proud of my achievement nonetheless! :D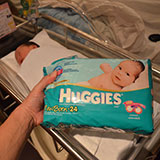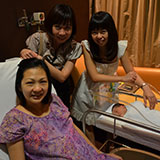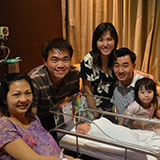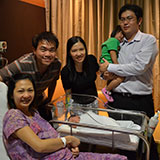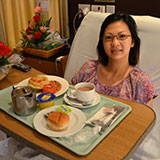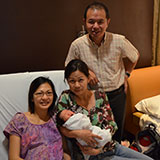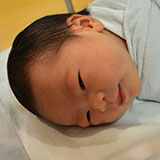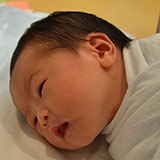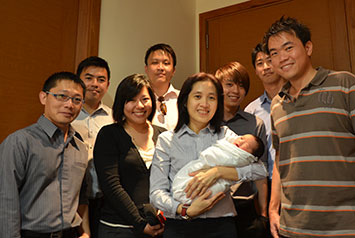 My IT office colleagues



Pains my heart whenever she gotto undergo photo-therapy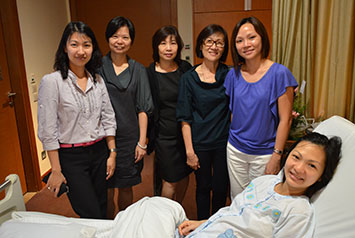 Lydia's office colleagues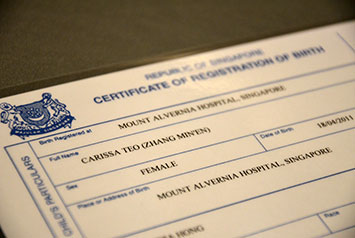 Carissa's a Singaporean citizen now!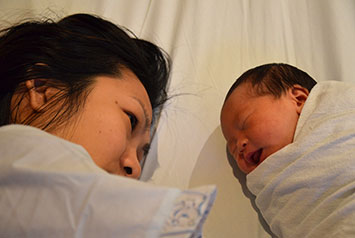 Mummy looking at her little bundle of joy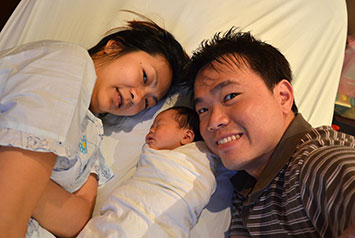 Our little bundle of joy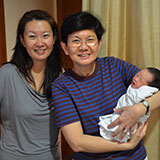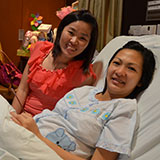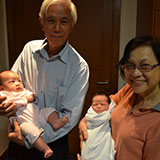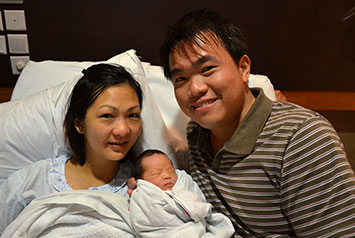 With our little princess

How was the delivery like?

Surreal. The delivery was really fast and it felt like a dream as I sat beside Lydia while the gynae was cutting away layer by layer through Lydia's stomach, and he's only less than an arm's length away! My head was getting a bit light by the sight and thought and was worried I was going to faint, haha! So I turned my attention to ensuring Lydia's okay and talked to her.

Was praying that the baby will come out fine and when her head popped out full of hair, my first thought was "Wah, so much hair!" She slipped out very quickly after that and when she cried almost immediately, I knew that all is well. :)


How does it feel being a dad?

Being so busy in the hospital, it hasn't really sunk in yet. Was busy attending to visitors, birth registration, taking care of Lydia, taking meals, feeding the baby.... I've never carried a small baby before, so to hold my own baby in my arms was really a joy and new experience. I hope I will be able to bear the responsbility and face the many challenges ahead.

But one thing for sure; I'm really proud of my wife and my baby :)
How miraculous and precious life can be! The song "Because He Lives" was playing in my head during the stay in the hospital:

How sweet to hold a newborn baby,
And feel the pride and joy he gives.
But greater still, the calm assurance:
This child can face uncertain days because He lives!

Because He lives, I can face tomorrow,
Bacause He lives, all fear is gone.
Because I know He holds the future,
And life is worth the living,
Just because He lives.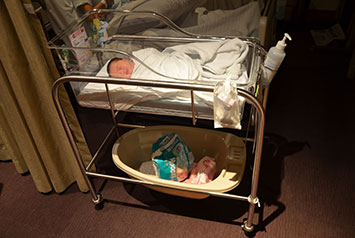 Good night baby Carissa


Monday, 18 Apr 2011 - Baby Carissa Teo
Flash update!

It's a girl!

Baby Carissa Teo was born into the world on 18 Apr 2011 at 8.57am!
Weighing 3.1kg and 51cm in length, she came out with her tongue sticking out and cried immediately without needing any spanking from the doctor, heehee!

Praise God for our baby daughter!

I'm a dad now! :P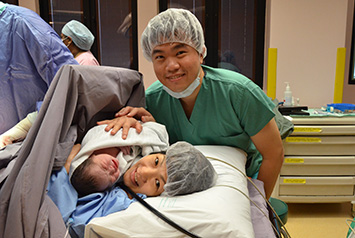 Our 1st family photo with Carissa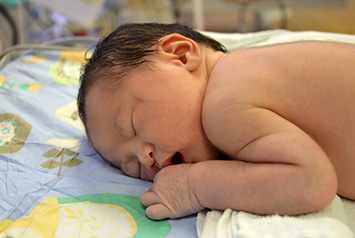 A very active and strong baby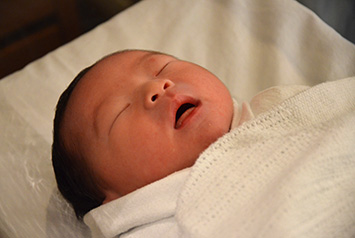 Carissa in her dreamland-look with mouth open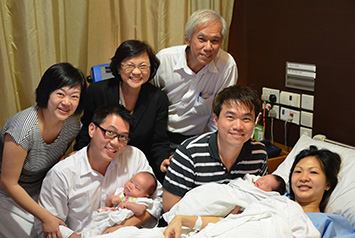 The Teo family has suddenly expanded by 2!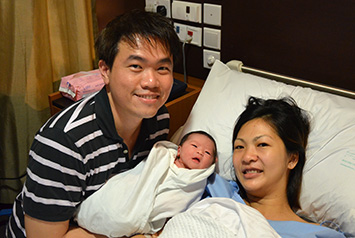 Daddy and mummy with baby Carissa

Life will never be the same again. Lots of challenges ahead but with God's strength, we look forward to more joy, happiness and disrupted sleep with our newborn baby!

*Updates below from 20 May 2010 to present will be done periodically when I can squeeze in some time.


Thursday, 20 May 2010 - Sightseeing in Dubai
Took leave today and went sightseeing with my wife :)

First stop, a trip up Burj Khalifa, the tallest building in the world at 828 metres!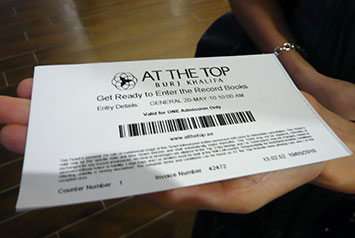 Tickets have to be bought in advanced, else its 400AED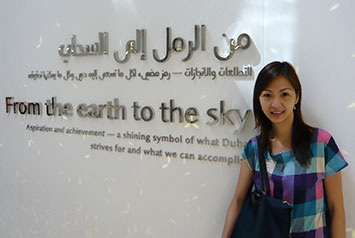 From the earth to the sky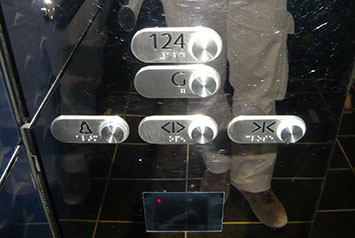 World's fastest elevator at 64km/hr, to the 124th floor!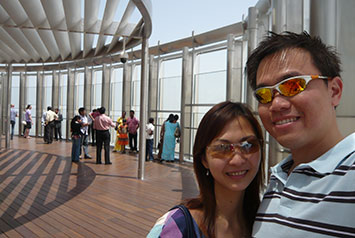 At the "top"! We're actually 2/3rd up, highest being 160th floor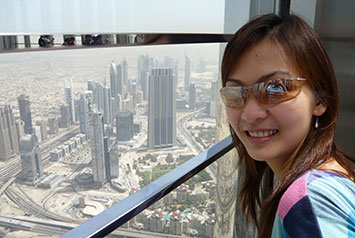 Peering through the glass at the buildings @ Sheikh Zayed Road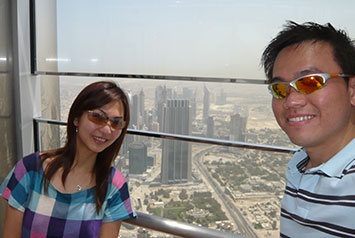 At the top of the world!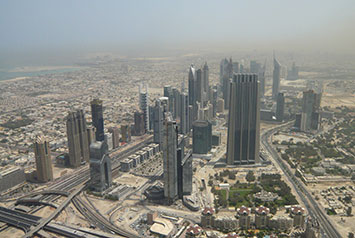 The commercial buildings lining Sheikh Zayed Road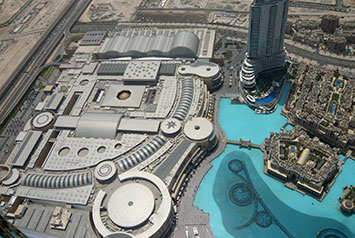 The huge silverish structure is the Dubai mall!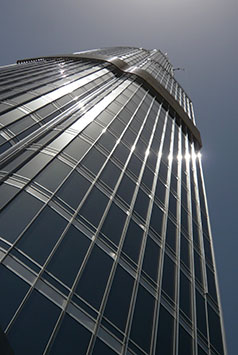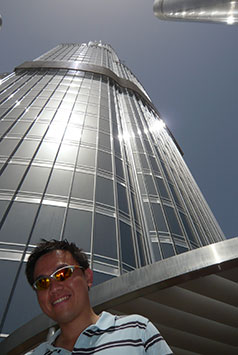 Looking upwards to the top I'm getting baked!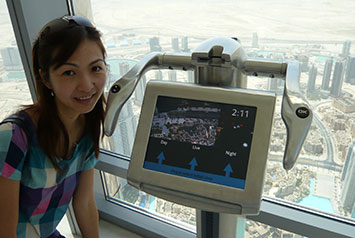 In the comfort of air-con and bird-eye viewer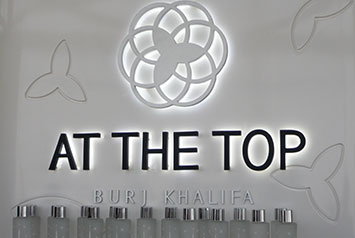 Highest man-made structure we ever been on the ground

After the morning spent at the urbanistic Burj Khalifa, we went to the old city of Dubai at Dubai Creek. Lydia's trip ain't complete without a ride on the abra to Gold Souk!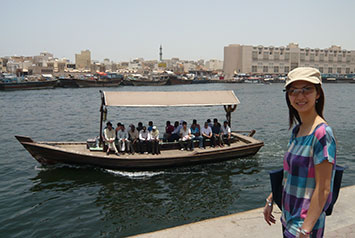 At Dubai Creek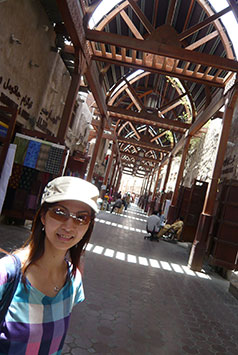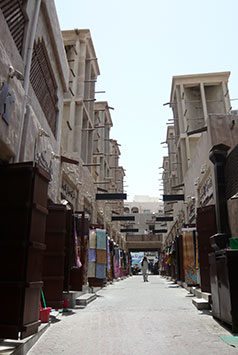 Walking along Textile Souk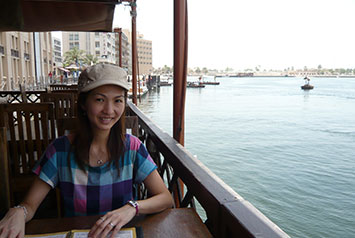 Lunch by the creek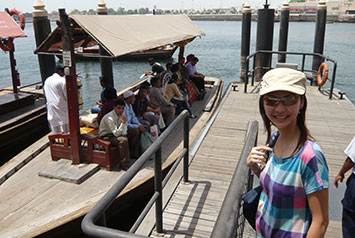 About to get onto the abra!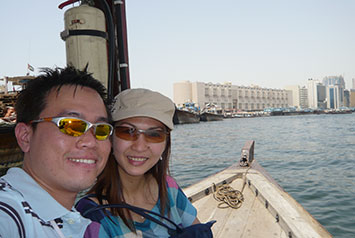 We are sailing!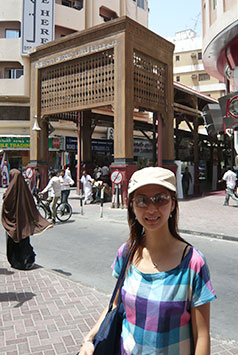 The brown structure - Gold Souk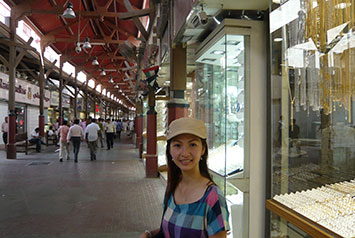 Along the walkways of Gold Souk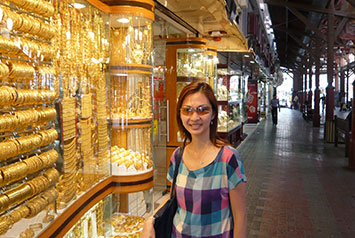 Basking in the glow of gold!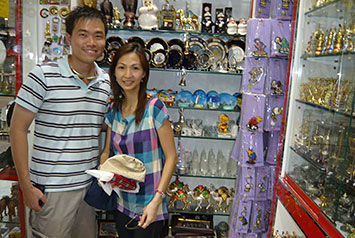 Buying souvenirs from the friendly shop at Gold Souk

The day doesn't end here. In the late afternoon, we're off to the Desert Safari! It's a roller-coaster dune bashing ride into the desert top off with a dinner, in the desert of course.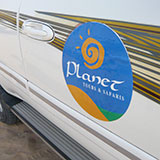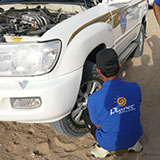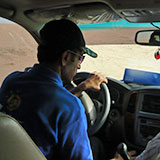 Planet Tours Tires need to be deflated Our driver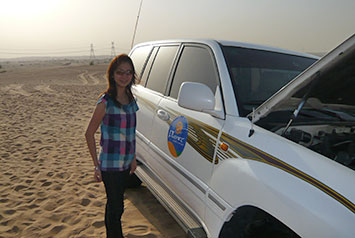 Our ride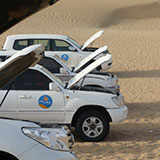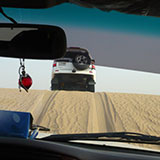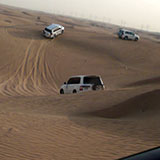 Let the dune bashing begins!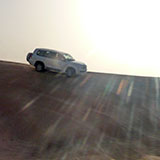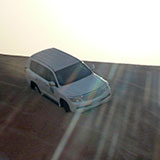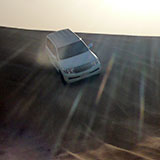 Wheeeeee!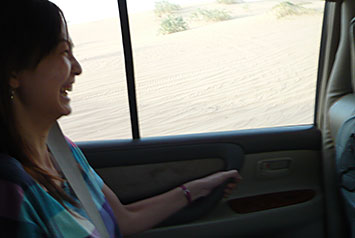 Thrill factor!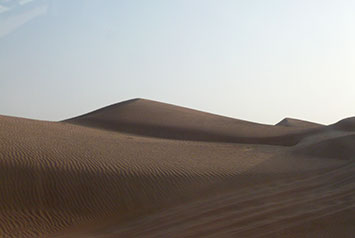 Beautiful desert sight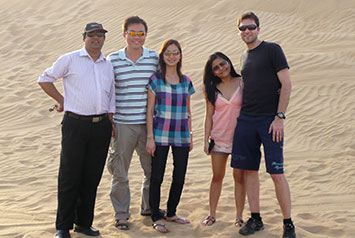 1st stop: The rest of the people in our car



Photo time!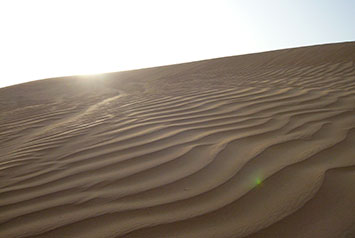 Nice scenery!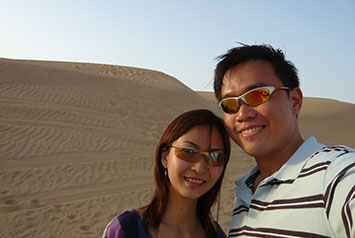 Photo together in the desert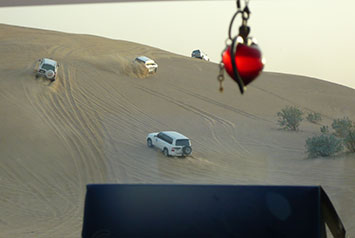 Another round begins!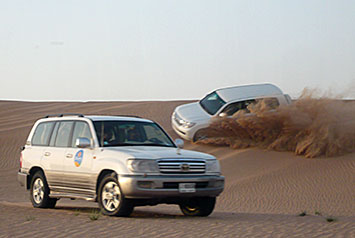 Dune bashing is really fun!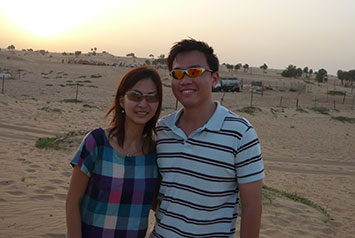 Pit stop to catch the sunset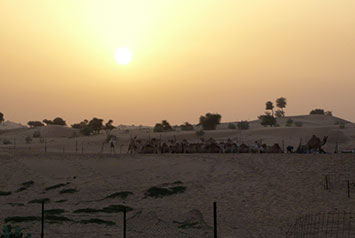 The camels are watching the sunset too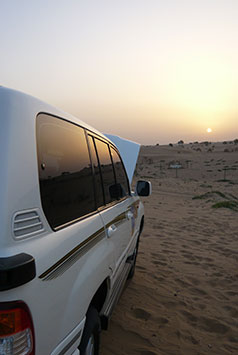 Nice shot of sunset with our car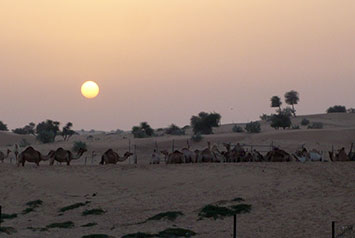 Going down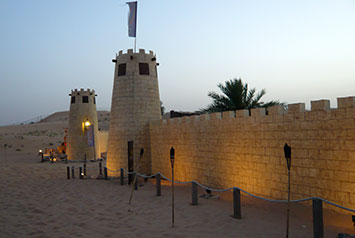 Arrived at the desert base camp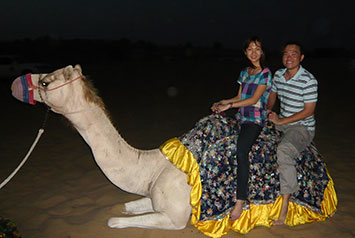 Camel ride!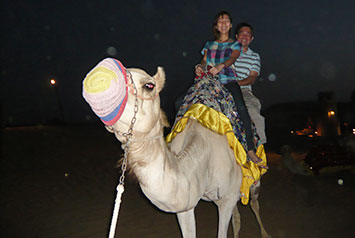 It's quite high up there!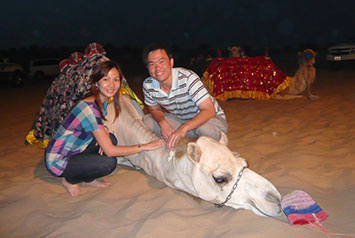 The camel is tired after carrying us, ha!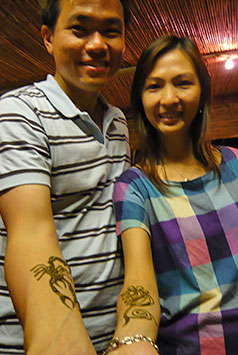 Getting our hanna art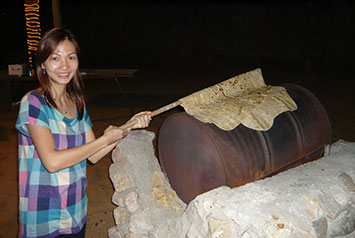 Lydia heating up her own dinner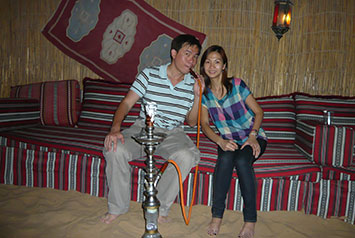 Lounging by the sheesha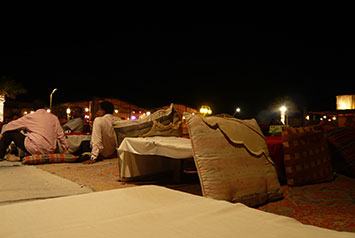 The reclining eating area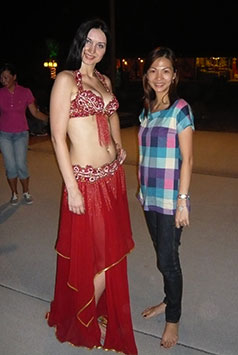 Photo with the belly dancer


Wednesday, 19 May 2010 - Lydia in Dubai!
In the wee early morning, Lydia arrived in Dubai! Took her a long time to clear customs but we're together again :)



Seeing the wife again after 3 weeks

First stop after work: Dubai Mall! :D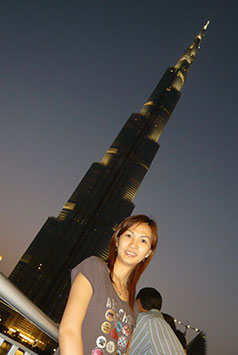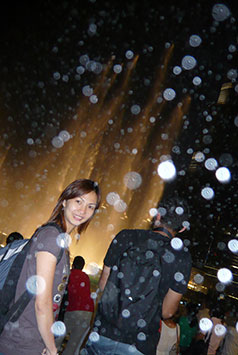 In front of the Burj Khalifa Sprays from the Dubai fountain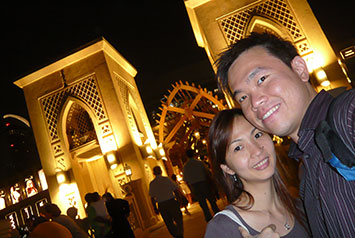 At the bridge to Souk Al Bahar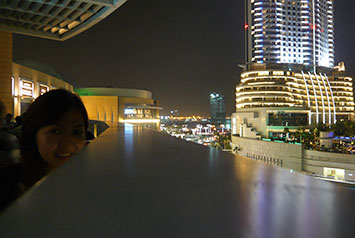 At TGI Fridays overlooking the promenade below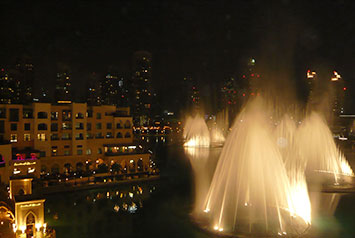 Great view of the Dubai fountain show below



Dinner with Lydia in Dubai!


Monday, 17 May 2010 - Dinner at Dubai Mall
After work, went with my parents to Dubai Mall for their last minute shopping before having dinner at Wafi Gourmet, a Lebanese restaurant. The food is nice!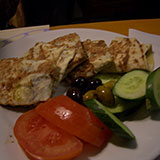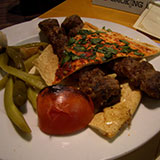 Dinner at Wafi Gourmet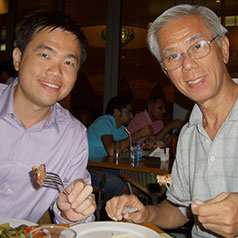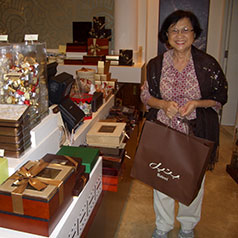 My parents last night in Dubai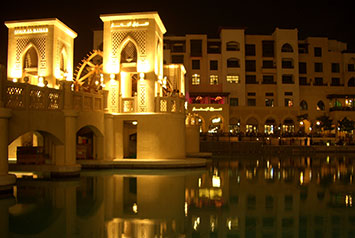 Crossing over to Souk Al Bahar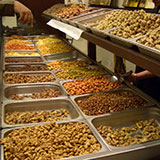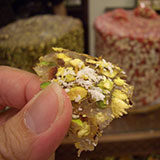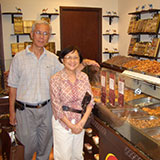 Buying nuts from Munch & Crunch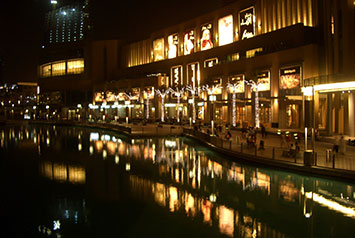 Dubai Mall in the night


Sunday, 16 May 2010 - Sunday Service at the Jumeirah Mosque
It's super rare that we'd spend a Sunday morning in a mosque. But hey, we're in Dubai and it's the famous Jumeirah Mosque. It was very educational and first time for me stepping inside a mosque.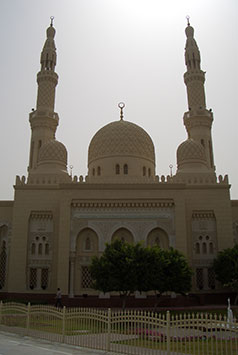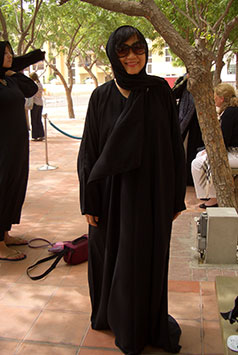 The Jumeirah Mosque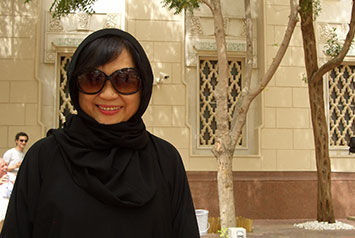 Mummy in her mosque-provided attire. Looks cool!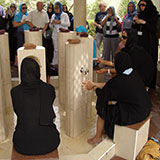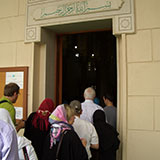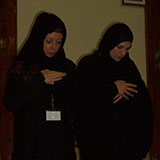 Ablution Entering the mosque Our guides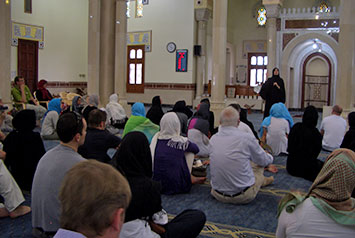 Getting good insight into Islam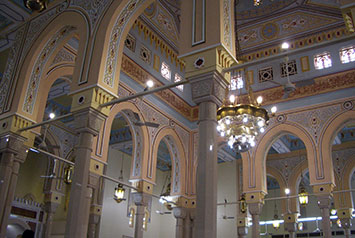 Interior of Jumeirah Mosque



The ceiling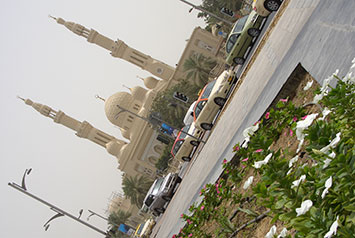 From a distance...

Next stop at the public beach at Dubai Marine Beach Resort & Spa, which is just across the road from the mosque.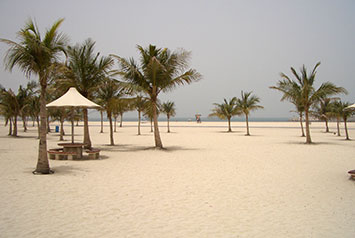 Huge open beach!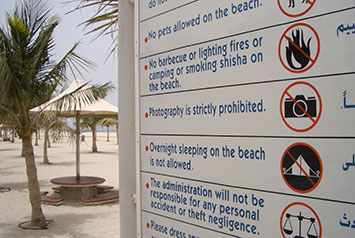 No photography allowed. O...K.....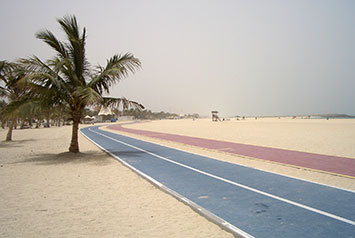 Running tracks?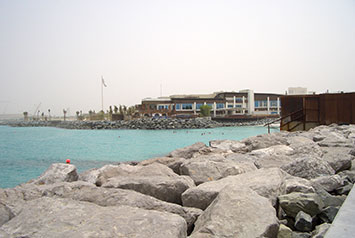 Dubai Marine Beach Resort & Spa in the distance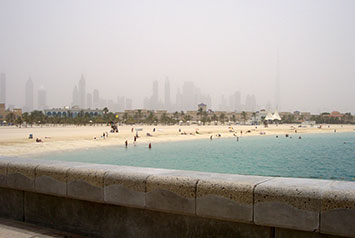 View of the beach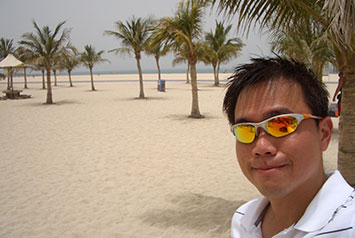 Self-potrait

Next we went back to Dubai Creek and explored the area of Bastkiya and had lunch at Local House, a restaurant that serves camel burger!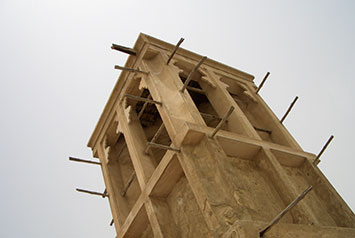 Wind tower replica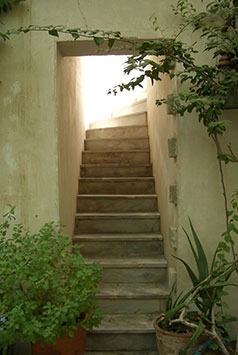 Exotic shots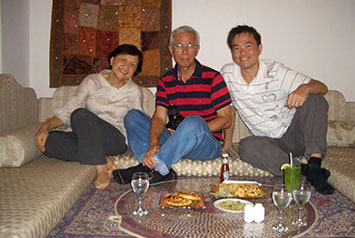 Lunch at Local House, reclining style!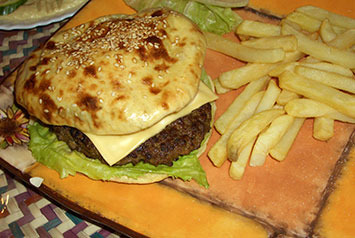 The camel burger!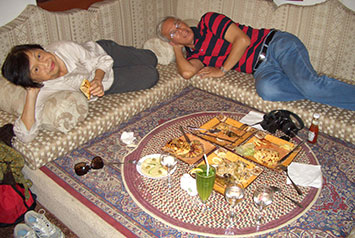 My parents literally doing the reclination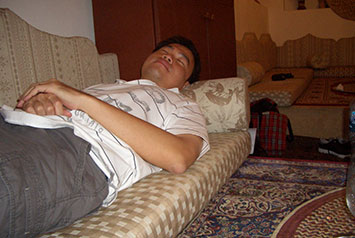 I decided to join them and took a really nice nap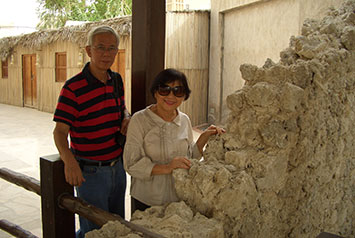 At the Wall of Old Dubai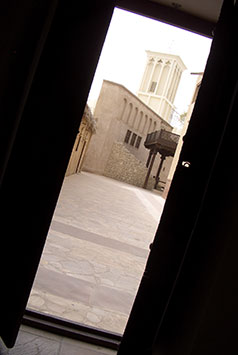 Interesting shots in Bastkiya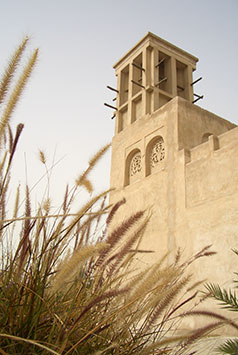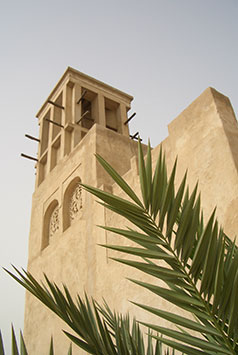 More low angle shots



Father and son in a tent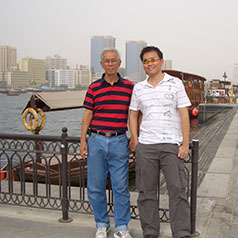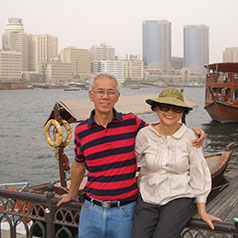 Taking photos along Dubai Creek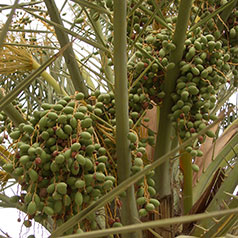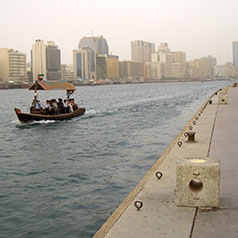 Dates on a date tree!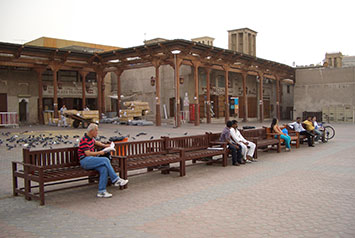 Relaxing...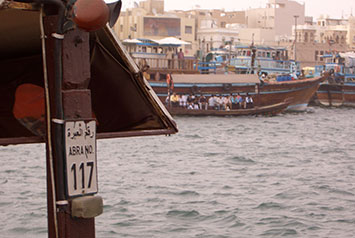 The buzz of Dubai Creek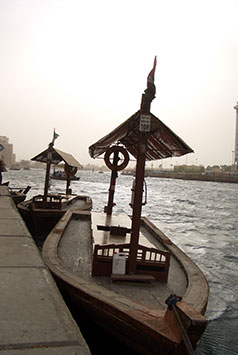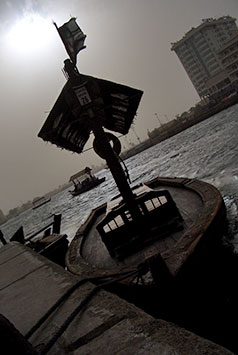 The Abras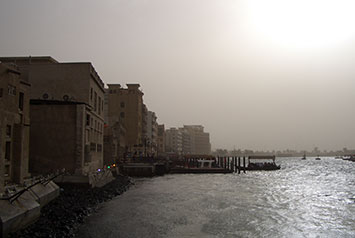 Dusk is approaching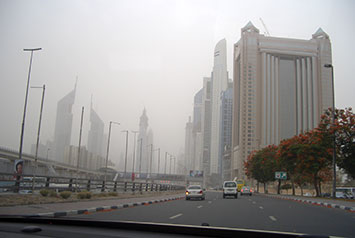 Back to Fairmont Hotel by taxi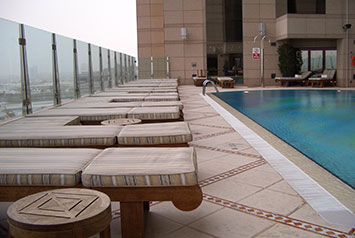 Nothing like soaking in the swimming pool after a long day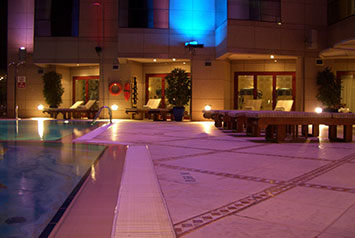 Stayed by the pool till it was night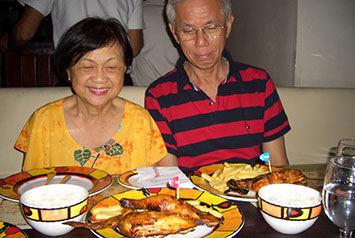 Dinner at Nandos!


Saturday, 15 May 2010 - To the Atlantis!
Visited the Lost Chambers of Atlantis with my parents, together with Yukari, Janice and her mum.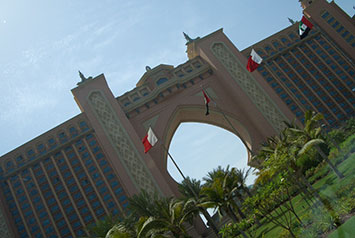 The iconic structure of Atlantis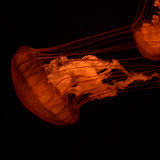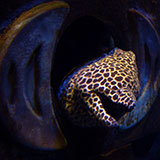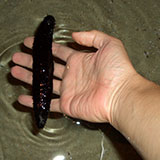 Creatures of the deep...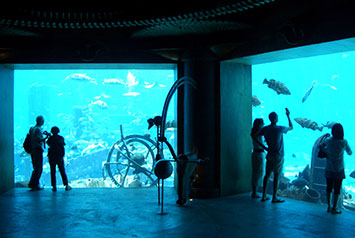 The huge underwater aquarium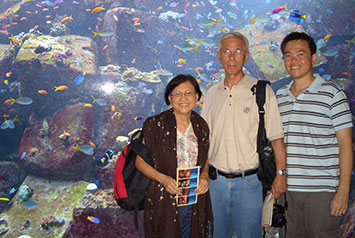 Me with my parents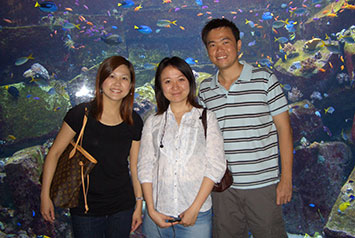 Me with Janice and Yukari

Lunch stop was at The Noodles House @ Souk Madinat Jumeirah. Nice place!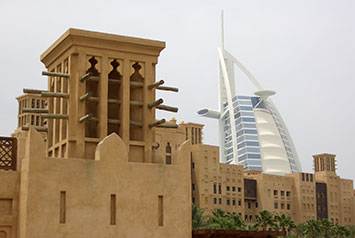 Souk Madinat Jumeirah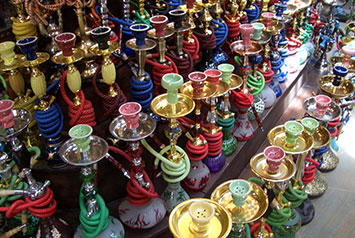 The cool sheesha pipes!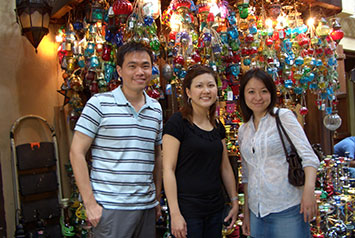 Posing in front of the stall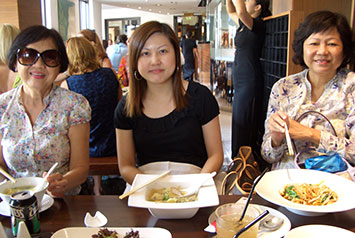 Lunch at Noodle House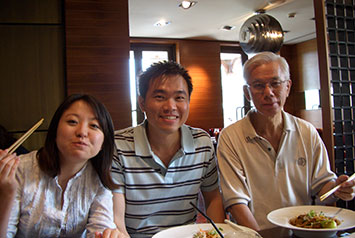 Chinese food is not cheap here!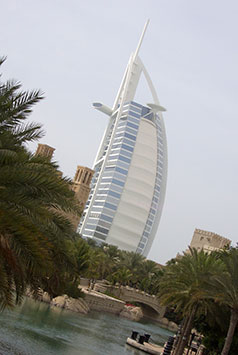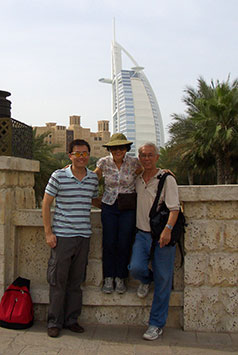 The 7 star hotel! Burj Al Arab!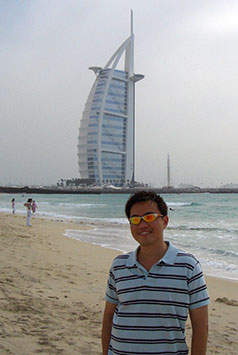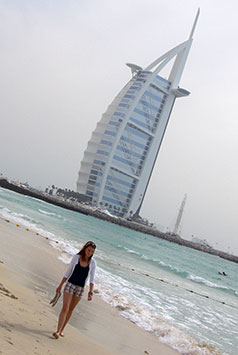 At the public beach closest to Burj Al Arab

Next stop, Dubai Creek!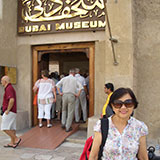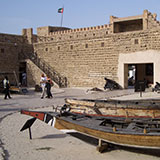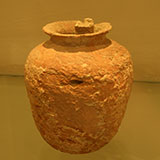 At the Dubai Museum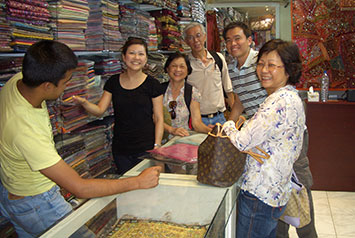 Shopping at the textile souk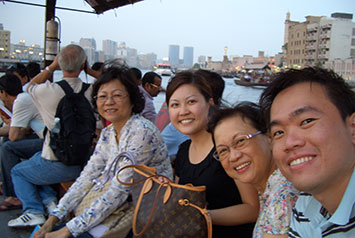 Taking the Abra across to Gold Souk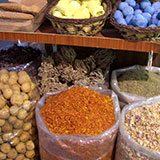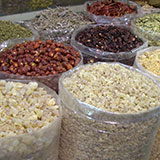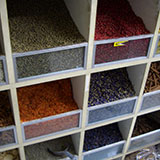 Spice Souk first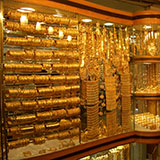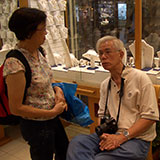 At Gold Souk!


Friday, 14 May 2010 - Lunch with Colleagues at Bocadillo
This cafe between two tall buildings provide a nice sanctuary from the sun in the afternoon. Had lunch with Rahim, Phinu and Anthony on this fine lazy afternoon.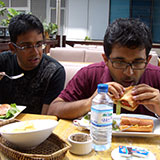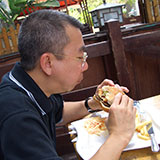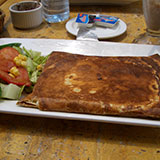 Rahim and Phinu Anthony enjoying his burger My lunch!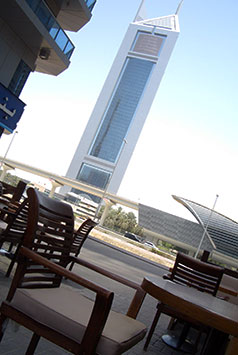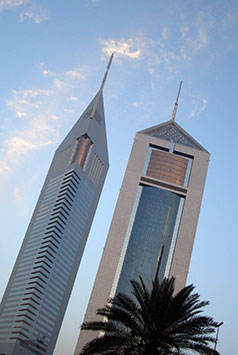 Nice relaxing afternoon


Thursday, 13 May 2010 - Byblos with My Parents
Brought my parents to my favorite restaurant, Byblos! They loved the bread and hummos!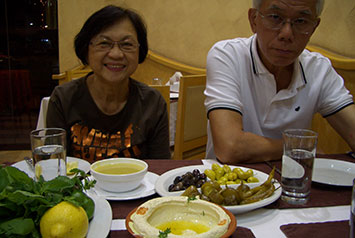 Wednesday, 12 May 2010 - Dubai a Foodie City
If you think you're going to suffer in a Middle Eastern country like Dubai because of a lack of food variety, you can't be more wrong. Apart from the Middle Eastern food being a delight, the international choice is plentiful as well. The only thing is, food is expensive!

Today's lunch is with Anthony at Al Fresco (Italian Trattoria) @ Crowne Plaza. Crowne Plaza hotel is old, but it has many restaurants.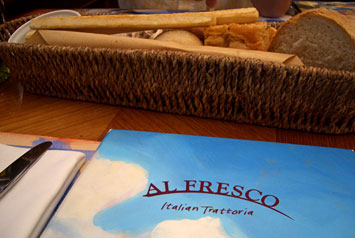 Love their complimentary bread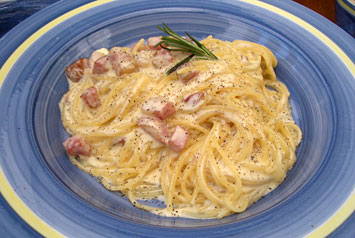 My carbonara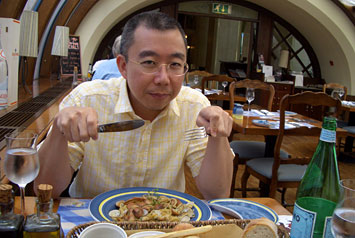 Anthony is all ready to dig in

And my parents arrived in the evening! It's nice to have company in the room! I don't mind the snoring :D



First stop, Dubai Mall with my parents!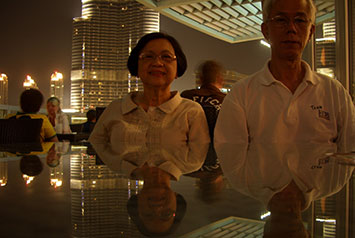 With my parents at TGI Fridays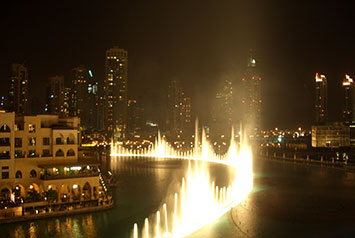 Great view of the musical fountain below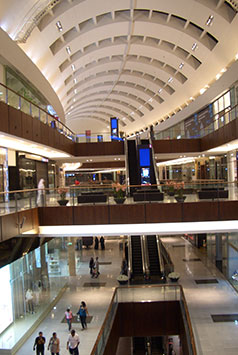 Nice shot of the Burj Khalifa High ceiling of Dubai Mall


Tuesday, 11 May 2010 - Sushi and Sashimi
All you can eat lunch buffet at Sakura for 99AED! So I went there with some of the office colleagues for lunch. It's pretty good and healthy. Heard that Rashad eats here everyday, lol!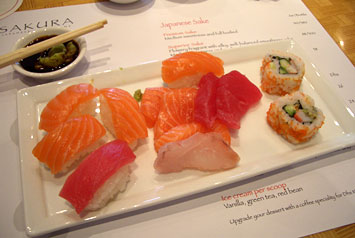 Sakura Japanese restaurant @ Crowne Plaza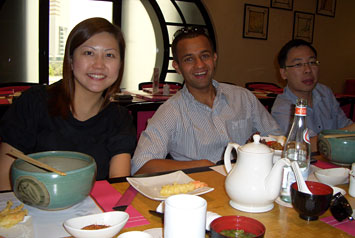 Janice, Taresh and Weiyang



Geok, Rashad and Joel


Sunday, 9 May 2010 - Sunrise and Sunset in Dubai
Woke up particularly early to catch the sunrise. It's a pity the World Trade Centre building is blocking the rising sun.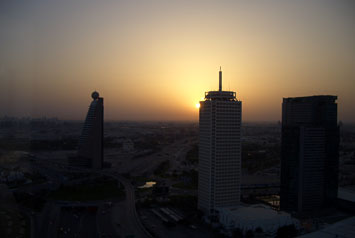 View from my window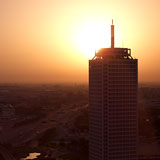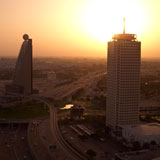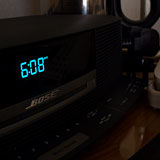 The orangy glow of the sun due to low-level sand dust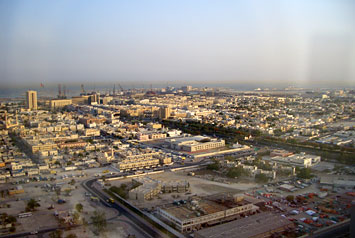 6.14am: Once the sun gets above the dust, it lit up the whole place

Went out with Anthony after that on his Sunday's routine, as well as take some photos. He's a really avid photographer with a portfolio with iStockphoto. Check out his works!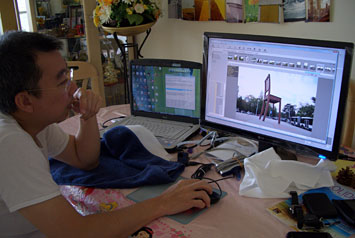 Anthony's work desk at home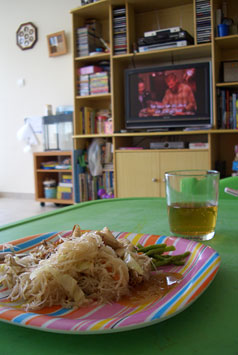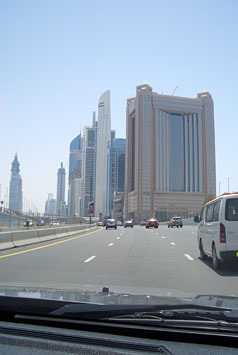 Lunch @ Anthony's home Brown building ahead is Fairmont Hotel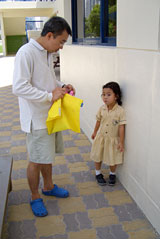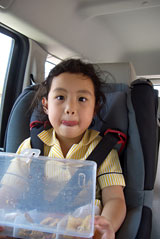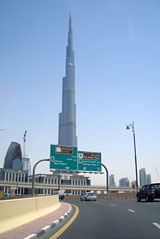 Fetching his youngest daughter from school. She's cute!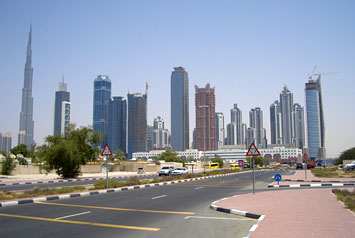 Nice landscape of Dubai's skyscrapers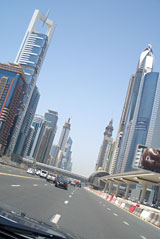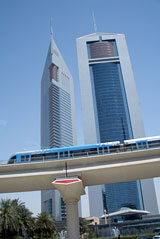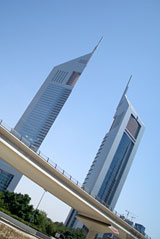 Back at Sheikh Zayed Road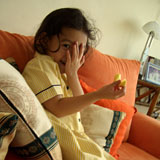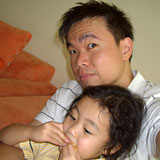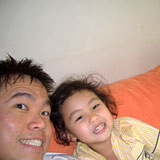 The little girl warms up quickly!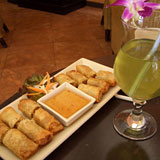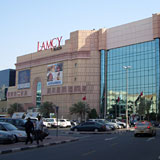 Tea at Lemon Grass before some shopping at Lamcy Plaza nearby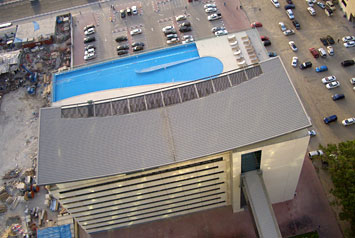 View of The Place's swimming pool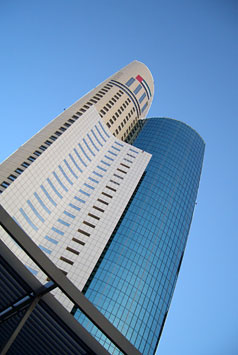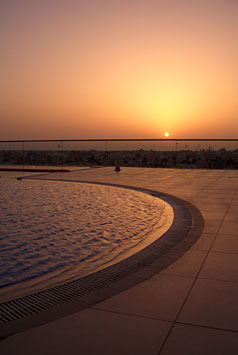 The Place Sunset at the swimming pool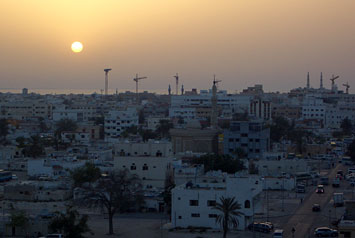 Sunset in Dubai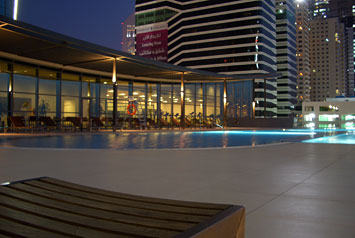 Night view of the pool area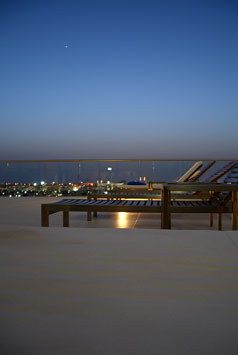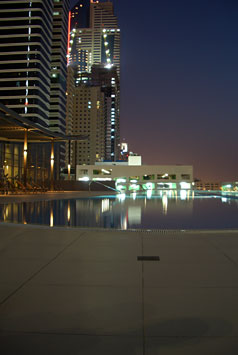 Tranquility!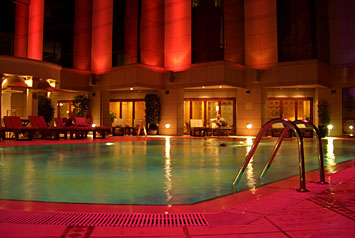 Fairmont Hotel has nice swimming pools too!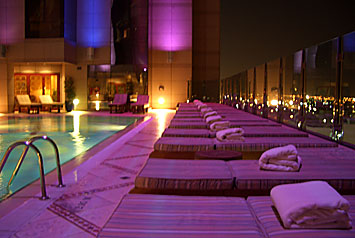 Saturday, 8 May 2010 - Trip to Mall of the Emirates
It's a trip to the Mall of the Emirates with Weiyang, Geok and Janice and her mum! Never been there before, so pretty excited! The Mall of the Emirates is the famous shopping centre with the indoor snow ski!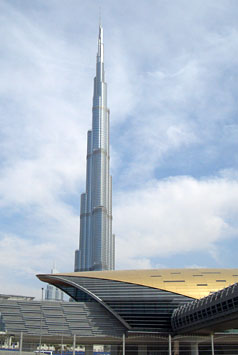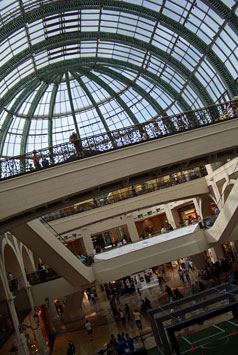 Passing by Burj Khalifa The window dome of the Mall of the Emirates!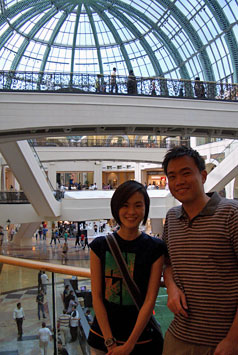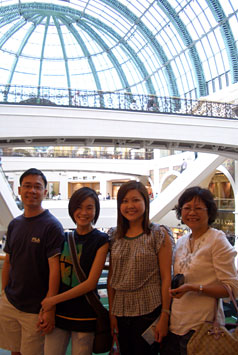 Photo with Geok Weiyang, Geok, Janice & mum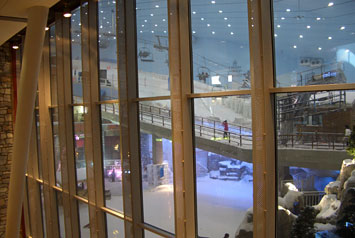 Ski Dubai inside the shopping mall!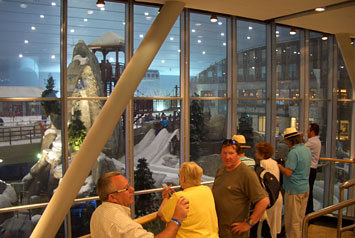 This is so cool!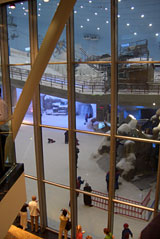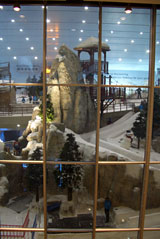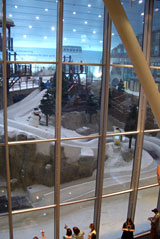 Waaaah!!!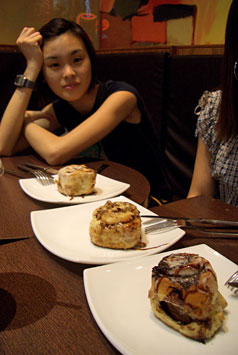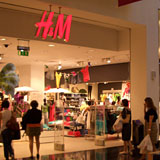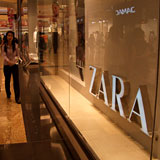 Cinnamon tea time There's H&M and Zara too!

We spent like the whole afternoon at Mall of the Emirates. The mall is more interesting and "real" compared to Dubai Mall, which is like a super-size shopping mall with high-end shops.

Dinner was at Nando's! The last time I had Nandos was in Australia, so it was good!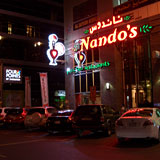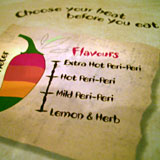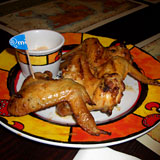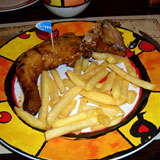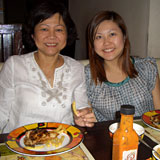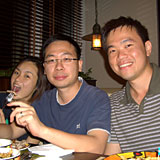 Nando's adventures

After dinner spent some time near my hotel taking night pictures too!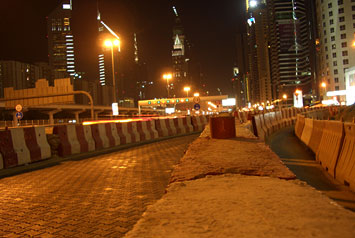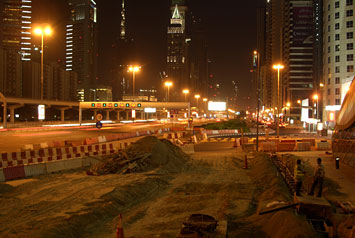 Friday, 7 May 2010 - Amazing Blue Sky
Woke up to a fabulous weather in Dubai. The sky was so blue and beautiful and the weather's cool! Am going to morning church with Weiyang and Geok too!

The churches here are all congregated at a central location that's about 30min drive out. The church buildings are also shared among a few churches.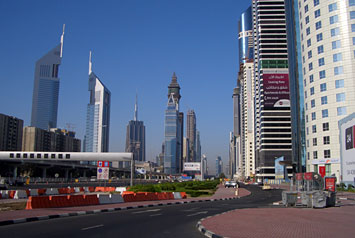 Fantastic blue sky today!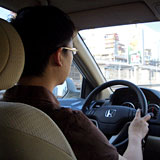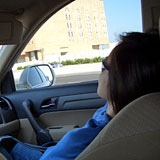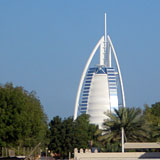 Weiyang driving Geok sleeping Burj Al Arab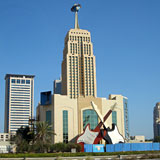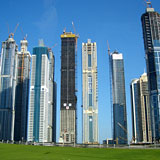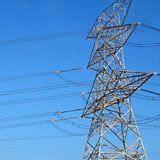 HardRock Cafe (closed) Skyscrapers Power lines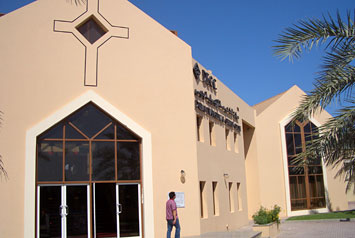 At the church compound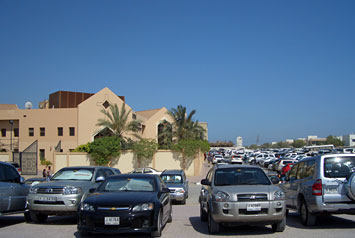 Lots of cars on a Friday morning!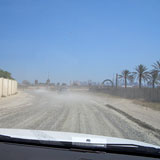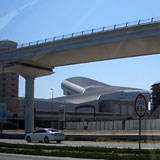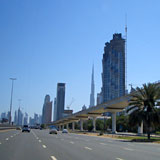 The dusty road Mall of the Emirates! Heading back to the city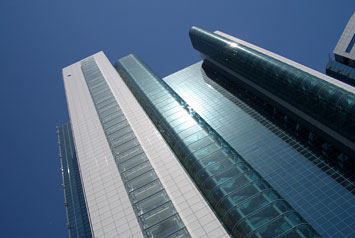 Back at the office again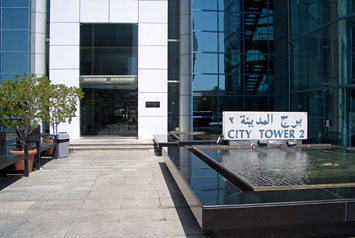 Entrance to the office

Went out with Anthony for lunch at Boradilla Cafe and got some nice pictures!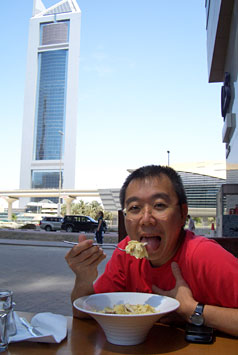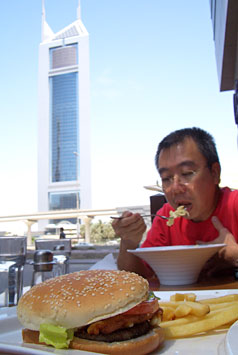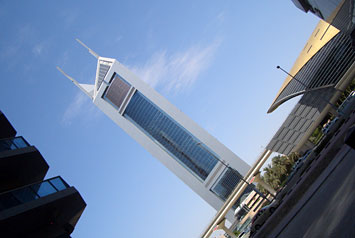 Emirates Towers

In the evening, went out with a bunch of colleagues to Deira area for Korean BBQ! Yummy!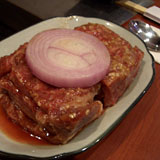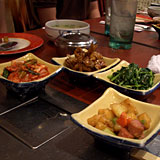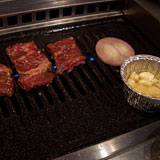 Korean BBQ!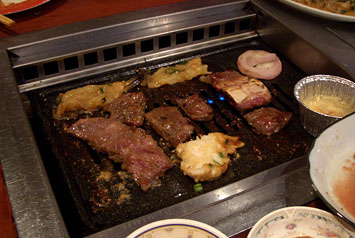 Nothing like grilled BBQ meat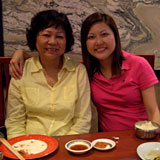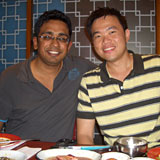 Janice & mum Rahim & Joel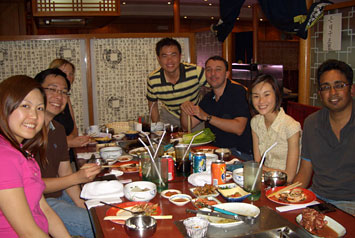 The dinner group


Wednesday, 5 May 2010 - Byblos!!
Alright! Byblos for lunch! I really miss this restaurant!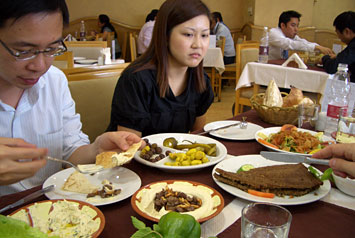 Janice doesn't seem impress, lol!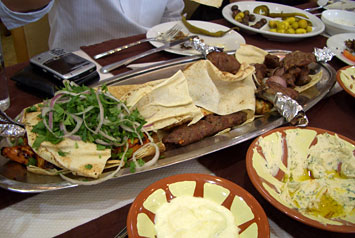 The mixed grill is simply the best, with the garlic paste

Peter from Singapore office was in Dubai and I went out for light dinner with him and his team after work. Ollivier sure is a funny French guy, haha!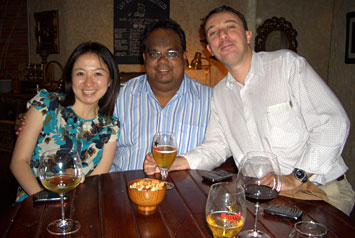 Yukari, Peter and Ollivier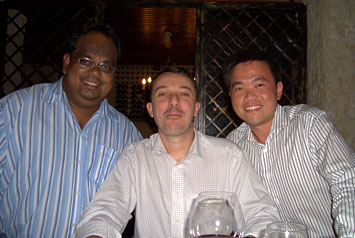 The guys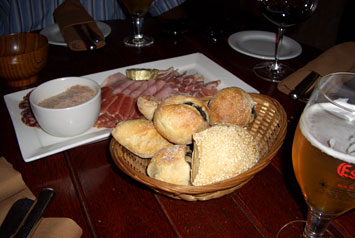 Interesting platter of food


Tuesday, 4 May 2010 - McDonald's Meal in Dubai
My first McDonald's meal in Dubai, with the office colleagues :)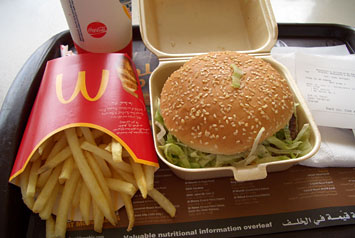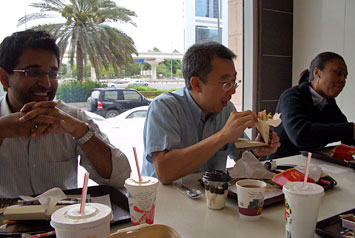 Phinu, Anthony and Andrea (Left to right)


Sunday, 2 May 2010 - A Japanese Sunday Outing
It's a Sunday morning trip to Gold Souk with Yukari and her visiting friends Aya and Masako.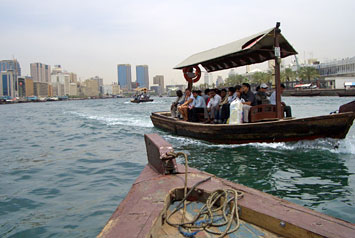 Taking the Abra water taxi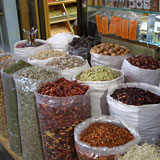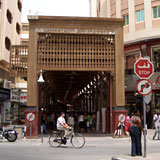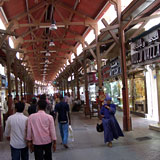 Spice Souk and Gold Souk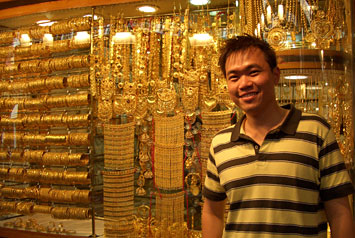 In front of a shop filled with dazzling yellow gold!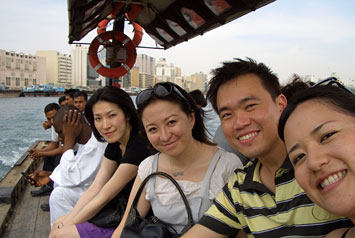 Heading back to "mainland"

In the evening we met up with Daniel (another Japanese who's based in Dubai) for dinner at Dubai Marine Beach Resort & Spa. The place is really amazing with lots of greenery and tranquility. Makes me wonder if I'm in Dubai, ha!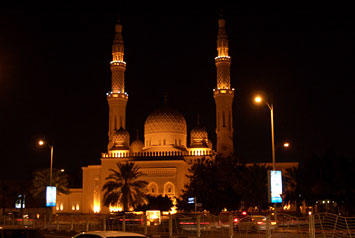 The Jumeirah Mosque, opposite Dubai Marine Resort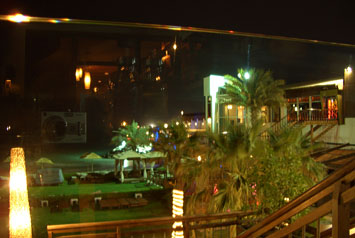 Nice view from 2nd floor of Flooka restaurant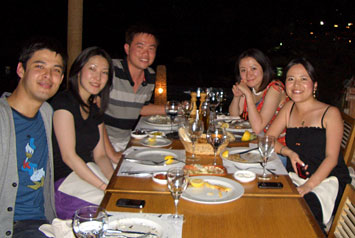 Daniel, Masako, Joel, Yukari, Aya (Left to right)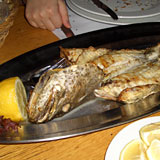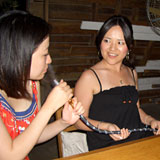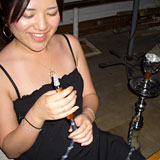 Flooka's a seafood restaurant; Trying the shisha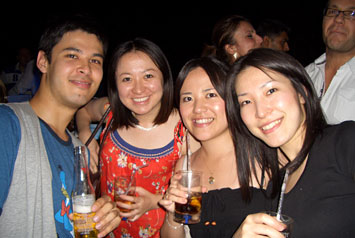 After-dinner drinks


Saturday, 1 May 2010 - Outing @ Dubai Mall
Going with Rahim, Weiyang, Geok, Janie and mum to catch Iron Man 2 at Dubai Mall! The show's pretty good I think. Lots of action. I haven't watch the first Iron Man though, haha.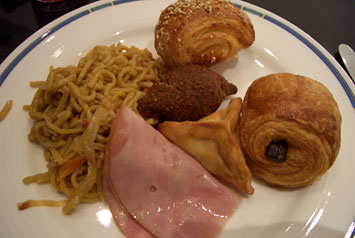 A heavy breakfast to kick-start the Saturday

Along the way managed to take some nice photos of Burj Khalifa. Not bad shooting through the car window eh?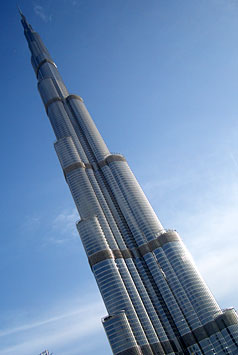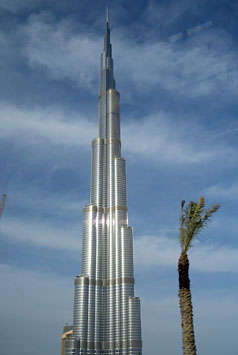 Nice afternoon pix of the Burj Khalifa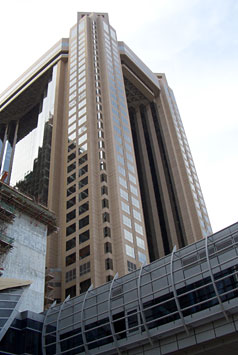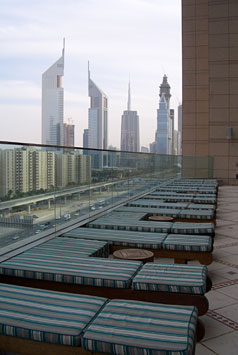 Back at Fairmont Hotel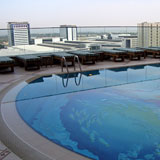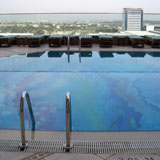 The swimming pool looks really good!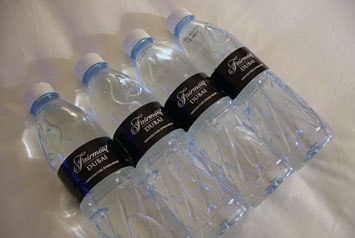 Mineral water: Essential to drink lots of this to survive here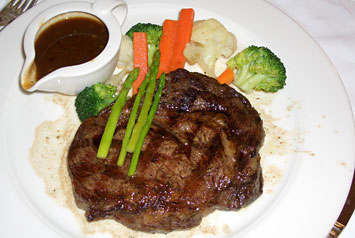 Fabulous steak for dinner!


Friday, 30 April 2010 - It's Getting Hot
Compared to last month, the temperature is rising! No more cool air in the morning and in the evening. But it's still tolerable and I still walk to the office.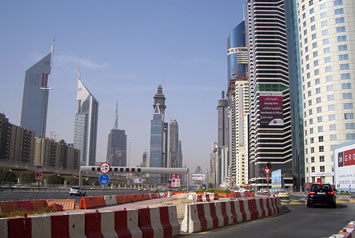 Skyscrapers and constructions sums up Dubai pretty well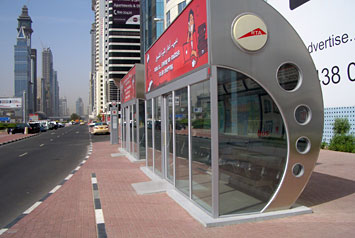 Still fascinated by the air-con bus stop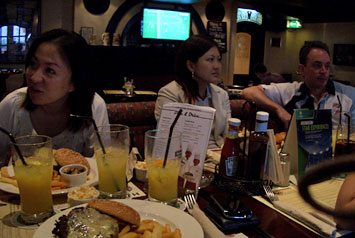 Lunch at Harvesters with office colleagues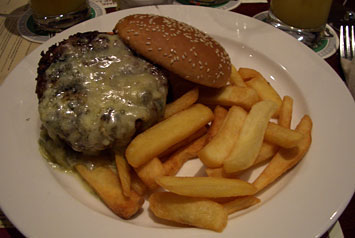 My yummy beef burger with thick fries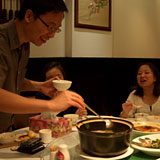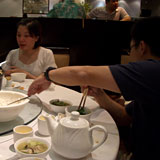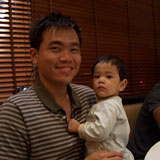 Dinner with the Asian colleagues at a chinese restaurant


Wednesday, 28 April 2010 - Day 2 in Dubai
It's nice to be back in the Dubai office and see the familiar faces. Janice Lim also flew in on the same plane as me yesterday and she'd be here for 6 months!

Dinner was with Janice, her mum, Wei Yang, Geok and Jeremy at a Chinese restaurant (Noodle Bowl). I guess they miss Chinese food, haha. The food is not bad actually.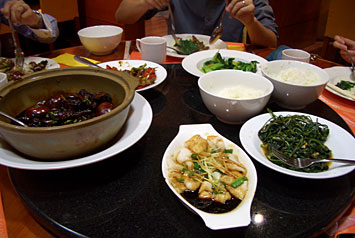 Chinese food in Dubai

Back in the hotel, I found myself catching the Champions League semi-finals between Barcelona and Inter Milan on TV. The 4-hour time difference with Europe certainly helps.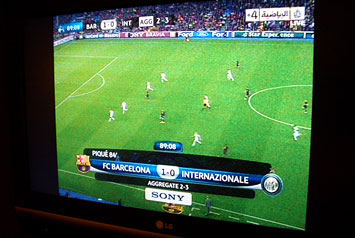 Barcelona won 1-0 but still lost 2-3 on aggregate


Tuesday, 27 April 2010 - Off to Dubai Again
It was a good one month back in Singapore and I could help with the renovation and stuffs. All too soon, I'm heading back to Dubai again. If nothing unforeseen happens, I'll be there for a month!

Take care dear!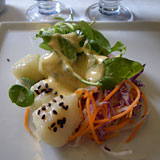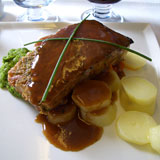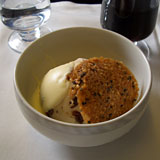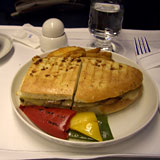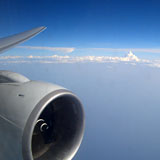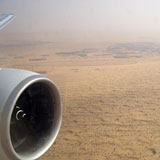 Meals on board the plane; The stark change in scenery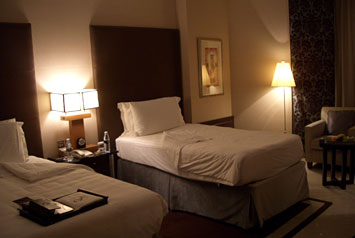 Staying at Fairmont Hotel this time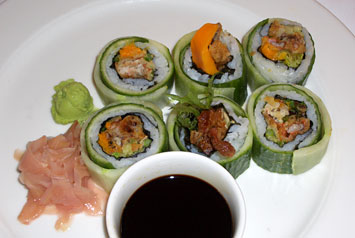 My Japanese sushi dinner


Sunday, 25 April 2010 - Bed Shopping
Pipin is going to be staying with us as she is planning to study in the local school here. After a bit of shopping at Takashimaya (a must-visit whenever the eldest sis is here, hehheh), we went to Furniture Mall to shop for Pipin's bed. Finally found a decent single bed (no fancy or obiang design) with bottom pull-out mattress. Glad to have that sorted out.



Spotted a Lamborghini at Taka carpark

We popped by to take a look at the renovation progress and hey, the glass cabinet wall is up! Nice! I can't wait to see the final result.

In the evening, we went to Botak Jones @ Depot Road for dinner, followed by a stroll at Telok Blangah Hill Park.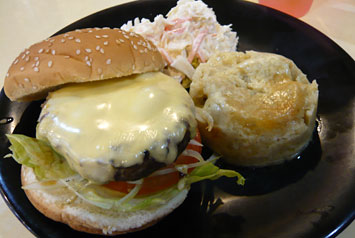 Botak burger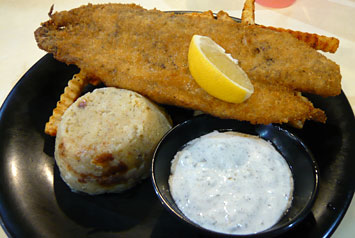 Fish & chips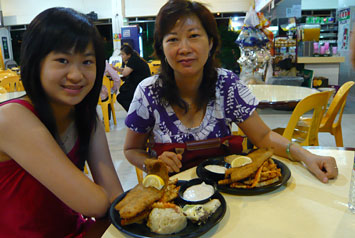 Pipin and Sonny with their Botak Jones dinner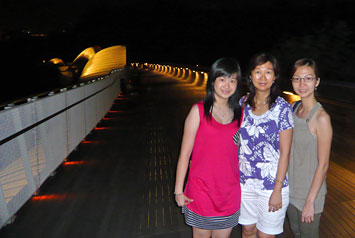 At the Henderson Wave bridge


Friday, 23 April 2010 - Korean Dinner
Been a long time since we had Korean food, and thus went to Han Sang Korean Family Restaurant @ Square2 with Pipin and eldest sis for dinner. The food's not bad and the place is surprisingly crowded. And I thought Square2 is quite dead!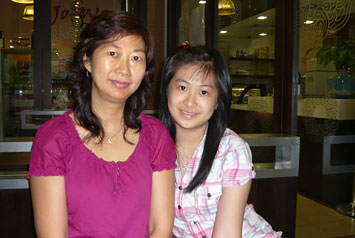 Eldest sis Sonny and Pipin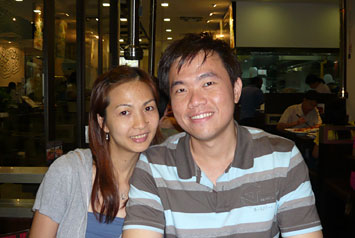 Lydia and Joel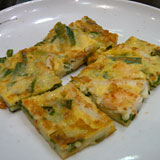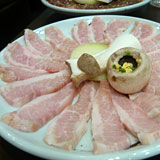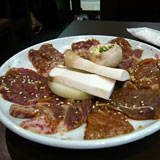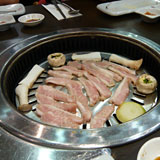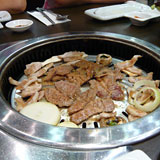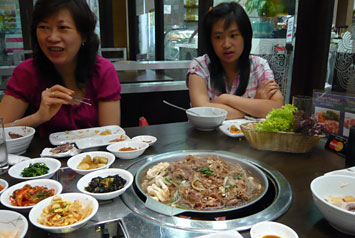 Tuesday, 20 April 2010 - Fibre Optics-ready Baby!
On leave today and OpenNet technicians came down again to install the optical fibre point. This time Marc has already made holes in the false ceiling for them to run the fibre cable through it. Sweet!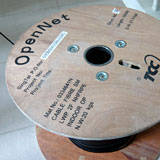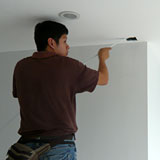 In the beginning, the Techs were busy running the cable from outside to the living room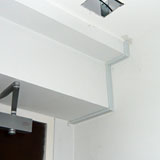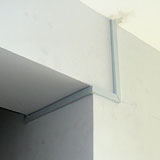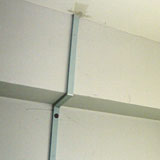 Trunking near the entrance, around the beam and finally straight down to TV console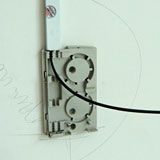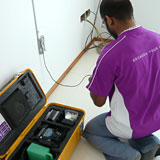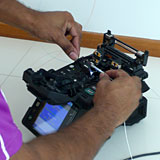 The man in purple appeared with his super expensive fibre optics cable joining equipment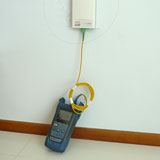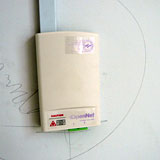 Winding up, testing and viola! Fibre optic point is in the house!

Did I mention we cat6 our new home too? :)

With fibre optic broadband speed of >1Gbps coming into the house, I am skeptical that wireless or Powerline will be able to handle it. Deliberating between cat5e and cat6, what the heck, let's get the best! So we got Marc to lay cat6 network cables from the TV console area to my computer-cum-Lego room and to the guest room. Master bedroom was omitted as don't see the need for internet-connectivity in there.

The technician came today to lay the cat6 network cables too. Wheee!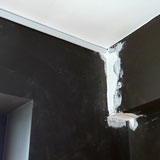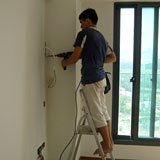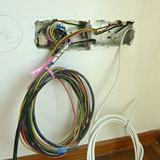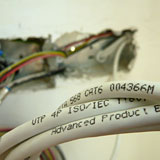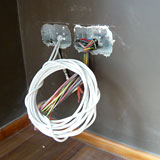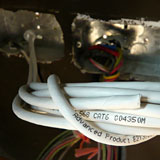 Oh, Lydia's eldest sis and Pipin arrived in Singapore today.


Sunday, 18 April 2010 - Frosted Film
Came upon a cost-saving idea for our new home: Instead of installing blinds for the dining and kitchen windows that faces the neighbouring unit, just get frosted film! Afterall, the main issue is privacy. Frosted film is a fraction of the cost and requires no additional fixtures. We thus bought 2 rolls from HomeFix @ Great World City. Nice!


Sunday, 11 April 2010 - Tap & Basin
The temptation caved in and we decided to chuck the HDB basin in the master bedroom toilet and change it so that we can install a vanity cabinet below the basin.

After having the famous beef hor fun lunch at Geylang, we went to Universal Union to shop for a basin and tap. The salesgirl was very patient and friendly and we were happy that we could find the items we want. Also bought the multi-point electric water heater.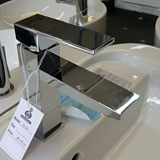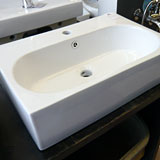 In the evening, we went to Ikea and bought a mirror for the toilet and then to Homefix at Great World City and bought a washing machine stand.


Monday, 5 April 2010 - 1st OpenNet Appointment
The first appointment for the fireoptics OpenNet installation didn't go too well. I requested for the cabling to go up through the false ceiling and informed my Interior Designer but he didn't do anything and said the OpenNet technician can do it. The OpenNet technician said they don't have the tools. Sigh...

Next appointment scheduled for 20 April. Renovation works in the living room gotto wait again.


Saturday, 3 April 2010 - PS3 Nite at Cheng How's Home
It's PS3 nite at Cheng How's home with the rest of the guys! We were there at night till the wee morning and they were still going strong!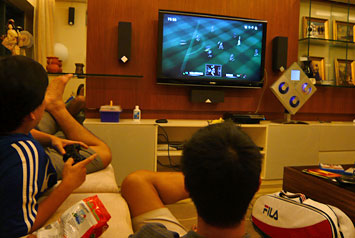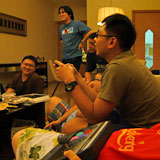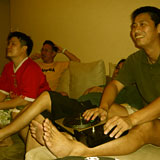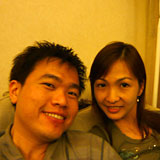 Thursday, 1 April 2010 - Grandma's Funeral
On the 5th day was the funeral. My grandma was cremated at Mandai Crematorium and the ashes kept together with my grandfather's at Mount Vernon Crematorium.

A thank you note I wrote:

Dear all,

Thank you for your kind words of condolence and contribution.
My grandmother lived to a good old age of 93. She passed away peacefully at home after steadfastly holding on for my parents' return from church, giving up her spirit only after she saw them.

She has gone to a better place now with no pain nor sorrow.
On behalf of my family, I thank you all from the bottom of my heart.

Regards,
Joel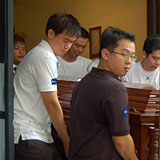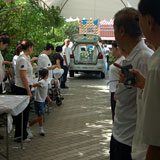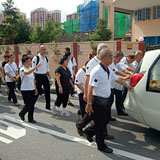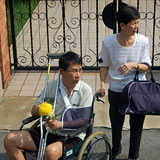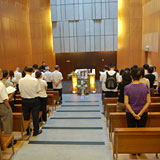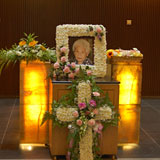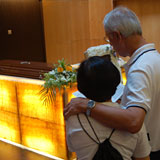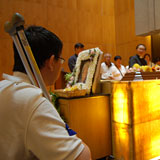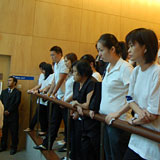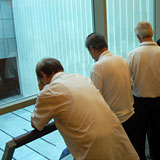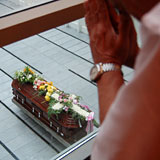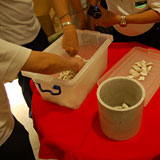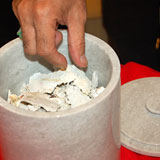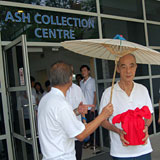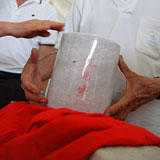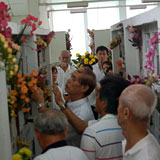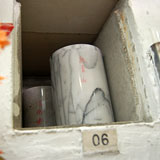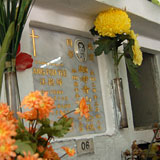 Wednesday, 31 March 2010 - Grandma's Wake, 4th Day
On the 4th day of the wake (1st day is Sunday), it was the Teochew wake service.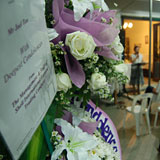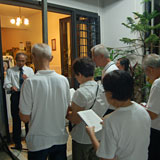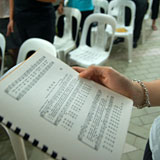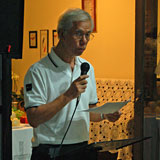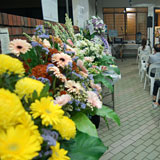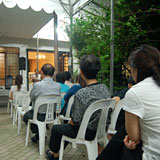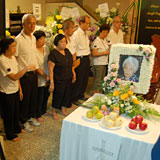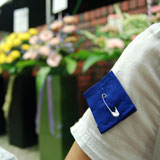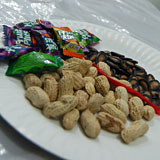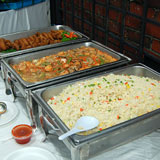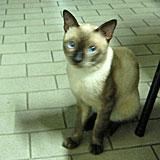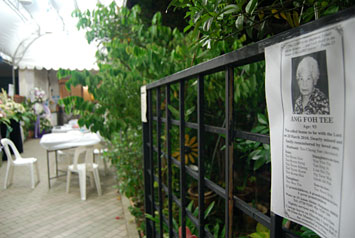 Tuesday, 30 March 2010 - Grandma's Wake
The plane touchdown about 5.30am and boy, am I glad to see my wife again. Was expecting to be 2 months apart actually.

We went straight to my parent's home where my grandma's wake is held at to pay our respects and meet my parents.

In the evening, there was the English wake service conducted by Pastor Tony.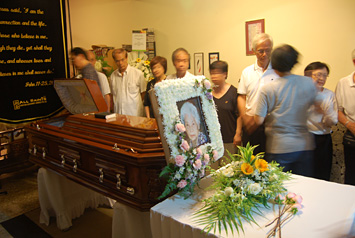 Grandma's wake at my parent's home


Monday, 29 March 2010 - Early Return to Singapore
Due to my grandmother's demise, I'm booked on the evening return flight out of Dubai. Supposed to be a 2-month stint here but just 1 week here and I'm on the plane back. Well, the good news is that I can see my wife very soon again.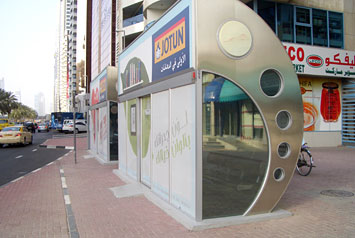 Passing by the air conditioned bus stop on the way to work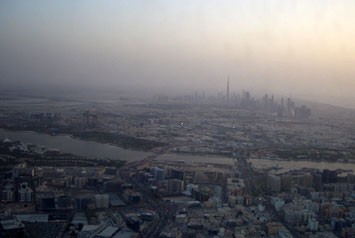 The city of Dubai in the dusk of light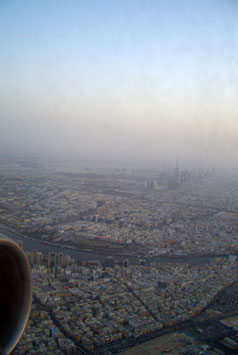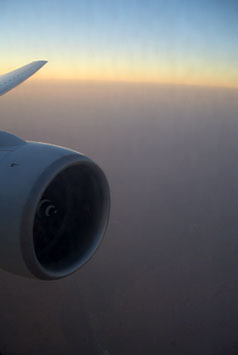 Farewell Dubai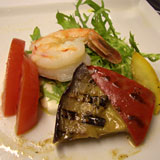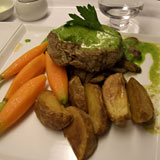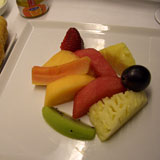 SQ business class airplane food


Sunday, 28 March 2010 - Visit to Gold Souk & Grandma's Passing
The Dubai Gold Souk is a must-visit place. Not the modern one in Dubai Mall, but the one in the old district of Deira. Went there in the morning with my office colleague Yukari and took the Abra across the Dubai Creek. The Abra is an amazing "open-concept" wooden boat which carries about 20 outward-facing people. Fun!



The textile street before the river crossing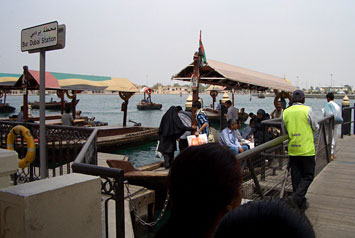 The Abra boat!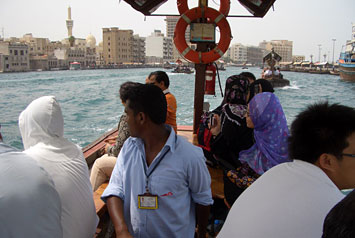 On the boat across the Dubai Creek to Gold Souk

Once we got to the other side, the first street is the spice souk, which sells a lot of... spice, of cos! After going through the many streets, we finally got to Gold Souk. Indeed there are shops and shops selling gold. Quite an interesting sight!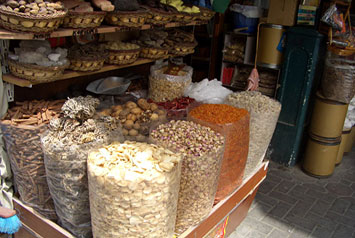 Spices aplenty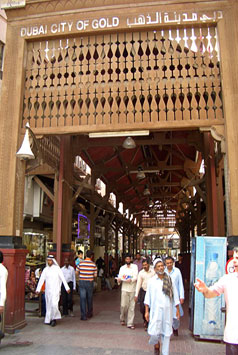 Dubai's Gold Souk, City of Gold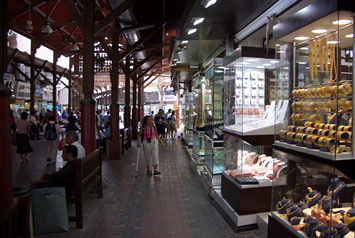 Walking through Gold Souk



Yukari making a purchase in one of the shops

Lunch was at Delhi Darbar, an Indian restaurant which the shopkeeper had recommended. Serves really nice Indian food!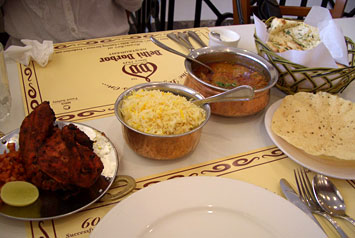 Chicken, mutton, briyani, naan...

Somewhere through the lunch, I got a call from my wife. Ah Ma has passed away.

Shocked.

Details are sketchy, but she has passed away at my parent's home. My first thought was to get home as soon as possible to be with my family and with Lydia too. I informed my boss and she was very nice to allow me to fly home as soon as possible.

Thinking back, I'm glad I managed to see her last week before I left for Dubai.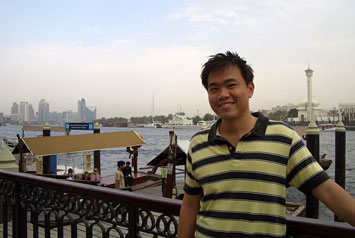 At the Dubai Creek for the return trip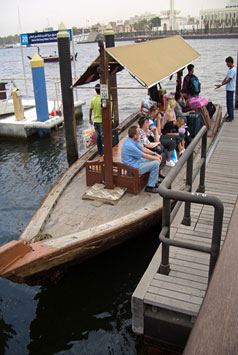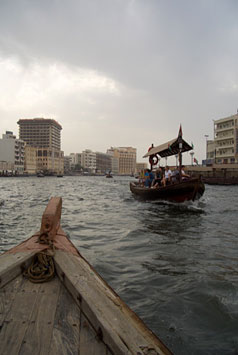 The Abra water taxi


Saturday, 27 March 2010 - Weekend with Anthony
My first weekend in Dubai! And how kind of Anthony to take me out on a nice beautiful morning! Anthony's a photography fanatic, so we had fun taking photos and travelling around Dubai. It's a pity I only have an old compact Casio camera, ha! The better Panasonic camera was left behind for my wife to use.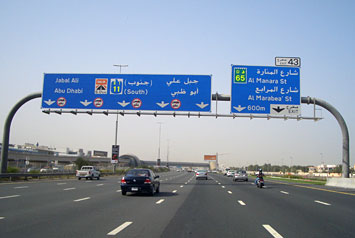 On the famous Sheikh Zayed Road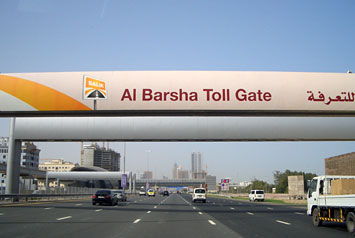 Did you know they have "ERP gantries" too, but much nicer looking?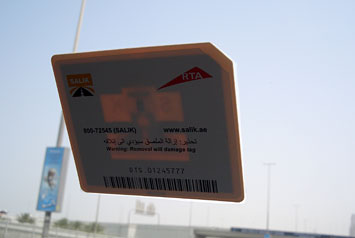 The "IU unit", a fist-size sticker. Oh come on, Singapore!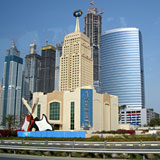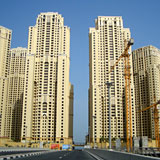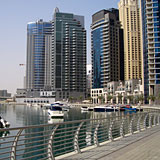 Hard Rock Cafe (closed) Dubai Marina (centre & right)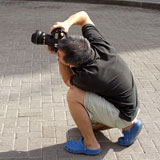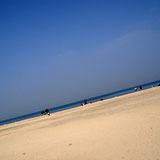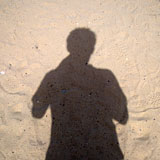 Anthony in action The beach at Jumeirah Beach Residence!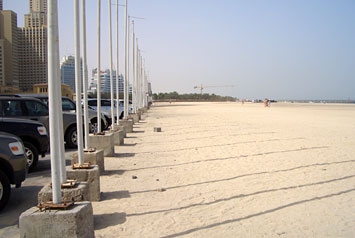 It's a huge beach!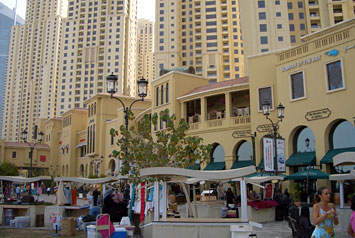 Lovely enclave by the beach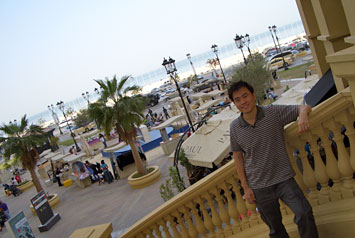 Posing by the grand stairs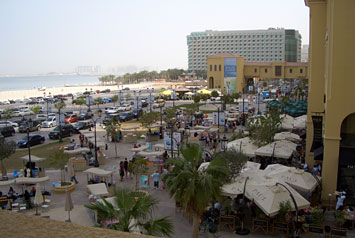 Nice view of Jumeirah Beach Residence

We stopped for breakfast at Zaatar W Zeit, a Lebanese cafe. It was delicious stuff!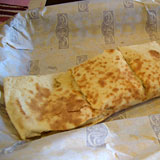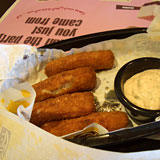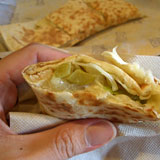 Yummy breakfast!

After breakfast, we left Jumeirah Beach Residence and headed back East. We stopped by along a small road in Zabeel and took photos of the landscape, heh.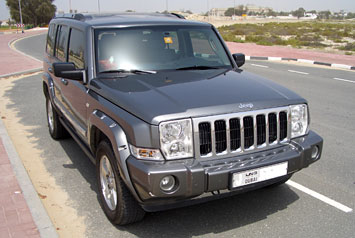 Anthony's 4-wheel drive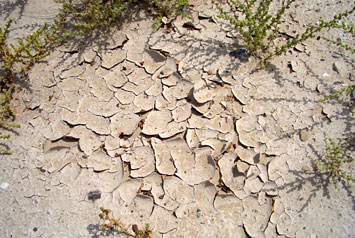 The effects of the hot weather

We stopped at a petrol station thereafter. You know what's one of my to-do thing in a foreign country? Checking out the petrol prices!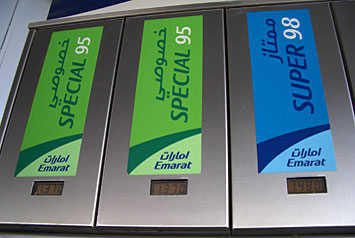 Super cheap petrol! Formula95 going for like 0.52 SGD!

We went to Anthony's place after that to check out the rest of his photo collections. His photos are really good! I also met his photo models; his 2 daughters! They're really lovely girls. We went for lunch nearby at Lemongrass, a Thai restaurant.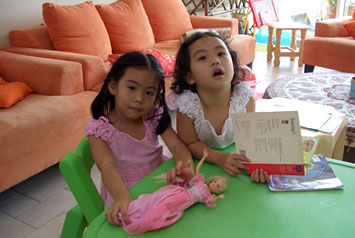 At Anthony's place with his 2 daughters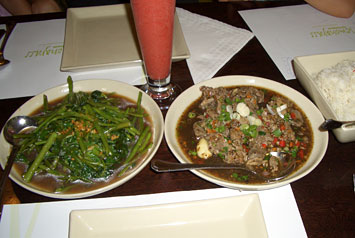 Lunch at Lemongrass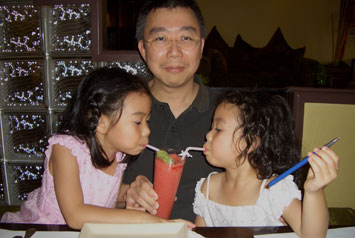 Anthony and his 2 daughters

I headed back to the hotel after the late lunch, not wanting to take up too much of Anthony's time. Had a super long chat with my wife via Skype. During that time, saw a car caught fire also outside my room's window. Strange. Oh well, fried rice room service for dinner!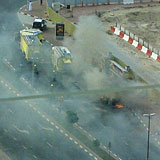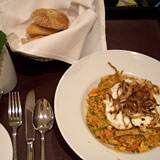 Friday, 26 March 2010 - When a Friday is a Saturday
It's a lovely Friday morning and it's nice and quiet outside cos lotsa people are sleeping in on their weekend. Veron and Abdullah have already left on Wed evening. I'm alone here now! It's a pity I have to drag my feet and get ready for work, cos it's such a fantastic morning to either go out and enjoy the fine weather or laze in bed and play computer games.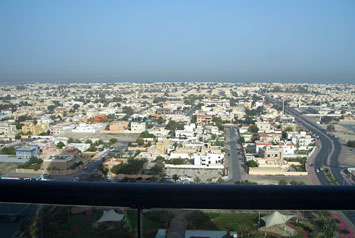 View from my hotel window

What's one thing bad about Friday? All the shops are closed in the morning! No breakfast!



Thankfully there's apple and fruit juice in the office pantry

Lunch was with Adriano at his favorite Friday lunch hangout, Harvesters @ Crowne Plaza. The fish and chips are good!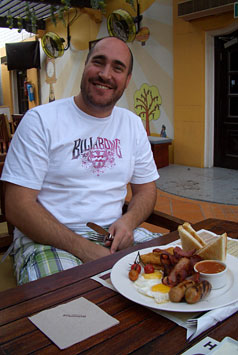 Adriano in casual Friday's attire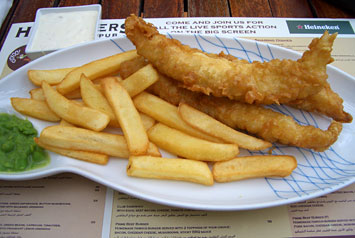 Yummy fish and chips

With a reduced work force, the workload is lighter on a Friday. In the evening, I headed straight back to the hotel and called for room service so that I can have more time to chit chat with my wife over Skype. The 4hr time difference between Dubai and Singapore makes it difficult to talk. When she's free to talk, it's dinner time here. The people here usually have late dinners too. When it's after dinner, it's already the wee hours in Singapore.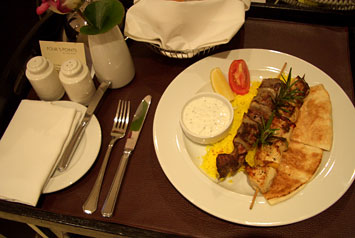 My mixed grill briyani


Thursday, 25 March 2010 - Dinner with Singaporean Friends
Thursday is like the start of the weekend for almost everyone in Dubai, cos Friday's like their Saturday where they don't have to work. But not for us. We still do the normal Monday to Friday work week.

After work, joined my Singapore colleagues and friends for dinner at California Pizza Kitchen at the Water Promenade @ Dubai Mall. Was fun chit chatting with them and feeling "at home", haha.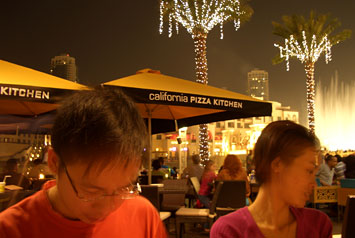 Outdoor dining @ Dubai Mall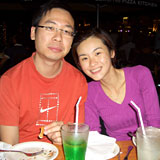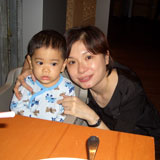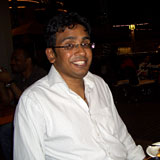 Wei Yang & Geok En Baby James and Jessie Rahim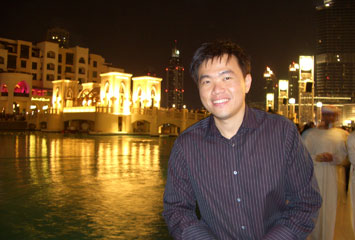 At Dubai Mall's water promenade


Wednesday, 24 March 2010 - What's for Breakfast?
The hotel doesn't provide breakfast. If you do wonder what we eat, we simply roam the street and find a cafe that's open!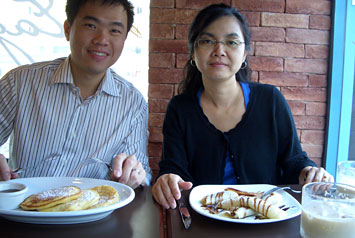 Pancakes and crepes. Veron looks sian, haha!

We had lunch with Adriano at Wagamama, which again is just a short walk away at Crowne Plaza. Wagamama is like this fun, cool Japanese restaurant that's a huge hit in Europe. It's a cool place alrite, though I think the food's average only, ha.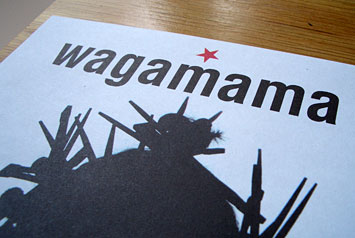 Waga waga, mama!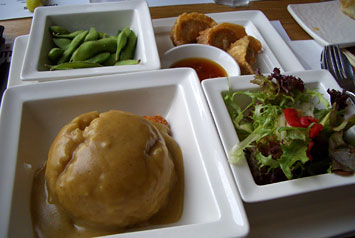 My Japanese chicken katsu bento curry rice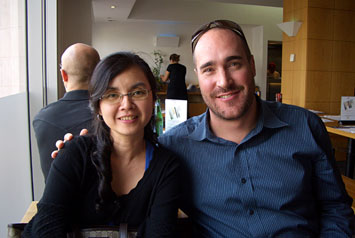 Veron's happier with Adriano!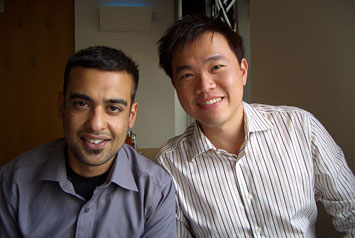 We're just happy to have lunch paid by Veron


Tuesday, 23 March 2010 - Day 2 in Dubai: A Fantastic Lunch
We went to Byblos Lebanese Restaurant for lunch, together with Rakhi. The restaurant's like just next building to the office. It's my first time eating Lebanese food I think, and I was left in total awe! The food was excellent!!

I came to know of a food that I never knew tasted so good: Hommos! Essentially made of chickpeas, this creamy mashed-up dip goes superbly well with bread!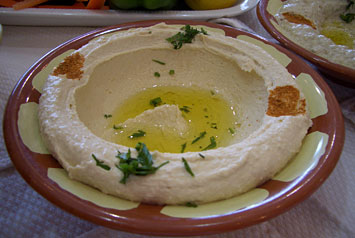 Hommos! Also known as hummus.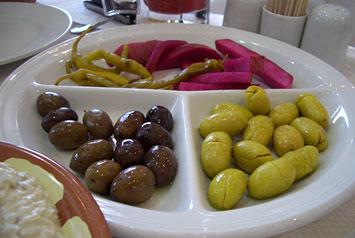 Olives in its strangest form!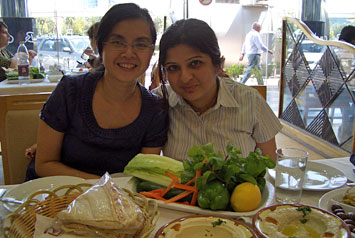 Veron and Rakhi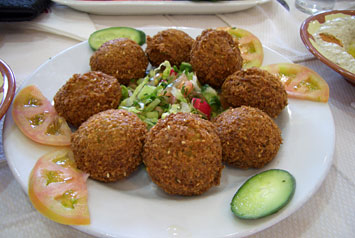 Forgot what's this called, but it was amazing too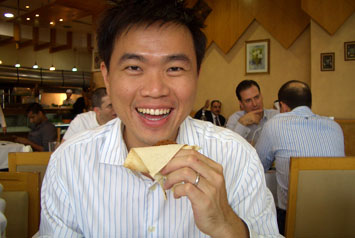 Is this me? Must be the air in the MiddleEast!

And the main course is.... mixed grill, a variety of meat like the shish kebab, shish tawouk, kebab halabe and chicken. Oh... it was so good! Especially the lamp chop!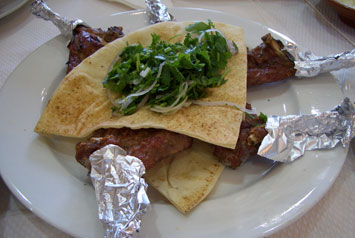 Byblos mixed grill. Best!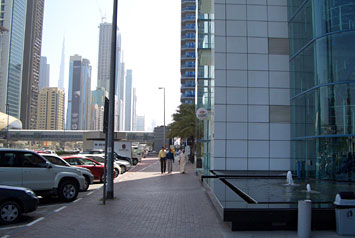 Outside the office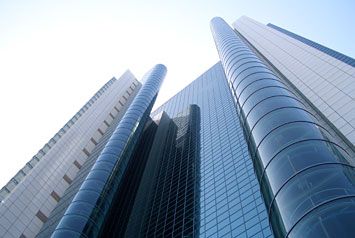 Facade of the office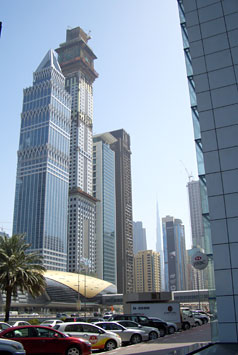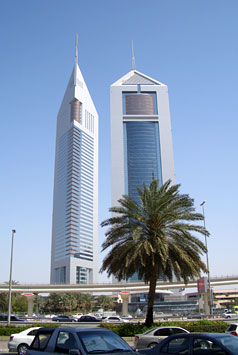 Looks good across the road. Directly opposite is the Emirates Towers!

Dinner was at The Palace, a really nice classy place adjacent to Dubai Mall and Burj Khalifa. The buffet spread was really huge! We had fun dining with Kah Keng, Anthony and Yukari under the cool night sky.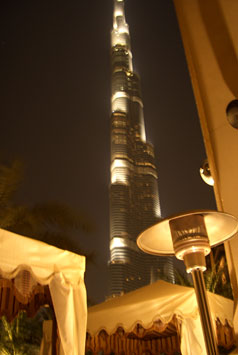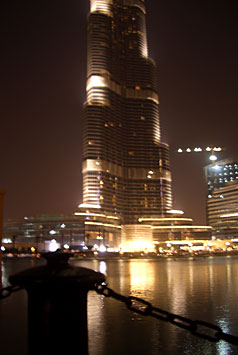 Very nice alfresco dining!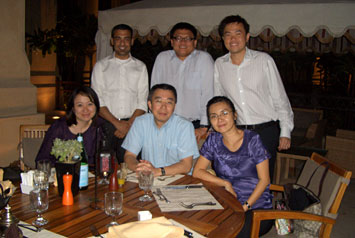 Yukari, Abdullah, Anthony, Kah Keng, Veron, Joel (L to R)


Monday, 22 March 2010 - 1st Day in Dubai Office
I woke up this morning in Dubai to a nice beautiful weather. The temperature is like 26 degrees or something? Nice! Together with Veron and Abdullah (the new IT guy), we took a 15min straight walk to the office which is also along Sheikh Zayed Road.

The office is alright. Open concept style. But most important of all, the people are friendly. And it's got a fantastic view! We had lunch at Cafe Fountain, the cafe downstairs and I got the first taste of Middle East kebab. It was really good! I think I'll like the food here. :)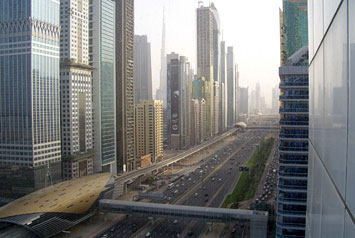 View from the 18th floor of the office building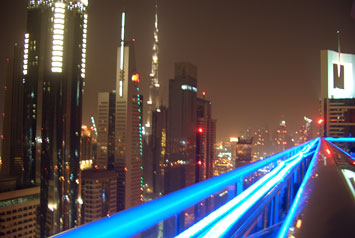 View at night from the roof terrace of Four Points Sheraton Hotel!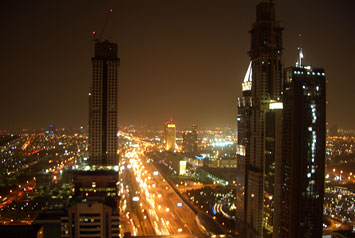 Nice street scenery below

At night, we went to Dubai Mall, the world's largest shopping mall. And it was huge!! Indoor aquarium, super high ceiling shops... amazing! And The Dubai Mall water promenade outdoor area is really an eye opener too, with The Dubai Fountain set in the artificial lake that has the Burj Khalifa in the backdrop, the world's tallest building at over 800 metres! What a sight to behold!!



The indoor Dubai Aquarium within Dubai Mall!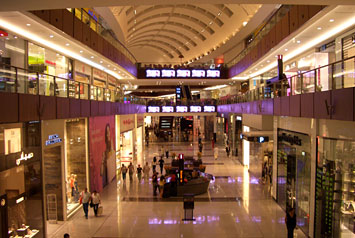 Huge shopping mall it is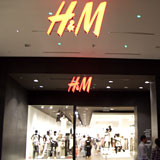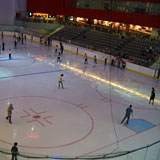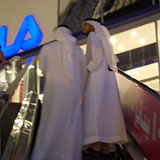 Lydia's favorite H&M (left); Dubai ice rink(centre); The Arabs in their robes (right)

For all the indoor splendour, I still like the outdoor scenery: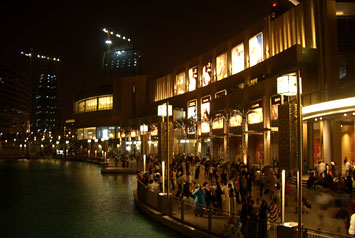 Dubai Mall waterfront promenade and the Burj Khalifa lake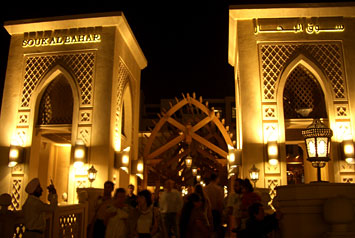 The bridge leading to Souk Al Bahar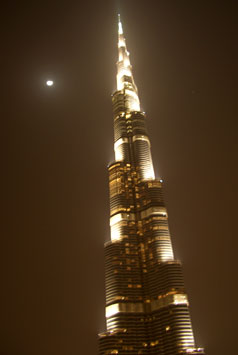 The majestic Burj Khalifa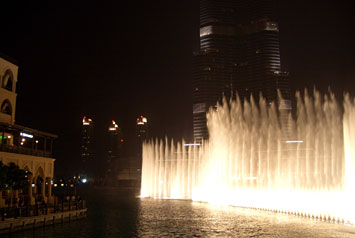 The largest musical fountain show in action!


Sunday, 21 March 2010 - Off to Dubai, Land of the MiddleEast!
The day that we dread is finally upon us. I'm off to Dubai for 2 months to provide IT cover. This is going to be the longest we've ever been apart. And the strange thing is that I'm going to miss the bulk of the renovation and the house moving.

My parents, J & Fenny were at the airport to send me off on my noon flight. So too were Veron's family (my boss), cos I'm going there together with her.

Take care Piggy! Going to miss you! *hugs and kisses*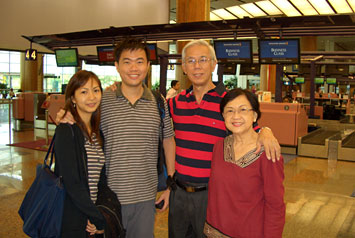 At the airport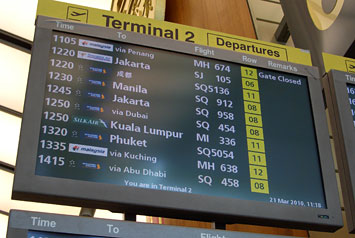 SQ454 to Dubai

Flight time is approximately 8 hours. Thankfully I'm flying business class. :) Watched 3 movies onboard before sneaking a short nap.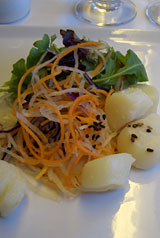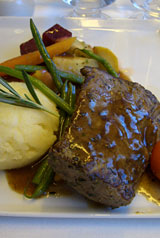 The food pleasures of SQ Business Class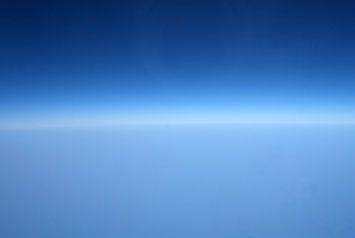 Clear blue skies

And before long, the flight's already on the landing approach! I peered out of the window and was amazed by the sight of the scenery! It's so.... brown!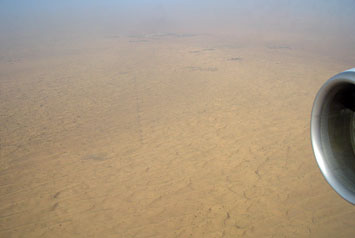 Brown everywhere!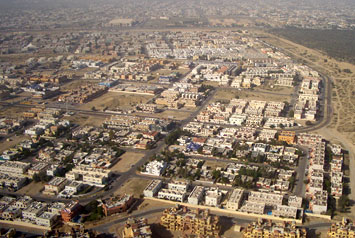 Cute flat-roof rectangular houses!

At the immigration, I met the first Arab in my life, the immigration officer. It's quite fascinating, yet also a bit in awe. Here's an Arab in front of me. Dressed just like in the movies. Just like in the Bible!

Once we cleared customs, we headed for the taxi stand and caught the taxi to Four Points Sheraton at Sheikh Zayed Road. It's quite hot today but the humidity is dry. But there was the least of our concern. Our worry was over our F1-wannabe taxi driver! Flying at really fast speed, he just cuts left, right.... and apparently all the other drivers are also F1-inspired! Yikes!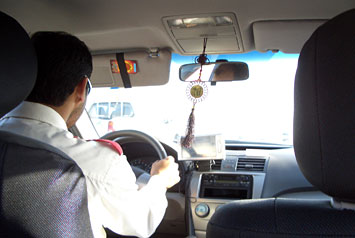 Rocket ride in a Dubai taxi

We arrived in Four Points after about 20 minutes. The hotel's not too bad. But heard the Internet here is bad. I only had time for a short rest cos we're meeting up with Adriano for dinner.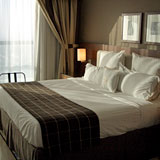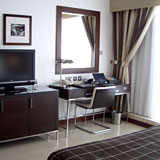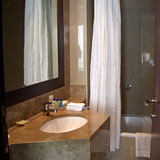 My room at Fourpoints Sheraton @ Sheikh Zayed Road, Dubai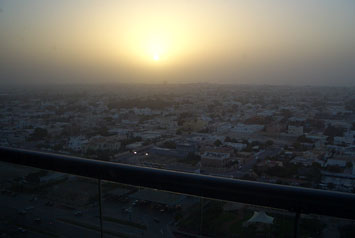 Sunset in Dubai, from my hotel room window

Dinner was at OKKO at Monarch Hotel along Sheikh Sayed Road. The doorman told us that it would take about 20 minutes to walk there, so we did. Surprisngly, the temperature at night is fantastic! Even cooler than Singapore! With the wind blowing, it feels a bit like air con!

The doorman certainly fooled us, cos what was supposed to be a 20 minute walk turns out to be a walk to the beginning of Sheikh Zayed Road, a 40 minute walk!

We finally got to OKKO and met Adriano. He's a large jovial man! Oh man, the food here is expensive! Thank God all meals are covered by the company! But OKKO is really a cool Japanese fusion restaurant. The atmosphere is really nice, almost club-like. One thing about Dubai: The people here have really late dinners! Restaurants stay open till the wee of the night!

Well, it's been one long day. So much clothes to iron and things to unpack.Veron said that I may get to go back after 1 month. Keeping my fingers crossed!


Saturday, 20 March 2010 - Got a light?
It's D-Day for the search for the light for my computer room. After browsing through the internet for lighting shops in Singapore, I shortlisted Vlux Lighting @ Geylang area.

We went to the shop before noon. Their designs are nice and were just the kind of look I had wanted, but the price are expensive too! Either that or it uses halogen lamp, which I wanted to avoid. I was really dreading the thought of not being able to find the light as we made another walk-though the shop. And then "The Special One" revealed itself. Well, not exactly. It was just a change of the bulb from cool white to warm white. And viola, it is going to fit perfectly into the theme of the computer/play room! And it doesn't cost an arm and a leg!

But having been biten once by a item no-show, we insisted on a same day collection and really made the salesman double-check and triple-check that there is stock and we can collect in the evening! And it was therefore a great relief when we return back to the shop and the brown box was ready for our collection. Yippee! Our search is over!


Friday, 19 March 2010 - On leave again for our new flat
Both of us took leave today as time is running out due to my coming overseas trip.

In the morning we went down to LightCraft to pick up the light. But they couldn't find it! Crazy man. Waited for about 30 minutes as they search high and low for it but couldn't find our item. They ask us to come back in the evening and it will be ready. What a terrible service!

We met Marc at his office at Beauty World to finalise the technical drawings before going to Suntec City's money changer to get some Dirhams, the currency for UAE.

After lunch at Kenny Rogers, we return to our new flat where we met Titus from The Curtain Company. He brought along samples of the curtains and blinds that we have shortlisted so that we can have a better idea and perception of how it will look like in our flat. Really professional of him. Unfortunately we had only just begun on the renovation, so the final colors and theme of the place isn't there yet to mix and match with the curtains. Nonetheless, we envisioned as much as we could and settled on the designs that we want.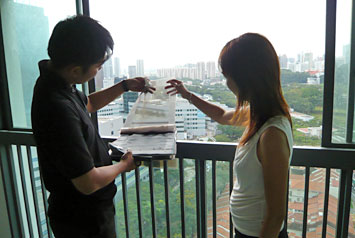 Lydia checking out the living room day curtains with Titus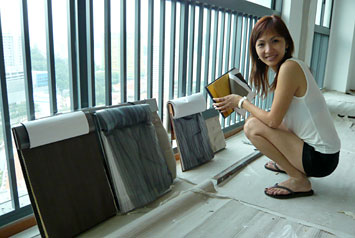 Our curtains selection!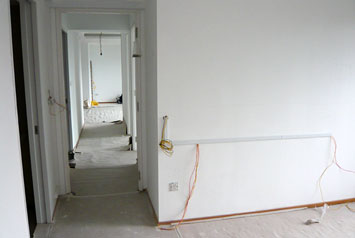 The flooring is now covered and electrical works in progress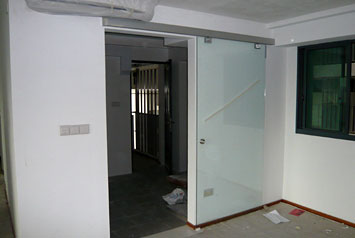 The kitchen sliding glass door is up!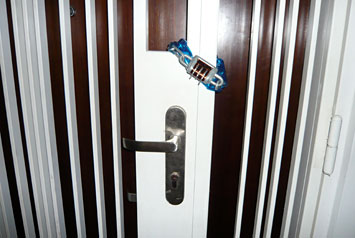 The number lock for ease of access for the contractors to our flat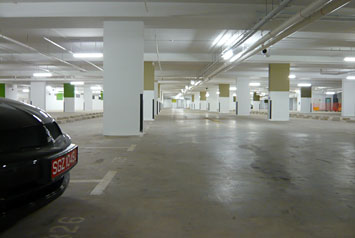 Our private carpark, heehee!

In the evening, we went back to LightCraft to collect our light. Not surprisingly, they screwed up the order and got nothing to show. Beforehand, they said that the item is here and we can collect. Then someone called and said our item was broken and ask for our credit card info over SMS for the credit back. What the hell?? Finally when we were at the shop, they have nothing to show and said they will refund us the money. What a terrible company!

We got out of there as soon as we could and headed to Kallang Leisure Park. Lydia wanted to buy more Welmi products from Song Cho, aka chicken brand. Cheng How came later and we went to Foo House at Katong for dinner. It's a very interesting western food eating place with good food. We had a good time eating and chatting over dinner!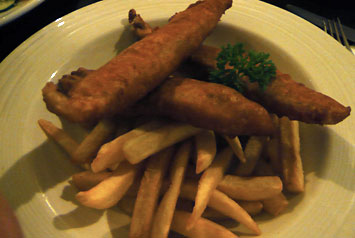 I always have to try out a new eating place's fish and chips!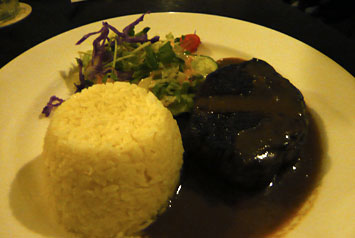 Lydia's order

Groan... I thought we have settled the lighting for my computer room. In the end we still have not finalise this. Have to get it by tomorrow!


Monday, 15 March 2010 - Haircut
Went for a haircut at Headquarters Salon in preparation of my coming trip to Dubai. Some say it's gonna get hotter over there. Going to be there for a while, so better cut in Singapore first.


Sunday, 14 March 2010 - Found it!
Alright! After a long search, I finally found a suitable ceiling light for my computer room at LightCraft. It's very cheap even, haha, less than $50. It's not too fancy, but I think it will fit the theme that I wanted to potray.

We went to our new flat later to stress-test the aircon. The technician advise us to leave them on for 4 hours. It was quite a thrill to turn on our very first air-con, cos we never had air-con in our present flat! My wife will say I con her out of the portable air-con I promise her, hahaa.

After dinner at McDonalds, we return to the flat and it was nice and cold! We reluctantly shut them down and left the place to return to our floor fan rented flat, hehheh.


Saturday, 13 March 2010 - A Weekend Run
There's no more futsal for me on Saturdays, cos there's too many things to be done. :(

In the morning we went to UOB at Adelphi and wanted to close our i-Account cos the fee incurred is more than the interest it earns! Crazy ya? But it gets worse. They wanted to charge $30 to close the account! When we signed up 3 months ago, there was no mention of this. UOB banking is struck off my list man.

Our poor start to the weekend didn't get any better when we went to Gain City to collect the Netbook free gift which we got for our air-con purchase. It was more like bundle purchase, as we top up just $299 for it, which is pretty good value. The salesman told us they didn't have stock for the black model. Frustrating!

Well, we had kolo mee for lunch before going to Park Mall to look for lighting for my "study" room. Wah, the lightings here are super pricey! Definitely out of budget.

It was a long drive to Sim Siang Choon at Changi next, where we got the mirror, bathroom accessories and the kitchen cabinet stainless steel sliding drawers. The shop was close already when we left!

Dinner was at Changi Village and we had ayam penyet at the hawker centre. It was nice! After a nice meal, my wife was inspired to take to the wheels and clock up more mileage and practice, and so drove the long ECP/AYE journey home. It sure took longer than usual, ha!


Thursday, 11 March 2010 - On Leave for the Home Reno
We took leave today to speed up the things that we need to do for the home renovation. Time is running out!

The air-con have arrived! Marc was present as well and we indicated to him where we wanted the air-con and how the gas piping and water drainage trunking will go. It pains my heart to see the technicians hack and drill into the nice white walls, haha. Marc also presented to us the technical drawings of all the items, like the kitchen cabinets, TV console, wardrobe, etc. And also touch on the delay caused by the fibre optics installation and the laying of Monster audio cables for the audio system.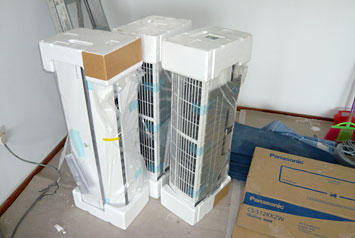 The 3 Sharp bedroom air-con waiting to be installed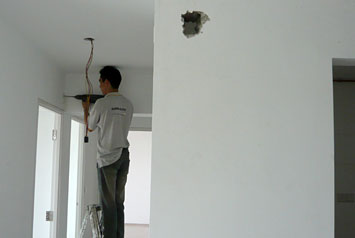 The beautiful walls!

Next stop was at Song Cho @ Kallang Leisure Park. Song Cho (aka chicken brand) has a good range of stainless steel products for bathroom and kitchen. Price is definitely more expensive, but it doesn't seem to bother my wife, who happily points out what she wants. !!!

We dropped by Sim Siang Choon @ Changi and shortlisted a few of their stainless steel bathroom accessories. And then it's curtains shopping time! We went to The Curtain Company @ 18C Rosyth Road. It's not easy to find the place and surprise, surprise, it is actually a terrace house! But we're quite impress by the curtain stylists. Very personalised service with intriguing ideas and curtains/blinds designs.

We returned to the flat in the evening and the air-con guys were just about done! The first electronic items in the house! Yay!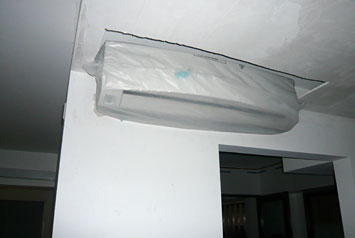 The huge 24K btu Panasonic air-con in the living room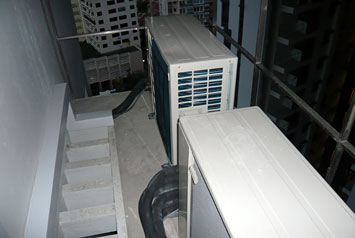 The 2 compressors at the dedicated air-con ledge


Wednesday, 10 March 2010 - Chrome is no good??
Lydia's office colleagues told her that bathroom accessories should not buy chrome, should buy stainless steel! They say chrome will surely tarnish and rust.

Huh? But chrome bathroom accessories have more variety and some are more expensive than stainless steel too.

Hah? Return all of them to Sim Siang Choon???

Sigh. The items ain't light and we already scribbled on the boxes. I went down with Cheng How and thankfully, their return/exchange policy is excellent! They gave me a credit back for all the items! Gee, thanks!

But with all the available credit, what are we going to buy from Sim Siang Choon then?


Tuesday, 9 March 2010 - Collecting my Home Theatre System
Marc needs the audio speakers soon and thus we had to hasten the collection of my Jamo A102 HCS 5 speakers and the Onkyo TX-SR507 A/V Receiver. These babies are heavy! Thankfully Cheng How was with me for the collection from Harvey Norman @ Millenia Walk. We had dinner at Carl's Junior before he gave me a ride home. Thanks!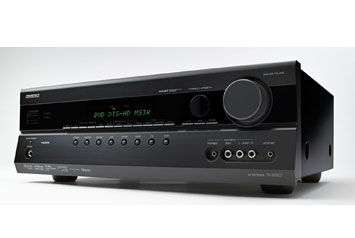 The Onyko TX-SR507 audio/video receiver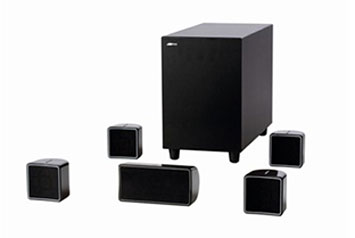 The Jamo A102 HCS 5 5.1 home theatre system


Sunday, 7 March 2010 - Bathroom Accessories & Dining Table
The weekend is really all spent on getting things for the home. It's hectic but it can't be help...

The afternoon was spent at Sim Siang Choon @ Balestier, where we picked up a good range of bathroom accessories. We dropped by XZQT and were blown away by their cool extendable dining tables. Unfortunately the price wasn't cool. On a budget constraint, we reluctantly tore ourselves away and headed to International Furniture Centre (IFC) @ Sungei Kadut. We finally settled on a spray-painted black glass table with 4 really cool S-shape designer chairs. I like the chairs! Comfy too!


Saturday, 6 March 2010 - Franke's kitchen sink
Managed to squeeze in futsal in the morning before we went to IMM to continue our shopping for the home. This time round is for the kitchen sink. We wandered around for a while to check out the different designs and prices before going into Asia Excel, where they have a range of Franke kitchen sinks. Oh my, it's not highly expensive, but it ain't cheap either! We went for a modern edgy rectangular undermount kitchen sink, plus a cool industrial mixer/tap! I had always wanted to have an industrial tap in my home. Too much influence by home deco magazines, ha!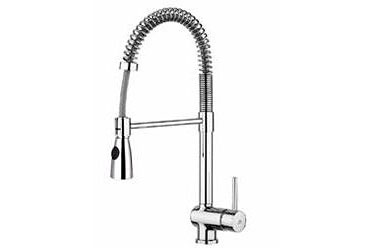 The T8000 industrial tap for our future kitchen

Ooh! A letter from OpenNet! Yay, just in time for them to lay the optic fibre cables for the renovation!


Friday, 5 March 2010 - Big ticket items for the home
We dropped by Gain City after work to finalise our big ticket purchase; A Sharp system3 invertor air-con with ion plasmacluster (AH-XPC9LV, 3x 9000 btu) and a Panasonic non-inverter with some e-ioniser thingy (CS-C24KKZ, 1x 24000 btu). For the washing machine, we got a Toshiba 9kg top load washing machine, with cool stuffs like direct drive inverter and star crystal drum (AW-D980S). Was tempted to get a front load but was deterred by the need to bend/squat during loading/unloading. For the fridge, we got a made-in-Japan Hitachi 518L (385L effective) 6-door inverter refrigerator (R-SF55YMS) with automatic ice-maker and a ... vacuum compartment! I love the pressured sound it makes when it opens, haha!

Many thanks to Joseph for giving us such a fantastic price. We really drove a hard bargain, especially for the fridge! :P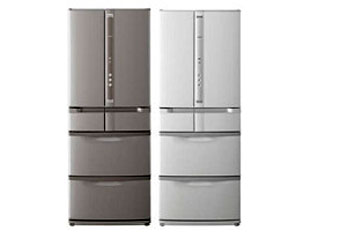 Our compact but feature-rich Hitachi fridge (light brown model, left)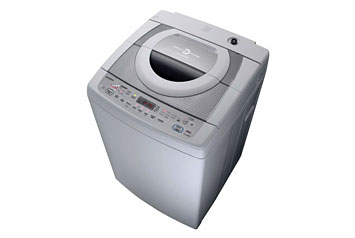 The top-load Toshiba washing machine


Tuesday, 2 March 2010 - Shopping for Oven
The kitchen is the wife's domain. So even though she hardly bakes much, she said she will want to bake in the future and so will need an oven.

Dare I say no?

A quick trip to Harvey Norman after work, plus about an hour of hard bargaining with the staff, and the Electrolux EOB31001X Oven is in the bag!


Monday, 1 March 2010 - Renovation has Begun!
After work we dropped by SGH to visit Geng Hui, who had an incredible slip, fell to the ground and broke a couple of bones!

After the visitation, we went to The Pinnacle to check on the progress of our flat. Wow! The wall between the bedroom and the living room is gone! Demolished! The false ceiling work has also begun. Very fast indeed! Our new home certainly is taking a big stride forward. Yeah!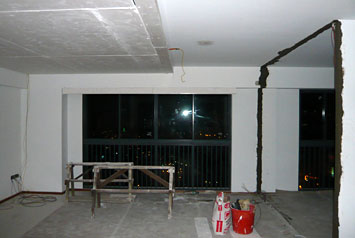 The gaping hole where it used to be the bedroom wall


Sunday, 28 February 2010 - Burning the Weekend, Part 2
Overslept and missed church... :P

We went to Balestier in the early afternoon to meet Marc to buy our lightings. Marc took us to the shop Lightings.com.sg. The varieties were not too bad and not too pricey too and we spent about $1.3K there.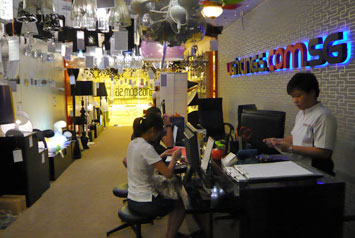 Purchasing the lightings for our new home

After Marc left, we looked around for kitchen accessories as well. Ended up with nothing, but it was a good recce trip to know the variety and price. Dinner was at Loy Kee chicken rice, which my wife says my face already tells her that I wanted to eat there ever since we got into Balestier area, haha.

We went to Ikea after that to check out what alternatives can we get from here.

And that's it. The whole weekend spent doing things for our new home. No futsal, no computer games, no time!


Saturday, 27 February 2010 - Burning the Weekend, Part 1
There ain't many weekends left before I fly off to Dubai. So much to arrange and settle for our new flat!

In the morning we headed to Citygas with my parents to check out the water heater, the stove and the hood. We settled on the Rinnai stove and hood.

Next stop was at Pinnacle, where we signed off the HDB defects list. Oh, a milestone completed, haha! Anwar, the contractor taking care of fixing our flat is a nice guy and we bought some pastries for him, which he passed them on to the office staff. Thanks for the patience for looking at close to 500 defects!

Next stop was at Liang Court and we ventured into OM. Found a L-shaped sofa just about the size and material that we're looking for at a fairly reasonable price, considering it is an OM product. After some bargaining with cushions thrown in, we took it!

Dinner was yu sheng dinner at Jurong Country Club with Uncle Nick & family, Chueng & family, my parents and J & Fenny.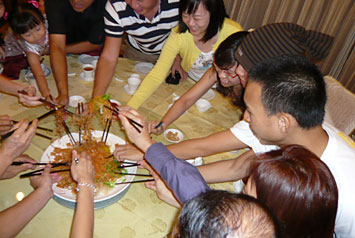 Yu sheng 2010!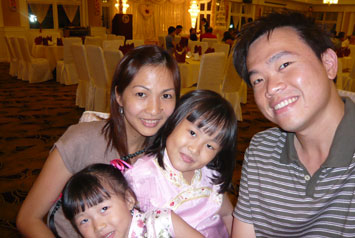 Joel and Lydia with the two lovely girls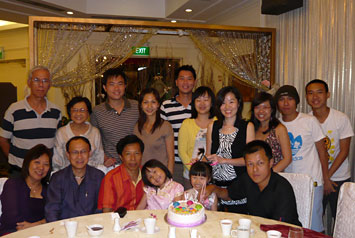 Keeping up the tradition every year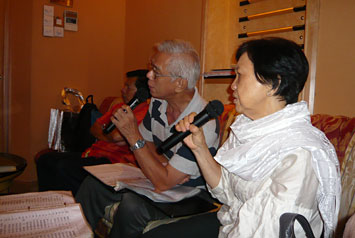 Karaoke after that! My parents got in the act too!


Friday, 26 February 2010 - Early Visitor to the Pinnacle
During lunch, Leonard mentioned that he wanted to visit my new flat at The Pinnacle. I thought he meant in the near future when it's ready, but he meant this evening!

So we headed over after work and brought him to my unit, the 26th floor skybridge and finally the 50th floor skybridge. He was really impresssed, hee. Oh, he actually got a queue number in the first ballot, but decided to drop it cos the wait was too long.

Was playing Left 4 Dead 2 - Versus with Eric. I'm a total noob in versus and was really lost and totally slaughtered sia. Too much aggression and rivalry in versus, which takes the fun out of the game, I feel. I probably going to stick to just playing cooperative campaign mode or survival, ha!


Sunday, 21 February 2010 - Fridge and Audio system for the home
We started shopping for the big ticket items for our new home. First stop is to Gain City at Marina Square where we had shortlisted a couple of fridges. Decisions, decisions... a made-in-Japan fridge that cost a lot but look really nice, or a "normal" fridge that's larger and cheaper?

We dropped by Harvey Norman to check out the TVs too. Ended up in the audio section and bought a Jamo + Onkyo sound system! :P


Saturday, 20 February 2010 - Ramping up the Renovation
With the impending trip to Dubai looming around the corner, we really have to speed up and ramp up the renovation. We met Marc for a super lengthy 4hr discussion, choosing the colors for the laminates, the wall colors, the designs, everything. At the end of it all, it was tiring but very fruitful. Exhausted!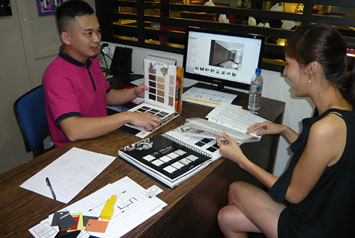 Meeting with Marc from LinearSpace

There was futsal in the afternoon with the guys. There were a couple of chances to score, but after a long break, I squandered them. Tsk.

In the evening we went to Best Denki @ Ngee Ann City to buy a new shaver, cos my old one conked out after ants went into it! Dinner was at the tonkatsu restaurant at basement 1. Nice!


Friday, 19 February 2010 - Promotion
After joining Shell for 2+ years, I've got a promotion! Many thanks to my really fabulous boss Veronica, the team and of course to God. :)


Wednesday, 17 February 2010 - Bombshell
My boss called me aside and told me to be prepared to leave for Dubai by the end of the month for a 2-month stint.

Wow. Even though it's a good opportunity to travel and experience working overseas, 2 months is a long time. Especially when we're just gearing up for the home renovation and moving. And especially when 2 weeks was the longest Lydia and I have ever been apart.

It's going to be havoc.


Monday, 15 February 2010 - Padang - Day 5
Adios! It's been a short stay but nonetheless, we got to eat most of the stuffs we wanna eat.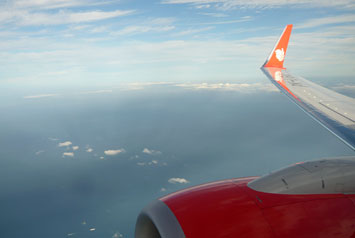 In the air again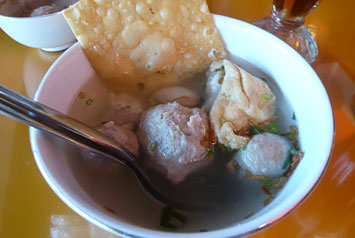 Having some food at Jakarta airport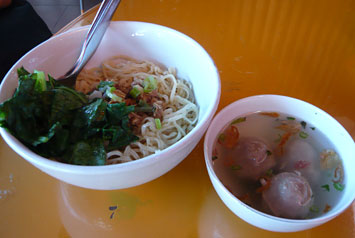 Going to miss Indonesian food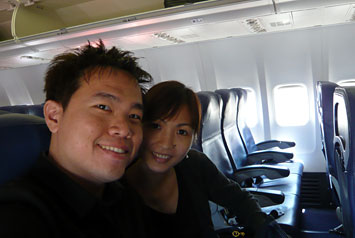 The standard airplane pix applies

Back in Singapore, in the evening, we joined up with my family at Uncle Nick's place for the CNY gathering and dinner.


Sunday, 14 February 2010 - Padang - Day 4
It's Chinese New Year in Padang. Yesterday was actually the eve of CNY, but there isn't a custom to stay up as late as possible to welcome in the new year. But the family custom of gathering everyone and visiting the parent's home is still strong. :)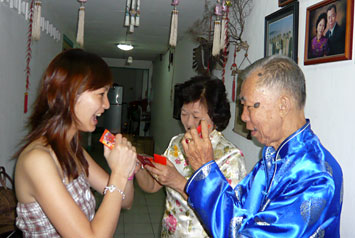 Gong xi gong xi!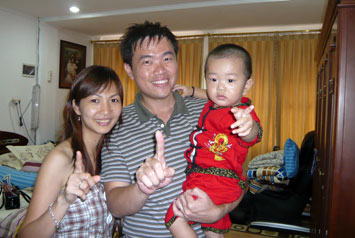 One more ang pao!

After attending the church service in bahasa Indonesia, we went for es durian desserts!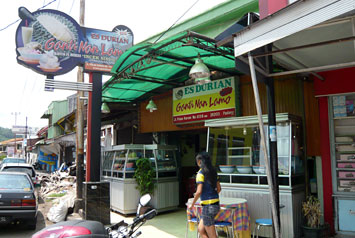 The es durian stall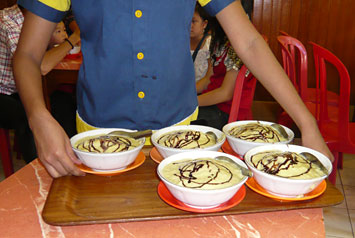 Yummy bowls of es durian!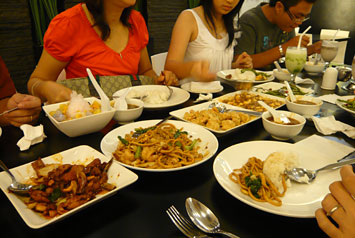 Dinner at a new fancy restaurant. I still prefer the local food though

Check out the studio photos from the shoot on Day 1. Nice!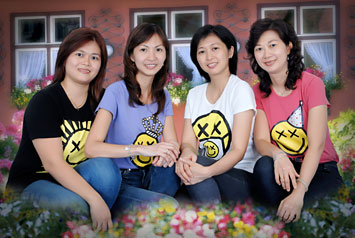 The 4 sisters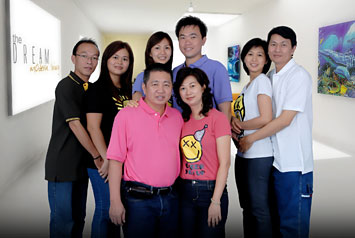 The 4 sisters and their hubbies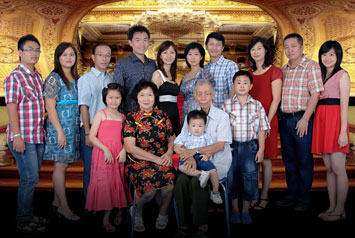 One big family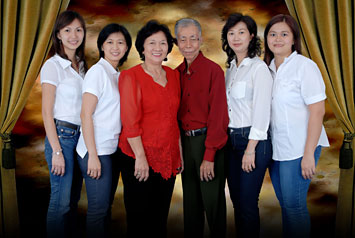 The Hendra family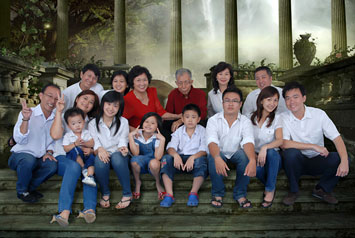 With all the children and grandchilden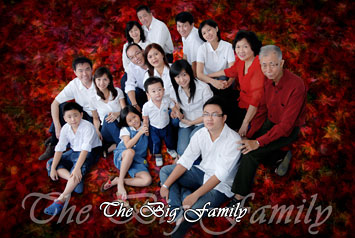 Nice big family!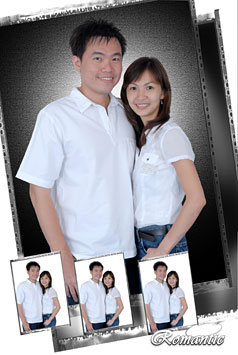 The only couple without kids, heh!


Saturday, 13 February 2010 - Padang - Day 3
A good start to the day is a breakfast of cha kuay teow and 2 teh botol. :)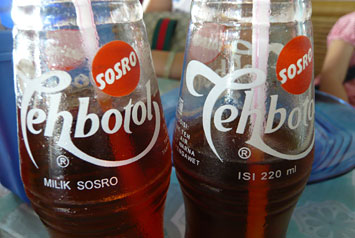 My favorite drink in Padang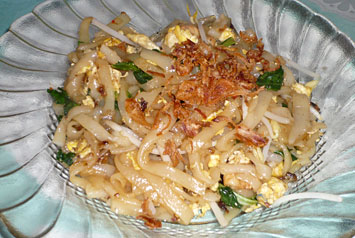 Cha kuay teow Padang style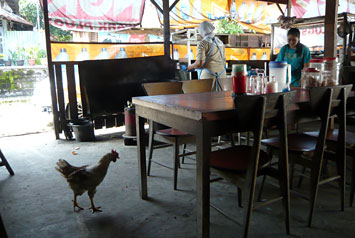 My favorite breakfast place!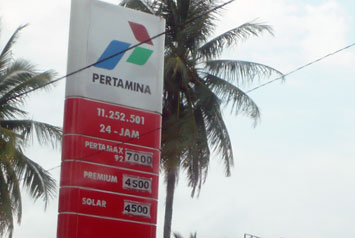 Petrol is cheap!

Lunch is at my die-die-must-eat meal in Padang: The fish head curry!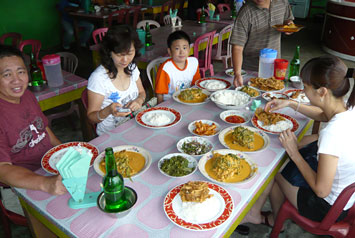 Lunch at my super favorite curry fish head restaurant!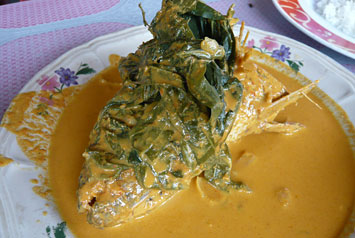 The awesome curry fish head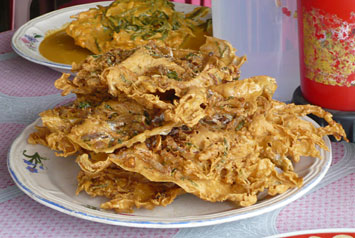 with the best "keropok" ever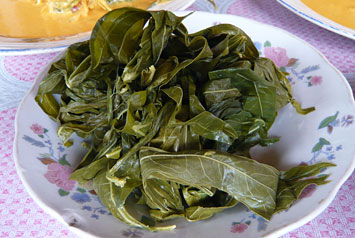 Love these tapioca leaves with curry! Superb!!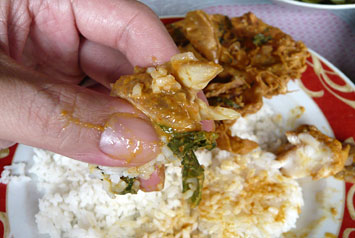 There is only one way to eat the fish head curry: with your hands!

After lunch we went to the beach to chill and watch the kids play. It's nice to relax by the beach.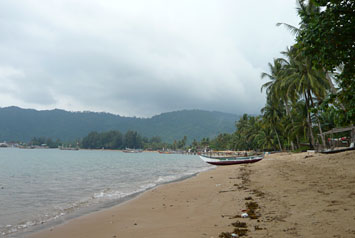 Scenic beach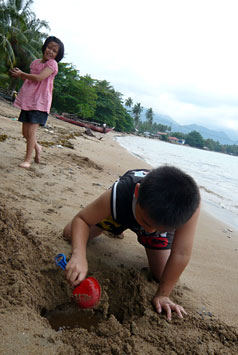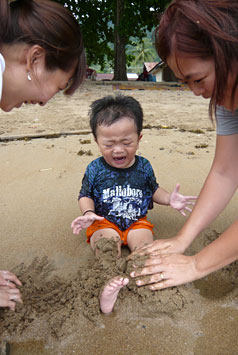 Hans and Carmen building sandcastles Calvin cries for help as his legs get buried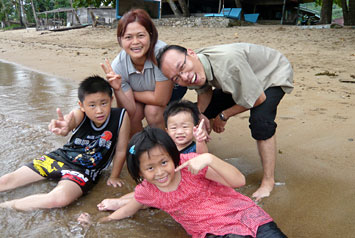 Fun at the beach!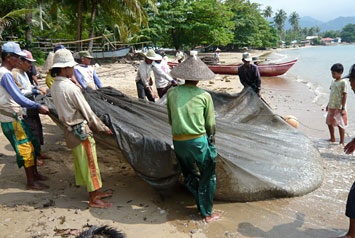 Fishermen nearby pulling in their catch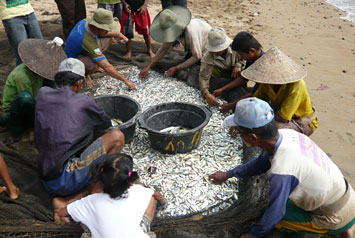 A good catch today!

Today's the eve of Chinese New Year. It's gonna be dinner at home with all the families.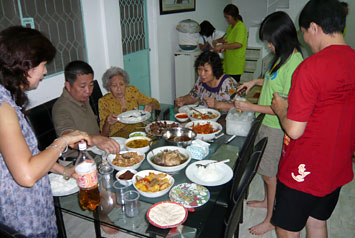 At eldest sis' house having dinner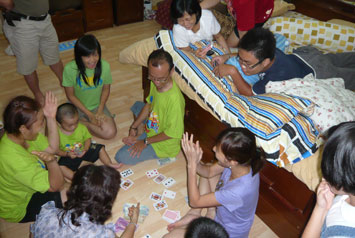 A few games of In-Between!


Friday, 12 February 2010 - Padang - Day 2
Rise and shine in the land of Padang, where every meal is always looked forwarded to. :D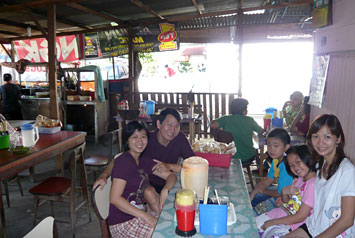 Breakfast with 2nd sis & family, plus Hans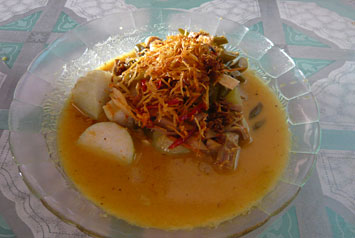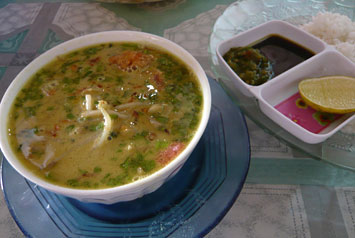 After breakfast, we packed up and took a speed boat ride to Sikuai Island Resort. Lovely place!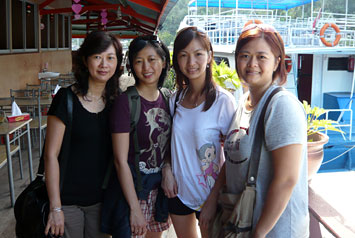 The 4 sisters. Who's the prettiest?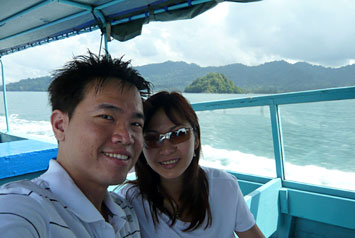 Speed boat ride to the island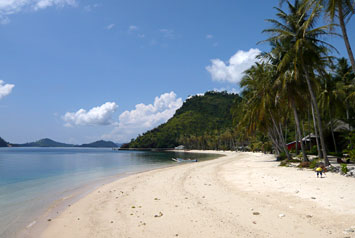 Tranquility awaits!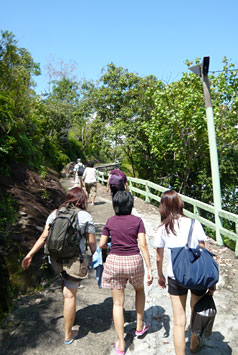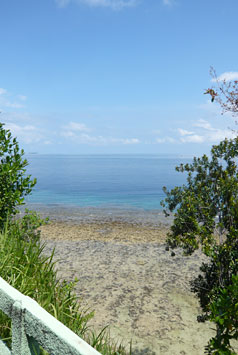 Walking to the other side of the island. Great view of the sea everywhere.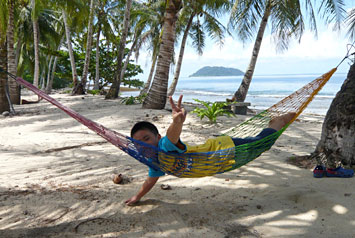 Arrived at point and Hans launches into the hammock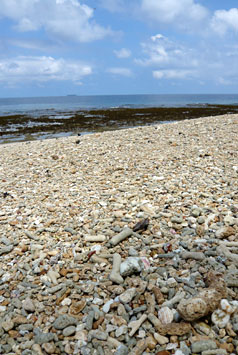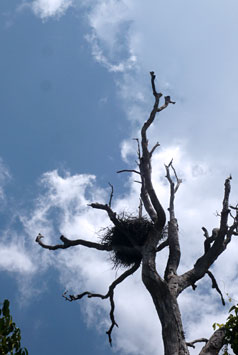 More beautiful scenery at Sikuai Island Resort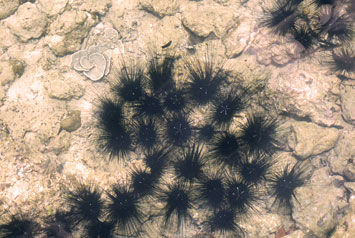 Sea urchins in the sea!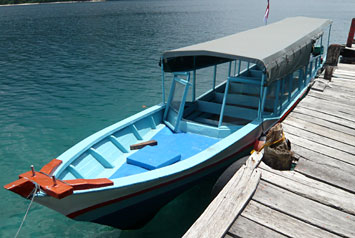 The speed boat which we came from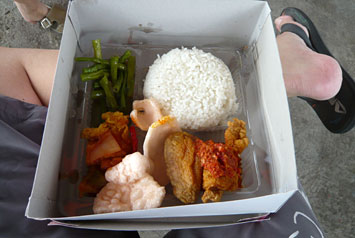 Our packet lunch. Our ta pao meat dish was missing!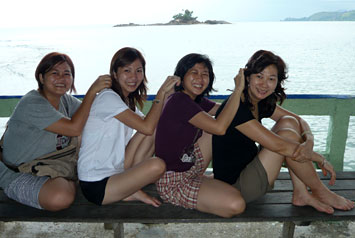 Can you guess what they're doing?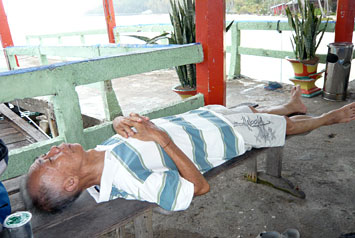 Father-in-law having a siesta at the jetty after lunch

We headed back to the mainland in the evening. It was a good getaway place from the city. Pity it rained midway through and we were stuck in the resort. But it was still fun and enjoyable.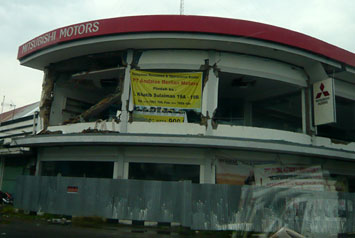 Mitsubishi car showroom was damaged by the earthquake too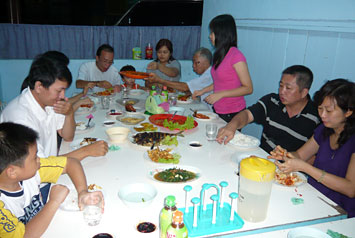 Dinner at the Ikan Bakar "restaurant"! One of my favorites!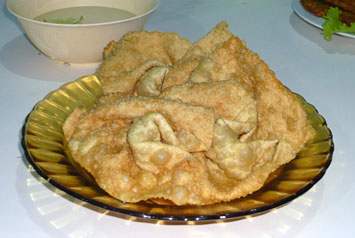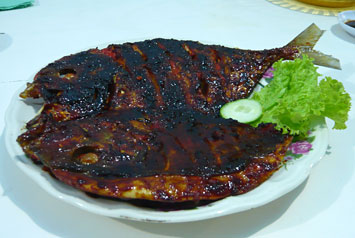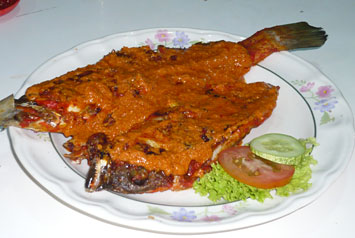 After dinner, on the way home, they stopped to buy.... turtle eggs! Ooh, those poor turtles! How could anyone eat them??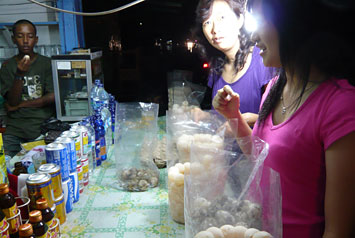 At the turtle eggs stall by the beach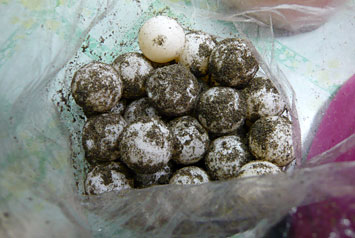 Fresh turtle eggs that were just collected! Wow!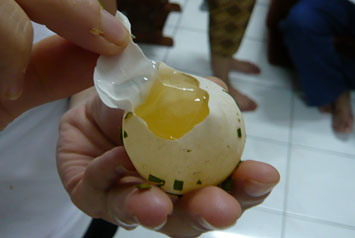 A cooked turtle egg. *sniff*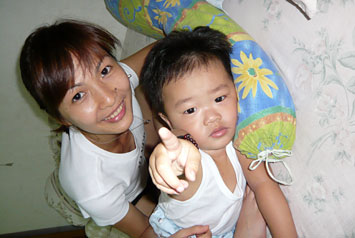 Good nite you all!


Thursday, 11 February 2010 - Off to Padang! Day 1
We are off to Padang for the Chinese New Year! First time taking LionAir though, as Tiger Airways has stopped flying there. Though it is cheaper, the journey time is simply... amazing.

We caught the 6.55am flight to Jakarta, which takes about an hour. Once there, even though the next leg is also with LionAir, we have to collect our luggage, exit immigration, hop on to the mini transfer shuttle bus that takes us from the international terminal to the domestic terminal and check-in all over again. And then it's about 1-2 hours wait for the connection flight to Padang. What used to be a 50min flight is now a half-day affair.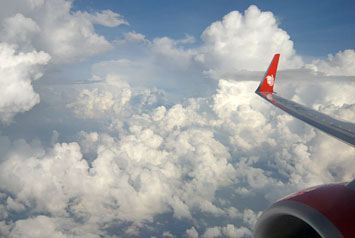 Leaving on a jetplane...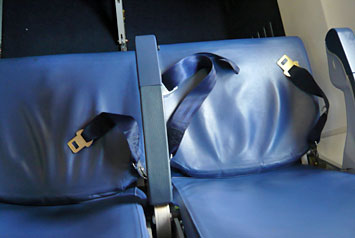 Hard canvas seats! Ouch!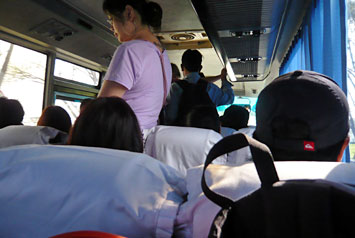 The tiny transfer shuttle bus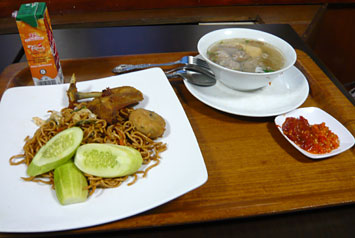 First taste of Indonesian food at Jakarta domestic terminal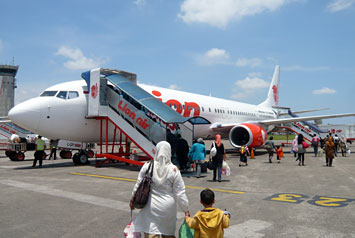 Catching the domestic connection flight to Padang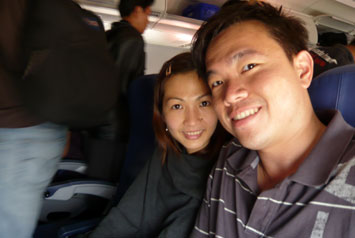 On the 2nd leg of the flight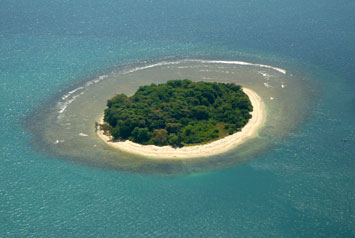 Remote islands like this dots Padang's coastline

We were actually on the same flight as Lydia's 2nd sister and her family. Lydia's mum and her eldest sister's husband picked us up. On the way back, we saw a glimpse of the devastation that the earthquake had wrecked on the city 3-4 months ago.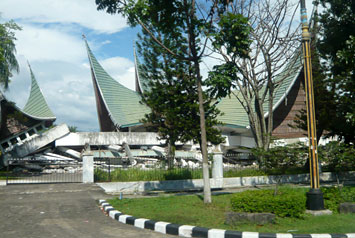 Earthquake aftermath #1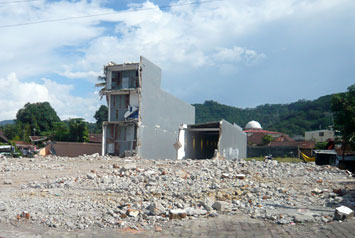 Earthquake aftermath #2

First agenda is to have family photos taken, as it's not often that 2nd sis is here with her family. We spent about an hour at a photo studio taking many shots.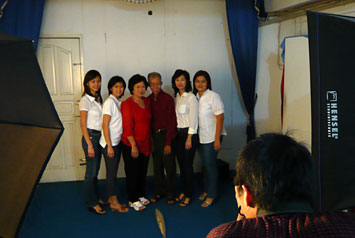 Studio shots #1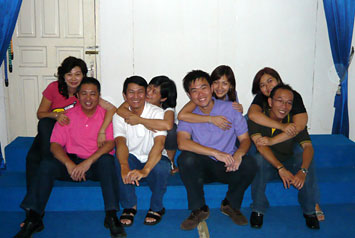 More studio shots #2

After the photo taking, it's makan time!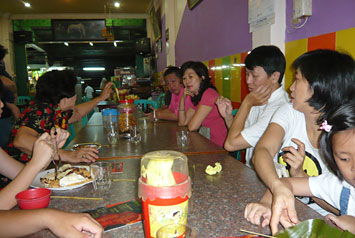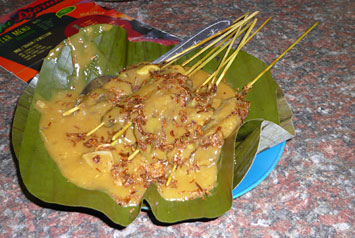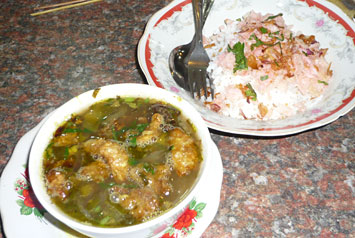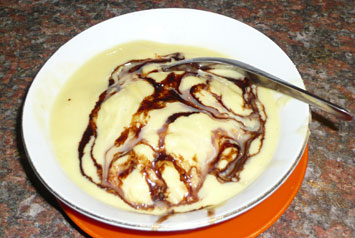 With the stomach filled, the families all gathered at the parent's home for chit chats. Even though I don't understand Bahasa Indonesia, I just sat there. There's always the kids to keep me entertained. See below, hahaha!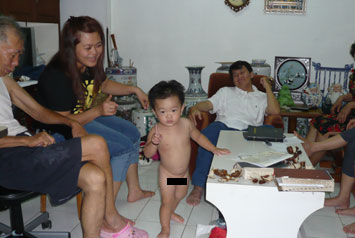 Saturday, 6 February 2010 - Singapore Airshow 2010
2 years ago, we went to the inaugural Singapore Airshow with my parents. And this year, we're back again with my parents! :)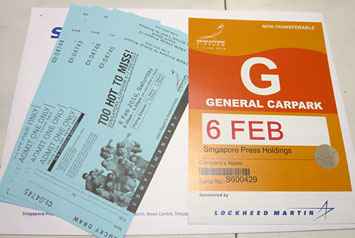 Thank you SPH!

As usual, we timed our arrival just before the first flying display. That's probably when the hot noon sun is hit up in the sky too! Time for some sun-tanning!



Roasting in the sun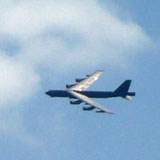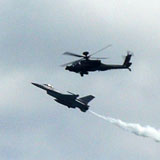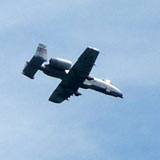 The B-52 bomber! The F-16 and Apache doing a stunt routine, and the awesome A-10 Thunderbolt!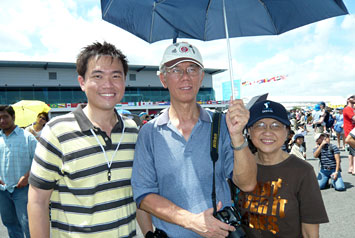 The young one is without the cap and umbrella

After a good hour in the sun, the flying display came to an end. It would have be better if they had more fighter planes or an acrobat team. But well, it was still nice. We headed over to the static display after that to take more photos. My parents ducked into the exhibition halls for the comforts of the indoor air-conditioning.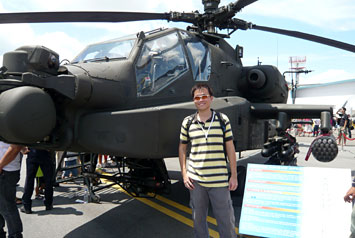 Up close and personal with the Apache



What if... I had pursued the path of a fighter pilot instead?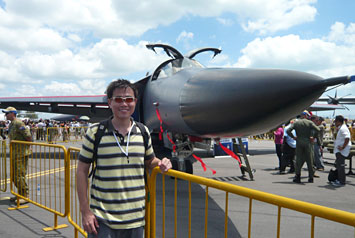 My fascination with planes, now the F-111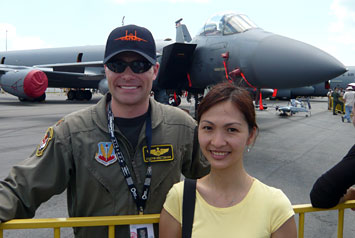 Lydia with the pilot of the F-15 Eagle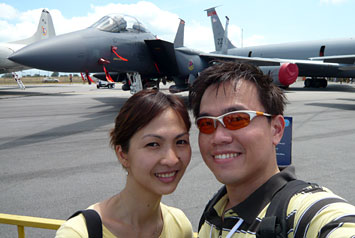 Lydia with the wannabe-pilot of the F-15 Eagle

After about an hour in the hote sun, we went into the exhibition hall to look for my parents and for lunch.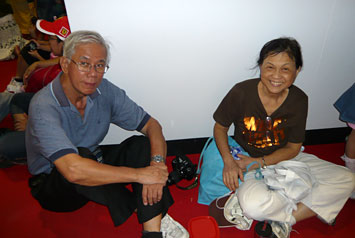 Mum and dad resting in a narrow corridor of the exhibition hall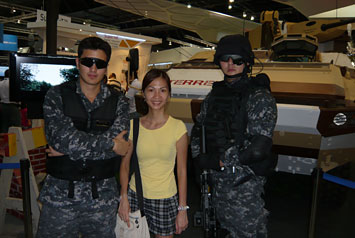 Lydia taking photos with stylo-milo soldiers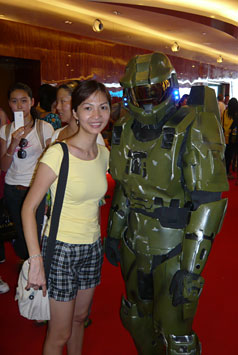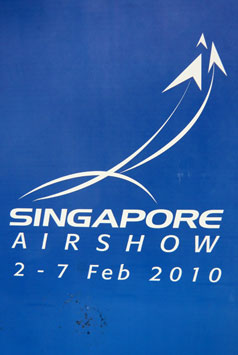 With Master Chief too!

But she doesn't let me take photo with Cammy from Street Fighter... unfair leh!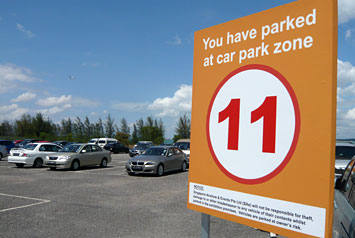 And we're outta here! See you in 2 years time!!

In the evening, I met up with my cousins Geng Hui and Kelvin who wanted to visit our new place at Pinnacle@Duxton. We spent some time on the skybridges and also in my flat. Too bad it was cloudy, so Geng Hui couldn't take photos of the sunset.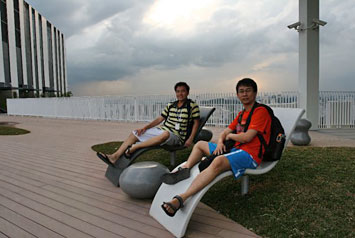 Relaxing on the deck of the 50th floor skybridge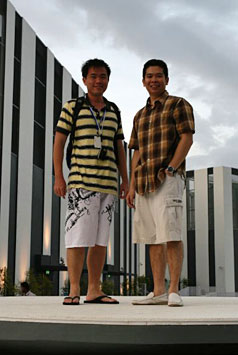 2 posers on the skybridge

Can't wait for it to be ready!


Thursday, 4 February 2010 - End of Reservist
Last day of reservist today! It has been an interesting tour of duty this round, with exciting and dull moments at times. It might possibly be my last!

Dropped by Pinnacle to check out the defects reported to HDB. Added a few more that they have not fixed or were missed out in the "Phase 1" defects list. The last number on the label tag? 496! Hahaha! We must have set a new HDB record...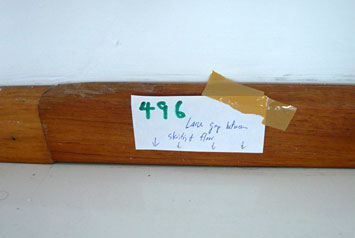 The 496th defect reported to HDB :P


Wednesday, 3 February 2010 - Joyce & Cassandre
Joyce and baby Cassandre were back in Singapore for a short period of time and took the opportunity to catch up with her.

We picked them up from Yishun and headed to Crystal Jade at Great World City. Joyce is expecting a 2nd child! It was really great catching up with her and playing and looking at Cassandre. Cassandre is really adorable, like a doll! She really likes biscuits and devoured the biscuits that we bought for her, heehee.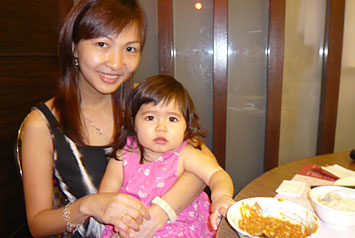 Lydia with the adorable Cassandre

Somewhere into the lunch, Cassandre suddenly walked over to me, stretched out both hands and wanted me to carry her! Hehheh! Awww! Even though I've told myself I won't carry anybody's baby, she was just too irresistable and I couldn't possibly reject those baby brown eyes that were looking at me with out-stretched arms.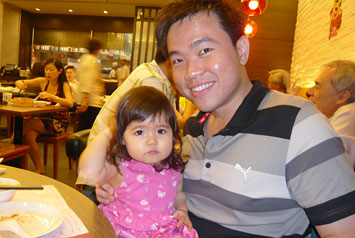 Joyce says she takes to guys more, hehheh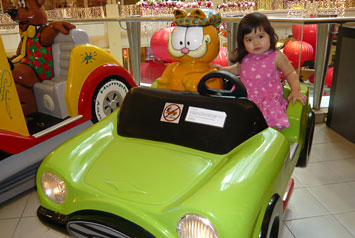 Cassandre playing in a car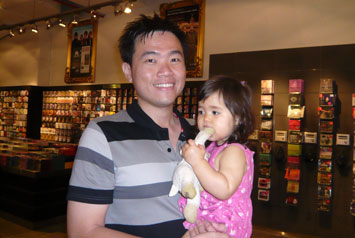 I'm carrying her after she stretched out her arms again :)

You know, after today's outing with baby Cassandre, maybe... just maybe, having a baby girl can be quite enjoyable too. :P


Tuesday, 2 February 2010 - Won Tickets to Singapore Airshow 2010!!
Hurray! I won 2 complimentary family packages to the Singapore Airshow that's coming this weekend!

Took part in an online game contest by Singapore Press Holding, where the objective is to follow the enemy figter plane in front and keep within the radar circles for as long as possible. I did an incredible timing of more than 2 minutes! :P The next couple of tries weren't even close, so I knew I had a pretty good chance of winning.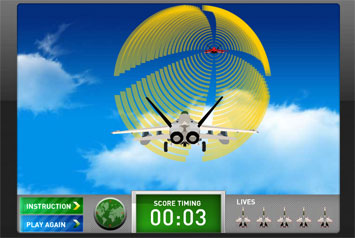 Top Gun in action

True enough, the congratulatory email came today. Yay!

It was a "do-or-die" really, cos if I didn't win the contest, we probably won't be going to the airshow as the silly organisers somehow re-packaged the family package to include only 2 adults and 2 children with the car park label. Right... any family members above 12 years old ain't a family anymore. I wasn't planning to go to the airshow without driving; public transport would be madness at the airshow!


Saturday, 30 January 2010 - Passport, Bowling and Reunion Dinner
The ICA (Immigration Checkpoints Authority) is pretty efficient. Lydia submitted her online passport application at the beginning of this week and she could collect her passport today!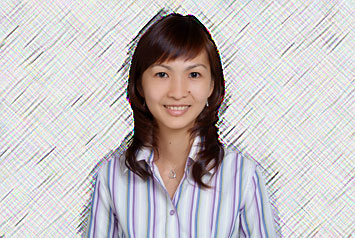 Passport photo. Background added in Photoshop

Finding a parking lot near the ICA building is another story though. I couldn't find one and roamed the car parks at North Bridge Road but most were full or only had space for season parking. Just went I finally parked my car at a multi-storey carpark and walked out of the car, Lydia called to say that she has collected the passport already and can pick her up. D'oh!

We went to my parent's place after that to move my remaining Lego cargo boxes out of the spare room. That's when we came across my Coca Cola collection in a Toyogo container. It was flooded! A super strong smell hit us the moment the lid was opened. The aluminium cans have exploded and all the cans and bottles were soaked in about 10cm depth of Coke!! I was forced to throw them away, except for two World Cup 2002 Coke bottles that was bought in Korea. Sob!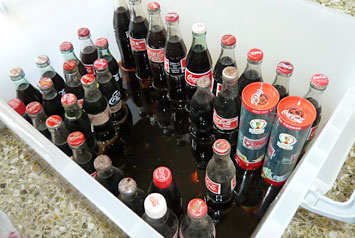 My precious coke bottles

In the afternoon was Revival Centre Church Bowling Day! It was part of a fund-raising event for the church development fund and each bowler had paid $50 each to participate. The event was held at Planet Bowl @ Civil Service Club at Tessensohn Road. In my team was Lydia, Robin and Gloria, who replaced Robin's girlfriend as she couldn't make it.

I got off to a good start with a strike in the first throw. But from then on over three games, my gameplay simply deteroriated. The scores for the 3 games were 131, 82 and 117. Lydia's score was 79, 85 and 84. I actually lost to her in the 2nd game, haha!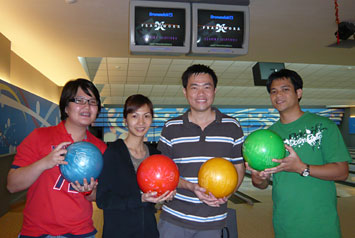 Having fun raising funds

In the evening, we had a very early reunion dinner at my parent's home with Jason and Fenny. Cos Chinese New Year we will be in Padang.


Tuesday, 26 January 2010 - Revised Off Peak Car (OPC) Scheme
The Revised OPC scheme kicked in yesterday. Finally! I've been waiting for this day to come for a long time. The revised scheme allowed for unrestricted usage on Saturday and the eve of 5 major public holidays, at the expense of an increase in road tax. But since I drive out just about every Saturday, the new scheme will allow me to save more than $800 a year!

I converted to the new revised OPC scheme today and paid up the difference in road tax. All done online instantly. Makes me wonder why I had to pay a one-time $100 administrative fee??

My annual road tax rose from $50 to $234.
Assuming there's 52 Saturdays in a year, I would have to spend 52 x $20 = $1040

Savings: $1040 - ($234 - $50) = $856!

Yippee!

Washed my car in the evening to "celebrate" the moment, haha.


Friday, 22 January 2010 - An Afternoon in Orchard Road
I am posted to the same unit as before. The only negative thing is that I've got to work day and night shifts, including the dreaded sentry post!

Anyway, it's my off day today and Lydia took the afternoon off and we spent our time in Orchard Road on a lazy Friday afternoon. It is fun to be out on a weekday afternoon. Whenever we see people around, we would always wonder what profession do these people do, that they can idle around in Orchard like us? :)


Tuesday, 19 January 2010 - First Day of Reservist!
It's the first day of my Police reservist! It's going to stretch all the way till 4th Feb!

Saw familiar faces again and glad to have them onboard the same boat. Keeping our fingers crossed on our posting!

Serving the Nation with a smile. :D


Saturday, 16 January 2010 - Just Another Weekend
After a haul of 4 goals last Saturday, I fired blanks today at East Coast Park. :(

We went for a haircut in the evening at Headquarters Salon before going to Clementi Bright Photo Studio as Lydia needs to make passport photos. I think I've come to this place for passport/IC/mugshots photos as far back as I could remember!


Friday, 15 January 2010 - Alfred's Last Day
Today's Alfred last day. I think he joined for slightly less than a year? I guess Application support wasn't his cup of tea. It's a pity, cos I think he was a good colleague.

We had a farewell dinner for him at Two Chefs @ Commonwealth. Ken Ong, Ken Huang, Leslie, Gabriel and wife, Desmond, me and Lydia were there. Funny thing is, Alfred didn't come, haha. Nonetheless, we were happy to have a nice farewell dinner, with or without him. All the best Alfred!


Sunday, 10 January 2010 - Zion Road Food Centre
After our usher duty and church service, we went to Zion Road Food Centre for lunch with Wai Seng and Elaine. We ordered the hugely popular prawn cum bak kut mee stall. Queued for about 30 minutes!

Though I usually don't take prawns, I finished the prawn mee here. You can be sure it is that good!

We shopped around at Great World City after that.


Saturday, 9 January 2010 - Football and Pinnacle
Singapore Powers turned on the electricity for our new flat today. :)
Actually the power was already pre turn-on. But we still have to put in the paperwork and get them to formally send a technician down to take the meter reading and "turn it on".

Saturday's futsal was at East Coast Park as the pitch at Turf City was fully booked. The pitch at ECP is smaller and that means more goals, hee! I scored 4 goals, including an own goal, haha! It was fun!

In the evening, we met up with Elin (ex Tetra Pak colleague) and her hubby, who also have gotten a unit at Pinnacle. We went to take a look at their S1 unit, to see what kind of defects they have and how they plan to do their renovation.

They dropped by to visit our S2 unit too and were impressed by the large living room. :)

We walked down to Maxwell Market for dinner after that. It's nice to see many eating places nearby. But I will need time to familiarise myself with Chinatown eating places. Don't know where and which are good!


Thursday, 7 January 2010 - L4D2 Fever
The past 4 nights, I've been playing L4D2 co-op online with Desmond and Min Hui, haha!

Min Hui continues to be Rambo and charges ahead. The problem is the zombies who pops up after he went past is when we're in the vicinity, ha!

Desmond continues to burn us with his close firing grenade launcher and molotov cocktails. I'm very well-done already, thank you.

Am I having fun with these two jokers? You bet I am!


Monday, 4 January 2010 - Completed L4D2
Haha... I completed the single player campaign of L4D2 within 4 days! Bought it on 31 Dec, completed today. :P

Well, that's me. When I start on a game, my goal is to complete it as soon as possible. Unlike a certain Mr Check, hehheh!

What more is there to play for L4D2? Plenty, apparently. There's many variations for the online play. Versus, co-op, survival... and best of all, earning achievements!

Let's get it started!


Saturday, 2 January 2010 - Football and Computer Game
The first Saturday of 2010 got off to a nice start.

Futsal in the afternoon with my friends. And then online L4D2 gaming with Desmond and Min Hui. We had lots of fun being able to communicate via audio. Min Hui was always charging ahead while Desmond's a firestarter, throwing molotov cocktails and shooting fuelcans. Not that I would have mind, except that he keeps burning us as well too, haha!


Friday, 1 January 2010 - What a start to 2010
Lydia's family caught the early morning flight back to Padang. It was fun bringing them around and squeezing 4 more people into our small unit. We had breakfast at Tiong Bahru Food Centre before having ampe ampe for lunch.

And after that I had an afternoon to indulge in Left 4 Dead 2 (L4D2). :D
Really great game, heehee! There are more special infected now. But I think I still like the original human characters.



Welcome to 2010!

After a fantastic session fighting all that gore and ugly things, the last thing I expected to do in real life was to do the same! The toilet bowl choked up big time!!

No amount of flushing helped. Neither did pouring loads of buckets of water. It only pulverized the shit into a thick chocolatey slimy goo. Faced with no alternative and a worrier-by-the-minute wife, I gotto do what a man of the house gotto do.

After strapping my arm with latex gloves and plastic bags, and with a surgical mask sprayed with my favorite cologne, I plunged my arm into the totally disgusting toilet bowl!

Surpringly, I didn't feel any solid despite the goo looking so thick and creamy. Sticking my hand as far down the hole didn't help. But I ain't called a fix-it-all by my wife for nothing. I cupped my hand and did a few water-pumping action on the hole and with great relief, the cloggage cleared! Hurray!

Oh boy, what a fine start to 2010 ya!