Entries by Joel


Sticky: Please sign the guestbook so that we know you've been here! We'd love to hear from u!


Tuesday, 27 June 2006 (Day 19) - World Cup K.O
Australia bit the dust yesterday as their World Cup campaign came to an erupt end, conceding a penalty to 10-men Italy just seconds before full-time. Urgh, they almost made it...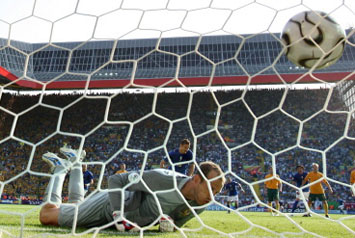 With Korea and Australia out, the sole country left flying the flag for me is England. What are the chances of England winning the World Cup? Given the way they're playing, you can look at it two ways: 1) Not a chance, seeing how pathetic they are. 2) Winning even when playing badly? That's potential World Cup winners in the making! Imagine when they're firing on all cylinders!

Predictions (end of extra time, if draw at full time):
Brazil vs Ghana: 3-1
Spain vs France: 2-1
Germany vs Argentina: 1-2
England vs Portugal: 2-1
Italy vs Ukraine: 1-0

Predictions so far:
Correct result prediction: 33 (of 54)
Correct score prediction: 4


Sunday, 25 June 2006 (Day 17) - Totalissimo What?
Yesterday played street soccer with Soo Kee and friends again, even though Lydia's parents had just arrived in the morning, heehee! I finally got the chance to try out my new Nike Totalissimo II IC street soccer boots that I bought last week.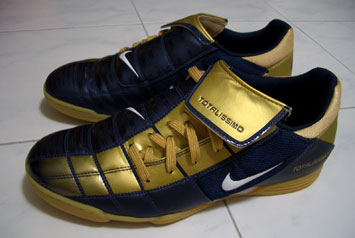 Overall played better than the last game but still a whole lot of room for improvement, especially for ball control. The ground was wet mah after the rain.. :P My team won all the 4-5 games I played in, but my two poor little toes had quite a bad blister...

Ok, back to Lydia's parents. Dinner was a trip to Jumbo restaurant with both our parents. My treat. The black pepper crab and chilli crab was simply yummy! Lydia wants to go again cos she said she didn't have enough!??

And on Sunday afternoon, we met up for lunch with our PMC friends at Adrian & Ruth's home for specially flown-in Indonesian food from Padang! There's beef rendang, dendeng, ikan bakar and kerupuk! I'm going to skip dinner cos we ate so much! Plus ice cream and Saralee cakes!

Predictions (end of extra time, if draw at full time):
England vs Ecuador: 2-1
Holland vs Portugal: 1-2
Italy vs Australia: 2-1
Switzerland vs Ukraine: 0-1
Brazil vs Ghana: 3-1
Spain vs France: 2-1

Predictions so far:
Correct result prediction: 30 (of 50)
Correct score prediction: 4


Thursday, 22 June 2006 (Day 14) - Spring Cleaning On a Thursday
It's odd to be cleaning up the home on a Thursday night, but that's what we did. I even took apart the two fans and vacuumed and wiped off the dust! Lest you think we're so full of energy at night (hmm...), it's becos Lydia's parents are coming to Singapore this Saturday morning! Cannot let them see our home so dirty rite? :)

I totally slept like a baby on the company bus ride home today. And it really felt good! Especially after only catching 4 hours of sleep this morning!

My last prediction was terrible! Only 1 out of 8 was correct! But here they are again for the coming matches:

Predictions:
Czech Republic vs Italy: 0-1
Ghana vs USA: 1-2
Croatia vs Australia: 1-2
Japan vs Brazil: 0-2
Switzerland vs Korea: 1-2
Togo vs France: 1-1
Saudi Arabia vs Spain: 0-2
Ukarine vs Tunisia: 2-0

Predictions so far:
Correct result prediction: 25 (of 40)
Correct score prediction: 4


Tuesday, 20 June 2006 (Day 12) - News News News!
On Sunday, Andrew called us up for dinner and we thought we'll be going to a nearby hawker centre or something. So we met him in bermudas and sandals. Surprise, surprise! We're Takashimaya and meeting Kian Pang and Eric as well at Crystal Jade! Alamak! Andrew said it's alright lah. Ya lah, cos he's always in bermudas one!

Wow, I must have been out of touch with my guy friends for too long! Found out that Gabriel has already ROMed, and Boon Teck has got a girlfriend! Way to go guys!

Andrew managed to get hold of Boon Teck and even though we just have a heavy meal at Crystal Jade, we still went to Sakae Sushi to meet up with him and his girlfriend! Her name is Novita. Very unique name indeed!

Happy that my friends are settling down. Oh will their carefree days of Friday nite poker still last? I doubt it, heehee. :)

Predictions:
Costa Rica vs Poland: 2-2
Ecuador vs Germany: 1-1
Paraguay vs Trinidad & Tobago: 1-1
Sweden vs England: 0-2
Ivory Coast vs Serbia & Montenegro: 2-1
Holland vs Argentina: 0-1
Iran vs Angola: 2-1
Portugal vs Mexico: 1-0

Predictions so far:
Correct result prediction: 24 (of 32)
Correct score prediction: 4


Saturday, 17 June 2006 (Day 9) - George & Corrine's Fantastic Lovenest
We went to George and Corrine's home at Jurong West for dinner yesterday. It was the most amazing and fascinating flat I ever seen! The first thing that came to my mind was "Hey, that's an interesting wall feature they got." Straight in front, at a corner was a full length square-textured, light brown wall.

After a while, I started thinking to myself, this is a really nice living room. But where are the doors to the bedrooms?? Imagine my surprise when the wall feature is the entrance to 2 bedrooms! One pushes in, while the other slides to the side. And the toilet 'door' was two full-length panel that nobody would have guessed is a toilet door! And the bomb shelter was so cleverly panel-up to illuminate an impressive neon blue welcoming lighting for the main door! Simply impressive! Must get George to help us design our Pinnacle flat next time!

Dinner was great with the food dished up by Corrine. And it was really fun meeting up and catching up with the two of them again. Looking at the wedding photos and especially their younger days photos really gave us a good laugh! George looks so toot, heehee. :P

And they gave me a belated birthday present of you-know-what?? Lego Exo-Force! Thunder Fury and Fire Culture! Aww! You shouldn't! Now I'm really (extremely) tempted to complete my Exo-Force collection!

Woah, by the time we reached home, it was way past midnight. After watching Holland beat Ivory Coast, we slept like a rock only woke up almost at 1pm! What a good recharger!!

Predictions:
Portugal vs Iran: 1-0
Czech Republic vs Ghana: 2-0
Italy vs USA: 2-0
Japan vs Croatia: 1-1
Brazil vs Australia: 2-2
France vs Korea: 1-1

Predictions so far:
Correct result prediction: 15 (of 23)
Correct score prediction: 3


Thursday, 15 June 2006 (Day 7) - World Cup Sickness
I'm down with a stubborn running nose for the past 2 days. Was it due to insufficient sleep from watching the World Cup matches? Either way, I'll still have to wake up at 5.55am everyday and get ready to go to work. Must tahan!

Predictions:
Ecuador vs Costa Rica: 1-1
England vs Trinidad & Tobago: 2-0
Sweden vs Paraguay: 1-1
Argentina vs Serbia & Montenegro: 2-0
Holland vs Ivory Coast: 2-1
Mexico vs Angola: 2-0

Predictions so far:
Correct result prediction: 12 (of 17)
Correct score prediction: 1


Monday, 12 June 2006 (Day 4) - Holy Kangaroos!
What a comeback by Australia!! 0-1 down till the 84th minute against Japan, Tim Cahill (Everton!) strikes twice and another injury time goal gave them a 3-1 victory! Awesome!! 2-1 my predicted score, and I was close!

Soo Kee said I should be supporting Asian teams. Don't worry, I will definitely support Korea tomorrow. But am supporting Australia cos Lydia's aunt and uncle are Australians and we were there few months back only. Plus there are a number of Australian players in the English Premier League.

Predictions:
USA vs Czech Republic: 1-1
Italy vs Ghana: 3-0
Korea vs Togo: 2-1
France vs Switzerland: 2-1
Brazil vs Croatia: 2-1

Predictions so far:
Correct result prediction: 7 (of 9)
Correct score prediction: 0


Sunday, 11 June 2006 (Day 3) - An Exhausting Weekend Roundup
We're totally exhausted boy...

Yesterday's wedding dinner at Fullerton Hotel turned out to be pretty fun as Jason and Fenny was at the table too, and surprise, surprise, Matrin and Bee Bee as well. Lydia had a great time catching up with Bee Bee. Oh, they have a really adorable 3 year-old cat and I am really envious!

Actually, I now have a cat too. Lydia bought it for me last Friday. Kitty was adopted for $17.90 from Kiddy Palace and runs on 4 AA batteries. She can walk, she can meow, she can also wag her tail. Well, this is a a step forward for Lydia and me, to the ultimate dream of convincing her to let me have a real cat.

Back to the wedding at the Fullerton Hotel, there were 3 guys who were seated at our table too. And coincidentally, they disappeared at the stroke of half time during the he match between England and Paraguay. After a couple of dishes were laid on the table and still no sight of them, we figured it's a sin to waste food and happily devoured them on their behalf! All the time nervously checking the stairs to see if they will return, haha!

And you know what? They actually came back!! But thankfully, these jokers were so late until the whole wedding was actually over already and we saw them outside, heehee! Their thank you gifts were also mercilessly taken by persons unknown. :P

We later joined Soo Kee at a pub along Kampong Bahru Road, and Anthony, Terence, Hayley and Adeline were there too. Expecting a soccer pub for the match between Trinidad & Tobago and Sweden, instead it was a Karaoke pub! We did have a cosy corner to settle in, with the match screened overhead on TV, but with the voulme muted. Not exactly the atmosphere I wanted, but it was still enjoyable hanging out with them.

By the time we reached home and bathed and got ready to sleep, it was already 3.30am! And we woke up at 8am to get ready for breakfast outside with my family and for church. And after church was the Tetra Pak SRC movie screening of X-Men at Lido. Lydia was struggling to keep awake, she says!

I'm going to sleep early tonite, after the Holland match at 9pm perhaps. :)

Predictions:
Holland vs Serbia & Montenegro: 2-0
Mexico vs Iran: 1-0
Angola vs Portugal: 1-2

Predictions so far:
Correct result prediction: 3 (of 5)
Correct score prediction: 0


Saturday, 10 June 2006 - Day 2 of World Cup 2006
I woke up at 10 plus this morning, after catching Germany's 4-2 victory over Costa Rica. Surprisingly, Costa Rica managed to put two past Germany, both goals by Paulo Wanchope (ex-Manchester City player).

I was too dead-beat to catch Poland's match against minnows Ecuador. What a surprise to find out that they lost 2-0 to Ecuador! Arek (my Polish colleague) was right after all. Poland always make it to the World Cup, but they will never go far.

Brian called and asked if I wanted to hit the pub to catch the England match tonite. I have to break my sad news to him. Sigh

My prediction:
England vs Paraguay: 2-1
Trinidad & Tobago vs Sweden: 1-2
Argentina vs Ivory Coast: 2-0

Correct prediction: 1 (of 2)
Correct score prediction: 0


Friday, 9 June 2006 - World Cup 2006 Kicks Off Today!
After 4 long years, it is about to begin! Tonite opening ceremony starts at 10.20pm Singapore time. First match opening between Germany and Costa Rica kicks off at 12 midnight. My prediction: 2-0 to Germany.

Shown on the news yesterday was a couple in Newcastle jerseys who were getting married in mid June. You gotto be kidding me. Any true-blue soccer fan would have avoided holding their wedding during the World Cup! Unless the honeymoon involved a trip to one of the World Cup matches...

Speaking of weddings, you know what? I have a wedding to attend tomorrow. Yep. And of all the games that I may miss, it has got to be the first England match of the World Cup! England vs Paraguay, 9pm tomorrow. Urghh!!!

Well, looking at my unbelievable luck, I shall go on and predict that England will win the World Cup! Just wait and see!


Monday, 5 June 2006 - Kicking The Ball Again
Last Saturday, I played soccer again! Wow, I think it must have been more than a year since I last kicked the ball?

Soo Kee invited me to join his friends at the old Republic Poly for a game of street soccer on Saturday evening. Lydia came along too and was contended to sit on the bench under the shady mango tree while reading magazines and listening to music.

After being away from soccer for such a long time, my skills were rusty and lacking in some confidence as well. I think I didn't play very well, but it was still very enjoyable to be kicking around with a football again! And it is good exercise too! Looking forward to playing with his friends on a regular basis!

The best thing about this venue is that there is a simple track for running with some exercise stations, which Lydia is planning to utilise when she comes along next time. You know, there is no greater joy and relief to be able to play soccer while keeping your wife happy and occupied. :) Especially so when shopping is not included. :D


Friday, 2 June 2006 - The Great PC Squeeze
For the notti-minded... no, I'm not talking about the PC muscle lah! But rather the Great Singapore Sale Squeeze at the PC Show 2006 at Suntec. If you think only the ladies are crazy about shopping, wait till you step into the convention hall. Hundreds of guys (a minority accompanied by their poor girlfriend/wife) jostling and squeezing through the narrow corridors between the booths, in search of computer bargains.

After an hour of body-rubbing with strangers, I decided enough was enough and left after a single purchase: a $9.90 o2 Atom screen protector. Only an hour in an IT show without Lydia around? This must be a new record! The last IT show, I spent 3 hours roaming the halls.

Catching up with Lydia and her friend later at Raffles City for dinner, I showed them my $23 (before 20% discount) Lego soccer scarf that I had bought from the Lego fair downstairs. What did they have to say about my excitingly cool Lego soccer scarf? "Wah, $23 is expensive for a towel." It's not a towel, silly...

Kian Pang and Tzin Mein happened to be in the vicinity and we met up too. Hehheh, Kian Pang asked me over the phone whether Lydia's friend is chio or not. :) Well, no matter how chio she is, she's married with a kid!


Thursday, 1 June 2006 - Happy Birthday To Me
At the stroke of midnight yesterday, Lydia brought out a cake that has been decorated to look like a smiling old man..... Thanks dear for the sweet reminder!

Both of us took leave and in the morning, the first stop was at the Immigration & Checkpoints Authority (ICA) building to make my new IC! Wow, they were really efficient. Within 30 minutes of submitting the application form, I've got my new IC in my hands!

After getting my Casio digital camera lens cleaned at Casio service centre at The Gateway, Lydia simply couldn't resist to do some Great Singapore Sale shopping at Bugis Junction. Especially so when there's hardly a crowd and she has all the space and the staff's attention! And so on my birthday, we spent 2 hours shopping....

Next stop was at Marina South Promenade! I insisted on heading out from the urban and concrete jungle, to spend time in each other company on a bright and sunny weekday. Relaxing under the shady coconut trees, picnic mat spread over the lush green grass, overlooking the open seas, the sea breeze blowing, and with not a single person in sight... it was a wonderful moment of serenity and tranquility.

A delicious spread of Japanese buffet for dinner awaits later, at the Checkers Brasserie resaturant at Hilton Hotel. We woofed down a huge amount of salmon sashimi! Lydia simply loved the cheesecake, and I ate a yucky Japanese snail in exchange for a $150 Lego spending spree!

Oh how nice if everyday can be like this... :)


Tuesday , 30 May 2006 - The Big 30
Out of the blue, it suddenly struck me. Tomorrow I'll be 30 years old and I won't be 20-something anymore! And today is my last day in my twenties!?! Wow. All of a sudden, I feel old.

Oh my goodness. The big three zero. 30 years on earth. What have I achieved so far? Has it been a fulfilling 30 years? My memories are filled with these, of the days gone by:

First 10 years of my life:
- Playing with my grandfathers
- Going for Yamaha organ class at Plaza Singapore with my parents and brother
- Having a really obiang brown suitcase as a school bag
- Rushing to school in my dad's car and forgetting to bring textbook/sock/shoe
- Buying toys secretly with my brother and having lots of fun playing together
- Thinking that girls are weird and how yucky and impossible it is to marry a girl

Second 10 years of my life:
- Enjoying myself in Bartley Secondary School playing soccer and bowling, but yet getting good grades
- Making great friends in Anderson Junior College, having lots of fun and not studying
- Starting to think that girls are interesting and if I'll ever have a girlfriend
- Serving National Service in the Police and got really fit and slim

Third 10 years of my life:
- Having an absolute ball of a time in Nanyang Technological University, especially in Hall 9
- Making the best of friends in university
- Shredding my shyness and getting to know more girls
- Playing and partying too much and failing my exams regularly
- Meeting the girl that captured my heart in an instant on the dancefloor
- Wooing that girl and the incredible things I did, and finally winning her heart
- Studying together with her and passing 80% of my exams regularly
- Graduating in 2001 and beginning a new life in the working world
- Committing to that girl, getting engaged, proposing and choosing a HDB flat
- The hectic months of getting the rented flat ready and preparing for the wedding
- The wedding day on 5 Nov 2005 and our Europe honeymoon trip
- Beginning our lives together on our own as husband and wife

Cars, condo and wads of cash I do not have, but it had been a wonderful 30 years and have been really blessed by God. A wife, a home, a family, a comfortable lifestyle... I couldn't have asked for more.


Monday, 29 May 2006 - Robin's Freedom
Happened to chance across Robin's Friendster picture where it shows a photo of him standing in front a cabinet filled with Starwars figurines. The caption was "My 3yr old nephew steps into my room and exclaims "Toy'R'Us"!!!"

Ah... the freedom and power of a bachelor. The freedom to spend as he wished, to buy as he pleased, with no accountability or responsibility to his beloved 2nd half.

Taking a brief flashback to my bachelor days, what could I get away with then, but now I can't?
1) Playing computer games through the nite
2) Buying computer and toy stuffs with absolute glee and no guilt or restrains
3) Eating as much as I liked (the fats don't disappear like they used to!)

Well, one certainly can't expect to lead the same lifestyle before and after marriage rite? And sacrifice is the greatest measure of one's love.

Anyway, I'm sure my LEGO Starwars collection (BML + AML) can beat Robin's Starwars collection! So there!

ps: BML stands for Before Meeting Lydia. AML I'm sure you can guess it.
pps: Robin is single, good looking (rite?), and available. Any interested parties? Only girls need apply please.


Sunday, 28 May 2006 - The Return of The Atom
Ladies and Gentlemen, please stand and join me in welcoming back my o2 Atom! After 48 days in o2 Service Centre!! The nightmare begun when my phone was sent in for repairs when the SIM card could not be read and the board had to be replaced. What they didn't tell you was that there are no spare parts available even though I faithfully (or foolishly) did as told and waited 1 month for a replacement board. But the Fat Lady had to sing when told to wait another month for the replacement board. After numerous phone calls and pressure, they finally did a 1-1 replacement. Yeah!!

Well, I can go on and on about o2 after-sales service, but the outcome is what matters and I am glad they finally did something and agreed to the 1-1 replacement. So even though their service really sucks, I am happy with the outcome. Just keep praying that I won't need to send the phone in for repair ever again!


Saturday, 27 May 2006 - Cycling Trip at Pulau Ubin
Finally! A trip to Pulau Ubin! Lydia has never been there before, and the last time I went there was in 1995! We went there together with our PMC (Pre-marital class) friends. As usual, I started taking pictures here and there (or behaving like a tourist) cos it was really interesting to see how this place has developed. There is a proper jetty, there is *surprise surprise!* an information booth, map of Pulau Ubin and recommended cycling/pedestrian routes! Wow!

We rented a bicycle for 8 dollars and it was really fun to cycle through the rough paths, the ups and downs slopes. Highlights of the day was fending off hungry mosquitoes (by using Ruth as bait. Somehow they loved her a lot), exploring the wilderness, and zooming down off-beat slopes at fast speed. Dangerous but thrilling!

So how was the trip? It was fun. Got a lot of sun, had a good workout, and got an aching butt. And I hope Pulau Ubin will not be too developed and remain a rural island to visit. One Sentosa is enough, don't you think?


Thursday, 25 May 2006 - American Idol Results
Nooooooo!! Katharine McPhee lost! I was hoping that she'll win...

You know, I'm on a strange "prediction" streak here. Whoever I rooted for will come in 2nd. Sylvester Sim in Singapore Idol 2004, Jade Seah in Miss Universe Singapore 2006. And now Katharine McPhee.

Now this is a very worrying trend. Cos I'll be supporting England when the World Cup kicks off next month! I know.... I'll do it my wife's way: Support more than one! England and Korea it is for me! Why Korea? Cos I was there when they beat Italy 2-1 in the last World Cup! It was the most electrifying atmosphere ever! Can't wait for the World Cup to come!


Wednesday, 24 May 2006 - Singapore Idol and American Idol
So who's going to be the American Idol? Katharine McPhee or Taylor Hicks? Lydia's very happy that her two favorites are in the final and she thinks Taylor will win. Me? Of course I choose the pretty gal over the white-haired old man. :P

Coming closer to home, Singapore Idol had just started last Sunday. And the best part of these Idol shows are right at the beginning, during the auditions! To those who made it through, a round of applause for them. But it is those that failed to go through that made it such a wonderful show. Careless Whisper, Nong nong ago dude, Chinese kungfu rapper.. Thanks for all the laughter man, you guys! I salute you for your bravery!


Sunday, 21 May 2006 - LEGO Trouble
I'm in trouble. Serious trouble. Why? Cos there suddenly is an influx of cool LEGO! From the Ferrari series, to the Death Star from the Star Wars series, to the airport and airplanes from the City series, and a whole new series of Exo-Force! You don't need to be a mathematics genius to know that this will effortlessly burst my $50 a year budget allocation from the "wedding contract". In any case, it was already busted early this year. :P


Friday, 19 May 2006 - World Cup Sleepless Trial Run
Yesterday's Champions League Final between Arsenal and Barcelona was a good trial run. A good trial run to experience how extreme loss of sleep affects you when the World Cup kicks off on 9 June!

I slept about 11 plus and woke up at 3am to catch the match. It was indeed worth forgoing the sleep. Alas, 10-men Arsenal could not hold on to their lead and lost 2-1 to late goals from Barcelona. And after watching the winners lift the trophy and paraded around the stadium, it was already 5.15am! I barely managed a few winks before my alarm woke me up at 5.50am to get ready for work!

Post-match Analysis:
Staying awake in the office - No problem
100% productivity in the office - I think so
Pimples breakout - None so far
Night activity - Watched some TV and slept like a baby on hitting the sack at 11pm

Verdict:
4 hours of sleep for 1 day is alright, though somewhat tired at the end of the day. BUT.... the World Cup is non-stop soccer from 9 June till 10 July, with matches starting at 9pm, 12am and 3am!!

For all soccer fans I pray, "May God give us the strength to last the distance."


Wednesday, 17 May 2006 - Baby or Car First?
I said, "When you're pregnant, we'll buy a car so that you don't have to take public transport."
But my wife said, "No, you buy a car first before I get pregnant."

So how like that??

Wait, there's more also. Before a baby comes about, her following wish list must be fulfilled first:
1) A visit to a snowing country to play snow
2) A holiday trip to America
3) A shopping trip to Europe
4) A romantic trip to Spain

Like that when can I buy my Plasma TV??


Sunday, 14 May 2006 - A Homey Weekend
Friday, Saturday and Sunday... all spent at home as Lydia is sick. Pity we had to scrap our plans to go to Sentosa and to the zoo. I did an incredible amount of house chore too. Hopefully I've lost some weight from all of these! :)


Friday, 12 May 2006 - Meet Joe Chef
When Lydia is too sick to cook, I can cook! Lunch we had instant noodles. Not just instant noodles lah, but with fish slices, crabstick, vegetables and fish cake. Still counted as cooking wat...

Dinner I cooked too! We had porridge with pork, fishcake, crabstick and japanese mushroom. It's quite fun to cook actually. :)


Thursday, 11 May 2006 - In Sickness We Share
Poor Lydia. She has caught my throat infection and is now down with fever as well as diarrhea. Although it's so warm at night that I'm perspiring, she is cuddled under the blanket, shivering. I helped her put on her socks too cause her feet are cold. Hope she gets well soon!


Monday, 8 May 2006 - Here Endeth Thy Patriotic Dutieth
That's right, today's my last day of reservist! Tomorrow, once again, it is back to Dilbert's World. :D

Today's Errand Day for me too. Drove all over the place from Bedok to Clementi to Ubi. To Bukit Gombak too, to pamper my wife by sending her to work and picking her up after work. Must try to be romantic lah. Already kena complained that after wedding not romantic and don't do anything special. :P

Check out my new Logitech Cordless Desktop MX3000 Laser! That's right folks. Laser technology leh! Dun play play.

Actually it's becos my old Logitech Cordless Desktop MX Duo was having problem in charging the mouse and the people at McLogic told me that my product is obsolete already. I can either wait 2-4 weeks for a replacement by an unknown model, or pay $50 and get upgraded to the MX3000 Laser.

I dunno about you, but when I think of laser, I think of laser beams, Star Wars, MechWarrior heavy lasers (range 1000 metres, heat sinks required), Lasik surgery. So, it sounds really very cool to have a laser mouse. After a quick consultation with my wife (hey, I had to sign the Ten Commandments before the wedding cermony, and one of it being having to consulate her for purchases $50 and more. It's silly, but anyway, today is also Romantic Day, so be nice!), this ultra cool hardware is now on my computer desk. There's only one complain: Why on earth did they rearrange the Home-End-Delete-PageUp-PageDown keys??!


Sunday, 7 May 2006 - Weishun & Kylie
Ah, the joy and benefits of having a car... where we could just zip down to Bukit Timah to have desserts and drinks with Weishun and Kylie. Weishun, my good old ex-roommate called in the midst of my evening siesta and said he's sitting really cozily in some cool restaurant just before Sixth Avenue, on the 2nd floor with ultra comfy sofa and ambience to boot. Since it's been such a long time since we met, and not wanting to dampen his sofa enthusiasm, we went down to meet them. Not before zipping to my parent's house to borrow the car (needed it the next day anyway), dropping my grandma off and sending my parents back.

We finally made it to the restaurant at 9.40pm. Unfortunately the name of the restaurant was too "classy" and "fanciful" for me to remember! But the sofa is indeed comfy and it was really fun lounging and catching up with the two of them. Thanks for the treat too!


Saturday, 6 May 2006 - Mistaken Identity
Lydia couldn't stop laughing. Me, I'm always cool as a cucumber.

At Marche checkout counter, the guy standing in front looked just like my friend, Eric Teo. Back view look like him. Side view also look like him. So I tap him on the arm instinctly.

He turned around. Front view ALSO look like Eric Teo. So I said "Hello!" and he replied "Hello!" too!

But in that instant as I dwelled more on his face, I knew that it can't be Eric Teo! He then turned back and his girlfriend then probably asked him who am I. Haha, I bet he hasn't a clue who I am, or is desperately trying to remember who this joker is! I just grinned while Lydia could barely conceal her giggles and we quickly switched to the next counter on the right. :P But really, this dude sure looks like my friend. Maybe it's his brother, haha!

Anyways! PAP won the General Election today. The telecast election provided quite a few moments of laughter, heehee. Well, I have a knack of finding funny moments even in the midst of serious stuffs. :)


Friday , 5 May 2006 - Oh My...
The past week has got to be my worst encounter with fever. It came and went as it pleased, bringing along a splitting headache and body aches. Doctor said it was a throat infection. I finished my last capsules of antibodies this morning and have been well so far. Keeping my fingers crossed! Man, all the medicine totally killed my tastebuds. Water especially, it tastes terribly awful!

Since 27 Apr, I've been on reservist too. And performed plain-clothes duty as well. It was an interesting experience. :)

Wow, a lot has happened since my last entry. Alan Shearer (my fav player!) has retired from football... There ain't going to be any one-hand raised goal celebration anymore. A lost friend returns... I hope he will follow the path again. Blackburn guaranteed UEFA spot by finishing 6th.... yay!!!!

Finished reading The Da Vinci Code by Dan Brown. Hey, I was sick, so had nothing to do except to read. Anyway, it's a very interesting book. There are very intriguing materials and thoughts pushed forward by the author. So much so that you wonder "really, is this true or make-belief?" or "really? I didn't know that." For example. did Leonardo Da Vinci really painted a woman in The Last Supper painting? And The Divine Proportion, Phi. 1.618. It forms the proportions of a human body. Hmm....


Tuesday, 25 Apr 2006 - Back From Bali
It was a fun Team Building trip to Bali over the weekend with my office colleagues. From the white-water rafting to the high-rope climbing, to the crazy drinking session. One colleague actually climbed on top of the pool table and took a nap while a pool session was going on. Me? It was quite an experience trying to play pool after downing a few glasses of Chivas, JB and whatever's there. :P

On the whole, Bali wasn't as "paradise" as I thought it would be. The beach wasn't soft and white, the sea wasn't clear and blue. Next stop Maldives? :)


Wednesday, 19 Apr 2006 - Police Marksman!!
Oh yesss!! I got 82 points (33 in, 16 out, 1 miss) in my annual classification shoot and qualified as a marksman! It's a sweet achievement, though I thought I wasn't firing that well during the shoot. Reading through the tips of being a marksman must have helped. All that time spent in the arcade playing Time Crisis must have helped too, haha!

Sweeet!! :)


Thursday, 13 Apr 2006 - Wedding Video Webpage Ready!
At last! It is done. Here is the link to the wedding video webpage, featuring our childhood-to-present photo montage video. Look out for the special LEGO animation on how we met! That was tedious work! Please note that you'll need to accept and install the Divx Web Player ActiveX Control.

Looking back at what we had gone through in preparing for our wedding, it puts a smile on our faces everytime. :)


Tuesday, 11 Apr 2006 - A Long Break!
Wow, it's been a long time since I made an entry. The last few days have been a furry of activities. :P

Last weekend I was at Clud Med, Bintan. Woah, the resort and the service was fantastic! Everyday was loaded with activities, games and fun! From the beautiful beach to archery, table tennis, tennis, badminton, golf, trapeze, late night show and mass dances. These guys really pamper you their friendliness and on-the-house breakfast, lunch and dinner buffets.

Returning on Sunday afternoon, I was in time to catch Miss Singapore Universe 2006 too! Perfect timing huh, haha! But the same cannot be said of the show. You would think that after so many years of organising the event, the organisers would have gotten it right. 3 terrible screw ups in the event, I'd say:

1) Naming of the 10 finalists out of the 20 "IN NO PARTICULAR ORDER", so say the emcee. Ya rite. The 10 finalists were instead named sequentially in the order of their contestant number. Contestant number 2 knew she was out of the count even though they have only called out less than 5 finalists cos the constestant number was so "coincidentally" rising as it goes.

2) Headsets were used on the final 4 of 5 finalists so that they couldn't hear what the earlier contestant has said or do. But what's the use if the headsets are removed prematurely? The audience were still having a good laugh at the previous answer and the Emcee had barely called for the next contestant when out she pops up besides him? Or maybe she had sashayed a good 10 metres as fast as how the swimsuit walk was done earlier? What's up with making the girls walk like a speeding train in high heels? Zip, turn, zip, pose, get out. No wonder the highest scorer was the one who had smeared so much oil on her body that it looks like she just finshed a marathon. All that glitter was the only thing that can catch the judges attention while the others sped by.

3) The anti-climax of announcing the winner after naming the 2nd runner-up. Shouldn't the emcee be annoucing the 1st runner-up first and then the winner? There's 5 contestant on stage, not 3. I was wondering if the emcee had made a mistake. Apparently not. Beats me why Jade Seah lost out to the winner Carol Cheong. Her answer was much more fluent, confident and better. And so for dunno how many consecutive years, the one I'm rooting for just fail to clinch it. Lydia's choice (Genecia Luo) finished 3rd.

Anyways! On Monday, Lydia has resigned from Tetra Pak and began her new job at... wait, have I got the clearance to say yet? Ok, she's now working at MINDEF. It feels strange not going to work together with her and going home together on the morning and evening bus. Something seems to be missing. I guess it's her presence. And naggings. :P


Wednesday, 5 Apr 2006 - LV Bag Don't Want?
Poor Soo Kee. My dear office friend was so generous and romantic to surprise his wife by buying her a $1500 LV bag from Germany. But his wife didn't like it! Ouch!

If there's one thing I learnt well from my wife, that is, never, ever, ever (!) try to surprise her with something that has even a slightest remote possibly that she may not like it. For trying to spring a romantic surprise, you kena nagged (scolded) for nothing. So be practical. Bring her along. If she can't be present, call her and describe the item with as much details as possible, like how you'd explain to her the football offside trap.

Unless you're giving her a diamond. No need to call. The bigger the better. But even so, my Special One only accepts diamonds from Lee Hwa or Tiffany...


Monday, 3 Apr 2006 - A Weekend Recharge!
It has been donkey ages since I went to a chalet. Not since EDB surrendered the lovely Sentosa bungalow to Sentosa Corporation few years back. Boy, that bungalow was filled with fond memories of soccer in the lawn, table tennis, BBQ, TV room, the splendid morning view overlooking the sea and the monorail that rumbles by...

So when my company organized a SRC (Sports & Recreational Club) weekend getaway at Changi Ferry Point Chalet 3, we signed up immediately and roped my parents in too. It was really refreshing to wake up by the sea, have the famous Changi Village nasi lemak for breakfast in the garden, and take a morning stroll along Changi Broadwalk with Lydia, my parents and.. Kristel!

Who's Kristel? She's the adorable 3-year old daughter of Leng Leng, our office colleague. Lydia decided to bring her along for the walk while her mum engages in morning mahjong sessions. Now, I must say that this little girl certainly makes me think if it is really true that having a daughter is better than a son. Unbelievable but true, it was quite fun taking her for a walk and entertaining her. From building sand castles by the beach, to teasing her senses by pointing out the fishes and worms, to throwing and dropping stones into the sea, to carrying her all the way back to the bungalow when she was tired and sleepy (boy, what a good arms workout!).

Even my parents (my dad especially) were charmed by her independent and cute nature. Later on while watching King Kong on TV, she would cover her eyes with her small pillow when she's scared. Then after a while, she went to the bedroom.... and took out 2 pillows and a blanket for my parents! In case they are scared too, heehee!

Well, Lydia sure had her field day goading me about how adorable a girl will be compared to a boy, and if I will change my mind about wanting a son. Hmm, I ain't that sure now actually. A son can be fun too. I can play computer games with him, play soccer, and play LEGO with him (perfect excuse to buy more LEGO!). Boy or girl? I know... One each lah! :)