Entries by Joel


Sticky: Please sign the guestbook so that we know you've been here! We'd love to hear from u!


Sunday, 31 December 2006 - New Year Eve!
It's New Year Eve! We treated Lydia's sister and her family to Kuishinbo for Japanese lunch buffet. Yikes, the final bill came up to $200 over!

It was shopping time after that, as the guys (the brother-in-law and his two kids, Hans and Stevan, and me!) went to Toy R Us while the gals (Lydia's sister, Sonny, her daughter Josephine, and Lydia) went to do their own shopping. After like 3 hours, we headed back home and took the chance for a quick wink.

But the girls... they came back past 9pm! Wah! Super shopping man! Josephine got a pair of Ecco shoes for $169!!! And there were stuffs from Levis, Kipling, Zara, Espirit.... no wonder they didn't want the guys to tag along!

We headed to Esplanade by bus around 11pm for the countdown/fireworks. The massive jam almost caused us to celebrate the countdown in a SBS bus! After much persuasion, the bus driver opened the door and let us drop off about 80 metres from the bus stop.

The place was super pack with people! As it struck midnight, the fireworks lit up the night sky. Very nice!!



Hans on his dad's shoulders. Photo taken by the mum.

Happy New Yeaaaar!!!


Saturday, 30 December 2006 - Jason's Housewarming & My Sister-in-Law
It's Jason and Fenny's housewarming today at their new home at Balam Road. Their home is quite nicely done, compared to the time I saw it when it was half-renovated. Best of all, it is super windy!

In the late evening, Lydia's eldest sister and her family (hubby and 3 kids) arrived in Singapore, coming down from from KL. It amazes me that the coach bus can just drop them off at some vague location, like Lavender. Lavender where? Lavendar MRT station we hoped.

While we were walking to Lavender MRT station, her sister called to say that they are at Lavender Gardens. Wha... where on earth is that? I called 100 to seek help from SingTel Directory Assistance. But you know what? The customer service officer told me that there is no such listing for "Lavender Gardens". ??? "What other Lavender-something you have?", I asked. He just repeated the same words.

But oh, we found them in the end afterall. After a good walkabout. They were waiting opposite ICA building, in front of blocks of HDB flats with a big district signage that says... you guessed it! Lavender Gardens!

I tell you, if SingTel is going to bill me 50-70 cents for their useless service, I am going to complain!


Friday, 29 December 2006 - Happy New Year!!
I know it's not New Year yet, but I doubt I'll have the time to make an entry after today! So, Happy New Year!

To mark the end of 2006, I accompanied my wife on her "feel like shopping" trip. She picked up 4 pieces of clothings from Takashimaya and Robinsons. It's the "Got sale, buy lor" principle.

How come this does not apply to my Lego??


Thursday, 28 December 2006 - The Big Shake Up
Actually, there were three:

1) The 7.1 magnitude earthquake that hit Taiwan on Tuesday, causing wide-spread damage to Internet access. The good news is, my website is hosted on Singapore server! So, my multitudes of images will still load just as fast for you (if you're in SouthEast Asia, that is).

2) To make this page load faster, 2006 3rd quarter news (or blogs entries) have been removed and filed in archive! 173Kb to 94Kb. Yay! Anyway, making those navigation links on the left is tedious. There must be some sort of html template within a template kinda thing that I can use..

3) Major spring cleaning of my home today! Vacuumed and mopped the whole place, and scrubbed the toilet, basin, mirror... even got rid of the lizard's droppings on the wall! Why? Becos Lydia's eldest sister and family are coming to bunk in over the New Year. Else you think I got so much energy and determination to clean so hard when it is not Chinese New Year?? :P


Monday, 25 December 2006 - Merry Christmas!! Ho! Ho!! Ho!!!
It's Christmas!!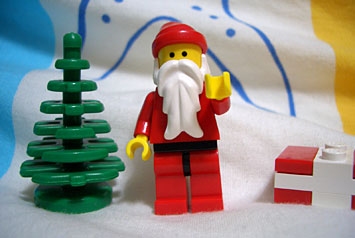 Ho ho ho! Merry Christmas!!

Yesterday we went to church, and today, we went to church again! Yesterday we went to my parent's home for a heavy Christmas dinner. And today, we went to Uncle Nick's home for... another round of heavy Christmas dinner too! Food overload!!

Well, it's nice and fun to celebrate Christmas, but it is also important to know the true meaning of Christmas. Merry Christmas everyone!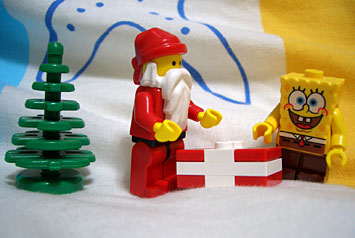 SpongeBob makes a grab for the present! Down, boy!!


Sunday, 24 December 2006 - Merry Christmas!! Ho! Ho!! Ho!!!
Merry Christmas everyone! Have a God Blessed Christmas!!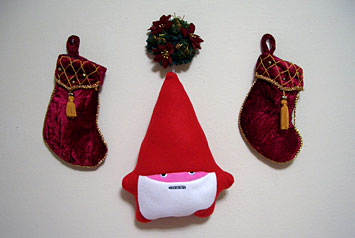 Our home wall-deco for Christmas! Say "hi", Mister Red!


Wednesday, 20 December 2006 - Back in Singapore Again
Day 12. After a long flight, we touchdown in Singapore close to 8pm. Strangely, I didn't find the weather in Singapore too hot. But for all the things I miss in Europe, I miss Singapore's wide variety of food! Things are darn expensive in Europe! The first thing we had at Changi Airport was Japanese ramen. :P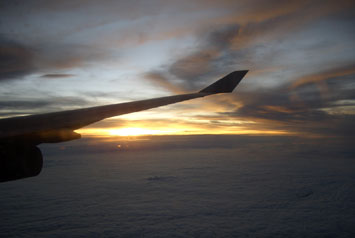 Sunset in Asia from 11000 metres up in the sky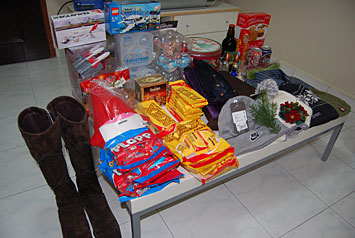 All the bounty from our trip! :D


Tuesday, 19 December 2006 - Farewell Sweden & Denmark
Day 11. Last day already! Well, I'm going to miss the excellent weather here. Even though it didn't snow and drizzled every now and then, I'm still going to miss it very much! I love the cold weather!

Bid farewell to my office colleagues and returned back to the hotel to pack up and head for the airport. As we walked down the streets of Malmo lugging our heavy suitcase, we savored and relished the sub-5 degrees weather one more time. Going to miss having cold hands even with the gloves on. Going to miss the European streets and sceneries. Going to miss Europe!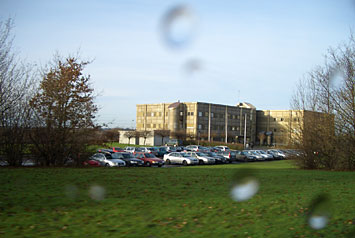 Catching a last glimpse of the office in Skeppet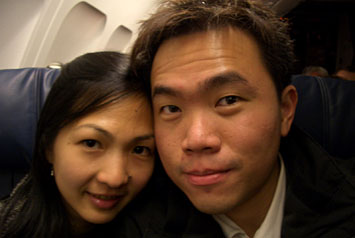 On British Airways flight from Copenhagen to London to Singapore


Monday, 18 December 2006 - A Walk In The Park
Day 10. Tomorrow we'll be flying back to Singapore. I insisted that we have a nice romantic stroll in the park today instead of shopping!

We headed to Pildammsparken Park about 10 minutes walk away from the hotel. The sun was really blazing, and yet it was still below 10 degrees! Cool!! Took many photos of the park, especially the cute birdies. :)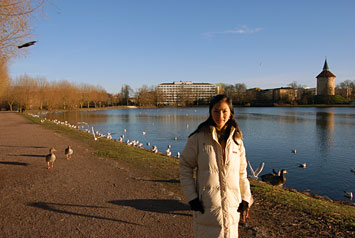 Isn't it beautiful? The scenery, I mean. :P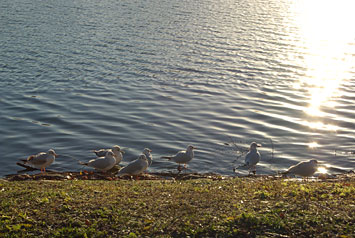 The cute birdies having a suntan by the lake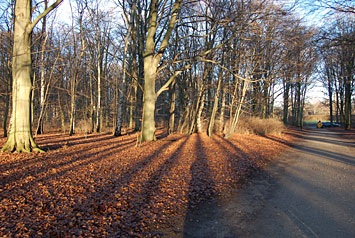 Nice shadows and trees


Sunday, 17 December 2006 - Weekend Getaway in Sweden!
Day 9. Today's trip will entirely be in Sweden!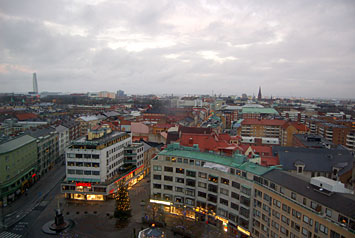 A beautiful rain-free morning view of Malmo from the hotel room

Once again, we set out at 8 plus and headed back to Helsingborg. Only this time, we spent about 2 hours in the city.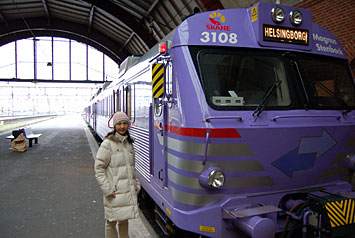 The purple train to Helsingborg!

We went our way on foot to the 34-metre high Karnan tower, which was once used to warn the city of dangers. The beautiful and sunny weather was excellent and more than what we could wish for!



Another of my excellent one-handed shot, at Karnan tower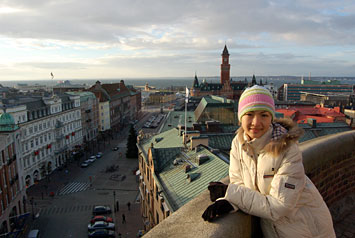 The city of Helsingborg, Sweden

We headed further up north by train and arrived in the city of Angelholm 20 minutes later. This small town is a summer destination for its beaches, but winter time, it was a little quiet and felt like we were in a residential town! Thankfully, after getting hold of a map, we managed to get some nice sight-seeing and even found the Kronoskogen woods that I had wanted to venture into.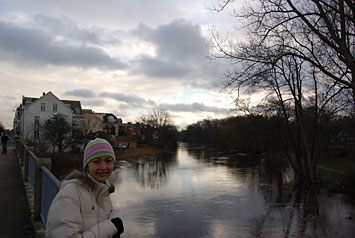 On a city river bridge @ Angelholm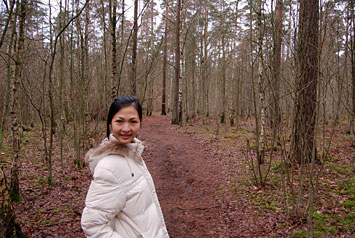 Finally found some Swedish wood areas @ Kronoskogen woods

An hour later, we headed south all the way back to Lund, changing trains at Helsingborg so as to experience the inner-land train route passing through Teckomatorp station. It's amazing to see small town's train station that is nothing more than just a platform, smack in the middle of residential zones.

By the time we arrived in Lund about 1hr 20 minutes later, it was drizzling Lund and getting dark. We headed to the nearby giant supermarket to shop for chocolates and goodies! By the time we're done, my backpack weighs a ton!

Without a map of Lund, I heroically tried to get us to the Domkyrkan (Lund's famous black cathedral) based on memories from my previous trip in 2005. I told Lydia that I was 90% sure it was just down this long street, around the corner.

Unfortunately, the 10% came to light after a 10 minute walk down the wrong street. After appeasing my wife and stopping to ask for directions, we found the cathedral! Phew!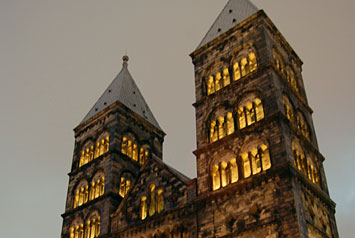 An enhanced nightshot of the top half of the cathedral

Was totally dead-beat when we got back to the hotel. What a great weekend it has been!


Saturday, 16 December 2006 - Weekend Getaway in Denmark!
Day 8. The weekend is finally here! We set out early in the morning at 8 plus when the sun was just rising so as to maximise our day, especially for precious daylight hours. It was a little drizzling, but we didn't care!

A one hour train ride up north brought us to Helsingborg, where we caught a 20 minute ferry to the Danish city of Helsingor. Wow! It's a really lovely town! We visited the Kronborg Castle (listed as a World Heritage Site by UNESCO)and took a stroll down the Christmas streets. The Christmas atmosphere was definitely stronger in Denmark! Lovely!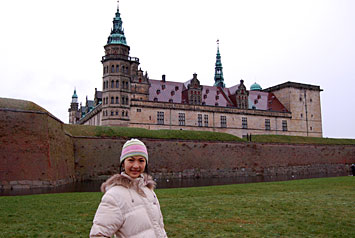 The impressive Kronborg Castle in the background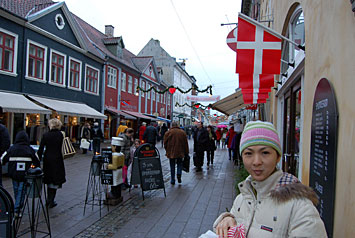 Christmas atmosphere along the streets of Helsingor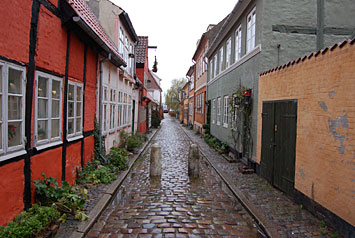 Back alleys never look so good in Singapore

After about 2 hours, we took the train down south to Copenhagen city, where the very touristy "Little Mermaid" beckons. Fascinated by a leaflet Lydia saw of The Royal Danish Collections of original private rooms of the Royal family from 1862 - 1972, we went to Amalienborg Palace and visited the museum. Admission fee of 65 DKK/pax (~S$18) was pleasantly waived as we had the Around The Sound train tickets!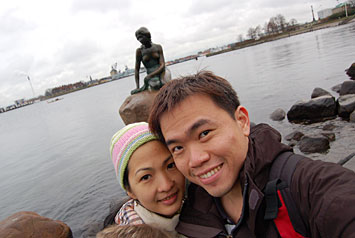 The Little Mermaid @ Copenhagen, Denmark

After passing through the riverside streets of Nyhavn, we headed to Stroget, the famed shopping district of Copenhagen. Very crowded but very nice!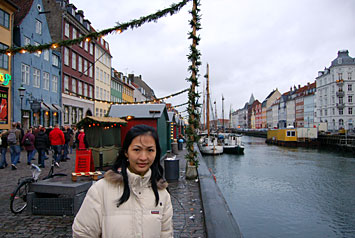 At the streets of Nyhavn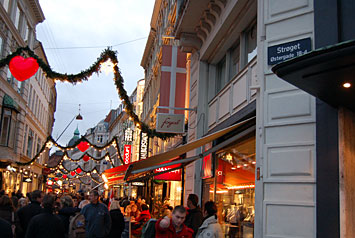 Stroget, the famous Copenhagen shopping district

And the last stop is Tivoli! Copenhagen famous amusement park! I actually wouldn't have gone in if Lydia was not here (what fun is it to go alone?). The lightings and Christmas decorations were fantastic, but in all honesty, given the massive crowd and kiddy rides (thankfully we didn't buy the expensive ticket which included free rides), I dun think it was worth paying 75 DKK just to enter.

Our legs were totally exhausted by the time we took the train back to Malmo and walked back to the hotel. It was only about 7pm, but it felt like a really long day!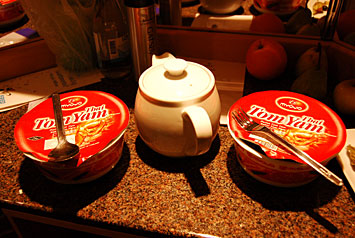 Nothing like hot Tom Yam instant noodles on a winter day!


Thursday, 14 December 2006 - The Princess Arrives
Day 6. After 6 lonely (or peaceful?) days, my sweet wife arrived in Sweden! This brave gal took the flight and train ride all by herself in a strange land and made it to the hotel, with a missed flight connection in London to boot!

With not a moment to lose, I was dragged out of the hotel so that she can explore around. If you're thinking that she's interested to explore the lovely parks, the Malmo Castle or to take in the beautiful sights, you can't be more wrong! Today's programme is dedicated to..... shopping!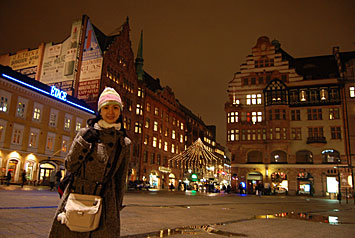 Lydia in her Zara jacket @ Stortorget Square, Malmo (Sweden)

With a huge number of winter street shops lining the 20 minute stretch of road, it was shopping paradise for her. She was absolutely spoilt for choices in her favorite item: boots! In Singapore, the choices of boots in a shop is so few (if it has at all) that you can count with one hand. Here, it's like boot paradise man! Brown boots, black boots, leather boots, suede boots, ankle boots, knee-high boots, zipper boots, shoe-laced boots..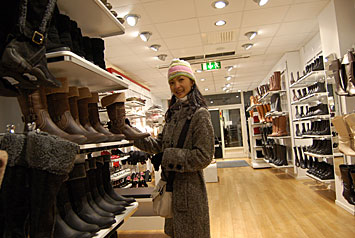 Lydia's shopping fantasy comes true

It's a really fantastic feeling to be back in Europe with Lydia again and experiencing the cool 5 degrees temperature together, walking hand-in-hand along the streets. It certainly brings back fond memories of our Europe honeymoon trip! :)


Tuesday, 12 December 2006 - A "Herrifying" Experience!
Day 4. After a long day at work, we went off-site for a traditional Swedish Christmas dinner and some team activities.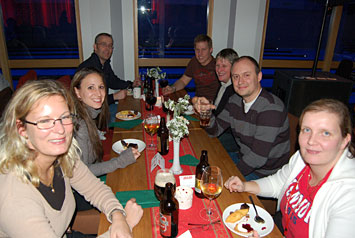 Christer told me the traditional dinner cost about 400-500SEK (SGD100)! There's meatball, ham... and the more exotic ones like herrings and eel! I wondered why I was so brave and adventurous (perhaps it was the Christmas beer effect?) cos I tried them both!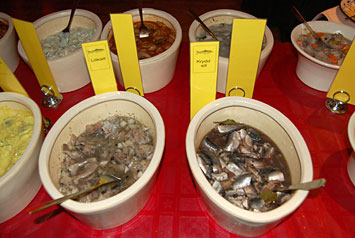 Erm.. is this edible??

The plain herring was not too bad actually. But the garlic herring, the lemon herring and the eel... the fishy taste was soooo powerful, I had to control myself from getting the "puke" feeling.

Man! Durians are nothing compared to this! And they found the cuttlefish tidbits I brought overwhelming? Gee! The cuttlefish is like plain water compared to these wicked fish!

But I can now say I've tried it! So there!!


Sunday, 10 December 2006 - Hej Malmo!
Day 2. In Malmo, Sweden. After going though the tightest security check I ever experienced in London airport (have to take out laptop, shoes and belt!) and catching the connection flight and train, I checked into the hotel. My luggage wheels had given way after dragging it through the interesting but pebbled streets.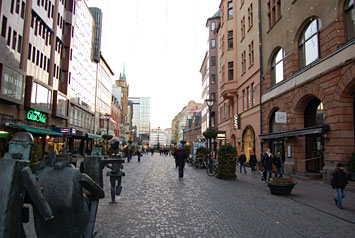 Typical street scene lined with shops on both sides

But nothing was going to dampen the happiness of being in Europe again, especially in winter! Those "botak" trees were an attraction by themselves to me! Temperature was a really cool 7 degrees and it does get much more chilling in this city that packs a strong wind. But... I still love it!

The only thing is that it is completely dark by 4pm!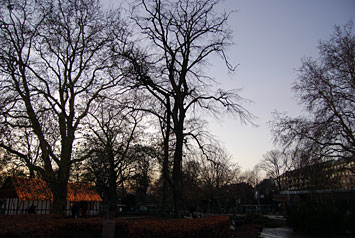 Those beautiful "botak" trees...


Saturday, 9 December 2006 - Swede Sweeet Trip!
Cheerio! I'm off to Sweden for a business trip!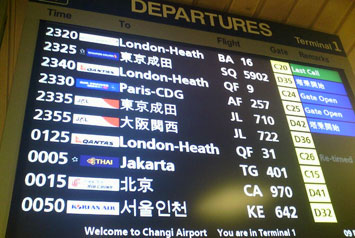 It's a non-stop direct flight to London before connecting to Copenhagen. 14 hours non-stop, plus 2 hours more for the 2nd leg! It's a good thing I like flying! :)


Wednesday, 6 December 2006 - Rage Against The Spammers
For the past few weeks, the number of spam entries in the guestbook have been growing at an alarming rate, even though I already had a certain level of spam check policy in place.

I really don't understand what do they gain by spamming my guestbook? I can understand their intention if they put in a eye-catching entry and hope you click on the homepage link and interest you to buy viagra or other "exotic" products/enhancements/subscriptions. But these guys... they can't spell for nuts! And worst of all, their links ain't working! (What... have to check to understand the enemy mah!)

Fed up with the numerous entries, I have implemented a new verification check requirement for the guestbook. Before a submission can be made, you have to answer a very simple mathematical question. Don't worry, even if you did not pass primary school maths, I'm sure you shooould be able to answer it.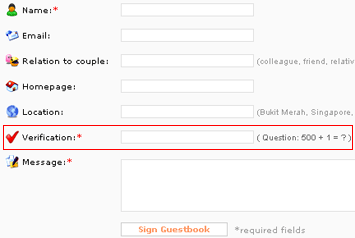 Pop quiz for today. What is the answer to: 500 + 1 ?

You know the answer rite? Told you it is easy. :)

Hey, who knows... I may go into 4-digit numbers and all you 4D gamblers out there, you can try your luck, haha! :D

Wish me luck in the fight against spam!


Tuesday, 5 December 2006 - Meet The Parents
I dropped by my parent's house today to pick up stranded mails and my dad's camera. With Jason gone on his honeymoon trip and setting up his own home, the place can be quite quiet for my parents.

After picking Lydia up from her office, we went to Siglap for dinner with my parents. It was nice to sit down and chit chat with them. Will make plans to visit them more often! My dad asked me to cancel my CableTV subscription so that I'd be "forced" to drop by more often, haha! :P


Sunday, 3 December 2006 - The Longest Day
We went out of our home at 6.30am and headed to Singapore Expo. I was on my own from 8am onwards, with an amazing lot of time to kill!

First stop was at Coffee Bean and I settled down happily in the quiet air-condtioned area. My first disappointment with the big-bang free wireless coverage in Singapore: This spot dun have!

Lunch was Burger King with Lydia and her friend, Lina. I was on my own again after lunch and... went to SITEX!! Wah, the queue was total madness, especially the StarHub booth. Carrying my heavy bag with a laptop and 2 spare batteries, I squeezed my way around, queued up to sign up with qmax for a wireless@SG account and got a free cheapo webcam, and purchased a bluetooth v2.0 dongle for just $10! I don't really need a bluetooth-capable desktop, but for $10, why not? :D

We headed to Raffles City for some shopping after the girls were done. It was already late evening and my aching body, tired eyes, plus a 7kg load on my back, was making me feel like a walking zombie.

We finally got home past 8pm and had to entertain the neighbour's little boy who popped over to our home for the first time unannounced. I played with him for a while and the boy returned the favour by tearing off the label tags off my Ultraman soft toy and Boo Boo Cat's sleepy fish soft toy! Ouch!!

By the time I was done with vacumming and mopping the place, and hitting the bed past midnight, I was sooo dead tired! Lydia later told me that after we had said our prayers, and after I tugged my arm under her neck/head and kissed her goodnight... I dozed off almost immediately!

Zzzzz....


Saturday, 2 December 2006 - No Pain No Fun
After having not played street soccer for months, I found myself playing today again! My weekend schedule is so amazingly packed, I had to apologetically inform Cindy, a friend who had given birth on 21 Nov, that the earliest free weekend afternoon we can meet her is 6 Jan 2007!

Ok, back to soccer. :)

The game started out well in the beginning in a 5-vs-5 game in the walled street soccer court @ the old Republic Poly. A goal assist was soon followed by a sweet left-foot curling shot that went in off the post. That is until Soo Kee joined the other side and made it 6-vs-5. We were mathematically overwhelmed. A convenient excuse. :P

Anyway, it was 6-vs-6 later. But probably being out for so long (another excuse) led me to tiredness and more mistakes. Plus I could feel the blisters acting up on the sole of my feet (one more excuse!).

But I still enjoyed myself. :) There's nothing like getting some exercise and playing the game I like to watch. My body will probably start to ache terribly in the days to come!


Thursday, 30 November 2006 - Oh, What A Coincidence!
This Sun, I have to accompany Lydia to Singapore Expo for a special "task" of hers, which I shan't disclose now. But anyway, it requires me to do lots of waiting, like for the whole day!

So I made out my contingency plan. I plan to bring my laptop, a power adapter (If I could find a power outlet), a fully charged main battery, and maybe also another spare battery or a modular battery. 3 DVD movies will do nicely, if there are no free wireless connection.

And then... a little voice in my head prompted, "Isn't there a PC Show coming up, which you thought you had to give up becos it clashed with Lydia's plans?"

Oh yeah! My eyes lighted up as I searched HardWareZone and the Internet for more info. The break through: SITEX will be held from 30 Nov - 3 Dec 2006! Yeah! The date is a match but how about the venue? For the first time ever, I wished it wasn't at Suntec Convention Hall.

Yaaaay!!! It's at Singapore Expo too!! Happiness man!!! Woohoo!!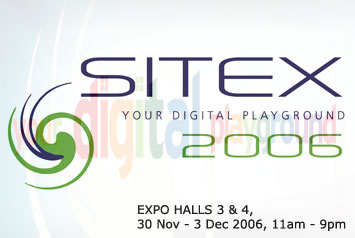 Sunday, 26 November 2006 - Totally Exhausted After...
Last night, after coming home from the wedding in the evening, we were so exhausted, we slept at 8pm! And woke up this morning at 9am!

And it wasn't even our wedding, haha! But what a refreshing sleep! Very hungry in the morning though, cos didn't have dinner. :P


Saturday, 25 November 2006 - Jason (my brother!) & Fenny's Wedding!
I thought the day will not come so soon, but.... my brother is getting married today! Welcome to the Dark side, duckie! No more the bachelor, haha!

The wedding ceremony and wedding lunch was at Swissotel The Stamford and we arrived there at 10am. Earlier on, Lydia had her hair and makeup done at home by Candy from Sophia. It's nice to see her again, but wah! $150 poorer!

Anyway! Not being the groom and bridegroom has its perks! We were ABSOLUTELY FREE to roam and chit chat! Play with Vannis lah, chit chat with the relatives, the church friends.... absolute freedom. On our wedding day, we had so much things on our mind, so it was quite a relaxing and happy atmosphere. :)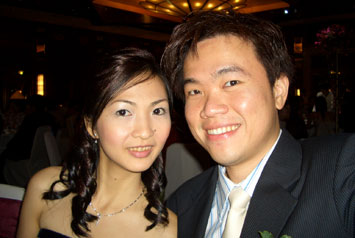 After the wedding ceremony was over, we proceed to the room nearby for the tea ceremony. When our turn came, we took our seats in front of Jason and Fenny who were standing. Then, the photographer asked if I'm the older or younger brother? :)

After that was clarified.... he then asked if we're married or Lydia's my girlfriend? :D

Thanks for thinking we're younger, haha! Throughout the wedding actually, he kept referring to Lydia as my girlfriend. Oh, my wife must be floating on clouds...

Ok! The wedding lunch started and we were sitted in the 20-seater VIP table. There was the walk-in, the childhood video, 2nd walk-in, the speech and champagne toasting.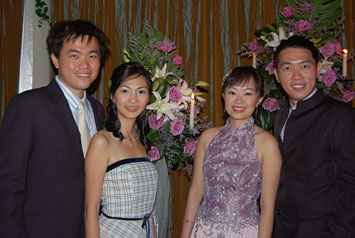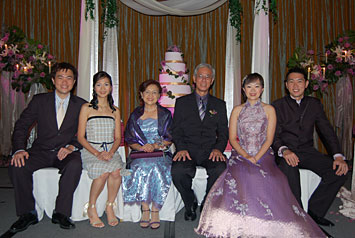 It was really nice to be all dressed up and going around talking to friends, and long-time-no-see friends. We truly, thoroughly, enjoyed ourselves at the wedding. :)

"Thank you for coming", we joked, heehee!


Friday, 24 November 2006 - Mani Pedi Extro-dinary
Lydia went for her mani-pedi today. She said cheap cheap only, cos doing at Tiong Bahru Plaza. "Oh, okay", I thought. Maybe $20-$30 plus huh?

Nooo... it's $68!! This is cheap???

"It's a French manicure", she protested. "So it's cheap already...."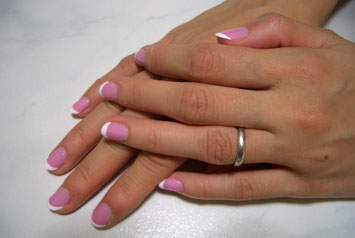 We went for dinner later with Soo Kee to Happy Valley Hong Kong Cafe @ Bukit Merah area. Ate so much till I'm so full! The Bo Lo bun was very nice though!! And Lydia and Soo Kee were totally crazy over the belacan chilli. Especially Soo Kee! He single-handedly finish 1 whole bottle of the chilli with his fried rice!


Wednesday, 22 November 2006 - Wai Seng's Wedding! So Many!
It's Wai Seng & Elaine's wedding today! Wah, November and December really a wedding festival man. Time for the spirit of giving too!

Being a weekday wedding, after work I headed down to Charlton Hotel in Soo Kee's car while Lydia headed down in Tricia's car. Saw many other Tetra Pak colleagues there too! Machiam like Tetra Pak dinner and dance, heehee! Lydia and I were in the GIM table.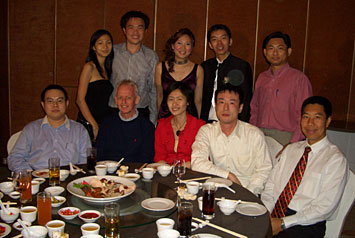 The Tetra Pak GIM table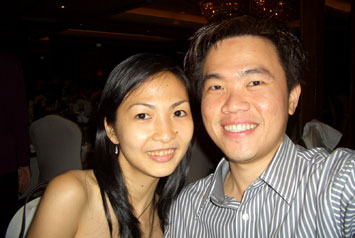 Another one-hand shot with my trusty Casio EX-Z55 camera

With sooo many office colleagues here to support Wai Seng, the inevitable happened... Sabo sessions! Poor Wai Seng had to do stuffs, like drinking and kissing as he went from one Tetra Pak table to the other! The brothers never cho kang ah, haha!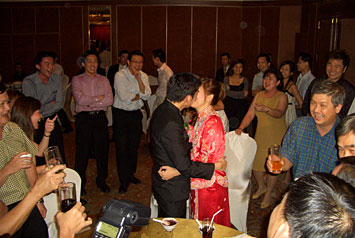 Not shy huh, these two!

Attending his wedding made us think back to our wedding one year ago. It's such a coincidence that Wai Seng's wedding package is also from Sophia and the photographer is Bryan too! Bryan was here today also to take photos and it was really nice meeting him again.

How did my brothers fare that nite? Oh, they were good. Reaaally good. I just had about a glass of wine to drink during the dinner only. But after the dinner, with their ang paos safely in their pockets, their hidden true selves were revealed...


Sunday, 19 November 2006 - Elin & Davion's Wedding!
Finally, these two are tying the knot! Elin is my colleague from office, and she was our wedding coordinator. One year after our wedding, it's her turn now. :)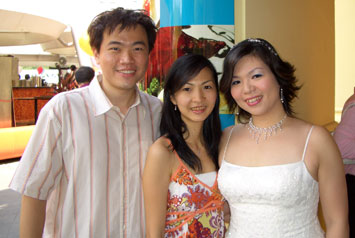 It started with an unusual venue, at Clarke Quay. The wedding ceremony was by the riverbank and the stylo couple arrived in a bum boat! Very cool!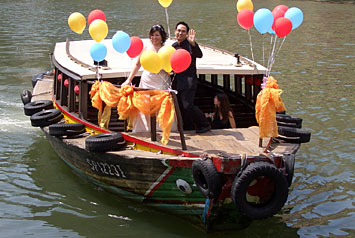 After witnessing their wedding ceremony, we popped over for a Chinese 9-course lunch at Peony Jade restaurant. The air-con was a great welcome from the blistering heat outside! I think Dave must be sweating like a duck in his black suit! Our table was with my office colleagues and it was quite a fun lunch. Almost all of us had wine and were putting what we learnt yesterday to good use! :)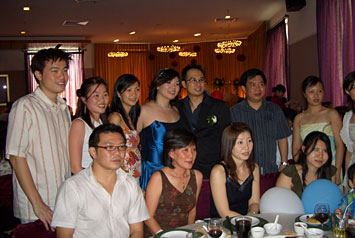 After the wedding, Soo Kee dropped us off at Vivo City. This shopping mall is HUGE! We were here last week actually and were like lost puppies trying to get our bearings and find the shops. And it is way too crowded for our liking too. Worst of all, there isn't sufficient restaurants, leading to worst queues than in Marina Square. But overall, it still is an interesting place to go shopping and definitely has very unique outdoor experience and walkways. Worth a visit, but have your meals first before popping over!


Saturday, 18 November 2006 - Wine Appreciation Trip & Black Pig
Today's my company SRC wine appreciation trip at Vino Vino Dining @ UE Square.

It was quite a good turn out and had lots of fun listening to the speaker, eating the snacks, chit chatting, and drinking wine! We had 2 white wine: Tetrra Calida White from Spain (surprisingly nice for a white wine!) & Willandra Estate Leeton Unwooded Chardonnay from Australia (too "siap" for my liking). And 3 red wine: Goldeleaf Classic Red from Australia (combi of cabernet, Shiraz & Merlot. Not bad!), Montalto Sangiovese Syrah from Italy (preferred the first one) & Las Corazas Tempranillo from Spain. The last one was too strong for me, probably drank too much already, cos my face was turning red!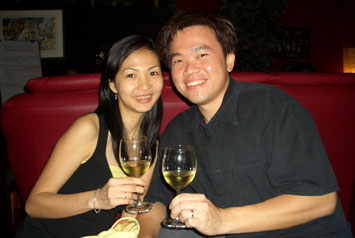 Cheers! Face color still okay in the beginning..

It was very informative, learning how to hold the wine glass, how to twirl the wine, how to sniff and how to drink. Basically, twirling the wine is just to act cool lah!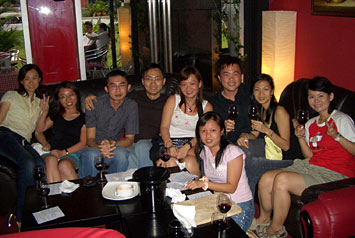 A couple of flushed faces.. The one in front especially. :)

And we had free sampling of other variety of wine from the wine cellar too! Like the "ice" wine, the "Bailey's" wine, and my favorite of all, the Lambrusco red table wine from Australia! This non-dry wine is so smooth and easy to drink! Tempted to buy one at S$38 a bottle.



Superb!! Not for weddings.. cos ur guests will drink too much!

After the evening event was concluded, a bunch of us headed to Tampopo Restaurant, a Japanese restaurant at the basement of Liang Court Shopping Centre. Wow! There's a huge crowd waiting! This restaurant is famous for it's black pig shabu shabu ramen.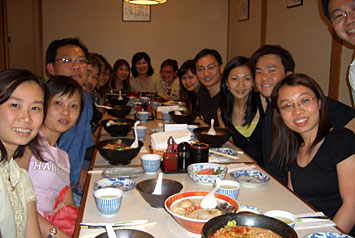 A private room in the restaurnt for the rowdy gang of 15!

Apa? Black pig? First time I heard of such a term, haha. But it was good! Though a little spicy, the ramen noodles was very springy and yummy. For myself (ramen wasn't mine, it was Lydia's! Heehee!), I had a black pig minced katsu set and it was very good too!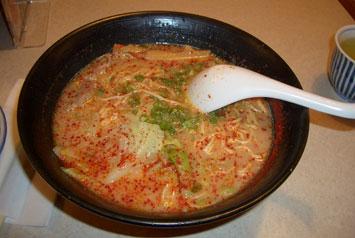 The famed black pig shabu shabu ramen @ S$13.80 only

Oh oh... another restaurant to add to list of favourite eating place... :P


Thursday, 16 November 2006 - Dude, Where's My Mangoes?
There were 3 mangoes in the house, brought back all the way from Jakarta, Indonesia. Few days ago, we had already ate some and they were really nice! Totally different from the mangoes we get in Singapore. Fiery orangie-yellow in color, soft and sweet!

Anyway, Lydia was standing at the kitchen sink and started slicing the mangoes. I teasingly told her, "I dunwan, you finish all ah?". She kept quiet and continued slicing. With her petite size, surely cannot one person eat all, I thought.

Distracted by my computer, I left her alone for about an hour. Then, suddenly I thought of the mangoes. I usually don't like eating mangoes cos it's all messy and sticky, but this time, I really thought of the mangoes!

Finish! Wan le! Jia liao loh! She one person ate up all the mangoes!

I'm hungry...


Sunday, 12 November 2006 - Leaving on a Jet Plane
Room service! Had nasi goreng for breakfast in the hotel room. It's about S$16 for two, but once in a while, it's okay lah! :)

We checked out and caught the 3.20pm flight back to Singapore. It's still nice to be back in Singapore and in the comfort of our own home. Hah? The weekend is over already? I haven't got enough rest!


Saturday, 11 November 2006 - Jason & Fenny's Engagement in Jakarta
I can't believe it, but I'm doing it!

Do what? Take a plane, fly overseas, spend one night there, and fly back the day after. I used to think these things happen only in movies or to the rich and famous, like flying to London, have a meal at one of the fancy restaurant, and fly back home.

But for my brother, I (we, including Lydia) did! To Jakarta for one night to attend their engagement dinner (okay, destination is not that glamorous, but it is still something!). They had flown there earlier yesterday evening, together with my parents.

We took the 8.40am Valuair flight to Jakarta, landed about 2 hours later, and caught a 30 min taxi ride to North Jakarta to SunLake Hotel, arriving slightly before noon. A chauffeured driver from Fenny's side then brought us, Jason and my parents to a nearby shopping centre, where we had lunch and did some window shopping. My mum took the opportunity to get a makeover and hairdo.

Lydia's aunt from Jakarta came by later and Lydia left with her aunt for makeover and hairdo too, at Peter Saerang! The rest of us headed back to the hotel where we pampered ourselves with a massage and a pedicure in the hotel room. The massage was very good cos I could get some much-needed sleep! :D

The dinner started at 6.30pm. All the guests were from Fenny's side. Lydia and I didn't have much to do and so we sat at the VIP table, smile, and watch the evening unfold. There was the couple march-in, parents march-in, choir, singing performance, sermon, and food of course!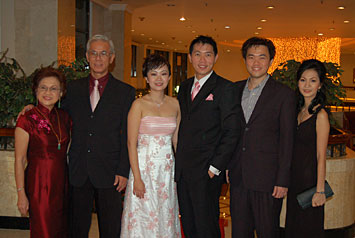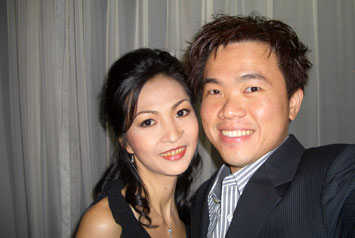 Well, at least Lydia got to wear her new and expensive evening gown, and I get to wear my new Daniel Hechter shirt and my wedding jacket and pants. :)


Friday, 10 November 2006 - Who Wants to be an Air Ticket Agent?
I used to be blur like sotong when it comes to understanding flight routes, timetables and air tickets and price tiers. My secretary wife does all the planning for me and I just sit back, relax, and flex my credit card.

Not anymore man. Recent "calling" has made me dwell so deep into the air ticketing industry I can now plan my own flight routes, flight numbers and transit stop. I understand all the mambo jumbo about value fare, super value fare and flexi fare.

And I know how flight reservation, bookings, confirmation, waitlist, flight full, cancellation, how all these works and most importantly, how it all works like a stock exchange and how to get a good ticket price! It's as exciting as the adrenaline rush when fighting to get the best tutorial timetable in a new semester in NTU!


Thursday, 9 November 2006 - Happy Birthday Mummy!
After 30 years, I still call my mummy, "mummy". :)

It's her birthday today and we had a simple "zi char" dinner at the coffeeshop near my parent's home. It was nice to catch up with them again, with Jason and Fenny there as well, and of course Lydia.

Visited Jason and Fenny's flat at Balam Road after dinner, which was a 5 min walk or so away. It's still under renovation and hopefully it will be ready in time when the wedding comes. A spacious flat, and lots of efforts spent on the kitchen. Are they going to cook so much? :P

Anyway, back home, we gave my mum a blouse as a present and glad that she liked it. It was a size too small though, and we'll have to take it back for exchange.

Happy birthday!


Wednesday, 8 November 2006 - Farewell, Arkadiusz Iskra
Arek (for short), my Polish friend and colleague, will be transferring to the US office from next week onwards. We'll miss him! This photography nut, who dislikes being called an "ang mo" (I tried to explain to him it is not insulting in any way), is married to a Singaporean gal, with already a baby girl to show!

We had a non-company expense treat for him at Masala Art, a North Indian restaurant at Peninsula Plaza. The food was simply excellent! The briyani, roti and naan were superb! Add in the tandoori and other meats and by the 3rd round of the buffet, I was totally full! What an irony. Excellent food, but the dough and rice makes one maxed out really fast.

Well, goodbye Arek. We'll miss you. Singapore will also feel the pain: For taking away two of our citizens!


Sunday, 5 November 2006 - 1st Year Wedding Anniversary!!
Wow! We're married for 1 year already!! So fast!!!

It seems not too long ago that we were in the mad rush to prepare for our wedding. And now, it is already the 1st year anniversary. Where on earth did all the time go??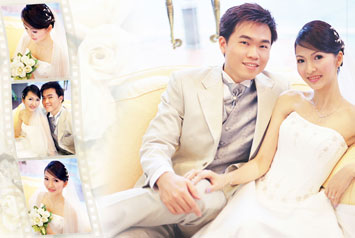 One year ago...

Was planning to have something special to commemorate our anniversary, but due to "special" request from Lydia *ahem*, we instead celebrated with my parents and Lydia's parents, who were in Singapore. We had a stupendous spread of Japanese buffet at Kushinbo @ Suntec City. Wah, ate until can barely move! Really whacked the salmon sashimi. :P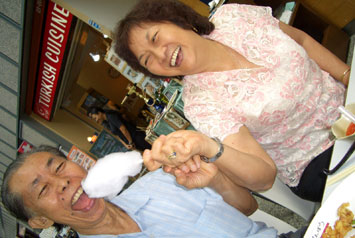 Lydia's parents really enjoying themselves..

On reflection, what have I learned from the 1st year of marriage with my dear wife:

1) We are not calculative on "who pay more and who pay less" (even though she's an Accountant! Phew!)
2) I have to wake up first on weekdays and weekends (supposed to be weekdays only!)
3) She doesn't care whether the toilet seat is up or down
4) I do the weekly cleaning of the house (a 101 excuses from her to avoiding vacuuming duties)
5) She sometimes makes fruit juice for me in the morning
6) She will scream when I roll over to her side of the bed to "give it some warmth"
7) We do argue and quarrel, but will always patch up (ie. I give in to her)
8) She said I spend more time getting ready than her. Sure or not...
9) She said I snore. Where got? I told her to hit me if I really snore.
10) Sometimes, I find myself suddenly awake in the dead of the night for no rhythm or reason...


Saturday, 4 November 2006 - Lydia's Dinner & Dance Party
It's Lydia's new company dinner and dance party today at Meritus Hotel! After a spa massage in the morning, and some heavy shopping in the afternoon for me (hehheh), we got ready for her company's D&D.

We met up with Tricia (ex Tetra Pak colleague and now current colleague of Lydia! What a coincidence!) at the hotel lobby before proceeding to the ballroom. Wow, we're sitting just behind the VIP table okay, and the vice president is also in our table! Tricia and Lydia, being new, ended up at the managers' table after failing to "siam" the event.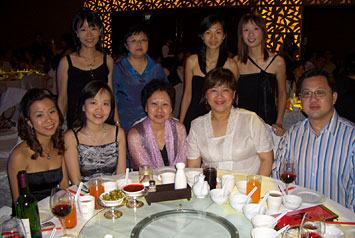 Vice president and managers at our table. Only 1 other guy!



The two of us..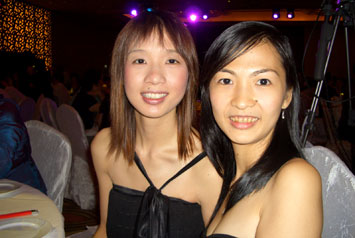 Tricia in a black dress! A far cry from the office gal in t-shirt and slacks.

The whole event was pretty exciting and entertaining actually! The emcee was good, the saboed people providing entertainment on stage was great, the sexy singer was... sexy, but most important of all, they had a young and large female population (think of large assembly lines staffed by China girls). It just adds more glam to a D&D.

Wait! There's more too! Lydia was selected to be one of the Project Runway: Star Search! :D She had to go on stage and compete with 2 other ladies and have to do a "catwalk" too! It so happened we had watched a Marks & Spencer catwalk this afternoon at Raffles City, so she was happily sashaying about in her high-cut boots. She even had to do another catwalk after someone from the VIP table called out "once more time!". The same mysterious voice from the VIP table commented, "She's a natural".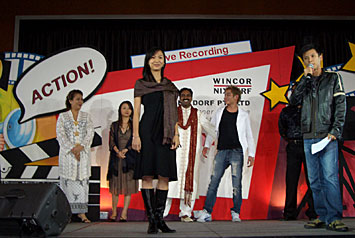 Lydia in action...

Of course she won. :D

Dinner and dance should be this fun! :)


Friday, 3 November 2006 - Wai Seng's Bachelor PaRty
Our dear friend, Wai Seng is getting married on 22 Nov! After much delibrating on what we can do for his bachelor party (ie. how if he change his mind about marrying? Will his future-wife come after us?), we went to Kbox at Cathay Cineleisure.

The buffet spread was excellent! The singing by the others were good enough to not make me lose my appetite, heehee. The only "nasty" thing we did to him was to get him to sing and drink a glass of hard liquor mix. Let him off the hook rather easily, didn't we?



Bachelor boy (centre) drinking and singing..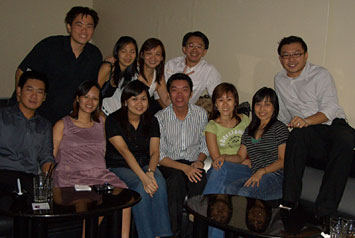 The motley crew of ex-colleagues and present colleagues

After karaoke and dinner, we headed to Devil's Bar for Part 2 of the party: a bottle of vodka, free flow of cranberry juice, ice and nuts. It's a pity Wai Seng had to leave mid-way through, but not before he downed some drinks. I still think he left too soberly! And it's a big pity there weren't any bartop dancers at where we were so that Wai Seng (we, as well) can be entertained.

Amazingly, sometime after Wai Seng left, a female staff in tight tanktop popped over to sell her speciality drinks. What a pity man... !!

After many rounds of card games and drinks, we left about 2am. Lydia, our trusty sober driver, took me and Soo Kee home again.

I must have gotten out of the car too quickly. The next thing I know, my head and stomach weren't feeling too good. Like getting light-headed or something. The two of them said my face went from red, to white. Hmm. After sitting at the staircase for just a tat little while to let the blood flow back to my head, I made it home safely!

Lesson learnt: Vodka with cranberry juice is a dangerous mix (at least for me). The sweet juice overwhelms the vodka, and you just keep adding more vodka and drinking. :P


Tuesday, 31 October 2006 - Are You Reading This?
How easily can you put a smile on my face? Besides buying me Lego presents, that is ... :P

Ok. For today, it is knowing that there are people out there who actually reads my silly blog. :) The latest being Janice, a total stranger who made entry 75 in the website guestbook. I've got a new fan. :D

My blog, which makes fun of myself, as well as my wife, of the funny and silly things and thoughts, or details of an event on a specific day.

Thank you to all you people! At least I know I'm not "playing music to a cow", not boring you to death, and not wasting my time. :)

By the way, in case you wonder why did I specifically put "Ok. For today..."? Cos it means that the other 364 days, it's my wife who can make me happy the easiest. As in, being with her, eating with her, watching TV together, chit chat, etc, lah! What are you thinking???


Monday, 30 October 2006 - Tennis Anyone?
Lydia's doing OT today. So after work, I joined Soo Kee (he's quite a buddy huh?) for tennis with his 2 brothers and brother's friend at some clubhouse in Clementi's Sunset Road or something. Didn't even knew such a clubhouse existed! Cool! Quiet and nice, with a large swimming pool too.

Anyway, having not played for like more than a year, I'm glad I only managed to send 2 tennis balls out of the fences during the 2-hour session. Man, it was quite a workout (from picking up balls? Haha!) and was totally drenched from the waist down (My dri-fit Nike top sure kept me upper-half dry!). Was clumsy when on the heavy racket, but played better using Soo Kee's cheapo but lighter racket.

I'm sure a couple of sessions more and my forehand topspin and backhand slice will be perfected. Just wait and see. Watch out for Joe "Federer" Teo. Yeah.. and watch out for the Singapore Lions playing in World Cup 2010 too. Goal 2010!!


Saturday, 28 October 2006 - Lydia's Kingdom Expansion
If Soo Kee had not gone to USA, Lydia's kingdom would not have expanded. But he did go to USA. And so when we finally met up with him again yesterday for supper at Holland Village, my dear wife couldn't wait any longer to see the item that he had helped her buy. We actually went to his house close to midnight! :P

Presenting to you, the Signature Stripe Reversible Large Tote handbag from Coach.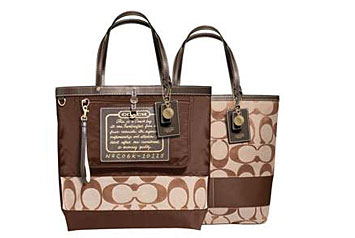 I told you it was going to be more expensive than my Lego Jabba Sail Barge... where's the fairness? Anyway, thanks Soo Kee for the Chicago Hard Rock Cafe shotglass too!

By the way, I collected my new biometric passport today. Nice! Only complaint is that why is the photograph in black and white (Lydia's one is colored!), why I look fatter in the photo, and that the passport number is no longer the same as the IC number now. Ok, that's 3 complaints. Make that 4, if you count in the amazing 2 hours waiting time!


Friday, 27 October 2006 - No More Haze?
Where did the haze go?

I kinda miss the misty and foggy look it gave. And it definitely helps keeps out the sun and the heat too. The last few nights, it sure was hot and hard to sleep! To all who had suffered during the haze (like swimmers who can't swim more than 1km instead of the usual 3km. ??? Aren't they swimming in water, and it's like ground zero?), I'm sorry, but I miss the haze!

Oh, Mathilda, my Sweden office colleague was here for this week and flew back today. Pity I didn't have the chance to bring her around for her first trip to Singapore. Next time lah!


Saturday, 21 October 2006 - Adventures @ My Parent's House
We went back to my parent's house in the afternoon after waking up at close to 12 noon!

Did some major clean out of our stuffs, like repacking the Coca Cola football table which I won during Euro'04 (any interested buyers?), throwing out old stuffs, plastic-wrapping my unopened Lego boxes and consolidating all items into one room.

It was nice to have dinner together with my parents and Jason. My mum cooked tonkatsu. :)

The highlight of the day:
Unfortunately, for the sake of not embarassing my parents, I can't say, so sorry. :P
But it was really an unforgetable experience: Amazed, yet shocked. Fast, yet stuck. Happy, yet sad. Cute, yet despised.


Friday, 20 October 2006 - Jabba Jabba!
I received an early wedding anniversary present from Lydia. The Lego Jabba Sail Barge! And also the Tie Interceptor! :D

I told her the Tie Interceptor was going to be obsolete soon as it has been around for quite a while. It's true! :)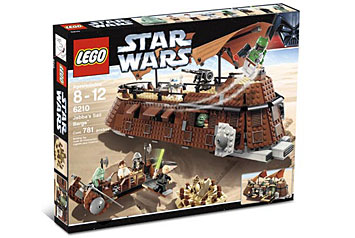 These babies didn't just fall into my lap. Had to do some "talking" with her. Anyway, she'd be getting something that's worth 2-3 times more than my presents. She's getting a better deal!


Thursday, 19 October 2006 - Gentlemen, Start Your Engines
Check, check, check it out! :

- 25cm leather-wrapped steering wheel rim
- 900 degrees wheel rotation
- Six-speed shifter with push-down reverse gear
- Stainless steel gas, brake and clutch pedals
- Dual-motor force feedback




This piece of amazing hardware is designed for some hardcore computer racing!! Woohooo!! Gentlemen, the Logitech G25 Racing Wheel. Retail price: S$529.

Man, this makes my Logitech MOMO Racing wheel pale in comparision. This baby was a present from Lydia some years back. You know, there was a time where she used to buy me Lego and computer stuffs for birthdays, anniversary, or simply surprise gifts! No kidding!

Ah.. fond memories of those blissful days... *dreamz*


Wednesday, 18 October 2006 - The End of My Honeymoon
Today's the last day of my 2 1/2 weeks of reservist. Sigh, back to office life again. :P

Here's what I have accomplished and learned during this reservist stint:
1) Extreme patience and discipline
2) The art of sitting for long periods
3) Manning X-ray machines
4) Deeply indebted to my o2 Atom for its entertainment value, especially for point 5 below
5) Completing G-Prime level 568 (!!) and still playing
6) Submitting my application form for new biometric passport
7) Getting my chipped tooth fxed at the dentist
8) Getting a haircut and coloring my white hair
9) Getting lots of pimples from lack of water

Sigh...


Saturday, 14 October 2006 - Shopping & Pubbing
It's the Takashimaya 13th anniversary sale with additional 10% off for credit card holders! You would of course expect Lydia to be there. And with the new Takashimaya Platinum American Express card that was recently pre-approved and sent to me (why? why???), it was an excellent opportunity to swipe it a few times through the machines.

I made a new discovery: My sweet wife complained that I didn't get her the Takashimaya Plantinum supplementary card. Ah? Was that in our pre-nuptial agreement? :P Ok, I did signed her up for a couple of supplementary cards before. But this one was pre-approved and sent to me without the supp card and without me filling up any enrolment form where I had the option to fill in the supp card section. It's a valid reason rite? Unfortunately not as my innocent pleas fell on deaf ears.

You know, Corrine got a supp card from George only on her birthday. My dear wife? Automatic supp card enrollment is expected. Have I raised the "bar" too high? :P

On the good news, she owes me a set of LEGO minifigs now after losing the bet on the outcome of Wigan vs Man U match. At 1-0 down, we had a bet. I bet that Man U will win. At 2-1, she said it wasn't fair and I'm entitled to only 1 LEGO minifig, unless Man U scores another. Heehee, on the 90th min, Solskjaer obliged with a goal. :)

We watched the match at a pub somewhere in Robertson Walk near Double O, together with Brian and Weishun. Hey, haven't met these two jokers for a long time! Had dinner with them earlier on also before the match. It was great catching up with them!


Thursday, 12 October 2006 - Old Buddies Gathering
Met up with my NTU friends with Lydia for dinner at Fusion Delights, a Japanese/Nonya cafe which is owned by Andrew's (aka Birdman) auntie. Since the Birdman was so kind in paying for the sushi appetizers (which was so much it could almost constitute a dinner), here's a promo note on his auntie's cafe:

Cafe Name: Fusion Delights
Location: Blk 2 Jalan Bukit Merah S(150002), corner unit closest to the former SAFRA near IKEA
Menu: Japanese food (unique sushi items) and some Nonya dishes
Price: Affordable. Ongoing 10% promotion
Map: click here

Now back to the dinner.. it was quite a large turnout: Gabriel & Valentine (& her sister & boyfriend), Boon Teck & Novita, Tzin Mein, Lawrence, Eric Yong, Andrew Woon (Ah Beng), San San and even Cheng How, who's on long vacation from Holland!

We later headed to Jazz@SouthBridge for some drinks and jazz. And I was in my polo-shirt, bermudas and sandals. How was I to know there's gonna be after-dinner plans from a cafe that's just 5 minute bus ride from home? Anyway, the brilliant thing was Lawrence, who "pressured" me to go instead of heading home, had to leave just after we got there cos his wife was in the vicinity and wanted to head home. Good huh buddy! You owe me one!

I dunno about you, but I don't have a deep appreciation for Jazz. Sure, it sounds cool and jazzy, but that's about it to me. Andrew Woon seems to share the same thoughts too with his sleepy eyes as we watched and listened to the live jazz band. Maybe if jazz is as hot as Catherine Zeta Jones in Chicago, I'd be a jazz fan. :P


Monday, 9 October 2006 - 102 Levels Completed and Counting...
I'm on duty again for another 12-hour shift. Was hoping to get assigned to a duty that I could get some "respite", but lo and behold, I got the worst duty instead. For security reasons, if I tell you... I'll have to kill you.

Nah... I just dunwan to get into any trouble putting down what I did in black and white, lest some Big Guy is watching. You can't be too cautious, what with the silly stunts of the Army guys posting their videos in YouTube. Duh, don't do something stupid like that (as in, posting in YouTube, heehee).

Anyway, half-way through my duty, my fully charged o2 Atom battery was almost drained dead. Why? Cos I've been playing G-Prime Extreme on my phone and have completed a record high of 102 levels!! I had to pause and stop the game to conserve whatever juice is left in the battery just in case my sweet wife wanted to SMS/contact me.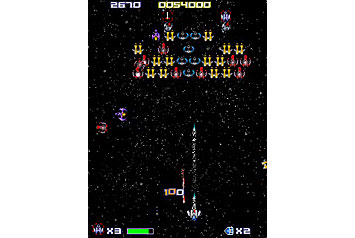 Nevermind, I will live and fight another day! Level 103, watch out!


Saturday, 7 October 2006 - When Gabby Met Vally
Today's Gabriel and Valentine's wedding! At The Altivo Bar @ Mount Faber, a most unusual venue indeed! Congrats! Gabriel's my Police NS squad-mate, as well as NTU Computer Engineering friend.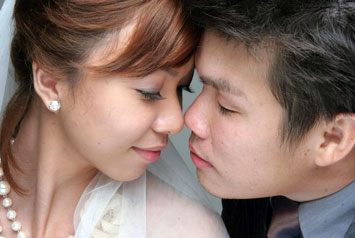 Taken from their website. I'm sure they dun mind rite? :P

The setting was pretty cool, with a splendid top view of the cable cars below and Harbour Front. Dinner was buffet-style and the group of us decided to settle down on the lounge sofa instead. This wedding dinner is definitely different from the norm. Which is the norm to expect from the crazy couple. :)

Unfortunately we couldn't make it for their afternoon wedding reception as we had to be tour guide (and driver) for Uncle Allan and Auntie Lian who was in town and flying off in the evening.

Early in the morning we headed to Jurong Bird Park as the two of them loved birds very much. Wow, it's a really intersting place! I think I've been there when I was really small, but wow, this place really packs in some interesting attractions, like the penguins, lory loft (open air aviary with really friendly birds who will come up to you), flamingoes, and even a light-rail system!

We drove to Sentosa later and took a quick 4-wheeled tour of the island, and a ride in the Carlsberg Tower. It's a pity the haze spoiled what would have been a great view of Singapore.

At 5pm, Uncle Allan and Auntie Lian dropped by our home for a quick shower. We fed them the lovely Lana chocolate cake and they totally loved it, heehee! Uncle Allan also liked the Bailey's with caramel and even asked for a refill. :)

With the flight at 8.30pm, we set off for the airport, stopping by for a while at East Coast Park at Uncle Allan's request. The haze was omnipresent once again.

And after bidding them farewell after they had cleared airport customs, we rushed back home, bathed, changed and sped off to Mount Faber to attend Gabriel and Valentine's wedding!

Phew, what a rush!


Friday, 6 October 2006 - Oh What a Wonderful Day
Today's my reservist day off after putting in a 12-hour shift yesterday. But it ain't no off day for me today.

Woke up at 6.20am, bathed, and being a loving hubby, accompanied Lydia on her bus ride all the way to MacPherson where she now works at. Headed to my parent's thereafter to accompany my mum for her SGH eye appointment at 10am. Ain't I such a good son? :P

After the appointment was done, since we've already used the $20 weekend coupon, we went down to my dad's office to pick up some stuffs from him, before heading to our delicious destination: Greenwood Avenue @ Bukit Timah!

What's there? The yummy Lana cake's chocolate fudge cake! Best chocolate cake there is! At $26 for 800g, it's a little expensive, but the cake is simply heavenly! Have been eating this since I was a little boy!

After lunch with my mum at the nearby coffeeshop, lazed the afternoon at my parent's home before helping my mum pay her utility bills at the Singapore Post Office (ahem, good boy rite...).

To wrap up my Brownie-points Day, my last duty was to be Lydia's chauffeur and pick her up from her office after work. Ta da!!

Oh wait, it wasn't over. My final duty was.... Lydia's driving instructor. Yup. Since we were taking my dad's car overnight for tomorrow's use, we decided to head to Marina South where Lydia can do some driving practice. :)

Don't worry, she's got a driving license, so we're not breaking any rules.

Guiding her carefully, she had her refresher course on the Hyundai Accent manual car in Marina South carpark A. After a few turtle laps round the car park, the turtle bravely headed out of the car park for a few bigger laps around Marina South. Else we'd never hit 3rd gear!

Overall, it was goood! At least no engine stall. :)

The thick haze also made it harder for her. But wow, the haze sure was cool, in a surreal way. Everything looks so misty, so Europe-like, heehee!


Wednesday, 4 October 2006 - The Truth about Man & Woman
I'm on reservist now, which means 2 1/2 weeks break from office life. :) Which also means odd free time like having a off day today. :D

Came across a funny email about man and woman which had me laughing at how true some of them are, heehee:

Future
A woman worries about the future until she gets a husband.
A man never worries about the future until he gets a wife.

Happiness
To be happy with a man, you must understand him a lot and love him a little.
To be happy with a woman, you must love her a lot and not try to understand her at all..

Longevity
Married men live longer than single men do, but married men are a lot more willing to die.

Change
A woman marries a man expecting he will change, but he doesn't.
A man marries a woman expecting that she won't change, but she does.

Disclaimer to my wife:
I'm not implying anything. I'm just having a good laugh. :P


Sunday, 1 October 2006 - NATAS Travel Fair, Part 2
Hokkaido! Tokyo! Japan!! See you soon in January 2007!!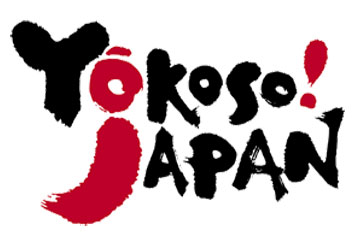 That's right! We have signed up for a Japan holiday tour after returning to the NATAS fair again today! The initial plan to go with my friends was scrapped due to difference with travel ideas. So we signed up for a 5D/3N Tokyo Fantasy tour package (JAL/Asia-Euro), plus 5N free & easy extension in Hokkaido! Total damage: $1958!

My parents will be joining us on the tour too! My dad speaks a little rusty Japanese so it should be useful to have him along, heehee. Looking forward to the tour, especially the long extension in Hokkaido where we'd be staying with Lydia's 2nd sister who is a research student at Hokkaido University.

But most of all, looking forward to pure white winter snow and fun in Japan! One of my dreams will soon be fulfilled! :D

And ultimately too, I can strike one more item off Lydia's before-baby-comes demand list....