Entries by Joel


Sticky: Please sign the guestbook so that we know you've been here! We'd love to hear from u!


Sunday, 30 March 2008 - There's Always a First Time
My wife helped me wash the car today! Apart from dusting the ground mat, she also washed the car, dried the windows and bottom areas of the car! Thanks dear! You've helped me cut down the cleaning time by 30 minutes!

With the car all clean and nice, it's time to take pictures of the car's new addition, the vortex generator! Love the spiky fins! What used to be a simple wash and wipe of the rear portion requires more maneuvering through the fins now, but it's still worth the effort!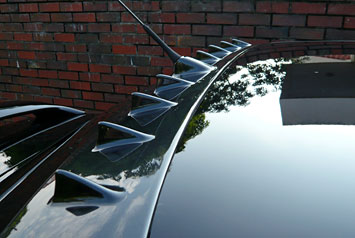 The vortex generator attached to the rear of the top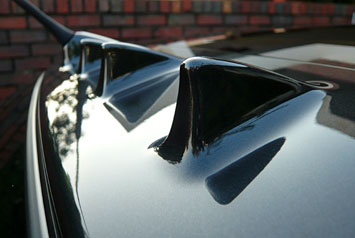 Up close and personal with the delta-shaped fins


Saturday, 29 March 2008 - Working on a Saturday
Had to go back to the office in the afternoon for some testing today. Groan...

Mohan's got his new Toyota Vios and offered to pick us up and send us to the office. Of course we gladly obliged. We wrapped up about 9pm and our driver kindly sent us home again. Thanks!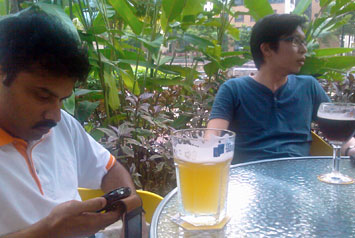 You could tell we're hard at work...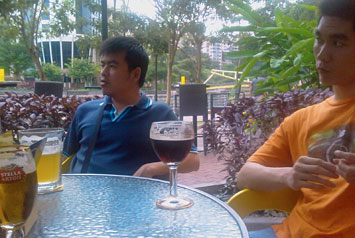 Alrite.. who left a glass of Stella Artois on my table?

One thing did get done while I was away from home; my wife so kindly did my household chores and cleaned up the house. Another round of beer thanks to all!


Friday, 28 March 2008 - Sayonara Soo Kee!
He tried, but we persisted. We still turned up at Changi Airport Terminal 3 to send him off. Wah, his parents, nieces, nephews, brother, in-laws, girlfriend, all came to send him off too!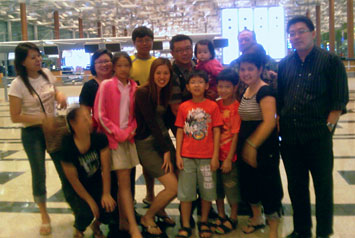 All smiles that he's leaving?

So long, farewell and see you again! Life will definitely be quieter here without his incessant outings to Dragonfly, meals, cheng teng, curry rice, futsal...

Good bye and take care, uncle Soo Kee!


Thursday, 27 March 2008 - They Multiply Really Fast!!
Went for a haircut after work at Raffles Hotel... no lah, I not so high-class one. My regular hairstylist opened her own saloon here, that's why.

"You don't want to color your hair?", she asked. Nope. Coloring is bad. It is expensive. The chemicals are really bad for the hair.. head.. you know... I'll just wait 3 more months, thank you.

Actually, it's cos my wife dun allow. :P

Holy cow! At the end of my haircut, where the short hair closer to the scalp are revealed after the long ends get snipped off... I discovered I've got an amazing lot of white hair! It used to be just at the top of the head, but now they've multiplied all over!

Well, it's in my family genes. My dad who's 60 now has a delightful crown glory of 100% white hair. Hmm, can't recall if his eyebrows are white too? My brother, who's a year younger than me, also has lots of white hair.

Oops! Have I let any cat out of the bag? My wife said she got a shock of her life when she discovered that I've got so many white hair after we got together. She said it was becos I was tall and much taller than her, so she never got a "over-the-head" view of my head!


Wednesday, 26 March 2008 - My Vortex Generator!
I just got a vortex generator for my car!

A what?? Haha! You heard me right. Commonly used on aircraft to prevent flow separation, vortex generators reduce drag by preventing flow separation at downstream (rear of car). In short, these delta-wing-shaped fins reduce the aerodynamic drag of the car! Actually I wanted it because it looks cool! :D

Sent the car to Mitsubishi service centre in the wee morning before 7am so as to beat the weekend car restriction, and collected the car after work. Very nice!! Can't wait to take pictures next time!

Cost: $261.80. Heavily subsidised by my mum as our last year's Christmas gift. :)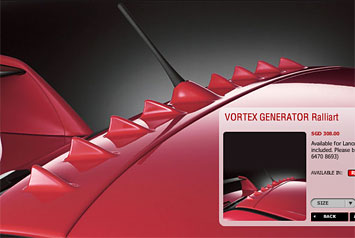 Ain't it a beauty? Pix from Ralliart website


Sunday, 23 March 2008 - Unexpected House Guests
As a farewell "gift", our uncle Soo Kee decided to spring a surprise and bring along 3 other guests (Adeline Loh, Adele and Terence) to our home at night!. Adele has helped me buy a game and was dropping by to pass it to me. But I thought we're going to meet at the carpark downstairs! Lydia was all flustered that our house is very messy. :P

They stayed to watch the first half of Man U vs Liverpool before making a move. Thanks for dropping by guys!


Saturday, 22 March 2008 - Soo Kee's Farewell BBQ
Man, this guy got a farewell Dragonfly party, then a farewell futsal game, and today, a farewell BBQ. Please don't go Sweden lah.... :P

All right, roll call again. Lydia and I were first to arrive, then there's Terence, Pei Wei, Ying Kiat & husband & baby, Sherry, Vernon, Adeline Loh, Adeline Lau & husband, Chuen Kiat & wife & kid, Wai Seng & Elaine, Kuan Han, Adrian and Soo Kee's design department guys.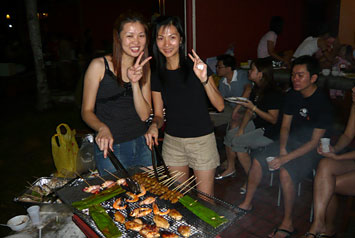 Michelle and Lydia in charge of BBQing? Let's pray...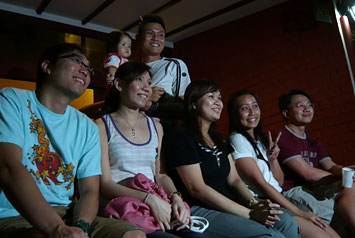 An interesting group photo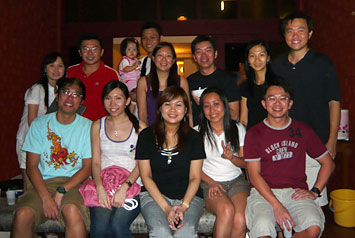 The standard group photo

We chit chat and ate and ate until about 11.30pm! Very, very full!


Friday, 21 March 2008 - A Furry of Activities on Good Friday
It's Good Friday and it's a holiday! It's always nice to have a 4 day work week. You know what makes it better? I'm on leave on Monday too! :D

After church, we went to my parents place to celebrate my dad's 60th birthday! We had a steamboat lunch and it's a pity I couldn't eat much as the lunch started late and I couldn't eat too much as I got futsal at 4pm later.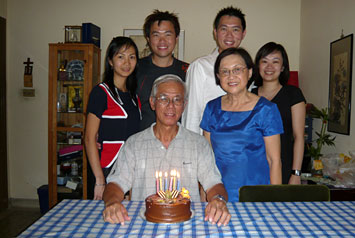 Happy 60th Birthday!!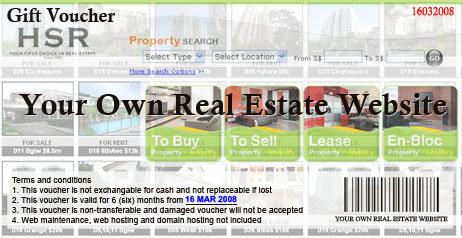 Our birthday gift to him. Still learning how to use Adobe Flex Builder 2!

After the celebration, we went down to Ubersports for Soo Kee's farewell futsal game! With Boon Chong, Kian Pang, Dennis, Andrew, Gabriel & his brother, we formed 1 team. Soo Kee had his Poly friends in his team, plus 1 other team (which later expanded to 2 more). Every game is 10 minutes, where the winner continues. If draw, both teams are out. The competition was quite physical and without the "no-entry into keeper's zone" rule, we took some time to adapt.

We played till 7pm! Managed to score 1 goal only. I personally played about 5 games I think, with 1 win, 2 draws, 2 loses. :P Well, considering that we don't usually play together as a team, it was pretty acceptable. On the whole, it was still a fun game. Stamina was certainly much better this time round.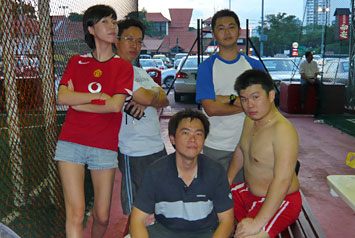 The team strikes a pose with a fervent supporter

Soo Kee invited me & Lydia to his chalet later for BBQ. I thought it would be a small gathering with his futsal Poly friends but it turned out to be a much bigger group of Poly friends with kids and such! We hang around for a while before telling Soo Kee that we go "walk walk". Still with an empty stomach, we decided to "walk" to Adam Road to eat nasi lemak. Imagine our surprise when we found the whole place closed for renovation!

In the end we went to Commonwealth and had dinner near Lydia's former workplace, where we had beehoon-mee with 8 chicken wings! Yummy! The stall really got good business man. 9.30pm still got long queue!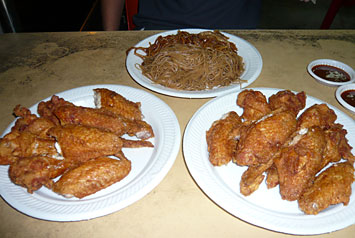 No frills, just simply solid!


Wednesday, 19 March 2008 - Dinner with Gabriel & Family
Gabriel invited us to join him, Valentine, Boon Teck and Novita for dinner at Changi Village Hotel (Wah! So far!!). But surprise, surprise, I see there's a reservation for 11??

Turns out his family plus Valentine's family were there too! :P Oops! I hope we didn't gate-crash a family dinner outing!

Hmm... the food at Saltwater Cafe is fantastic! There's a huge variety of food, and there's also sashimi (though unfortunately, it wasn't very good), BBQ stall, chicken rice stall, etc. The hotel has certainly changed alot since many years ago. Very nice ambience too!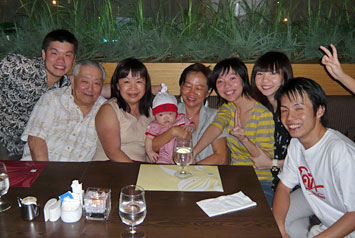 Gabriel & Valentine's family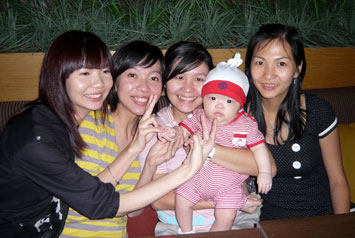 4 girls and a cutie baby

Had a great time chatting with Boon Teck & Novita, Gabriel & Valentine and their family. :)


Sunday, 16 March 2008 - Weishun's a Daddy!
After church we went to visit Weishun and Kylie. They just had a baby girl! Hmm, they got married in late May last year, and now is only March... now that is.... exactly 9 months, heehee! The proud daddy later told me that it was made in Italy during their honeymoon, haha!. :D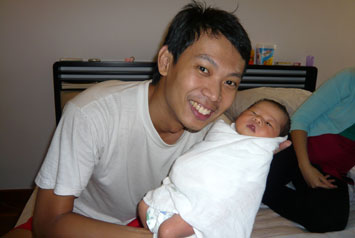 Mr Tiong is a daddy already!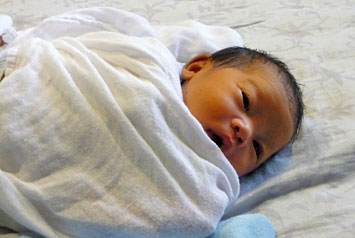 Sophia at 1 week old

Kylie declined to have her photo taken, heehee. Weishun told us more interesting stories also, but I guess better not to share to the whole world lah! :P


Saturday, 15 March 2008 - A Long Saturday Day Out
My dad had never taken the Malaysian train before, and for his coming 60th birthday, he would like to experience the ride. O...kay.... Soo this morning my parents headed to Malacca (I think!) by coach. We decided to pick them up from their home at 7am and send them off at the departure location at Lavender.

With time on our hands and the $20 weekend coupon in "smoke", we decided to visit Sok Fung at Ang Mo Kio. But first stopover near my parent's home to buy peng kuay. When Lydia went to buy, the stall uncle told her not selling, only got sell the rice ingredient. 30 minutes later after we had the rice for breakfast at my parent's home, I dropped by the stall. The auntie recognise me as my mum's son and we chit chat, and I was soon carrying 20 peng kuays to the car, heehee!

Well, it probably was because it wasn't ready yet, but after a 2nd consecutive incident where I manage to get the peng kuay while my wife couldn't, she really can't believe "my charm"! We had a good laugh, haha!

We dropped by Sok Fung's home later and wah, she is up and awake so early (9plus) already. My hopes of catching her in her pyjamas were dashed... haha! We dropped by Ang Mo Kio Hub to check out the Lego exhibition, which had a full-sized Lego F1 car. But with more than an hour to kill before it opens, I decided it wasn't worth waiting just for that. The other Lego promo discount, I can easily get them at BricksWorld or Metro sales.

After resting for a while at home, it's time for futsal! 2pm at Ubersports @ East Coast Park! Wah, the last time I played was in Dec 2007! After a lengthy layoff, was really lacking in stamina and touches, but still managed to score 3 goals. Missed a host of them also. :P The afternoon heat made the indoor court feel like an oven too!

Oh! We brought Yulia along to the game too! Well, actually we wanted to introduce her to Eric, but that dude is busy working and couldn't make it. But luckily, there's Valentine and Valencia to entertain Lydia and Yulia. :)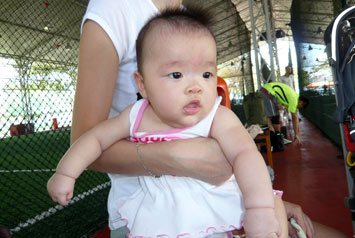 "Did daddy score today?"

Hey, managed to arrange for a dinner at 9pm at NYDC @ Heeren, together with Eric and Yulia. The food was alright, but the atmosphere was nice as we got a sit just along the street. It was a nice setting for chit chats also and boy, first time I see Eric talking so much. :D

Ohboy, we finished about 11.30pm and after sending Yulia home, we got back after midnight. What a long day it has been!


Friday, 14 March 2008 - Dragonfly Farewell for Soo Kee
Our dear friend, Soo Kee, will be going to work in Sweden for two years, come end of March. Sob, who's going to organise Dragonfly outings next time? Well, not like we party as much as our dear uncle anyway, heehee. :P

But today! We have to give him face cos it will be his last clubbing at Dragonfly before his overseas posting. Somemore they have gotten the VIP seats even!

After having a quick dinner at Vivocity, we got into Dragonfly before 9pm to beat the cover charge.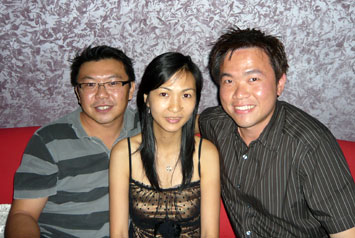 Soo Kee, Lydia and me

All right, roll call! There's Amanda, YingKiat, Yeo Sye Chai (a new Tetra Pak alumni!) & wife, Adeline Loh, Serin, Sherry, Vernon, Kuan Han, Desmond, Adeline Lau, Pei Wei (& like 3 friends), Chuen Kiat, Stephen, and two girls from Sales Planning. And of course Michelle.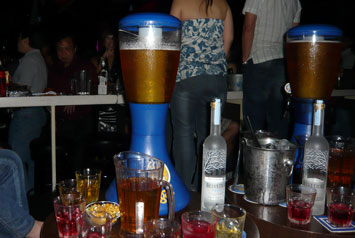 Wah! Can finish? A bottle of Hennessy VSOP not in pix even!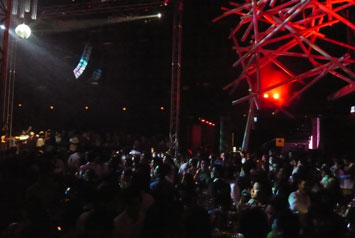 The crowd waiting for the M-Pop performance

Thankfully (or not thankfully?), I'm driving, so cannot drink much. Lydia was nursing an injured left leg also (ask her how she got her symmetrical vertical stripes...) and couldn't stand for long, so we were contented to sit back and relax on the couch and watch the rest have fun.



How to test if they're sober? Alright, show me the number 3!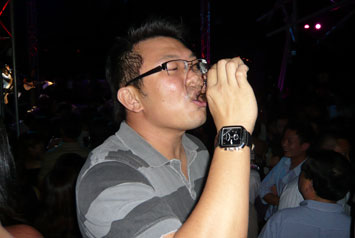 I heard he can do the merlion quite nicely...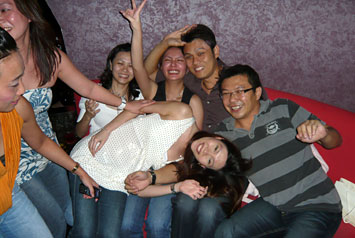 The girls couldn't resist the two guys


Tuesday, 11 March 2008 - Crazy over Gyu Kaku
Unbelievable, but I had Gyu-Kaku for lunch and dinner, haha! Lunch was a company affair with my colleagues as we brought our US guest to the restaurant to sample the delicious Japanese bbq meat. Set lunch prices are pretty affordable actually.

And after picking up Lydia and wondering where to go for dinner, we inevitably ended up here again, to celebrate our belated ROM anniversary! We went for the Yuri special set menu, which comprises of wagyu rosu (beef), wagyu nakaochi (beef), beef tongue, kurobuta jowl (pork), chicken teriyaki, hotate garlic foil (scallop), salad, bibmba and desserts! What a nice spread!! Totally loved the beef! Ooh, what a yummy dinner it has been!


Monday, 10 March 2008 - Back in Singapore
It's amazing how well-connected the world is now. Last week, I was in London office, and this week, I'm back in Singapore office. One week ago, my hair was getting all messed up by the fierce cold wind as I made my way on foot along The Strand to the office. Today, I'm perspiring all over under the fierce morning sun as I waited for my bus at Tiong Bahru Plaza. Amazing! :)

I had to host a guest from US office, who was also in London office last week. Him being the first time in Singapore, I decided to be a good host and guide and took him out sight-seeing after work. Went home and got the car before picking him up at the hotel. "Nice ride!", he says. Thanks! :D

We went to the Singapore Flyer cos he had read about it. Ha, I myself have not even sat on it! Oh no, my wife's going to complain I didn't take the ride with her! :P

Surprisingly, we could easily buy tickets ($29.50 per pax) on the spot at the venue itself. I had the impression it was fully booked and had to be bought online. And wow, the terms and conditions on the website said that visitors have to check-in 30 minutes before the flight. Gee, it sounded like some serious airport departure flight like that.

The 30 minute ride was pretty fun and a good experience! The raindrops on the panels dampened the view, but it was still pretty cool. I think a day ride would be better as you would be able to see further. It was quite exciting to reach up to 165 metres, higher than the Ritz Carlton hotel even!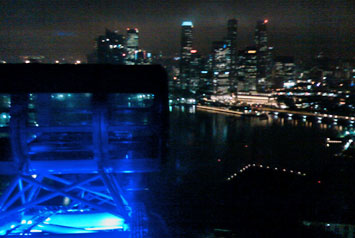 View from the top of the Singapore Flyer

We went to Masala Art @ Peninsula Plaza for dinner later, as he opted for Indian food. The food is still as nice as before as I stuffed myself with briyani, garlic naan, and it's variety of buffet dishes! Very nice!


Friday, 7 March 2008 - Last Day in London!
Last day in London! Realised I haven't visited Buckingham Palace and Tower Bridge! Took the lunch time opportunity to go sight seeing again. :)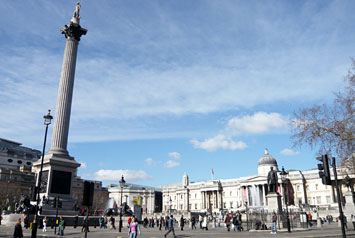 Trafalgar Square under the clear blue sky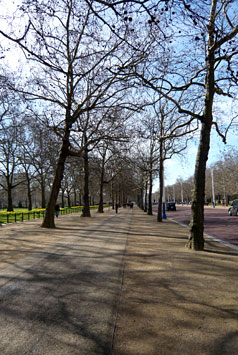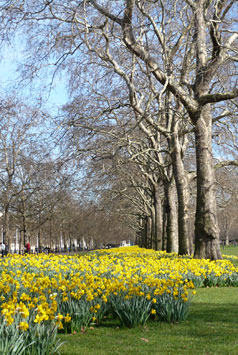 Walking along The Mall leading Buckingham Palace, St James Park on the side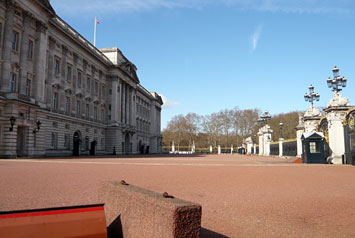 At Buckingham Palace! Where's the Queen?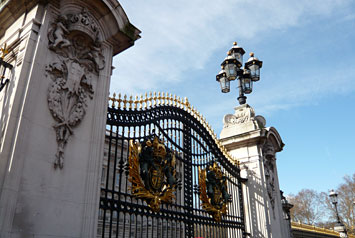 At the gates of Buckingham Palace



A long walk later, at Hyde Park Corner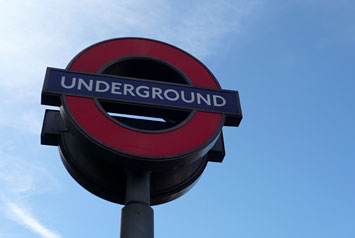 The symbol of London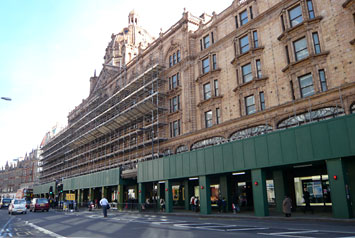 Finally arriving at Harrods!

After a day of training, bid farewell to the London office people. They're really nice guys! Hopefully they'll get the chance to visit Singapore! Knocked off from the office about 5pm. My flight is at 10.55pm, so I've still got some time to make my trip to Tower of London and get back to the hotel. How can visit London but don't see the Tower Bridge!?

The sun was bright and the sky was really blue as I walked towards Westminster, stopping by to check out the the Prime Minister's office at Downing Street. Cool! And at the end of the road, Big Ben and Westminster Abbey awaits! Nice!!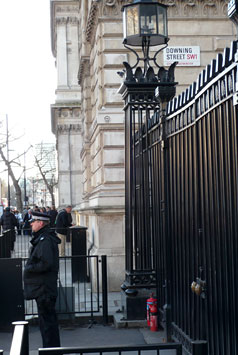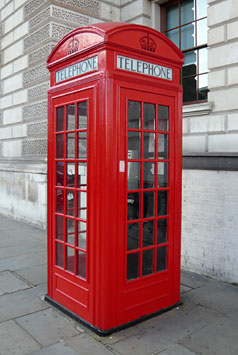 Downing Street, Prime Minister's office! The classic red telephone booth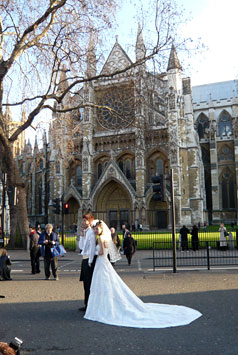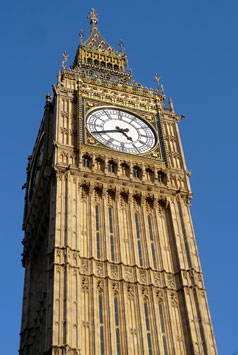 Wedding shoot at Westminster Abbey. :) Big Ben in the day time

Walking across Westminster Bridge, the London Eye beckons. I loitered around there for a while to take pictures and admire the beautiful ferris wheel. It's great to explore and walk around London when it is still bright and sunny.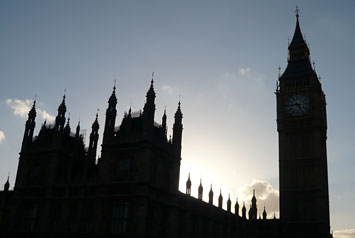 Silhouette of Big Ben from Westminster Bridge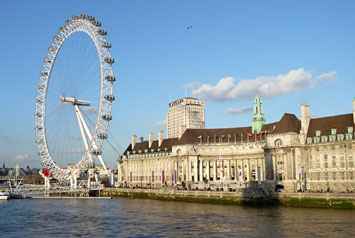 Heading towards the London Eye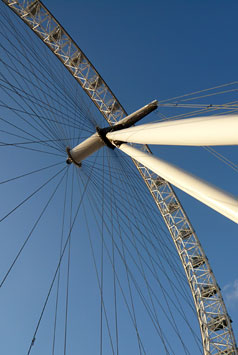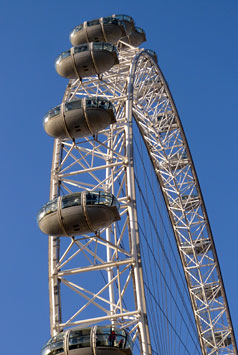 Under the majestic London Eye Capsules of the London Eye

And now for a long walk along Jubilee Walkway, which runs along the banks of River Thames, towards Tower Bridge! I figured I can save 2.50 pounds on the 6 train-stops (!!!) and at the same time, enjoy a nice scenic view of London along River Thames. :P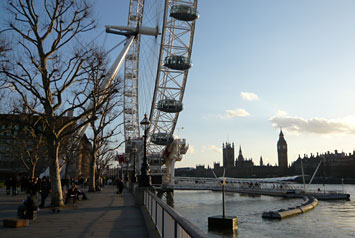 The London Eye with Big Ben in the background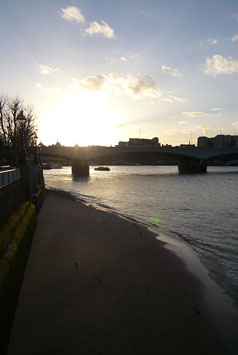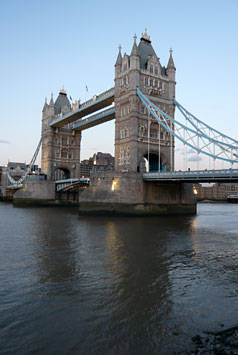 Sunset along River Thames After much walking, finally at Tower Bridge!

Finally at Tower Bridge after what seems like ages, haha! Though this is my 3rd time in London, have never walked across the bridge itself, so was quite excited. Especially when on the other side of the bridge is where Lydia and I were at during our honeymoon in 2005.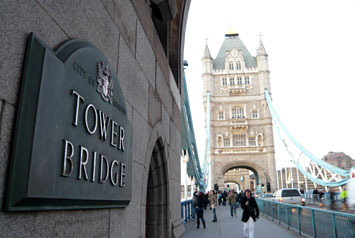 Walking across Tower Bridge to the other side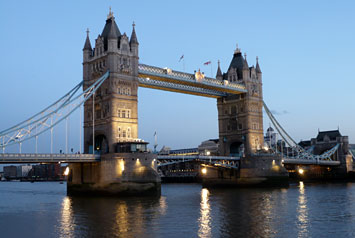 Tower Bridge, as dusk approaches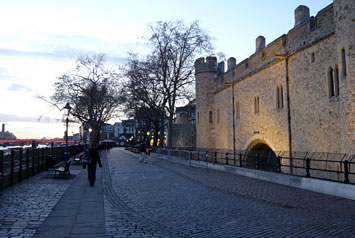 Tower of London on the right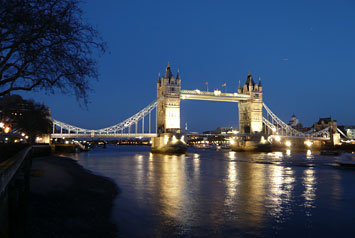 Night photo of Tower Bridge. We were here in Dec 2005!

Spent some time on the banks of Tower of London to take in the sights of Tower Bridge and relive the nostalgia of our Europe honeymoon tour. Was heading back when I chanced across a fish and chips restaurant nearby and decided to do a take-out, walked back to the empty benches along the banks and had my fish and chips dinner under the night sky, in front of Tower Bridge. Was definitely special with a splendid view, and cold too, haha! :)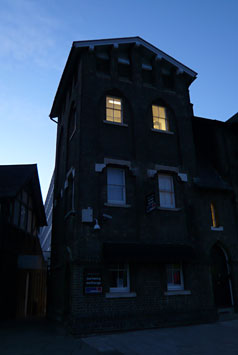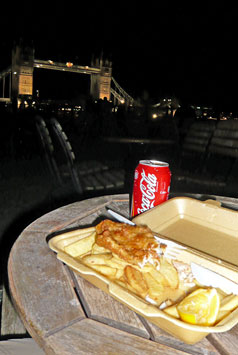 Same shot of a building taken in 2005 Dining under the sky in front of Tower Bridge!

Oh no! Going to be late for my flight! Still need to go back to the hotel, grab my luggage, squeeze in somemore stuff into the totally packed bag, and catch a 45 minute train ride to Heathrow Airport!

Phew! Arrived at the airport 1 1/2 hours to departure time. :P Thankfully it wasn't crowded. Got a seat on the upper deck of the Boeing 747! Cool!! First time up here! The cockpit is like 10 metres in front only! Only complaint is that the window is like situated 1/4 way down, which makes it hard for me to peer out.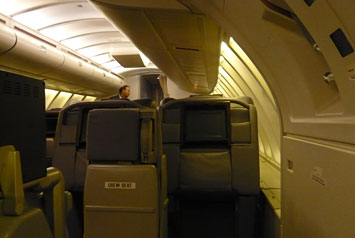 On the upper deck of the 747!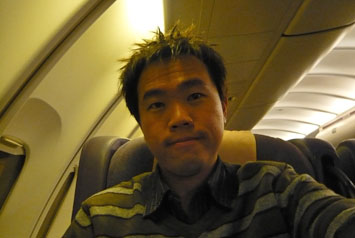 A rare self-potrait photo, haha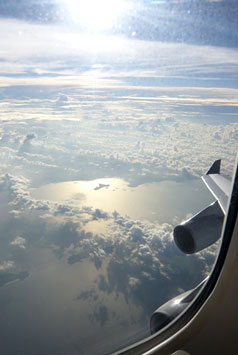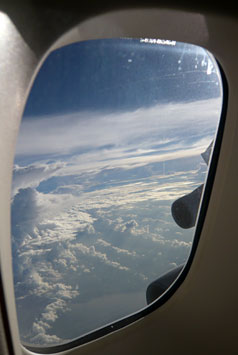 View from the top!

Home sweet home!! Saturday evening already! Lydia and my mum came to picked me up from the airport. My wife actually drove to the airport all alone! So steady!! Picked up my dad later and had zi cha at Alexandra. I still miss the sinful food of Singapore!

My luggage weight doubled for my return flight, haha! From 15kg to 30kg!! No thanks to lots of stuffs from Mark and Spencer! Bought some stuff for Lydia, but they won't be included in the photo displayed below, hee!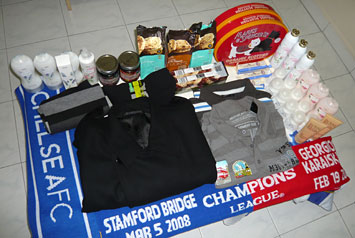 My customary "group" photo of the things bought in a trip


Thursday, 6 March 2008 - Night Photos of London
After another productive day of training in the office (*ahem* of course!), I headed to Covent Gardens to meet Justin. Justin used to be from Tetra Pak too and is now working in London.

I had to try the fish and chips while I'm in London, so we went to this fish and chips restaurant near Covent Gardens called Rock & Soul or something like that.

It was not too bad. Not as heavenly as I thought it would be, but still nice. The batter is certainly thicker than what we have in Singapore, the chips are "fat", and the portion is huge!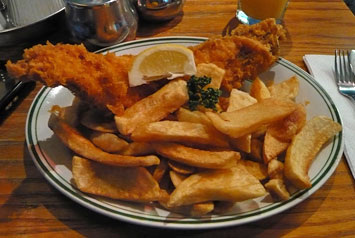 My fish and chips!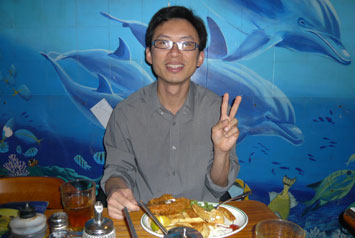 Dinner with Justin

After dinner we went shopping and walked around Covent Gardens and Chinatown for a while before he left for his 1 hour train ride back home. Was great catching up with him!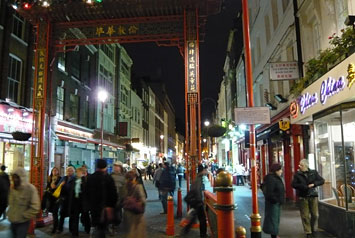 The night scene at Chinatown, London

After resting in the hotel for a while and dumping my load, I set out to take some night photos and scenery of London.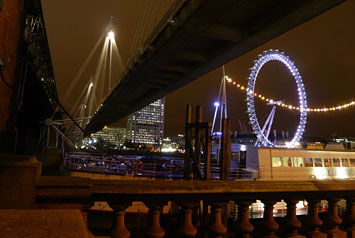 Hengerford bridge & the London Eye in the background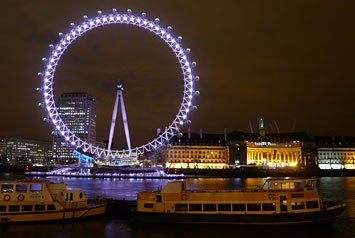 The London Eye across the River Thames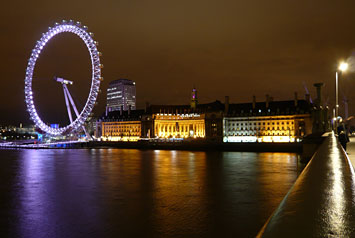 The London Eye from Westminster Bridge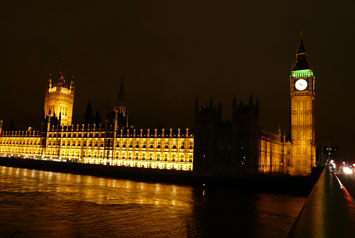 The other end of Westminster Bridge is Big Ben & Parliament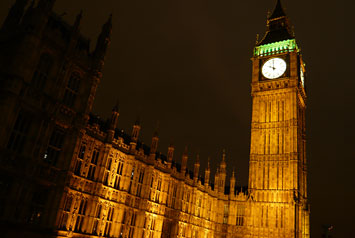 Am I glad to have brought along my mini-tripod! :)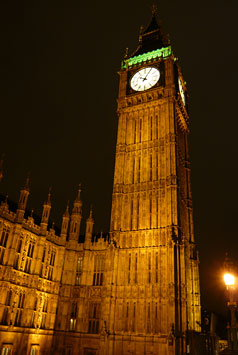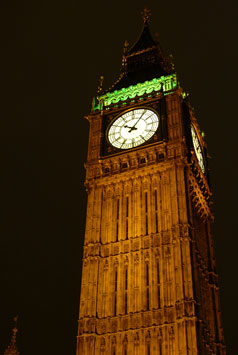 The towering iconic Big Ben Big Ben up close. It's 10.10pm!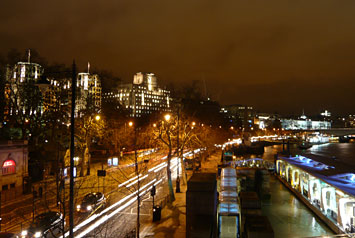 View from Hengerford Bridge, office is 3rd building from left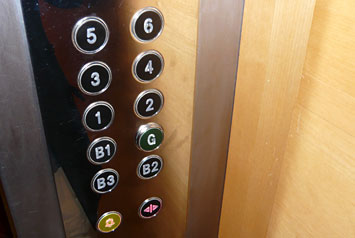 Back at hotel lift. 1st floor is 2nd floor, and G is... "Gero" floor!


Wednesday, 5 March 2008 - Chelsea vs Olympacios! Live @ Stamford Bridge!
Below's a typical street scene on my way to the office every morning. The weather has been cold lately and the hands start to feel cold rather quickly if you're not wearing gloves and if they're not stuffed into the pocket.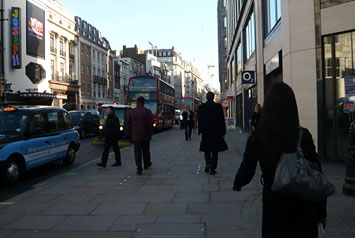 Jackets, coats, london buses and a cold breeze every morning

Lunch time and off I went for a walk again. Checked out Trafalgar Square, and went to Hamleys, the big UK toy store. :) There was a really huge section of Lego toys! Unfortunately, the price was steep also. Went for a brief walk through Oxford Street (again, haha!) and headed back to the office.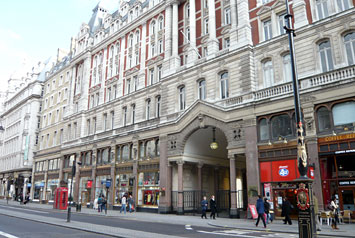 See the gate? That's the entrance to the office!

After work, went back to the hotel, changed out, grabbed my Chelsea scarf (I'm a Blackburn fan, by the way, haha), and headed for Stamford Bridge! Tonite's the big game!!

Arriving there more than an hour before the kickoff at 7.45pm, it was not too crowded yet. I'm seated at Matthew Harding Upper, row F, seat 137.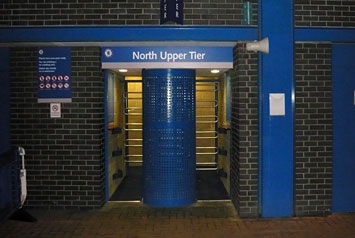 That's my entrance to the stadium!

It was really exciting to enter the stadium and see the green football field and the stadium terrace! I'm actually in Stamford Bridge, woohoo! The seat is pretty good also, even though it is on the upper level.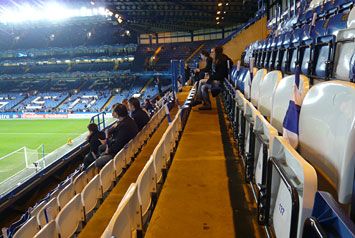 View from my seat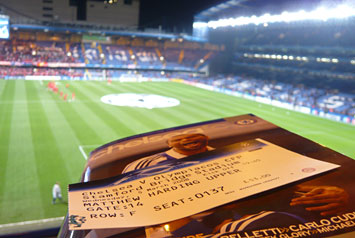 Ticket and programme guide in hand, waiting for the kickoff!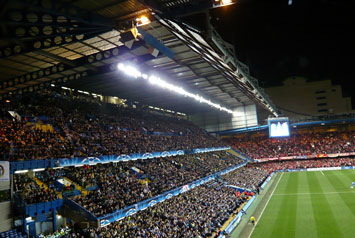 A packed stadium!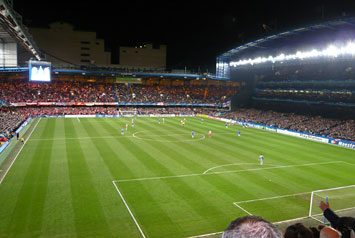 The match has started!

It was really great to watch the game live. Too bad I ain't really a true blue Chelsea fan, cos didn't know nuts about what they were singing! But that didn't stop me from waving the Chelsea flag and rooting for them! :D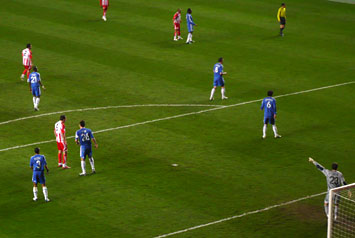 Chelsea defending a corner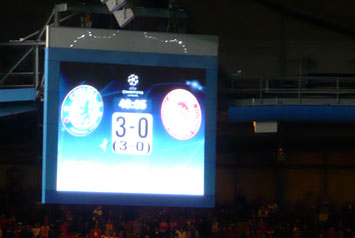 3-0 the final score!

At the end of 90 minutes, Chelsea won 3-0! Yeah!! 2 goals were scored in the first half, which unfortunately was at the other end of the field. But the 3rd goal was at my side and even managed to record a video of it!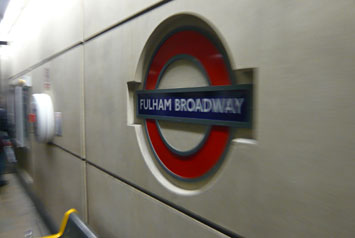 Catching the tube from Fulham Broadway back to the hotel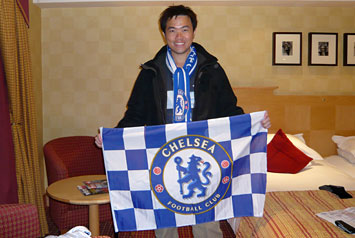 A Chelsea fan just for today, haha!

Now I can proudly say that I've watched a football match in England, woohoo! Champions League match somemore! 53 pounds... it was worth it! :D


Tuesday, 4 March 2008 - Shopping Again in London
After a heavy English breakfast at the hotel, I'm off for Day 2 training in the office. The people in the office are really nice and friendly. Their lunches are usually sandwiches. Lunch time is when I took the opportunity to explore London as well, cos the sun usually starts to set by 5 plus and is totally dark by 6pm.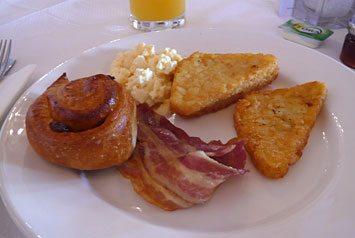 A hearty English breakfast

I went out at lunch time again and after a long search, managed to find a nice jacket from FCUK (French Connection) for 140 pounds. Finally! Shopping is a little strange here as it is difficult to find smaller sizes, for men, and especially for ladies.

In the evening, went back to Mark and Spencer again at Oxford Street, as there were new requests from Lydia and her sister. Popped by Hyde Park for a while first, as it was in the vicinity. Very nice park. Pity it was getting too dark for me to have a walk about.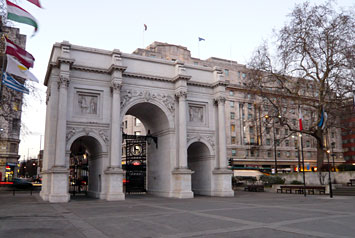 The Marble Arch at Marble Arch, of course...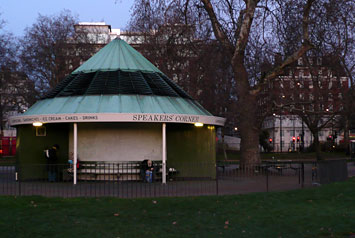 Speakers' Corner at Hyde Park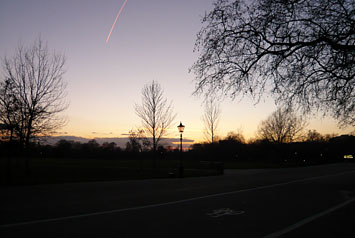 Watching the sunset at Hyde Park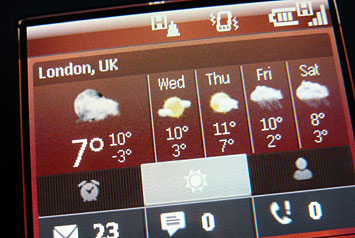 7 degrees! Time to get indoor and get some shopping done!

On the way back to the hotel, saw a nice steak restaurant along and decided to go in and eat! 2 things that I must try in England: Fish and Chips, and steak!

The steak was very nice. Quite surprise that fries are additional side order. The total came up to about 20+ pounds. Paying by credit card, I thought about tipping, but when I searched my wallet, the smallest note I have was 10 pounds! That works out to S$30!! Hah?? No way! So act blur, be thick skin and didn't tip!

The waiter not happy... :P Sorry folks, but S$30 is a lot!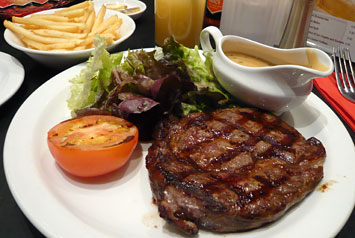 My yummy steak!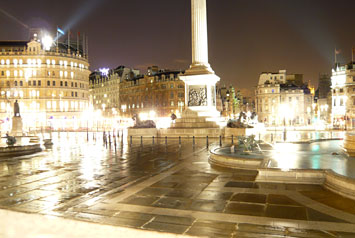 An over-exposed night photo of Trafalgar Square


Monday, 3 March 2008 - A Visit to Stamford Bridge, Chelsea!
Had a really nice breakfast in the hotel before walking over to my office building, which was about 5 minutes walk away, on the same road! Convenient!

Wow, it is cold in the morning, and very windy! My casual Timberland jacket on top of my Zara long sleeve shirt looked a little strange. :P Well, will be on the lookout to buy a nice coat for smarter warm wear. Couldn't find anything nice in Singapore lor.

Met some of the guys from E2E, Adnan and Dipak. They were really nice and friendly. Introduced me to some of the other colleagues and Teams as well.

Lunch time! Took the chance to travel all the way to Fulham Broadway station, which is the closest station to Stamford Bridge! I'll be trying to get a ticket to the Chelsea Champions League game on 5 Mar against Olympacios! Non-members have to buy ticket directly from the box office. This is exciting!!

And here I am at Stamford Bridge! This is cool, man!! Took a few photos before wasting no time in finding the box office. A Greek supporter actually approached me and asked if I could help him buy a ticket. He would pay me 10 pounds extra for it. Not wanting to run foul of any laws here, I had to decline.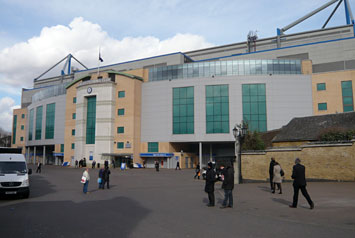 Stamford Bridge!! Cool!!!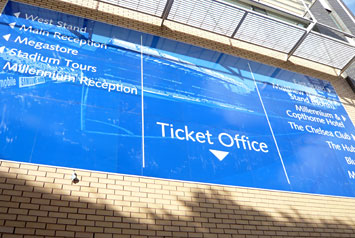 Queuing in the cold weather at the ticket office. Yeah!!

After queuing for like 15 minutes, I was at the counter. The lady verified my passport, asked for some particulars and informed me that the cost of the ticket is 53 pounds. I gladly paid in cash and moments later, the ticket is in my hands! Woohoo!!! I'm going to be watching a live football match in England! Champions League game somemore!!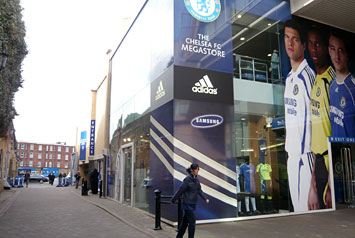 Chelsea FC Megastore, where I bought 2 scarves

After the afternoon training was over, took a train to Marble Arch to Marks & Spencer to shop for a coat, as well as to buy a list of toiletries' request from Lydia, from shower cream to hand and nail cream. The items were already cheaper compared to Singapore, and with its buy 3 items for the price of 2, it was amazing value for money. :)

With an empty bag now laden with stuffs, I walked all the way from Marble Arch to Oxford Street and all the way back to the hotel. What a long walk. Tonite was spent shopping in London!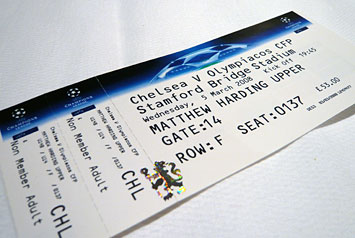 My Champions League football ticket!


Sunday, 2 March 2008 - Business Trip to London!
If you wondered why there hasn't been any update, it's becos I've gone to London for a week!

Lydia and my parents sent me off from Terminal 3 for the 12.50pm SQ direct flight to London. First time going to London alone for the training. And first time flying business class too! :D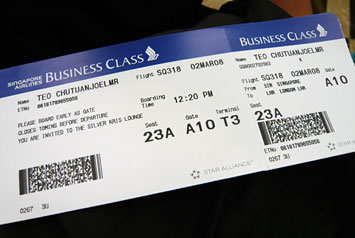 My first time on business class. Cool!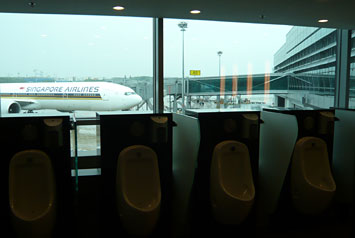 Very nice view from the men's toilet in T3

Oh boy, business class is certainly much better than economic class. Each section has like 30 people only, a 4-course menu meal, attentive steward/stewardess who addresses you by name, and the coolest and most important of all, the spacious and reclining seat with plenty of leg room! The seat was really comfy!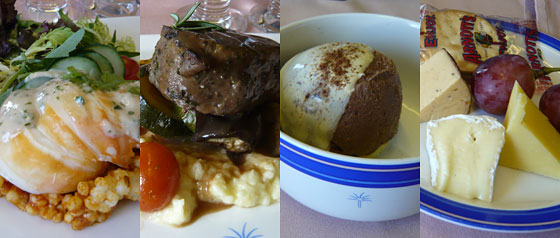 The lunch menu: lobster salad, beef steak, ice-cream and cheese

As the 14-hour flight will touchdown in London at 6pm, I avoided sleeping too much. Not that I sleep much on a flight, as I always like watching movies! Watched 7 movies in total, haha! American Gangster, Lions For Lambs, Hitman, 2 Days in Paris, The Kingdom, Resident Evil: Extinction, and Gone Baby Gone. Wow!! A new record!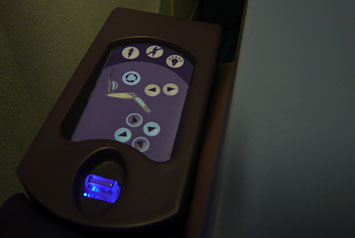 How on earth you operate this?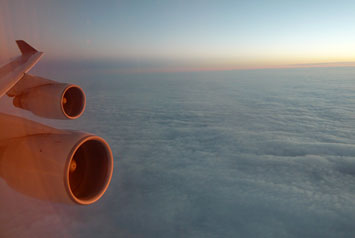 The sun starts to set as the flight approaches Europe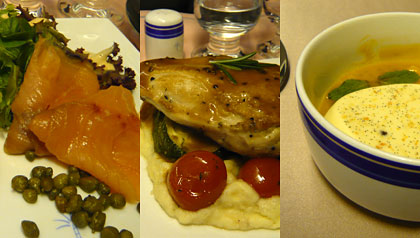 Dinner menu: smoke salmon salad, pan-fried chicken, pudding

After arriving at Heathrow airport, I decided to save some money for the company, be adventurous, and took the Heathrow Express train to Paddington station and transfer to a Tube underground train to Charing Cross station. So when I popped out of the station overlooking Trafalgar Square, I was totally lost. Gabriel said the station itself is where the hotel is... damn!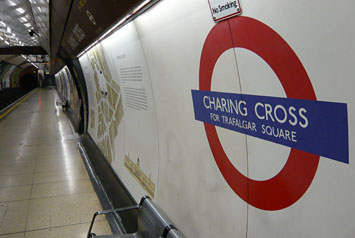 Arriving at Charing Cross station after about 45 minutes

Thankfully I pulled out the map and was able to get my bearings after about 10 minutes shuffling to and fro across traffic lights. It ain't that easy to locate the right road, especially at Trafalgar Square, where there are 5 roads at that junction!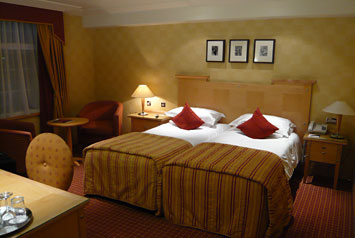 At last, my room at Charing Cross Thistle/Guoman Hotel

Took a short walk around River Thames, visiting the London Eye and Big Ben. It was already pitch black, windy and cold. Got back close to 11pm and called it a day.


Saturday, 23 February 2008 - Singapore Airshow 2008!
The Singapore Airshow is finally kicking off its first show!

Previously known as Asian Aerospace, Reed Exhibition took the event to Hong Kong after "falling out" with Singapore. Well, if they think that Singapore won't be able to host a good airshow without them, they are soooo wrong! With the government full support, the organisers actually built a whole new spanking playground, air traffic tower, roads (doubling up as taxi runway) and the Changi Exhibition Centre just for the show!

Being a regular visitor to all the past airshows, this was a must-attend event for me, especially since its the first! I dragged Lydia out of the bed at 9am (couldn't get her up at 7am...), figured that taking the public bus from Pasir Ris would be a nightmare and so got my parents to come along also and bought the family package for $100, which gives us the the right (car park label for $20) to park at the venue itself.

We arrived at the "road entrance" about 11plus and soon got caught up in the traffic jam on the newly built 6-lane road leading to the Changi Exhibition Centre. The new surrounding took our mind off the jam as we slowly inched along Aviation Park Road.

The 2000-lots car park was thankfully very huge and finding a parking was not a problem. But then, we gotto queue again to get in. Strangely, after the long queue to get past the security screening, there wasn't any ticket check whatsoever and we're in! Very strange, haha!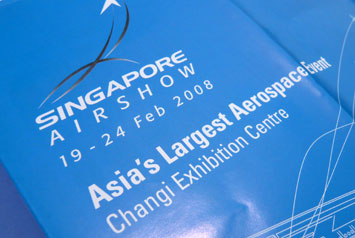 The inaugural Singapore Airshow'08

The new venue is very spacious and nice! With the airshow starting soon at 12.15pm, we quickly found a good spot (tip: dun seat at the designated viewing area) on its huge open tarmac that runs parallel to the sea, separated by single railing. This is certainly a 100 times better than the old venue where getting a decent viewing line of sight was a feat by itself!

The RSAF Black Knights was the curtains opener act, flying in tight formation and performing hair-raising stunts to wow the crowd. As I watched the F-16s flew by with the reverberating roar of the afterburners, I wondered how things would have been different if I was given some guidance when I was young, to achieve my dream of being a pilot...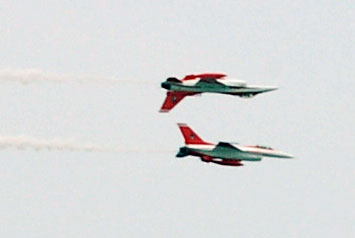 The Black Knight performing its inverted stunt - Dad's camera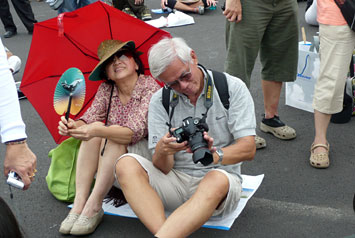 My beloved parents. Lydia wouldn't let me take my dad's D50!

At the end of the 1hr 15 min flying display, other acts included the US Navy aircraft carrier favorite F-18 Hornet, the amazing lumbering gravity-defying A380 jumbo plane, and the single propellor RAAF Roulettes. With my puny, compact and convenient 28mm wide-angle Panasonic Lumix FX30, it was impossible to get close-frame shots with its 3x optical zoom. I wanted so much to take my dad's Nikon D50 and shoot some awesome shots with its 300mm zoom lens but Lydia said not to disturb my dad and let him take his photos. Boo hoo hoo!

Alright, next up is the static display! I couldn't believe it when I entered the static display area and found that we could actually get up close and personal with the planes! Without those pesky gate barricades that keeps you 5 metres away! This is so cool, man!!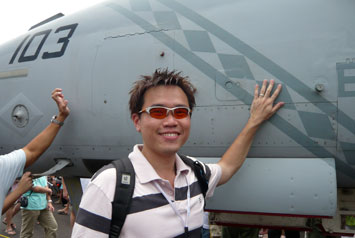 I'm actually touching the F-18 Hornet! Woohoo!!

Over the next 1 1/2 hour or so, we explored and took photos with the F-15 Eagle, F-16 Falcon, F-18 Hornet, the magnicient B-1B bomber, and the A380. Oh boy, it was like being let loose in Aircraft Disneyland, haha!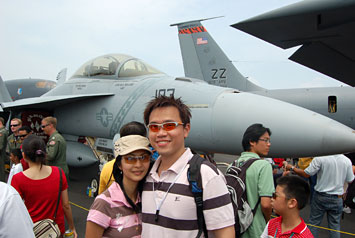 Couple photo with the F-18 Hornet in the background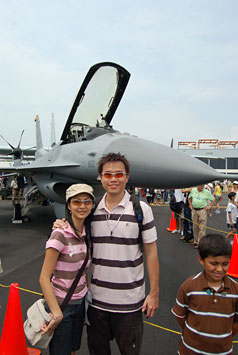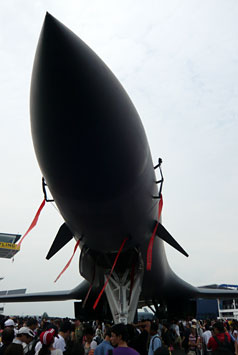 With the F16 Eagle at the back The awesome B-1B bomber.. what a sight!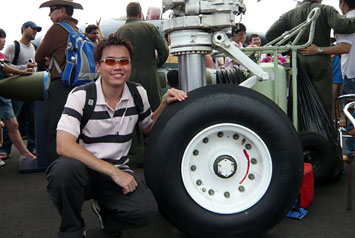 My hand on the front wheel of the B-1B bomber!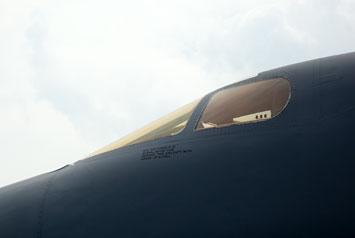 If you're willing to queue, they let you climb up the plane!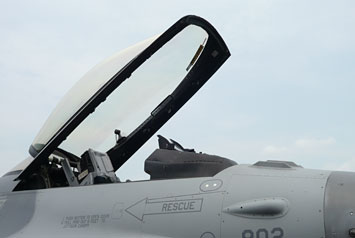 The cockpit of the F-16 Eagle beckons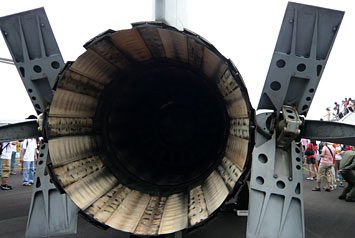 Up the rear of the F-16!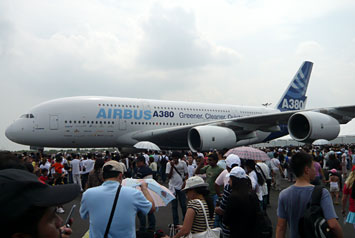 Everyone crowded round the A380 after it taxi'd in

We headed for the exhibition halls after being out in the sun for like 3 hours!! The air-con was great, but can't say that about the exhibition. It was mostly deserted since it is no longer a trade day. We quickly breezed through the halls, picked up a souvenir pin and headed for the exit.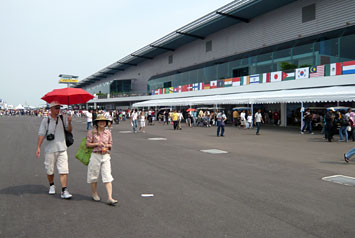 Farewell to the airshow!

There was a big crowd heading out also! We gotto queue again to exit! Wah, gotto queue to enter, and also must queue to exit! But thankfully we drove, cos the queues for the buses and taxis were crazy!!

Overall, it was a really good show. The flying display was nice. Could do with more military planes on show, but still nice. The static display was fantastic! It's been a memorable experience being able to touch the planes. The venue itself was very spacious. The minus points were having a single entry lane for the public car park, and the long queue in and out.

Look forward to the event in 2 years time!


Friday, 22 February 2008 - A Tale of Two Blurness
Tale 1:
With my petrol tank running close to empty, we headed for the Shell petrol station at Alexandra Road and turned in. The pump attendant asked me what type of petrol I wanted as I stepped out of the car. I looked at the 3 pumps and strangely, I couldn't tell whether is it 92, 95, or 98. I asked for 95 and he proceded to fill up the tank.

As I started to walk away with a puzzled look, Lydia exclaimed, "Dear, this is Caltex station leh!"

D'oh!! No wonder why the pumps looked very strange!


Tale 2:
After driving into Caltex station by accident (meant to drive into Shell which was just next door, haha) and filling up, we headed home. As I drove up the multi-storey carpark, mysteriously, somehow, I exited at level 1 instead of level 2 where we always park. :P


Super blur today leh, me... Scary, haha!

But you know what's the super duper ironic thing? Today I got my salary increment and performance bonus from Shell. And the first thing I do is pump at the rival company, hahaha! :P


Saturday, 16 February 2008 - Friend's Friend's Friend's Singles Party!
Corrine invited us to bring our single friends to her friend's friend's singles party! Wah! Very deep level leh, haha! The aim of the party is to gather all fun-loving single friends and give them the opportunity to know each other.

Andrew & Eric were very sporty to go to the party, together with Lydia & me (we gotto intro them mah). We weren't sure what to expect since we don't even know the host at all. Still, with 2 bottles of red wine and banana chocolate strudel in hand, we made our way to Palmwoods condo about 8pm.

Surprise, surprise! There was a large crowd of guys! I thought Corrine said shortage of guys? Haha! Anyways! We went round introducing ourselves. By some coincidence, Corrine's friend, Jieying, was from Hall 9 too and recognised me as the Hall photographer. And one of the guys at the party turned out to be Shien Yang, my PoliceNS squadmate! Wow, small world!

The place was small but there was a nice variety of food and the ambience was soft and nice, illuminated by the candles. There were about 30 people in total with a pretty balanced male-female ratio. Lydia & me, and George & Corrine were the only married couple there, heehee! We of course had to excuse ourselves from the games. Some guys tried to chat Lydia up even, heehee! Me? Haha.... :P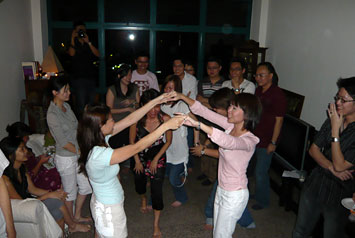 London bridge with the ladies touch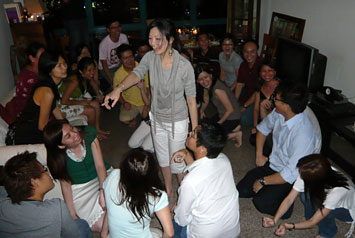 "I want you!" - Haha, no lah, just kidding. That's Corrine. :)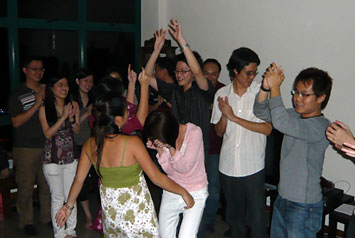 Dancing and having fun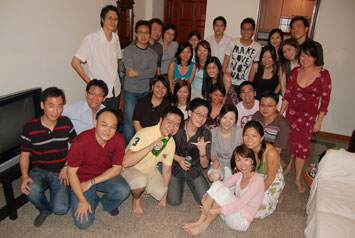 Group photo of all the guys and gals, minus Andrew & George!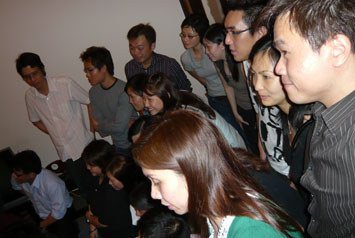 Group photo from my camera angle

We finally left the party close to 1am! I certainly hope my friends had enjoyed the party and made new friends. And hopefully, it is the beginning of something! :D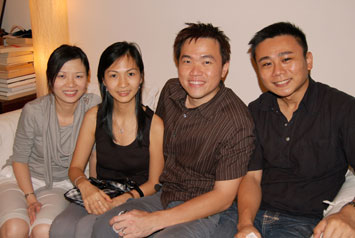 Like these two lovely couples.. :)


Thursday, 14 February 2008 - Happy Valentine's Day!
At the stroke of midnight, Lydia sprung me a surprise. She wished me a happy valentine's day and passed me a card! We never celebrate valentine's day at midnight one leh, haha!

It was a sweet and meaningful card, describing how she still loves me and thank God for me, even though I'm horrible, smelly, lazy.... hey!

What's her present for me? A cutout photo of a Mitsubishi lancer windscreen with bold stickers streaking across the top of the windscreen. She is giving me permission to decorate the car, heehee! But only the windscreen?? Well, the present may seem small, but in actual fact, for her to allow me to do up the exterior of the car is a signficant step. It's aesthetic and sporty to me, but to her, it's Ah Beng... not pro-family kinda thing! :P

For her present, I got her a Tiffany necklace. It was meant to be a surprise as I had bought it secretly. But unfortunately, she had accidentally discovered I was up to something while checking my unbilled credit card expenses online few days back. An unbilled payment at Tiffany, haha. It won't take any girl, much less my wife, to guess what's in store for her. :)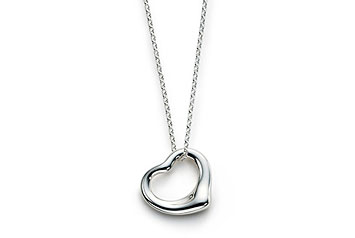 The Tiffany Elsa Peretti Open Heart pendant

To celebrate the day, we had dinner at Han Ka Ram Korean restaurant on the 5th floor of Heeren. It was like the only decent place that I know of with a decent price, not those $88++/pax cut-throat restaurant which would normally charge half that price on any other day. Of course, we could have skipped the meal and trouble of eating out on valentine's day, but I just like the dining atmosphere on this special day, and seeing all the couples out there and the young guys trying to impress the young girls with flowers and such... At my age and marital status, it's fun to sit back and watch, haha! :D

Anyway! We shared a whole pot of ginseng chicken, assorted side dishes, spicy chicken and the delicious BBQ beef eaten Korean-style with vegetable, chilli paste and a generous dose of garlic! Nice and very filling!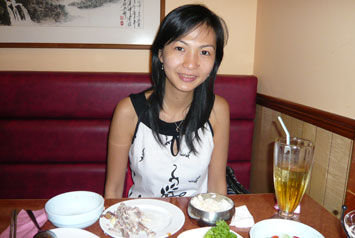 Finished eating then remembered to take photo! :P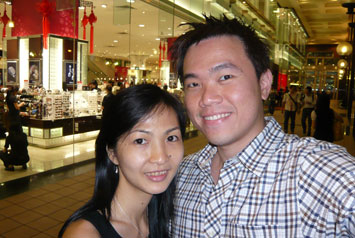 Couple photo! Later people think we still dating, haha!

Happy Valentine's Day everyone!

To all dating couples, cherish what you have with your partner, don't break anyone's heart.
To all married couples, let's all agree that buying flowers is a waste of money! And be faithful!
To all the single guys and girls, someone special is out there. Whether you find him or her or not, enjoy your singlehood!


Wednesday, 13 February 2008 - Yu Sheng CNY Dinner
My mum's side always gathered to meet up for a yu sheng dinner within the 15 days chinese new year. This year, we had it at Pearl River Palace @ Suntec City.

Uncle Nick & family, Zi yi & family and our family were there. As we did the yu sheng, I realise that this is the 6th time I'm doing it! 1st with my parents, 2nd at uncle Nick's, 3rd at George & Corrine's home, 4th & 5th with my company at TungLok & Lei Gardens!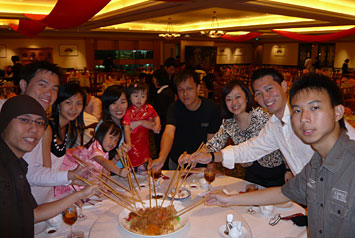 Yu sheng with our cousins & nieces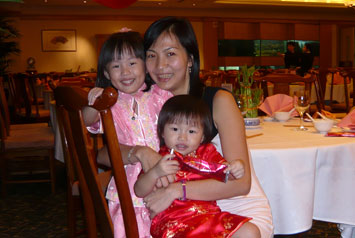 The sweetie with the sweeties Vannis & Kenzie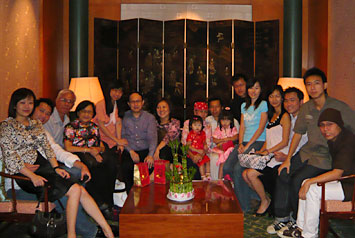 Group photo after the dinner


Saturday, 9 February 2008 - A Visit to George & Corrine's Home
We went to George & Corrine's home @ Jurong West in the early afternoon. This couple are two really nice people we got to know from our Europe honeymoon trip! Holy and Weiling were there too, also our tour mates!

The hosts have prepared a nice spread of food, from curry chicken to grilled prawns and a special vegetable dish to red wine! We brought along Lydia's specially marinated pork and chicken too. And there was the yu sheng as well.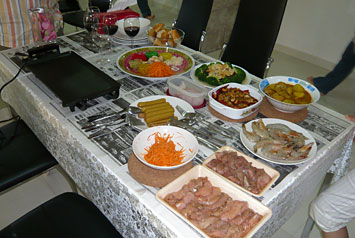 Can't wait to tuck in!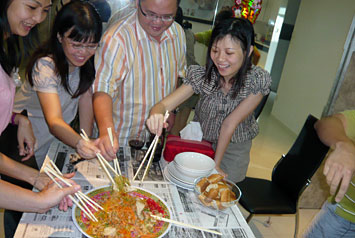 Anyone wanna zao shen gui zi? Heehee!

After lunch, we started playing some games. From a rather interesting "whacking" game to cup in a cup's sabo game! Loser who sunk the cup gotto drink yucky drink mixes, from an array of drinks like red wine, milo, jolly shandy, F&N orange and coke!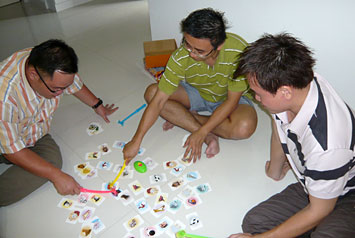 Ready... get set.... whack!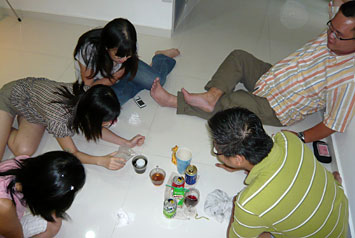 A steady hand is a must!

We finally left the place about 5 plus. Had fun chit chatting with them, and playing multiplayer Halo on Xbox with George!


Friday, 8 February 2008 - On The 2nd Day of CNY...
On the 2nd day of the new year, the first visit is to Tua Yi's home at Hougang. It's great to see the other uncles, aunties, cousins, and nephew and nieces there too!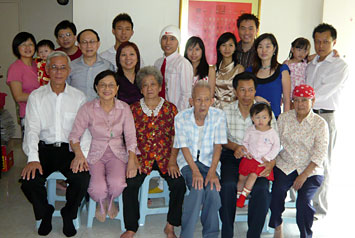 Family group photo at CNY2008

Once we're done with eating and chit chats, we got started with the yearly traditional card games.
Small small only lah! :D

Next stop was at my parents' home together with the others. We stopped by KFC to ta pao lunch for them.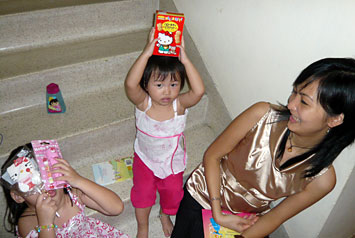 Lydia entertaining Vannis & Kenzie with their Hello Kitty presents

We proceed to Zi Yi's home at Admiralty next and continued with the card games. The first round of In Between was off to a great start! Starting with a pool of 20 cents contribution from each player, it snowballed to almost $90!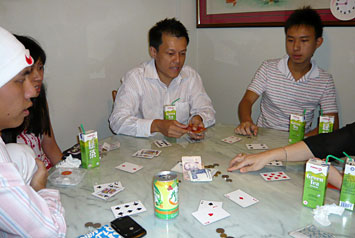 Training for the coming Integrated Resorts at Sentosa...

The final stop was at Uncle Nick's home for dinner. We had a very nice feast, plus more InBetween (lost about $20 today!), and most importantly of all, had a great time catching up with all of them again!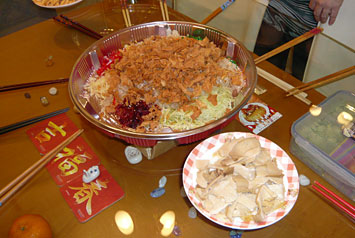 Yu sheng with abalone!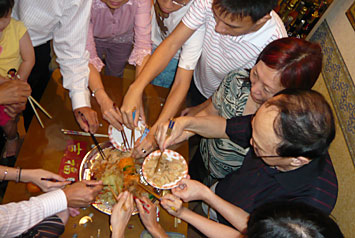 Digging in! Chinese idioms time!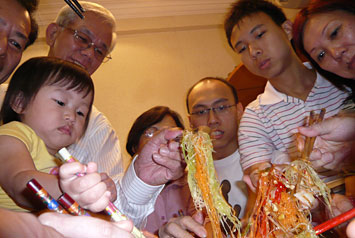 Everyone, including Kenzie doing the Lo hei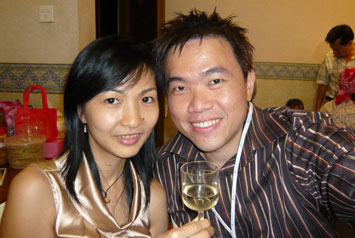 Chilling with a glass of honey wine at the end of the dinner


Thursday, 7 February 2008 - Happy Lunar New Year!
Happy New Year! Ang pao to dish out again!

We went to visit my parents in the morning. Ah ma stayed over last night, so we paid our respect to her as well. No idea how to say happy new year or gong xi fa cai in hokkien, so just passed her two big oranges, an ang pao and smile!

2nd uncle and family dropped by later, together with a container of yummy pistachio nuts.

And that was it! The rest of the day was spent waiting... watching TV, resting on an OSIM massage chair, idling...

Gotto be the quietest 1st day ever. On the bright side, only gave out 5 ang paos, including 2 for parents and 1 for Ah ma. :)


Wednesday, 6 February 2008 - Chinese New Year Eve
Half day today! Yeah!!

Chinese New Year is the only time in Singapore where shops are closed and the whole place becomes deserted. As I took the bus home, most of the coffeeshops which are usually buzzing with lunch-time crowd were closed. It's holiday time! :)

After doing some last minute spring cleaning, we went to my parents place before going to Pizza Hut @ United Square for dinner with my parents and Ah ma. United Square was ghostly quiet, haha. Never seen McDonalds' so empty either!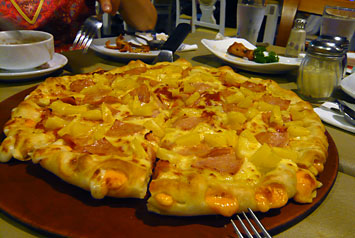 A large Hawaiian cheesy lava stuffed crust pizza! Sweet!!

Well, we had an early reunion dinner last Saturday, so this was just a family gathering on the eve of Chinese New Year.

We got back home around 10pm and got ready for the CNY countdown at home. As part of the family tradition, countdown is always done at home, eating bird nest and preparing ang paos. To signify abundance? :)



A bowl full of yummy bird nest!

Oh, and staying up as late as possible past midnight to "signify" long life for our parents too!

We slept past 3am! Zzzz!!


Tuesday, 5 February 2008 - Hey Diddle Diddle...
Hey diddle diddle,
The cat and the fiddle.
The cow jumped over the moon,
The little dog laughed to see such sport,
And the dish ran away with the spoon.

I dunno why, but the nursery rhyme popped into my head when I discovered dusty cat paws on the hood of my car! The clearly distinctive cat paws were on the centre of the hood, and a trail of them then lead to the front of the hood and a final one on the Mitsubishi logo at the front.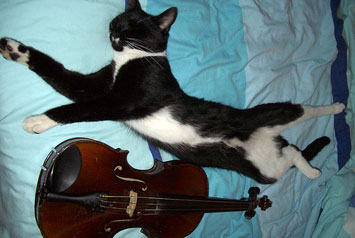 Was it a mischevious cat like this? Photo courtesy of Flickr

Was amused and at the same time a bit worried about scratches. I don't remember seeing any cat at the multi-story carpark. Except for one which I had flashed the high beam headlights at to tell him I'm passing through.

Hmm....


Monday, 4 February 2008 - I Owe You Not
You can call it chinese tradition, superstitious or "pang tang", but I've always been told that one should not owe someone anything before the start of the Chinese New Year. Thankfully, I don't owe anyone any money. But got 2 seasons of 24 to return to Victor, and a game CD to return to Jason. With CNY only days away, better settle it today!

After work, drove down to my parent's home to offload the game CD. We ended up having dinner at the coffeeshop with my parents. My mum was also trying to bake those lunar new year "giant" cake. First one was successful after she uttered a prayer moments before opening the lid. Second one was a failure.. it didn't rise. So for the third one, she gathered all of us and said a prayer before hurrying to the kitchen to check on her cake. Curiosity got the better of Lydia, and she went off to check as well.

Thankfully both of them returned smiling. :)

Victor Ng! This dude stays in... Tampines!! Sadly, he ain't heading to town today or tomorrow. Groan... No choice, drove all the way to Tampines to return the DVDs to him. My parents came along too for a joy ride and car chit-chat. :)


Sunday, 3 February 2008 - Trip to the Flower Nursery
We dropped by my parents place for breakfast, with the intention of going to church. But my mum wanted to bring Ah ma to look at the CNY flowers at the nursery. Once a year trip... versus a weekly trip to church... hmm... in the end we decided to accompany Ah ma to the nursery. :P

There was a big crowd already at FarEastFlora, with cars jammed all the way from the entrance. It was nice to bring Ah ma out and let her admire the greenery and flowers. My mum bought a small pot of orange lime plant.

We still did go to church though! Cos today am on duty to count tithes! First time counting! I told them I got no experience in accounting or economics (am an engineer mah!), but still kena roped in. Ok lor, do something more for the church.


Saturday, 2 February 2008 - CNY Spring Cleaning & Reunion Dinner
On a normal Saturday, we'd be waking up close to 12 noon. But today, we were up at 10am and soon got down to cleaning up the whole house, from windows, toilets, kitchen walls, right out to the window ledge outside the flat!

Oh man, the windows and window ledge outside the flat were totally filthy, especially the ones directly under the common corridor light. The amount of dead insects and grim were unbelievable. I had to brush off an abandoned wasps' sand nest as well!

But by 4pm, the whole place was spick and span! Exhausted!!

We left at 6plus for FarEastFlora @ Thomson Road to get two CNY potted plants for my parents. Since bak kua is so expensive now, potted plants make a good buy! :)

It's early reunion dinner at my parents home today, cos Jason and Fenny will be in Jakarta this year. Ah ma was here also. The dinner started off with yu sheng (from Meidiya. Interesting!), followed by steamboat dinner. My mum surely prepared a lot of food! Pork, chicken, meatball, wagyu beef, black pig pork belly beef, and some Japanese beef that cost $249/kg (we had 100g!)!! Add to that a can of abalone too, and it was quite a feast!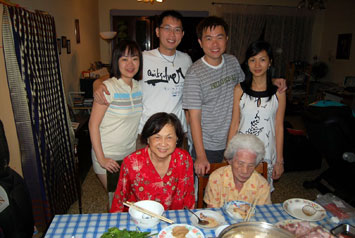 Tuesday, 29 January 2008 - Trigun: Vash the Stampede
I've always wondered what this anime was all about. This cool-looking gunman in a red trenchcoat packing a huge revolver.

So I promptly finished watching 26 episodes in like 3 days. :D Now I can proudly say that I know what the story is about.

Quote:
Vash the Stampede is a gunman on the run with a 60 billion bounty on his head, which made it difficult for him to go anywhere without being chased and shot at. Every town he ever visits ends up being destroyed because of his pursuers, but miraculously no one ever gets killed. Meryl and Milly are two insurance agents that have been sent to find Vash the Stampede and keep him under surveillance so no more damage is caused. Meryl, who leads the pair, refuses to believe that the man they have met can possibly be the legendary gunman.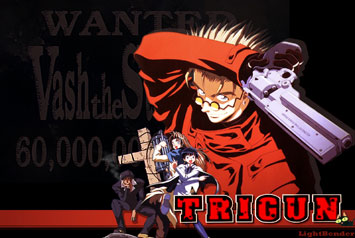 This spikey haired, gangly, young man is extremely friendly, a pacifist, hates blood and suicide, absolutely loves donuts, and is a dork and a crybaby (far from aa notorious outlaw). But there is more to Vash and his past than meets the eye.

Throughout his travels, Vash the Stampede tries to save lives using non-lethal force. He is occasionally joined by a priest, Nicholas D. Wolfwood, who is an excellent gunfighter, and is later targeted by a band of assassins, the Gung-Ho Guns.

Check out the character guides and episode description for Trigun here!


Sunday, 27 January 2008 - Let's Get Wet!
3 weeks haven't wash the car!!

Oh man, it was really dirty! After church, had lunch with my mum before heading to their house to wash the car. As usual, I'm totally drenched from all the spray and washes. And what better idea to shower off than to go for a swim!

So we headed over to Uncle Nick's condo together with my parents. And you know what? 5 minute into the drive, it started raining heavily! Oh man!!

Not to be deterred, we still continued the journey. It was still drizzling a little and we decided to check out the indoor furo bath first. Hot and cosy! But after soaking for 15 minutes or so, I was dying to get out there into the cold swimming pool and get some fresh air.

Thankfully the rain stopped! We swam 10 laps of the pool, had a friendly swimming competition with my dad before unwinding in the jacuzzi. Dinner was with Uncle Nick and family at Killiney Kopitiam at Bukit Timah.

Man, swimming is a great form of exercise, and especially beneficial to recuperate from "injuries". My knee and foot felt so much better after the swim!

Can go play futsal game ya! :D


Saturday, 26 January 2008 - Hendra & Lydia's Wedding
Hendra, my ex-colleague from Tetra Pak, is getting married today! He had a role in my first job at Tetra Pak, even though I didn't know him yet. Hendra had recommended Andrew (aka Birdman) for the database project, and Andrew in turn recommended me.

Hendra and Lydia were actually from NTU Hall 9 too! And now 6 1/2 years down the road, they are finally getting married @ Conrad Hotel. :)

It was very nice and exciting to see my ex-colleagues again, especially Servicedesk! There were like 4 tables of people from GIM. It's been about 4 months since I left. Seeing them surely brought back some fond memories of Tetra Pak again.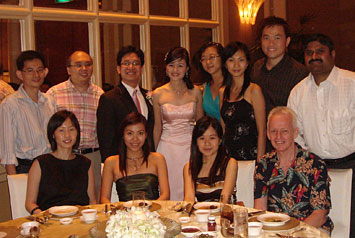 Our table photo with the wedding couple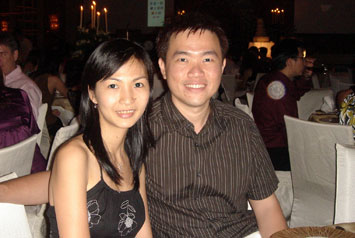 Our standard couple photo at every wedding, heehee


Friday, 25 January 2008 - A Dilbert's Life Again
After 3 weeks of reservist, it is back to the office again... Until next time, my faithful DVD player, the lovely sea breeze, the majestic eagles soaring overhead, and of course, the men from xxx NPP.

My colleagues thought I was coming in next Monday! My monitor, keyboard and network cable was disconnected and the mouse was missing too. Dang, I should have come in next week instead, haha! Anyway, it was nice to see familiar faces again.

So long, Corporal Teo!


Thursday, 24 January 2008 - Dinner with Soo Kee and Michelle
Uncle Soo Kee was really nice to give up his badminton to come out for dinner with us. We must really mean something for him to do that. *sniff* :P

We met up with him and Michelle at The Central and had dinner at Marutama Ramen. It's a cosy Japanese ramen restaurant with a highly limited range of ramen (3 types only actually), but we totally dig the Aka ramen, a special broth of 5 types of nuts. We also ordered the stewed pork, which was very nice, and the char siew, which was wow, totally mind-blowing! Now I know why people always order the char siew! Must try again next time!

Was fun chit chatting with them over dinner and we proceed to Redhill food centre afterwards for the popular Mickey Mouse dessert stall for cheng teng.


Saturday, 19 January 2008 - 24
No thanks to Victor, I'm hooked on 24 again! I've finished Season 1 and 4, heehee. Season 2 & 3, I've caught it on TV previously.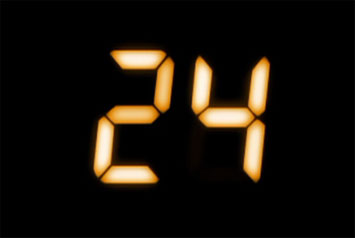 24 is a high-adrenaline. non-stop action series revolving around Jack Bauer from the Counter Terrorist Unit. Each episode runs an hour in real-time. In 24 hours (24 episodes), the heroes race against the clock to stop the bad guys. This is one series that will have you hooked and deeply immensed in the plot, filling you with an incredible urge to load the next episode or the cliff-hanger suspense will kill you if you choose to wait.

What are you going to do?

Me, I'm just about to load Season 5 disc one. Tick tock tick tock....


Tuesday, 15 January 2008 - Just The Two of Us
As it was my off day today, Josephine and I went to meet Lydia for lunch, together with Sok Fung and Jack. Lunch was at Dome @ Demsey Park. First time here actually, heehee. The place is big and nice. Pretty interesting. Sok Fung said that there ain't no street lights here at night and parking can be tricky when when it is very dark. Hmm, the army should have left behind some night googles, haha.

Josephine flew back to Padang this evening. The road to Budget Terminal has changed. From the old route of making at U-turn at the right side of the expressway, it has now moved to entering the slip road on the left side and going over the bridge. Thankfully I noticed this while on the way to T3 yesterday. Otherwise, I think most people will go by past experience and stick to the right. They should have put up a big signage about the change. Tsk tsk...


Sunday, 13 January 2008 - In Awed by T3 & Jumbo
Josephine is returning today from Sydney! Imagine our delight when we found out that her SQ flight will be touching down at Chang Airport Terminal 3! Perfect opportunity to check out the new terminal which had just opened. Yeah!

And oh boy, it certainly had us in awed and admiration. The terminal was really nice and classy. We spent about an hour touring the massive complex, admiring the design and exploring the shops.

In the evening, we went for dinner at Jumbo @ Waterfront, together with my parents. Jumbo was having a $50 discount for minimum of $150 spent. It has been a long time since we had Sri Lanka crabs at Jumbo and it was still as good! Chilli crab... black pepper crab... solid!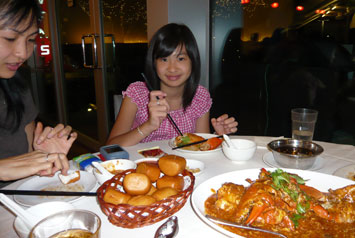 Makes me hungry looking at it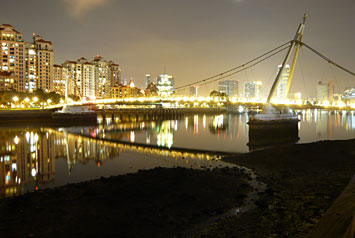 An after-dinner stroll by the waterfront overlooking Tanjong Rhu


Saturday, 12 January 2008 - Balls & Durians
After finishing my 12-hour shift today and catching a brief rest at home, we went out to meet up with Soo Kee for durians. But firstly, we ended up at Jalan Berseh playing billiards with him, Terence and Michelle. Michelle's the "famous" 6-weeks girl, heehee.

After a few fun rounds of billiards where Soo Kee showed us his excellent balls and stick skills, we headed to Geylang for durians! Yummy! The five of us shared 3 $10 durians, which were creamy and bitter. Just the way I like it! Hmm!!!

There were some interestin' and happenin' moments today too, which had me and Lydia in stitches, haha! But our lips shall remain sealed at the moment. Zip! :D


Thursday, 10 January 2008 - Transformers G1
While checking my old emails, I saw a Toys R Us mailer. While viewing the mailer, I saw a picture of my favorite Transformers toy, Starscream. One click led to another and I was at the Hasbro Transformers official site!

Did you know? The first Transformers (Generation 1) began in 1984. That was my childhood era, heehee! I've still got a crade of those toys in my parent's home. Maybe I'll bring them over to my new flat and display them beside my Lego. :D



Starscream! Die, Autobots!

Check out the history of Transformers toys at Hasbro Transformers website.
Miss out on the very first cartoon series? You can find many at YouTube.
And check out the classic theme song too!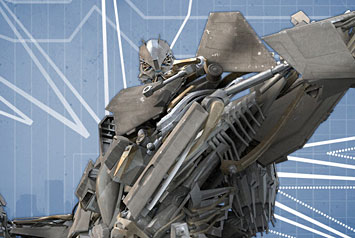 My goodness! What happened to Starscream in the Movie??


Tuesday, 8 January 2008 - Added Photos to Our Story
Added some photos to "Our Story: How We Met" to spice up the article. :)

If you haven't read about how we met and how Lydia showed that she liked me first, check it out here :P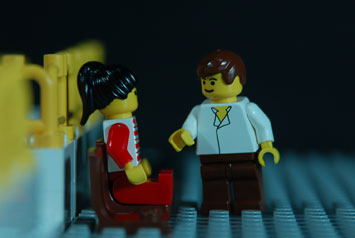 Asking her hand for the slow dance...

And if you haven't check out the 1:30min Lego re-enactment of how we met video (7min, including others), check it out here too!

Enjoy!


Monday, 7 January 2008 - Reservist Day 1
Today's my first day of reservist, reporting at Bedok Police HQ. Been here like 20 times already, it was nice to see the familiar buildings, surroundings and especially the regular reservist guys! Reservist will be boring and lonely without them!


Sunday, 6 January 2008 - Park for Free at VivoCity
Well, almost free, depending on how much you spend. Every $50 spent will earn you $1 worth of free parking.

We went down to collect the VivoCity membership card today, and at the same time went for late lunch and grocery shopping. Total expenditure was slightly past $100. Interestingly, I was credited with $2.xx worth of free parking. When we drove out, the amount was automatically deducted from the parking fee.

Cool! More reasons to go VivoCity for Lydia perhaps!


Saturday, 5 January 2008 - Did You Cut Your Hair?
No.. the hair just dropped off by itself.

No, actually we had a haircut today. But isn't it funny that whenever someone's got a new haircut, someone will ask "Did you cut your hair?". I mean, duh... the hair molecules didn't just disintegrate by itself, you know.

I've gotten a short haircut cos reservist is starting next week. My wife... I guess she figured getting a younger-looking haircut is great and decided to pick a new "little girl" hairstyle from a Japanese female magazine full of pages of different hairstyles.

Her new hairstyle will probably confuse our inline skating instructors more, who can't figure out if the handsome guy she's with is her boyfriend or husband. *ahem*

We had our skating lessons today after a huge layoff and it took a while to get up to speed. Learnt a bit more today, like cornering and pushing off. My dear wife continues to learn the art of skating with a tad more speed than a tortoise without its shell.

At least she's moving now. :)


Tuesday, 1 January 2008 - Happy New Year!
Happy New Year! 2008 already!!!

The morning of the new year was spent in slumberland, waking up only past 12 noon. To kick off the new year, we indulged in our favorite activity at home..... Lydia watched her Korean dramas while I played computer game! Haha!!

By evening, we decided not to start the new year lazing at home and went to Marche @ Vivocity for dinner. The food at Marche has surprisingly changed a lot from what we used to have at Suntec & Hereen. The rosti was more oily and less fried, the ham and cheese crepe now have veges thrown in and pizza-like sauce, and our favorite banana caramel waffle ice cream became banana crepe ice cream. It's quite disappointing, but we gingerly ate and celebrated our first dinner in 2008 together.

Here's a quick roundup of 2007. What were the highlights of 2007?

1) January: A fabulous and snowy vacation in Hokkaido! Our first snow encounter!
2) March: My first freelance website project.
3) March: Our waltz and tango dance lessons. A 1.. 2.. 3..!
4) June: Our first rocking climbing experience! Yeah!
5) August (25): First private boat trip outing!
6) September: Lydia bid farewell to Wincor Nixdorf
7) September: My farewell to Tetra Pak, 6 years in my 1st job!
8) October: Our first car! The Mitsubishi Lancer sports!
9) November: Our first time horse riding! In Johor Bahru!
10) November: Last church service at Moulmein Rise

New Year Resolutions? Hmm....

1) Do well in my new career
2) Bring my weight down below 80kg
3) Take up some courses, try to pass another MCSE module!
4) Read the whole Bible (!!)
5) Procastinate less!