Entries by Joel


Sticky: Please sign the guestbook so that we know you've been here! We'd love to hear from u!


Monday, 31 December 2007 - New Year's Eve Countdown
Half day today too! Yeah!!

Got home, cleaned up the house, played a bit of HALO before picking up Lydia from her office.

What's the plan for the evening? Dunno, haha! Soo Kee and friends have got a karaoke party at Chinatown for the countdown. But we really, totally, ain't keen at karaoke at all, sorry. My JC friends may be planning a countdown as well, provided Panjanin is good to go.

Left in limbo, we decided to go for bak kut teh dinner at Alexandra first. And would you believe it, the 3 stalls that sell our favorite, must-drink avocardo juice, all closed! Th bak kut teh was solid, but it still feels incomplete without the avocardo juice...

We decided to watch movies at home! Went to Tiong Bahru Golden Village to "ta pao" popcorn, heehee! And it was lights-out, popcorn in hand, as we sat on the tiled floor in the living room and watched "Just My Luck".

Three-quarters into the comedy movie, we have to cut short our cosy moment and head out. My JC friends are all their way to Cosy Bay @ Tanjong Rhu for the countdown. We picked up Louis at Commonwealth, only to drop him off later at Kallang after realising he holds the only set of house keys for his returning parents.

First time at Cosy Bay. It's a simple, no frills place, but was still crowded. Forbidden to drink and drive, I could only share a bottle of passion fruit with Lydia, while the rest downed mugs of beer. Nonetheless, it was fun meeting up with them and chatting and laughing. The absence of loud music made conversation so much easier!

Here's the roll call! Kian Pang, Phat(?), Panjanin, Por(?), Boon Teck, Novita, Andrew & friend, Eric, Boon Chong, Lydia and me!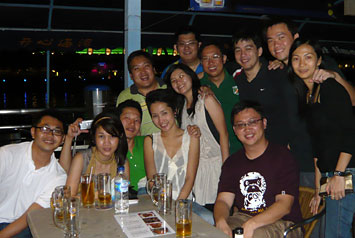 The countdown party gang

5.. 4.. 3.. 2.. 1.. Happy New Year!!

We looked in anticipation at the direction of Suntec City for the fireworks at Marina Bay. Instead we only saw the outline of a colorful sky against a row of condominiums! Cannot see the fireworks! Groan!!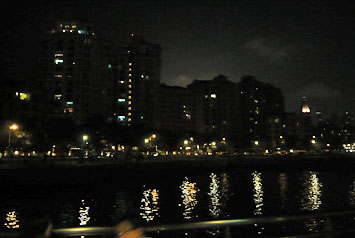 Fireworks blocked by these darned condos at Tanjong Rhu

It's a little strange without the fireworks and the new year music (beats me why the pub was playing Christmas music!), but we still stayed and chit chat till 1 plus.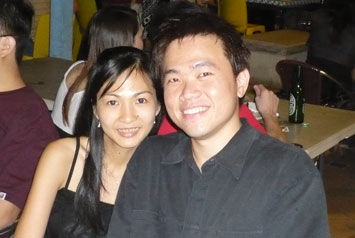 Some guys have a beautiful wife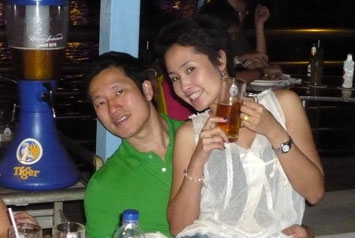 Some guys have a wife with beer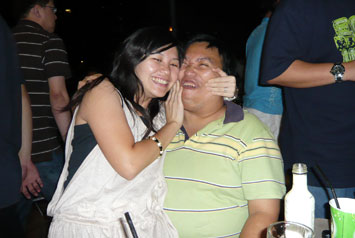 Some guys have all the fun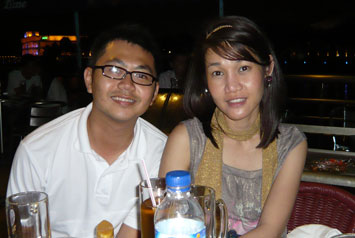 Some guys have all the luck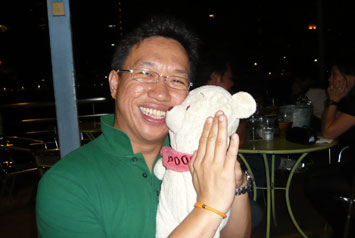 Some guys only have a teddy bear

Happy New Year everyone!!!


Saturday, 29 December 2007 - Adeline & Adrian's Wedding
Congratulations to Adeline and Adrian! Adeline's Lydia's NTU coursemate, and also was our bridesmaid at our wedding.

We were up early in the morning and at the church wedding ceremony at Church of Our Lady of Perpetual Succour. First time attending a Catholic wedding ceremony and it was an interesting eye-opener. The procession was uniquely different, and throw in the colourful robes of the Priest and the Altar Boys, it was fascinating to me. :)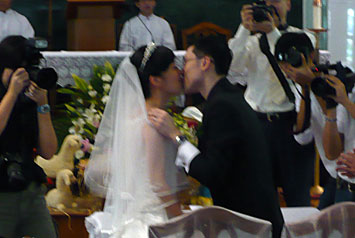 And now... you may kiss the bride...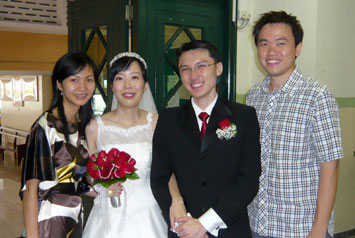 Photo with the married couple after the ceremony

After a brief rest at home, we went down to Head-quarters Salon, recently opened at Raffles Hotel by our regular hairstylist Ann Ng (who has left Reds). Lydia went to get her hair styled up for the wedding while I was there to get my hair colored a shade below black. Why? Cos reservist coming up in 2nd week of January!

We went straight to Hyatt Hotel to the wedding couple's room after that at 4pm, as Lydia is the wedding coordinator, and we are also the receptionists. Never do recep for wedding before leh, so a bit concerned if all will go well.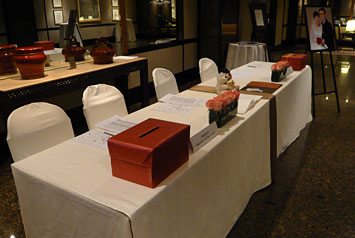 Our area of responsibility!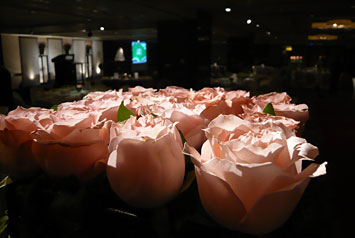 Hopefully it will be a bed of roses...

The guests started streaming in around 6.45pm. My goodness, there are people who come so early, heehee.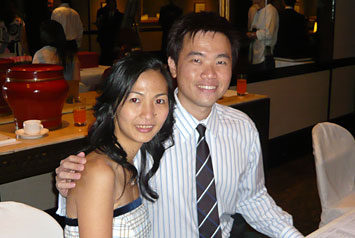 The receptionists for the groom's guests. Got the look or not? :P

Thankfully everything went well with the guests registration with just a few hiccups, and we were soon thinking about food! Where's my shark fin?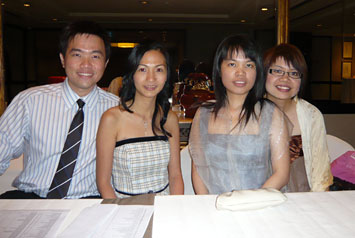 With the other two recep who are Adeline's friends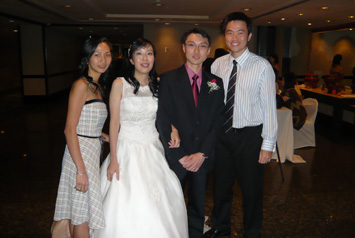 Photo with the couple just before their first march-in

Lydia was also doing a great job being the wedding coordinator: from liaising with the wedding captain, adjusting the bride's can-can to saving the groom from his saboing friends!

Overall, it has been a joy to attend Adeline and Adrian's wedding. Having to play a part in their wedding also brings back some fond memories of our wedding two years back. And of course thank you for the generous ang pao too!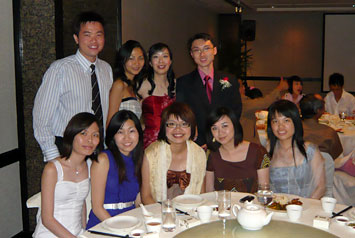 Our table photo

-----------------------------------------------------------------------

My old time JC friend from Thailand and his wife is in Singapore! Panjanin! After the wedding dinner, we went to [email protected] to meet up with them and my JC buddies. Boon Chong, Louise, Yeow Wei & wife, Andrew and Eric & Kian Pang (not JC friends, but guys make friends easily!) were there.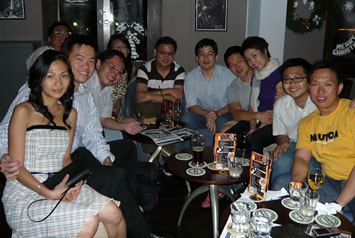 The JC gang, plus spouses and Eric & Kian Pang

It was great catching up with them again, especially with Panjanin and his wife (Por?). Wasn't really condusive for conversation with the jazz band playing right in front of us, but it was still great fun!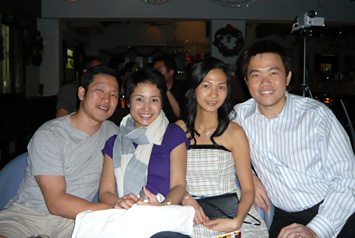 Photo with Panjanin and wife


Friday, 28 December 2007 - No Goals
Played futsal with my friends at Ubersports @ East Coast Park. Didn't score any goals though, and was in poor form today (couple of assists got lah). Too long never play lah. :P But it was still a good workout and fun!

------------------------------------------------------

And Lydia celebrated Ms Chan's birthday in advance today! She secretly got her a Swensen's ice cream cake last night and deposited it in the company's fridge over the night.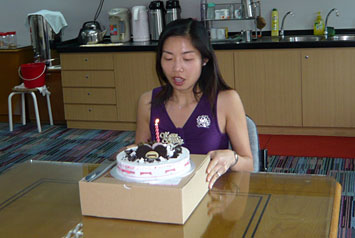 Sok Fung taking a deep breath to blow out the candle

The two of them work in the same office, are crazy over shopping and cheesecake, and have a tendency to exchange gifts among themselves, while prohibiting me from starting a gift exchange program with Jack, her hubby. Ms Chan also likes Rolex, Cartier, LV, Coach, Gucci.... very bad influence for Lydia.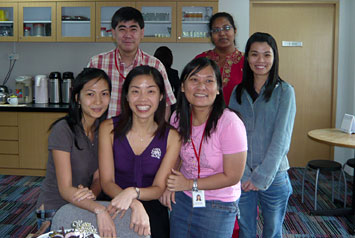 Finance department group photo


Wednesday, 26 December 2007 - Someone's Got a New Laptop
My dad is someone who will think thrice before buying something expensive, and after thinking a few more times, will usually not buy, definitely not on the very first visit.

But after his home desktop motherboard integrated network adapter failed and the harddisk started to develop bad sectors, he was very keen to buy a new laptop. And must be today!

I came across the Lenovo G400 and with the following specs and it was very good value for money at $1099:
- Intel Dual Core processor T2080 1.73GHz
- 1GB DDR2 RAM
- 120GB Hard disk
- Integrated bluetooth/network/wireless
- Dual-layer DVD writer
- Intel 950 integrated graphics
- 1 year warranty

The only minus points is the dull gray and blockish-look and the rather plastic-feeling touchpad. But a similiar specs would have cost at the very least $300 more for other brands.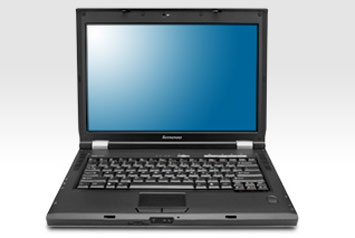 The Lenovo G400

We met up after work and checked out a few shops at Funan before going to Challenger. Why Challenger? Cos last time we were there to buy a laptop for Lydia's sister and the salesman was very nice to us with all the freebies. :)

And the dude was very nice indeed (I shan't name him, in case he might get into trouble, but if you're interested, lemme know, heehee.), throwing in the standard mouse and laptop bag, plus our special request for a number lock laptop lock (Targus somemore!) and a Logitech microphone headset!

Thanks dude for the exemplary and excellent service!


Tuesday, 25 December 2007 - Merry Christmas!!
Merry Christmas Everyone! Ho! Ho! Ho!!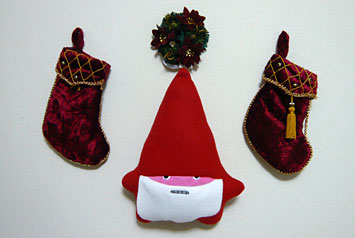 Our wall deco at home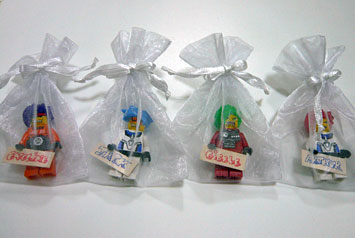 My Lego Christmas gifts to those who gave me a gift :)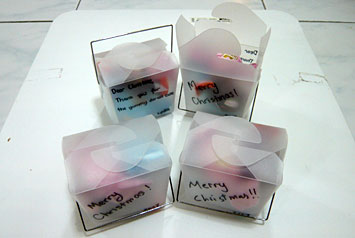 Lydia opted for chocolates-in-a-noodle-box gifts instead

As per Christmas tradition, we went to church for the morning Christmas service before going for lunch with my parents and J&F at the popular ampang yong tau foo @ Upper Thomson Road. Nice!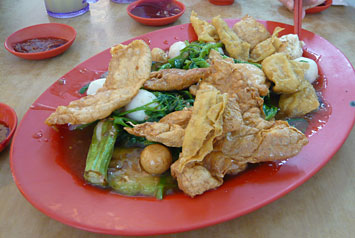 A delicious variety of yong tau foo stuffs

And then we went to Robinsons at Centrepoint for more shopping! Wah, super crowded! Queued for more than an hour to pay for the items! Singaporeans are really crazy over sales and shopping!

Wow, so fast it is already Christmas 2007. It seems like not too long ago that Chinese New Year 2007 was approaching!

Merry Christmas everyone! Forget not the true meaning of Christmas too!


Monday, 24 December 2007 - Christmas Eve!
Finally I get to enjoy half day on Christmas Eve! In my previous company, there ain't no half day on Christmas Eve or New Year Eve. Bleah!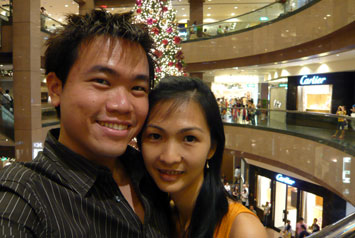 A Christmas Eve afternoon at Ngee Ann City

We had a Christmas gathering at my parents place in the evening, together with Uncle Nick and family, and KC and family. There was a nice spread of food, like ham, roast beef, sashimi, crabs and our contribution of a Swensen's ice cream logcake!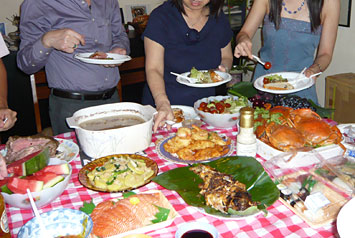 Yummy yummy!

It was really nice to meet up as a big family and chit chat with them. The two nieces Vannis and Kenzie are totally adorable!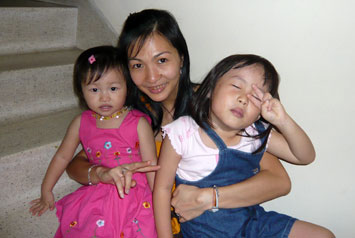 Lydia with Kenzie and Vannis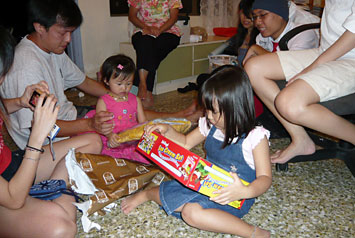 The two girls opening our presents for them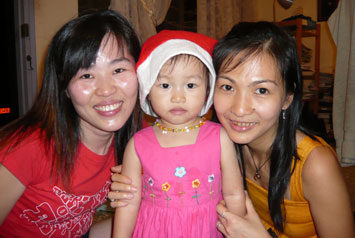 Veron, Kenzie and Lydia

Gave my parents a wallet each for Christmas. Glad that they liked it. Theirs quite "koyak" already actually, heehee.


Sunday, 23 December 2007 - I Bet You it will Rain
The past few days, if it doesn't rain in the morning, it will rain in the afternoon. Or else it will rain in the evening.

On a sunny Sunday afternoon, I was baking in the hot sun washing my car (yes, I know, shouldn't wash the car when it is hot, but bo pian...). Having dried the car completedly, including the inner areas at the doors and boot, I even applied the Autoglym Bumper Care solution to the rubber linings along the door to get rid of the strange white marks and give it a rich rubbery-look.

And that's when it started to drizzle.

What? 1 hour it was blazing hot, and now it is starting to rain... Geez. And on the way home, it was raining heavily on the CTE. The only consolation is that the car is cleaner now than before washing. OF course it would be cleaner if it didn't rain.


Saturday, 22 December 2007 - Last Minute Shopping
The last day in Singapore for them! We headed to Central for more shopping before going to Chinatown to exchange money and head back home. A few hours rest later (and chance for me to play HALO), we stopped by for Haagen Dazs ice-cream at Clark Quay, a quick stop at Central (again!) before heading to the airport.

Farewell to the two ladies! I'm glad they had really enjoyed their trip to Singapore. You've contributed really well to our economy. The two of them combined spent almost $5000! Thank you very much! Please come again!

We stopped at Plaza Singapore to do a bit of Christmas gift shopping also, heehee. Oh boy, exhausted! It's back to just the two of us in our cosy little home again... :)


Friday, 21 December 2007 - On the 3rd Day, They Rested
Well, not exactly. Lydia was on half day and took them out for more shopping. But after I met up with them after work, we had dinner at Tiong Bahru food centre before going home.

They must be tired from all the endless shopping, heehee.

-----------------------------------------------------------------------

Have started playing a new computer game actually, heehee. HALO!

Yes.. I know, HALO has been out for donkey ages and there is even HALO 2 now. But after hearing so much about Master Chief and all the fuss and raves Xboxers (sounds funny, haha!) have about HALO, I thought I should try out the PC version, and starting from the first HALO to appreciate it more.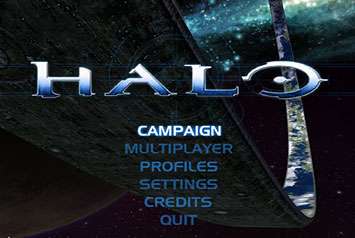 HALO.... Combat Evolved

The graphics is quite below the realism expectation, but considering that it was released sometime in 2003, I'll take it all in. Or maybe it was meant to be cartoonish-inclined?

I had to be a smart-alec and chose the hard setting, deceived by the cartoonish interface and the year the game was produced. I figured it would be a walk in the park. How wrong man! These bad guys, especially the Elites and the Hunters, totally kick ass!! It was unusual constantly having to worry about running out of ammo and having only 2 weapons at any one time. This is a new concept to me for a first-person shooter game!


Thursday, 20 December 2007 - Public Holiday Shopping
This gotto be the strangest public holiday (Hari Raya Haji) I ever had. I spent the whole holiday "shopping"! From Bugis to Takashimaya to IKEA. The ladies really shop and shop and shop non-stop...

Neither The Merlion nor The Night Safari interest them. Just shopping centres will do, thank you!



Nothing thrills them more than a shopping sale

My parents joined us for dinner at Alexandra Road, where we treated them all to hawker centre zi cha food, like BBQ stingray, sambal kang kong, foo yong egg, pork ribs and prawn paste chicken! And quenching the thrist with the smoothing avocardo juice, it was really yummy!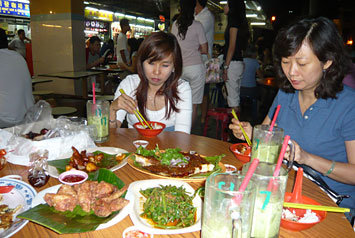 Singaporean food for them to try!


Wednesday, 19 December 2007 - Crazy Shopping
The two ladies went shopping from morning till night! We met up with them after work and that's when under Lydia's "guidance", they really started shopping (spending, that is!)! We were at Best Denki buying a load of stuffs until the shop closed and the shutters were down!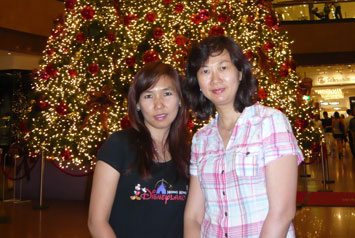 Early & Sonny @ the familiar Christmas tree at Ngee Ann City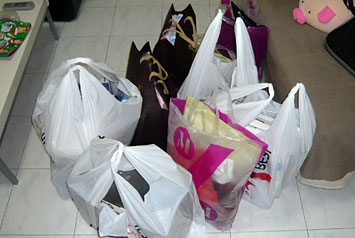 Day 1 loot


Tuesday, 18 December 2007 - One Out, Two In
Josephine flew off to Sydney in the evening today. And late at night, Josephine's mum (Lydia's eldest sister, Sonny) and her friend, Early flew into Singapore!

Now if you think they the mum missed the flight to send off her daughter, you're mistaken. She and the friend are here for shopping!! And their husbands were conveniently left behind, haha!

Well, at least I don't have to sleep on the mattress tonite since they took the guest room. :)


Sunday, 16 December 2007 - A Date With Josephine
Skipped church to accompany Josephine today. :P

First stop was breakfast at MacDonalds' @ United Square, before shopping for clothes and stuffs for her.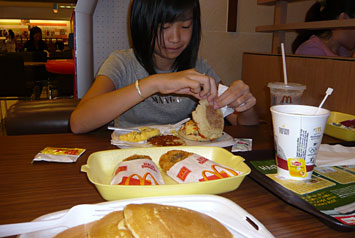 Did you know? Padang don't have MacDonalds

We went to the Singapore Indoor Stadium in the afternoon to catch Nutcracker On Ice! $85/pax! The show is entertaining lah, but more suitable for kids perhaps. Lots of Eurasians in the crowd though! Far outnumber the locals. And their kids really dress up in their ballerina costumes, heehee. Cute!



Nutcracker On Ice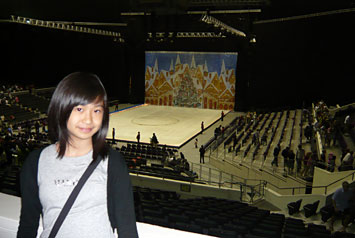 At the end of the show

And it was off to Orchard for more shopping after the show. Shop, shop and shop...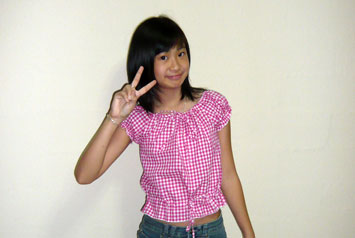 Crazy about clothes like Lydia...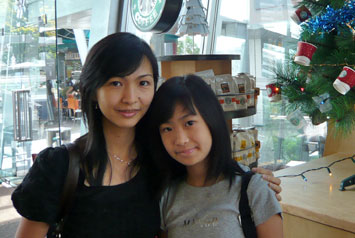 Do they look alike?


Saturday, 15 December 2007 - Appointment With CASE
Filed my complaint about my o2 Atom PDA phone with CASE (Consumers Association of Singapore) at their office at Ghim Moh. It was very educational and interesting to hear what the officer has to say, from someone who knows more about one's consumer rights and legal rights than the average person on the street.

For one thing, the complaint is not against o2 but rather against the outsourced o2 service centre, mDR Limited.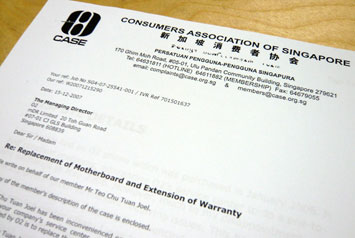 The letter from CASE to mDR Limited

I look forward to hearing their reply and see where this will eventually lead to.

------------------------------------------------------------------------

Lydia's eldest sister's daughter, Josephine arrived in Singapore from Padang late at night today! We went for prata supper after picking her up from the Budget Terminal. She'll be here till Tuesday before catching the flight to Sydney to stay with the aunt for a while.

In the meantime, I'll have to sleep on the mattress for a while also...


Wednesday, 12 December 2007 - Dinner with Inge & Albert
Lydia's cousin was in town with her boyfriend who had stopover in Singapore for a short break from his US studies, before both of them head back to Jakarta.

We picked them up after work before heading to Vivocity for dinner as they've never been there. Since good Japanese food was hard to come by in US, we took them to aji by Hanabi.

It was our first time here too and didn't know what to expect. Boy, the restaurant certainly look posh. The ala carte menu was like for fine dining and the price tag was pretty not fine.

And then we saw the dinner buffet menu. Hey.. this looks much more interesting and with a wider variety of food! $42++ per pax. What the heck, let's do it!

And boy were we not disappointed! The food was simply excellent!! The salmon sashimi was oh sooo divine. We must have like close to 10 servings of the salmon sashimi, heehee!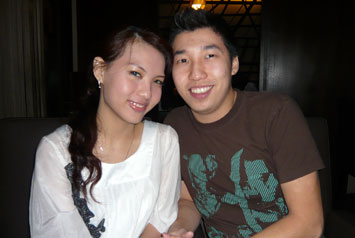 Inge and Albert. They're only 21! Gosh!!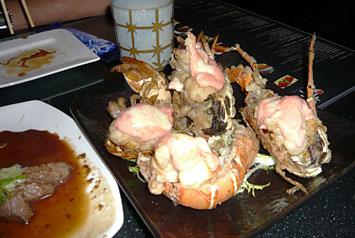 Complimentary lobster. Yummy!

1 1/2 hour flew by as we ate and chat. It was really nice getting to know them better. And it was certainly very helpful to me that they can speak english. :)

Girls being girls, the two girls wrapped up the evening shopping at Zara, Forever21 and Mango. Well, besides having a common liking for shopping, both of them also think that they're fat! Huh???


Sunday, 9 December 2007 - Flat or Round?
My dear wife attempted to make some "mee hoon kuay" for me, since that's one of my favourite food from my mum's cooking.

Flour.. checked. Hei bee.. checked. Spring onion.. checked. Cooking skills....

Cooking skills? Hello.....? Please report in... :P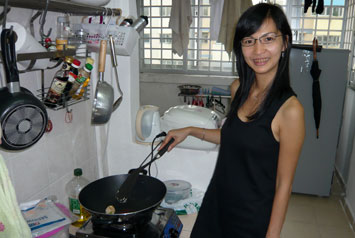 The chef in action...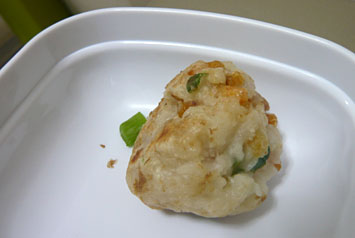 My mee hoon kuay...

The mee hoon kuay somehow resembles more like a octopus ball, heehee. Maybe she tried to flip too early? Or becos didn't add oil?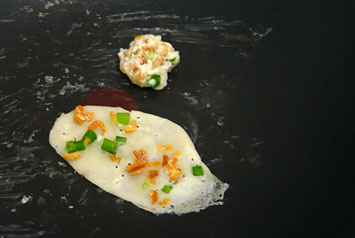 Wallowing in the wok...

For the 2nd attempt, I had another octopus ball. The last attempt was the closest resemblance, heehee. It's like a mini prata or something, hehheh.

Time to pay my mum a visit soon. :)


Saturday, 8 December 2007 - Extended Warranty No Repair
I finally got back my o2 Atom from o2 service centre. My dear phone was sent in on.... 15 Oct (see entry)! Almost 2 months!!

And you know what? My phone is still not repaired! They wanted to charge me $395.90 for the replacement of the motherboard, even though my phone was covered under extended warranty!

The extended warranty only covers the part that was replaced during the last repair, they argued, regardless of the fact that the symptoms of the problems were identical. Very ably, they only did a software update for me at the last repair.... Unfortunately, I only had the customer officer's verbal promise then that identical symptoms is sufficient ground for future servicing, including motherboard change.

There's no point in dragging the matter and so I told Jason (the senior guy) I'll take back my phone and I'll take this matter to CASE (Consumers Association of Singapore). Oh, he was very cool about it. Even told me to state everything to CASE and CASE will write to them and they will reply to CASE.

Fine! Next Saturday, I'm going to CASE to lodge a complaint. And I have to, the Small Claims Tribunals even.

If there's any o2 customer out there who got a grievance with them, just drop me a mail.

If these guys wanna play with me, I'll play with them.


Thursday, 6 December 2007 - 1000km Milestone
Our Lancer finally reached its 1000km mark! So we sent the car for its 1K servicing in the evening. Gee, it's been about 1 1/2 months since collecting the car on 22 October.

True as they say, black color is very hard to keep clean! The dirt just "shines" prominently against black, even if it is just free-flying dust which had settled on the car. And if the car happens to be caught in the rain, forget it man, it is going to look really awful when it dries.

Here's a mini photo montage collection of the car: :)























Wednesday, 5 December 2007 - Keeping Them Out and Putting One In
It was raining very heavily after work and Lydia was not feeling well. After picking her up from the MRT and sending her home, I went to play futsal at East Coast Park. :P But I don't like to break promises or fly kite. Die lah, come back sure kena from her...

The guys started playing at 7pm, but I arrived there at 8pm. Playing with Boon Teck, Tzin Mein, Dennis and a friend's friend, I found myself volunteering to be goalkeeper. I like to run (exercise mah!) and score goals, but someone gotto be keeper lah.

I expected we would be under attack since the other team was stronger, but didn't expect to be under so much attack! Must have made at least 10 saves! Thank God for a charm life! :D

The guys decided to call for a penalty shootout to settle the stalemate. The first two kicks went past me before I saved the crucial third after our side had missed one. Wah, I had to take the spot kick too? Luckily it went in. And the final save with my outstretched foot sent us through as the victory team!

I decided to pass the goalkeeping duties to the others for the remaining games. Must run lah to get some exercise and wanna try to score also. Boy am I glad and relief to scored a goal after one exhausting game! Totally shacked!

On reflection, I can do goalkeeping, but would rather get a good workout. Dribbling and control gotto be better. Took only one shot in the entire game today and it went in. On the bright side, I scored. On the other hand, I should try harder to get more shots in! When's the next game guys??


Sunday, 2 December 2007 - First Church Service @ Econ Building
Today's the first church service in our temporary location at Econ Building at Yio Chu Kang. Took us a good 25 minute to get there after my dad took a longer route. Man, this place is really far out. No more nearby shopping centres, no more in the city area, no more cats to welcome us, and it is no longer a "landed-property".

Church service was on the 4th floor in the converted office area. It felt a bit strange in the low ceiling environment and in a width-longer, aisle-shorter layout. With the bare and confined environment, there's nothing much for me to do except to listen to the speaker, haha! No distractions!

One thing that is good: No need to worry about parking! Lots of space and free!

Well, whatever it is, we will try our very best to make this work. We will hang on!!

-----------------------------------------------------------

Completed the game Command & Conquer: Tiberium Wars!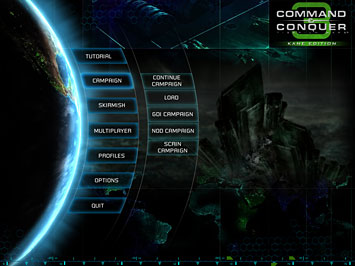 3 campaigns: GDI, NOD and SCRIN

It was fun and quite easy playing GDI, the good guys. The Mammoth Tank was invincible, and their units were strong, offensively as well as defensively. Very easy to build up and defend.

NOD (the fanatic baddies) were more tricky. They don't have strong and powerful units. Unless you consider the Avatar Mech, which costs a bomb, and definitely need to add an additional Beam Cannon before it could stand on its own against the Mammoth Tank or the Annihilator Tripod. Nonetheless, a squadron of Vertigo Bombers could easily take out any vital enemy structure.

The SCRIN (aliens) were mightily powerful. The Planetary Assault Carrier totally kicks ass. Build up a fleet of these and you'll own the map. The Annihilator Tripod is totally awesome on the ground as well.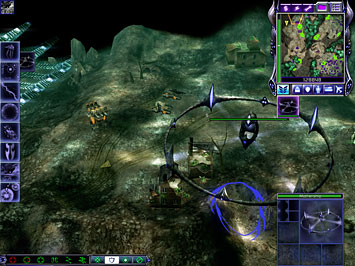 Final scene: The SCRIN Mothership moving in to fire its catalyst cannon

Great game with fantastic graphics and cinematics! Pity the storyline became predictable for NOD and SCRIN.


Saturday, 1 December 2007 - Inline Skating Lessons
After seeing how Terence and Soo Kee glide effortlessly around East Coast Park in their rollerblades, we decided to sign up for skating lessons! It looks really fun to move around with just a row of wheels on your feet!

We signed up with a skating centre located somewhere at Farrer Road. The instructor was really nice and patient. And he was good too, cos after like 10 minutes, I got the hang of the proper technique and could start skating around! My first attempt at ECP was pure courage and guts! :P

Lydia took some time though, as today was really her first attempt at skating. At the end of the 1 hour session, I was able to move more confidently around and learnt to brake with the brake pad. Still a bit worried in changing directions, but looking forward to learning more next time! Look forward to Lydia mastering it too! It will be a challenge though! :D


Friday, 30 November 2007 - Dragonfly Without Ice
Went to Dragonfly @ St. James with my ex-colleagues. After getting the chop, had dinner at The Station Kitchen first with Lydia. The chicken briyani was quite good, the paper prata was excellent, and the braised beef noodle was not too bad. The price was... well, restaurant price.

We re-entered Dragonfly later around 9.45pm. Unfortunately, they didn't manage to get a table. There was Serin, William, Sherry, Desmond, Veron, Adeline Lau, Soo Kee, Pei Wei & boyfriend, and two other new girls from Planning. The place was getting rather packed and after watching the live performance, we decided to go home early around 11.15pm. By then, they had managed to get a table and get some drinks, but we decided to head home still.

Not a single drink on a Friday's nite out at Dragonfly... A bit of a strange feeling, but well, free admission, free music and entertainment, it's not too bad. Especially if you consider that I finally completed the NOD campaign for C&C: Tiberium Wars after the early night retirement, it has been a really good start to the weekend for me. :)


Thursday, 29 November 2007 - 2nd Chance for Robinsons
Not happy that yesterday didn't manage to buy anything for myself... so today we go Robinsons at Raffles City. :P

Tried a few pieces of clothings but it was too tight (not that I fat ok....). Lydia then dragged me out of the "youths" section, telling me to look at the sections for suitable for my age. Bah! I'm not that old mah...

Ironically, she very soon pulled out a rather nice polo shirt out from Arnold Palmer. Youth collection series, she consciously pointed out. And I found a black top that has the same stripes and color as the Mitsubishi RalliArt theme, from Pierre Cardin. Oh no! Have I graduated to the old men's club, haha!


Wednesday, 28 November 2007 - Shopping With Sotong
It's the Robinsons' Men Sale! 20% (minimum!) + 20% member special! Lydia and sotong sister went straight to the branch at Centrepoint after work.

Man, the car park queue at Centrepoint is incredibly long! Well, it is $1/hr, that's why. I decided to try Starhub Centre instead, but it was full! Ended up parking at Holiday Inn.

We bought some gifts for Christmas, but couldn't find anything suitable for me. That's the funny thing about me, my wife said. I don't buy things during sale!! Cannot find anything nice, cannot force mah...

We sent Ms Sotong home after that and had a very good meal at the nearby food centre. I wished Tiong Bahru had such good food and wide variety. Interestingly, people from all over Singapore will flock to the Tiong Bahru food centre a short distance away from my home, heehee. The grass is greener on the other side perhaps?

Went to Sotong's home after that to tour her home before heading home. Wah! Reached home around 11pm! I thought I could clock in some Command & Conquer time!

----------------------------------------------------------------------------------

Today was my reservist shooting classification too. All I can say is, very disappointed lah! Just pass only with 63 points (25 in, 13 out). My wife nagged at me for trying out new techniques. The trainer said these tips will help us get marksman mah.... :(

I think I need to go arcade more often to play Time Crisis...


Tuesday, 27 November 2007 - EC House $10 Haircut
Tomorrow gotto go for 1 day reservist shoot. Worried my hair too long, so decided to go for haircut. But I just went to my regular hairstylist a month or so back. Dunwan to spend $30+ on a trim, so go for the $10 haircut at EC House instead to save money. :P

Well, the hairstyle came out a bit different from what I expect. I asked the lady to trim only, but she decided to help me make my $10 more worth it. Funny thing is, some part short, some part like never cut...

We had dinner with Soo Kee later at ABC Market. Wah, he went for haircut today also and now got a more funky hairstyle, heehee. Nice to catch up with him again.


Sunday, 25 November 2007 - Church Farewell & Ah Ma's Birthday
Today's the last church service at Moulmein Rise. Next week onwards, we'll be moving to Econ building at Yio Chu Kang (wah! So far!!) while the renovation and reconstruction works take place. It's a bit sad to leave here, but at least we know we're not leaving for good and will be back in 2 years time or so.

We had a mini-farewell service, followed by lunch, and for the first time, we can eat in the sanctuary! The youths were also drawing on the sanctuary walls, with permission of course. Some groups went up to sing and perform too.

I'm going to miss the church cats (hope someone had adopted them..), the memories of catching "long kang" fish in the drain, and the morning breakfast at Tan Tock Seng.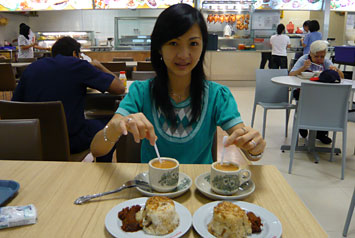 Our favorite TTS Kopitiam breakfast: Loh mai fun with tea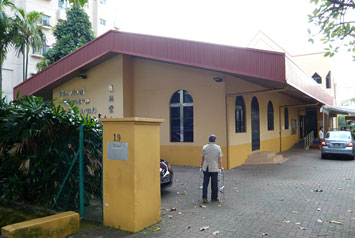 At the entrance of the church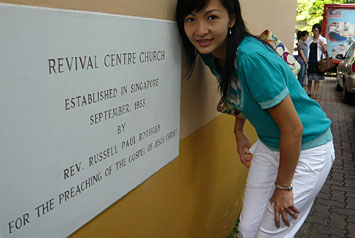 Established in September 1953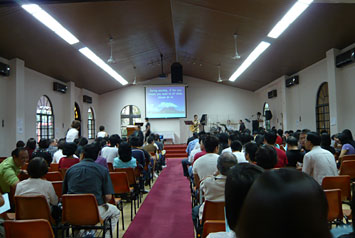 The last service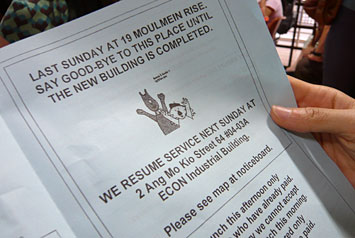 "Though we gotto say goodbye...."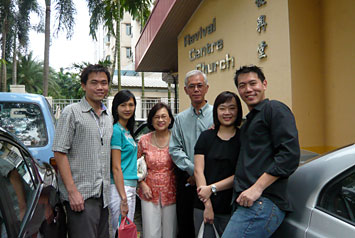 The Teo family photo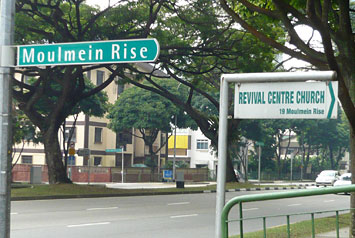 The road signs.. see you in 2 years time


------------------------------------------------------------------

In the evening, we had a huge relatives gathering at Quality Hotel Teochew restaurant to celebrate Ah Ma's birthday! Four generations gathering! From 1st uncle to 5th uncle, their sons and daughters, and grandchildren too! Only 5th uncle's wife and their son, Kelvin were missing.

It's great to see everyone again. Usually we only meet during Chinese New Year. Even so, never so many in one location. Bigger turnout than at our wedding, haha!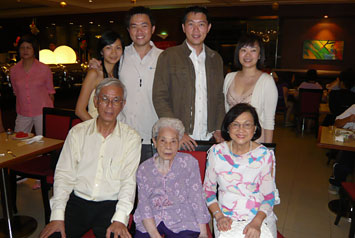 Our family photo with Ah Ma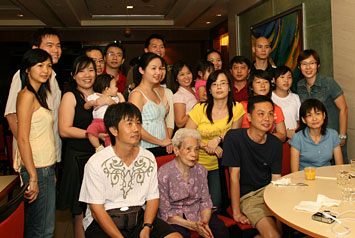 Ah ma's grandchildren and great-grand children!


Friday, 23 November 2007 - Taking A Liking For Beer?
I never like beer. Tiger beer, Heineken... never liked them. Heck, even while I was in Germany, I didn't even try their beer! I never like the taste of beer. To me, it's kinda sourish, gassy and makes me feel bloated. Bourbon and whiskey appeals more to me!

It was thus very surprising when I found myself appreciating the taste of Paulaner Brauhaus' Munich Lager! It was really smooth and light, yet with a rich malt favour. It was nice chilling out with the guys and talking and listening to the music. It's a pity that it is rather warm outside.


Thursday, 22 November 2007 - England Sent Crashing Out of Euro 2008
It has got to be one of the worst performance by a team, a National Team! And these all happened after they so bravely fought back from 2 goals down to equalise at 2-2. Only Steve McClaren and the players will know how come they changed in an instant from a team who just scored and on the roll, to a team which opted to sit back, defend like kids, and allow Croatia to pressure and attack them with absolute ease.

And of course, my worst fears were confirmed. The inevitable happened in the 77th min. Croatia scored. But the Three Lions, instead of fighting to save "the queen", started pumping ridiculously hopeful long balls upfield. Croatia cleared the ball easily, and with like only 2 English players in midfield while the rest were either in defence or attack, it only resulted in loss of possession. These guys absolutely forgot how to pass the ball on the ground!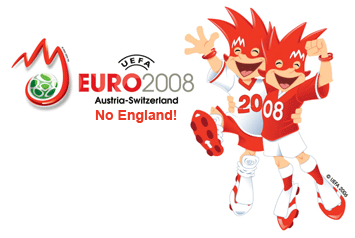 Oh man... Euro2008 without England... I think I'm going to support Croatia (for all their bravery) and Sweden (the ex-England manager must be totally laughing in his socks!).


Monday, 19 November 2007 - Night Visit to Chinatown
I seldom go to Chinatown. It's like an old place to me lor, which involves lots of walking, and parking is difficult too. But as Ah Ma's birthday is coming, we decided to drop by Chinatown to look for a suitable present for her. We dragged my parents along too. My mum will surely know where to find a suitable present!

Dinner was at Maxwell Food Centre before we went walking through Chinatown and landed at CJ departmental store. We decided to get a set of oldie's clothes.

I wondered why oldies must wear oldies clothes? Or rather, why old ladies must wear old ladies clothes? When is it in their life is the transition from more normal-looking clothes to those old ladies clothes? Do they like decide, "Ok, I'm old already. Time to change my wardrobe.". I mean, old man still wear shirts, though perhaps shirts that are not that young-looking.

Maybe I'll just wear soccer jerseys when I'm old, haha. Easy to wash, dry and cool!


Sunday, 18 November 2007 - Baby V's 1st Month
Gabriel and Valentine celebrated Baby Valencia's 1st month at the Roxy Hotel today. We left church after the worship service and headed over for the celebration.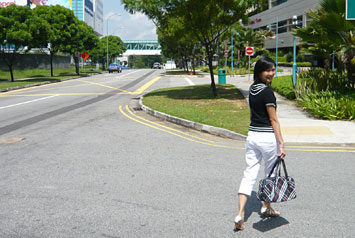 Caught on camera leaving the church early...

It was great catching up with the guys again! Kian Pang, Eric, Tzin Mein, Boon Teck, Andrew and Carmen were there, amongst a large group of G&V's relatives and friends.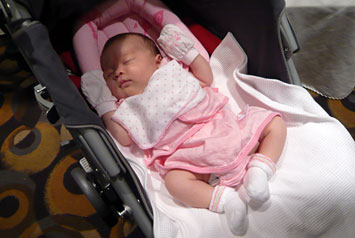 Looks like the dad or the mum?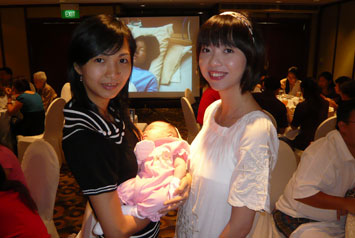 The mum is amazingly slim after only 1 month!!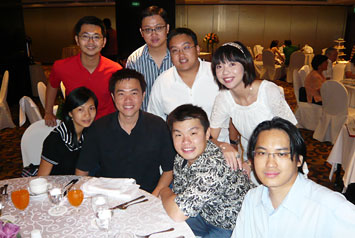 The group of us. Where did Kian Pang's lunch date go?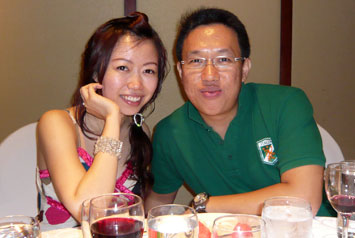 The lovebirds just gotto be special and have their own photo...



But of course, the loveliest of lovebirds... :P

After the lunch buffet, we went to my parent's place to wash the car again. And again, the sunny hot sun at East Coast suddenly disappeared and was replaced by dark clouds and thunders! Wah lau!!

Nevertheless, we washed the car in double-speed and left for home just as a few drops of rain came down. Phew!


Friday, 16 November 2007 - Up, Up, Turtle Speed!
My dear wife had her first experience driving up our HDB merry-go-round carpark. You know, those silo-designed, narrow spiral entrances to car parks. :)

We swapped the driver's role after I parked the car near the entrance to the dreaded spiral entrance. We waited till there was no more cars approaching and she started her approach. Slow, but steadily moving forward. This was on the straight road to the entrance, by the way... :P

Before she even entered the first bend, a car came up behind us, haha! Oh boy, I know the car behind us is in for a long ride up. My couragerous wife slowly inched her way up, peering over the edge of the car and concentrating intensely to avoid the never-ending curving walls, plus a car tail-gating closely behind.

After a few calls of "too close... too far..." later, and what seemed like eternity to her, she made it up to the 2nd deck! Yay!!! I asked her if she wants to continue to the next deck but she didn't want to. The cars behind also followed us and I hit the hazzard light and she pulled up by the side.

Heehee, she said that she was holding her breath as she went up the spiral and her hands are very cold now! Really cold, boy! One car drove slowly passed us and the female passenger and the male driver were turning their heads to check out who was the awesome driver of this Black Mitsubishi Lancer! Sports edition somemore leh, haha!

We laughed about it and discussed about her first experience. After she caught her breath (and courage) and calmed down, she continued up to the next deck via the quieter spiral at the other end of the car park. Hurray!! We then swapped seats so that I can park the car. :D

Considering that this was her very first time going up the spiral in her entire driving life, I think she had performed admirably! No crash is all that matters, and the car was actually in no danger at all of hitting the walls at any time. Excellent!!

Still, she's not ready to drive out and pick me up yet. She has practiced how to go up, but haven't practice how to go down! Heehee!


Saturday, 10 November 2007 - 1 Wedding & a Foamless Car Wash
Jason's JC friend Alvin got married today! Wedding ceremony was at Cornerstone @ Katong. We went there with my parents too, Alvin being a familiar visitor at my parent's home for years. The church is pretty interesting: set within an old commercial building, yet in itself very modern and of a cinema theatre layout.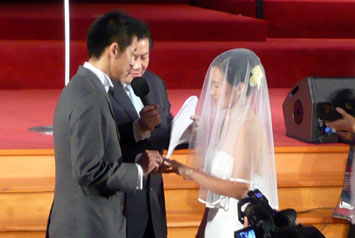 Alvin and Jiamin exchanging their wedding rings and vows

There was a very good turnout, filling at least half the sanctuary. The couple's thank you speeches stood out the most, being the most unusual and longest. Each person who played an important part in their lives were approached and thanked individually. There must be like 30 names.

Well! It is their day! As the closing hymn song (Blessed Assurance) goes:

Blessed assurance, Jesus is mine!
O what a foretaste of glory divine!
Heir of salvation, purchase of God,
Born of his Spirit, washed in his blood.

Chorus:
This is my story, this is my song,
Praising my Saviour all the day long;
This is my story, this is my song,
Praising my Saviour all the day long.

Perfect submission, perfect delight,
Visions of rapture now burst on my sight;
Angels descending, bring from above
Echoes of mercy, whispers of love.

Perfect submission, all is at rest,
I in my Saviour am happy and blest;
Watching and waiting, looking above,
Filled with His goodness, love in His love.

Congrats to you Alvin and your wife!! Today is your story and your song.

Click here to download the song in MP3 format (4.31MB, Denver Orchestra-mix though). Couldn't find the Cornerstone Church version, which was totally awesome!

----------------------------------------------------------------

And today is the day that I wash my car, or rather wash two cars! After the wedding ceremony, we went home, changed, and went to my parent's home to wash our car. We ended up washing my dad's car as a warm-up practice, heehee!

Gee! Washing a car is complicated. First you gotto hose the car, then you gotto shampoo the car from the top to the bottom, doing one half first. After mixing 2 capfuls of 20ml shampoo conditioner to 10 litres of carefully measured water, I was expecting lots of foam and bubbles, like in Paris Hilton's Carl's JR car wash video. But noo... only some bubbles in the pail. Okay... maybe Autoglym shampoo is different. The drying part was the trickiest. Have to make sure it is totally dry. Man, at the end of it all, we were really wet!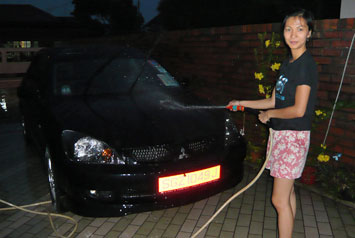 Playing with the waterhose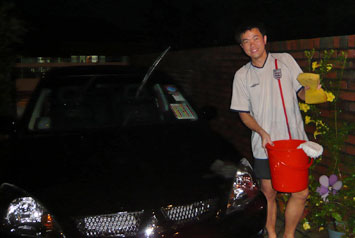 Sponging and shampooing the car


Thursday, 8 November 2007 - 60th Birthday!
Today we celebrated my mum's 60th birthday! Actually her birthday is tomorrow, but we're celebrating it today instead.

Dinner was a splendid buffet at GreenHouse @ Ritz Carlton. Hmm... never attended a wedding there yet. Still waiting for it to happen, haha!

Back to the dinner... it was quite a big turnout, with Uncle Nick and family, Ah Teck and family and Tua Yi, Veron with her kids and KC's parents (KC out travelling) and Jason and Fenny.

After lining my stomach with solid food like briyani rice, scallops and salmon, as usual I went for rounds of salmon sashimi. Yummy!! The food here is really good, but pretty ex. The ice cream (Movenpick I think!) is superb too!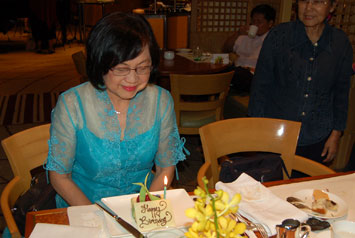 Making her birthday wishes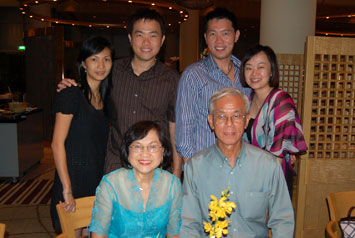 Mum and dad with their sons and daughters-in-law

Our birthday present for her: a Coach bag! The waiter at the restaurant mistook the box for a cake and almost put it in the fridge! Anyway, glad that she liked the present a lot.

To my mum, thanks for everything! Hope it has been a memorable 60th birthday celebration!


Monday, 5 November 2007 - Married for 2 Years Already!
Today's our 2nd-year wedding anniverary! We had agreed not to buy each other presents, but my dear wife asked, "Hah... really no surprise present?" Aiyoo!

After the weekend getaway trip, we decided to go out for a simple dinner. We ended up at IKEA for dinner, haha! Mee Goreng special and 6 chicken wings. How romantic, haha!

Actually I wanted to go to Orchard for a nice dinner after picking Lydia up at her office, but she was adament that the tonkatsu restaurant will be closed by the time we arrive there about 9pm. I don't think it will close so early lah, but after being married to her for 2 years and knowing her for more than 8 years, I know it will be suicidal to take the chance. A 5 minute drive to IKEA will suffice.

What have I learnt from 2 years of marriage?

1) We may fight and quarrel, but we still make up.
2) The bed is greener on the wife's side.
3) What's the fuzz we hear about toilet seat? It takes a second to flip up/down.
4) I may have paid for the CableTV subscription but the wife owns the remote control.
5) It is okay (so far!) to play computer games so long as the wife is kept occupied/entertained.
6) Vacuuming and mopping the home is worth the trade-off to escape ironing and washing socks.
7) Don't become too good at cooking instant mee. It becomes your speciality and responsibility.
8) If the wife is quiet and not talking, it means she is unhappy with you.
9) I take longer to get ready than her. :P
10) She's got 101 horrible things to say about me but fortunately I'm the blog owner. :)


Sunday, 4 November 2007 - Weekend Trip to Riders Lodge @ JB
We're back from my department's team building trip! It was a 2D/1N getaway at Riders Lodge at Johor Bahru, Malaysia. Spouse can come too!

We set off for the journey in 2 mini-buses about 10.15am, arriving there about 2 hours later. It's a nice, relaxing colonial-style kind of place with vast acres of land, horse stables and a big white mansion converted into a "hotel".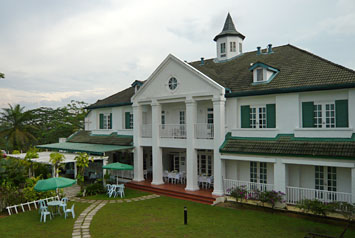 View from the walkway outside our room

After settling down and finishing our lunch, we had a tour of the stables. Very interesting cos first tim getting up close and personal with the horsies and the stables! The horses really look majestic and powerful up close. This place is now home to past race champion horses too, like Jazz Malone and Sarabago. Well, the name rings no bells with me since I don't bet on horses!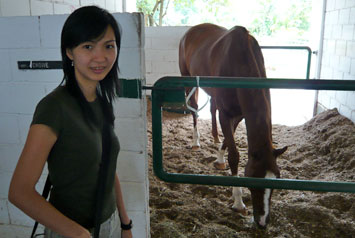 Horsing around in the horses' home

Next up, we had the Iron Chef Cooking Competition. Divided into two teams, we whipped up a dish from the list of ingredients provided. We lost, but it was still fun.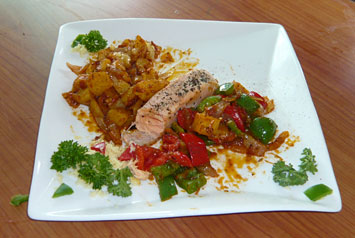 The master dish, with a dose of horse fur from unwashed hands...

For the evening programme, we went for a "nature hike", which essentially was a walk in the muddy road after the earlier downpour! Our shoes were totally "caked"!

After dinner, we went to the nearby shopping malls for some shopping before returning back to the lodge and had a smoothing body massage in the comfort of our room. Ahh....

The next day after breakfast, we went horse riding! Yeehaa!!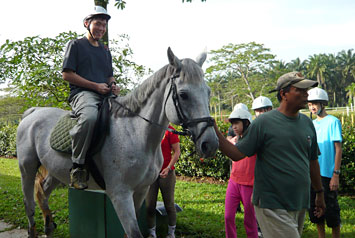 My first time on a horse!

After saddling up, we had some practice in the riding compound where the instructor taught us how to handle the horse, from holding the reins to getting the horse to stop, move and turn. We then headed for a ride through the jungle. It was a bit nervy at times when you feel like you're about to fall off, especially when riding down the rough terrain slope! But overall, it was really fun and exciting! Mr Gray has been quite an obedient horse! Lydia was complaining that her horse didn't want to move and she had to kick him many times before he moves. And he will then shake his head and make horse sounds, haha!

After a treasure hunt competition where the ladies won, we packed up and headed to the town area of JB for some "shopping" at Holiday Plaza. :)



Checking out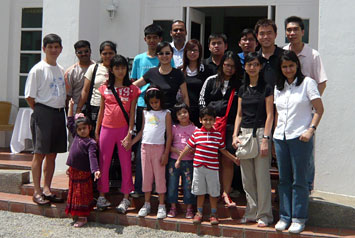 Group photo with colleagues and families

It has been a really fun weekend trip and was very good to know and interact with my colleagues and their families outside of the office environment. Great trip!


Friday, 2 November 2007 - 3 Goals
It's futsal time again! This time we have booked the court at Fico Sports Hub from 8pm to 10pm. Pretty late, but what to do, I knock off at 6.30pm only. Nonetheless, it gives me enough time to go home and drive out. :)

Wah, lots of people playing today. My kakis, KP's office friends, friends of friends, etc. Scored three goals today, all with my left foot. One was a medium range effort from the wing which I thought the keeper would save, but he didn't. 2nd was a "burst" through the middle, pushing the ball through the legs of the last defender Gabriel, and running on to toe-poke the ball past the keeper. The third was from a fine set piece, hitting the ball first time past the keeper after receiving a kick-in from the sideline.

Was planning to eat with my friends at the nearby food centre, but in the end decided to go home and eat instant noodles with my wife. Reached home about 11.10pm! :P


Sunday, 28 October 2007 - First Sunday with Our Car
Ah... the only day when our weekend car is free to roam anytime, anywhere...

Breakfast was with our parents and J&F at Bendemeer before driving to church. Gotto park at Tan Tock Seng cos no more parking space left. Lunch was at Marina Square, before going to Home-Fix to look for car washing stuffs. Wah! There's shampoo, polish, wax, wheel cleaner, tire cleaner, glass cleaner, leather cleaner, PVC cloth, microfibre cloth, cotton cloth, chamois cloth.... !!!!

Chim ah!! How to know what to buy??? Spent one hour looking at those stuffs before grabbing about $100 worth of items.

I called my dad to tell him we'd be going to their home to wash the car. We packed those stuffs into a basket and set out. Amazingly, the blazing sun that was there half an hour ago had turned into a dark gloomy sky!! I refused to be deterred, believing that the rain will hold in the Eastern area.

Well. 5 minute into the CTE journey, the photo below is what I see:



Free car-wash?

It was raining like crazy! Super heavy pouring rain!!!

Wanna wash car also cannot.... reminds me of last time, whenever I want to play soccer on Sunday, it will rain! That's why I now play futsal in indoor courts.

At night, we went bowling with my parents at Civil Service Club at Tessolohn-or-whatever-road. My mum's got a bowling tournament this coming Tuesday, so decided to go with her so that she can practice.

Man, the bowling alley is in quite a bad shape. The lane is as dry as a dessert. There's more ear wax in my ear than there is wax on the lane! The house balls? The holes ain't deep enough. Must have been customised for people with short fingers...

The only plus point is that we didn't have to wait for a lane and it wasn't crowded. Got a score of 132, 104 and 133. Okay lah. Still not consistent enough.


Saturday, 27 October 2007 - Alywin's Wedding
Congrats to Alywin and Joey on their wedding! Alywin's my ex-colleague at Tetra Pak, and he had left the company earlier than me also. The wedding was at Fullerton Hotel. Just nice that we got the car! :)

Saw some of my ex-colleagues at the wedding and chit chat with them. It was nice seeing them again and hearing from them! Keep in touch ya!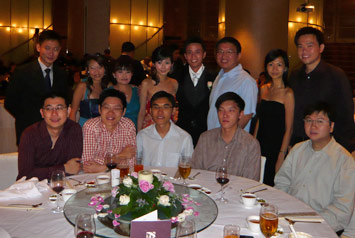 Our table, with Chee Yong and Hoe Yong, both ex-Tetra Pak too!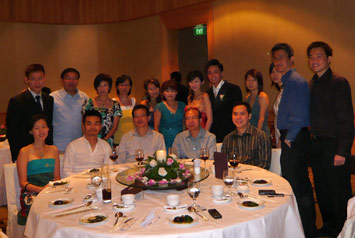 Gate-crashing the "Tetra Pak" table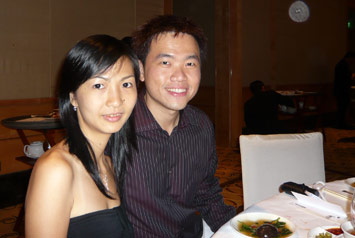 Our traditional "wedding dinner" couple photo

After the wedding we went down to Marina South for Lydia to do some driving practice, heehee! Finally, she can say that she had driven our car!


Friday, 26 October 2007 - Fish & Fly!
Fish is what we had at Fisherman's Wharf, located opposite Central Mall. For many months whenever the bus goes through Chinatown, we will see this place and had always wanted to try the food, but never!

And we finally did! Together with my parents, we had silver cod fish, snow fish, calamari and the altantic fish or something. It's self-service style and no air-con, which really puts a damper on the dining experience cos the fish is pretty good! Nevermind the fact that we didn't know the difference between the 3 fishes, haha!

Highly recommended and decent price for the quality. But if you decide to go try, be prepared for the most bizarre question the cashier will ask you when ordering: chips or fries?

Huh??? Isn't chips = fries? My brain cells screamed for some divine enlightenment but none appeared. You go figure when you eat there next time. I think I know the answer now. :)

After dinner, my parents dropped by our home to check out our car. Heehee, my dad liked the spacious-ness, comfort and Japanese-quality finishings. He complained the glass is too tinted, haha! Drove them round the area to complete their experience.

The night's not over! At close to midnight, we went to Dragonfly! Our dear Soo Kee threatened not to jio us out anymore if we turned down his invitation... Ok lor... scared of uncle.....

An astonishingly long queue awaits us, but we managed to get in super quick (dunwan to tell you, haha!) . Sherry, Hayley, Serin, William, Kuan Han and Chuen Kiat were there too. They had gotten two tables near the front of the stage and a huge bottle of Hennessy, ice bucket, green tea mixer and glasses covered the tables. It's a fantastic spot to watch the performance!

We left about 2.30am. It was fun drinking, dancing, catching up with friends (though too loud for conversation!) and unwinding!



Monday, 22 October 2007 - The First Time...
We began with great curiosity, knowing what to expect, yet at the same time greatly anticipating the moment and the revelation. When will it happen? Where is it?

And then it came into view and it was the sight and moment that we were waiting for:

SGZ1049J

There's our very first car sitting under the zinc-roofed garage! The Mitsubishi Black Lancer 1.6 Sports Edition!!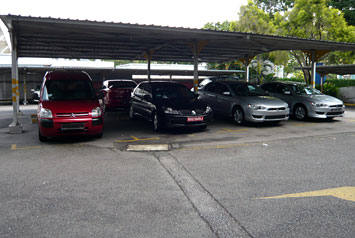 The first sight, to behold and remembered. :)

The sales agent ran through the introduction and checks of the car before handing over the car keys. It was quite surreal, haha. Our first car! :D



Posing in front of our car at Cycle & Carriage collection centre

It was really nice sitting in the car and putting my hands on the steering wheel, with my wife sitting beside me. For the first 1000km, I'll have to keep to a speed limit of 80km/hr. Driving out for the first time in the brand new car, I was really very careful. Cannot be "fast and furious", haha!

Geez! Season parking is $90/month for indoor parking! Bo pian lah... must shelter the car from the weather elements and the dreaded bird droppings. :P

Anyone wanna buy 4D, go ahead. As Christians, we can't, heehee! Will take pictures of the car next time when I have time!


Sunday, 21 October 2007 - Lydia's Parents in Singapore
We barely slept an hour or so before going to the airport to pick up Lydia's parents at 3.30am! They had just returned from China, together with some other friends.

Around 7plus in the morning, we forced ourselves out of the cosy bed to return the car back to my dad's home before taking a taxi home.

The temptation of fighting the Aliens as Commander Joel was too great! So instead of sleeping, I played Tiberium Wars till 3plus in the afternoon! :D

It's a trip to Kuishinbo for dinner! Together with our parents, we totally whacked the snow crabs. It's amazing how many crabs were devoured! Lydia was like eating crabs for dinner!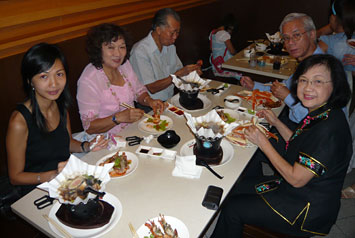 Soup, crabs and everything nice!

Glad that both parents enjoyed their dinner. I always like Kuishinbo for the crabs and the salmon sashimi. Nice!


Saturday, 20 October 2007 - Baby V & Raoul's Mad Sale
First of all, congratulations to Gabriel and Valentine on the birth of their baby girl, Valencia! She was born on 17 Oct @ 1013pm. I was wondering whether Gabriel would turn up for futsal on 18 Oct, haha! Find out more about this wacky couple at www.GabVal.com. Registration might be required.

Back to the weekend....

We dragged ourselves out of bed on a Saturday morning at 9 plus (hey, it's Saturday you know!) and headed down to Orchard Road for the Raoul warehouse sale. We arrived at the venue about 10.30am and *grasp* there's an amazing long queue already! There was like 100 people in the queue!!

My dear wife couldn't resist reminding me with the "see, I told you to come earlier". Bleah.

We finally got in about an hour later and it was like madness in there. People crowding over the piles of clothes, digging and grabbing and squeezing... Well, considering an item that usually cost between $60 - $160 is now going for 3 for $90, it's no surprise.

I didn't really enjoy shopping like this and it was difficult to try on and determine the correct size. Nonetheless, no way am I going to walk out without buying something! In the end, I got 2 shirts, a shirt for Lydia, and 3 shirts on behalf of Sok Fung.

And it was 1 plus already! Lunch, go home, rested 2 hours or so, and I returned to Orchard at 5.30pm for haircut and coloring! Must color lah... a certain Ms Sotong said I look like Ah Beng. Hah??!? Where got?? My white hair make it more brownish lah!

Fume.... one thing I don't like about haircut: For the first week or so, my hairstyle looks different. Cos cut shorter mah, so can last longer. :P Somemore Lydia said my face look fat! :(


Friday, 19 October 2007 - There's No o2-ing About It
I knew it was too good to be true. And they delightfully proved me right.

Monday
Went ALLL the way to o2 Service Centre at CJ GLS Building (near IMM @ Jurong East!) to send my o2 Atom for repair. Intermittently cannot send SMS, cannot make phonecall and cannot detect SIM card. After informing the lady that it is covered under 3-months repair warranty, she accepted the phone and told me it will be ready for collection tomorrow. Wah! They so efficient ah??? I can only collect on Saturday leh...

Tuesday
They left a message on my mobile voicemail, informing me that my phone is out of warranty. Quotation for replacement of motherboard is $400+ (I was too mad to remember the exact figure).

Called them back to remind them that my phone is still under 3-months repair warranty. They said they will check and call me back.

Received a call informing me that as the last repair was not a motherboard replacement, it is not covered under repair warranty. Told the joker that the last repair was a software firmware upgrade! The problem symptoms were exactly the same! He continued on the line that it was a software fix the last time, and this time it is motherboard replacement. Told him it's their engineer who chose to do a firmware upgrade, not me! I could have done a firmware upgrade myself! I don't need an engineer to do that!

Seeing that I was getting nowhere, asked him for his manager's name and direct number. No, it is company policy not to give manager's number. Fine. I got the manager's name. Manager will call me back...

Friday
Not a pip of a call from o2.

Perfect. Thank you o2 for restoring my faith and expectation of your service centre. I was in disbelief on Monday, but you've put normalcy back into me again.


Thursday, 18 October 2007 - It's Uber Time!
It's futsal at Ubersports Arena @ East Coast Park, that is! This totally out of the way place which my Eastern friends booked is located where the old tennis courts used to be.

At $80/hr, the artificial turf was really premium grade. It was too good (meaning, unseasoned) actually and it took a while for me to get used to the thickness! But for that price, I would have expected more than 2 make-shift toilet cubicles and 2 make-shift changing cubicles, the kind you see at the void decks when there's a wake.

Ok, enough complaining! We had a very large turnout of like 17 people! Budiman and Michel from my ex-company came down too! Scored a goal and almost scored a great header goal from a corner, which beat the keeper but went just wide. Was really low on stamina (too long never play?) and need to brush up on dribbling for sure!

After the game went to the food centre for dinner. By the time we left East Coast Park, it was like 10.30pm! Thankfully Kian Pang's friend stayed in Bukit Merah too and he drove!


Sunday, 14 October 2007 - A Week's Update
Phew, this has been a very busy week!

Monday
Lydia's eldest sister and husband returned back to Singapore from China.

Tuesday
Eldest sis and hubby returned to Padang. At the same time, Lydia's parents board the same airplane from Padang and flew into Singapore. Couple of hours later, they flew to China. Our home was their freshen up stop-over and we didn't even get to see them, haha.

Wednesday & Thursday
Command & Conquer: Tiberium Wars!
I'm on a gaming spree!! :P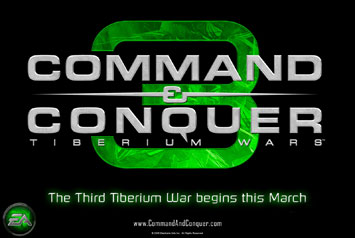 It only begun in October for me... but never too late!

Friday
Lydia's youngest sister and husband arrived in Singapore from Padang, enroute via ferry from Batam. Treated them to a nice dinner by the sea at Black Angus @ One Fullerton. Followed by late night bowling till midnight at SAFRA Mount Faber!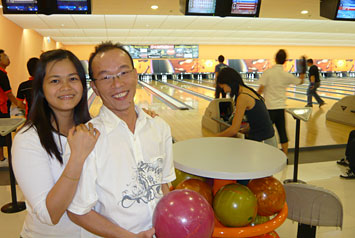 They really enjoyed bowling!

Saturday
A morning trip to IKEA with our guests, followed by half a day of shopping madness at Orchard Road. And late night bowling at SAFRA Mt Faber again! This time we finished playing at around 1am! Herry really liked bowling. I wonder how he'll get his fix since there's no bowling alley in Padang.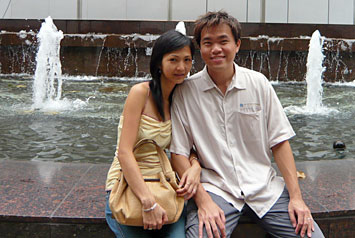 The two tour guides...

Sunday
With Esther & Herry gone for a trip to Sentosa, we went to church instead. Lunch with Soo Kee, followed by visits to Mustapha Shopping Centre (crowded man!!) and Sim Lim Square (ahh....).

And my Hattrick team has lost 3 consecutive matches to drop from top spot to 3rd place! What on earth is happening...


Sunday, 7 October 2007 - The Return of the Boat Trip!
All of a sudden, we have a number of boat trips lined up! This time, it is with my friends from the ex company: Kelvin, Swee Wai, Adeline Loh, Vernon, Terence, Wai Seng & Elaine, Lydia & me!

The funny thing is, out of 9 people, only 2 are Tetra Pak staff. The rest (except Elaine) are all ex-staff, heehee!

The trip started at 9am in the morning and this time, the boat headed for Pulau Hantu. The sea was more choppy (means more fun, haha!) and the sky was a bit hazy today. This time round, we took a dip in the sea! With the evening slot booked by us as well, we got to see a little bit of sunset.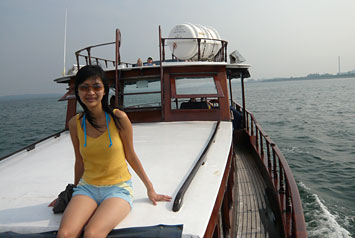 Lydia sitting on the deck, enjoying the cool breeze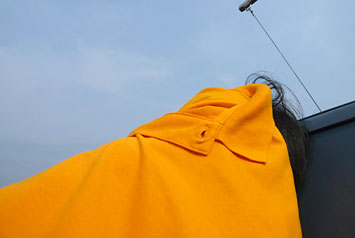 No prize for guessing whose idea of sun-tanning is this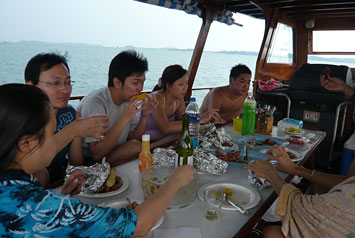 BBQ lunch on board the boat. Yummy!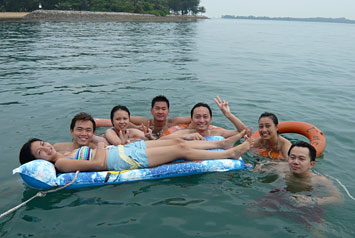 Having fun in the waters off the coast of Pulau Hantu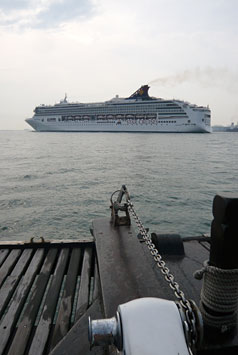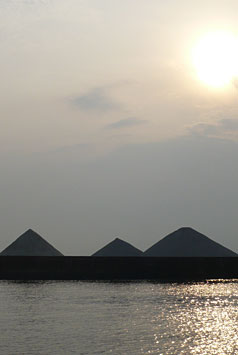 Interesting sights from the trip, from a passing cruise ship to "The III Pyramids"!!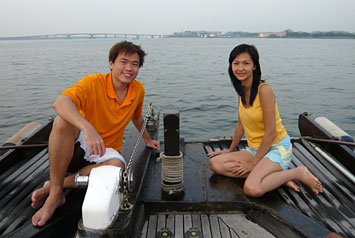 Relaxing by the bow of the boat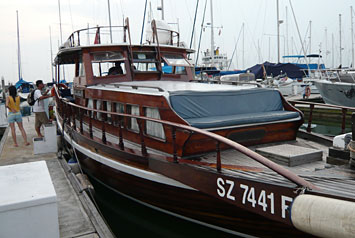 Back on dry land again

The haze and the drizzle spoilt my plans for a sun-tan, but it has been an enjoyable trip! It was really fun jumping into the sea (jumped from the top deck with Terence, yeah!) and playing in the waters. Must go again some time!


Friday, 5 October 2007 - Catch Up
Today is Ah Ma's death anniversary, and as a rememblance, we went to Uncle Nick's place for dinner with his family, together with my parents and Jason & Fenny. Though the night breeze wasn't that breeezy, it was still nice to sit near the pool and enjoy the food, company and relaxing atmosphere.

We popped over to Soo Kee's place later before going with him for supper at ABC Market. Wah, chit chat till 1am I think! We would have stayed there and chit chat even longer if not for the fact that I could no longer bear the smell coming from the pig intestine stall! Aiyoh! The smell became so intense until I really couldn't stand it anymore. Worse the rubbish smell! *faint*


Thursday, 4 October 2007 - Surgeon Bong Dal-hee
It's not my fault that there's been a lack of updates again! It's my wife's fault! She got me hooked on one of her silly Korean dramas!

It's about a young doctor starting out in her first year of residency in a hospital, who has to deal with her patients, colleagues and love life.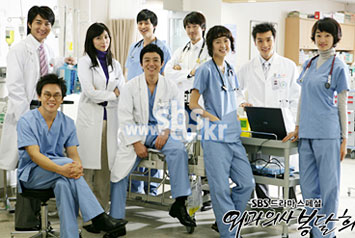 The cast of the Korean medical TV show, Surgeon Bong Dal-Hee

Will she able to complete her residency? Go watch it! It's a very good show with nice soundtracks. And it offers a glimpse into the life of doctors with an abundance of technical mambo-jumbo medical terms. It's a pity the explanation was in Korean only, but it was still very educational.

See the official website here.
If you understand Korean. click here instead.

18 1-hr episodes and we finished it in 4 weekdays! Siao!! Thankfully I start work at 9.30am only! Really addictive, I tell you!


Tuesday, 2 October 2007 - Da Jie, Ni Hao!
Lydia's eldest sister and her husband flew in to Singapore in the late morning today and stayed over at our place.

Accompanied them to buy an Acer laptop from Challenger today at $1798. Lydia extracted lots of freebies out of the poor saleman! Bag, mouse, 2x 2GB thumbdrive, speaker and headset! :P

Oh, they'll be flying off tomorrow early morning to China for a week's holiday! Wish them all the best in China!