Entries by Joel


Sticky: Please sign the guestbook so that we know you've been here! We'd love to hear from u!


Sunday, 28 September 2008 - Race Day!
You know how deeply I am swept up in the F1 fever when I totally forgot all about my favorite sport yesterday! Football!! Yes, there were actually lots of premier league games being played yesterday, haha!

We woke up late after the excitement of yesterday's event and spent a lazy afternoon having lunch at the popular Beo Crescent curry rice before shopping for groceries at the NTUC Fiarprice nearby.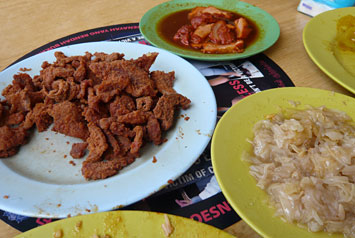 Curry rice.. F1 event.. what are you doing in Sweden, Soo Kee? :P

We tuned in to the live broadcast of the first-ever night race at 6.30pm. Even far away on TV, we could feel the excitement and atmosphere building up, the countdown clock at the top of the TV definitely giving it an added thrill!

Both of us are supporting Ferrari, while Lydia's strongly supporting Felipe Massa. I'm also rooting for Fernando Alonso. Anything except Lewis Hamilton, heehee!

The 5 red lights came on one after another and when it went off, the race has begun! Felipe Massa got into a good pole position and was leading the pack! I never knew an F1 race can be so exciting. :D

Unfortunately, a crash soon brought out the safety car. And from then on things start to get worse for Ferrari. A disasterous pit-stop had Felipe Massa shooting off the pit with the fuel hose still attached, side-swiping 3 of the pit crews! The stunned crew quickly attended to Kimi before realising that Felipe was still waiting at the extreme end of the pit lane for them to remove the hose! By the time he re-entered the race, he was languishing in the last position.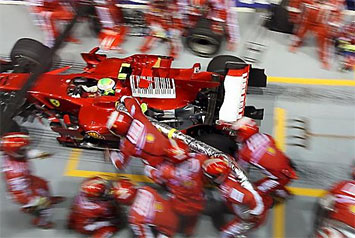 The incident which ended Ferrari's dream. Image from Formula1

Soon after, David Coulthard of Red Bull almost executed the same stunt but thankfully braked immediately when he felt something was wrong.

The race threw up a whole lot of twists and unexpected turn of events, with pole position switching numerous times before Fernando Alonso came into the top spot! This guy who started from 15th in the grid made it to the front of the pack!

Kimi's crash with 4 laps to go ended all hopes of a Ferrari podium finish. Lydia was inconsolable at the faded fortunes of her hero, Felipe Massa, and couldn't bear to watch the race any more. I was disappointed, but still supported Alonso and cheered him on, fearing that he would be overtaken.

And when he crossed the finishing line, there was joy on my face, and surely thousands more at the Marina Bay street circuit itself! It was a truly exciting race against a superb background, with never a dull moment!

Congratulations to Fernando Alonso who had pulled of a superb miracle! The agony of engine failure in Q2 must have been simply wiped off his mind! Any fan would really look back and marvel at his fantastic comeback achievement!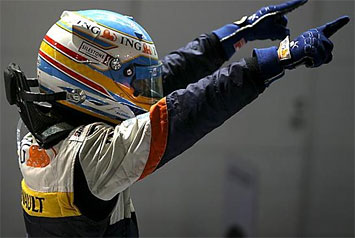 Miracles do happen for Fernando Alonso! Image from Formula1

Can't wait for the next Singapore Grand Prix to come again in 2009! Yeah!!


Saturday, 27 September 2008 - At The Singapore F1 Grand Prix!
What a day this is going to be!

We first met up with Boon Teck, Kian Pang, Andrew Quek (the baby is official!) and Koo (from Hong Kong for the F1 event) for bak kut teh at Rangoon Road for branch. Some of the guys were at the F1 event yesterday and were raving about it, especially the deafening roar of the F1 V8 engine. I would really like to hear the sound of the F1 engine up close and thought of dropping by St Andrew Catherdral at Gate 4 in the evening, just to experience the atmosphere and hear the sound. Kian Pang said he would check out the price of the -day walkabout ticket for me also.

Imagine my absolute delight when one of my supplier called me and said that she had a spare invite to the Pit Grandstand! Wow! That is fantastic! But you know what, I turned her down. I couldn't abandon my wife at home alone.

After I hung up the phone, Lydia was really touched by my gesture and urged me to go for the event, as it is a very rare opportunity and we would very likely never spend $1388 on a Pit Grandstand ticket! I called up my supplier again and said yes, before calling my boss to seek clearance. There's strict company guidelines on these kind of things. Thankfully she gave the green light. :D

And just as I was about to set off, my supplier called to say that I can bring my wife too! Woohoo! Amazing! We quickly got ready and headed down to the supplier's office to meet up with her, collect the passes and head off to Marina Bay for the F1 event!

We entered through Gate 1 and boy, it was a fantastic eye-opener. With the coastal sea on the left, there were the team's merchandise stores, food stalls, grandstands on the right, and a pathway that runs under the coconut trees. This is so cool!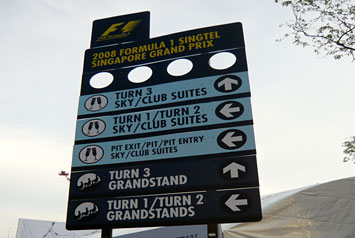 The signage at Gate 1 of the Singapore Formula1 event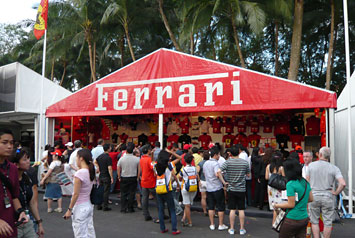 The Ferrari team merchandise store!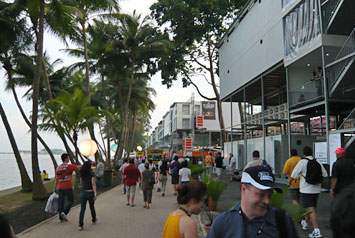 The idyllic pathway with the sea and grandstand on the sides

We got to our seats at the Pit Grandstand, block A19, row 5, seat 19 (directly opposite the William's garage. The pit lane was just across the race track and we could see right into the team garages! Wow!! The noise coming from the garages and pit from the F1 engines were raw and roaring for action!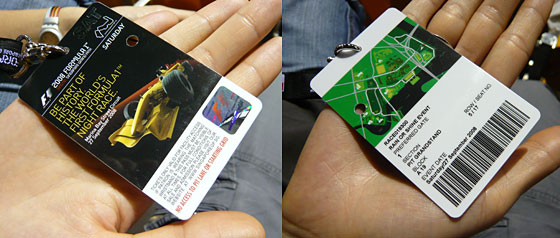 Our 2008 Singapore Formula One Day 2 pass!

Practice 3 got underway and we put on the William's earplugs. As the first car sped past at almost 300km/h, the sound was tremendous and deafening! Woohoo! The cars sped past so fast and so close to our wall that it was impossible for my Panasonic Lumix camera to capture a decent freeze shot of the car! Certainly not with a shutter speed of 1/125, haha! Video recording was good though, and it captures the noise and atmosphere very well!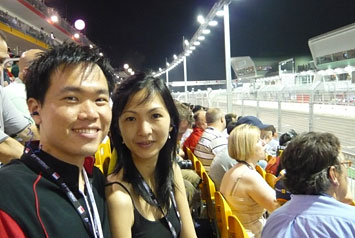 At the Pit Grandstand, super view of the team garages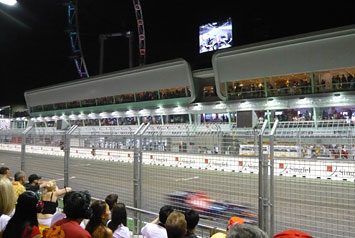 A Toro Rosso F1 car flahes by at full speed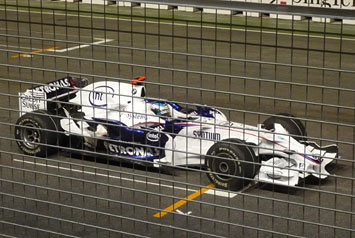 Nick Heidfeld in his BMW. Very nice of him to stop right in front!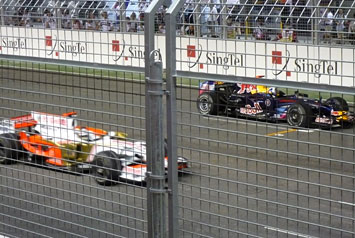 David Coulthard (Red Bull) and an unidentified Force India


A 20s video clip of 3 F1 cars accelerating off the grid!

At the end of the practice session, we took a quick walk to the Ferrari store and bought a scarf for $45.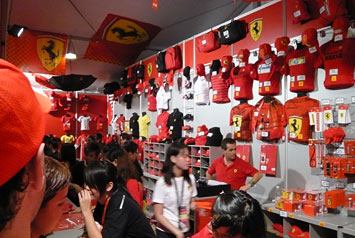 At the Ferrari store

Next up was something special! My supplier arranged for a special exclusive Paddock walk for us! We were escorted right into the backlane of the team's garages and where the team's hospitality suites were also!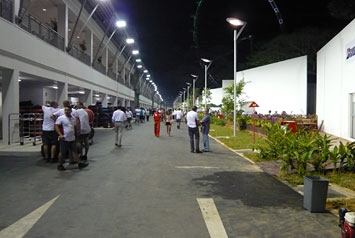 The exclusive zone of the Paddock walk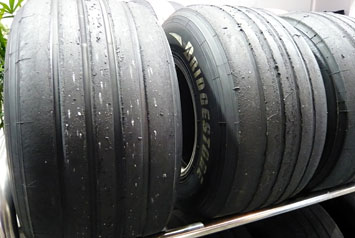 Touching the actual worn-out tires of the Honda team! Cool!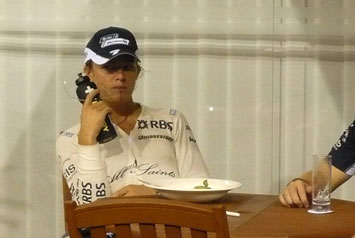 Nico Rosberg from Williams!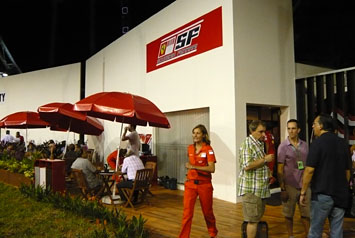 The Ferrari hospitality suite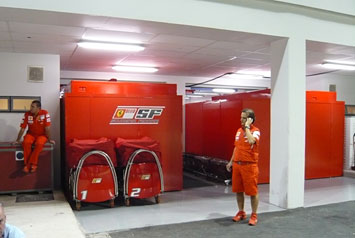 The back of the Ferrari garage!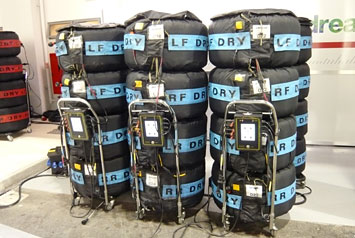 Pre-heated tyres for Jenson Button (Honda) Formula One car!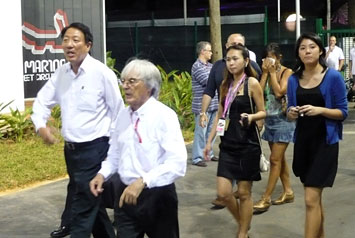 Even our defense minister Teo Chee Hean was there!

Back at the Pit Grandstand before the qualifying begins, we took a quick walk from one end to the other to check out all the team's garages.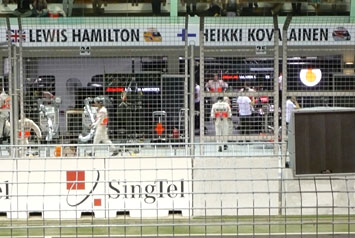 Lewis Hamilton & Heikki Kovalainen for McLaren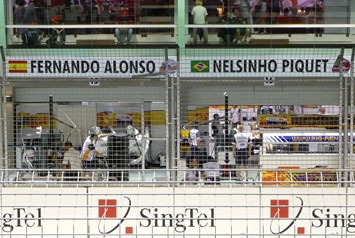 Fernando Alonso & Nelsinho Piquet for Renault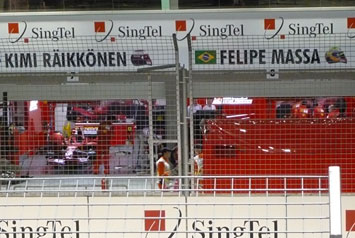 Kimi Raikkonen & Felipe Massa for Ferrari!

And the qualifying race begins!!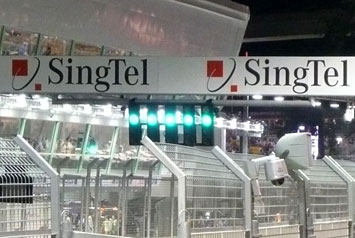 The green lights for the qualifying race!


Savor the electrifying sonic thrill of F1 cars flying past at almost 300km/h!

Fernando Alonso (Renault) was so unfortunate to experience an engine failure, dropping him into 15th position. The crowd was roaring Ferrari on and when Kimi Raikonnen clocked the fastest timing at 1m 45.617, everyone was delighted! But moments later, Lewis Hamilton came in at 1m 45.465 to snatch the top spot! Everyone watched the big screen anxiously as Felipe Massa negotiates the bends and as he came down the final stretch and zoomed down the track, everyone held their breath as he flashed cross the finishing line. Pole position 1, with the fastest lap of 1m 44.801!! The crowd cheered and celebrated!!

This is indeed a night that will be vividly remembered for a long time!


Friday, 26 September 2008 - First-ever Formula One Night Race Begins!
Today's the first time that Singapore is hosting the Formula 1 Grand Prix! And the first night race on the Marina Bay street circuit! How cool can that get!! Day 1 kicks off today with Practice session 1 and 2!

Desmond and I were at Funan Centre during lunch time and from afar, we could already see the cordoned off areas and Gate 4 entrance near St Andrews Cathedral. We went to check out the Scuderia Ferrari polo and shirt at Peninsula Plaza. Was tempted to buy one as I had always liked Ferrari and besides, Shell is also the main sponsor of Ferrari F1.

Unfortunately it was retailing at an astounding $149 and $165! As much as I'm tempted to buy, I decided not to as 1) The price is... astounding 2) I'm not watching the F1 live at the venue itself 3) The "air-time" of the apparel is likely to be limited to race days, car-theme events/gatherings and Chinese New Year.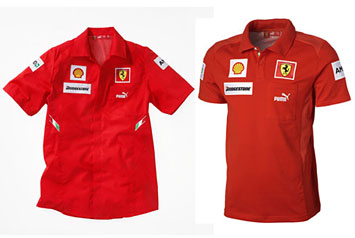 Scuderia Ferrari shirt 2008 and polo 2008, by Puma

After work, Lydia and I headed to Vivocity to check out the Puma shop and was surprised not to find the Ferrari shirt here. We found a shop called I.P. Zone where it was selling Astroboy t-shirts for $8 and polo shirts for $11.50! Amazing! Well, it ain't top quality and the greatest of design, but it makes a great buy for casual wearing at home.

We were so busy shopping that we forgot the time! 9.30pm already! Quickly wrapped up and "race" back home, and made it back exactly at 10pm to catch Practice 2 on TV.

I admit that I hardly watch the F1 race, though always checking to see if Ferrari beats Lewis Hamilton. But with the event now held in Singapore, on the home turf, I find myself fascinated. I find myself watching the cars go round and round the Marina Bay street circuit, excitedly spotting the iconic landmarks in the background, from the Singapore Flyer, The Esplanade (or as one commentator puts it, the spikey building), the amazing rows of floodlights, to the century-old Anderson Bridge.

I'm just proud that the first ever Formula 1 night race in Singapore is turning out to be a huge success. :)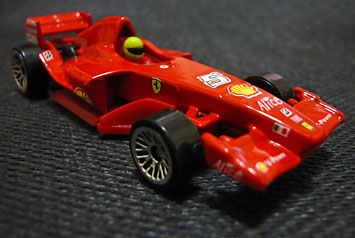 My $7.90 Hotwheels car, in support of Ferrari. Go Ferrari, go!

For the record, Fernando Alonso clocked the fastest lap of Practice Two with a time of 1m 45.654s, while Lewis Hamilton is fastest overall with his lap time of 1m 45.518s in Practice One. My simulator laptime of 1m 56.136s would have placed me.... last!


Tuesday, 23 September 2008 - The Parcel Arrives!
After a month of waiting, the parcel that Lydia has been waiting anxiously for has arrived! It was a combi present for her birthday last month. First thing she did when we got home was to open the parcel, hehheh!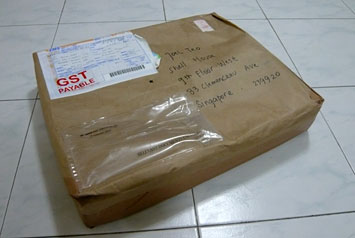 Direct shipment from Hokkaido, Japan! GST payable!!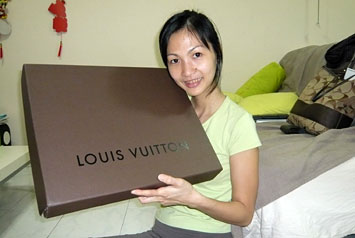 Nothing pleases her more than those magical two words...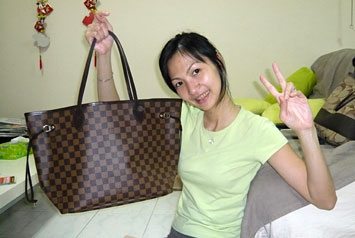 The long awaited LV Damier handbag, exclusive in Japan only!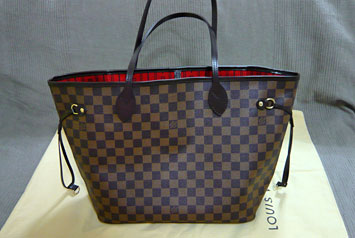 The Louis Vuitton Damier Neverfull MM (Product ID: N51005)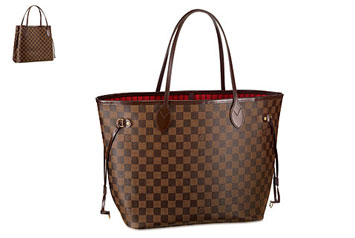 Official photo... I'm no handbag photographer yet

Hmm... am I going to get a free upgrade to a bigger dry cabinet now? :)


Saturday, 21 September 2008 - OPC Seal & a Wedding
Few days ago, we discovered that the our car's front number plate OPC (off-peak car) seal is missing! Goodness! Did someone steal it, or did it just drop off? Either way, it got us worried as it is a serious offence to tamper with the seal, though there wasn't any foul play at all in our case.

Which explains why on a perfect lazy Saturday morning, we had to drag ourselves out of bed at 6.45am and made our way to LTA office at Sin Ming Drive. Thankfully we got our reseal letter without too much difficulty after showing photographic proof and giving our "statements".

Next stop was at Vicom Inspection Centre just a short distance down the road. Had to pay $15+ for the reseal and inspect service, but the good news is that it is valid for next month's road tax renewal. :)

And we were off to Adam Road for Jared & Chloe's church wedding at 10.15am! Jared was our musician at our wedding, and he's the brother of Janice, our maid of honour. :) We met a couple of ex-RCC friends too, like Wesley (whom we last saw at Holland Road's Cold Storage), Marianne, Lester & Freda.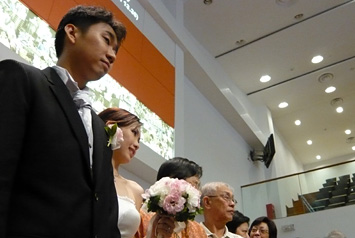 Church wedding of Jared & Chloe

Wedding dinner is at Conrad! Our wedding venue too, almost 3 years ago! :) The spiral steps, the "chandelier", the ballroom.. it brings back fond memories of our wedding.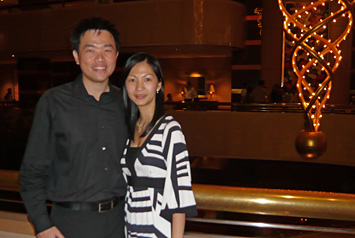 Back at Conrad, our wedding venue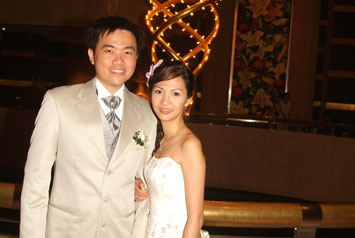 3 years ago at almost the same spot! :D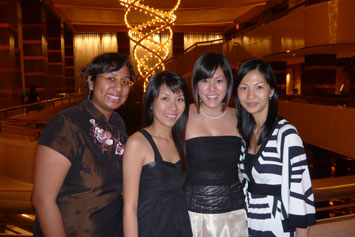 The girls: Joanne, Marianne, Janice & Lydia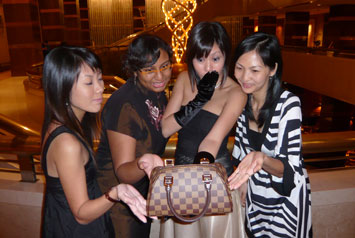 The girls admiring Lydia's LV handbag


Wednesday, 17 September 2008 - Gearing Up for Singapore F1 Grand Prix 2008!
The F1 is coming to Singapore soon and there's going to be massive road closure for the first ever SingTel Singapore Formula One street race! Check out LTA website for more info, especially the very useful F1 brochure.

We will only be watching it on TV though, after I tried but failed to get a top 3 placing in the SingTel Ultimate Race competition, where the winners get free tickets to the event. It's a pity that I found out too late that the organisers rejected wall-riding techniques, though it wasn't stipulated anywhere in the terms and conditions.

Anyway, my normal racing skills got me a 18th place finish with a laptime of 1m56s136. Check out the YouTube video of my best lap!




Wednesday, 10 September 2008 - Dinner with TP & ex-TP Friends
We met up with Wai Seng, Terence and Adeline Loh for dinner at Dian Xiao Er @ Vivocity. It was great catching up with them again! Wai Seng is the last surviving hero in TP, heehee. :)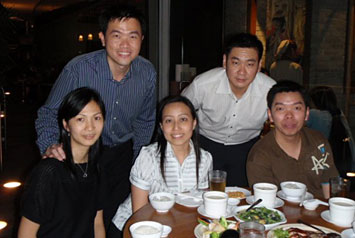 The food was quite good and we had a really nice alfresco table outside that overlooks the harbour towards Sentosa. It was nice, breezy and we could even hear the sound of the boats chugging away, heh!
We later dropped by at Ben and Jerry's for some ice cream desserts before wrapping up about 10pm. Tomorrow gotto work leh!


Saturday, 6 September 2008 - Facial, Mooncakes & Crabs
Early in the morning, we went to Body Contours for a relaxing facial. It's been a long time since we had one and I was looking forward to it, especially with my pimples outbreak. Unfortunately, the lady only gave me a "sensitive" facial, which involves just tackling the blackheads. That's it. But oh well, the facial massage and head massage very very relaxing and nice!

In the evening, we went to Shangri-La to collect the mooncakes that we have ordered for my parents. Didn't have to pay a cent as we redeem it through my DBS Rewards points. :)

Dinner was a gathering to celebrate Jason's birthday at Mellben Seafood @ Toa Payoh, together with my parents. First time here and was surprised to see such a huge crowd in this remote corner of Toa Payoh. We had to wait for an hour. Lydia and I sneaked off for 10 sticks of satay at the nearby hawker centre as my growling stomach couldn't bear the wait.

Dinner is served! We had crab beehoon noodle soup and butter crabs, which are their house speciality. J also ordered fried beancurd, sweet and spicy chicken cutlet and vege. The soup was good! The butter crab was interesting, but I still like our good old chilli and black pepper crab. The butter sauce was a bit too jelat as dipping sauce for the fried buns, but J and Fenny gladly whacked the buns.


Tuesday, 2 September 2008 - Disassemble This!
We went back to SingTel CommCentre after work to trade-in my o2 Atom and redeem back our $150 cash deposit.

Though my phone was really crappy with its frequent failed outgoing SMSes, failed outgoing calls and dropped signal, I was kinda sad to part with it! I guess it was because it has been with me for more than 2 1/2 years!

Had to disassemble the Atom last night to fix back the infrared cover that had dropped off. Was quite fun and unnerving to take it all apart, heehee! But it was really satisfying to successfully fix back the infrared cover as well as the loose battery cover and put it all back again. :)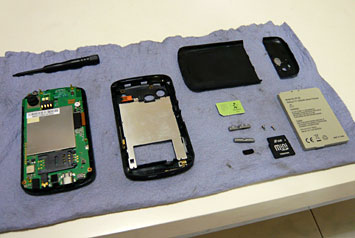 o2 Atom ready for inspection, Sir!


Monday, 1 September 2008 - iWant iPhone
Less than 2 months after switching to Starhub on 5 July, my wife has switch mobile provider again! To SingTel!

That's right! For the iPhone! Actually I had made a reservation this coming Friday for the collection, but we decided to try our luck at SingTel's CommCentre. And as what Desmond had advised, they gladly entertained us and issued a queue number.

We didn't really have to wait long! Less than 20 minutes! After finalising on the iOne Plus subscription plan (too bad they didn't accept corporate special plan), the Apple 8GB iPhone is in our her hands!

And SingTel allowed me to trade in my crappy o2 Atom phone too! Just that we had to place a $150 deposit as the infrared acrylic cover of my phone has dropped off (have to fix back, else rejected), and we didn't bring the charger and USB cable also. The final price after trade-in was $548 ($698 - $150).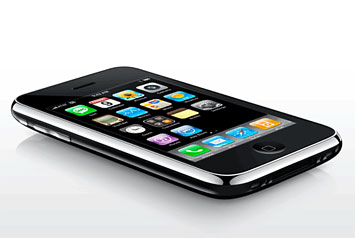 The cool Apple iPhone!

Somebody's got a new toy now huh? Her less than 2 month old Samsung Omnia is "handed down" to me also!


Sunday, 31 August 2008 - COMEX 2008
After church, we went down with Wai Seng and Elaine to Suntec City for COMEX 2008. Wah! Carparks at Suntec City and Marina Square are all full! Thankfully we managed to squeeze in through the convention hall car park, even though it has season parking holders only. And super thankfully, couple of lots after entering the car park, we got a lot!

With our stomach filled with juicy Carl's Junior burgers and fries, it was time to brave the sardines crowd! This year's COMEX has like 3-4 floors of booths! We helped Soo Kee buy a Dell laptop and I bought a Plantronics Voyager 815 blueooth headset! This headset which usually retails at $179 is now going for $99!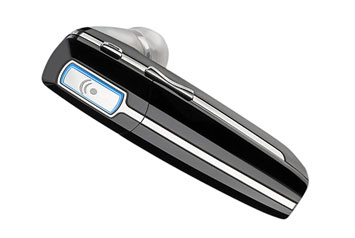 The Plantronics Voyager 815 bluetooth mobile headset

We left the place after like 2 1/2 hours of shopping! This was got to be the longest time that my wife has ever stayed in an IT show, heehee!


Saturday, 30 August 2008 - East Coast Park Outing
It's the church family day outing at East Coast Park today! It was raining heavily at our home, but strangely, it wasn't raining at Area F! Thank God!

With a nice mat spread out facing the beach, we sat down together with my parents to enjoy the scenery and activities.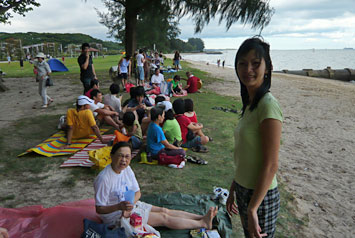 My mum stretching her legs

The rain unfortunately started to fall after a while and we had to take shelter. But it didn't stop us from taking a stroll in the beach once it got lighter. :)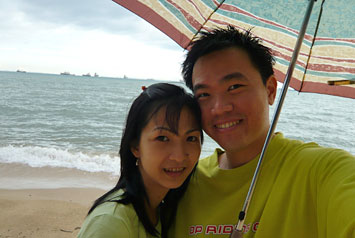 Together whether rain or shine :)



Heart in the sand...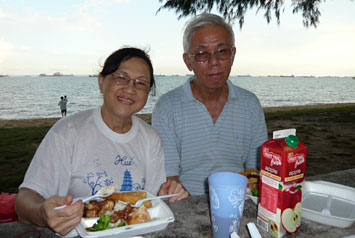 Dinner at the stone table with my parents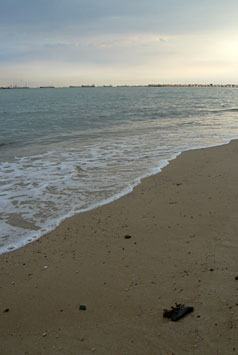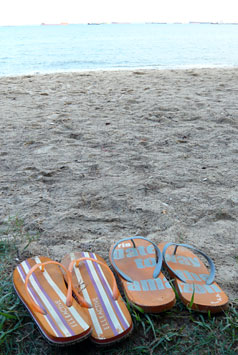 Dusk approaching Two pairs of slippers watching the beach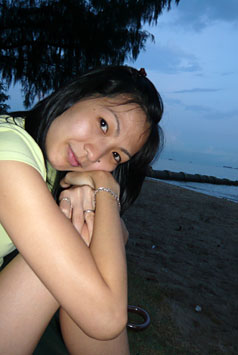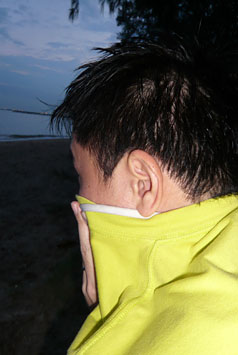 Cute... Shy...


Thursday, 28 August 2008 - Back From Padang!
How time flies quickly when you're not working! We're back in Singapore again. Padang Trip 2008 has been a real eating and sleeping trip for me, haha! We also got to see Esther's 1 month plus baby. I actually gained about 4kg midway through the trip which gave me a real scare! And as predicted also, gained more pimples as well. :(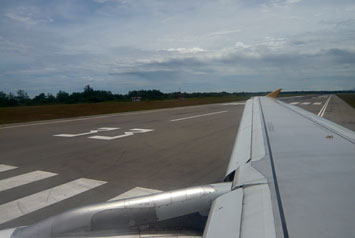 Final turn before take off from Padang!

Upon our return, there was no time to rest as we had invited some of our friends over for "singles" dinner, Indonesia special! Quickly clean up the house while Lydia prepare the food. Guests coming!

And we have Boon Chong, Kian Pang, Andrew Woon and Tzin Mein from my side, while there is Yulia and Chenny, friends of Lydia. First time having 8 people on our little dining table, heehee! Everyone gotto squeeze together!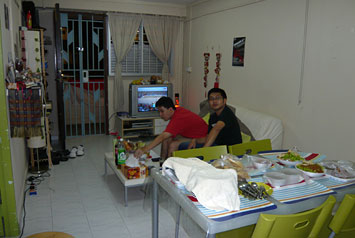 The furniture had to be rearranged to fit them!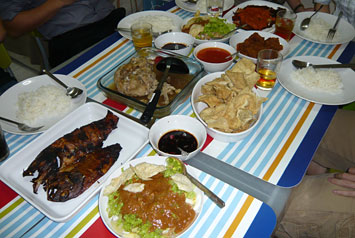 All the food specially flown in from Padang!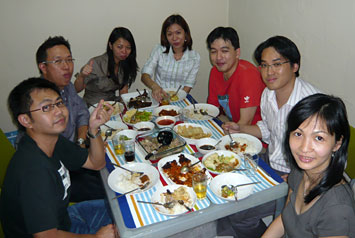 Everybody squeeze!!

Well, it was just dinner where everyone can try out some of my favorite Padang food, as well as the opportunity to know some new friends. I think it was a good dinner where there were lots of laughter and jokes. There were moments where the guys attention were on the FootballChannel TV (should have changed channel, haha!), but on the whole, I think it was a fun gathering.

Mr Andrew Woon however couldn't resist taking a spin on my Logitech force-feedback MOMO Wheel, haha! He went on a 5-lap circuit race and 2 rounds of drift racing in Need For Speed: Underground 2!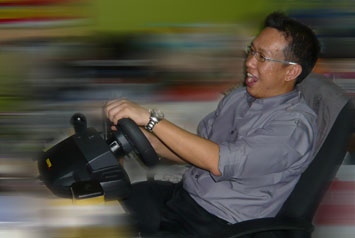 Someone's having a lot of fun! *Background edited*


Wednesday, 27 August 2008 - Padang, Day 5
I just had to eat the fried kampung chicken! At my special request, Lydia's sister and her husband took us to the regular eating place to satisfy my craving for the fried chicken. :P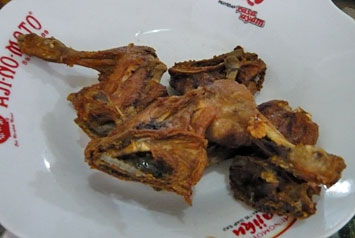 Small but very tasty!

We're off to the hair salon for a hair massage! It's nice to be pampered and have someone massage your hair/head for an hour or so. Ahh..... :)

Dinner was at home, where there was lobster, mpek mpek, noodles....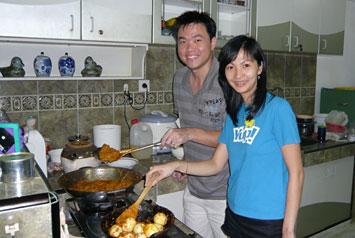 Master chefs...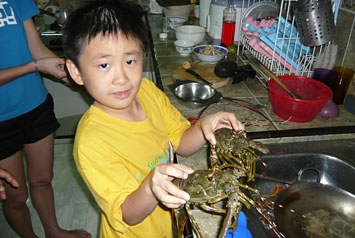 Lobsters! Err... how to prepare/clean it?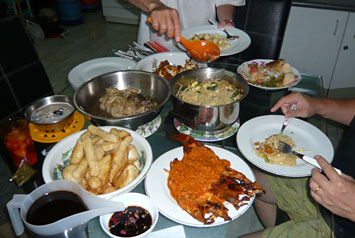 The feast!

And at the end of it all, we had durians again! I seriously am going to put on weight!


Tuesday, 26 August 2008 - Padang, Day 4
We woke up late today, just in time for the massage lady to drop by for a good traditional Indonesian massage! Well, the massage ain't exactly the relaxing kind, so some parts of my legs are aching after the massage. But it still felt good!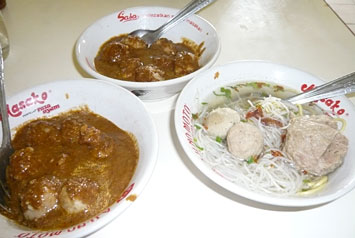 Bakso (meat ball) for our late lunch!

After resting at home for a while, we went out for dinner together with Lydia's sister good friend and her husband, who wanted to treat us. Thank you!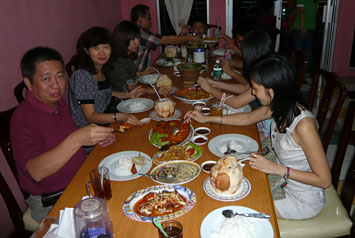 At the new restaurant opposite the beach


Monday, 25 August 2008 - Padang, Day 3
After a hectic weekend, the weekdays take a slow start, especially since Lydia's sister Sonny can't be on leave this time. The morning was spent waking up late, having ta pao breakfast at home and playing with Esther's baby.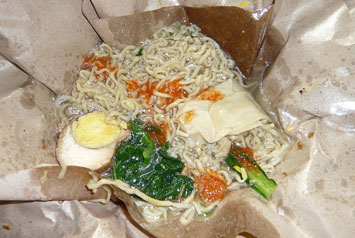 Mee pangsit for breakfast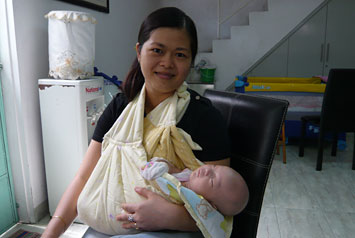 Esther with baby Calvin

Lunch time! We picked up Sonny first and then we're off to my favorite eating place of all! Fish head curry! The best of the best!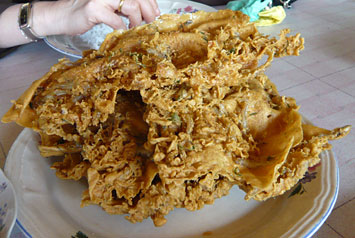 Rakik, fried batter infused with anchovies. Totally out of this world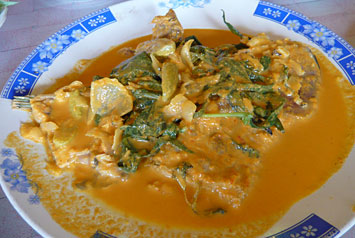 The fabulous fish head curry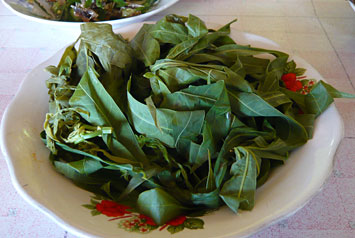 The humble tapioca leaves, which tastes superb with the curry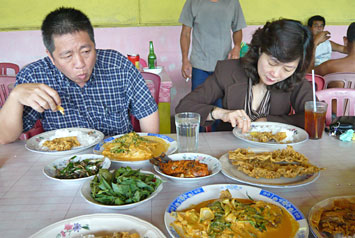 The three dishes together... simply heavenly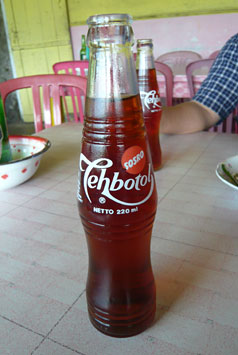 Teh botol, my fav drink in Padang! :)

After the fantastic lunch, we had an appointment with the hair salon for a haircut for both of us, and coloring for me too. Total damage for both of us: only SGD 40! Their shampooing and washing which incorporated a fair bit of head massage was so good that I almost fell asleep! :D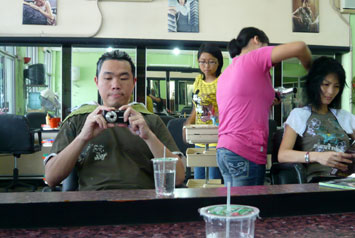 At the hair salon

After the hair salon, we indulged in some baby-sitting for Esther.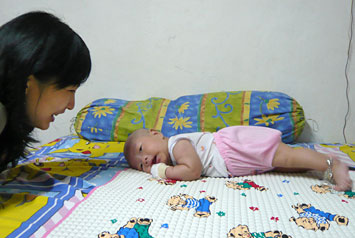 Lydia urging the "turtle" to flip over, heehee!

After catching an afternoon nap, it was dinner time. The family had ta pao food back so that everyone can eat together.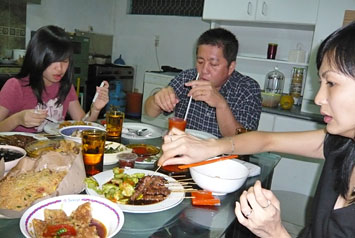 Lydia grabs a satay while eyeing the noodle...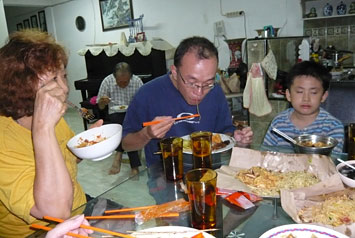 Ma, Herry and Hans, with Pa in the background


Sunday, 24 August 2008 - Padang, Day 2
We slept so soundly that the rest have gone to church and back and we're still in bed, heehee!



Breakfast with Lydia's sister Sonny, her hubby and Hans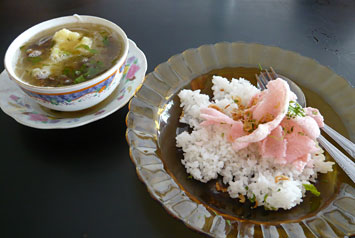 Wow, this is one of my favorite... nasi soto!

After breakfast, together with Lydia's parents, we went on a 1 1/2 hr road trip to a tea plantation up in the mountains!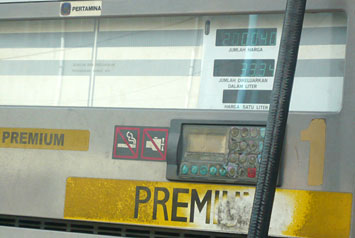 Petrol cost only about SGD 0.90!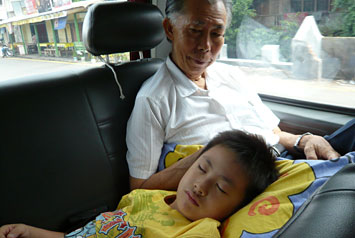 It's a long, long road...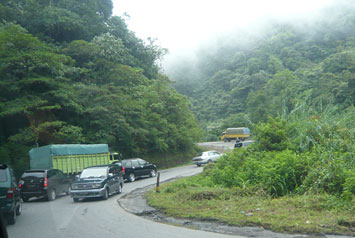 Up the mountains along the narrow winding roads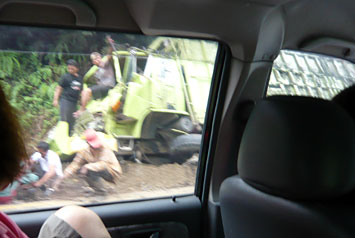 The scene of a ill-fated lorry who's brakes had failed downslope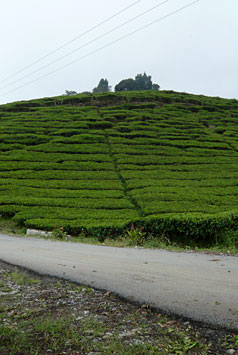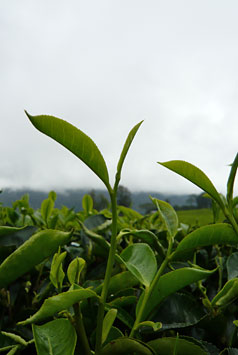 At the tea plantation! Temperature is cool! The juicy tea leaves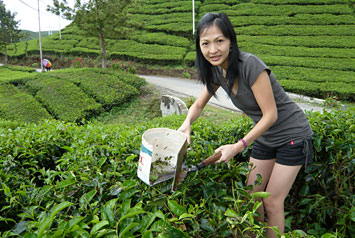 A part-time tea leaves harvester?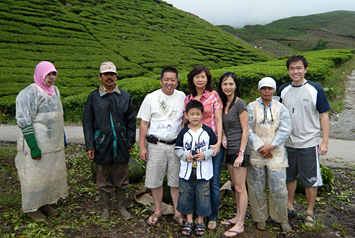 Group photo with the real tea leaves harvesters



Just the two of us

After spending about 20 minutes taking photos, admiring the scenery and taking in the cool mountain temperature atmosphere, it was time for the journey home.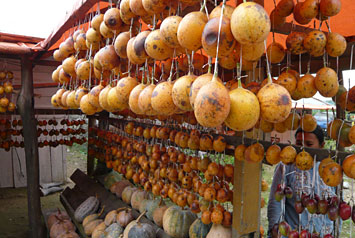 A brief road-side stop at a passion fruit stall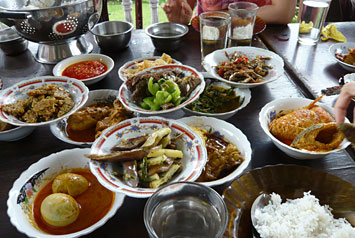 Stop for lunch at a restaurant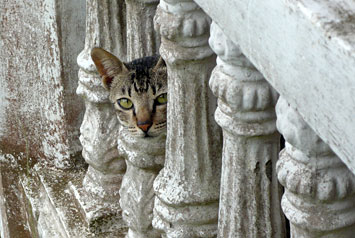 A hungry cat wants some too!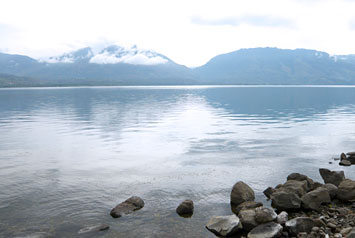 Pulled over to admire the Lake of Singkarak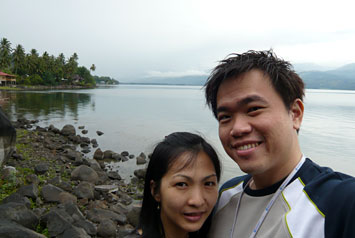 Nice scenery!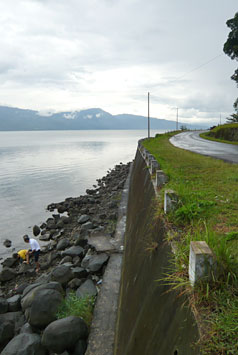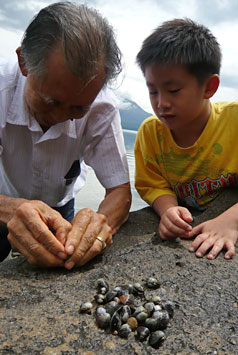 Hans & Pa (left) didn't fancy the scenery... Oh, what have they got from the lake?

We stop over again at a regular mountain half-way eating place for satay! Same place, same food, same great taste! :)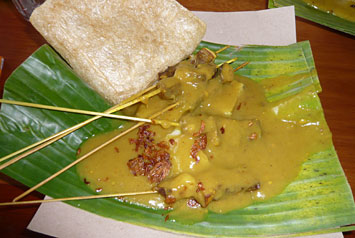 Satay with beef skin keropok @ Mak Syukur. Authentic taste!

Finally arrived at home. And what do you know, it's durian time!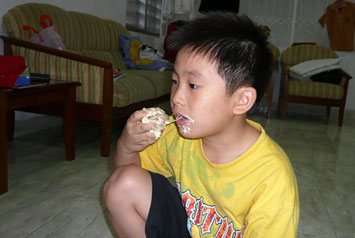 Hans demostrating the shiok way of eating durians...

And a few hours later, it is dinner time. I told you this is a eating trip. :)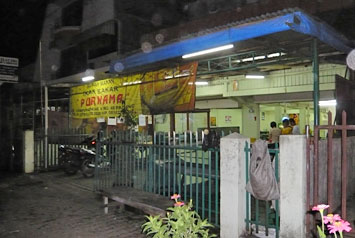 Arriving at the eating place, which is also a home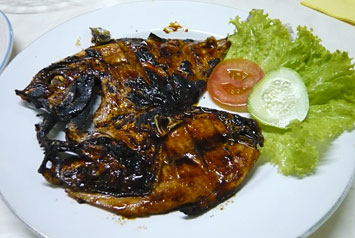 Ikan bakar, black sweet sauce style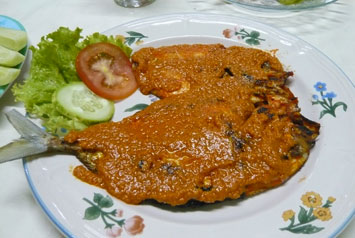 Ikan bakar, chilli style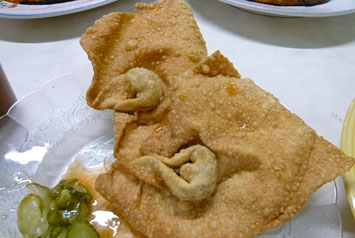 Fried ultra large wanton. Very nice!


Saturday, 23 August 2008 - Off to Padang!
We're off on a one week trip back to Lydia's hometown in Padang, Indonesia! Hurray! No need to work for one week! Just relax, eat, sleep, go for massages, eat, sleep..... :D

Going to put on weight for sure. And going to have more pimples! :O

Don't care lah! Enjoy first, worry later!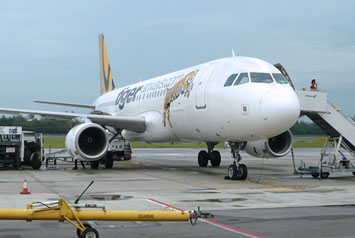 Waiting to board our Tiger Airways aircraft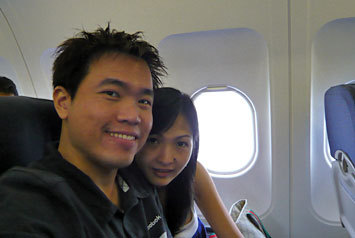 "We're leaving... on a jet plane...."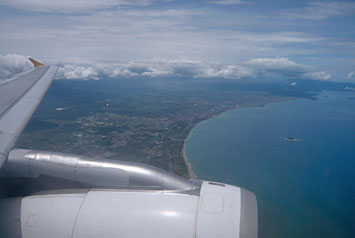 The coastal city of Padang awaits below!

Upon touchdown, after the routine rush to clear immigration and relief that our luggages are not marked with an "X", Lydia's brother-in-law picked us up from the airport. As we headed back home, the familiar sights of the rural landscape and brightly-colored passenger vans once again welcome me back to the land of the nasi padang.

First eating stop: Es Durian! This is one must-eat dessert when you're here!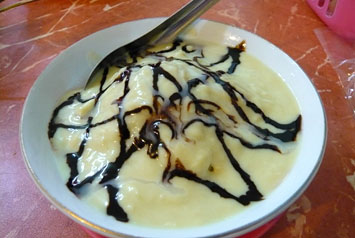 Rich and creamy durian paste on chendol. Enak!

Unfortunately, Hans was not allowed to eat as he is coughing. Tears started welling up in the poor naughty boy's eyes. I pity him also, having to watch us eat!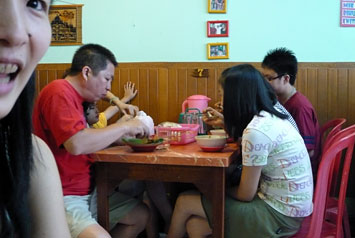 Brother-in-law and kids. Hans sulking in the far left....

After the dessert, I went with Lydia's brother-in-law for a foot massage! Painful but nice! And it only cost like SGD 2 for a 1 1/2 hour session!

In the evening, we went to a chinese restaurant for dinner, together with all of Lydia's family except Esther & Herry who had to take care of the baby. The food is nice, but my stomach remains unfulfilled until it has sampled the authentic Padang food, heehee!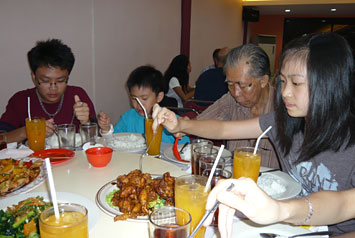 Stevan, Hans, Pa and Josephine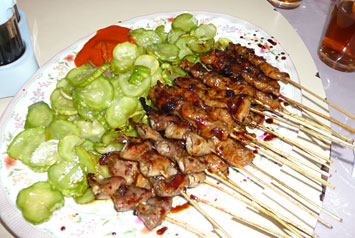 Satay, Padang style, pork meat and intestines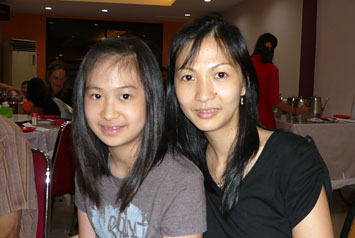 Josephine and Lydia. Do they look like sisters?


Wednesday, 20 August 2008 - Birthday Dinner @ Jumbo
It's another round of eating celebration for Lydia's birthday again, this time with my parents and Jason and Fenny. :)

We went for dinner at Jumbo @ Singapore Indoor Stadium. Would have liked to take them to the outlet at Dempsey Hill, but we got a $50 voucher for this outlet. :P Still, the atmosphere here is quite good also, especially since we have secured an outdoor sitting.

What do we order at Jumbo? As usual, the usual, haha. Why try others when this "combo" has kept us happy for years? We had the fried squids for starters, scallops in yam rings, sambal kang kong, salted fish with chicken fried rice, Sri Lanka black pepper and chilli crabs, and lots of fried buns!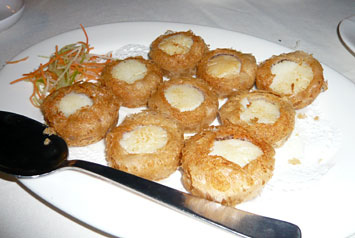 Scallops in fried yam rings. Yammy!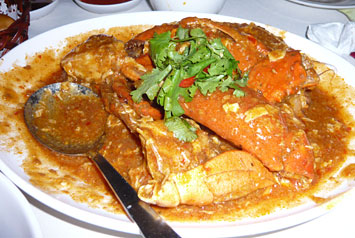 Sri Lanka chilli crab!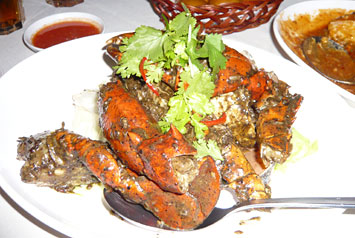 Black pepper chilli crab!

Was great having a family dinner together and chit chatting together. My craving for crabs have been temporary supressed for a while, heehee!

Forgot to take pictures of humans, haha! :P


Sunday, 17 August 2008 - Happy Birthday Little Piggy!
At the stroke of midnight, my little piggy turned 28! Happy birthday!

As per our tradition, we always celebrate it at home with a birthday cake.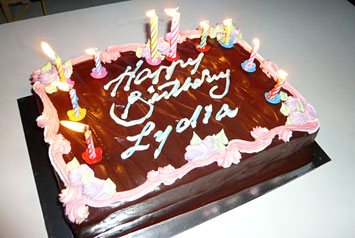 Lydia's birthday cake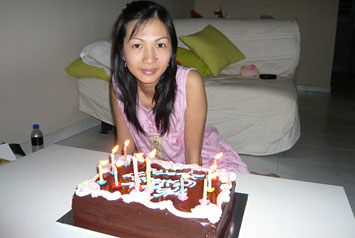 Happy birthday to you... happy birthday to you...

And in a brokered deal made weeks ago, my present to her: A + B + C = LV. Her anniversary present, birthday present and a coach bag that I owed her, all combined together, to allow her to redeem her LV present!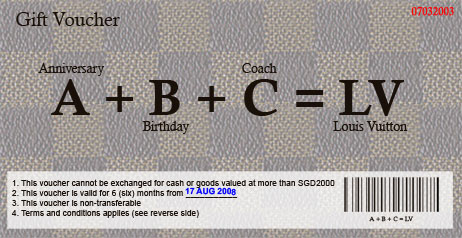 The LV voucher for the birthday girl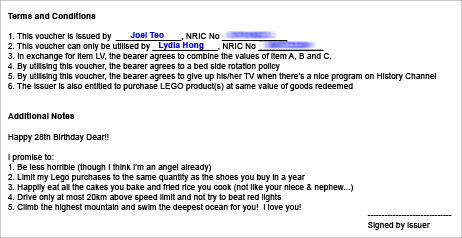 With its terms and conditions...

The "birthday card" was a surprise to her as I had made it secretly. After eating a couple of slices of the oh-so-delicious Lana chocolate fudge cake, we called it a night. Zzzzz!!

---------------------------------------------

Slept in late and didn't go to church today. :P

In the afternoon, on her birthday, we went to my parent's place to wash car, heehee! No choice lah, the car has not been washed for 2 weeks and we'll be away whole of next week.

For dinner, we went to Tampopo at Central. It's a pity ramen is not served here during dinner, but nonetheless, the black pig tonkatsu is still my top favorite. The waitress put us at a table by the window overlooking Clarke Quay, which really made our dining experience more memorable.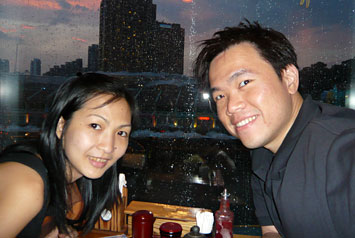 At Tampopo, overlooking Clarke Quay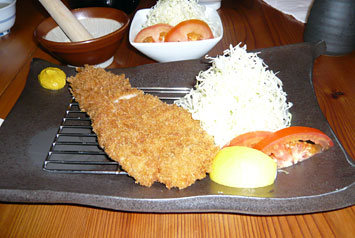 My black pig tonkatsu.. yummy!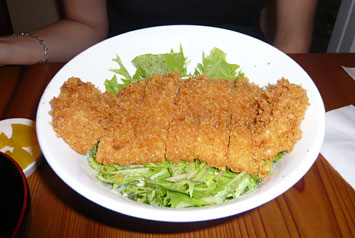 Lydia's... err... tonkatsu with vege & rice. Forgotten the name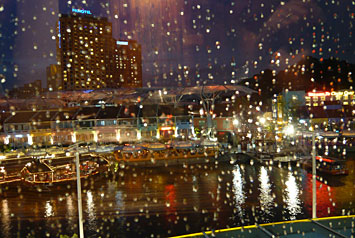 The night view of Clarke Quay through the rain-splattered window

We rushed back to catch the Olympics table tennis finals between the Singapore women's team and China. Well, Li Jiawei, Wang Yuegu and Feng Tianwei were simply no match against their former comrades and went down 0-3. Not that we were expecting an upset or something. I guess it's a "win-win" scenerio for both sides. Singapore has won its first medal since 1960! It's first independence medal, heehee!


Saturday, 16 August 2008 - The Day Before Tomorrow
Today's the eve of Lydia's birthday. I think it's like the first time it ever fall on a Sunday. Which left me with a headache of planning a whole day of activities for her, or rather a whole weekend of activities for her!

How about a romantic picnic in the park? No, parks are what I like, she says. Cycling at East Coast Park? Too hot, and it's a park. But the things that she likes to do are.... shopping, watching serial dramas, and eating! I cracked my head silly wondering what I could do for her...

To start off, we went down to Greenwood Ave in the afternoon to collect her birthday cake. I know it's not going to be a surprise for her, but she'll be getting the famous Lana cake! I had ordered the 2kg cake a week in advanced and there was a long collection queue when we got there. Finally we're going to get to eat Lanacake again, hehheh!

After collecting the cake, we popped by next door at Greenwood Fish Market & Bistro to make a reservation for dinner tonite. For years we've passed by this place whenever we come to collect the Lana cake but never tried the food. Tonight will be the night!

After a brief stop at home to drop off the cake, we headed to Orchard for some shopping, then to Giant @ Bukit Timah for some more shopping, before returning back to the Fish Market at 8pm. At night, this area is pretty cosy, quiet and secluded, a great getaway from the crowded shopping malls and throngs of people.

The friendly waitress got us settled by the table along the walkway outside Lana Cake shop (heehee!) and enthusiatically rattle off their house specials. Since this is our first visit, we decided not to take the house fish & chips but go for the more exotic catch: Ling cod (battered) & chips and pan-seared hamachi with mashed potatoes.

The starter FOC focaccia bread was superbly delicious. We finished it under 5 minutes. :P

Next up was the calamari appetizer. I ain't no sotong eater, but I gladly finished up the last crumb of calamari. This sotong taste good!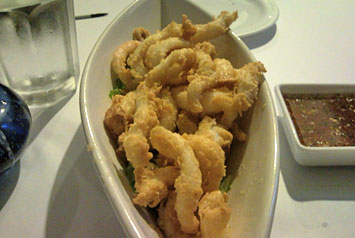 Delicious! The salad below was equally nice!

We didn't have to wait long before our main course arrived. I had the lingcod while Lydia had the hamachi. The lingcod was quite unlike the typical fish you get in a typical fish and chips. It was firm yet tender, and not fishy at all. The batter could be better but that's all right. But considering it's $27.95 for the special trawler catch of the day category fish, it's a bit pricy for fish and chips.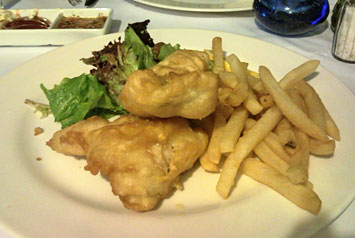 2 pieces of ling cod fish n chips

The hamachi is a yellowtail fish, which the waitress said is a must-try as it is not even on the menu! That's what fun about this place: exotic fishies!

The recommended pan-seared hamachi was very delicious. At a glance, it looks like chicken, heehee! The "meat" was very tasty and nice. It's been ages since I ever ate any pan-seared fish (aside from salmon), so it was very refreshing and exciting to my tastebuds. :) The home-made mash potatoes... wow, the best I ever had!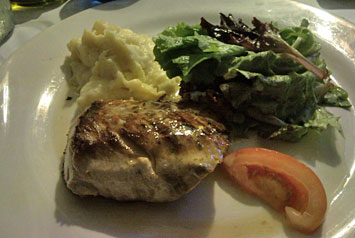 Best pan-seared fish I ever had, so is the mash potatoes!



The birthday girl enjoying her fish


Friday, 15 August 2008 - Soo Kee @ Legoland!
Soo Kee called me at 6pm and gleefully told me that he's at Legoland, Denmark!!

No way! That's my dream destination!! Wah!! How I wished I could be there too!!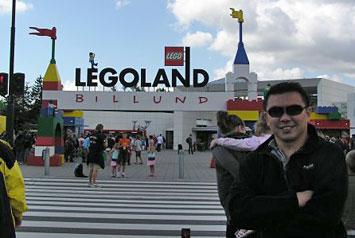 The lucky guy at Legoland Billund, Denmark!!

Check out more of Soo Kee's Legoland photos at his Facebook's Legoland album!

Actually when Lydia and I were in Sweden in Dec 2006, we had considered going to Legoland too. But it was closed during the winter season. Pity!

Let's hope our dear Soo Kee managed to help me buy a souvenir from Legoland!


Monday, 11 August 2008 - Lunch @ Lawry's
It's a company off day today for me, while Lydia's on half day leave in the afternoon. Her birthday's this week, and she wants to eat steak! We headed to Lawry's @ Paragon where they have a special 1-for-1 special for lunch.

We ordered The Lawry's Cut ($79.90), which is their traditional and most popular cut. The famous spinning bowl salad was very nice and tasty!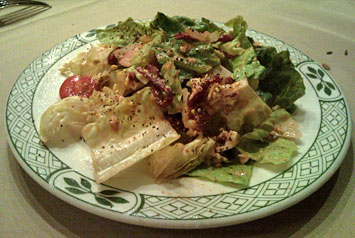 One of the best salad I ever had! Says much for a meat-eater!

The main course was of course the roasted prime rib beef. Medium well please.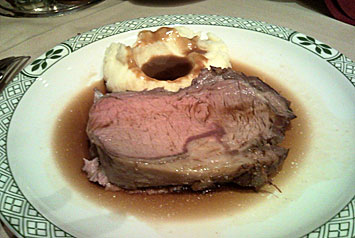 The Lawry's Cut

Lydia liked the steak alot. Well, I wished I could say the same, but I somehow still prefer the hot sizzling steak with black pepper sauce. The beef is excellent quality, but unfortunately, I don't know how to appreciate cold-cut quality beef. :P

Anyways, it doesn't matter what I feel, as it is Lydia's birthday meal!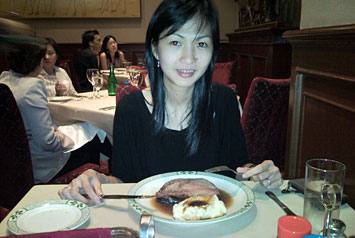 Lydia's birthday meal in advance

We spent the rest of the afternoon shopping at Orchard for her present (unfortunately no stock!) before heading home.


Sunday, 10 August 2008 - Baking Fever
Lydia got inspired by her office colleagues' baking passion and decided to bake also! Actually she has been baking since last weekend!

Presenting her 2nd cake (the 1st was the cotton cheesecake), the chocolate swirl cheesecake!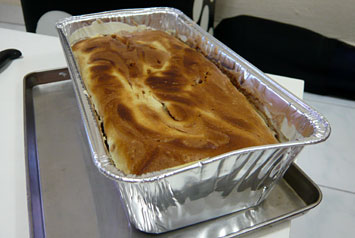 The chocolate swirl cheescake. The "swirl" effect by me!

With time to spare, I got down to some work too! Installed and started playing Medal Of Honour: Airborne! World War II action, yeah!!

Wow, it took some getting used to having to switch to ironsight to have a tighter crosshair. The experience of jumping off the C47 airplane with your comrades and landing into enemy territory is fantastic! At the normal level, it is quite tough, considering that the game can't be saved till you completed a task and reach the checkpoint! But it sure was fun! Love the Garand rifle! Wonderful sound effect!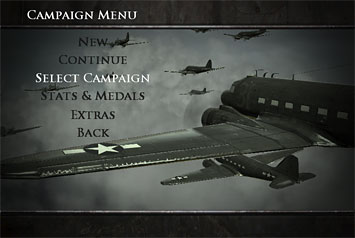 6 campaign missions awaits you in Medal of Honor: Airborne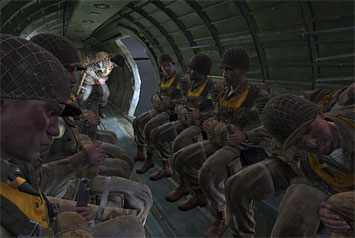 Just great, Private Ryan (right) wants to go to the loo!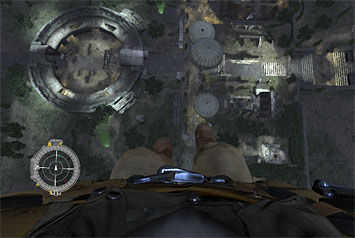 Airborne! Gladiator stadium or historic ruins?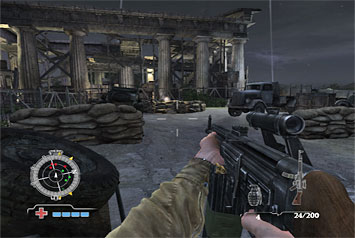 Private Travers leading the assault on the ruins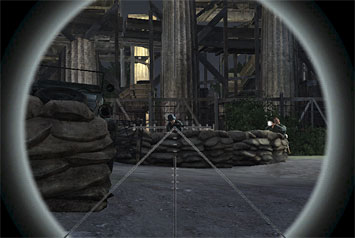 Nazi machine-gunner!! Take him out before he takes us out!!!


Saturday, 9 August 2008 - National Day Activities
It's a pity National Day falls on a Saturday, but well, at least we can take our car out in the morning.

My parents came and picked us up before we head to Beo Crescent for the famous curry rice! First time my parents eating here. We ordered ba pa (my favorite!), cha sio, curry ji and ko leh chai. Yummy! My dad likes it very much and cleaned out his rice plus half of Lydia's rice easily!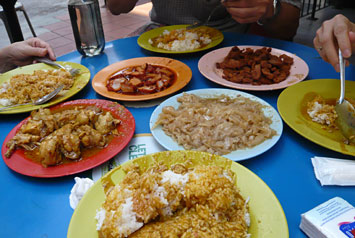 Beo Crescent's famous curry rice!

We visited Wai Seng's in-law's fruit stall later and bought two mangoes. There was an auntie there whom we suspect is Wai Seng's mum, but didn't dare ask her, heehee!

After lunch, we went to Audio House @ Liang Court, where we helped my dad choose a 32" LCD TV! My parent's old "CRT" TV has kaput, that's why. To save on $30 delivery charges, me and my dad carried the TV all the way down to the open air carpark! Heavy!

My mum had a craving for Wai Seng's in-law's durians after hearing us rave about it. So we called Wai Seng and placed an order for 3 durians and dropped by his home to pick them up. 2 for us, 1 for my mum, heehee!

Futsal time @ ECP! Can probably play for an hour or so only, as gotto rush back to my parent's home to watch the National Day Parade!

Today's session was a low-scoring affair. Was drained out of stamina during the 1st 15 minutes of non-stop action, didn't score any goals, but played alrite lah. Had a goal-assist to Boon Teck after returning his corner pass, where he amazingly slotted home from an impossible angle. Had a couple of shots on target, including a cool right-footed shot from the centre that was destined for the top left corner until the goalie pulled off a reflex save. Darn.



The girls: Lydia, Novita and Valentine, together with Baby V

It started pouring heavily as we scrambled for home and thought that the NDP would be a mess. Miraculously, the weather was holding up pretty well at the parade! Had to help my dad setup the StarHub cableTV connection to his new LCD TV, so we missed the parachute event. But no matter, it was still nice to watch the parade, especially the Black Knight special. But I still feel that the "colourful" performance were a bit boring. It looks colourful, bright and spectacular, but.... just couldn't shake off the boring feeling. I'd rather watch heavy armoured tanks roll by anytime, haha!

Well, Happy Birthday Singapore!


Wednesday, 6 August 2008 - Marriot Vacation Club
At a friend's referrer, Marriot invited us to come down to their office at Takashimaya to attend a 90 min presentation.

It might sound similiar to those timeshare vacation kinda thingy, except that it's run by a reputable company. Their service and attitude were exceptional and we kinda felt bad for not signing up, haha. This vacation concept idea is more suitable for people who goes on holiday alot and don't mind staying in a single location for a stretch. We're more of a see-as-much-as-possible, go-as-many-places-as-possible kind of tourist. :)

At the end of it all, we walked away happily with a $200 Takashimaya voucher! Thanks Elin! :D


Saturday, 2 August 2008 - Saturday Adventures!
Futsal at UberSports @ East Coast Park, 4pm to 6pm!

After a dreadful futsal session last weekend where I was all so lethargic and driveless, I was determined to put the wrong to right again. Cannot slack!

It turned out to be a really enjoyable 2-hour session for me. Scored 3 goals in the beginning (5 against 4), and 4 more goals later (when it was 5 against 5). Had to play sometimes as goalkeeper even as my team (Dennis, Tzin Mein, Boon Teck & Kian Pang's friend) didn't have a regular goalkeeper and was worried we would be easy prey. Thankfully we played with determination and covered the space well. Was particularly pleased with the goal where I brought the ball forward on the right wing from the halfway line, cut back across the centre outside the penalty box (where Boon Teck shielded Boon Chong from me, heehee!) and fired a low shot into the bottom left corner. Sweet!

After the game, together with Andrew, Boon Chong, Kian Pang and Tzin Mein, we went to Katong for the famous bak koot teh. The place was crowded! We had to wait about 10 minutes before getting a seat. The cereal chicken was very nice. We popped over at a small family restaurant later for desserts too.

Was really fun catching up with them over dinner and desserts! These guys are really comical jokers and at times, I laughed till my stomach pain, haha!

And guess who wants to go to St James tonite? Soo Kee!

I thought he had gone to Beijing and back to Sweden, but nooo, he's back in Singapore again over the weekend. Well, since he asked, gotto give him face lor. But requested to go somewhere quieter where can chit chat instead of standing all the time and getting blasted by loud blaring music.

We went to Jazz Bar but to our horror, the place was totally packed. So we went to Bellini Room instead. Not exactly quiet, but still condusive enough to sit down and chit chat.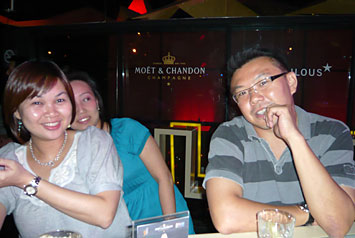 The girls shy away from the big bad wolf...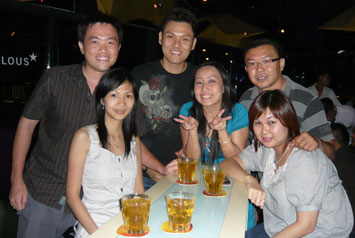 Joel, Lydia, Kuan Han, Adeline, Soo Kee, Sherry

Bellini Room is quite cosy and nice actually. Best of all, there's no cover charge at all! A jug of Mandarin Vodka with sprite was quickly gone in a flash. Thankfully Kuan Han had a bottle of Henessy VSOP, which we helped him to finish it. :D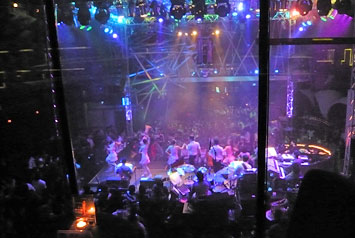 A great view of the show happening below at Dragonfly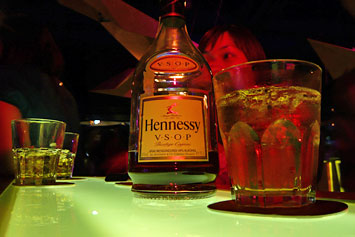 Our drinks! Love this shot!!

With Soo Kee around, we die die also have to make a trip to Dragonfly, haha. Popped over at about 4am, where we hang around there for about half an hour before we decided to leave St James and go for supper at Pasir Panjang. The guys took the breath analyzer test to make sure we're safe to drive. Adeline took it for fun too! Amazingly, we all registered 0 while Adeline registered 28!! (Singapore's legal limit is 35 microgrammes per 100 millilitres of breath)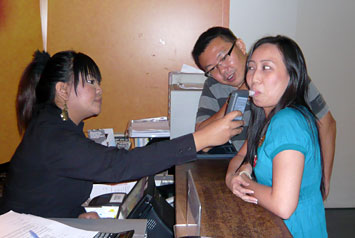 Soo Kee looks on as Adeline taking the breath analyzer test

It was about 5am when we had our prata supper. Adeline was almost dozing off already, haha! By the time we got home and got ready for bed, it was almost 6am!! Die lah, tomorrow got usher duty at 10am!!

Saturday, 26 July 2008 - Soo Kee's Back!
Our dear friend Soo Kee who had gone to work in Sweden for 2 years is back in town, on transit to Beijing!

We caught up with him briefly for dinner, together with Wai Seng. And would you believe where Soo Kee wants to eat at? KFC! Kentucky Fried Chicken, haha! You'd think he'd choose something more Asian, but he said that there isn't any KFC in Sweden (not least in Malmo or Lund), and that chicken taste better in Singapore too. What a joker, haha!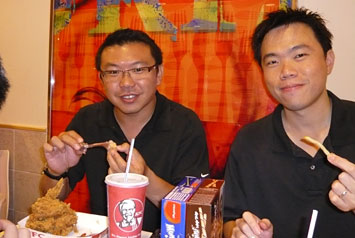 Soo Kee just finishing his 2nd of 3 chickens

We went down to Wai Seng's in-law's stall later where we had..... free durians! Well, we offered to pay, but he declined. :P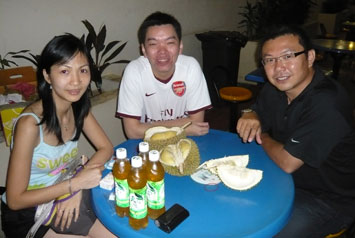 Seated at the closed hawker centre, all ready to eat durians!

Oh my, the durians are excellent! Rich, creamy, solid durians!! Wai Seng just took a few and the three of us practically ate 5 durians! Had to ta pao the last one home even cos we were so full!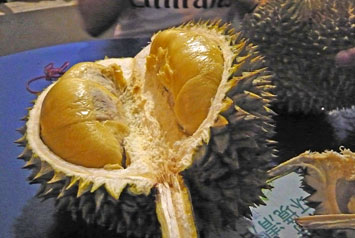 Ooooooh....

It was really fun eating durians in the dark and chit chatting, heehee! Well, now we know where to go to buy durians. Of course must drag Wai Seng along. :D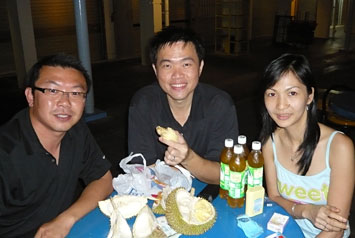 Come back soon if you want durians!


Friday, 25 July 2008 - Jumbo @ Dempsey Hill
Met up with Corrine for dinner at Jumbo @ Dempsey Hill! It's been a long time since we met up with our honeymoon tour-mate, and an equally long time since we had those yummy Sri Lanka black pepper and chilli crabs!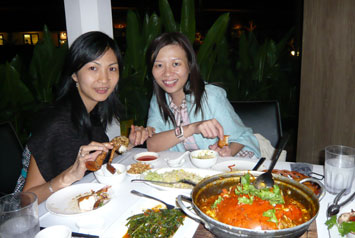 Lydia and Corrine digging into the crabs

It was really enjoyable eating those succulent Sri Lanka crabs, from dipping the fried man tou into the chilli gravy, to licking the black pepper sauce off the shells of the black pepper crab! And the service at this Jumbo restaurant is fantastic too! Throw in the Dempsey Hill chill-out ambience and we were all set for a nice long evening dinner!

It's a pity George, Holy & Wei Leng couldn't make it, cos we had lots of fun catching up with Corrine, talking about everything from work, Europe trip, USA, George, LV (Louis Vuitton or Las Vegas?), baby, waiters, to in-laws!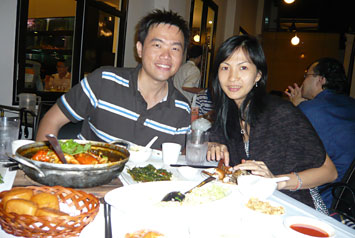 Joel & Lydia

And it was way past 11pm before we left the place, hehheh!
I hope George didn't have any curfew for Corrine! :)


Tuesday, 22 July 2008 - Joe's Techie News
I came across some tech gadgets and stuffs lately which left me in a mixed feeling of laughter, amazement and sadness. Not all at the same time lah!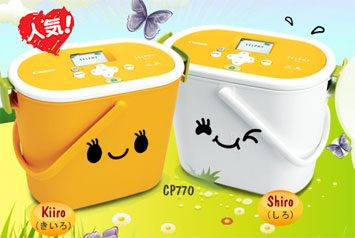 Cute playground buckets anyone?

Laughter: What are these two cute things? Haha! Well, believe it or not, it's a compact photo printer from Canon! The Canon Selphy CP770 compact photo printer.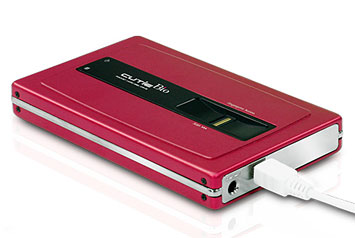 Biometric portable drive!

Amazement: Ain't it cool? An external hard drive enclosure with fingerprint reader security! The Sarotech FHD-254 Cutie Bio. S$74 only somemore! Is my boss going to approve this for tryout?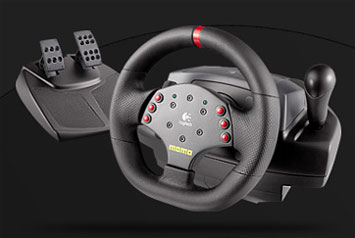 Gearing up for the F1 in Singapore!

Sadness: The Logitech MOMO Racing Force Feedback Wheel! This baby can be yours for only S$99 at Challenger! Why sad? Cos it cost me $199 when we bought it years ago!


Saturday, 20 July 2008 - Suti's Baby 1 Month Anniversary
It's Suti's baby 1 month anniversary celebration today!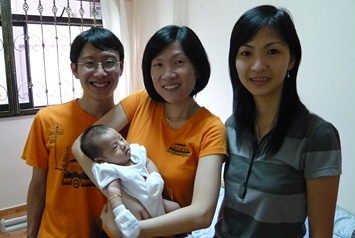 Lydia (wah, so tall?) with the proud parents and baby

The little baby is now 3.7kg, gaining almost one kg in just one month. Which makes us wonder how is Esther's baby now? That little chubby baby was already 4.05kg when born!


Friday, 19 July 2008 - Park Adventures in the Night!
Ever had days where you wondered "what to eat?"? Tonite was such a night for us. Bak Kut Teh @ Alexandra Village? Been there last week. Fast food? Too boring for a Friday dinner. Beehoon-mee chicken wings @ Commonwealth? Don't feel like it...

We decided to go down to Bukit Purmei for frog porridge instead. But you know what? The shop has closed down! Incredible! Settled for western food instead.

Feeling a little miserable and short-changed on a Friday night, we decided to take a drive-around and ended going up Telok Blangah Hill Park. There's a new bridge linking Telok Blangah Hill and Mount Faber and decided to check it out.

Eh? As I drove into the small unlighted carpark, I thought I caught a glimpse of some movement in the back-seat of the car at the far end. As I reversed into a lot 2 car lots away from it, Lydia said she saw a bare-back lady against the window! But all too soon, she lay low into the backseat and disappeared from view. Wah! So happening here??

Imagine our great surprise when we got our of the car and discovered there's a couple cuddling up in the reclined front passenger seat of the red car beside us! Wah seh!! Now just after dinner only start already??

By now jolted out of our misery, we headed for the bridge through the elevated metal walkway that meanders through the forest of Telok Blangah Hill, discussing about the "action" that we stumbled across just now, but largely, enjoying a private stroll together admiring the night scenery and chit chatting.

The Forest Walk is quite amazing actually, at some points reaching a height of more than 18 metres overlooking the canopies of the huge forest, and at times straight through the overhanging forest, which may be just a little bit spooky in the still of the night with nary a soul around.

After walking approx 1.3km (I didn't tell Lydia it was this far, heehee!), we arrived at Alexandra Arch... only to realise it's the wrong bridge! D'oh!! Then what's the name of the bridge then? There weren't any other signs to other bridge-y names at the walkway...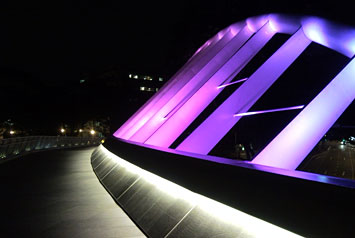 Alexandra Arch... since we're here, might as well take a photo!

Thankfully Lydia was enjoying the walk and happily hiked back the return journey with me, though she jokingly said she'll wait down here while I go pick the car. :P The weather's great and cooling too, which makes for a great after-dinner walk. We're no longer miserable and short-changed! :)

Henderson Waves! That must be the name of the bridge we were looking for! Apparently, it's not linked to the Forest Walk. Trying my luck, I asked Lydia is she don't mind going there since we're here. Well, I didn't see any blue moon, but she agreed, heehee!

And it was well worth the effort getting to Henderson Waves. The unique wave-formed wooden bridge was beautifully illuminated at night. At 36 metres high, it was really exciting and fun strolling across the most beautiful and hightest pedestrian bridge ever to get across to Mount Faber Hill. There were people strolling hand-in-hand, people relaxing by the sheltered wave alcoves, three guys setting up a construction vehicle toy on the wooden flooring for photography, and a bunch of photographers taking candid shots of themselves.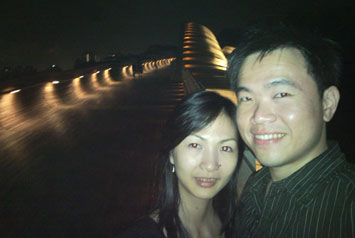 Posing for a photo on Henderson Waves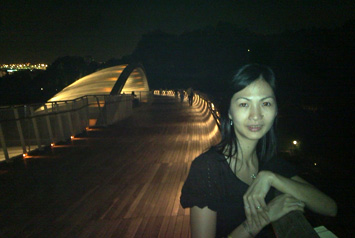 The Samsung Omnia camera is pretty good for a phone!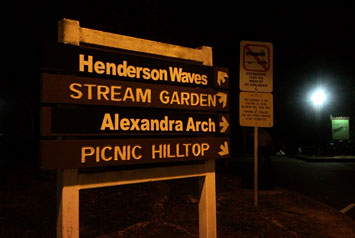 Next time, we won't be lost!

We got home at 10pm! What a Friday night it had turned out to be!


Wednesday, 16 July 2008 - ITIL v3 Course: Exam Fever Again!
The Pink Elephant ITIL v3 course (Information Technology Infrastructure Library):
an intensive 3-day course, 5 books condensed into 300+ pages, and a 40 multiple-choice questions exam at the end of the 3rd day!

Yesterday night on the eve of the exam, as I burnt a million brain cells trying to cramp in all these knowledge into my head, I wondered how on earth did I end up reliving the terrible madness nightmare of wee-morning cramp-studying for exam again!

Funnily, I was able to study non-stop from 8pm till 4am! I am astonished by my own deligence, hahaha!! Or it probably was the fear of failing! 65% is the passing grade!

With only 3 hours of sleep, it was off to the final day of the course, where the morning was spent completing the equivalent of 1 book (Continual Service Improvement, aka CSI)!

Not surprisingly, I wasn't very enthusiastic about the lunch buffet at Orchard Cafe @ Orchard Hotel. Besides having eaten the same food for the last 2 days, my mind was all crossed-wired thinking about what Service Management is and what's the contents in Service Strategy, Service Design and Service Transition. I finished my lunch quickly and went back to the conference room to quickly run through my own 35 pages of doctor-inspired handwritten notes.

All too soon, the exam hour approaches. The clock starts ticking as the exam began at 3.30pm. Our instructor had glanced through the questions and said it would be a piece of cake. I attempted the first 10 questions and screamed in despair, my poor brain I raked! Another statistical failure I will be, I thought. A very real fear, that which I fought!

Thankfully (thank God!) though, the questions became easier after that. Needing 26 correct answers to pass the exam, I counted my "confirm" (meaning, 90% confident) correct answers and breathed a heavy sign of relief as I counted 31. Give a 10% leeway for error in judgement, I should still clear the 26th hurdle. :P

Results will be known in 2 weeks time! Until then, farewell to the torturous course and be positive!

And pray hard!


Saturday, 12 July 2008 - National Education Show 2
I always look forward to my reservist and today's an excellent reason why:
I'm on duty for NE Show 2!

A full dress rehearsal preview to the National Day Parade, it's probably as good as it gets. The only difference is that I get to see the moments before the actual rehearsal begins, which was very interesting, and that the crowd was completely full of Primary 5 students and their teachers!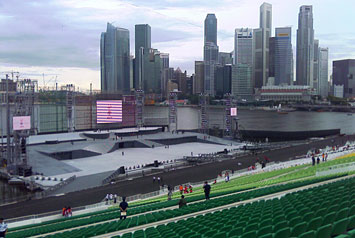 The calm before the "storm" of P5 kids

Oh man, I really admire (and pity!) the teachers. Imagine having to watch over a herd of restless kids that have been baked under the open sun for over an hour, goes for toilet breaks every hour, splashes water all over the place putting on stick-on singapore flag tattoo and whacks each other with the giant air-filled hand-clapper provided by the organiser. It was... very enlightening. I'm glad I'm not a teacher. :)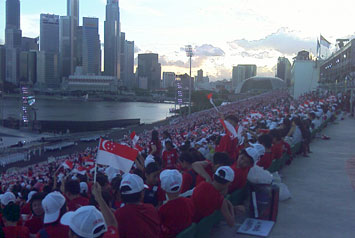 A sea of red kids filled the stadium

The show, although boring at certain segments, was brought to life by the awesome Black Knights and their stunts. The heart was quite a nice touch. There were some light-hearted comical moments when they announced the arrival of the Prime Minister, Senior Minister, etc, and out of the car stepped a young chap in white, heehee.

But I'm really glad that I could get to watch this year's parade. And for the first time ever, I had to salute when the National anthem was played as the Chinook flying the Singapore flag passed by overhead! Quite an interesting experience. :)

The fireworks finale was mesmerizing and always the crowd pleaser! It was about the only time the kids stopped running about!


Thursday, 10 July 2008 - Dinner with Wai Seng & Elaine
Went out for dinner with Wai Seng and Elaine at Alexandra Village for a nice hot meal of bak kut teh with kiam cai and avocardo juice. Very satisfying, fulfilling and nice! Pity I didn't have a camera with me, else we can take some photos and send them over to Soo Kee!


Tuesday, 8 July 2008 - Esther's Chubby Baby!
Lydia's sister just gave birth to a baby boy! Calvin Jonathan Lim. This little fellow weighs in at a hefty 4.05kg! Wah haha! We knew from photos of Esther's pregnancy that the baby might be big, but it still was a surprise, heehee!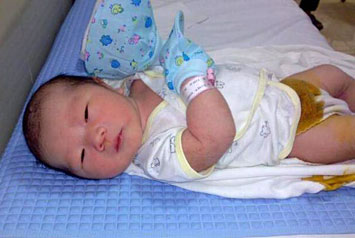 Like mummy or daddy?

Hmm... Esther and Herry were in Singapore almost exactly 9 months ago on 14 Oct 2007 for their honeymoon. Is the baby... made in Singapore? Heehee :)

Eh? They were staying at our flat leh... Wah! :D


Saturday, 5 July 2008 - Goodbye Sunshine, Hello Doggie!
Farewell M1! As your loyal customer since like 1993, I find that you've taken me for granted. Having an additional supplementary line didn't increase my loyalty status and instead, it became a burden for me as you deemed it ineligible for handphone upgrades. 2 1/2 years ago when I try to negotiate a better deal to recontract both lines, I can still vividly remember your customer service officer telling me to go ahead and switch to their rival providers since they offer a better deal.

Well, full mobile portability didn't exist then, so you could be all yaya about it. But today, with Starhub offering 6-months free contract subscription, 3-months free trial, $100 off Hub bonus and a host of Hubber discounts off my CableTV and MaxOnline, there simply isn't anything to hold me back anymore.

In one instance, I port over both my wife and my number to Starhub and enjoyed the great deal on offer. One on contract, the other without (just in case we need it for the iPhone). It's a pity Starhub put a damper by rejecting my "seasoned" o2 Atom and we had to trade in Lydia's excellent condition Atom instead. For $298 (minus $100 Hub bonus, $200 trade-in), we got the very cool Samsung Omnia SGH-i900 PDA phone!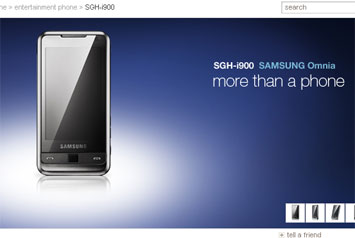 The sleek and cool Samsung Omnia!

This baby is packed with iPhone-like touchscreen interface, 16GB internal memory, built-in GPS, 5Mpixel camera and a massive 3.2" screen display! Best of all, it's running on Windows Mobile 6.1.

The bad news is, my wife laid claim to it!


Friday, 4 July 2008 - Itching to Play
Finally got the chance to play futsal today since the futsal tournament on 21 Jun, where I only played for 2 1/2 min.

I guess it must have been my great desire to play again to release and unlease my bottled up frustration, cos the guys said that I played well today! Scored 3 goals (1 left foot, 2 right), hit the post 2-3 times, couple of saves by the goalie, missed 1 gaping goal-scoring opportunity, couple of assists, passing was much better, and the highlight of the day!: From a throw from the goalie, I watched the ball trajectory bounced into my stride and hit a spectacular first-time right-footed shot that would have been a super goal, had it not rebound off the goal post! But it sure had the guys in wows and lit up the game, heehee!

Kian Pang said that I'm better off playing as a in-the-hole midfielder that pops up and score goals, rather than a striker, given my lack of aggression. Hmm, maybe it might be true as I sure had fun tonite letting Austin stay up while I play behind him. But there's a weakness which... well, I won't disclose but will strive to work on and improve. :)