Entries by Joel


Sticky: Please sign the guestbook so that we know you've been here! We'd love to hear from u!


Monday, 30 June 2008 - Viva Espana!
Those silly Spanites have done it! They are the champions of Euro2008! Talented but under-achieving all these while, they had finally won! Happy for the Spanish team and the people. The Germans... well, how much love can you have for Jens Lehmann? Iker Casillas anytime!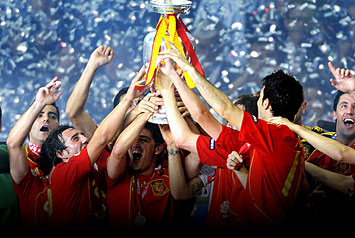 Spain, champions of Euro 2008!

It's a pity England ain't at Euro 2008. Starhub would certainly have my $10 subscription in their piggy bank without a moment's hesistation if they were there!


Sunday, 29 June 2008 - F1 Simulator Race!
We went down to SingTel CommCentre at night to take a ride in the Formula One car simulator! It was a heck of a fun! The force feedback... the motion of the car... everything was very well simulated. Ram down the accelerator and you'll literally get thrown back into the seat! Try downshifting from 6th gear to 2nd gear and the car vibrates violently!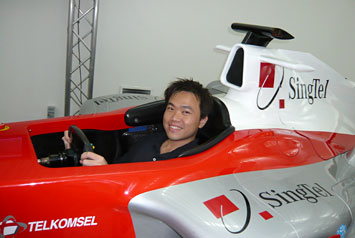 All ready to race!

I managed to clock 2m 12s on my best lap. Well, could have done better but it took a while getting used to the wide screens and the motion simulator. A bit disappointed I didn't go below 2m 10s, but well, I'm in the top 5 ranking, so it's not too bad afterall!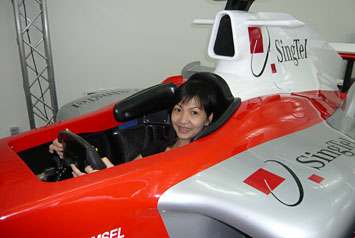 Any smaller and she'll disappear into the seat...

Lydia took over the wheels after I was done. Hehheh, she was like taking a slow cruise around the circuit, staying at 2nd gear. Well, she ain't competing, so might as well enjoy the ride! 4min 28s... she certainly took her time ya, haha!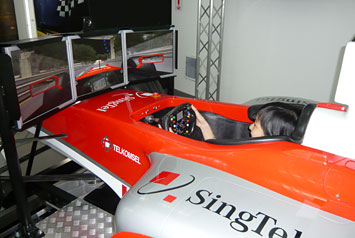 Triple screens pleasure! Can I have it at home too?!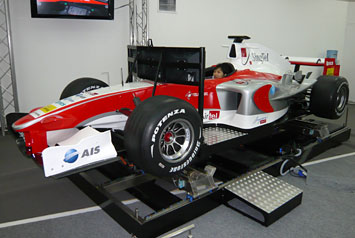 The little girl in the SingTel F1 simulator car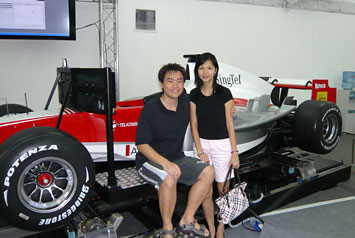 What an experience!


Saturday, 28 June 2008 - Heart Pain
My HDB multi-story car park had undergone repainting works. They had stuck a huge board at the entrance, but with the almost invisible handwritten words indicating the date and decks, it was barely visible.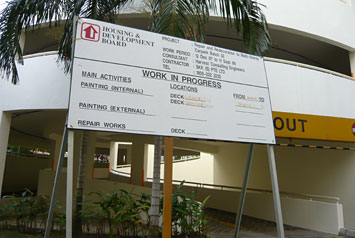 My 6/6 eyesight could barely make out the handwritten words

I had spotted some specks of white paint few days back and was fortunate that they could be removed with a wet tissue. But after washing the car this evening and when it was all clean and dry, I found a trail of like 15 white dots on the rear side of the car after the right rear door! And worse was to come! At the bottom right rear bumper area, there was a huge splatter of whitish water stains! All these stains couldn't be removed at all!

Oh man.. my heart could really feel that pain and ache. After months of careful manual hand-washing of the car, it is stained. Stained through no fault of mine, and stained by white paint on the car's paint which can't be removed. Sob sob!

My incredible wife could still find some light-heartness enlightenment in this matter though:
When my beloved cat was hospitalised and operated on years ago, she saw my anguish and anxiety. When my cat died, she witnessed one of the saddest moment in my life. And now when my car paintwork is just slightly dirtied, I am in such grief. How then will I be if she is ever hospitalised, she wondered?

Of course I will be in tremendous amount of anguish and pain, my dear.

Now please let me cry over spilled paint....


Friday, 27 June 2008 - Close Shave!
Few days back, my shaver battery was close to totally drained and to my horror, it wouldn't charge! Thank goodness, the nice chap at Best Denki @ Ngee Ann City not only help me charge my shaver, he even cleaned it with some special spray and knocked all the "dust" out. It was quite embarassing to see the amount of "dust" lying on the table. :P

The fault was with the charger and after work today, we went down to Orchard again and bought the charger for $34. I was quite tempted to buy a top-end Braun Series 7 super duper shaver that the nice Best Denki chap had promoted then. His chin was really amazingly well-shaven with not a single visible stubble. Only problem is that the super duper shaver cost $399. Or pay $50 more and it comes with a self-cleaning, self-rechargable base station.

Even though my wife gave me the green light, I could not bear to spend/indulge so much on a "simple" daily necessity item. Pay $34 and get my pretty decent $120+ shaver working fine again, versus paying 10 times that amount for the super duper shaver? I didn't have the heart to spurge like that.

If it was for Lego, it would be a different story, heehee! :D

My wife took the opportunity to buy herself a new set of swimming costume. She claimed that the elasticity of her current one is not good anymore. We went shopping around at Gucci, Prada, Louis Vuitton also. Thankfully she didn't tell me that her current handbag's elasticity is not good anymore. :P

But there was a Gucci bag that she was eyeing. Oh dearie me.....


Monday, 23 June 2008 - Unearthly Hour
Woke up at 4am to send my in-laws to the airport for their wee morning flight to China. Must send, of course. The roads were quiet and actually saw some people at the coffeeshop watching Euro2008 on the TV.

Which teams are playing today? As I didn't subscribe to the Euro 2008 channel, it didn't have that big an impact on me. Well, apart from lunching at Liang Court's McDonalds' almost everyday to catch the match highlights...


Sunday, 22 June 2008 - Different Pace
Even though Lydia's parents are here, it was quite a relax pace as they were contented to stay at home, or check out the market nearby. We didn't even visit Orchard Road. So unlike the hectic schedule when Lydia's sister is here, heehee!

Lydia's mum had a craving for Kenny Rogers, so together with my parents, we went to the restaurant at Great World City. Thereafter, we went to visit my parent's condo at Merawoods before going home to rest.

Dinner was noodles prepared by my father-in-law. Unfortunately, the mee kia which he bought were too sticky and unsuitable to be fried properly. But still, I downed two plates. Good son-in-law rite... :D


Saturday, 21 June 2008 - Futsal Tournament & In-Laws
It's the BGC RADIX Futsal SuperCup tournament today @ Toa Payoh Sports Hall! Together with my office colleagues, we took part in the inaugural 16-team invitation tournament.

Wow, the arena is impressive! After walking through the "tunnel-like" entrance, the futsal court surrounded by terrace seats unveils before your eyes.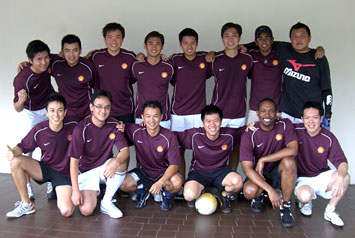 Team photo! We're the largest of the 16 teams, heehee!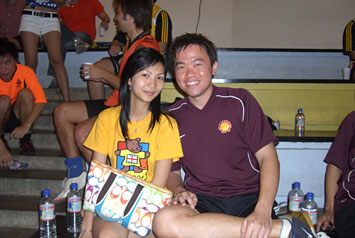 My fan and supporter!

Given the size of our squad and better skilful players, I didn't get to play much unfortunately. Sat out the first two games, which we drew and won. Started the 3rd game and had a long range shot dipping into the top left corner of the net, only for the goalie to keep out (alas!). Played for like 2 1/2 min of the first 5-min half before being replaced with another fringe play to give everyone a chance to play.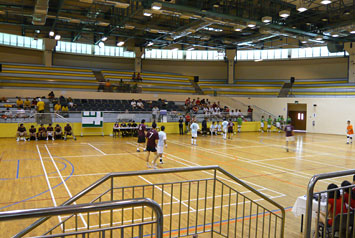 The inside of the arena

Pity I didn't have more opportunity to play, as I quite like the badminton-like court surface and the large size of the court. We won the match to advance to the quarter final. But I had to leave already as had to pick up Lydia's parents who are arriving in the afternoon from Padang. Was fun, but would have been more fun if could play more!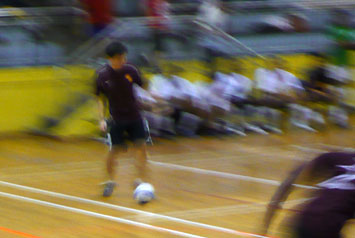 Special "creative" shot of me by my dear wife

Picked up Lydia's parents from Budget Terminal. They're on a short stay here before going to China for holiday. Met up with my parents for buffet dinner at Shillawon, a Korean restaurant at Suntec City. We really indulged in the BBQ beef, chicken, which tasted great wrapped in lettuce, topped with a slice of garlic and a bit of chilli paste. Nice! The sashimi quality ain't there, but at least it is fresh. For the price, I would say it was pretty value for money.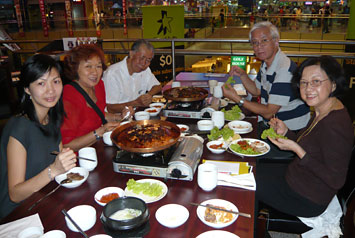 Korean BBQ buffet dinner @ Shillawon


Friday, 20 June 2008 - It's a Boy!
Haha! No.... we don't have that kind of news to announce yet... :D

But Lydia's good friend, Suti, has given birth to a boy! We visited them at the hospital and wah, they booked the single room ward sia... Anyway, Suti said that giving birth wasn't that painful as what others had said. 3 push and the baby was out.

Wow, she must have a really high tolerance of pain. Or it ain't that painful? I start to wonder if those stories of unimaginable, man-wouldn't-understand kind of pain is true or not. Or is it a story to make the husband appreciate and cherish the wife more?

Then again, Kylie (Weishun's wife) certainly looked like she had a tough time giving birth.

There are some things that can't be faked rite? ;)


Wednesday, 18 June 2008 - Half Day Seminar @ Orchard
After a claypot bak kut teh lunch with Gabriel, we attended a Riverbed end-user seminar in the afternoon @ Ngee Ann City. Well, it's like a product sales talk, and a chance for us to have a better understanding of it. Thankfully I didn't fall asleep during the session, heehee!

Well, it was nice to spend an afternoon in Orchard, though I was stuck in room for hours.


Tuesday, 17 June 2008 - Desperate for a Game
The office guys decided to have one more futsal practice game on our own before the tournament this Saturday. As the tournament will be played on solid surface, the guys came up with remote playable grounds, like Jurong HDB area!

Well, since those HDB futsal courts can't be booked, by the time the guys got there, it was already crowded. As I was packing my gear at home, the venue changed to another Jurong location. And when I was getting ready to leave, the venue changed again to NUS.

Never played at NUS before and it took me sometime to study the map and to get to the venue, which is located at the Sports & Recreational Centre. It's not too bad actually. Floodlights, large hardcourt, no crowd, and it's free (I think!)! Only thing is one side of the court is a fence, the other is just a dotted line acting as a separator to an adjacent "unknown" court.

Had fun playing with the office guys as well as some China NUS students (Yuan Dong's friends I think). Didn't score... gotto improve on bringing up the ball...


Monday, 16 June 2008 - Meet Kate Spade
Meet Kate. Kate came all the way from the U.S of A. After placing the order 3 weeks back via vConcierge, vPostUSA, and incurring service charges, shipping charges, etc, it was finally delivered last Friday!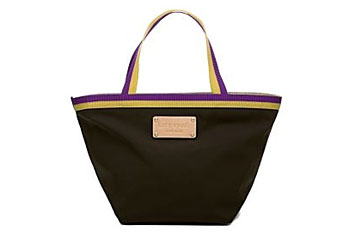 Katespade Renwick street small anabel

For all the trouble and delays, the total cost came up to about S$168, a saving of about S$40. The savings would have been even more significant if we didn't have to go through vConcierge.

Katespade handbag: S$168
Sheer joy on my wife's face: Priceless


Saturday, 14 June 2008 - Indiana Jones is Back!
My favorite movie hero Indiana Jones is finally back on the big screen in the Kingdom of the Crystal Skull! I've been a great fan since watching Raiders of the Lost Ark in 1981! We caught the 9.15pm show at Lido 6 and though the cinema has really small, I was determined to enjoy my movie.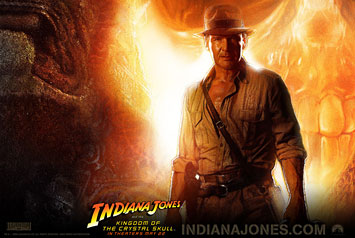 Well, the movie was good. It was great to see Harrison Ford back again as Indiana Jones. There were lots of action and stuffs, the iconic Indiana Jones sound track (which is my mobile ringtone, btw, heehee!)... but yet somehow, I feel it lacked that "omph!" factor which had made me such a huge fan. Maybe cos Harrison Ford's getting old (he was potrayed as older in the movie too) and could no longer act as the gungho, adventurous "Dr Jones" anymore. But all in all, it was great to catch an Indy movie again.

Will there be anymore Indiana Jones movie in the future, I wonder...


Friday, 13 June 2008 - Dendrophobia
Pop quiz! What is dendrophobia. Fear of....??

Fear of trees, haha!

We wanted to buy tickets at Lido for the Saturday screening of Indiana Jones and being the cheapo, I decided to park at the open air carpark behind Wheelock Place. Cheapo, also, in refusing to pay $1 to book the ticket online, haha. The accountants would argue that the petrol, time and parking charges would cost more than a $1, but I disagree...

Back to the topic! As we drove into the carpark, we could see many tall trees towering overhead! Yikes! Bird droppings alert!! I just had my car waxed yesterday only! We drove round the carpark three times before finding a spot with no overhanging tree branches above. :P

Or maybe it should be ornithophobia, which is the fear of birds. But it's their droppings that I fear. So, it should be something like ornithodropophobia. :)


Thursday, 12 June 2008 - 5K Car Servicing
Question: When they say 5K car servicing, do they mean, bring in your car at the 5K mileage marker, or do they mean, after the 1K servicing, bring in your car after another 5K (which adds up to 6K)?

Oh bother, anyway, sent in my car for the 5K servicing today. The mileage was 6142km. For an additional $100, they would wax and machine polish the car too. I asked my wife if we want to opt for the extra service (please say yes, I prayed...) and she said why not, since it protects the car and it's been about 7 months since we got the car. Yay!

Collected the car in the evening and admired the nice glossy finish of the car. After the birdstrike incident and the emergence of minor scratches here and there, it felt good to have "repaired" the damage. I've never seen the roof and spoiler/boot look so shiny and blemish-free since its early days. :)


Wednesday, 11 June 2008 - Futsal @ SAFRA Tampines
Joined my office colleagues for a practice game at SAFRA Tampines in preparation for the RADIX futsal tournament coming up next week. I didn't want to join at first since there were already so many of us and they are much better players, but was persuaded by Kelvin Au. Getting a jersey kit was an incentive also, hee!

Arrived at SAFRA at 8pm and Lydia went swimming. Jason, Gabriel, Zhang Dong and Kelvin Lee were here too. Started as a goalkeeper and kept a clean sheet with some saves. :) The 2nd game played outfield to get some exercises and, well, just don't feel like playing goalkeeper lah. :P We lost to the skilful Japanese team.

While idling and waiting, we played on the unused, unlited court. Mis-controlled a ball and tried to stop the ball from going out. The ball stayed in play alright, but my step-over on the ball ended up with my left foot losing the balance, twisting the ankle and landing on my backside... I'll blame it on the poor lighting! :P

As a keeper again for the next game to give my ankle some rest, kept a clean sheet again with even more saves, heh! Pulled off a double-save on a one-on-one too, instinctly palming away the follow-up shot destined for the top corner. The desponded striker remarked that I got magnetic hands, haha!

As an outfield player against the Japs again, lots of puffing but didn't play well, with some soft goals conceded.

Well, with Lydia's parents flying in on the day of the tournament, I might not be able to play in the morning. As an outfielder, my team probably will have better skilled people. Unless they need me to be a goalie, haha.


Tuesday, 10 June 2008 - Fallen Branch!
Lydia's cousin from Jakarta is in Singapore this week for training, together with his wife. Though exhausted from practically non-stop events everyday for the past week, we had to be a good host and took them out for buffet at Orchard Hotel. Felt that the food was so so. The sashimi wasn't very good either. Or maybe it was because this was our 3rd buffet in less than 2 weeks! But anyway, it was a good time to catch up with him and his wife (who really loves seafood and looks really sweet, gentle and submissive to the hubby *hint hint!*). The offer of a 2-eat-2-free certainly makes it more worthwhile too.

Took them on a little tour ride through Orchard and then to Esplanade. The weather strangely became very windy and started raining. Thank God we are all comfy in the car while seeing the people outside get caught out and rushing to seek cover.

Decided to drive them up Mount Faber for a lookie too. But halfway up the one-way road, we got caught in a jam. I was wondering what was causing the jam. And then as I peered over the 3-4 cars in front of us, I saw a huge fallen tree branch across the road! What! No way! I thought this only happens to other drivers that I read in the newspaper!

A car and a bus had pulled up behind also and I thought we're going to be stuck for good in this narrow 1-way road. But then, some guys started walking by to check out the fallen branch ahead. And soon, a lady carrying a tissue box (??? beats me!) walked by too and tried to help! A man in a dark uniform soon ran by, and by jolly, they managed to pull and push the branch high enough for a car to squeeze through! Hurray!

The lady probably was the tour guide on the bus on the way to pick up her tourists. On the trip up and down Mount Faber, we could see small branches and tree leaves scattered all over the road. Was worried that a branch would soon come crashing down in front or on the car, but thankfully, we made it out safely.


Sunday, 8 June 2008 - Goodbye Tua Yi
Tua Yi, my mum's eldest sister, had passed away from complications arising from stroke, high blood pressure and cholesterol. A blood vessel in her head had burst. She was just hospitalised early this week for the stroke. In a matter of days, she is gone.

Have been attending the wake the past days and today was the funeral, where she was cremated at Mandai Crematorium.

I'm glad we managed to visit her at Changi Hospital while she was still alive, though in a coma. The doctor had said that she no longer had control over her body. Yet when my mum caressed her head and spoke softly to her, tears started flowing from Tua Yi's eyes soon after. The power of love can transcend anything...

I remember every Chinese New Year, all the relatives would gather at her home for the first visit and we would play cards and chit chat. I always look forward to her home-cooked noodles, the CNY goodies that she had laid out on the table, and the packet drinks she would pass around. Mandarin and Hokkien was her mode of communication with us and she led a simple life, yet was generous and warm to all around her.

Goodbye Tua Yi. We will miss you.


Friday, 6 June 2008 - All Hail the Republic Cruiser
Cashing in on my wife's recent goodwill towards my Lego kingdom, I quickly grabbed the Lego Starwars Republic Cruiser off the shelf at Toys R' Us at 30% discount! Woohoo! It's not everyday that one can get a 30% discount, rite dear?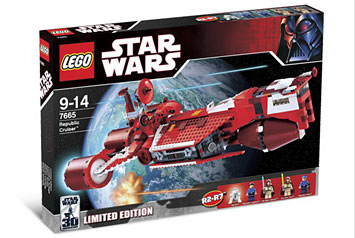 The fiery red hue of the Starwars Republic Cruiser. Nice!


Wednesday, 4 June 2008 - My First eBay Sale!
I sold my first eBay item today! A Stylus mini-fridge for $37. :)

I used to sell my items on Yahoo auction, but oh man, their auction system have became a total piece of crap; the auctions can't get listed! Tech support was non-existent and Yahoo simply ignored the endless counts of complaints from me and other users as well. It's disappointing and alarming that such a well-known company can degenerate to such a poor state and ruin its own reputation.

Anyways! Arranged to meet the buyer at Cineleisure and I had parked my car at the open space carpark opposite Cineleisure. I figured I could save on parking charges. Turns out to be a huge mistake! I should have head the warning... those chipping birds in the canopy of trees above the carpark! But I stubbornly hoped that the birds would be well-behaved.

When we returned an hour later, the car was covered in a shocking lot of bird shit! There were at least 40 bird poo all over! From the splatter pattern ones on the roof and boot, to dripping long ones that ran down the sides of the car. White one, yellow one, brown one...

Oh man. Back at the sanctuary of our home's carpark, we spent a good 30 minutes cleaning up the mess and finished 2 containers of non-alcoholic wipes and countless tissue paper.

What a nightmare!


Tuesday, 3 June 2008 - Dinner @ Cafe Brio
Celebrated my birthday with my parents at Cafe Brio @ Grand Copthorne Hotel. The food was not too bad, though it was a bit too soon to be having another round of buffet just after 3 days!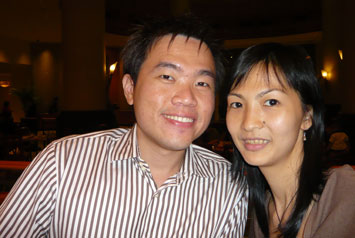 Smile!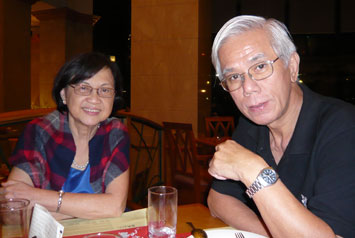 My dad was thrilled to be eating beef and pork after hospitalisation

If I were to make a comparision between Cafe Brio and Ellenborough Market Cafe, I would say Ellenborough wins by sheer virtue of their fabulous durian paste and fresher salmon sashimi.


Sunday, 1 June 2008 - 6 Hours in Orchard!
I thought I would sleep late on a lazy Sunday, but nooo, was dragged out of bed, had a quick shower and hit the road.

First stop: Sok Fung's mother's home at Bendemeer, heehee! Lydia and Sok Fung always exchange food and stuffs. This time round, we pass her a good quarter-to-half of the durian cake and the carrot cake, peng kueh, and tapioca crackers from Padang! Bumped into Sok Fung on the way down and she stuffed a papaya fruit into my arms, haha! These two gals...

Second stop: Ngee Ann City! I would be amazed if Lydia's sister and brother-in-law didn't stop at this mega shopping mall for their shopping craving! I had a brief respite when we break for lunch at Food Republic @ Wisma Atrium.

We were off to Paragon next, where I sneaked off to Toys R' Us while they went to Mark & Spencer. And then it was back to Takashimaya again! Lydia's sister really can shop, boy!

It was 4.30pm before we finally called it a day! Wow! We've been here since this morning at 10.30am! 6 hours in Orchard!! The parking at Ngee Ann City came up to $16+, after deducting an hour of free parking!! Exhausted!!!

We had zi cha dinner at Alexandra Village before heading for the airport to send them off on their trip to China. It was a good thing we went with them cos, amazingly, there wasn't anybody from CTC to meet them at all at the airport! Have no idea if the tour is on or off, but we got the SIA customer service to print out their eTickets and they caught the flight. Bon Voyage and hope they'll meet someone from CTC on the plane or at the other end!


Saturday, 31 May 2008 - Happy Birthday to Me...
At the stroke of midnight, I'm 32 years old already!! And we have our tradition birthday cake celebration! Only this time round, for the first time ever, I have two birthday cakes!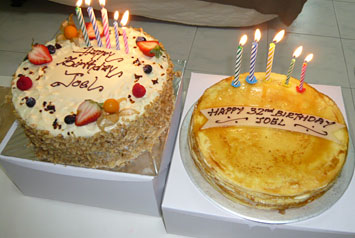 The carrot cake and the durian crepes cake!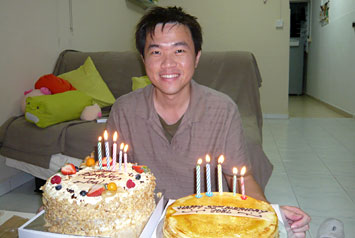 The lucky birthday boy with two cakes!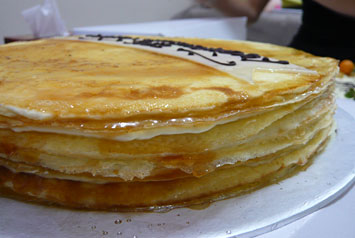 D24 durian filling and pastry cream between the crepes layers!

It certainly was very delicious and oh so wonderful to sleep after we had our full of the carrot cake and the durian cake. Zzzzz!!

--------------------------------------

First thing in the morning, we went to collect peng kueh from the coffeeshop near my parent's home and had breakfast with my parents. Thereafter, we went to Budget Terminal to pick up Lydia's sister and brother-in-law. They will be staying over at our place for a night before flying off to China for holiday.

The two visitors did certainly did not waste much time. After finishing their ta-pao-ed duck rice and cha siew rice, we quickly set off to DFS @ Orchard for their Singapore Shopping Expedition! Coincidentally, it's the Great Singapore Sale now!

After 2 hours at DFS, we treated them to a buffet dinner at Ellenborough Market Cafe @ Merchant Court. Ooh, the sashimi was great and finishing the dinner with the durian paste house specialty, it was really heavenly! With HSBC's 3-eat-1-free promotion, it was certainly good value for money! I only wished I had a larger stomach to eat more!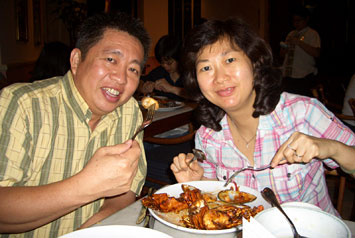 They could resist the prawns but not the crayfish!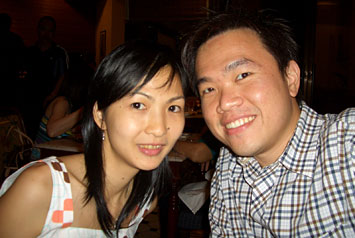 The lucky wife taking photo with the birthday boy

After dinner, next stop was Centrepoint as they continued their shopping expedition. Oh boy, thankfully my wife doesn't shop as crazy as them!

Oooh! I got a birthday present from them too! The Lego Indiana Jones: Temple Escape! Cool!! Ok, actually they told Lydia to buy me a present and I chose this. Yay!! I had always like Indiana Jones!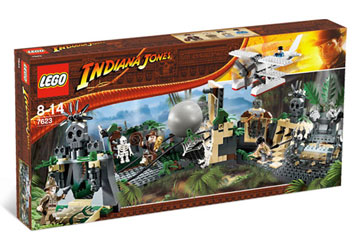 I can't wait to open this!

My wife also gave me a present: The Lego Indiana Jones: Race for the Stolen Treasure! Yes, I chose it myself again, heehee!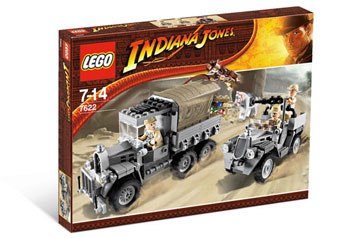 Check out the cool military vehicles and soldiers!

I can just feel the Indiana Jones theme song singing! Ta ta da ta! Ta ta da!!!


Friday, 30 May 2008 - Oh What a Day!
I was in a meeting yesterday when I got a call from a lady informing me that I had won a prize. Was skeptical initially as this is a common time-share tactics. Now what is she blabbing about?

But hey, wait a minute... did she say she's calling about the Mitsubishi Challenge contest? Hey! I really did win a prize, haha! What luck!!

Happened to be on leave today and went on some errand runs with Lydia, as well as to collect the prize from Mitsubishi.



My prize: a Ralliart premium pack worth $200. Cool!

My wife loved the Sasha Ralliart bear. She immediately named him Mitsu and declared that he will ride with us always in the back passenger seat. Mitsu? Isn't that a Japanese name? Anyway, I caved in to her request. We then deliberated whether Mitsu's older brother, Matthew, would be jealous that he doesn't get to ride in the car. But I told my wife that Matthew gets to sleep on the bed while Mitsu doesn't. Ok! They should be fine with this arrangement ya? Haha!

My dad's getting discharged today! The doc says if his blood palettes hit 78K, he'll let him go home. And it was really 78K. My mum took half day to send him back as we had a dental appointment in the afternoon. It was fun strolling around in Shenton area during lunch time, casually dressed, while watching the working crowd buzzing around. :)

After a brief nap at home, we got busy tidying up the home in preparation for Lydia's sister and brother-in-law visit tomorrow. My computer room cum store room had to be neatly arranged (ie. chucking my computer table clutter under the keyboard tray...).

Halfway through mopping the house, Sok Fung and Jack popped over! With a birthday cake!! The Durian Mille Crepes cake from Classic Cakes @ Sunset Way somemore! Only she will think of a stunt like this, haha! Thank you very much, Ms Sotong!

We went to visit my dad later and found my parents eating teo chew porridge at the nearby coffeeshop. I was planning to drop by and grab other food, but due to some miscomm, my mum ordered extra. Well, looks like I'll be eating porridge on the eve of my birthday!

With time on their hands, we took them on a ride to Dempsey Hill to collect the carrot cake which Lydia had ordered from Barracks. The last time we ate here, she loved the cake so much. This time round, we're going to have 2.8kg of carrot cake all to ourselves, muahahaha!


Thursday, 29 May 2008 - Dad's Got Dengue
My dad's got the dengue fever and has been hospitalised at SGH for a few days already actually. We've been going down everyday to visit him, before sending my mum home. Even though coming home past 10pm everyday is tiring, it's the least we could do for my parents.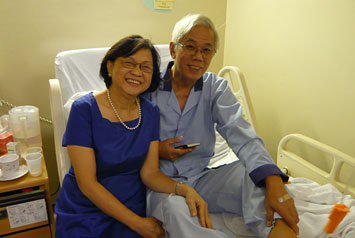 Together in good times as well as in sick times

Hope he gets well soon! My mum says he's extra sweet and nice when he's hospitalised, hehheh. Well, my wife is like an angel when she's sick too, haha!


Wednesday, 28 May 2008 - Shoot Bird
Went for my reservist shooting today. Sigh, for all my love for arcade shooting games and computer first-person shooter games, I regretably suck at shooting with a real Taurus .38 revolver. With laser sighting somemore!

25 in, 14 out. Just pass only with a score of 64. 11 bullets missed the target completely.. wah lau. To make matter worse, my reservist friends all get marksman.

Sad man. Disappointed...

No $200 bonus to buy Lego also...


Friday, 23 May 2008 - Back From Kuala Lumpur
Was gone for a 3D/2N business trip to KL since Wednesday! My boss and Gabriel came along too. First time stepping into Cyberjaya and boy, it is a huge place. I was expecting more buildings though.

The first night after checking into Marriot hotel, we went for bak kut teh supper, where I learnt that my boss is terrified of cats and lizards. Heehee. These two creatures coincidentally are my pet favorites, haha!



My big and cosy room at Marriot Hotel

We explored around the area for a while (wah! Didn't know KL nightlife so happening!) before heading back to the hotel really late. By the time I had finished unpacking and ironing, it was already 1.30am! And you know what? I woke up later at 3am! Cos it's the Champions League final between Manchester United and Chelsea! :P

Went back to sleep and woke up later at 4am to catch the 2nd half of the match. And boy, it turned out to be the most nerve-wrecking penalty shootout experience ever! I was sure John Terry would score to crown Chelsea as champion, but miracles do happen as he slipped and missed completely while I jumped up and down the bed. And the rest is history as Anelka's shot was saved to send Man U through as winners!! Woohoo!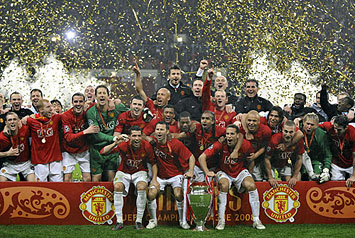 Champions of Europe!!

Needless to say, I was totally zombied for the rest of the day! :P Barely 2-3 hours of sleep only. But I still conjured enough energy to go with boss and Gabriel to Sungei Wang and Chinatown after work. Gabriel wanted to go for a late drink after returning to the hotel but had to turn him down as I was too exhausted.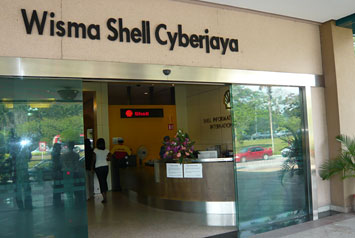 At Cyberjaya, KL (Malaysia)

On the last day, we had more meetings before heading straight to the airport after work, where I did some last minute shopping (how can go back without anything for my wife??). We almost missed the flight after being too caught up chit chatting at Burger King, haha! It would be so ironic if we had missed the flight after spending more than 3 hours idling in the airport, heehee!

And it was the 2nd time Lydia drove to the airport all by herself to pick me up. I'm so happy, thankful (for picking me up, and also for not wrecking the car) and proud of her!


Tuesday, 20 May 2008 - Morning Walk to Work
It started one fine morning last week at Tiong Bahru Plaza bus stop, when SBS mobile Iris stated that the next bus will be arriving in 25 minutes time. That's a long time to spend idling and sweating at the bus stop!

"Why not we walk to the office?", I proposed.
"Ok!" my dainty wife replied.

So we departed from the swelling, restless bus stop crowd and headed towards Jalan Bukit Ho Swee. This is a really old estate area where Wai Seng used to live and had to bathe in cold water every morning (or spend 15 minutes boiling water first. btw, he has now moved to the spanking new estate at Jalan Membina). It's really interesting to see the old abandoned estates, and the hidden Havelock Food Centre which I never knew existed!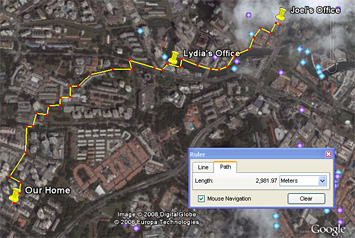 My 3km walk to the office! Healthy eh!

Continuing on to Havelock Road, we eventually reached Lydia's office after about 20 minutes, where we sneakily kissed goodbye, conscious of the watchful eyes of the uncle by the bench or the security guard. :D

I continued on my walk across the bridge, which is the beginning of an interesting river bank stretch. Just after the bridge, some cats will gather here while waiting for the auntie or the Eurasian lady to feed them cat biscuits. A kitten playfully rolled around on the ground before sitting upright with the paws curled under the body when I got closer. But very soon, it was soon distracted and scuffled off to play with another kitten.

After emerging from the underpass, the Robertson Quay stretch would somehow always be basking under the hot morning sun. But morning sun is healthy, so it's good! Walking past Simply Bread, I never fail to be amazed (and envious!) by the people who could have the luxury to relax here with a book or newspaper in hand while enjoying their morning breakfast. Or the expatriate wives who would jog by with not a tinge of office work worries in their mind, perhaps only to ponder where shall they go shopping later.

By the time I arrived in the office, it's been a 40 minutes journey from the bus stop and I feel great! Though perspiring a little, it is satisfying and refreshing to have walked to work, where I could admire the scenery, save on bus fare, get a nice exercise, and most important of all, have a morning stroll with my wife right up to her work place.

She, of course, showed her appreciation by protesting that this is the only time that she could have my undivided attention. :P


Monday, 19 May 2008 - Breakfast By The Sea
It's Vesak Day today! It's always nice to have a long holiday. :)

So I took the opportunity to drag my wife to East Coast Park for a little picnic by the sea! We stopped along Katong to buy two packets of nasi lemak before searching for a secluded and quiet place to sit down on a bench (wife didn't want picnic mat kind of picnic...) to eat our breakfast.

It didn't take long to discover that thousands of other people were also having the same idea of enjoying a morning holiday at ECP as well. The beach were literally filled with people all over! Groan...

With growling stomachs, we finally found a shaded place under a giant old tree. What luck! Or so we thought. On the right of my bench were crawling with hundreds of the dreaded fierce brown ants, no thanks to some picnicker who decided to leave his wrapped up food behind.

But our stomach were calling out much louder than our fear of the ants, so we stubbornly sat down to have a meal together with the ants, albeit with our slippers on the bench and sitting crossed-legged.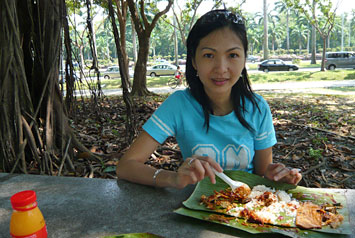 Breakfast at East Coast Park

It was really nice and relaxing to be having breakfast with my wife while sitting on the cool stone bench under the shaded tree, with the sea breeze blowing and a view of the sea. Unfortunately, the ants didn't like our company and soon started to attack Lydia's slippers and started crawling towards my legs. Guess they preferred our nasi lemak also. We quickly gobbled down the remaining bits of breakfast and headed to the shore for some pictures before heading home.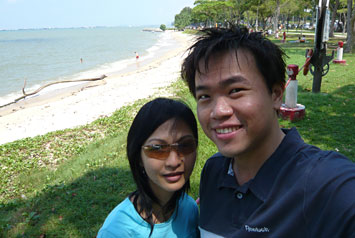 My self-take photo skills not bad eh?

So when's the next picnic dear? :)


Sunday, 18 May 2008 - Kane's Wrath!
I've completed the game, Command and Conquer 3: Kane's Wrath!

That partially explain the lack of updates lately. :P

This expansion pack to C&C3 features a 13 level NOD campaign, which was highly interesting and exciting with a huge introduction of new units like the super power units, the GDI's MARV, the NOD's Redeemer and the Scrin's Eradicator Hexapod. I had loads of fun having just one "elite" Redeemer single-handedly take out the entire GDI defenses, units.. well, practically the entire enemy base! Awesome!!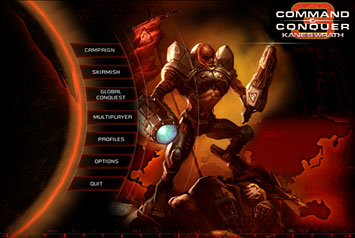 Have you unleashed the power of Kane's Wrath?

The downside is, it's 13 missions only! And you don't get to play GDI or Scrin in the campaign. Well, there's a new Risk-like add-on game known as Global Conquest, but I would certainly have loved to play the GDI and Scrin in their own campaign storyline. With the unfamiliarity with non-NOD units and structures, I stuck to NOD forces in the Skirmish mode. Hey, 13 missions is like just weeding my appetite only!


Saturday, 17 May 2008 - Cheng How is Back!
Our good old NTU friend is back for good from Holland! He still looks the same as we met up again for a game of futsal at Ubersports @ ECP. 2 of Hendra's friend who lacked futsal kakis also joined in. And Weishun is here too!

The large turnout meant a longer waiting time, but it was still fun to get a good workout. Kian Pang's team was dominating the match, with 3 imported skilful players and their fancy footwork. I didn't get a shot on target at all and registered zero goals. Hiak...

Having abandoned my wife for 2 hours, it was payback time when she dragged me off to watch "Made of Honor" at Tiong Bahru Plaza. We had pop corn and nachos dipped in cheeze for dinner as we watch the romantic show about a guy who realises that he is deeply in love with his best gal friend and tries his best to win her back.


Thursday, 15 May 2008 - Lunch with Missus
Even though our office is about 15 minutes walk apart, we never had lunch together, until today! Well, partly becos I'm usually so busy with my work that my lunch time varies between 12 - 2pm. And also becos Lydia gets to eat for free in her hotel's canteen.

We agreed to meet somewhere in the middle, at Bon Gout @ Robertson Quay. It's a very unique Japanese cafe that has half the floor space filled with bookshelves of Japanese books. Cool! During our 45 minutes lunch there, there were a number of Japanese patrons and a number of people squeezing past the dining tables and selecting a book of interest off the bookshelves. Very interesting!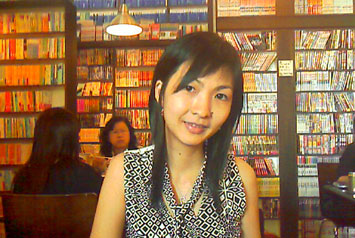 Lunching in a Japanese bookshop cafe

I had the pan fried beef (soya sauce based) while Lydia had the tonkatsu. The food wasn't totally amazing, but with its affordable price and cosy and quiet atmosphere, it makes a great dining venue, especially when taking a lunch break from work and eating with your wife. :)


Wednesday, 14 May 2008 - Weekday Futsal with Office Colleagues
Today's my first time joining my office colleagues for futsal at SAFRA Tampines, pitch very nicely sponsored by Radix Energy, who is also organising a tournament. Thanks guys!

Headed home first after work to pick up the car, as well as to grab a quick dinner before heading to SAFRA with Lydia in tow, as she wanted to go swimming. By the time we got there, it was about 8.45pm. The swimming pool closes at 9.15pm though! :P

There were about 4 teams there, including those from my company: Gabriel, Zhang Dong, Dean and Rahim. Well, it was fun playing with them, though I must have left my shooting boots at home, or my legs ain't listening to me. Still managed to score two goals.

Lydia had a good half hour swim, so she's happy and contented to let me play till about 10.30pm. She's proposing to switch all my futsal games to this venue instead, haha!


Sunday, 11 May 2008 - Happy Mother's Day!
Not exactly sure when is Mother's Day, but we celebrated it today!

But first, we start off the day with our fortnightly morning breakfast at Ya Kun @ Far East Square. It just feels a tad more special eating at their main outlet. :)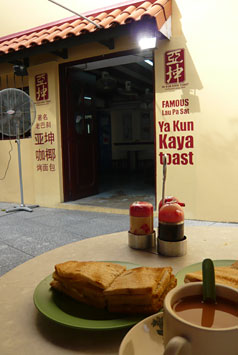 Kaya toast, eggs (hidden) and tea. Yummy!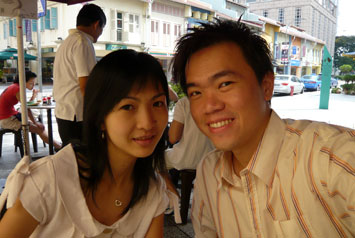 Lydia in her new hairstyle

My mum wanted to try out the dim sum stall at Ang Mo Kio, so we went there after church with my parents and Jason and Fenny. It was really crowded! The food is so-so lah, but well, it's the gathering and thoughts that counts. Not that we treated her to the lunch (she treated us instead, heehee!), as she chose to buy a pair of walking shoes as her present and J and I shared the cost.

We visited Ah Ma after that before heading to my parent's home to wash the car. Oh man, haven't wash the car for three weeks and some bird stains were turning out to be quite a strain on the paintwork. :( Must make it a point to wash at least every 2 weeks.

Had the chance to inspect the undercarriage damage to the left rear bumper caused by me yesterday when I reversed into a curb. Ouch! Heart pain... thankfully it is not very visible unless you stoop really low to the ground to see it. Sigh...

We visited the site of our old church (see 13 April ground-breaking pictures) after hearing that it has been torn down. Wow, it has indeed been flattened. Well, it's time to rebuild the church as it is getting run-down, especially so when it's in the neighbourhood of sprouting condos! I certainly miss coming to this central location though!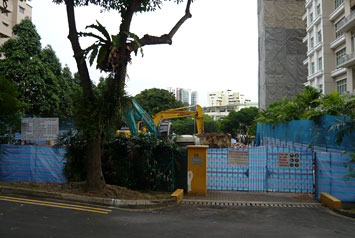 Where the sanctuary once stood, 2 excavators now set roots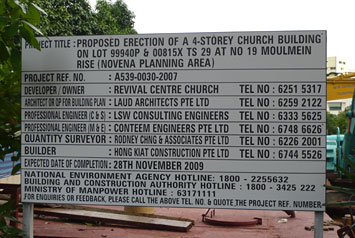 Theoretically, this will be completed before our Pinnacle flat! Ha!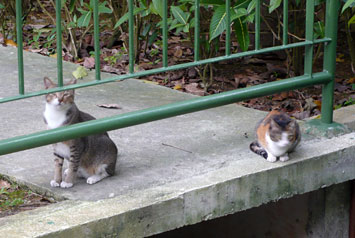 My precious!!! Oh, you poor homeless cats....


Saturday, 3 May 2008 - Futsal @ SAFRA Tampines
Andrew invited us to play with his friends this weekend. Picked up Kian Pang and Dennis and headed all the way to SAFRA Tampines!

The late afternoon sun was blazing hot when we arrived there at 4pm. It's an outdoor, artificial grass court, smaller in size. The heat was quite something and Lydia took shelter in the spectator's stand nearby.

With Boon Chong and Gabriel, our team and took on the 3 other teams, comprising of Andrew's colleagues and colleague's friends. But with 3 other courts unoccupied, the waiting teams took to the other courts and we ended up playing non-stop! Well, it's good to not have to wait to play, but under the saturating heat, it was tough!

I was wondering if I'd score today after seeing two shots saved by the keeper and one hitting the post. But thankfully, towards the end of the game, scored two goals before leaving the field, feeling satisfied that I've scored, had a good exercise, and had a good dose of sun!

After taking a shower at the excellent SAFRA facilities (private cubicle with hot water and showerfoam dispenser!), we headed to IMM with Kian Pang, Dennis and Boon Chong for dinner at Coffee Club. The price was very reasonable and the food quantity/quality was not too bad either. The mud pie wrapped up the dinner very nicely.

On another note, Man U looks destined to clinch the Barclays Premier League title with a resounding 4-1 victory over bogey team West Ham. And Blackburn came back from a goal down to win 3-1 against Derby. This is one happy Saturday for me. :)


Thursday, 1 May 2008 - A Walk in the Park
How nice if there's a holiday every week to break the 5-day work week!

We took the opportunity to watch a late DVD movie yesterday and woke up late today. Lydia suggested going to the Botanic Gardens in the morning. Wah! That's a rarity! Everytime I have to drag her there, but today she suggested we go there...

Unfortunately, by the time we're awake and ready, it was getting a bit too hot to grab breakfast and head for the Botanic Gardens. Instead of a morning picnic, it would more likely be a blazing mid-day sun pinic. So we scrapped the idea and headed to Hong Lim food centre for lunch. Not knowing what to eat here (besides the curry noodle), we simply looked for stalls with the longest queue. :) The crayfish & prawns Ipoh hor fun was quite nice with its fresh seafood, and the minced pork noodles was not too bad, though I thought it was a bit sweet.

And in the evening, we did visit the Botanic Gardens after all! Lydia scrapped the picnic idea though, and suggested we walk instead. And we walked a lot indeed, covering two-thirds of the length of the park to and fro. It was very interesting and refreshing to take a stroll together, hand in hand, and look at the greenery and the people in the park. I hope I can get my wife to appreciate nature more. :)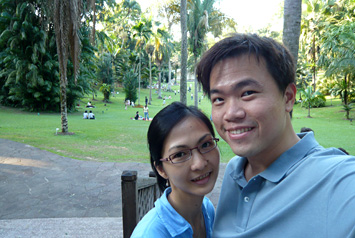 We could have been picnic-king at the background

Dinner was at the on-site food court. Was surprised that it wasn't as crowded as I thought it might be (It did get more crowded later towards 7pm). I had the crab fried rice @ $6 (usual $8 leh!). Well... it was... crabby. The only hint of crab is a single pincer claw of crab meat placed on top of the fried rice, and cubes of crab stick, if you consider that as crab meat. The ultra dry fried rice made it hard to swallow down also.

But nonetheless, I am still glad to have spent some quality time with my wife at Botanic Gardens. When's the next time, dear?


Sunday, 27 April 2008 - Top Doggie Dog!
About two weeks ago, I mentioned that there's this free online multiplayer flying game, Dogfights. I tried initially to play using keyboard. Totally slaughtered by the opponents cos it is impossible to "fly-by-keyboard". Had to wait a week before picking up my Logitech 3D Wingman Extreme joystick from my parent's home.

Few days back, I tried the game again, this time with the joystick. Not too bad! Trouble was trying to locate the enemy planes to shoot down.

And today, after a couple of sorties under the belt, I managed to top a few deathmatches even, hehheh!



With 85 kills, Joel "Spartan" Teo dominated the skies

So, anyone wanna take to the skies with me in a German Focke Wulfe 190, or join the enemies in their US P47D Thunderbolt!?


Saturday, 26 April 2008 - Futsal @ Fico
After a long absence from Fico, we're back this weekend to play here! The guys were kind enough to organise the game at 4pm, giving me time to take the weekend car out after 3pm.

Didn't play well today though, and scored zero goals. Had a couple of chances but were all straight at Kian Pang. Maybe I should buy a football and practice at home!

We (Lydia, Dennis, Kian Pang, Boon Chong, Tzin Mein) went over to Gabriel & Valentine's Sengkang home after the game to catch Chelsea vs Manchester United!

It was really cute to see a Man U (Valentine) teddy bear and a Liverpool (Gabriel) teddy bear on their TV set. :) And when we all shouted "goal!!" when Man U scored, baby Valencia was startled by the noise and starting crying, heehee! The poor couple actually gotto watch football games in silence to avoid alarming the baby.

You know... actually I get the "shhhh!!!" from my wife when watching football late at night too. She's afraid I wake up the neighbours! :P


Thursday, 24 April 2008 - Life Without a Hubstation
I was surfing the cable channels last Sunday when out of the blue, it got stuck on Channel 27. No matter what I did, the hubstation wouldn't respond and is was like hanged. Lydia almost broke down in tears when she found out that she couldn't record all her favorite serials. And to make it worse, it was stuck in Football Channel, heehee!

Thankfully the cable guy got it fixed on Thursday. He had to wipe out the harddisk, but we couldn't care less and were just overjoyed that the power of the remote control has been restored to us! How I miss my History Channel! As for my wife, she couldn't wait to start programming the shows she wants to record up to three days in advanced.

It amazes me that she could master the intricate functions of the hubstation all by herself. But yet need me to change a light bulb...


Saturday, 19 April 2008 - Massage & Facial
It has been ages since we went for a massage and facial at Body Contours. Today, we dragged ourselves out of bed to make it to the appointment at 10am.

The massage was... disappointing. Maybe I'm used to the Indonesian (or even Thai) massage style. Or maybe the masseuse has yet to warm up her hands... either way, I was strangely left to "rest" for like an hour with a towel over my eyes in the cosy room, while waiting for the facial therapist to come.

Just when I thought I'd get up and ask the aunties out outside if they've forgotten me, the facial therapist came in. As usual, she tried to convince me to "upp" the treatment, but I go "wah, so expensive. Next time lah."

On the whole, though the massage could be better, it was a nice relaxing 3 hours at the spa. Hopefully it has rejuvenate our energy and lost sleep!

Oh boy... I am so looking forward to going back to Indonesia in a few months time where I can get a painful but superb massage. :)


Friday, 18 April 2008 - Dinner at Barracks
Tonite we're meeting up with our Tetra Pak gang of friends and having dinner at Barracks @ Dempsey Hill! Cool!

Picked up Wai Seng & Elaine (with Kelvin) and headed over at 7.30pm. First time going there at night (and once only in the day!) and I've heard tales of Dempsey Hill's nightmarish, pitch-black night parking stories, so this should be exciting, haha!

And indeed, it lived up to its name! Finding the entrance to Dempsey Road was easy. But driving inside what used to be a military compound with clusters of buildings, no signage and barely any street lights (were there?), we were like "where are we?".

By some sheer luck (or perhaps the driver was just naturally talented...), we were wandering on the right track and a carpark attendant pointed us to the direction of our destination. But by no means the adventure is over though! Finding a place to park! With nary a moon light abit some ambient light from distant restaurants, the headlights was just about the only light source. Thankfully, we found a place to squeeze in the car between a flower pot and a wooden shed, with a wooden bench at the rear. Phew!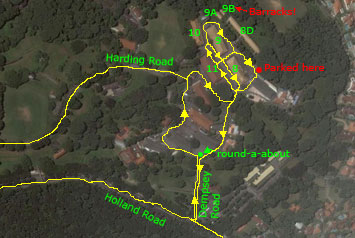 Chaotic! You won't find a better map than this!

Vernon, Adeline, Sherry, Raj and Kuan Han were there already by the time we reached the restaurant. Hey, it's out in the open on wooden floorboards, with trees on one side and the hill that we came down on the other side. Nice! Though there weren't any breeze blowing, it didn't feel warm at all.

We ordered appetizers (including a 1-metre long sausage!), drinks, main course and desserts! With a name like Barracks, the theme was... you guess it, army-style! The drinks and desserts came in tin cans, and so too were the table napkins tin container.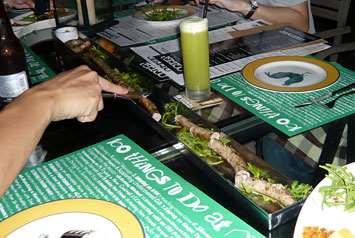 That's a long sausage!

We ordered the Tiffin Punch, an alcoholic drink highly recommended by the waitress dressed up as a fitness instructor. With a mix of Bombay sapphire gin, lychee, liqueur, pressed ruby red grapefruit, ginger, lychees and mymm champagne, it was amazingly refreshing! Doesn't taste alcoholic at all!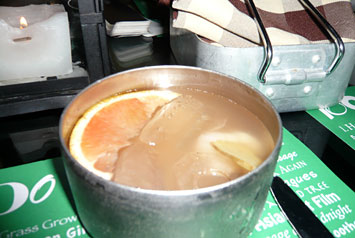 My tin cup of Tiffin Punch. Table napkins in the background!



Savouring the main courses @ Barracks



Lydia's roast veal and my cod and fish

The dessert was not as good as the appetisers and main course, or maybe cos we were already feeling very full. Lydia though loved her carrotcake very much and happily declared that she had found her best carrot cake!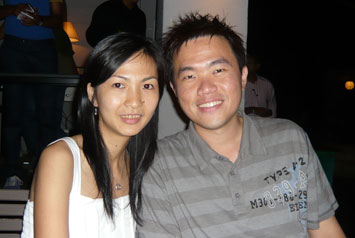 Couple 1: Lydia & Joel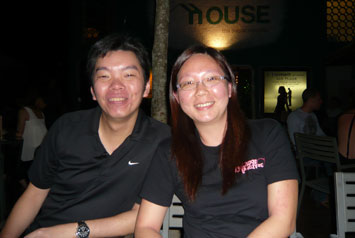 Couple 2: Wai Seng & Elaine



Friend-friend only: Raj & Sherry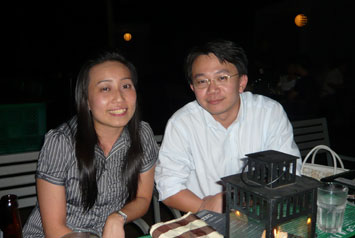 Dunwan-to-say-"couple"... Adeline & Vernon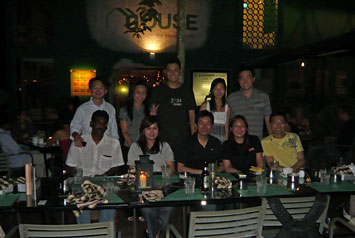 Group photo! Kuan Han & Kelvin too shy to take couple photo...

Had a good time catching up and chit chatting with them. Out of the 9 of us (excluding Elaine), 4 are ex-Tetra Pak staff! Coincidently, all those who had left were in SRC committee before.... heeheehee!

Oh! To Mr Tan Soo Kee in Sweden, hope you're not feeling too lonely while we're having fun! We still think of you! :D


Thursday, 17 April 2008 - Suti @ 7 Months
We went out for dinner with Lydia's good hostel friend, Suti. Though she married later than us, she's now already 7 months pregnant! Yay! It was great catching up with her and hearing her stories, from how her baby reacts when she's lying left, right, or up, to naming the baby with a name ending with "to" (Alberto? Bebeto? Julianto? Roberto? Suharto!).

Wow, it's been 6 years since they both graduated from NTU in 2002. From newbie Indonesian freshies in Hall 9, one's now a mum-to-be, the other's now so good in her command of English that her husband can't win her in an argument. Including scissors, paper, stone also, strangely.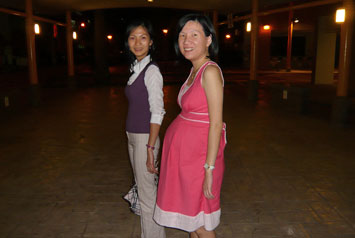 2 more months to go!


Sunday, 13 April 2008 Part 3 - Groundbreaking Ceremony @ RCC
The word is that the construction company is going to start tearing down our good old church @ Moulmein Rise pretty soon to begin construction. So today, after the church service at our temporary home at Chua Chu Kang, we made our way back to Moulmein Rise for a ceremony, as well as to bid farewell to a place where I had grown up in and spent my childhood and teenage Sundays in.

We took the opportunity to explore the compound, the basement, the sanctuary, the old tree... but there's one place which held fond memories for me which ironically (haha!) isn't within the church compound. It's the drain that ran parallel to the church and the main road outside, heehee!

This drain has been a fabulous getaway place to little boys who rather skip Sunday School and catch longkang fish! Little Joel, Jason, Lionel, Victor, Robin.... all running away gleefully whenever we hear the voices of Sunday School teachers or our parents, heehee! The drain that used to stretch all the way to the present Novena Square was our "heaven". :P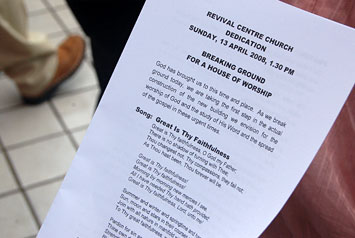 Ground breaking dedication ceremony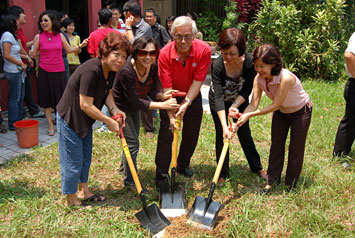 My parents and the "oldies " breaking the ground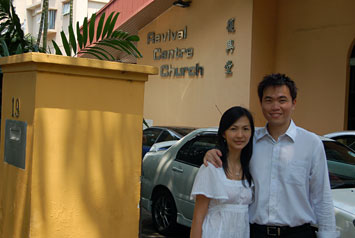 At the entrance to the church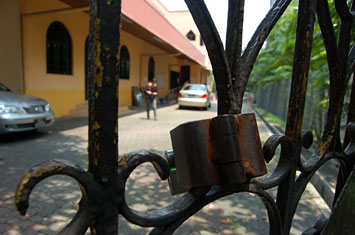 Farewell to 19 Moulmein Rise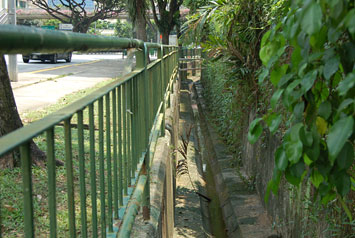 The drain where we used to catch fish and play in!


Saturday, 12 April 2008 Part 3 - It's Nice to Get Wet Again
Hmm, 3 entries in a single day... that's a first! :)

After all the morning and early afternoon ranting activities at home, we finally dragged ourselves out of the cosy home for some swimming exercise! Feeling really lazy, haha! Got car but was still tempted to abandon our swimming plans and rot at home instead!

But in the end, my guilty conscience forced me to declare to my wife, who was slumped in the sofa, that we are going! Going to my uncle's condo (10 min drive to Clementi...) for a swim!

And boy! Are we glad to have dragged ourselves into the pool! We swam a good 20 laps before soaking in the hot furo bath. Felt totally refreshed after that.

Not wanting to eat too early after exercising, we went to IMM for some shopping before going to Adam's Road Food Centre for the nasi lemak! Pity only managed to get 1 plate!


Saturday, 12 April 2008 Part 2 - What? Pay Again???
Huh? I'm already paying $25 a month for my Starhub Sports channel, and now I gotto pay $10 more to subscribe to Starhub UEFA Euro 2008 Season Pass?? Gotto be kidding man! I don't mind paying for the World Cup, but Euro 2008 also must pay?? Wah lau... this is too much man.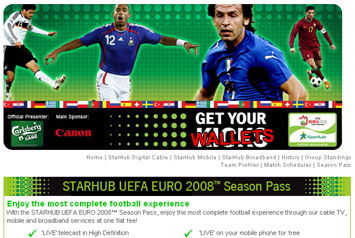 Already, to catch the Champions League matches next year, one gotto subscribe to SingTel mio TV. Is Starhub going to give me a refund for losing out to SingTel?

The Media Development Authority (MDA)'s stand is that the free market approach is the right one, and competition is the way to go. Ya, right. The losers are the fans who end up paying more or stand to miss out.

Well, for sure,
1) Over my dead body, am I going to subscribe to SingTel mioTV.
2) $10 more for Euro2008, with England not even playing? I'm not going to pay to show my protest!


Saturday, 12 April 2008 Part 1 - Dogfights! in History Channel!
Watch the show, and play the game! Dogfights is a series on History Channel, showcasing historic famous air battles from the Korean War to the WWII Pacific War, recreated stunningly using state of the art computer animation. Catch it every Thursday at 10pm!

And now you can play the multiplayer game online too! Best of all, it's free! Now where have I kept my Logitech 3D joystick?




While Lydia's got her VV Drama and Channel U, I find myself hooked to History Channel! It's very interesting and very educational! But of course, the first channel that I turn on first is still the sports channel. :)


Thursday, 10 April 2008 - Olympic Torch Protests
For the past few days, I've been seeing CNN and BBC flash video footage of the anti-China protesters disrupting the Olympic torch relay, from London to Paris to San Francisco. Geez. I mean, sure, the Tibetians are very pitiful under China's oppression. But to harrass a totally innocent torch bearer and made him/her fear for his/her safety is quite simply ridiculous. I feel sorry for the poor torch bearers who what should have been a proud moment in their life, but instead, he/she has to cower in fear of being attacked.

I'm certainly no pro-China, but I feel that these people are simply exploiting the moment to attack China, and/or simply taking the opportunity to create chaos and mayhem, all at the expense of the Olympic spirit. What kind of message can one be trying to send to the world by attempting to snatch the torch from a torch bearer in a wheelchair?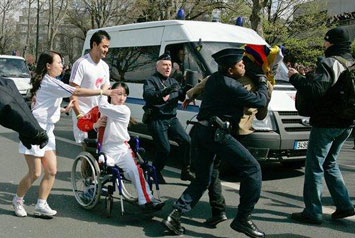 Absolute madness


Sunday, 6 April 2008 - Qing Ming Visit
The annual visit is here again! We woke up really early and left the home at 7am for Choa Chu Kang. All the news report about traffic jam resulting from random Police checks due to Mas Selamat's escape were unfounded. True, it's a bit crowded, but it's nothing compared to the kind of jam many many years ago.

We finally made it to my grandfather's tomb after a few mistaken trees and drains. My parents, Jason & Fenny, Uncle Nick & family and Ziyi & uncle Fred soon arrived. We went over to the Christian cemetery after that to pay respect to my grandmother.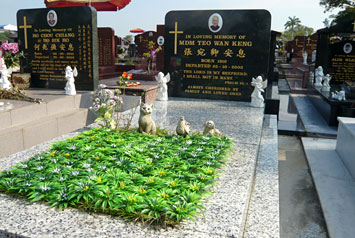 The final resting place for my grandmother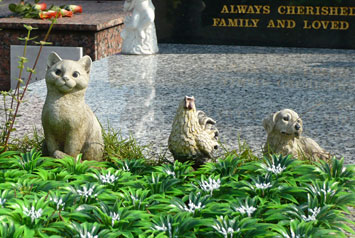 Our notti pets that troubled her no end, heh! Furball, Chick Chick & Whitie.

After a breakfast stopover at NTU Canteen 2 where we had a good time catching up with our cousins, we went to Mount Vernon Crematorium for the last visit to my grandfather. Man, the brainless people who blatently chose to burn offerings within the confined building enclosure made the whole place very suffocating! We said a quick prayer and got out of there in less than 5 minutes.


Saturday, 5 April 2008 - Color Me Black
After a week of teasing from colleagues about my white hair, I was actually getting used to it, haha. But my wife finally gave me the green light to color my hair (must be really black! she warned!) after an incident one morning, where my sincerity touched her heart and melted her steadfastness. Wel, she had forgotten to bring her handphone and I went to her office to pass it to her. :)

An hour and a half later, I'm out of the hair salon with my hair one shade below black. I miss my slightly brown hair though.. :P

In the evening, we went to Gabriel & Valentine's home to celebrate Valentine's pre-birthday party! The usual gang were there and we had a mini-BBQ plus an assortment of other food. With Liverpool and Arsenal on TV, it was really good entertainment. Unfortunately Blackburn & Tottenham (Andrew's a Spurs fan! Boo!!) were playing late and we only managed to watch till half time before heading home.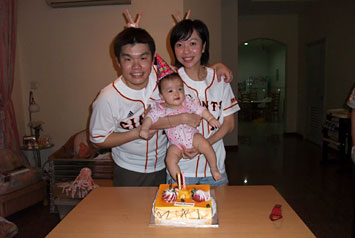 Gabriel & Valentine with baby Valencia


Friday, 4 April 2008 - More Pay, More Work
This has been quite an uneventful week. After work, dinner with Lydia, go home, take out office laptop and continue to clear endless pile of work. It's a good thing I like computers and my work, else I dunno how I will survive.

Looking forward to the weekend ahead! For once, the laptop stays inside my bag!