Entries by Joel


Sticky: Please sign the guestbook so that we know you've been here! We'd love to hear from u!


Saturday, 30 September 2006 - NATAS Travel Fair, Part 1
After a heavy dim sum breakfast with Soo Kee at Red Star restaurant, we went down to the NATAS Travel Fair at Singapore Expo. Boy, that place is crowded! But thankfully, once you're inside the hall, it wasn't as bad as I thought it would be. Didn't really have to queue to get attended to. Of course we didn't cut queue.... My wife moves fast, that's all. :)

My parents happened to be at the fair too! We went together for dinner at Eunos before heading home. With the stack of materials at hand, I left it to Lydia to work out the itinerary and travel plans while I "volunteered" to vacuum and mop the house.


Friday, 29 September 2006 - Late Night Mooncakes
Soo Kee came to our place after dinner and we ate lots of moon cakes and drank lots of tea! We had durian and normal mooncakes from Goodwood Park Hotel, as well as durian mooncake from Angie the Choice. Lydia liked the durian moncake from Angie the Choice. That one feels like you're eating durian!

Today was Lydia's last day in MINDEF. Yes, she has resigned.

Today was also my last day in office.... before I go on my 2 1/2 weeks reservist duty, that is. Which explains why I went for a haircut at Reds today. I'm glad Ann Ng, my regular hairstylist, has returned from her maternity leave. She said "ni sou le" :D


Tuesday, 26 September 2006 - Meet Baby Christian
Look at this adorable baby! He's just 4 months old and Christina & Pat's bundle of joy. :)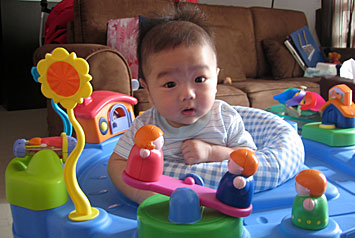 Christina is one of two JC girl friends I still keep in contact with (the other is Cindy). These two girls (ladies?) are both married and with a kid to show. And Cindy's pregnant now too! One thing's for sure. My future baby will be too young to play masa masa with them!

Website easter egg special: Christina was my wedding MC too. Try moving the mouse cursor over her picture and see what happens. Any resemblence to the photo above? :D


Monday, 25 September 2006 - Singapore Idol Who?
If TV Mobile wasn't screening Singapore Idol, I wouldn't have known that today was the live result screening. If Lydia haven't told me, I wouldn't have known that the two finalists are Johnathan Leong and Hady Mirza.

Would I spend 60 cents to SMS my vote for my favorite (now who would that be?) contestant? Are you crazy?

Am I surprised/disappointed Hady won? No. Frankly, I couldn't care less.


Sunday, 24 September 2006 - Totally Washed Out
The whole body is aching from yesterday's wakeboarding! From the neck, to the shoulders, back, butt, legs... it really is a total body workout! Plus a nice sun tan too! Lydia's walking around like a pregnant robot. Yup. Try to picture that, haha!

This week was quite a furry of activities (which explains the lack of posts to the website): From Tuesday's office bowling, Thursday's dinner & clubbing with office friends and ex-office friends, Friday's dinner with NTU friends at Ikoi Japanese restaurant @ Miramar Hotel (beats me why the rave over this place?), Saturday's wakeboarding, and Sunday's Ah Teck's 1-year-old baby celebration lunch and evening visit to Ah ma.

Phew! I need a weekday and weekend break! :P


Saturday, 23 September 2006 - Riding the Waves and Wakeboarding!
I never thought I'd try wakeboarding but I did! As a committee member of my company's sports and recreational club, we organised the wakeboarding activity for the first time and an encouraging 27 people signed up!

Arriving at Marina Country Club at Punggol in the morning at 9am, the majority were brave first-timers. After a brief dry session, we broke up into groups of 3-4, and the 8 boats took us out into the sea. Lydia, Soo Kee and I were in same boat, and Soo Kee had the honours of being the first, heehee. Oh, it was worrying to see him crash repeatedly many times and not being able to stand up. But on the 7th attempt or something, he finally got up and was wakeboarding! Yeah!!

After 10 minutes or so, it was my turn to take the challenge. After strapping into the wakeboard, I waded into the waters. I was really wondering if I could do it or not, seeing how Soo Kee struggled before he finally got the hang of it.

First attempt: crash (tried to stand too early)
Second attempt: Success!!

Sweeeet! I'm actually wakeboarding! Woohooo! It was really exciting and thrilling to be able to get up and wakeboard!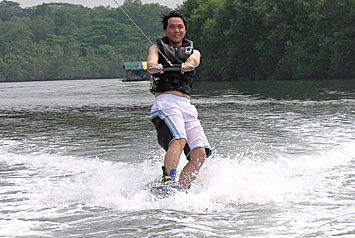 Lydia was next and she had a difficult time trying to get out of the water. When she crashed facing downwards, we had to go over to flip her over cos the wakeboard was too heavy for her to flip herself around! But on her final try (15th attempt?), she managed to get up and lasted about 3 seconds! Yay!!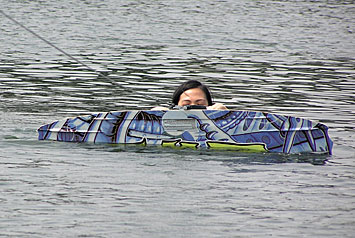 After 2 hours on the waters, we returned back to shore. It was really great to see that all of them had enjoyed themselves, even those who were not able to get out of the waters and wakeboard. Couple of them are interested to come back again on their own! :)


Sunday, 17 September 2006 - Europe Honeymoon Tour Friends
We met up with 2 of our favorite couples from our honeymoon trip in europe, George & Corrine, and Hoe Lee (aka Holy) & Weiling. Wah, haven't seen Holy and Weiling since the europe trip in November last year! How time flies!

Today was also to celebrate Corrine's belated birthday. Lunch was at Jumbo Seafood Gallery at The Riverwalk. Wow, we ordered alot of food! 2 plates of sri lanka black pepper and chilli crabs weren't enough and Corrine ordered another plate of chilli crab! These guys really enjoy their food too!

With the Singapore River conveniently located beside the restaurant, it's unfortunate no one else was interested in dunking Corrine into the river... :P

We proceed to SuperBowl at Marina South later for bowling. It was quite fun playing with them. Managed a score of 152 and 148 over 2 games, before going to the arcade to play games. Wah, too long never play already. I used to be able to reach the last stage of Time Crisis 2 with one token. But now only made it to the 2nd stage. But I think my shooting skills still better than George and Holy, heehee. :D

While the others were preoccupied with their games, as I walked along the rows of arcade machines, fond memories of my younger days start to flash by in my mind. Macross reminded me of the time Lionel and I would partner and play this game from start to finish over and over again, while Meiyu sits by and watch. Metal Slug reminded me of my NTU chillout arcade days with Andrew where we make a great team playing all the Metal Slug series!

And dinner was durians! Literally! We went to Geylang and ate $110 worth of durians! 2x D24 $15/kg durians, 1x cat mountain king $15/kg durian, 3x 3-for-$20 durians, and 1 $5 durian. 7 durians for 6 people! Yummy! But at the end of it all, suffering from durian overkill man!

Going out with them makes me think about the fun times we had in our europe trip: taking photos, sight-seeing, cable-car ride, cheese fondues... and of course the unforgetable French cuisine dinner in Paris. It sure was fun!


Saturday, 16 September 2006 - Beh Kia See!
One week after my terrible toe blister, I'm playing street soccer at 1pm again at the same venue! :P

After surprisingly getting clearance to play from Lydia, we went down with Soo Kee to St. Wilfrid sports complex. I think it must have been months since Lydia came down to a soccer game!

With two plasters wrapped round my little toe, it's play time! Overall, it was quite an enjoyable game, even though I failed to score. Had two great shots tipped over by the goalkeeper, and also missing an open goal square pass! Must still improve my dribbling, ball control and ball movement...


Friday, 15 September 2006 - Unexpected Dinner Outing
The initial plan was to go to the nearby coffeeshop for dinner. And since Soo Kee stayed at the same coffeeshop block, we gave him a call to join us. But what was supposed to be a quick dinner ended up with us coming home past 11pm!

First stop was at Pasir Panjang Food Centre, where we had BBQ stingray, sambal kang kong, satay, chicken wings and fried carrot cake. The food was not too bad, especially the satay.

After the stall auntie dropped numerous hints for us to move on (1. Asking us to move tables so that they can have their dinner at the table closest to their stall. 2) Taking a rest at our table. 3) Asking the cleaner to clear our table.), we headed to Anchor Point for Haagen Daz to continue our chit chat. It was nice to chit chat about everything, from work, to soccer, to wives.

And we finally left becos Haagen Daz closed at 11pm!


Tuesday, 12 September 2006 - Day 2 of MC
Today's the 2nd day of my MC due to the toe injury. It's nice to wake up at 10am on a weekday. :)

With so much time on my hands, that's why you see a morning entry here, and hear me rumbling about my favorite football club, Blackburn Rovers.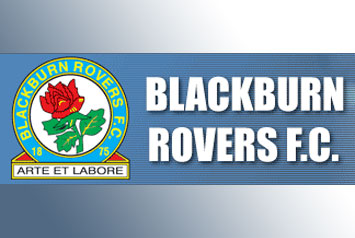 After 4 games played, they are 2nd. 2nd from the bottom of the 20-team table, that is. 2 draws and 2 losses, with the latest a draw against Sheffield United (a newly promoted side!). I certainly hope they improve soon, otherwise the familiar relegation battle may loom again.

Well, the only consolation is that this is just early season. And that Arsenal is just 2 places above them only, heehee.

My advice to Arsenal, who have yet to win at home in their new stadium: Change your field back to the same smaller size as the old one!


Sunday, 10 September 2006 - Happy Birthday Duckie!
Happy birthday to my brother, Jason! He just turned 29 and will soon join the 30s club soon, haha! Glad he liked the tie hanger present we gave him. It certainly beats our old way of hanging ties from clothes hanger.

Today's the first time I went to church in slippers too! With a toe hurting like that, it was impossible to slip on my shoes. No matter how painful, still must go to church mah. :)


Saturday, 9 September 2006 - Football Pain Crazy!
Under the blistering 1pm sun, I was playing street soccer with Soo Kee and his friends at St Wilfrid Sports Complex! The artificial rubberised grass court with mixture of black granite was oozing heat like a microwave oven! Try standing still for a few seconds and you can feel the heat conducting through the shoes and up your legs.

But it was very fun! Half the length of a full soccer field, with goal posts and court markings.

Unfortunately, my poor little toe couldn't take the heat and battering. At half time though our 2-hour game, the blister at the top of my toe was hurting but I decided to still play on. But at full time, after I took off my shoe, it was a scary sight. The skin was torn off and the flesh beneath was exposed and utterly raw!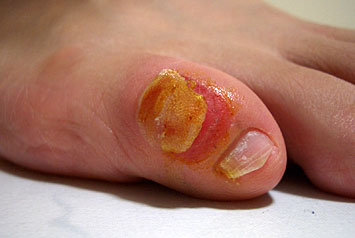 After limping my way home, it was time for some painful experience: washing the wound, applying the iodine, and getting an earful from my wife. Hmm.... which one is the worst? Heehee!

Lydia remarked that I had a high tolerance for pain. Well, this isn't the most painful experience I had encountered. The worst was getting stung on the foot by some unknown sea creatures in Sentosa waters. I've got pictures of that too (hey, you have to take pictures to keep them as memories wat), but let's leave show and tell for another day! :P


Wednesday, 6 September 2006 - Fallen to Temptation
It's all Swee Wai and Soo Kee's fault.

Today was supposed to go for an evening jog at Tiong Bahru Park, followed by an apple for dinner. Instead, we had a full-blown feast of fish steamboat, sweet and sour pork, fried chicken wings, fried buttered prawns and vegetables!!

Dinner was in Jurong at an industrial area food centre with Soo Kee, Swee Wai, Vernon, Mandy, Pei Sze, Vincent and Steven. We really ate till our stomach were filled to the brim! Cos the auntie said that medium portion not enough, must order big...


Monday, 4 September 2006 - Death by Stingray
Steve Irwin, the famous Australian crocodile hunter, died today after being stung by a stingray while filming a documentary at the Great Barrier Reef. He was killed when a poisonous stingray barb punctured his chest.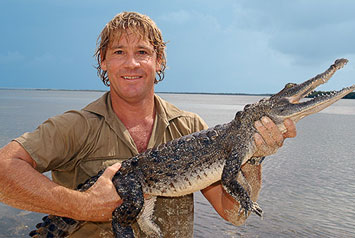 His death has left a sad feeling in my heart, even though all I ever knew of him was in Animal Planet. His lively and crazy nature will always be remembered.

Life is surely unpredictable. Death can come anytime. We can make all the plans we want for the future, but God alone is the one who holds the masterplan for our lives. Everything that has happened, God has a plan and has allowed it to happen, no matter how difficult it is to comprehend from our own human understanding. But everyday I pray though, that He will keep all my loved ones safe, healthy and protect them from harm.


Sunday, 3 September 2006 - Huff and Puff
Oh what a healthy weekend it has been!

Saturday afternoon was playing street soccer with Soo Kee and friends at the old Republic Poly from 4pm till almost 7.30pm! I scored 3 goals. :) The first was a total fluke goal that rebounded off the side wall (it was an intentional cross okay..), evaded my team and opposition players, took a wicked spin, and spun into the bottom corner of the goal post. I'll take it whichever way it went in. It's quite nice to play in a walled-up street soccer court for a change. It adds a totally different gameplay and strategy into this wonderful game. :)

While I was huffing and puffing away, my wife was out for high tea at Marriott Hotel with her NTU friends Anna, Claudia and Hwee Ming. Followed by shopping at Marina Square. This is a very good example of why I'm losing weight faster than her. And she's complaining how come I can lose more weight...

Actually... after the soccer game, Soo Kee and I had 2 bowls of desserts each at the popular Redhill Mickey Mouse dessert stall! :P And followed by claypot chicken rice, which I had to finish a large portion cos he had too much water intake!

And on Sunday, I vacuumed and mopped the whole flat by myself too. This is supposedly to allow Lydia more time to study for her exam. Although I'm beginning to notice a pattern whereby she would be studying while I'm cleaning up the place. But once I'm done, the TV comes on.... hmmm.

In the evening, we went jogging at Tiong Bahru Park. It was our first trip there and it's quite a nice place to jog. For Lydia who has not jog for almost a year, it's not too bad that she managed to complete approximately 2 rounds.

And dinner was an apple! Must exercise and lose more weight!


Friday, 1 September 2006 - A Super Headache
I seldom get a headache. But lately, it has just been getting worse and worse. It just keep coming back with new ones all the time. How???? Cannot take it already!

I mean, there's the Ultimate Collector's Vader's TIE Advanced, Jabba's Sail Barge, Imperial Star Destroyer, new X-wing Fighter, Grand Soccer Stadium, Exo-Force's Supernova, City's new Airport... and a whole lot more of new releases by Lego!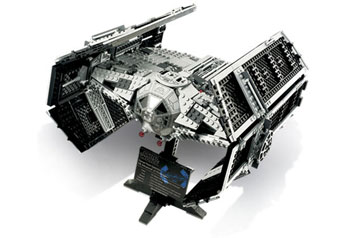 This would make a great centrepiece in my new home...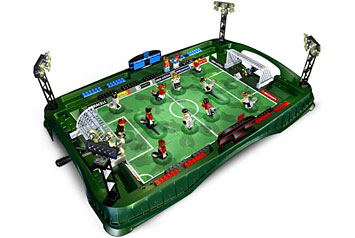 Any true-blue Lego and soccer fan (like me) should have one!

How thee, I pray, wilt I resist ye!??


Wednesday, 27 August 2006 - To Serene
To Serene, who posted in the guestbook at entry 66, the website is done by Joel (me). Thanks for the compliment! Since you did not leave behind your email address, today's entry is specially for you.

Well, the truth is, it's been a pretty unhappening weekday so far. Go to work, go home, go to work, go home. It's nice to be home early actually and catch up on things that needs to be done at home. Just that, I haven't had the chance to idle for so long that it feels kinda strange!


Sunday, 27 August 2006 - Late Nite Partying!
Oh man.. last nite we came home past 4am! And had to wake up at 8.30am to get ready for church! After some grocery shopping at Novena Square, came straight home and slept from 3pm till 6pm. :P

Saturday morning kicked off with a MacRitchie TreeTop Walk at 8.30am with my parents, organised by my dad's company. I'm always happy to get some more exercises and be close to nature. Lydia strangely did not complain about the sun today. Well, after walking some 45 minutes, a 10 minute walk across the 250m long suspension bridge later, it was time to walk back. Feeling "cheated", we decided to jog back instead. No sweat!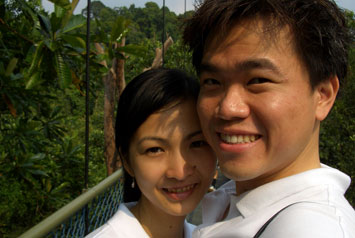 Dinner was at Esmirada @ Chijmes, with my office colleagues (Soo Kee, Hayley, Wai Seng, Vernon, Serin, Chuen Kiat, Lina and ex-colleague Terence). What?? This cool Mediterranean restaurant do not have live screening of Sat's EPL matches? It's a pity we didn't choose the restaurants at the basement too. The soccer atmosphere would have been fantastic! But nonetheless, the food was pretty good, though a bit cold. But the fantastic dining experience in the open court area of Chijmes (and the chit chats of course) certainly makes it memorial and fun.

We headed to Bar None later at Marriot Hotel. What? They ordered 2 bottles of Diva Vodka? Top that with a bucket of ice, 7-Up, lime and cranberry juice as mixers.Vernon and Lina had left earlier and Wai Seng soon left after a few drinks. I ain't that much of a vodka fan and had trouble differentiating how potent a mix should be, heehee.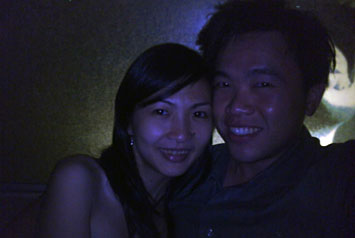 The atmosphere here was definitely a million times better than at DXO. It was crowded, with a good mix of guys and gals (though it seems like an older crowd. Suitable for Soo Kee, haha!), a live band, and people on the dance floor. Well, with two bottles of vodka to down, finger-guessing game was a sure-fire way to get everybody drinking, laughing and dancing!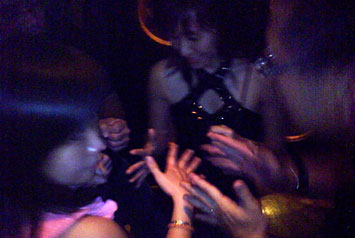 It was quite fun to go clubbing again. Reminds me a little of the NTU days where Wednesday night means mambo night out at Zouk!

We finally called it a day around 3.30am. Only Lydia did not drink as she does not enjoy drinking. Knowing that Lydia will be 100% sober, Soo Kee had right from the started, full of faith (or ignorant?), entrusted his car to her to drive us back home after clubbing! Does he know that my dear wife had not driven even once on Singapore road? The last time she drove in Indonesia was 7 years ago! And she has never drove an auto car before too!

Soo Kee was definitely too high to drive. I am very likely alert enough to drive home, but am worried if I'm good enough for an unfortunate breath-analyser test. I drove the car down the multi-story car park before handing the keys to Lydia. We briefed her on the accelerator, brakes, auto gear handling... and uttered a small prayer to God. Haha, just kidding! She drove not too bad actually. Was slightly nervous at the beginning, but the short 10 min drive was otherwise without incident.

Before entering Soo Kee's multi story car park, I took over again (the turns are too narrow to push her driving skills' luck!). The moment the car was parked nicely, Soo Kee leaned over the wall and "watered" the poor plants one floor below.

Me? I'm as sober as a cucumber.


Friday, 25 August 2006 - Eat Till u Drop
Oh, I'm sooo full now after a long buffet dinner at Kuishinbo at Suntec. Together with Lydia, we had dinner with my office colleagues (Peter, Masaya, Song Tiu, Xiang Ling, Ali, Chee Yong & 3 overseas visitors) from 6 plus till the restaurant closed at 10pm! The food was really fantastic! I took plates and plates of free flowing salmon sashimi, and a wide variety of other Japanese food, especially the Kuishinbo half-hour special of baby lobsters, and superb desserts!

And for $8 more for free flow of Tiger beer, the 3 visitors from Sweden & USA literally just drank beer for dinner! Each of them must have consumed like 10 glasses or more?? And they don't look any teeny bit drunk, flushed or "high"!

Amazing... It was really funny and enjoyable to see these guys make numerous trips to refill their beer. The offer sounded too good to be true for these guys and Song Tiu had to reassure them that it is really true, haha. Well, at an equivalent of 4 Euros for free flow of beer in their homeland, it is indeed an impossible offer. :)

But of course the buffet dinner itself cost $40-something +++. Expensive, but worth it!


Wednesday, 23 August 2006 - Joel vs Boel
Bet you didn't know one of my nickname was Boel. It began in my secondary school days during a period of bowling-craze. We were so crazy that there was a week where we went bowling 4 days out of 5 school weekdays! And we even went bowling in the morning before sitting for an exam in the afternoon! The 'J' in my name thus became 'B' (for Bowling).

And yesterday, Boel again played bowling with his office colleagues this time round, together with Lydia. Having not played for more than a year, my first game ended at 101. Warming up mah... For the second game, *ahem* my score was *ahem ahem* 196! :D

Alas, the next game dwindled to 128 (I have a strange problem in getting used to adjusting my 2nd throw for sparing) . And then it climbed to 177. For the 5th game, my sparing failed me terribly again and got a score of 124.

But you know what is worse/historic? For the first time ever in my bowling history, I lost to Lydia! She scored a 127 for the final game! My wife, the skinny, feather-weight gal who throws a pinky 8-pound bowling ball, scored higher than me!

Oh boy, she sure had a good time teasing me after the last game. At a score of 121 before her final last throw, she needed to just knock down 3 pins to equal my score. Deep in my heart, I was worried she would choke under the pressure and hit the drain. And I was really happy that she knocked down more than 3. It was her all-time highest score.

Really, no bluff you, I'm happy for her. For the last game, my hand was hurting, my thumb was hurting... really, no bluff you also..


Monday, 21 August 2006 - Still Having the Blues?
I was supposed to go running (jogging) with my office colleagues today after work. 10 minutes before setting off, I got ready to get changed.... and then I realised that I didn't pack my running attire. D'oh!! I had packed my water bottle, my towel, my spare T-shirt to change into after workout, my running shoes. But not my running top and shorts.

So unbelievable, me! How come like that? Maybe it's becos my favourite Blackburn lost 3-0 to Portsmouth last weekend? Or the ecstasy of Manchester United 5-1 victory over Fulham? Or hearing Ruth's 6-weeks pregnancy news? Or that silly squabble with my better half (which 90% of the time will somehow end up as the hubby's fault)?

No prize for guessing which one.

"See lah. No one to pack for you.", the birdie voice called out triumphantly..


Saturday, 19 August 2006 - English Premier League Kick Off!
More than a month ago, I have already blocked this date in my calendar. It's the start of the EPL season! Yay! This means Lydia and I will be jostling for the remote control come every weekend...

Lunch was at a Korean restaurant at Suntec with our Europe tour friends, George & Corrine. Corrine said that George is fat. What?!? If he's fat, then I must be the Mashmallow Man.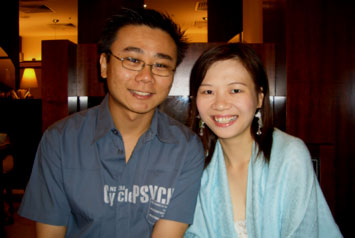 Going out with these two is really great. Cos that's the only time way I could spend some quality time in a toy shop. :D Without them, I wouldn't have made it to Simply Toys at the far flung end of Suntec. Thank you, you two!

But really. I must find another chance to visit Simply Toys again. It has a fantastic range of Lego parts and minifigs! So... anyone free to go out with us and distract/overpower my wife?

Dinner was a birthday party for my cousin's, Gabriel and Hazel, at my uncle' place. The condo had a really nice swimming pool that glimmered with tranquility and calmness against the soft setting light of the sun, with palm trees swaying in the breeze, and the BBQ pit and chairs mushroomed nearby. But alas, in front of a big screen TV upstairs we sat instead, cos there was some Hong Kong drama serials on TV that Lydia got hooked on (today first time watching, mind you, and the last episode), together with my aunt, uncle and mum.

There was a time when she was just as attentive when Manchester United was playing. That was in the BM period. Before Married.


Thursday, 17 August 2006 - Happy Birthday to Boo Boo!
Today is Lydia's birthday! Both of us took leave today to celebrate her birthday! At the stroke of midnight, I sprang a surprise cake on her: 2 slices of Coffee Bean cheesecakes with a candle each (one for each of us to eat mah, heehee). She was very surprised and touched! :)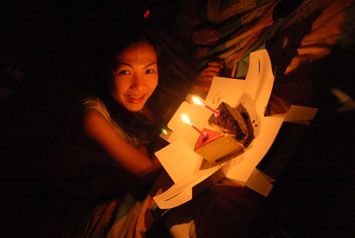 She huh... on the eve of her birthday, went to check the fridge to see if there's any birthday cake for her. And when she didn't see any (I hid it behind our kaya and jam bottles), started asking me where's her birthday cake, where's my sincerity, started "throwing tantrums ("I go Tiong Bahru buy a cake for you ok?" "No! Dun wan already! How could you not buy me a cake?")... of course I played along with her. And got an undeserved earful in return.

In the morning, we had breakfast at MacDonalds before going for a morning ride on the DHL Balloon. It was quite fun to be so high up in the sky!

Returning back to Bugis Junction, a birthday for my wife is never complete without..... a shopping trip! I think we shopped for almost 2 hours. Then we headed to Botanical Gardens for a picnic!

Most females I thought would be happy to spend time with their loved one, in the lush greenery of the garden, with a picnic mat spread over the grass under a shaddy tree. But noo... my one has to be special. The sun too hot lah, why walk so far, very warm... hard to please huh?

Many hours later, it was time to bring her back to her natural and favourite environment: Raffles City Shopping Mall. Within minutes of stepping into the cool, air-conditioned shopping mall, I soon had to whip out my credit card to buy her a pair of birthday shoes.

Dinner was at Jumbo Seafood Restaurant at The Riverwalk. We ordered 1.3kg of black pepper crab, 1.5kg of chilli crab, 6 buns and a small plate of Hong Kong noodles (somebody said birthday must have noodles...)! Wah! What a feast!! The crabs were superb, and the portions were really huge! Yummy!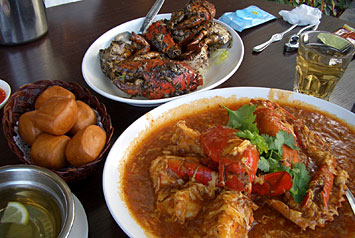 Monday, 14 August 2006 - Standard Chartered 10km Marathon Wannabe
What's the best way to lose weight? Go jogging/running!

My colleagues had already form 3 teams to take part in the Standard Chartered 10km marathon. As much as I would like to force myself to exercise by signing up, the marathon so coincidentally falls on Lydia's exam day.

So the next best thing I could do was join them for their training session. Today was the first one at NUS track and field. Only SeanMun, Noel and Masaya were there though..

As luck would have it, half the track was covered with wooden boards and blue canvas! Not to be deterred, I would cover a semi-circle before turning around. Oh boy, after like 1 year since my last jog, it was tiring! But thankfully I was determined and completed my estimated 2.4km. In like... 19 minutes! :P

Hey, it's a start ok? I'm exempted from IPPT one know. Sure can improve one. Hm, but the question is, distance or timing more important?


Sunday, 13 August 2006 - Missed Church! :P
Heehee, we missed church after failing to wake up (or drag ourselves out of bed) for the 10am service. :P

Lydia stayed at home to study while I went out with Soo Kee to Ikea to get some stuffs. Wah! Ikea is totally packed! I chucked my single item aside in Row 10 after seeing the mad queue at the cashier!

Dinner time we picked Lydia up and headed to Redhill hawker centre. Oooh, the chicken claypot rice (supposedly from Chinatown) was fantastic! And the bak kut teh too! The famed Mickey Mouse desert stall was consistently having a long queue and the tao suan and cheng tung were delicious! Must come here again to eat!


Saturday, 12 August 2006 - Late Night Out & Fireworks II
After spending the afternoon at my parent's home (haven't been home for a while, heehee), we headed for the Esplanade to catch the last fireworks display, this time by Team France. Even though we were at the Esplanade Bridge around 6pm, it was crowded! These kiasu Singaporeans! How come also come 3 hours before the fireworks start?! :P

We managed to find a good prime spot. Not by the bridge railing or the side-walk seats, but by the railings separating us from the cars zooming by behind! It offers the best unobstructed view, but required some close contact with the bushes, heehee.

Hey! Saw Mandy and Hayley walking by! Called out to them and they squeezed their way up to the railings too! What an amazing coincidence cos we'll be meeting with Soo Kee and Hayley later for a nite out!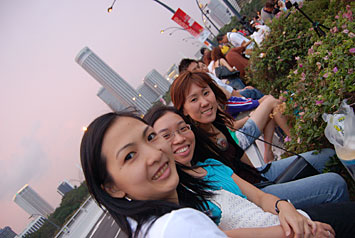 And the fireworks finally started at 9pm! It was spectacular! What made it even better was the music that choreographed the whole fireworks display could be heard from the base station at The Merlion. It was really beautiful to be able to see the low fireworks as well as the high ones!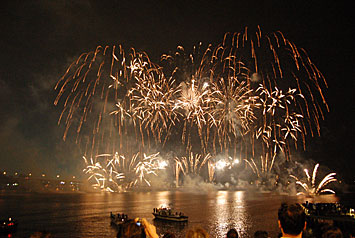 The whole thing was over in 10 minutes and it began a mad rush to the MRT station and home (Hayley came back with us too) to change out and meet Soo Kee and Terence at 10 plus. We went to DXO at the Esplanade, with a cover charge of $18 with 2 free drinks included. But surprise, surprise! The club is very deserted! Nobody on the dance floor, few people here and there only. In the end, we just chit chat and drank by a cosy corner on the 2nd floor.

You know what they say about not drinking on an empty stomach? It's one hell of a truth! With only two slices of kaya-butter bread for dinner, 1 bourbon coke & 2 vodka ribena later, my heart was beating really fast and my stomach was feeling really strange. Didn't really have much of an appetite at Lau Pa Sat where we had satay and teh tarik. Was worried that I was going to throw up.

But fortunately I didn't! By the time we reached home and bathed, it was close to 4am!


Friday, 11 August 2006 - Fireworks by the Car
After an evening session of street soccer with Kian Pang and his office colleagues at the roof top of a car park in Beo Crescent (there really is a street soccer court up there, though a bit tattered and old), we met up with Soo Kee for dinner. As the timing was approaching the 9pm fireworks, we decided to cruise by in his car to see the fireworks along Benjamin Shears Bridge.

Unfortunately there were police cars along the expressway and bridge to deter people from stopping or slowing down. But timing his run properly, he made a U-turn at Fort Road (with a dozen cars having the same idea too!) and the fireworks started as we were approaching! Inching his way from 1st lane, to 2nd lane, to 3rd lane, to 2nd lane (trying to get into the slowest lane possible, haha!) we had a magnificient close-up view of the fireworks! So close and it just filled the whole night sky!

Dinner was at Newton Circus and it's quite a nice place to eat and enjoy outdoor dining. We had hokkien mee, satay, chai tao kuay, BBQ chicken wings and BBQ sambal stingray. Yummy!

All my street soccer exercise today gone lah. :)


Thursday, 10 August 2006 - New Mistress in The House!
Ladies and gentlemen .... on this joyous day.... I've got a new computer!! Woohoo!! Check it out man!

Technical specs:
Intel Core 2 Duo E6300 1.86GHz 2MB cache processor
Gigabyte GA-965P-DS3 LGA775 motherboard
Kingston 2GB (2x 1GB) DDR2 667MHz CL5 RAM
Gigabyte GeForce 7300GT 256MB DDR2 graphics card
Seagate Barracuda 7200.10 250GB SATA-II 16MB cache harddisk
Samsung SH-S182D 18x DVD+/- Double layer DVD writer
Altec Lansing ATP3 2.1 speaker
Cooler Master Centurion 5 casing
HEC 480W dual fan power supply unit

Total: $1481

Had gone down with Lydia to Sim Lim Square and got all the items (except graphics card from Bell) from Video-Pro. The staff who attended to us was really friendly, attentive and patient. Had spent the last 3 days researching on the cheapest shop for each item! Though they were not the cheapest for all the items, it was the lowest overall cost, and also with a small discount thrown in, plus free assembly.

Was tempted to assemble the PC myself actually so as to admire the new technology components and cables and to have a deeper understanding and appreciation of the whole system. But after thinking about the convenience, decided to let them do it. Nevermind, I can always admire the internal components through my casing side-window panel! :P Can't wait to have it up and running and run benchmark tests to compare my current system with the new one!


Wednesday, 9 August 2006 - Happy National Day!
Happy 41st birthday Singapore!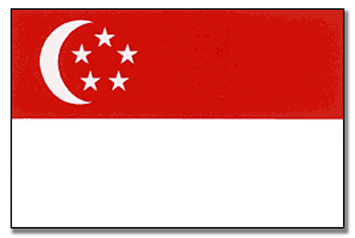 've always made it a point to watch the National Day Parade. Some people take this holiday opportunity to go abroad but for myself, I prefer to be home in Singapore, on its independence day. On this special day, nothing beats watching the parade and hearing/singing the old Singapore songs, National Anthem and the Singapore pledge! And of course the fireworks and the fly-bys. It was the first time the Apache helicopters were flying. While I liked the Apaches for their awesome firepower and strength, Lydia likes them cos they sounded like her favourite fruit, ah ta chee! D'oh!

Oh, yesterday's fireworks festival display at Marina by Team Singapore was wonderful too! Was there with Andrew and San San at the grand steps of Marina Square facing Marina South and it was packed like sardines! Must try to catch the next fireworks display on Friday too!


Sunday, 6 August 2006 - Free Hokkien Lesson for Lydia
Sah puay puay! Sah puay puay!
Si puay puay! Si puay puay! Si puay puay chit siah!
Lak puay puay! Lak puay puay!
Lak puay puay chit siah! Lak puay puay neng siah! Lak puay puay sah siah!

Oh, what a perfect opportunity for Lydia to learn and improve her Hokkien numbers. In the comfort of our home, all the "Neng pah, sah pah, si pah" were belted out across the whole neighbourhood. Ah.. the familiar hungry ghost festival auction is here again, conveniently at our car park below even.

Tested Lydia on her Hokkien knowledge and she's not too bad!

Looks like lak puay puay (688) is a popular number!


Friday, 4 August 2006 - Split Up
No, doodoo, no one has split up. I have only just split up the entries in this section. Cos having entries dated all the way from 12 July 2005 in a single page is a bit massive, a tad slower to download, and most critical of all.... it was slowing my Dreamweaver 8 web application to a crawl. :P

The minus point is that the internet search engines will probably take a while to update the content movement of these webpages. So to all new visitors who chanced upon this website while searching for something which was briefly mentioned in my entries, try the archives links if it ain't here. Just press Ctrl+F in your IE browser to launch "Find" to do a text search.

Here's the last 10 search engine queries today that had brought visitors to this site:
1) one day jb shopping tour
2) latest hair style for man in singapore
3) malacca food
4) THe cage and soccer
5) doctor valentine low website
6) soccer phone jerseys in potato chips
7) nice pose for wedding?
8) wedding anniversary gift
9) cage futsal
10) girl goes blind miao

Thankfully you guys ended up here while searching for decent stuffs! :)


Thursday, 3 August 2006 - The Cubicle Song
This song is to all office workers out there, especially the cubicled ones. Click on the player below to hear the mp3 clip (1.9MB) in your media player. Lyrics supplied below. Now be a sport, and sing along to the tune of "You're Beautiful" by James Blunt. :D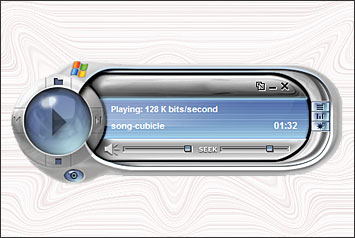 My job is stupid,
My day's a bore,
Inside this office,
From 8 to 4.

Nothing ever happens,
My life is pretty blank,
Pretending that I am working,
Pray I don't get canned.

My cubicle, my cubicle,
It's 1 of 62,
It's my small space,
In a crowded place,
Just a six by six board booth,
And I hate it, that's the truth.

When I give a sigh,
As the boss walks by,
No one ever talks to me,
Or looks me in the eye,
And I really should work,
But instead I just sit here,
And surf the internet.

And my cubicle, my cubicle,
It doesn't have a view,
It's my small space,
In a crowded place,
I sit inside there too,
And sometimes I sit here nude.


Tuesday, 1 August 2006 - "Do you want to go to Sim Lim Square?", she said
I thought my ears had heard wrongly when a female voice in the house said those words yesterday. My wife, my Lydia, who would drag me away from the window display of a computer shop should I stop and linger longer than you could say "window-shop only wat..", did she actually said that??

She saw my puzzled look and repeated the same magical sentence again. She needed to get a financial calculator and her friend had told that she had gotten it from Sim Lim Square. I literally burst out laughing.

Folks, this proves that miracles and blue moons do happen, and every once in a while, wives will send their husbands to computer haven. Voluntarily.

Keeping my fingers crossed that she will soon ask me to go buy more Lego. :D


Saturday, 29 July 2006 - Road Trip to Malacca!
It has been ages since we drove up to Malacca. More than 6 years ago, in fact! This time round, we went up with my parents and Auntie Lian in my dad's Hyundai Accent. By 7am we cleared Singapore customs (to save on the weekend car coupon, heehee!), had breakfast at Taman Sri Terbau and begun the long journey north to Malacca, about 260km away.

My dad drove the early leg of the journey up and we arrived about 11plus. Lunch was at the famous Malacca chicken rice ball stall. Nice and yummy! The rice is rather unique and quite a novelty. The taste is probably inferior to the better chicken rice ones in Singapore, but it's like a must-eat/do thing here when in Malacca!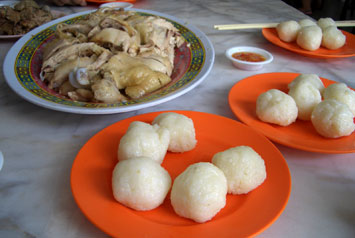 Next stop is another must-eat thing! Ice chendol with gula malacca. Simply heavenly! Malacca surely does have the best gula malacca. Slurp!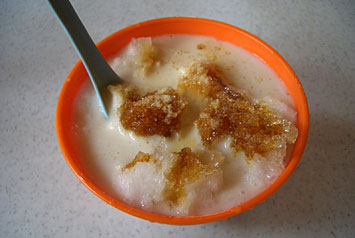 After some sight-seeing around Malacca, we left about 3plus and headed to A'Formosa to take a look at the resort and condos, before heading back to Johor Bahru. But this time back, I was the driver. Leaving the Malacca toll booth at 4.09pm, we arrived in Johor Bahru just before 6pm! Less than 2 hours, non-stop, reaching a maximum speed of 145km/hr! :P I dunno why but I just like long-distance driving and don't feel sleepy all.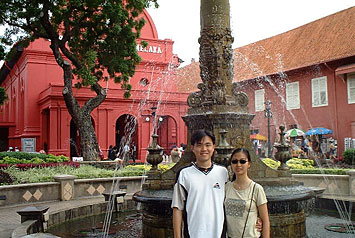 Photo taken in December 1999. Heehee!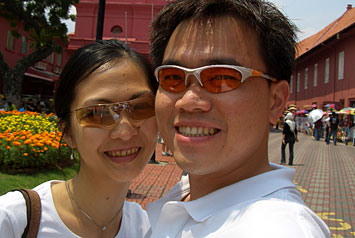 Photo taken on 29 July 2006

Dinner was at Taman Sri Terbau again, this time for BBQ sambal seafood. We had BBQ sambal stingray, butter-fried crayfish, sambal kangkong, sambal sotong, and large glasses of sugarcane juice! Fantastic and only RM99 for the seafood! Auntie Lian really enjoyed the crayfish, exclaiming that it taste much better than the way it is cooked in Australia. Really glad she liked the food and her Malaysia trip today. :)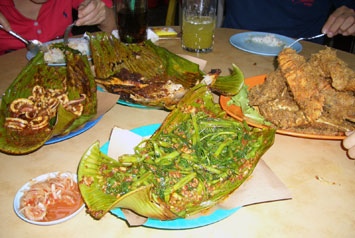 Hmm, this is becoming like a food blog, haha!


Friday, 28 July 2006 - Crystal Jade @ Suntec
Auntie Lian's craving for salted fish fried rice was finally fulfilled when we brought her to Crystal Jade Kitchen at Suntec for dinner. She even wanted the whole plate for herself! Back in Australia, western food is usually all she have. Boy, you should have seen her eat in Padang!

Have also added some photos below to make you drool!


Thursday, 27 July 2006 - Back in Singapore
We're back from Padang! Tuesday night actually. :P

During the 6 days there, we just ate and ate and enjoyed ourselves! Hair spa, foot reflexology (I went twice!), body massage.. each costing a fraction of what it will be in Singapore. And the food was simply excellent. Our breakfast, lunch and dinner consist of authentic Padang food like: nasi ramas, pisang saleh, nasi kapau, sate mak syukur, sate kacang mak codet, ice durian, lontong, curry fish head, durians, nasi tueh, soto garuda, ikan bakar... Yummy! test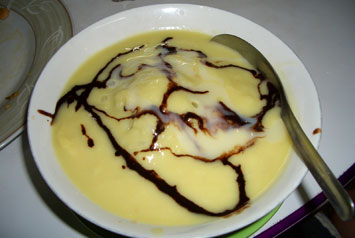 Padang's ice durian. Look at that layer of creamy durian topping!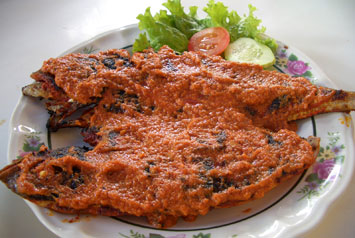 Ikan bakar, Ruth's favorite dish (BBQ fish with lots of chilli)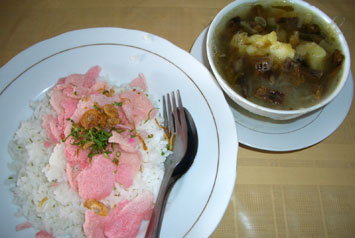 Soto garuda (fried beef, potato & vermicelli soup with rice)


Wednesday, 19 July 2006 - Food Paradise Beckons
Lydia's auntie from Australia arrived in Singapore yesterday. She said I've slimmed down. :D

Anyway, we're all going to Padang (Indonesia) soon and that place is a food paradise! The splendid spread of nasi padang dishes, the road side superb curry fish head, Lydia's dad chill crabs.... Die lah. Sure gain weight after the trip one!


Monday, 17 July 2006 - Futsal Competition @ The Cage
Yesterday was one enjoyable soccer Sunday! My company organised the first Futsal competition at The Cage, with six teams (5 players, 1 reserve) taking part. Located at Kallang, The Cage is a very nice artificial turf futsal indoor court, converted from a disused warehouse.

My team consists of Soo Kee, Vernon, Chuen Kiat, Hong and Ban Keong. We topped the group round by winning the first two games, with me scoring two goals in the first game. The first goal was a nicely connected first-time shot through the legs of the goalkeeper after a square pass by Soo Kee. The second goal was a fluke goal actually, hehheh. I meant to cross the ball to Soo Kee at the far left post but it went off my right foot and smack into the top right corner instead!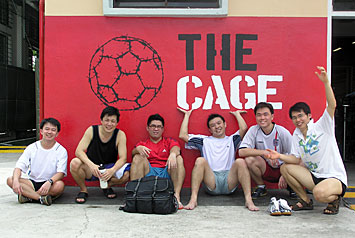 The semi-final was against the factory Indian team. Trailing twice in normal time, we managed to equalise twice and took the game into extra-time. Unfortunately from a free-kick against us, we conceded the golden-goal. Was disappointed initially, but it soon gave way to a general good feeling of having played well and thoroughly enjoying the competition very much! "Old men" like Jeffrey Tay can actually play! I'm amazed by their stamina! It was already very exhausting for "young men" like me!

The Indian team eventually won the competition 4-3. So it ain't that bad to console outselves that we lost to the eventual champions huh! Definitely looking forward to more futsal games with my office colleagues!


Saturday, 15 July 2006 - Beat the 20% Metro Sale Crowd
The Metro 20% discount storewide sale is back again! An excellent opportunity to stock up on my SKII (yes, I use SKII. Lydia says it suits thick-skin people. Bleah) and Lydia's Lancome products. Previously we used to go down on weekday after work and the cashier queue would be madness! It was common to queue 1 hour just to pay for the items.

But today we went to Metro Paragon at 10am just when it opens. There were fewer people and queued only 10 minutes to pay for the items. We were done in 30 minutes! Simply fantastic!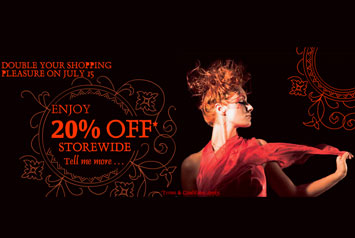 Today, we discovered a new route to Orchard from our Bukit Merah home too. Previously taxi was the only direct way, but with the recent taxi price hike, I'm boycotting taxi as long as I can. But now, all it takes is a 5 minute walk to Lower Delta Road, and bus 65 and 14 will take us to Orchard Road in 10 minutes! Wow! I love my new home! Of course, there's a worry that Lydia will probably make more frequent trips to Orchard Road now, but let's enjoy the discovery moment while it lasts!


Friday, 14 July 2006 - Thank God It's Friday!
This is one week where I am glad it has ended and looking forward to a weekend recharge! I overslept twice this week. Maybe it is the alarm clock, but strangely, during the entire 1-month World Cup, not once did I overslept.

Monday went out for Carol's farewell dinner.
Tuesday had street soccer practice with my office colleagues.
Wednesday attended a special Lucasfilm showcase event at Cathay Cineplex. It was awesome!
Thursday was on half day leave zipping around the whole of Singapore running errands.
And Friday, today, where I can finally sit down in front of the computer and type this and eat an apple.

11pm update:
Added 20 new photos to Wedding Studio Photo Shoot (Behind The Scene). Click here to check them out.


Monday, 10 July 2006 (Day 32) - Italy: World Cup 2006 Winner!
With one swift head-butt, zilly Zidane straight red led to France's downfall as Italy prevailed in the penalty shoot out! What a dramatic ending to World Cup 2006! I would say Italy are worthy winners. Only 2 goals conceded in the tournament: 1 own goal, 1 penalty.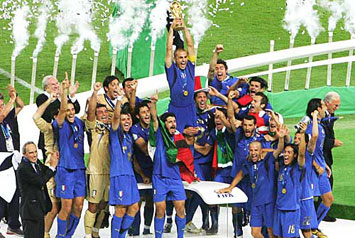 What have I learnt about this World Cup as it comes to an end?
1) Sleeplessness is not a problem for me
2) The Golden Boot winner is rarely the World Cup winner
3) The dishy-cardy referees finally stopped their absurb behaviours after the Quarter Finals as otherwise nobody but the reserves will be available for the Final
4) England should set up a penalty-taking boot camp in Italy, who scored all 5 of their penalties!
5) Soccer betting is certainly not for me, as the following statistics would show:

World Cup Predictions:
Correct result prediction: 37 (of 64)
Correct score prediction: 4

Coincidentally, it was Carol's last day in the office too. Together with Lydia, May and Michael, we had a farewell dinner for her at Kuriya Fish Market, Great World City. Oh boy, there was so much laughter and amusement that my cheeks are totally aching! Especially Carol's "fish malfunction"! That totally takes the cake, heehee!

We then went to TCC for desserts and started becoming trigger-happy with our phone cameras. Below photo is courtesy of my o2 Atom's 2 Megapixel flash camera. With Photoshop touch-up of course. :P

We will miss you Carol. Stay in touch!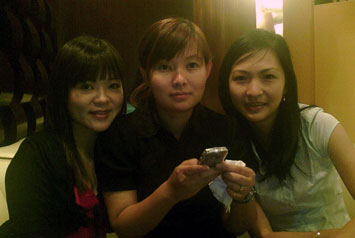 Saturday, 8 July 2006 (Day 30) - Blame It on the Sun
Today, I had one of the worst soccer games ever. Couldn't run, couldn't move fast, was totally drained. The excuse: the darn scorching sun sapped all the energy out of me! Our side was playing facing the setting sun and I just couldn't summon any energy or inspiration to up my game. Disappointing performance.

Lydia met up with her best friend from Padang, Yulia. She came over to our flat also to look at the wedding photos. After spending so much, must show people mah. :P Oh, she's single and available too! :) Who among my guy friends can we "match-make" her to? :D

Predictions (end of extra time, if draw at full time):
Germany vs Portugal: 3-2
Italy vs France: 0-1

Predictions so far:
Correct result prediction: 36 (of 62)
Correct score prediction: 4


Wednesday, 5 July 2006 (Day 27) - The Italian Job!
The Italians have did it again! Against Australia, they scored a penalty dead into injury time. And now they scored with less than 2 minutes remaining in the extra time against Germany! Those lucky jokers! Hey, I think they can win the World Cup!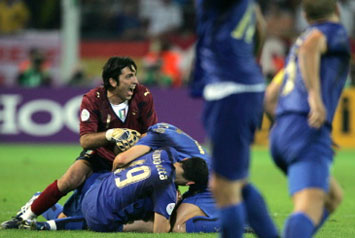 But I was down with a headache for the rest of the day after sleeping only 2 hours each before and after the match. Amazingly, I did not fall asleep during my Microsoft Sharepoint course! I'm amazed by myself! :P

Ann, my regular hairstylist at Reds is on maternity leave till September. I had my first 10-min, no frills $10 haircut today. At EC-House at Ikea. Verdict? No photos, no autographs, no comments please!


Tuesday, 4 July 2006 (Day 26) - Durian Feast!
Oh my goodness... we're soooo full now. But it's so yummy!

We had durians for dinner! Lydia simply couldn't resist the D101 "Red" durians selling at the Tiong Bahru pasa malam and we bought 2 for $32 ($8/kg)!! But it was really fantastic! The flesh was a bit too soft but the taste was simply heavenly! We finished them all in one seating. 20 seeds we counted! :P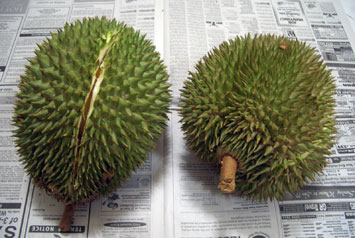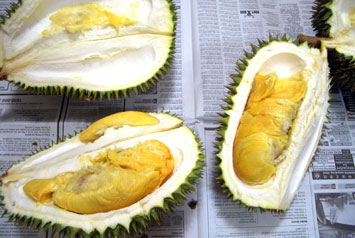 Tonight's the World Cup semi-final, but the excitement in me has simmered down. Cos my favorite team is out! Who do I hope to win or lose? It doesn't really matter much to me. Each one has the chance to win it. But if I have to choose my favorites, they would be: Portugal, France, Italy and with Germany last.

Predictions (end of extra time, if draw at full time):
Germany vs Italy: 1-2
Portugal vs France: 1-0

Predictions so far:
Correct result prediction: 35 (of 60)
Correct score prediction: 4


Sunday, 2 July 2006 (Day 24) - The End of the Dream
My World Cup dream is over... England lost to Portugal yesterday. A combination of a red card for Wayne "zero-goals" Rooney, a misfiring Frank "Chelsea's free scoring goal-getter" Lampard, plus the only consistency that England have in all competitions: Losing in penalty-shootouts. Five-time losers in 16 years. The fans should have sung, "God saved England" instead. Sigh.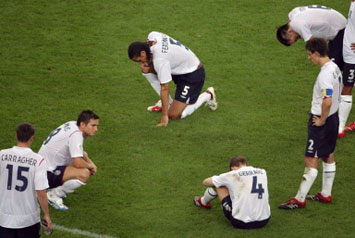 Saturday, 1 July 2006 (Day 23) - The Morning After
After 2 days of no live World Cup matches, it all kicks in again yesterday! We went to catch the Germany vs Argentina match at a pub (The Village?) at Pasir Panjang with Soo Kee, Vernon, Hong, Vincent, Steven and his gal friend. Wow, these guys really drink a lot of Heineken beer! I lost count of how many jugs we ordered! I don't really like beer and prefer hard liquor, but gamely drank along with them.

Argentina lost in the penalty shootout! I was supporting them to win. It's a pity cos right up till the goalkeeper got injured, they were in control of the game.

It was almost 3am by the time we got back, bathed and got ready to sleep. And we woke up at 11.30am! What a good sleep-in! Can't wait for tonight's England vs Portugal game! England! England!!

Predictions (end of extra time, if draw at full time):
England vs Portugal: 2-1
Brazil vs France: 3-2
Germany vs Italy: 1-2

Predictions so far:
Correct result prediction: 35 (of 58)
Correct score prediction: 4