Entries by Joel


Sticky: Please sign the guestbook so that we know you've been here! We'd love to hear from u!


Saturday, 29 September 2007 - Mission Accomplished!
Game: Half Life 2
Game Type: First Person Shooter
Difficulty Level: Normal

Start Date: 15 Sept 2007 @ 11.32am
Completion Date: 30 Sept 2007 @ 3.58am

Yeah!! I finished playing the game! 14 chapters! Took me about 2 weeks, including about 6 days that I wasn't playing. :) I get a really happy sense of satisfaction whenever I complete a game. Yeah!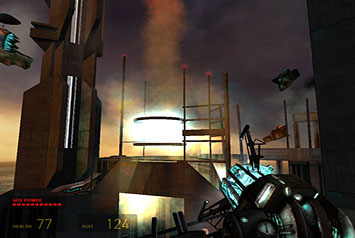 Final scene in the game, moments before the portal exploded

In the afternoon, we met up with Soo Kee for lunch. As well as to get something done. But I shan't reveal what it is... just yet. Heehee! *wink*

At night, we went to Gabriel & Valentine's home at East Coast Road (hard to get here!) for their pre-delivery baby shower! It's a pot-luck dinner and we brought a box of CoffeeBeans mini cakes. Lots of their other friends too, and my group of friends started streaming in like 3 hours late!

It was fun catching up with them again!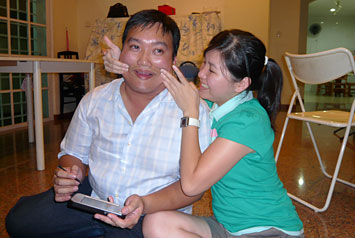 Novita showing Boon Teck how a big smile should be like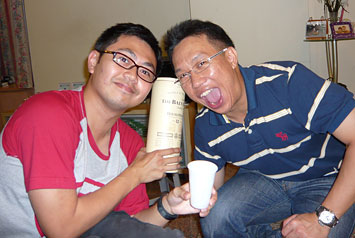 Kian Pang and Andrew sharing a power whiskey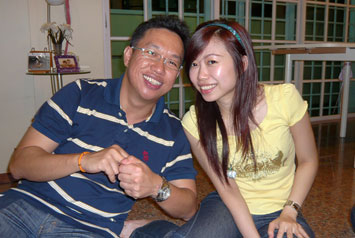 Andrew and Carmen. He finally got a girlfriend! Goal 2010 dude!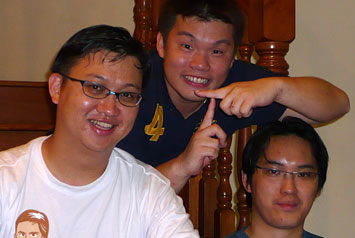 Eric, Gabriel and Tzin Mein. T for Torres!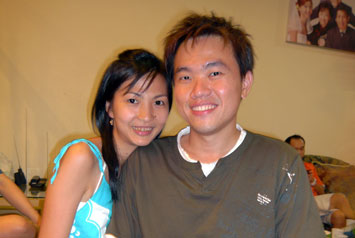 Lydia & me

Ironically, there's no photo of Valentine and her big tummy! D'oh!!!


Wednesday, 26 September 2007 - Get a Half-Life!
Alright, I have to confess. There ain't been regular updates to the blog cos I have started on a new computer game! :P

Half Life 2!! Yeah! The game is a little bit spooky (those darn monsters...), but very fun nonetheless. Apart from monsters, there are also soldiers and the most-feared and dreaded gunships! Been a long time since I played a first-person shooter (fps) game. Had been playing till almost 1am the past few days! :)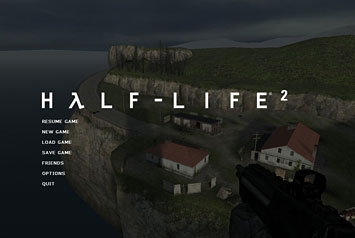 You are Gordan Freeman in HalfLife2

Ok, ok. I know this game has been out there for at least a year, but you gotto understand that a married man is different from a swinging bachelor. Before married, can play until the rooster crows. After married, can play only when the hen crows...

Ha! No lah, no time to play actually. So must buy/rent more Korean drama series to keep the wife occupied, then got chance to play! :D


Sunday, 23 September 2007 - Instant Cha Soba!
Tonite's home dinner special! Cha soba!

The instant noodles and soya sauce were bought from the supermarket at Isetan Scotts. 3 minutes was all it took to boil the noodles, and the sauce was easily mixed and prepared. The most important thing was, it tasted great! The noodles and the sauce especially tasted similiar to those in the japanese restataurants.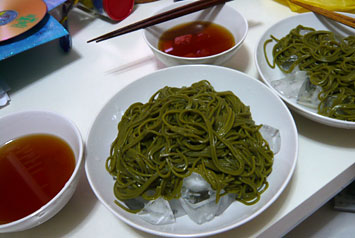 Instant cha soba on ice...

And it is much cheaper too! Looks like we won't be eating cha soba outside anymore!


Friday, 21 September 2007 - Under The Moonlight
It's the mooncake festival month! It's that time of the month where roundish pastries are for sale at astonishing prices! Raffles Hotel was selling a special set for like $120!! So if you want a money-making business idea, here's one: Go sell mooncakes!

Of course the mooncake must taste decent enough lah.

After work, we headed to my parent's home for the annual mooncake festival gathering, together with Jason and Fenny, and Ah ma too! Dinner we had fish head curry, duck, tonkatsu, fish ball soup, potatoes.... very full!

Thereafter we sat outside in the front yard to drink tea, eat mooncakes, pomelos, and chit chat, with the candleless paper lanterns hanging from the tree adding to the atmosphere.


Wednesday, 19 September 2007 - After Dark Dinners
Since moving from my old work place in Tuas to the city area, my lunch expenses have sky-rocketed! No more subsidised $1.20 meals, no sir! In a single week, I have to consciously check my wallet balance every now and then and make trips to the ATM.

Have been going out for consecutive dinners this week as well. Was out with Lydia (of course...) together with Terence and Soo Kee on Monday to ABC market whereby I had to eat 1 1/2 portions of a very generous serves-2 $10 claypot chicken rice. No prize for guessing who I was sharing the claypot with...

And yesterday was out with Lydia (of course lah), Terence and Soo Kee (these two jokers again!?), and Adeline Loh and her friend, Adele. Our uncle wanted to forgo the aircon comfort of Bugis Junction and eat duck rice along Liang Seah Street, so we duly obliged. And then we went to Short Street to eat tau huay and drink tau huay chui (Bean curd and soya bean drink, translation for the non-Hokkien people reading this).

And today, my wife abandoned me to go for dinner at Kuishinbo with her girlfriends. Me? I had nasi lemak dinner with my parents at Adam Road Food Centre...

It's alright with me one. Sometimes nasi lemak is better than sashimi or Hokkaido crabs hor?


Saturday, 15 September 2007 - Swan Lake On Ice
I never thought I'll say this, but I actually did enjoy watching Swan Lake. On ice!

We were at The Esplanade Theatre for the 8pm performance, seated in the stall section, row D, which is just 4 rows from the stage! The tickets cost me a whooping $274 for the two of us. Man... the price to pay for artistic values and appreciations...

Before the show begun, I told my wife that if I should start to doze off during the performance, please give me a jolt. No kidding! Long time ago, I actually did fall asleep during the performance of Les Miserables! :P

When the lights went off and the smoothing melodious music of Tchaikovsky filled the air, I closed my eyes in appreciation, and in lumber..., and wondered if I would be in serious danger of falling asleep again!

Surprisingly, it was a superb and spectacular performance! It was non-stop entertainment as we were swept off our feet with breath-taking and thrilling figure skating moves, and absolutely fascinating and adorable costumes and mesmerising stage sets!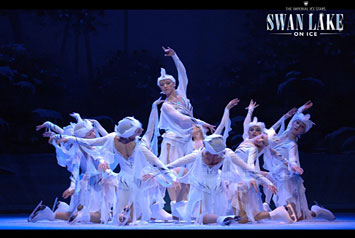 Swan Lake on ice

Was the price worth the experience? Well... considering the Lego sets I could have got in return... I still have to admit that it was a worthwhile experience. There are some things in life that you have to experience and see it for yourself, what cost it may be. And this was one of them.


Thursday, 13 September 2007 - Earthquake in Indonesia
This morning, just as we were preparing to go to work, Lydia suddenly called out, "Earthquake again!" and pointed at our shoe rack. I looked at our 3-layer mountain-high shoe racks which were stacked precariously on top of each other. Surprisingly, I saw it was kinda swaying forward and backward. I held on to it. And then let go. It started to sway again. She said she coud felt some movement. Me? I felt nothing leh.

Later on, we discovered that there was another earthquake in Indonesia, discounting those that had hit yesterday. Thankfully, Lydia's family in Padang were all okay. She told me their stories of hiding under the table and hiding under the chair (cos there wasn't time to get out of the house), of having a shower when the earthquake hit and running out covered in soap or shampoo, of sleeping in the living room so that they could escape quickly, and of the Hyundai showroom building collapse.

Must really thank God that her family is safe and continue to pray for their protection.

There have actually been many earthquakes and aftershocks which weren't even reported. See the Indonesia Badan Meteorologi & Geofisika website for the earthquake log details.

So to all of us in Singapore, there are many other people who are suffering and having a worse experience than us. Please don't flood the Police and SCDF hotline with over 500 calls. There's no need to over-react and evacuate buildings unless there are visible structural damage. It is only a tremor.


Sunday, 9 September 2007 - Another Burberry Blue Label Bag
I thought my wife wouldn't be able to claim her Burberry Blue Label voucher in time before it expires (see 17 Aug 07 blog entry), but nooo.... I under-estimate her!

With the help of her ex-colleague who had gone on a business trip to Japan, I'm $350 poorer! And terms and conditions mean nothing to her, cos she wanna claim up to $1000!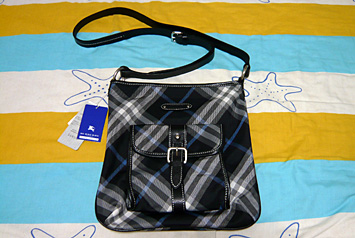 The BlueLabel sling bag (Style: ZAE24-410-09)

$350.... it would be better spent on a Lego Starwars Imperial Star Destroyer instead!


Saturday, 8 September 2007 - Defender or Striker?
Played futsal with Soo Kee and friends at Henderson Park again, together with any neighbourhood kids/dudes who turned up. I was playing defender. As usual, we started off losing. :P

Midway through, Soo Kee asked me to play up front. So I did... and I duly scored 2 goals to knock out the opposing team! One was with my left foot at the left edge of the box after receiving a good pass from the middle. The 2nd was a very nice header goal from Adam's corner kick! First time I scored with a head! I was expecting a pass to my feet as I moved towards him but the next thing I know, the ball was coming straight towards my head. Instinctly, I turned my head to the left and nod the ball firmly and strongly and it flew past the goalkeeper. Sweet!!

Soo Kee took some stick (or rather ball-to-face) when he took the goalkeeper's role. At the end of the game, he was still furious at us for our slack defending and allowing the opponent to take some power shots at him and not shooting back. :P After dinner, Lydia and I decided to let him vent some frustration at Circus Circus @ Queensway Shopping Centre. Played Time Crisis II and Gunbullet with him!


Friday, 7 September 2007 - My LightBox Photo Gallery
Lately I've been asked to share some of the photos I've taken, or help my wife share some photos. I could dump them at Flickr, or instantly generate some ugly photo gallery template and upload to my server.

Or I could try some fancy-pants javascript called Lightbox, which uses the Prototype Framework and Scriptaculous Effects Library (what a mouthful!) to overlay images on a self-created photo gallery, which would probably take me hours to complete.

I'm a sucker for fancy stuff and perfection, so bring it on man!

And voila! My own photo gallery at www.spartanSG.com/lightbox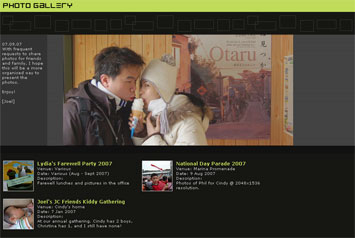 My Lightbox photo gallery: dumping ground for future photos?

Not much there yet, but do check it out and let me know what you think. Enjoy! Don't forget to come back here ok?


Tuesday, 4 September 2007 - Farewell to Tetra Pak
And what do you know, I bid farewell to my company too! It has been... 5 years 10 months there! It's a great company and I will definitely miss the colleagues and friends there.

The farewell mails I've gotten from some of my users were really encouraging and I made it a point to visit every department from main office to 2nd building to factory to say bye to them! Took me a long time, haha!

Thanks for the farewell lunch, dinner and well-wishes! It's been fantastic here.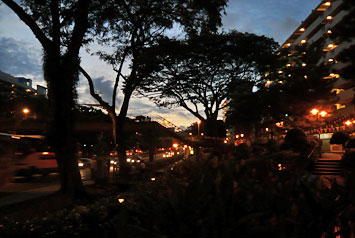 My familiar 6.55am company bus pickup point will be a thing of the past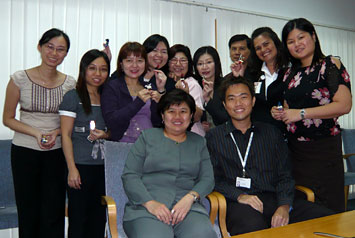 Farewell lunch from some of my users. Thanks!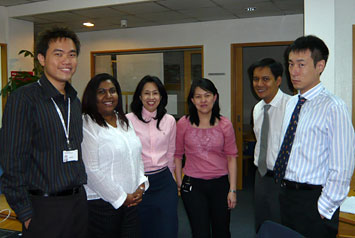 Farewell to GIM Servicedesk. Be good!

To thank the kind people who had treated me, I got a thank you gift for them too! What else but my favorite toy to represent me, haha! Lego minifigs from the Viking chess set! Glad that they liked it very much! :)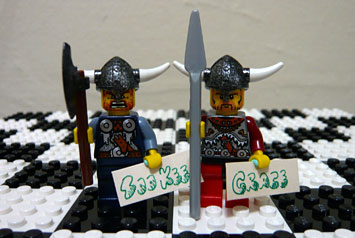 My thank you gift, given truly from my heart. Cos it hurts, haha!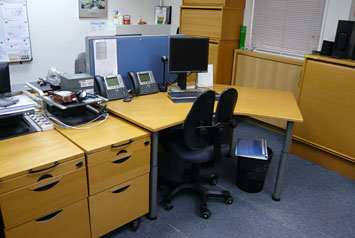 Farewell to my work desk

And if you wanna know where I'll be working next, just guess the answer to the riddle:

She sells seashells by the seashore.
The shells she sells are surely seashells.
So if she sells shells on the seashore,
I'm sure she sells seashore shells.


Monday, 3 September 2007 - Farewell to Wincor Nixdorf
Lydia bid farewell to her company. It has been a very enjoyable 11 months there and she will surely miss her shopping kakis (I can finally breathe a sign of relief!) and of course her colleagues.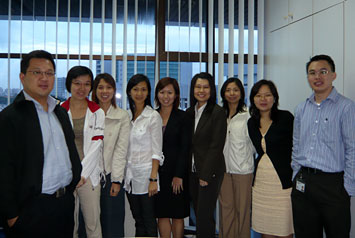 Farewell!

To thank them for all the lunch and dinner farewell treats, she gave them a gingerbread boy/girl. Pretty cute eh!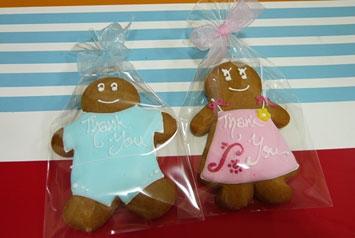 Can you bear to bite off his/her head?

If you wanna know where she'd be working next, she'll be working at E-Zone.

Yes! E-Zone, the arcade entertainment centre! I wonder if she'd get unlimited gaming credits.. :P


Sunday, 2 September 2007 - Ahoy There!
Ahoy mates! To my fellow Europe tour honeymoon couples: George & Corrine, Holy & Wei Leng! And with my parents too, we're off for an evening/night boat trip on the Tetra Pak boat!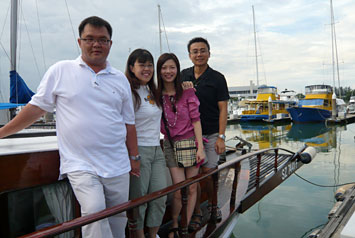 Holy, Wei Leng, Corrine & George on the boat

We set off from Raffles Marina around 4.45pm. It was really great to see them enjoying themselves and taking lotsa photos. We settled down on the upper deck to chit chat, drink champagne (thanks G&C!), play chua tie di and enjoy the cool breeze as the boat cruised towards the small island. It was really great catching up with them again!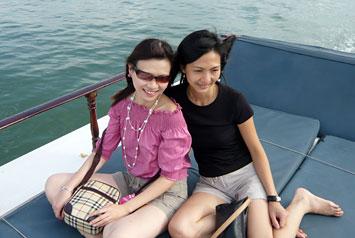 The two models posing for George...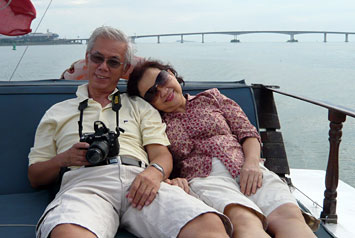 "This is life!", my parents exclaimed. :)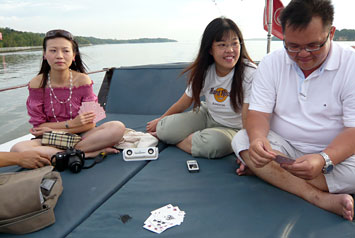 Loser no need to jump, but Corrine still watches Holy closely!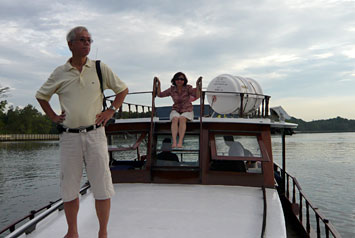 I like this shot! A sense of carefree-ness and contentment.

After the boat came to a stop, it was dinner time at the lower deck, where we had curry chicken, chinese noodles (both prepared by my mum), pork ribs, black pepper chicken, garlic bread, sweet potatoes, potatoes, salad and drinks. Yummy!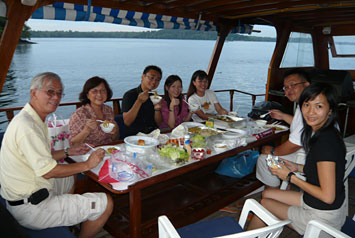 Dinner by the sea... shiok!

It was back to the upper deck once our stomach were filled. The night breeze was really fantastic. And in this desolate area, it was almost pitch black, saved for the tungsten light! That didn't stop us from toasting each other with fruit yogurt wine (thanks H&W!) and testing the cameras' night vision focusing capability to the limit!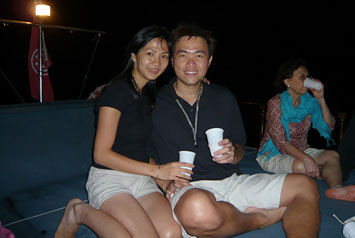 Finally someone took a picture of us!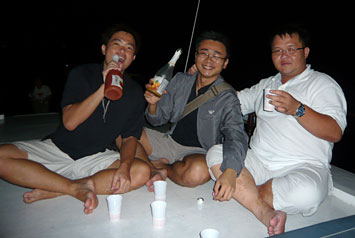 I really not drunk, you know! Hick!

There was also time for an early present from both of us to Corrine, whose birthday falls on 14 Sept (Correct? My brain cells are specially reserved for remembering wife's birthday and anniversaries only...).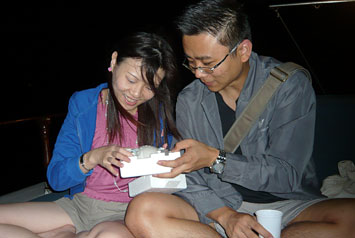 Corrine uncovered the cute Precious Moments baby whale

We arrived back at Raffles Marina about 9.40pm. All of them said that they enjoyed the boat trip very much! That's really great! Really happy that they liked it!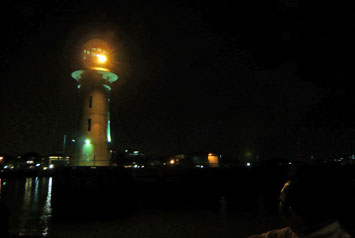 The lighthouse welcomed us back to port again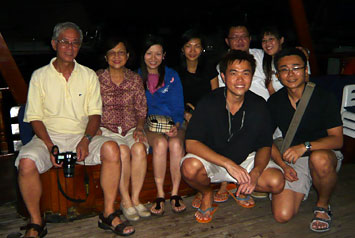 Group photo before disembarking


Saturday, 1 September 2007 - Ratatouille!
My dearest wife would rather watch Ra-ta-too-eee then sleek assassin Jason Bourne... sigh. Ok lor.

But hey, the show was rather good actually! Good storyline and a happy feel-good kinda movie. Maybe after watching this show, you'd be kinder to a rat?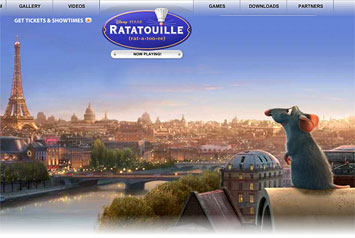 Pa ris... Pa ris...

After the movies joined Soo Kee and friends at Henderson Park to play futsal. I miss the large concrete floor futsal court! Space to run and move!

But was playing badly at first, especially after taking over the goalkeeper's position. Simply stood rooted and watch the ball flew past into the net. But thankfully towards the end, improved much better playing a defender. Didn't play up front given the lack of defenders in our team. Got one goal-bound shot which was blocked by dear Soo Kee who couldn't siam fast enough though!


Friday, 31 August 2007 - Charcoal & St. James
Went out with Adeline and Soo Kee for dinner and somehow we ended up at St. James Power Station again! Dinner was at Charcoal, a Japanese BBQ restaurant at Station Kitchen. Very interesting and unique! The food was very nice too, like snowflake pork, beef tongue, but rather expensive and tiny on the portion!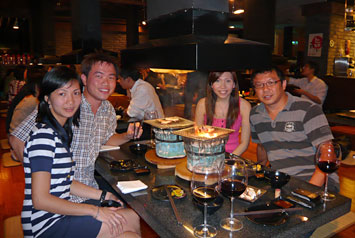 Nothing like bbq and red wine...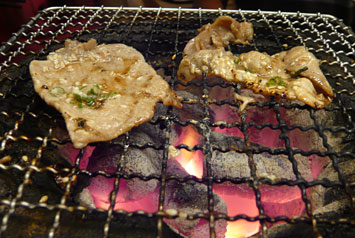 Snowflake is on fire!

Wah, we ate and chat till almost 11pm! Was fun talking about people, office life, incidents and of course about our main "actor", haha!

Went to Dragonfly after dinner and boy, the place was packed like sardines! Adeline's hubby was there also with his friends and we joined them at the back of the stage area. Very nice of him to offer us vodka lime!

After Adeline and hubby left, we decided to explore all the clubs in St James! From the youthful Power House to the jazzy Bellini Room to the next-time-must-come-again Movida! Most importantly, we finally solved the mystery of how to get to the 2nd floor glass foyer that peers over Dragonfly, heehee!


Tuesday, 28 August 2007 - Alex Ferguson @ Fico?
My comical friends exclaimed that my GIM "CIO", Per-Ake, looks like Alex Ferguson, haha! He was playing goalkeeper, together with some of the Management Team board members.

Man, these old men are good, especially Chris and Craig! Me and the GIM guys were trashed 1-7, with me scoring the consolation goal.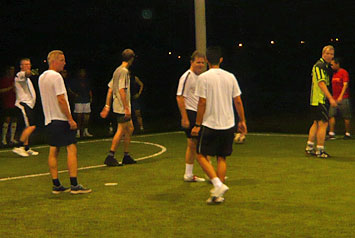 GIM Management Team in action!

My 2nd and last goal was playing together with Uncle United against the talented TPJ team. Mark Schmelzer, as like he was during the futsal tournament, was simply phenomenal!


Saturday, 25 August 2007 - Boat Trip!
Almost six years in Tetra Pak and today's the first time I'm getting on the company's boat!

Had to give Soo Kee a wake up call at 6.45am and met up for breakfast and to shop for BBQ food before heading to Raffles Marina with Wai Seng & wife, Desmond, Terence, Hayley and Adeline Loh.

Wow, the boat (Bric-a-Brac II) looks much cooler than I thought! There's the sheltered lower deck and the open upper deck for a superb view of the surounding area and for sun-tanning!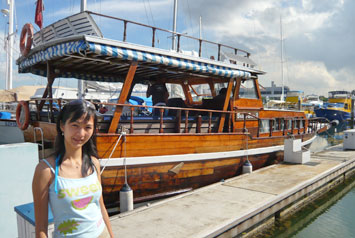 Lydia posing by the side of the boat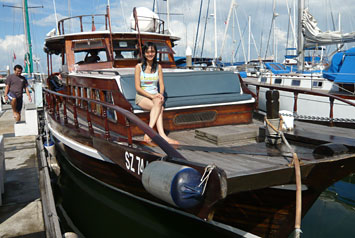 The model now posing at the bow of the boat...

We set sail slighty after 9.40am and headed west past the 2nd Link. The sea breeze was simply fantastic! We went to the upper deck to get a sun tan while some of the others played cards. The sun was blazing hot and Lydia started wrapping herself up, heehee!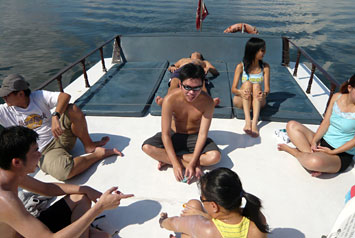 Having fun at the upper deck!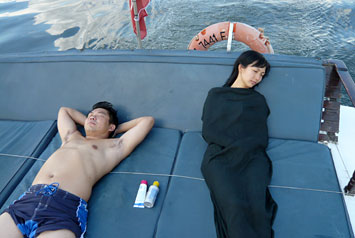 Yes, that's what Lydia thinks of the sun, heehee!

We went down to the lower deck after the sun really turned up the heat. The boat soon anchored near a small island after about 45 minutes (the boat was moving like 25km/hr though!). The guys soon jumped into the waters (from the upper deck even!) and played with the lifebuoys. I remained on board cos didn't bring any change of clothes (didn't intending to swim).

Time for BBQ lunch! There was sausages, chicken wings, beef, garlic bread, satay...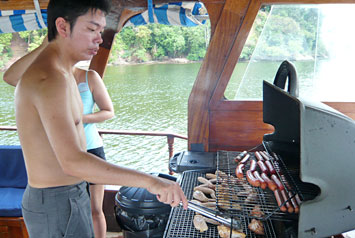 Lunch time! BBQ on board, by master chef Wai Seng!

After lunch they started playing chua tie di whereby the loser has to jump into the water! I don't have extra shorts how to jump?? But I was still coerced to play by Soo Kee and the rest.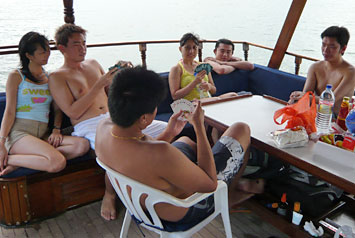 Playing high stakes chua tie di!

First to go was Hayley, then Desmond (who have to jump for Adeline cos she... err... couldn't go into the water today), then Wai Seng (even though he didn't have spare shorts! Yikes!) and then Soo Kee, haha! Terence was restless by then and decided to jump for fun, haha! Thank goodness the game was abandoned and I managed to stay dry! Phew!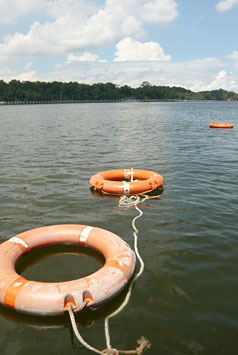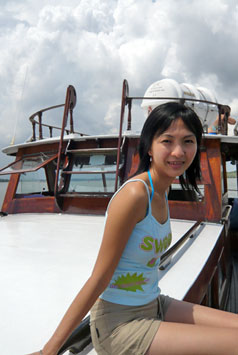 The floating lifebuoys await the losers! Lydia posing at the front of the boat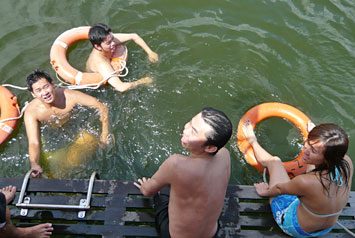 Now you know who lost, heehee!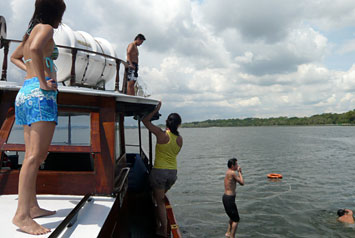 And they soon started jumping for the fun of it!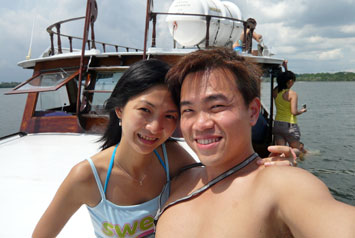 The two of us on the boat

The boat started heading back at about 3.30pm. We went to the upper deck to chit chat and drink red wine. I unfortunately spilled my wine on Wai Seng's shorts while trying to save a pack of Twisties from the wind! Thankfully his shorts was dark brown. :P Sorry dude!

We arrived at Raffles Marina at about 4.15pm, sailing past the cute lighthouse as the boat entered the berth. Was a really fun trip! Must go again!!



The lighthouse beckoned us back into dry land again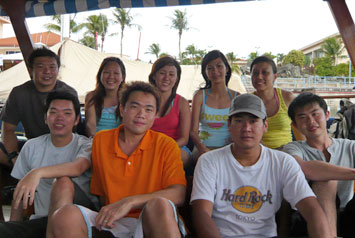 Group photo at the end of the trip!


Friday, 24 August 2007 - A Nite @ St. James Power Station
Tonite's clubbing nite to celebrate Soo Kee's birthday! After having our haircut at Reds @ Bugis Junction, we had a quick dinner before rushing home and heading to St. James immediately.

Oh my, Dragonfly was already packed by the time we got there slightly past 9pm! No table! After standing there for a long while and listening to Chinese songs, we went over to Boiler. There was much more space there and we had a bottle of a bourbon/whiskey-based stuff (I think!) mixed with green tea, before heading back to Dragonfly again cos there is a table available via Serin's friend.

After queuing like half an hour for re-entry, we found the place jammed pack and the table was pretty full of the friend's friends too! Nonetheless, at least we've got a place to put the drinks. Soo Kee got us going all going with that green tea stuff as we danced gingerly in the confined space.

Today was a really big group. YingKiat, Peiwei (& 2 friends), Serin, Sherry, Hayley, Adeline, Desmond, Terence, Vernon, Kuan Han, Wai Seng & wife were there! It's a pity we couldn't get a proper table. Otherwise it would been really fun!

We left earlier close to 1am. Need to rest for tomorrow's boat trip!


Thursday, 23 August 2007 - Uncle's Birthday Today, you knoe
Today's SK birthday! But this uncle dun act like his age (let it be a secret, haha!)... so much energy, more energy than my wife who is... 9 years younger (can you calculate then?)!

A bunch of us sprang a surprise birthday cake on him in one of the conference room. He wasn't able to blow out all the candles on the cake in one breath, heehee! He said he haven't had a birthday cake for a long time, haha!

That's what friends are for, rite!


Wednesday, 22 August 2007 - Happy 8th Anniversary!
Today marks the 8th anniversary since my wife and I got together as a couple! You can read all about how we got together here, haha.

Wow, 8 years already. She has gone from a sweet, kuai, poor in English, innocent, demure, 52kg girl, to a.... a....

Err.. lemme me just thank her for the anniversary present instead! The Lego Starwars Jedi Starfighter with Hyperdrive Booster Ring, set 7661! Awesome! Just released today only!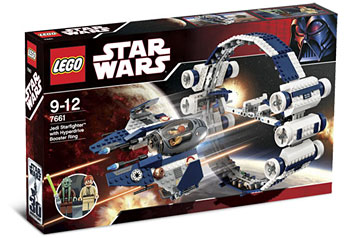 Though it is not from Starwars classic, I had always wanted it!

But it wasn't that easy to get my hands on it! She had a surprise. She told me to go to Novena Square to collect a gift on her behalf, which someone had called her to collect. No name of shop, just unit number #01-23. Ok, fine. Even though I have to travel a long way to Novena while she goes shopping at Espirit @ Raffles City with Charlene and Tricia, I still made the journey.

When I stepped into Novena Square, it suddenly dawned on me that maybe it was a present for me and #01-23 is actually BricksWorld (Lego specialist shop)! Of course! I confidently walked towards BricksWorld.

To my great surprise, it was unit #01-18. :( Huh? I was wrong. So where is #01-23? Don't tell me it is Poh Kim? Oh, indeed it is. Who on earth bought her a gift from Poh Kim? Poh Kim got gift collection service one meh? Nonetheless, I went into the shop and informed the counter that I'm here to collect a gift on behalf of Lydia. The guy and the girl stared at me, stunned, and asked me to repeat. They looked puzzled. I am just as puzzled actually, but this is the unit. The guy called up headquarters and asked if there is any special instructions or delivery. Don't have. Asked me what is the name of the shop? I dunno...

I called Lydia and it was then she exclaimed that it is not #01-23 but #01-18. Alamak! The Lego shop lah! Kena conned by my wife! Somemore made me go knock on Poh Kim's door and made them blur and confused!

Thank you still!

------------------------------------

On another of my adventure story, I discovered I had formatted my camera's SD card on Sunday night, but had forgotten to copy some parts of Saturday's dinner cruise photos to the computer!

Fortunately, I had an excellent data recovery tool called GetDataBack. Even after I had formatted the SD card, took new photos of Monday's tummy showdown, it could still recover all the lost photos! Simply amazing!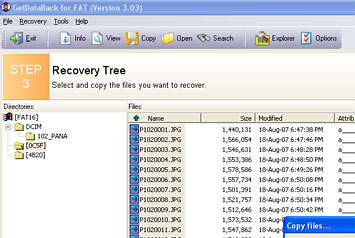 Step 3: It identified all my lost data/photos. Wow!


Monday, 20 August 2007 - Play It Like Beckham
It is futsal session again at FicoSportsHub! My office guys Soo Kee, Robby, Michel, Budiman, Kuan Han and Hendra played today, together with Gabriel (and Valentine as supporter), Kian Pang and Boon Chong, and 3 of Hendra's friends. Half-way through, Andrew Woon came also! Wah! His debut appearance leh! It's a miracle!! He must have been inspired by Tottenham's victory last Saturday, haha!

Unfortunately, there ain't any inspiration for me. I played really badly today. Bad touches and only "scored" one mis-controlled freak goal, which I'm too ashamed to claim even. Really bad form, that's the only thing I can think of.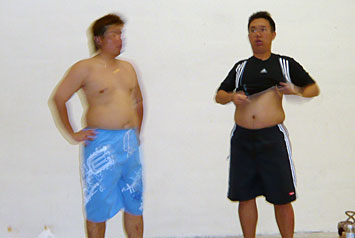 Gabriel and Andrew comparing tummy sizes...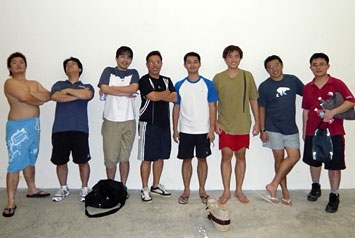 Give it up for the Uncles United FC!


Sunday, 19 August 2007 - Lydia's Birthday Lunch with my Family
After church, we went to Ichiban Boshi @ Novena Square to celebrate Lydia's birthday with my parents and Jason and Fenny. The food was not too bad. The set meal was quite worth it, especially the black pepper beef. Saw an interesting article at the restaurant's entrance, where it had framed a Straits Times article that Ichiban Boshi is cheaper and better than Sakae Sushi in terms of price and quality! Hmm... interesting!

On behalf of Lydia, thanks for the red packet, mummy!


Saturday, 18 August 2007 - Journey on a Touristy Chinese Boat!
Today's Day 2 of Lydia's birthday celebration. We idled at home till the evening before going for an Imperial Dinner Cruise on board the Cheng Ho cruise ship from HarbourFront.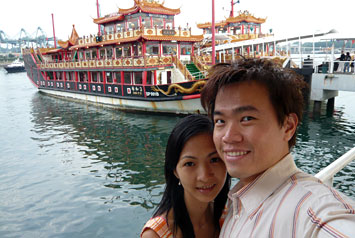 Ahoy there!

First thing that strikes you is that the diners are mainly tourists! It really, seriously, felt touristy and "sub-standard". I was quite surprised, considering that it was supposedly worth $100 (from DBS Rewards) for a dinner for two. But then again, no locals will pay good money to sit on a 2-hour fancy chinese boat to nowhere. And to add to the touristy experience, we were chucked to one corner of the boat, right in front of the blazing air-con and conveniently located at the entrance to the toilets too!

If you know me well (or actually, even if you know me just a little), you'll know my tolerance level is very high one. I'm calm and cool like a cucumber (or some say, a lamb) and if things don't bother me too much, I usually let it pass and forget about it. But no waitress is going to throw us to the corner while the ang mohs get the best views, while claiming that the empty seats are all reserved beforehand! Not on my wife's 2nd birthday dinner especially!

So I argued with the waitress. Oh, they can turn off the air-con behind us cos I said it was too cold? Sure, I told her to turn it off right now. She hesitated. I told her I didn't want a lousy table while good tables are available. It's reserved? Management had allocated? Then why an ang moh couple that just walked in could stroll to an empty table and sit there without any problem?

An Indian couple next to our table saw me kicking up a fuss and decided to join in too. They wanted to change table too! The waitress finally gave up and allowed the Indian couple and us to swap to a better table. Yeah!

The ship set off about 6.40pm on a journey past Sentosa, to the Marina Bay area and a round trip back. We took the opportunity to explore the 3-level ship before going for the "appetizing international buffet" dinner. It looks more like from a $12/head catering menu actually...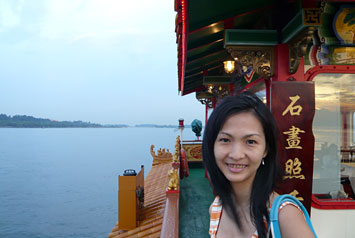 Nice sea view from the ship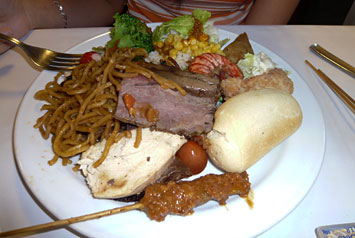 First time I see so much food on Lydia's plate... in case no more!

After dinner, we went out to enjoy the scenery and even got to watch a short fireworks display at Sentosa. Overall, the dining experience was terrible. But if you like to go for a scenic cruise and don't mind the horrible food, it will do for you.

Later at night, we met up with Soo Kee, Hayley and Terence and went to Bar None @ Marriot Hotel. The place wasn't as packed as it used to be (becos of St. James?). No promotions either, so we had a jug of vodka lime and cover charge drinks. The experience was okay lah, with entertainment from the live band, the Tottenham-Derby game on the screen, and a middle-aged lady dancing wildly on the dance floor. It could have been more happening for sure.

We left the place about 12.30am. My face was again blushing red. It's strange, cos the vodka lime tasted like lime juice to me. And the cranberry juice tasted like... cranberry juice!


ps: I always refer to Eurasians as ang mohs, no racism, insult or whatsoever intended, whatever some silly Singlish definition of the term it may have said. To me, it's an affectionate term for them!


Friday, 17 August 2007 - Happy Birthday Boo!
At the stroke of midnight, I woke up my sleeping wife with a birthday cake in my hands. The cake wasn't completely a surprise to her, cos silly me had hide the cake very well, but amazingly left the cake knife on the table! D'oh!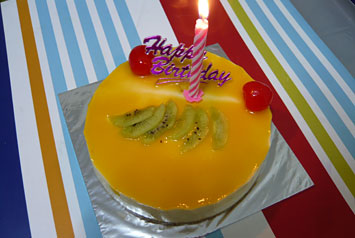 Mango cheesecake from ChezCake Bistro

There's no photo of the birthday girl with her cake, cos she was really very sleepy. But in spite of that, she still ate a slice of the cake. The cheesecake was nice to me. But if I find it nice, this means that it is not cheesy enough for her, haha!

I gave her my birthday "present" too! See below!!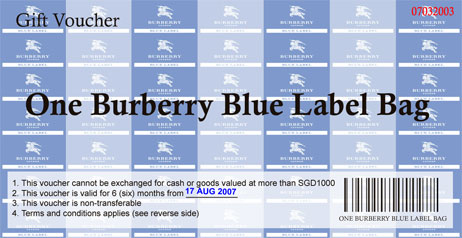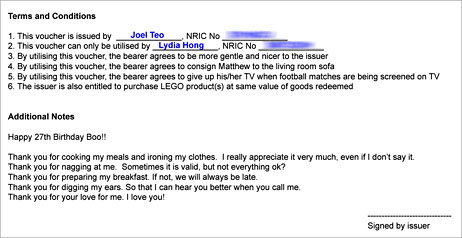 A special Burberry Blue Label bag voucher

Heehee. After seeing the present, she was wide awake again and alert enough to complain about the terms and conditions. Glad that she liked it very much! :)

Zzzzzzz

................

After work, we went to Angus Steak House @ Ngee Ann City for dinner. Had read rave reviews about the steak here and was eagerly anticipating it the whole afternoon! We got a window seat and the restaurant was cosy and nice. It was a bit lolita-like, with it's pink and black theme and waitresses in classic maid uniforms.

Wah! The wagyu beef steak cost $100 per pax! As tempting as it was, we ordered a 200g tenderloin and ribeye steak set instead, each costing $55+! But it was still great! There were the appetizers (fried calamaris, prawns), bread, soup and salad before the main course arrived. And the steak did not disappoint at all! The steak was succulent and really fantastic! We managed to swap the dessert for the tiramisu and it was very good too! Overall, it was a really excellent dinner, easily one of the best dining experience we ever had!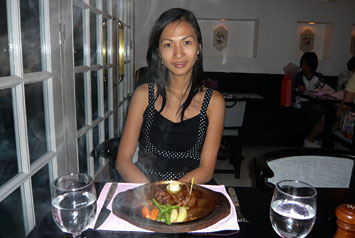 Sizzling hot tenderloin steak for the birthday girl



My 200g ribeye steak... yummy!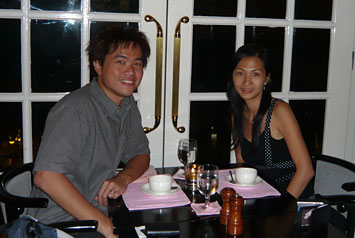 A cup of tea at the end of a fantastic dinner


Thursday, 16 August 2007 - Thank You Eskimos!
Dear Eskimos,

Thank you for sending a bouquet of flowers to Lydia for her birthday tomorrow! Though you got her surname wrong (security guard got suspicious, deliveryman thought it was a hoax...), it was a really nice gesture and present. You will get me into trouble though, cos there's ain't going to be any flowers from me leh!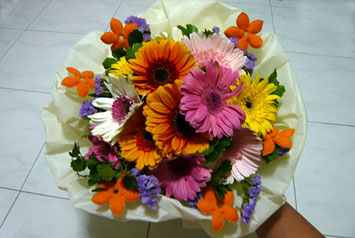 Send flowers to my wife.... sabo me ah?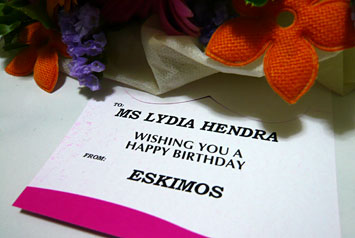 From our dear Eskimos :)


Wednesday, 15 August 2007 - Early Birthday Celebration
Posted by Lydia:

Thank you gals for the lovely birthday dinner treat at Kuishinbo. As today is the lady's night special, we knocked off on the dot from the office and flew to Suntec. Since we had to finish our dinner in two hours, we had to rush through our dinner! KC was complaning that she could not have a peaceful meal. But still, we managed to wallop the maki, sashimi, giant crab, teppanyaki, chawanmushi and japanese dessert! And of course not forgetting the yummy lobsters that we had, which we had to jump out from our seats the moment we heard the "dong dong dong, Kuishinbo ......" music. :)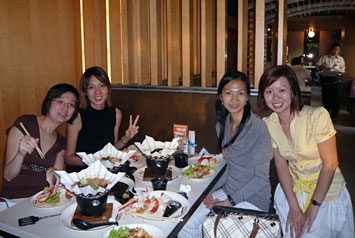 Kai Ching, Tricia, me and Charlene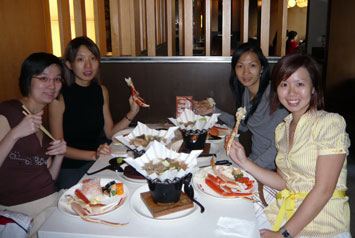 My kakis for online shopping (F21 & Wetseals) and Blue Label

PS: While I was enjoying my fabulous dinner, my hubby was somewhere in Sim Lim Square eating bak cho mee alone.... :P


Monday, 13 August 2007 - It's Barclays Time Again!
The English Premier League has kicked off last weekend! Or rather, it is now called the Barclays Premier League in this region, due to Barclays being the main sponsor. Well, at least it is not as bizarre as that of NTU's Library 1 being renamed to Lee Wee Nam Library many years back:

"Yo, where are you going?"
"Hey Joe! I'm going to Lee Wee Nam Library for some air-con"
"Going to what?"
"Lee Wee Nam Library"
"Lee Kuan Yew's Library?"
"Lee Wee Nam. Lee Wee Nam Library... Library 1 lah!"
"Aiyah.. early early dun say...."

Anyway! With the exception of Man U who drew incredibly (0-0!!) at home against Reading, all the top teams won, though not as comfortably as I would have expected of them. Of course if you're a Tottenham fan, will this be a season of success or a season of greatest disappointment? Never thought that newly promoted Roy Keane's Sunderland will beat Tottenham 1-0, heehee!

The sweetest victory is of course Blackburn's 2-1 come-from-behind victory over Middlesbrough, with new signing Roque Santa Cruz marking his debut by smashing in the equaliser.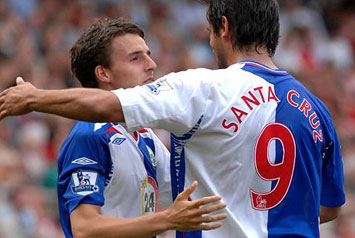 Santa "Claus" Cruz gets Blackburn off to a winning start

I still can't get over how come the Premier League champions, the most prolific goal-scoring team last season, couldn't put the ball past Reading... I stayed up till 2am for nothing yesterday...

By the way, I'm a Blackburn fan, who likes watching Man U in action...


Saturday, 11 August 2007 - Lester & Freda's Wedding!
Our PMC couple is finally getting married today!

The morning church wedding at Telok Ayer Methodist Church was very nice and grand! The largest wedding ceremony turn-out I had ever seen, with over 300 guests! This was followed by a wide spread of buffet lunch.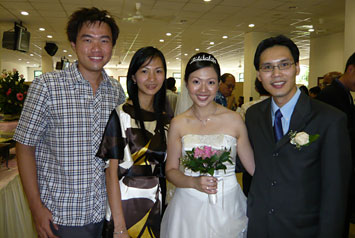 With the bride and groom at the church

Dinner was at Marriot Hotel. It was really interesting to see them do the "model catwalk" for the 2nd walk-in, heehee! And the Hagen Daaz ice cream cakes for desserts topped the icing on the wedding.

Congratultations to you two!


Thursday, 9 August 2007 - National Day & AGM
It's Singapore's National Day today! That means it is also Tetra Pak's Sports & Recreation Club AGM day too!

The venue was at Grand Copthorne Hotel and the event kicked up at 11am. Being in the SRC committee, we went down earlier to help out. After the AGM was done, the votes were counted and heehee, Soo Kee is still the favorite chairman! None of the new committee members were from the current committee, except Soo Kee. :)

After lunch, table games and lucky draw (suay suay 50% chance also cannot get...), the event was wrapped up about 3.40pm. We quickly took a cab to Ritz Carlton to meet up with Cindy, my JC friend. Why? Cos this kind friend of mine has given me 2 National Day Parade (NDP) tickets!

It's the first time the parade is held at Marina Bay and wow, we're excited boy! Her nice hubby also booked her a room at Ritz Carlton and the window view was excellent! Directly overlooking the venue!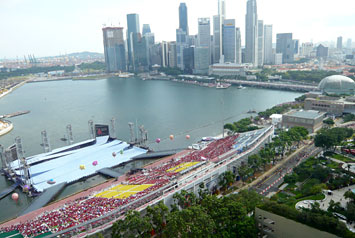 The excellent view from Ritz Carlton

We went down to the parade about 5pm with Cindy, her son Phil, and her 2 friends. Although we were supposed to sit in the green sector, we were quite late and so they put us in the grey "sector".... which is the first three rows!! Wow! Really close to the stage!! Woohoo!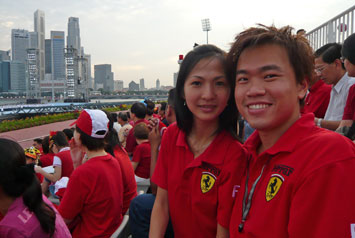 All dressed in our national red color at our "premier" seats

The parade got underway and it was a real eye-opener! As it was the first time it is held at Marina Bay, we didn't know what to expect and so everything was eagerly anticipated and a surprise. Like our dear Prime Minister Lee Hsien Loong's motorcade which suddenly appeared metres in front of us and caught us all by surprised! We were still seated, haha! The emcee's announcement was a bit too late lah.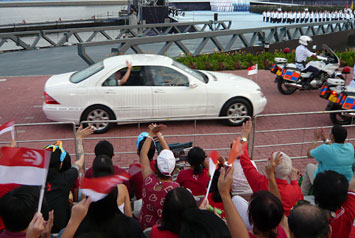 PM Lee waving to us but we were all still seated! :P

There were the contingent march in, the aerial display of the F-16s, Chinook and Apaches, naval maneuvers from the Police Coast Guard as well as the Navy, and of course the sky-diving commandoes and the Singapore flag fly-past, which was really as close as it could possible get!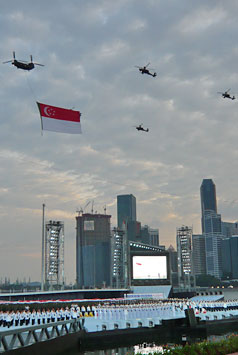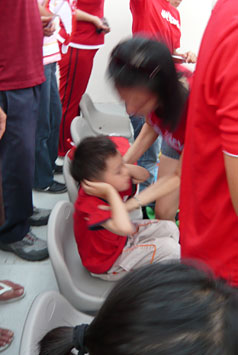 With the 21-gun salute howitzers just across the waters and in full visibility, the sound was as loud as thunder and sent Phil covering his ears (and Lydia getting a few scares!).

We were then entertained to a spectacular visual treat of lights and colors and movement. Reminds me of Sentosa musical fountain display, except on a much grander scale, haha!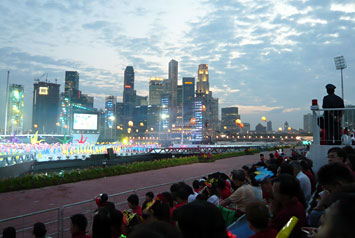 The scene is transformed as darkness descents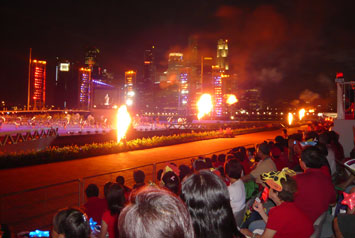 Lasers, fire, lights, and all things bright

And the grand finale and crowd favorite.... the fireworks!!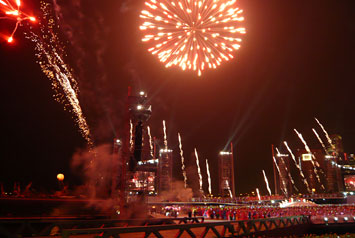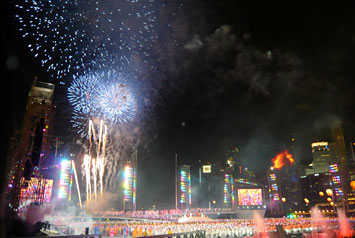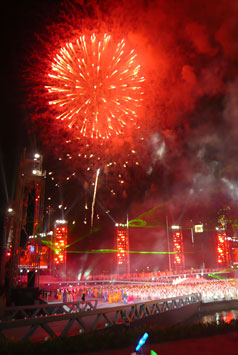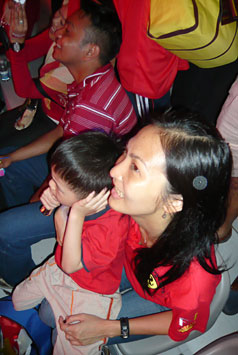 Thanks Cindy for thinking of us first for the spare NDP tickets! It has been a really special National Day Parade and celebration!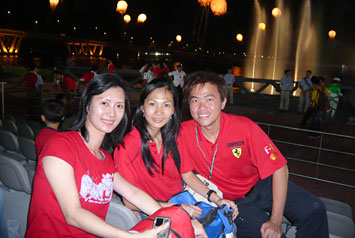 Cindy (mother of 2 already!), Lydia and me


Sunday, 5 August 2007 - Football is Back Again!
How did I survive the last few months without football on TV? Ok... I was busy racing on my MOMO wheel, but besides that? It's incredible to think that I've gone a few months without watching soccer on TV!

But tonite's Charity Shield has restored order to the house! Manchester United took on Chelsea in the Premier League curtain opener. 1-1 at full time, the game went to penalty shootout. Half-expecting ManU to loss the shootout, I wasn't hoping for much. But the most incredible story was about to be written! Edwin van der Sar made 3 consecutive penalty saves!! I could barely believe it!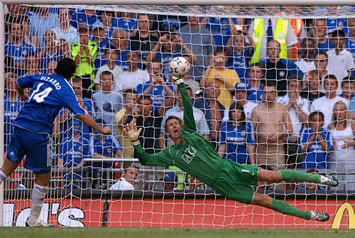 The first of three saves to land ManU the first silverware

Yeah!!! Saturdays and Sundays will never be the same again!


Friday, 3 August 2007 - MediaCorp TV Stars @ Paragon
We were at Paragon for the Metro 20% sale when we came across the brand launch of G Star at the open foyer of Paragon level 1. Surprise, surprise, there were a number of TV stars in the crowd: Pan Lingling & hubby, Michelle Chia, Huang Biren, Alan Wu, Adrian Pang, Kim Ng, Jacelyn Tay, Andrea DeCruz & Pierre Png. It was very interesting to see them in person, and especially special to see so many of them together!

Unfortunately I didn't have a camera with me and only have my o2 Atom Life 2 megapixel built-in camera. The picture below was the best it could do (read: lousy 2 Megapixel camera...)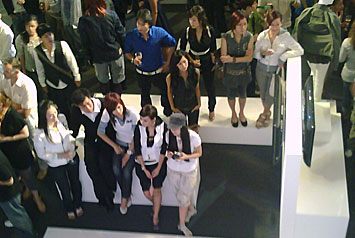 Thursday, 2 August 2007 - AGM Lego F1 Lucky Draw Ticket
My dear SRC chairman asked me to do work again, this time to design the lucky draw ticket for the coming AGM.

After a futile attempt in persuading him that a name on a plain piece of paper is good enough, I got down to racking my brains and viola! Here's the final design!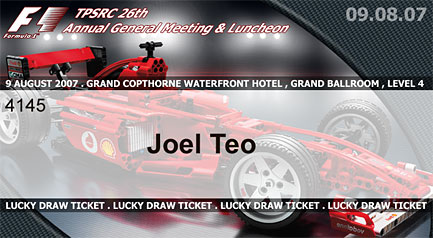 Grace commented that it is "Very very impressive." Thank you! :)

As usual, it is Lego-themed, heehee. What do you think?


Wednesday, 1 August 2007 - Trip to Geylang
In case you're thinking otherwise, it was a dinner trip to Geylang with my wife and Soo Kee for beef hor fun and durians! There were a few "side shows", but that is to be expected during a trip here at night.

It was really good to eat solid beef hor fun, as compared to the neighbourhood zi cha coffeeshop stall, and of course the creamy-rich $5 durians. I like them bitter, while Lydia likes them sweet. We ate 3 durians for desserts. :)

Yum yum! A very satisfying trip indeed!


Monday, 30 July 2007 - O2 Gives "More" Than Expected
As an o2 PDA phone user, I subscribe to their mailing list so that I'm kept aware of what mischief they're up to. And so when I receive an email titled, "O2 Service Centre is Moving", I held my breath and opened the email:


------------------------------------------------------------
We are moving!

Dear Joel Teo,

At O2, we don't just give you what you expect, we give you more. In our ongoing effort to deliver after-sales experience, we will be relocating our service center to serve you better. We have shifted our operations starting 1 August 2007 to

20 Toh Guan Road #07-01
CJ GLS Building
Singapore 608839
Tel: 64102402

Monday to Fridays: 9am - 6pm
Saturdays: 9am - 5pm
Closed on Sundays and Public Holidays

The existing Parco Bugis Junction location will serve as a collection point only until 12 August 2007.

We apologize for any inconvenience caused, and look forward to serving you at our new location.

Sincerely,
The O2 Asia Team

-------------------------------------------------------------


What the?? This doesn't sound good at all. Where on earth is CJ GLS Building? It can't possibly be more convenient and central than Parco Bugis Junction. I did a quick search for Toh Guan Road.... and what do you know, it's a building near IMM Building in Jurong! Super far man!!

Dear O2 Asia Team, you already do not give me what I expect. And now you say you want to give me "more" by relocating from Bugis to Jurong so that you can serve me better??? What kind of sick logic is that?

Here's what I think: You're relocating so that it is much much more inconvenient for your customers to report a problem. If it is a minor problem, we gotto think whether is it better to endure, or travel all the way to your better after-sales experience location. No more popping by for a quick check or complaint.

Simply brilliant...


Saturday, 28 July 2007 - Need For Speed UnderGround 2!!
I'm currently addicted to this game! It's an old game, but only now then I got the chance to play it! :P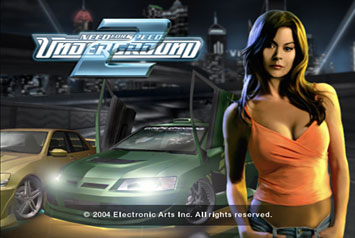 Rachel strikes up a pose against the backdrop of modded cars

While Lydia was watching her Korean drama, I was racing away on my Logitech force feedback Momo wheel! In this game, you'll be racing against other heavily modified cars in 6 different race categories: Sprints, Circuits, U.R.L, Street X, Drag and Drift. In between, you'll be free-cruising through the city of Bayview, travelling from one race to the other, while looking out for opportunities to unlock new mods and upgrades for the car. There's a whole lot of upgrades to be made, from visual upgrades like spoilers, hoods, headlights and wheels to the performance upgrades like engines, NOS, turbo, suspension and brakes!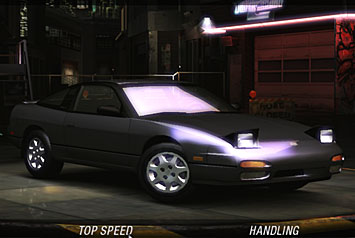 My original Nissan 240SX stock car



And my mod car now! Coool eh!!

But haven't really mastered the art of drifting. Maybe the Nissan 240SX is a wrong car for drifting? Any drift experts out there to share some tips?

Oh.. was played till 3.30am yesterday, haha! Woke up this morning at 11am and was like zombified, heehee. :P


Friday, 27 July 2007 - Stingray, Chicken Rice & Bak Kut Teh
How more "fusion" can our dinner be? We went to the food centre opposite Ikea (Alexandra) with SooKee, Terence and Adeline Loh. Intending to eat bak kut teh only, SooKee suddenly had a craving for chicken rice. The zi cha stall along the way was tempting us with the thought of BBQ stingray as well... So in the end we order a bit of everything, haha! Plus the excellent avocardo juice too! Yum yum!


Thursday, 26 July 2007 - Where My Scoring Boots Go?
Played futsal with Kian Pang and friends at Fico Sports Hub after work at 7pm again. Scored the first goal of the 2 hour session. But after that, miss a whole lot of goal-scoring opportunities and hit the post twice! My shots-goal ratio has never been so horrible! Aiyoh!!

Self analysis: Where could have gone wrong?
1) Size 4 futsal ball instead of my accustomed size 5 football
2) Excellent opposing goalkeeper
3) Bad luck, bad form
4) 2-Teams non-stop play instead of 3-Teams 1-goal knockout rule
5) Penguin Gabriel not around

Urgh! Very disappointed...


Saturday, 21 July 2007 - Dinner @ Azhang?
Huh? Where? Ah Zhang? When Andrew said the venue was changed from the happening Dempseyhill cluster of restaurants, I was quite disappointed. I was looking forward to going there since hearing a lot about it.

So where's Ah Zhang? Azhang (not Ah... Zhang) is located at Mohamed Sultan Road. And when Andrew said "you know where is the bak kut teh stall?", my heart almost dropped cos I thought Azhang is the hip name for the bak kut teh stall!

It turned out to be a small and cosy restaurant with a sky-roof to boot.There's only 1 chef and 1 waitress, which is pretty amazing. The 10 of us (Eric, Kian Pang, Andrew Quek & SanSan, Boon Teck & Novita, Andrew Woon, Tzin Mein and the two of us) had to wait a pretty long time for the food to be served cos there was a big group also having a birthday celebration.

But the wait was worth it! The appetisers came first: the focaccia bread with olive oil and duck liver spread (I skipped the duck liver, haha) was excellent. The salad... well, I'm not a corn eater, but I think the rest enjoyed it. The best was the main course, where we had ultra-delicious lamb ribs, a superb spread of seafood platter (giant prawns, chicken, beef, giant calamari, salmon and rice pilaf) and black pepper beef. Downed with a glass of rose wine, it was simply yummy!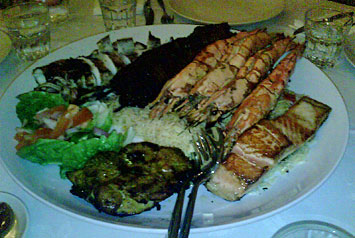 Azhang's seafood platter special

We left the place early at 11pm while the rest stayed behind for whiskey drinks. Considering we arrived here at 7.30pm, this is one long dinner! Even longer than wedding dinner, haha!

Only minus point is that it is not cheap though! $135 for the two of us!


Tuesday, 17 July 2007 - AL-SUS Website in Nation's Documentary Heritage!
Charmaine informed me that their company website (which was designed by me!) has been chosen by National Library Board (NLB) to be included in the nation's web archive!

Wow! That is sooo cool!!

[Quote]

Notification of Website Archiving - AL-SUS Industries Pte Ltd

The National Library Board (NLB) is traditionally known to collect published materials for preservation as the nation's published heritage. This includes online and electronic publications of lasting national, historical, research and cultural values. NLB has embarked on a web-archiving project, with the long-term goal of building a comprehensive collection of Singapore-related websites and publications to ensure that Singaporeans have access to their documentary heritage now and in the future.

NLB has deemed your website (URL: http://www.al-sus.com.sg/) to be an important part of Singapore's documentary heritage and would like it to remain available to researchers and generations of Singaporeans in the future. Hence NLB will be taking snapshots of your website under the appended terms.

There are some benefits to you as a website owner in having your website and online publications archived by the NLB. You will be able to access earlier versions of your websites from the web archive. The NLB will also catalogue your publication, thereby increasing awareness and publicity of your website and publication among researchers using our Library network.

[Unquote]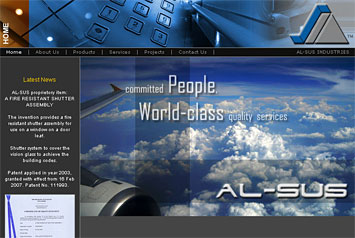 The homepage of AL-SUS Industries

Here's the link to more info on NLB's Web Archive Singapore.

Am really happy for her and her company, and thrilled to have played a part in their achievement. :D


Sunday, 15 July 2007 - Frolicking in the Sun @ Sentosa Beach
Dear God, please pardon us for spending our Sunday morning at Sentosa beach instead. We were led astray by.. Soo Kee, Adeline Loh, Terence, Wai Seng & wife, Hayley, Ying Kiat & hubby!

After breakfast at McDonalds', we headed over to The Siloso Beach at Sentosa and set our mats down on the sandy beach in front of Cafe del Mar. This "restaurant" is very interesting and cool! There are beds and cushioned deck-chairs lined up along the front yard, with a mini swimming pool in the middle.

Anyway, we were there about 10am and the whole beach was still quite empty! We started off lazing around, sun taning, playing cards, playing football, swimming in the sea, to saboing a guy and a girl who were celebrating their birthdays with their friends.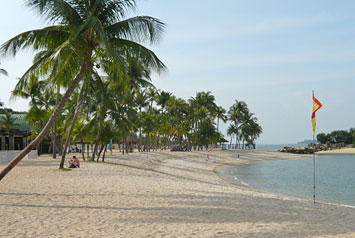 The beach in front of Cafe del Mar @ Siloso Beach, Sentosa

As the day went on, the place became pretty crowded with topless guys and bikini girls. We moved into Cafe del Mar when the afternoon sun became quite unbearable, where a cosy king-size bed sheltered by a breezy coconut tree awaits! A nice cold mango freeze certainly helps to beat the heat while we play cards!



Under the coconut tree playing cards @ Cafe del Mar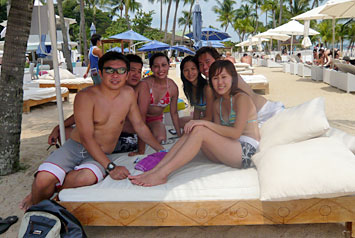 Getting cosy on the king-sized bed by the beach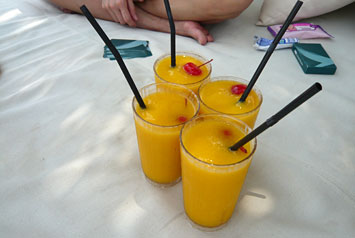 Nothing like mango freeze to take the heat away!

Finally left the place about 3pm. Terence look really baked, like chao ta, heehee! I was also many shades darker too! Soo Kee's suntan lotion must be too powerful, haha!


Saturday, 14 July 2007 - Under The Afternoon Sun
We gotto be really hardcore to be playing futsal from 1pm to 3pm!

But that's what we did! 12 crazy guys turned up at St. Wilfrid to play futsal on the nice artificial turf. The sun wasn't fully blazing, but it was still hot!! To add to that, I wasn't wearing my dri-fit Nike or Adidas jersey but an imitation Man U jersey (meaning: not dri-fit, heavy, sticky..). Why? Cos Kian Pang requested our team to wear red.

We (together with Kian Pang, Gabriel, Eric, Boon Chong and KP's friend) played against Soo Kee and his talented friends. Against talented players, of course we lost lah... I told you they're talented already mah.. What's the score? Dunno. But I scored two goals (left foot and right foot), and had a couple of shots on/off target. My performance was better today, though there was a few layoffs that weren't up to expectation.

Blame it on the heat and Soo Kee's talented friends lah! :)


Wednesday, 11 July 2007 - Wedding Trip to Padang!
Lydia's sister, Esther got married last Saturday on 7 July!

We took the 7.40am morning flight to Padang (Indonesia) via Tiger Airways on Saturday itself and arrived there in the late morning.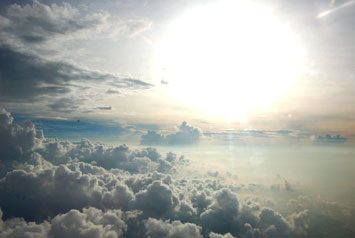 Soaring above the dark rain clouds after takeoff

It was off to the wedding studio (SPOSA) for gown-fitting, makeup and hairdo for Lydia and the ladies. For me, all I have is my wedding suit, Gatsby wax and hairspray. With time to spare, we even had our "wedding" photoshoot, heehee! Really reminds me of our wedding photoshoot 2 years ago. :)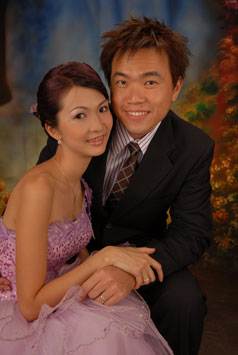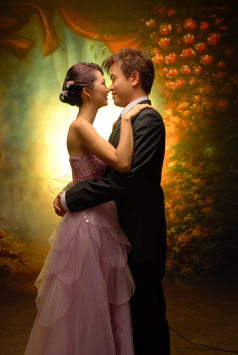 Our 2nd wedding photoshoot, heehee!

The church wedding ceremony was in the afternoon, where Esther and Herry exchanged their wedding vows. Esther must have recited the fastest wedding vows ever, heehee. :P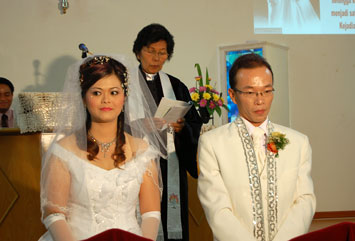 Smile, guys. :)

Immediately after the ceremony, we proceed to a Chinese Hall, which is the dinner venue cum tea ceremony venue. The tea ceremony custom is the same like Singapore one, but the dinner is quite different. It's a buffet style and guests start streaming in from like 6pm till 8pm. The family members will stand by the entrance and greet the guests, while the wedding couple and their parents are seated on stage to shake hands with departing guests and take photos with them. My legs were really aching at the end of it all!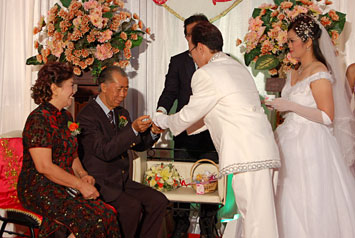 The couple serving tea to Lydia's parents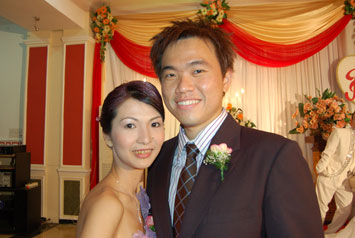 Towards the end of the wedding! Phew!

For the next few days until our flight on Tuesday morning, it was really relaxing, just eating and sleeping and enjoying life. From hair spa to body massage and from my favorite fish head curry to all sorts of exotic Padang food!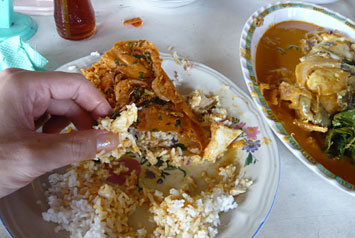 Nothing like eating my favorite fish head curry with my fingers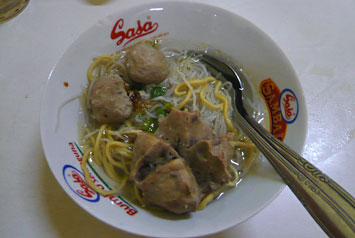 Bakso urat mas tris, aka meatball noodle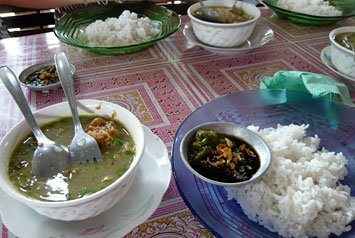 Soto medan, aka rice with soup (medan-style)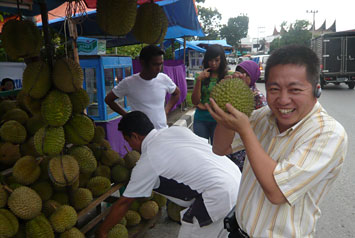 Brother-in-law sniffing out a good durian

It's really nice to just take a back seat and relax and fill up the stomach. Look forward to the next trip to Padang!


Thursday, 5 July 2007 - 5 Goals Scored
Had my futsal game again at Fico Sports Hub after a long break, playing with UUFC (Uncle United FC), MLFC (ManuLife FC), and the Youngters (young teenage kids!). Really need to work on my ball control. But still managed to bag in 5 goals. :D


Wednesday, 4 July 2007 - Division V Champion!
With a run of 13 consecutive victories, my team is the champion! Was unbeaten in the league and my striker Melvin De Lisio was the top scorer with 22 goals. Yeah!!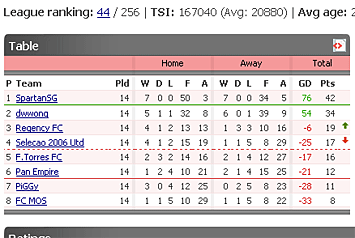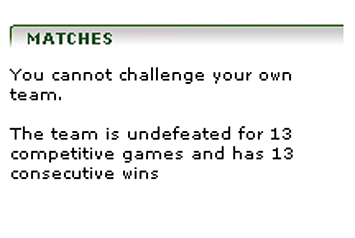 This is of course my online fantasy football game, Hattrick. Here's more statistics information about my league at Alltid Hattrick.

Next season I will be playing in Division IV and it is definitely not going to be easy! My league actually only has one human player while the rest were bots, heehee.

But nothing is going to take away the sweet taste of victory and promotion! :D


Monday, 2 July 2007 - DIY Base for Burberry Blue Label Handbag
When Auntie Lian dropped by Singapore last week from Japan, she was also tasked to bring in Lydia's Burberry Blue Label handbag order.

I really don't recall having agreed to my wife's request to buy 2 Blue Label handbags a year. But she said I did.... hmm....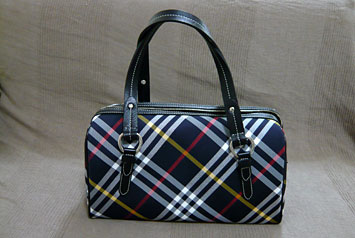 Burberry Blue Label handbag model ZA421-310-30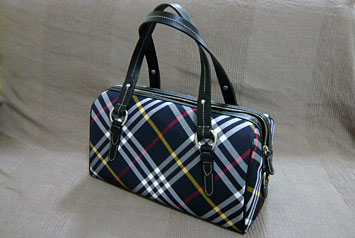 A view from another angle

She complained that the base of the handbag did not have any support, and that heavy objects would cause the handbag to lose its shape. Huh? Is there such a thing? She said that Charlene (who also have the same handbag model) had gotten a base made.

So she want me to get a base for her also. Huh?

Bo pian lor.... after work, went down to Art Friend at Bras Basah to source for a suitable material to form her precious handbag base. Must be waterproof, cannot be too hard, cannot be too soft, must look nice... in the end I couldn't decide and ask her to come down and choose the material.

We settled for a flexible plastic sheet and I bought sandpaper also to round off the edges. I'm sure my fuzzy wife wouldn't want a sharp edge rectangular base which might damage her precious bag!

After reaching home and barely seated long enough in front of my computer, my dear wife asked when can I make the base. Okie.. I got the hint!

After taking measurements of the bottom of the handbag, cutting the plastic sheet and sandpapering the corners, I'm pretty happy with the final result. :) Took me about 2 hours leh!


Sunday, 1 July 2007 - My Lego Formula 1 Poster
My dear SRC chairman, Mr Tan Soo Kee, indirectly arrowed me to design the poster for the SRC AGM event. He wanted a F1 theme. And I was only informed last Thursday about it and that they also "ideally" would like to put it up the coming Monday.

For our dear Mr Tan and for SRC, I searched for my unopened Lego Ferrari set (Ferrari F1 Fuel Stop, 8673) and began assembling the set and had the photoshoot in the night. Took me about 4 hours from assembly, research and design to final creation of the poster!

And here it is! What do you think of my Lego F1 poster? :)