Entries by Joel


Sticky: Please sign the guestbook so that we know you've been here! We'd love to hear from u!


Sunday, 29 March 2009 - Curry Rice & a Japanese DVD drama
It's been a long time since we had curry rice and so today after church, we went to the famous stall at Beo Crescent. The trick to avoid having to queue for 20-30 minutes is to arrive slightly before 2pm. Come too early and you fight with the normal lunch crowd. Come too late and you fight with late eaters like us!

We only had ko lei chai and bak pa and it was very nice and cheap!

After getting home after lunch, my wife got me hooked on her Japanese drama series. Yup... she has now expanded her range of drama series from Korean to Hong Kong and now Japanese. Our Starhub Hubstation had so many pre-recorded series scheduled everyday that I had to seek her clearance before attempting to make any ad-hoc recording. If there's a conflict in recording, she'd deftly press a couple of the red, green and blue buttons here and there on the remote controller, pull up the schedule for the next couple of days, press a few more buttons with techie-nerd-like efficiency and swiftly re-scheduled her conflict series to make way for mine. This accountant wife of mine is better than me in operating the Hubstation remote controller!

Anyway! We caught the Japanese drama series, The Negotiator (also known as Koshonin) on DVD, which her colleague had loaned to her. It's a light 8-episode (I think) series about a young lady who joined the male-dominated Police negotiation team, proofing her worth to win the team over, and defuse the hostage situations that they are called upon, and at the same time, to uncover the truth behind her dad's death.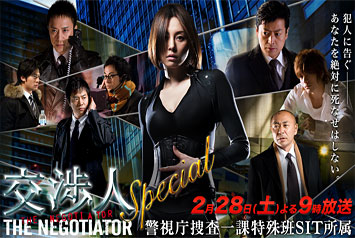 Usa Reiko, the female negotiator

I'd say it was a pretty good Japanese police series! Lotsa action, some level of suspense and a decent storyline. Best of all, it's not draggy and too unbelievable that makes my head scream in disbelief, like some Taiwanese/Hong Kong dramas.


Friday, 27 March 2009 - Day 2 of ID hunt!
Ah... it's so nice to be on leave. But there isn't time to sleep in late. Our schedule today is packed too!

First stop was to grab two packets of nasi lemak with otah at the famous Katong coffeeshop, more popular for its laksa. We then went to East Coast Park, found a shaded stone bench and had our breakfast by the beach. So refreshing and relaxing, heehee!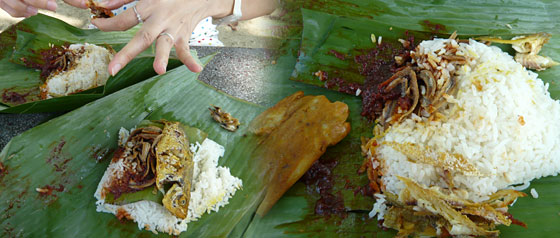 Nice to have someone "peel" the fish for you. :)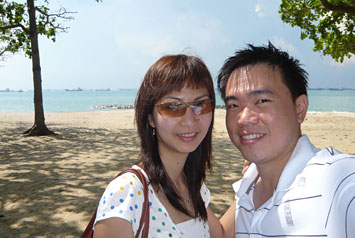 Breakfast by the beach... ahhhh

After spending about 45 minutes at the beach, the next stop was supposed to be Singapore Expo for the Lifestyle exhibition. But lo and behold, Lydia got an SMS from her office colleague about something that got her all excited: Luxury Sale at Changi Airport T3!

Hah? I thought we're on a ID hunt? Goodness! Must focus on our priorities, Piggy....

15 minutes later, we were in the car park of Terminal 3....

We headed to the Chengal Ballroom at Crowne Plaza Hotel, where a big signboard says "up to 70% off". Cool. But there was a signage that says to produce airport pass also and got us worried. Thankfully, VISA card members were allowed in also.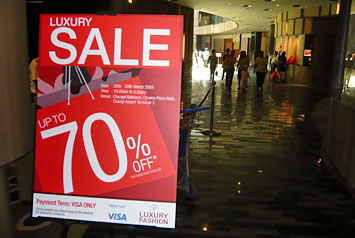 Is there an ID company here?

Wow, there was a small crowd already in the ballroom about the size of a futsal court. Mostly tai tais and young fashionable, non-need-to-work ladies. The discount was pretty real, though the original price tag was quite unreal too. In the midst of the jostle, my wife soon spied and set her sights on a white Salvatore Ferragamo bag at 60% off! After a couple of not-so-subtle hints of "I always wanted a white bag....", I finally agreed to her request to bag that bag.

Well, it would be a pity if I left the place without anything to show after more than an hour. Hugo Boss wallets were going for 60% off and after some hesitation, I got one too! :)

Okay! Must focus and backtrack to our original destination! Singapore Expo!

Eh? There's a Robinsons' Sale happening at the next Hall...

We ended up spending like 1 1/2 hours shopping in there, haha! Ok, must be productive in the correct way now. After having lunch at the Expo, we finally stepped into the Lifestyle exhibition. There were bed mattresses booths, furniture booths, ID booths as well as showflats. We spent some time talking to Simmons (bed mattresses), to a couple of IDs (collected their booklets, yeah!) and visited the showflats.
Last stop was at Sealy. For our bed mattresses, it came down to a a choice between Simmons (pocket springs rules!) or Sealy (Posturepedic). I liked pocket springs more, very cool how the movement doesn't disturb the other areas and it was comfy too. But my wife somehow fancied Sealy more and really wanted it. Well.... a man should never have an unhappy woman in bed, so she wins lor and gave in to her!

As the fair was having a special promo of a free upgrade (ie. get a queen's size bed at super single price) and the sales people also produced proof that their price was even cheaper than Robinsons' mattresses at 20% off + rebate + cash discount, we locked in our order. Got a few freebies like pillows and mattress protectors thrown in too! :)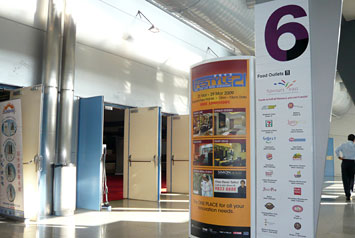 Where we bought our Sealy bed mattress for our new flat!

By the time we left Expo, it was almost 5pm, haha! Apart from the expo fair IDs, we haven't had a deep discussion with any ID company yet. So to complete our day, we headed to Chew Interior @ Changi Road. And boy, we were impressed by the sales consultant. Yep, she's not a designer. Most big IDs have sales team. She was the only one who took out her working tools: pencilbox with rulers, pencils and eraser. With her pencil and rulers, she precisely measured and calculated what could fit into our floorplan and gave a fascinating array of layout options and ideas that other IDs before did not thought of, and even we ourselves didn't think of. I must say we are indeed impress by Chew Interior!

Oh boy, we finished the session about 8pm! My dad haven't ate yet, so we picked him up and went to his favorite fishball noodles stall at Toa Payoh Food Centre at Lorong 5 Block 75. We also ordered rojak and char kuay tiao. Wah, the food here is cheap and nice! Fishball noodles at $2.50, char kuay tiao at $2, and rojak at $3!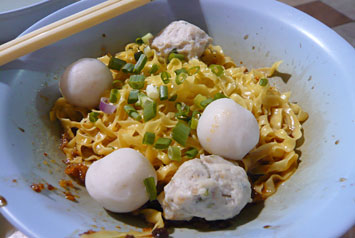 Good stuff man! Mee Pok was soft and firm, so too the balls!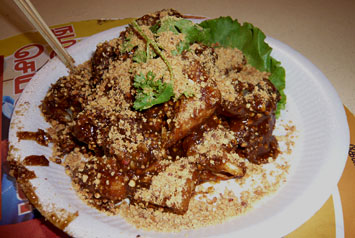 Just tau pok and you char kuay :)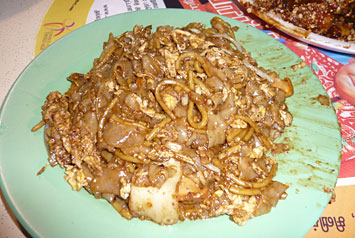 Char kuay tiao... nice and only $2!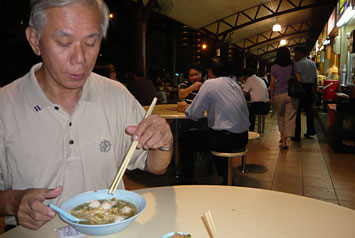 Enjoying a nice meal with good ol' dad :)

Well, today and yesterday have indeed been a very productive and fruitful day! We have learnt so much about Interior Design companies, the process, the works and got a better estimation on the costs. 2 days ago, we didn't even know a hoot about all these, and now we've gained a lot more knowledge and experience. Very satisfying and happy indeed!


Thursday, 26 March 2009 - Two Days Leave for ID hunt!
We're on two days leave, hurray!! Work was a madness these past weeks and it is really nice to have 2 days of rest.

Not that we will get much rest these 2 days, haha, cos the schedule is totally packed! We're on a reno ID (interior design) hunt!

First stop was prata breakfast at the excellent Indian mama stall behind my parent's place at MacPherson Road. The laid-back backlane simply puts one in a nice relaxing breakfast mood. My dad was at home and he joined us for breakfast too.

We chatted till we were late for our appointment with HC-Interior @ Balestier at 11am! The rain started to pour too! Rushed there and got there about 11.20am. Walked into the office, asked for the designer and... huh? He's not in? What the? The guy's partner tried to call the dude but no answer. We tried to call and no answer also. The guy told us maybe he went for coffee or something and went back to looking busy at his laptop, leaving us standing there like idiots.

What the hell? If this is the attitude of HC Interior on the first visit, I can't imagine having them as my interior designer. It's a pity cos their designs were quite appealing.

We walked out of the office and went back to our car. What a start to our ID hunt, haha. Scratch one. Next on the list is U-Home. We easily got the appointment pushed forward and headed to their office at Upper Paya Lebar Road. Hey, their office is very near my parent's home and along the route that I used to walk when going to my secondary school, Bartley Sec School! Brings back fond memories, haha!

Wow, their showroom/showflat is big! The guy who attended to us was very patient. He deduced that this was our first ID visit and patiently explained a whole lot of things to us, from the kitchen top, cabinet hinges, drawers, bathroom overlays, lightings, materials, ID firms... the whole works man. We sat down with him with the floorplan and told him what we want, our ideas, and such. He noted them down and will get back to us on the 3D design and quotation for the next visit. By the time we're done, it was like 3 hours later! Gosh! Really thankful for the patience and expertise of U-Home. Even if we do not engage them, they have left a very good impression on us!

With a hungry stomach, we headed to.... the same Indian mama stall again, haha! Hey, it's close by, and the food is really good. We ordered mee goreng and fried chicken briyani. Nice!!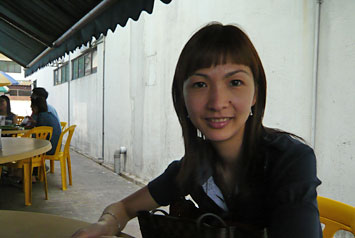 Lydia with her new hairstyle at the Indian mama stall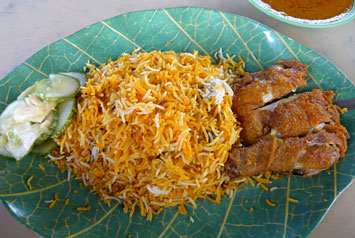 The best briyani in Singapore, really!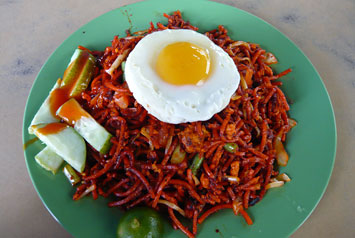 Mee goreng with egg

After a hearty meal, we went home to rest for a while as my nose was acting up also. At about 5plus, we set off again, this time to ID Creation @ East Coast Road. ID Creation is a small ID company, with 2 partners only. The guy's young and friendly, but he didn't seem to be as meticulous as U-Home in gathering our requests. No intro on ID stuffs and what to expect also, so it was really a good thing we had that 3-hour talk with U-Home prior to coming over here. Else we would be totally lost! But it would be interesting to see what a 2-man ID firm can produce compared to a big ID firm. Cost is one thing, the other thing is dealing with the interior designer himself compared to the salesman/salesgirl.

We headed over to Furniture Mall about 7plus so as to get a better gauge of the cost of furniture and to see what is available and what has to be custom-made. It was an eye-opener popping into so many shops and checking our their range of furniture, mainly sofa, dining table, coffee table, single bed and bed frames.

After 2 rounds of local (Indian) food, we die die had to go junkie on western fast food, haha! Carl's Junior, it is, at Marina Square. Their special Angus beef was good! Even added an extra patty and we shared that burger, heehee. And of course with our regular beef chilli cheese fries.

And that wraps up Day 1 of our ID hunt, cum preparation for our new flat! Very fulfilling and have gained a lot of knowledge!


Wednesday, 25 March 2009 - A Speed Walk for a Hair Cut!
Had a haircut appointment at Raffles Hotel at 7.30pm but by the time I finished my work and hit the ground lobby, it was already 7.19pm! Had to rush! I walked from UE Square to Raffles Hotel in 16 crazy minutes! My legs were really aching, boy!

My regular hairstylist took one look at my hair and said, "This style not cut by me one." Haha! She's right. Had a haircut in Padang then. Well, Padang haircut is cheaper, but though the hairstylist there is good, the style is just different and not the same standard. My spikey hair for the last few weeks had to put in great effort to be spikey, haha!

As for my wife, I thought there weren't any surprises today in her haircut. Everything looks normal from the side view. But after the hairstylist twirled her around *shock*! Well, as long as I don't see a red head one day, I think I can still recover. We did coloring as well and by the time we're done, it was almost 10pm! Last customers! The people at HeadQuarters Salon were very nice and didn't pull a black face. :P

Dinner was at the duck stall along Liang Seah Street. Very long never eat duck... nice!


Sunday, 22 March 2009 - Car Wash & Nasi Lemak
Today gotto wash the car, cos 1 month never wash already! We drove to the other multi-story car park nearby cos the timer on the water tap has double the time of a normal tap, heehee! 2 pails per 20 cents! :)

All tired from the car wash, we quickly bathed and changed and met up with Wai Seng and went to Adam Road's Food Centre for nasi lemak! Was feeling very hungry and ordered 2 chicken wings instead! After that feel very satisfied, but guilty, haha!


Saturday, 21 March 2009 - A Fantastic Boat Trip!
On a nice Saturday sunny morning, we're off to a boat trip! Yay!

After picking up Wai Seng, we picked up Adeline Soh from Clementi before going to Jurong West for breakfast at McDonalds. Desmond joined us later, together with their vendor-cum-friend Pauline. We stopped by briefly at the NTUC Fairprice 24-hours hypermart to grab some stuffs before making our way to Raffles Marina at 10am.

It's great to be back at Raffles Marina lagoon berth again. We made our way through the berths to the Tetra Pak boat, Bric-a-Brac II and soon cast off! We're "sailing" again!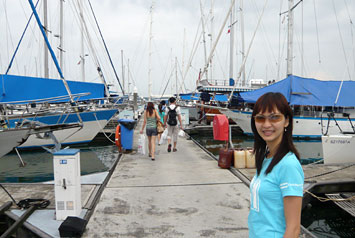 At Raffles Marina lagoon berth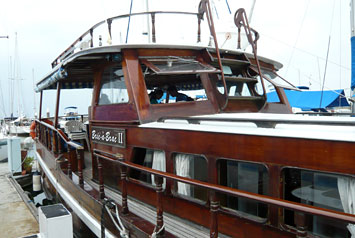 Our trusty wooden boat, Bric a Brac II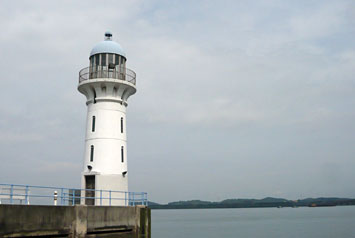 Passing the lighthouse on the way out to sea!

As we've booked the boat for the whole day, the skipper headed towards the southern part of Singapore to Pulau Hantu. Before long, we were up on the roof top of the boat for some sun and breeze!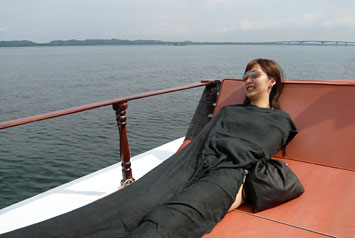 Someone didn't like the sun, heehee!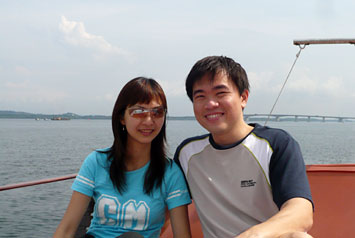 Enjoying the scenery on the boat's roof top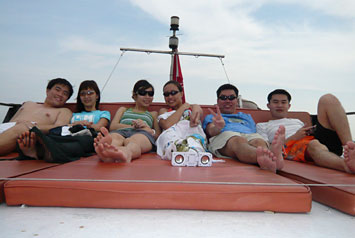 The 6 of us!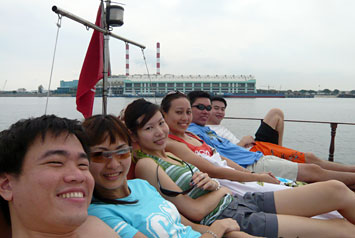 My wide-angle compact camera is very "wide angle" indeed!

The late morning sun was proving to be a bit too hot for some and we down to the lower deck after a while, where we played some dice game before stopping for a tea break.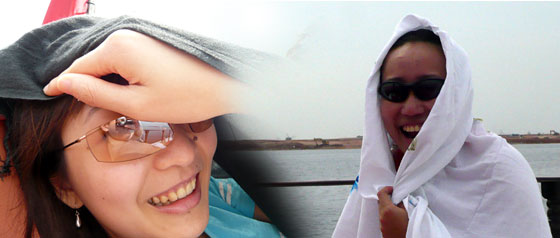 The sun-adverse girls...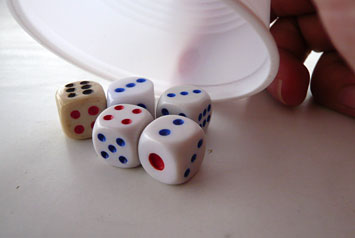 Dunno what you call this dice game...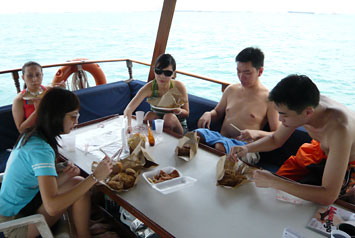 Tea time on the lower desk

After like 3 hours, we finally arrived at our destination! Desmond soon jumped into the waters and made his way to a shallow sand bank and literally stood up, like he was standing on water, heehee! It was really a sight to behold, haha! Adeline and Pauline couldn't resist and went into the water also and joined him at the sand bank.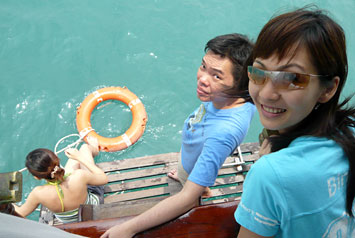 At the edge of the boat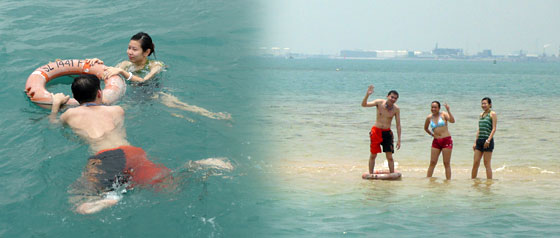 A) Desmond bringing another damsel over B) The 3 of them standing on water!

We decided to stay on board the boat, together with Wai Seng. Time for some more sun-tanning!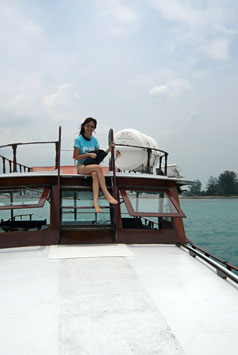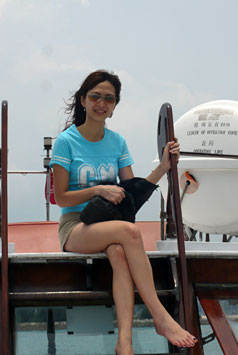 A model posing on the boat... Close up pix of the model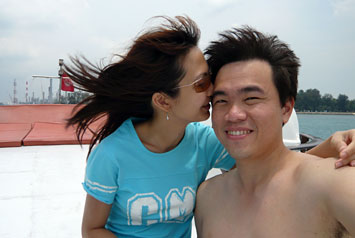 The lucky guy :P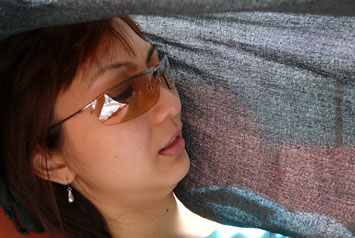 Lydia's back to hiding under the black shawl...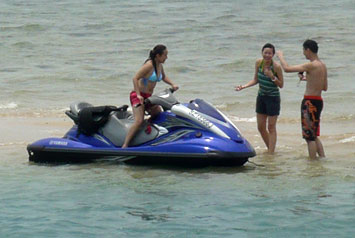 ... while the 3 out there have some fun with a visiting jetski

After about 2 hours or so frolicking under the sun, we were all getting hungry. It's time for BBQ! The skipper was very nice to help us barbeque the food. We ate until very full and there were still a good portion left! So we went back to the top deck and played cards. Loser has to eat the food, heehee!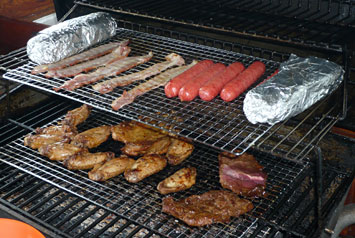 Chicken, sausages, beef, bacon, garlic bread... yummy!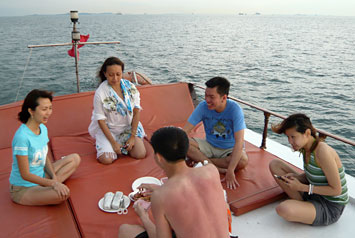 Lydia cringing upon hearing the rules of the game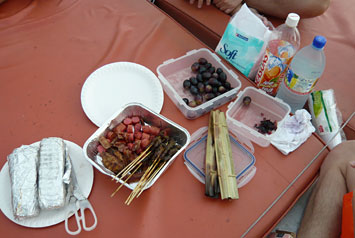 The food to be consumed by the losers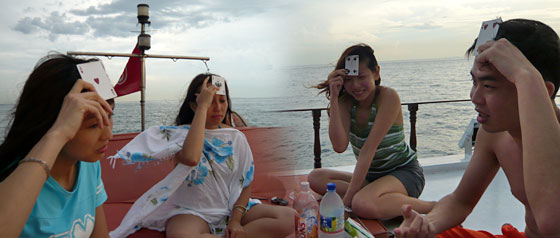 Ready... set.... card up!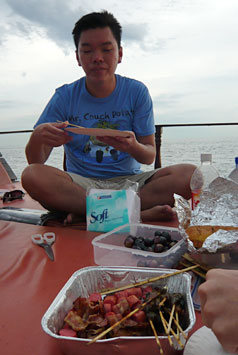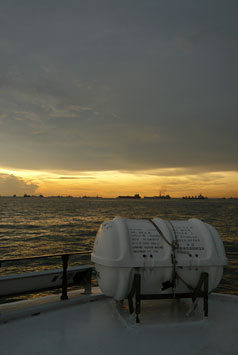 Another one bites the dust... Dust approaches...

The game finished when we cleared all the food, haha! Adeline's going to remember garlic bread for a veeeery long time, hahaha! The timing was perfect also, cos the sunset scenery was really a sight to behold! We started taking photos and wow, it's amazing what you can see out in the sea and in Singapore!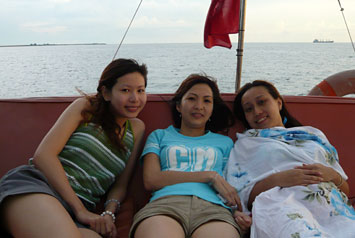 Juz the girls only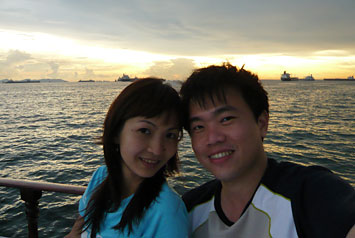 Juz Lydia & Joel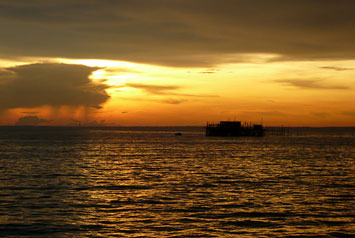 The silhouette of a kelong against the setting sun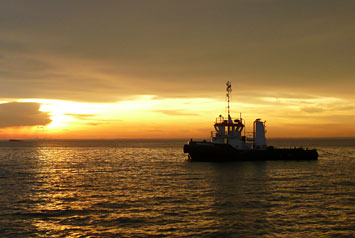 A tugboat cruises by in the sunset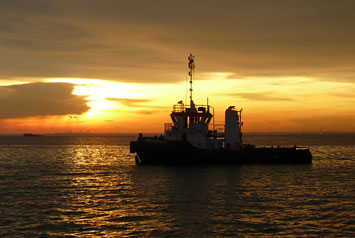 Closer shot of the tugboat as it approaches the setting sun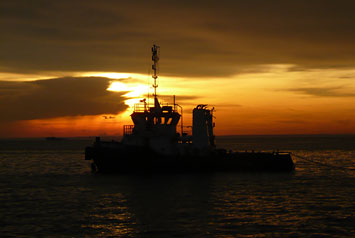 A sight like this really completes the fun boat trip

It was really beautiful capturing all the sunset scenery at sea. Unfortunately, my compact camera battery died on me after I took more than 300 shots! The next shot I had wanted to take was the tug boat tugging the 3 sand pyramids on a sand barrage! Oh man... that would have been really one breath-taking picture. Instead, I can only cherish the sight in my memory. And also that of two rainbows streaking across the mainland. Urgh!!

But oh well! This is still one boat trip to remember for ages!


Friday, 20 March 2009 - You Can Ring My Bell
It's 7.10pm and I just got into the office lift, expecting the arrival of my wife who's driving over to pick me up. Instead, I got a worried call from her. The car alarm is screeching in the background. The spare key is not working!

The unlock button did not have any response, so my wife decided to try her luck and open the door manually. Bad choice, cos the whole car park was soon filled with the screeching alarm. Thankfully she said it stopped by itself after a while, but the car door cannot be locked. I hurried down by cab which cost me $8, but I'm glad she's (and my car too) okay, just a little shaken.

We went down to Orchard after that for dinner at Pepper Lunch and did some shopping at Espirit and Zara. Got another shirt to add to my office wear. :)


Wednesday, 18 March 2009 - Pay More for Fishy Fish
Having a craving for fish and chips, we decided to go to Fishermen's Wharf @ New Bridge Road as Lydia wanted to do some shopping at The Central. The dory fish was going at a $7.50 special and I was planning to order 2 dory fish when we caught sight of the chalkboard promoting the seabass at $10.50.

Seabass sounds cooler ya? So we ordered 1 dory and 1 seabass instead. When the food arrived, the dory fish was huge! Well, the batter was huge, at least, but the portion was pretty big. The fish meat.... well, I thought it tasted better in my earlier trips. Today, it was like breaking up and disintegrating at the jab of the fork. Or maybe it was so fresh that it disintegrate...

But that was the highlight. The seabass, on the other hand.... it looks solid while coated in batter and came in a chunky cutting. But my goodness, it is damn fishy! My fishy tolerance is pretty low one, so it was really overwhelming man. My wife was really nice to eat the seabass while I ate the dory fish. But as per her dining custom, she pass me 1/2 a portion of her food, so I still get half a seabass. The only way to decently mask the smell was to dip it in generous portion of tartar sauce and chilli!

We actually asked the waiter if it was meant to be so fishy and he said yes. O... kay....


Saturday, 14 March 2009 - Celebrating Dad's Birthday
The plan was to have a dinner picnic at East Coast Park with my parents and J&F, but the erratic rainy weather spoiled the plans. So we went to my parent's place instead and had BBQ and food at the yard outside. My mum prepared most of the the food. We had bee hoon, ngoh hiang, cuttlefish balls, curry chicken, bread... and barbequed prawns, fish and slabs of beef steaks that my mum's colleague brought from Australia. Very filling!

J&F bought a NYDC chocolate cake and we got Dad to blow out the single candle. Too many candles may tire him out, heehee!

---------------------------------------

The evening went very well, but unfortunately, the same can't be said about tonite's Premier League games. Manchester United crashed 1-4 at home against Liverpool, and having taken the lead somemore! Apart from Liverpool's freekick goal, the rest were bad defensive blunders which I would be ashamed of if they were committed by me. Vidic had the worst game ever probably in his entire career.

Hmm, I wonder what's the atmosphere like in Gabriel and Valentine's home? One's a Liverpool supporter while the other is a ManU supporter!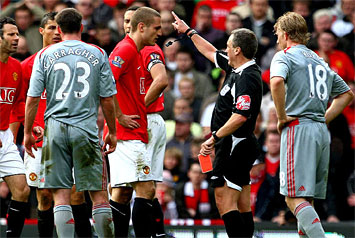 Vidic: Failed to clear & Torres scored, got sent off & Liverpool scored from the freekick

To compound the miserable night, Blackburn lost 0-4 away to Arsenal. The good news though is that the other clubs fighting relegation did not fare well either and so Blackburn remains free from the relegation zone. The relegation fight is proving to be a very tightly-fought contest this season with so few points separating the bottom half of the league.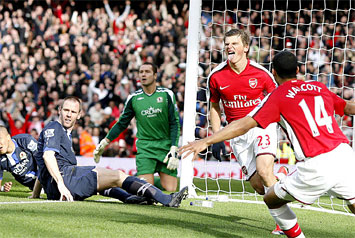 Blackburn's on their backside again this season...


Monday, 9 March 2009 - Computer Games causes Violent Behaviour?!?!
What?!?! What nonsense is this?? The Straits Times reported that playing violent video games can cause people to think and act more aggressively!

I'm angry! I play a lot of violent computer games and I enjoy cutting down monsters and super mutants, but no way I'm violent or aggressive!! You hear me??? *Grrrr!!*

Oh! I'm so mad!! Now I have to go unwind and go kill more monsters in Fallout3 to calm myself down. The nerve of these people!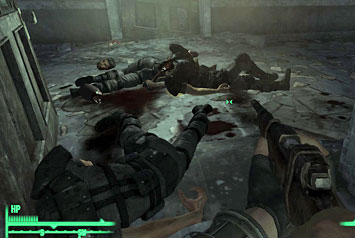 Laying waste to the scums from Talon Company (Fallout3). Die!!!

ps: You do get my drift, don't you? I would hate to think that only gamers have a sense of humour!


Sunday, 8 March 2009 - Weishun's Baby is 1 Year Old!
Wow, Sophie is one year old already? So fast! It seems not too long ago when Kylie gave birth and my amazing JC friend cum Uni classmate cum hostel roommate became a daddy!

One year down the road, he still looks the same, and still so skinny! I thought all married men will put on weight? He's the exception, haha!!

The function room at their condo at Far Horizon Gardens was very cosy, and with the helium-filled balloons filling the ceiling, it was really like entering a kid's party, heehee! The food was really excellent too. But most important of all, we had a good time chatting and catching up with this old pal of mine and his wife. It's a pity Brian "I'm on the way" Leong arrived late... just 3 1/2 hours late, and we didn't get to catch up with him.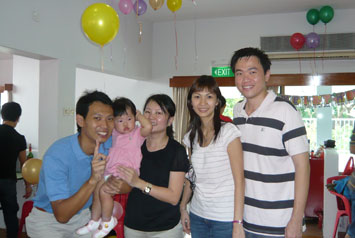 Weishun, Sophie, Kylie, Lydia, Joel


Saturday, 7 March 2009 - 6 Married Years with Little Piggy
Today's our ROM anniversary! That's not to be confused with the customary wedding anniversary, which is on 5 Nov, heehee!

The above two dates are easy to remember. The year.... erm, it gets a little tricky. :P Which is why it is a good thing to have the date engraved on the wedding ring! Whenever I forget, I'll just take off my ring and check the date engraved inside: 7.3.03. :D

After a mad work week where I slept at 2-3am for 4 consecutive days rushing reports, we really sleep-in today and woke up past 12 noon! It's nice to recharge all the batteries again!

We decided to do away with any present exchange and instead went for a yummy dinner at our favorite restaurant, Gyu Kaku @ Chijmes!

Starters:
Caesar salad
Ishiyaki bibimba

Meats:
Karubi (short rib)
Grilled shabu-shabu
US kurobuta collar (pork)
P-toro (pork)
Lamb neck fillet
Wagyu karubi (oyster blade)
Wagyu Nakaochi (intercostals cube cut)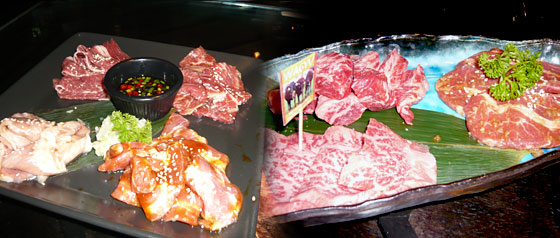 Fresh meat on the table: pork, lamb, beef and wagyu beef!

We skipped the set menu and headed straight to selecting different choices of meat that we did not get to try onour previous trip. This time round, we were wiser and started off with the normal meat before finishing with the wagyu beef, heehee! Save the best for last! Oh boy, tThe Wagyu karubi oyster blade simply melts in the mouth!! Yummy!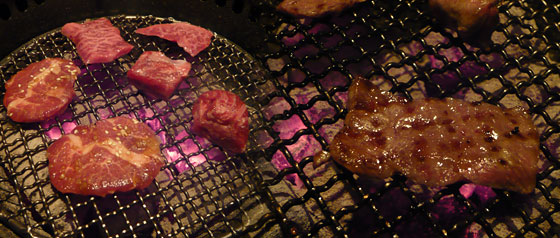 There's nothing better than charcoal-grilled meat....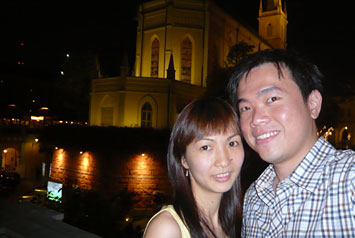 Photo outside the chapel @ Chijmes


Monday, 2 March 2009 - NTU Stabbing Incident
Oh my goodness.

A final-year NTU EEE student stabbed his project supervisor before slitting his wrists and fatally jumped off the building. It's quite shocking that such a thing will happen in Singapore. Even worse, from the same University that I came from.

http://www.channelnewsasia.com/stories/singaporelocalnews/view/412478/1/.html

What would have pushed the 21 yr-old final-year student to do something so crazy and throw his future and life away, when it's only a matter of months before he will graduate? He must have been totally driven off the edge.

To all the students out there, please take it easy. Grades isn't everything. Life is precious. The most important thing is to just do your best, and let God take care of the rest. Why, even a BDD "A" level student like me could get into NTU Computer Engineering. And with a string of Es and Fs and lecturers who loved me so much that they made me stay back another year, I thoroughly enjoyed my uni & hostel life, before grudgingly graduating and landed my first job within a month of graduation.


Sunday, 22 February 2009 - Lunchtime Madness @ Ikea
You'd think that Ikea is a popular Swedish furniture megamall with its own restaurant. But today, I start to doubt if it was the other way round!

The lunch crowd was huge! We barely found counter seats around a kid's playground. The queue started from like 3/4 the length of the restaurant! I must have queued for like 20-30 minutes to get my free drinks, the Swedish meatballs and fried chicken wings.

With business as good as this, one really wonders if there's an economy recession or what?


Saturday, 21 February 2009 - Loyal Employee
Oh no! Few days ago, Sotong told me that Bricksworld at Novena Square is closing! I like that shop.... used to go there after church (at the old premises). Sotong also said there's a 20% closing down sale. Must go check it out today!

But first, there's Kenzie's birthday party to attend first in the evening. The little girl turned 3 this year and yesterday, we went down to Toys R' Us and bought a nice big present for her. Hope she likes it! We had a good time catching up with Veron also and met up with the rest of the relatives.

We dropped by Novena Square (Velocity) after the party to check out Bricksworld as well as to do some grocery shopping. Wow, this place is crowded on a Saturday night! Never seen this place so crowded before!

After spending some time examing the truly storewide 20% discounted items, it would be a crime to leave without buying. Erm... gotto help them clear stocks, and most of all, to show my support to my company who's a major sponsor of the Ferrari F1 team!

The Ferrari F1 1:9 is now part of my Lego collection, woohoo!!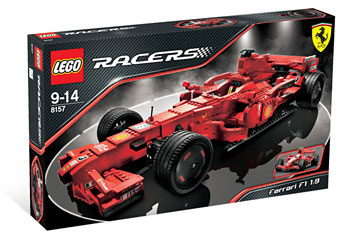 The 1:9 scale Ferrari F1 Lego model (Item: 8157)

Dear... I'm just showing my loyalty support to Shell okie? :D


Saturday, 14 February 2009 - Happy Valentine's Day!
Happy Valentine's Day!

You know what's the best thing about being married?
1. You no longer need to worry about whether you're going to be dateless on this ill-fated day, or practicise in front of the mirror what you're going to say or do when you're on the date with her.
2. You no longer need to buy flowers and carry that bouquet of stalks as inconspiciously as possible while trying to appear as cool as possible.

But some things never change even after you're married, and I still have to make some plans for the day. For Valentine's Day 2009, it's the home edition special! That's right, we're gonna celebrate at home with a nice dinner.

In the evening, we went to Orchard for a walk walk to experience the Valentine's Day atmosphere and the crowd. I like watching the crowd during Valentine's Day; to see couples together, who's got flowers, which guy carrying flowers, which girl's got a big teddy bear, the long queue outside restaurants.... basically, it makes me smile to see so many people with love or positive feelings in their mind.

We got our groceries shopping done and headed home to prepare our dinner. The menu for the day is:

Swiss cheese fondue with assorted dippings:
- virginia ham
- green peppers & mushrooms
- crusted bread
- potatoes
- green apples
- green grapes

+ a bottle of Monkey Bay's dessert wine
+ a slice of Canele's triple chocolate cheesecake
+ chocolate truffles from Awfully Chocolate


It took us a little bit of time to prepare the assorted dippings and the pre-mixed cheese fondue but the end result was indeed very satisfying and quite a colorful sight! We also got to put to good use our fondue set that was purchased in Switzerland during our honeymoon in 2005. :)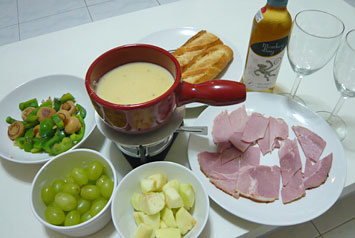 Our Valentine's Day cheese fondue dinner!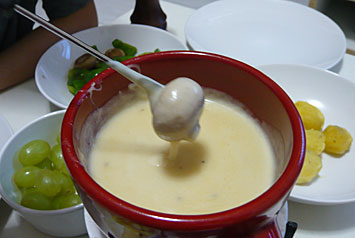 The button mushroom dipping into the yummy cheese fondue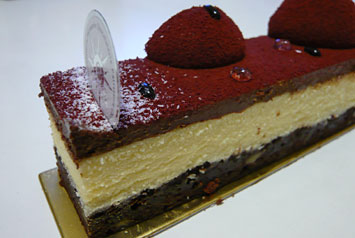 Canele's triple chocolate cheesecake; I like it, Lydia doesn't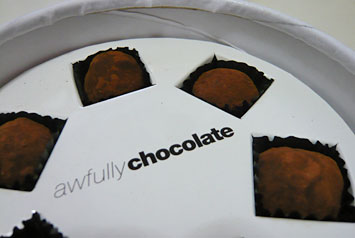 Chocolate truffles from Awfully Chocolate; she likes it, but not me

The cheese fondue was very good with a tinge of white wine flavouring. The green peppers were a bit too strong for me, but Lydia likes it very much. The rest of the dips went very well with the cheese fondue and we cleaned out the whole pot! The dessert wine adds a a nice romantic touch to the dinner, though I found the wine a little too sweet. Plus it makes my face blush!

For the dessert, I very much liked the triple chocolate cheesecake, but not Lydia. When it comes to cheesecakes, we make a very good cheesecake benchmark index. If I like it, it means the cheesecake is mild and pleasant to the taste. If Lydia likes it, it means it is strong and overwhelming, haha!

After having the delicious cheesecake from Canele and a heavy dinner, the chocolate truffles was well, alrite.

But all in all, it was a very enjoyable and interesting Valentine's Day dinner! No lobster again for you this year, dear!

Oh! And we caught a midnight show at Tiong Bahru Plaza as well. New in Town, a light, sweet movie about a girl in a new place, finding love amidst all the uncertainty.


Thursday, 12 February 2009 - 11000km Clocked
My 1 yr 4 mths weekend Lancer car finally went for its 11000km check today. Being a weekend car, we had to wake up really early in the morning and have the car driven into Mitsubishi service centre by 7am. Oh man, having to wake up at 6am reminds me of my old days in Tetra Pak, haha!

After dropping the car off, we took a bus to Liang Court where we had a nice breakfast at McDonalds', having a morning chit chat over scrambled eggs, hash brown, tea and muffin. Once in a while, I guess it's nice to wake up early and start the day early. Makes you feel like you've got more time.

I picked up the car later after 7pm and yay, they gave the car a free car wash too! Well, the standard is not up to my washing standard, but I ain't gonna complain too much! The engine's mineral oil was changed to Shell's synthetic oil, supposedly good for the car. There were also some filters replacement and tyres rotation as well. I ain't no car mechanic, so whatever they say, I have to take their word for it.

Makes me wonder, if I'm a computer newbie sending my computer for repairs/servicing, would I also be just as clueless as when they say, "Bro, we've replaced your PATA 80GB harddisk with a SATA2 1TB harddisk due to bad sectors, upgraded your RAM to a 4GB DDR2 800MHz for better performance, and replaced your PSU as its power output is degrading. There will be an additional cost for the SATA cable and oh, a service fee of $10 for testing that your motherboard's CMOS lithium battery is in good order."


Sunday, 8 February 2009 - Lost in the World of Fallout 3
My apologies for the lack of updates recently.

One reason could be that my life is utterly boring and nothing interesting ever happen during the weekdays.

The other reason could be that I'm totally absorbed into the world of Fallout3!

In the post apocalypse world, one is given the absolute freedom to roam the huge, vast, post-nuclear terrain, affectionally known as the wasteland. Every action you make has an influence on the future and the characters around you. Discover new locations, take on new quests, play in 1st person perspective or 3rd-person perspective. Choose to be good and help the weak, or be evil and kill the helpless. This is one deeply immensive interactive and exploration game!

With a rating of 9.0 on Gamespot, you know this is one kick-ass game!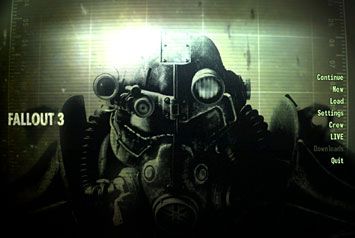 The heavily-armored Brotherhood of Steel soldier in the background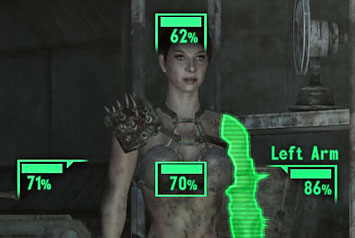 There's no time to get cosy with the bikini-clad female Raider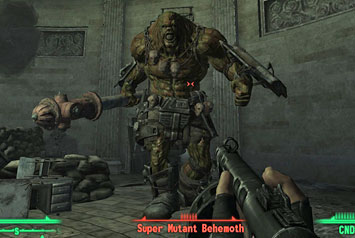 Yikes! A gargantuan Super Mutant Behemoth!!

It's a good thing my wife has her Hong Kong and Korean drama serials to keep her occupied. :P


Saturday, 7 February 2009 - Quality Time with my Car
Today, I spent like a total of 3 hours or so driving on the road in the car!

Firstly was a trip to City Harvest to attend my office colleague's (Leslie) wedding. And after that, my dear wife asked me to pick her up at her friend's condo at..... *drum roll...* .....Pasir Ris! Goodness!! That's one end of Singapore to the other!

From central to the West and then to the East, we then went south to the central area to Vivocity to pick up a birthday cake for Ah Jack, our dear Sotong's hubby. Since we're on the road already, we decided to just head up north to Ang Mo Kio to deliver the cake before coming back down again and back home!

Wow, when we finally got back to our homeground car park and I stepped out of the car, my legs really needed a stretch! In a matter of hours, I've covered the AYE, PIE, BKE, TPE, ECP and CTE!!


Sunday, 1 February 2009 - Lunch with JC Friends
The last time we met up was like 2 CNYs ago and wow, a lot has changed for my JC friends! Christina just gave birth to a baby girl (Faith) one month ago, and her little boy, Christian is so big already. Victor really pumped up his mass with gym workout and from his Facebook photos, he certainly is enjoying himself. It's a pity Cindy couldn't join us though.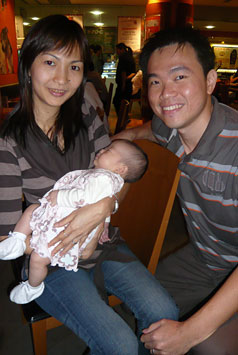 Chris & Pat with their adorable kids The part-time babysitters

We had a really good time chit chatting through the lunch and catching up with each other. Christian's a really adorable and intelligent boy and the young parents certainly had a big part to play, haha! Well, we should catch up again, instead of just annually!



Friends since 1993/4!


Saturday, 31 January 2009 - Lo Hei!
This year's CNY2009 lo hei dinner is at.... Jurong Country Club! My goodness... so far!!

Since we're heading to the "Far West", we decided to drop by Jurong Point for a lookie. Heard that there has been lots of changes and new extensions since our NTU days in 2001. Wow, the car park is certainly much bigger. And the new extension, JP2, is pretty cool! Funnily, the design is an exact replicate of JP1... I suppose it is done on purpose huh.

We met up with the rest of the relatives at Fu Lin Men Chinese restaurant @ Jurong Country Club. The food's so so and at $538++ per table, I think it is rather expensive. Well, what to do, it's a once a year affair and Chinese restaurants know that too.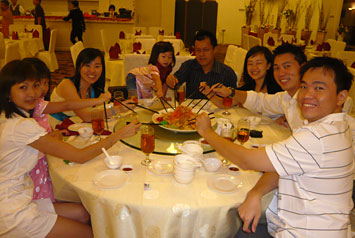 The married couples table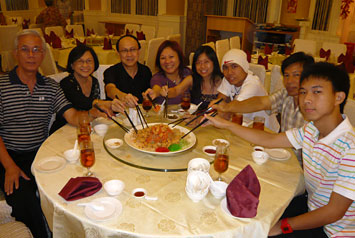 Parents & cousins

Veron's parents coincidentally are regulars at the country club and opened bottles of wine for our tables and also invited us for a karaoke session later. To my surprise, the whole lot of us actually headed down to the karaoke room after dinner!

I don't do karaoke one leh! I rather go home play Fallout3, haha!! But cannot be a spoilsport, so followed along also and watch the rest sing. My dad chose a couple of Beatles songs and made me and J sing with him too, haha!

Well, though I don't really fancy karaoke, it was still quite fun doing it in a large group. For one thing, it certainly helps to improve and practice my chinese, heehee!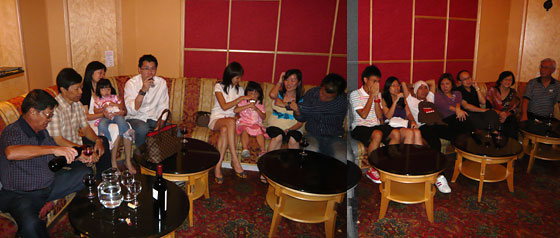 Karaoke session with relatives!



White theme it is, for today


Friday, 30 January 2009 - A Moment of LV Madness
"Let's go to the LV shop for a look to check out the price", she said. Ok, look look only...

We went to the LV shop at DFS @ Orchard after work as it is not too crowded there and they probably are still open at 9pm.

The little princess had a fun time looking through the range of LV bags and before long, she set her eyes on a small little torpedo-looking bag, called the Papillon 26. With a price tag of $1070.

And then, she said that I owed her a Kate Spade bag, last year's Christmas present, and a gift exchange for the Lego Town Plan that she bought me a week or so ago... all these add up together to exchange for the Papillon 26. ??!!?!?

Sigh. There are some things that money can't buy. For everything else, there's nothing like making your wife delightfully happy.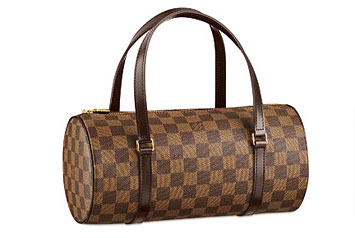 Louis Vuitton Papillon 26 (Product ID: N51304)

Hey, this little damier bag is about the same price as the high-tech computer desktop that we just got for my wife's sister! Where's the logic eh?


Tuesday, 27 January 2009 - Farewell Padang, Hello Singapore (Day 4: Padang)
A mere 4D/3N in Padang and this morning, we're on the plane back to Singapore already! With this trip coinciding with Chinese New Year and the short duration, I missed out on a lot of food! I miss all my soto food leh... heehee. :P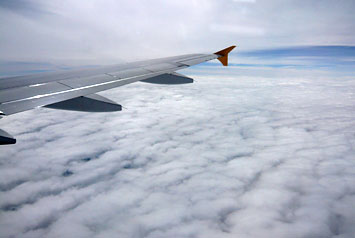 On the 50min TigerAirways flight back to Singapore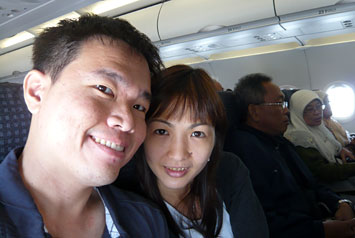 No pimple breakout surprisingly, just a silly hairstyle. :P

----------------------------------------

And we came back in time for a CNY dinner at Uncle Nick's place too! As per my mum's side tradition, the day time is usually spent visiting each other and dinner is always at Uncle Nick's place.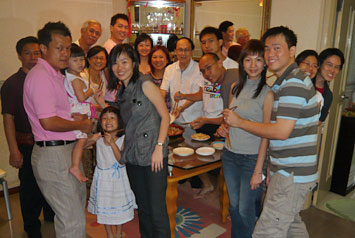 Everyone's ready to do the yu sheng!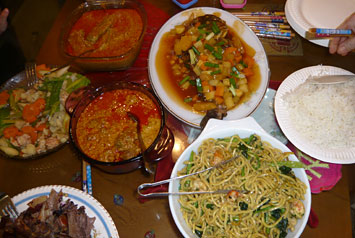 The traditional yellow fat noodle with curry... love it!



And Auntie Helen's kueh pati is our annual CNY favorite too!


Monday, 26 January 2009 - Happy Niu Year! (Day 3: Padang)
Happy Chinese New Year! Or in this year of the Ox, Happy Niu Year!!

As per Lydia's family tradition here, the whole family went over to the parent's place early in the morning to wish "gongxi gongxi" to the parents. When the formality is done, ang paos are handed out and everyone gets one, even the married ones (from the parents)!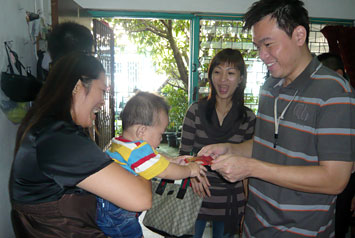 This baby is naturally gifted in reaching out for ang paos!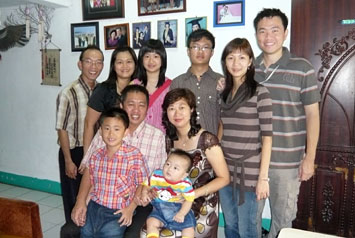 Lydia's siblings, brother-in-laws and nieces & nephews

We went on a house visit before playing games with the niece and newphews and resting at home. Dinner was ta-paoed and we had it at home.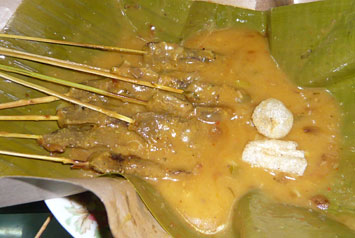 Yummy satay, Padang style

All too soon, it's our last night in Padang! This sure is a fast trip!


Sunday, 25 January 2009 - Rest & Relax (Day 2: Padang)
After breakfast, Esther took us to another hair salon where we had a really fantastic hair spa. The lady who attended to me had really strong arms and oooh, it just hits all the right spots on my head, my neck, and even includes the arms and the back especially. My back and hands were aching from Friday's spring cleaning exertions.

Lunch was.... curry fish head! My all-star favorite!!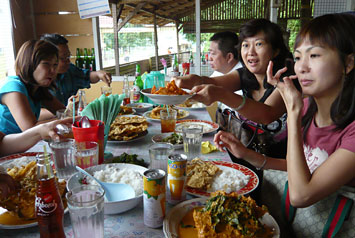 A cluttered table means a hearty meal!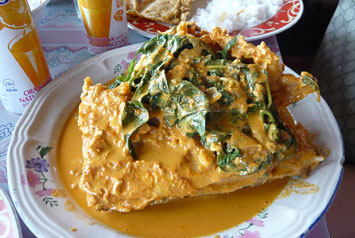 Fish head with tapioca leaves... simply heavenly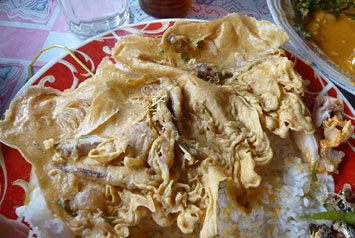 Throw in the rakik (ie. keropok), there truly isn't anything better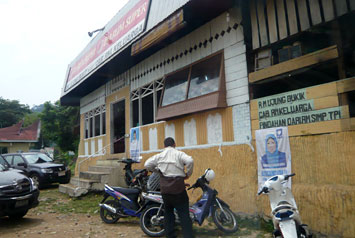 And it ain't at some fancy restaurant. No frills good food!

In the evening, we all gathered for the reunion dinner at home. We brought over japanese mushrooms, cuttlefish balls and fishballs for the steamboat.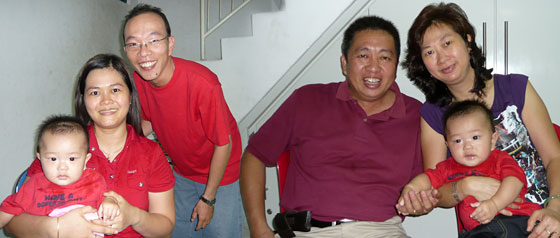 Everybody wants a photo with the baby!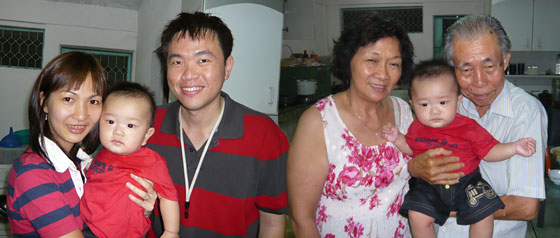 Fun to play with, when there's no strings attached, heehee


Saturday, 24 January 2009 - Day 1 in Padang!
We're in Padang! By God's grace, we managed to bring in a 22" LCD and a whole computer desktop without running into any issues with the custom officers! What a relief!!

I'll worry later about whether the delicate components survived the trip in the aircraft cargo hold, but for now, it's lunch time, nasi padang style! Miss the food here!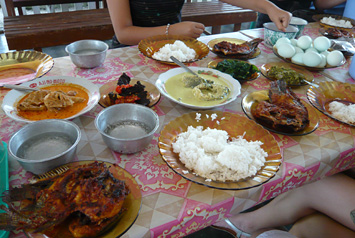 Lydia & I ate 4 fish in a single seating! Will never happen in Singapore!

After lunch, the lack of sleep was really killing me and I dozed off in the front passenger seat, waking up to find that we're at a mangosteen supplier shop. The hour long journey back again put me in slumber. :P

After getting home, Lydia's brother-in-law took me to the foot massage palour nearby. It was really nice and relaxing, though I think that their standard has dropped.

Next stop was for Es Durian, together with the family! Esther's baby is really chubby and adorable! You can't imagine that he is only 7 months!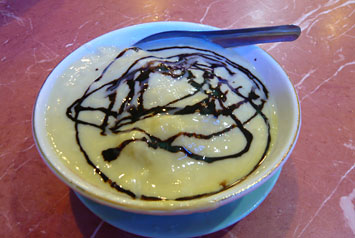 Es Durian, a must-eat when in Padang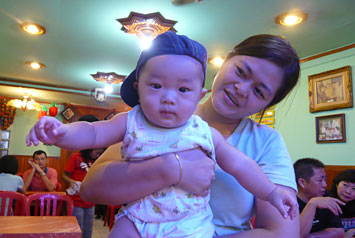 Esther & Calvin. Really chubby and cute!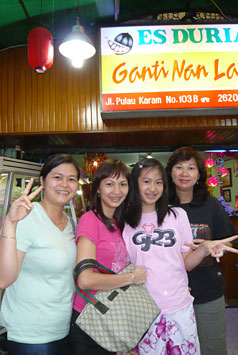 Lydia with 2 mothers & her niece

Lydia's niece, Josephine, really liked her new hairstyle and wanted the same hairstyle, and so we went to the hairsalon. I decided to get a haircut here also since it is cheaper. Well... the style certainly turned out different...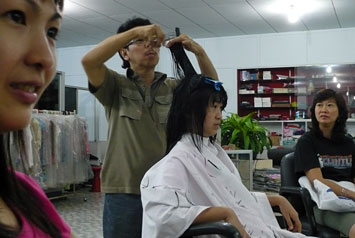 Josephine getting her new haircut

In the evening, I checked on the computer and thankfully, it powered up fine. Yeah! The LCD gave us a scare when it couldn't power on. Turns out the power cable wasn't fully inserted, hehheh.


Friday, 23 January 2009 - Maid for a Day
With an early morning flight to Padang tomorrow morning, I took leave today for the annual spring cleaning of the home. How much work can it be to clean a 3-room flat huh?

Oh man, how wrong was I! From the moment I woke up at 9plus, I spent the whole day cleaning up the place! The shelves, the furnitures, the 2 fans which were so caked with dust that it took me an hour to clean both, the outside window panels, especially the ones under the corridor light, must have literally wiped off like a hundred dead bugs segments... Cleaned the car all by myself too. And after picking up Lydia for dinner, continued wiping away those pesky lizard droppings that lined the edge of the walls and finally vacumned and mopped the whole place.

At the end of the day, my hands were totally aching and sore! By the time we're finished packing for the trip, we slept at 3.30am! Totally dazed and tired!!


Thursday, 22 January 2009 - A Core2Quad DIY machine!
Lydia's sister and brother-in-law wanted to get a DIY machine from me, from Singapore, instead of from their local computer shop! Goodness... it's been ages since I assembled a PC and have lost touch with the latest info on computer parts. But after reading up Hardwarezone and its forums, doing my own research from the vendors' website and price and shops comparision, I came up with a list and costs of the items. And they wanted it! Even factoring the cost of transporting the heavy casing, insurance and lack of warranty, they trust my selection so much. :P

So after work, I rushed down to Sim Lim Square and popped into VideoPro to get the items:

Intel Core2Quad Q9550 (2.83GHz) CPU
Asus P5Q P45 chipset motherboard
Kingston 4GB (2x 2GB) DDR2 800MHz RAM
Western Digital Black Cavier 500GB SATA2 harddisk
XFX nVidia 9500GT 512MB PCIe graphics card
Asus DRW-22B1ST 22x SATA DVD writer
CoolerMaster 460W PSU
CoolerMaster Elite 335 casing

Total cost: $1067

Very value for money, I'd say, for a high-end Core2Quad machine! And VideoPro saved me the trouble of assembling the machine by assembling it for me, for free! Of course, there's nothing like the thrill of assembling it myself, but time is not a luxury I have as we'd be flying back to Padang very soon!

Oh, and I help them buy a Samsung 22" LCD (21.5" actually, model no: 2233SW) too, at only $248. LCD monitors sure are cheap nowadays!


Wednesday, 21 January 2009 - Once in a Blue Moon
3 days ago, my wife sprung a surprise of the year: she bought me a big Lego set outta the blue! Our chit chat with Soo Kee last Saturday must have brought out some sentimental feelings out of her from our early courtship days, heehee! :P

Unfortunately, she bought me the Republic Cruiser, which I already have! I'm sure I already told her before that I had bought it from Toy's R Us, when there was a 30% sale. :P

So today, we went down to BricksWorld @ Marina Square to exchange it for something else. It was quite fun shopping around for $190 worth of Lego present. Only problem is, the items that I really want are not available. In the end, I got the Town Plan, a 50th anniversary special edition set which I had planned to get in the near future.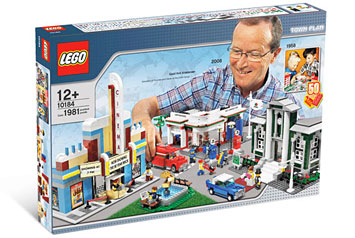 Lego Town Plan (Item no: 10184)

Thanks dear!


Sunday, 18 January 2009 - Cinderella @ Esplanade Theatre
At my princess wife's request, we are off to the Esplanade Theatre to catch Cinderella; the girlie cutie fairy tale show. Well, once in a while, I don't mind going to the theatre to catch a theatre performance. Makes me feel more "arty-inclined", haha!

We were seated at the stall seats, so that my sweet wife can have a wonderful experience at the theatre. The performance was not too bad. It's a slight twist to the original Cinderella story. It was mesmerizing to see the actors in their colorful and fanciful costumes. At the end of the performance, my wife bought a cute little tee shirt with an imprint of the glass slipper in front. A fairy tale night I hope it was for her. :)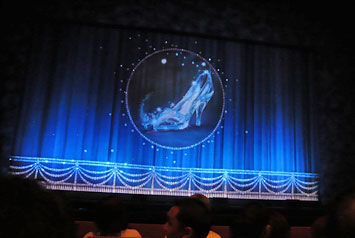 Awaiting the " glass slipper" curtains to rise


Saturday, 17 January 2009 - Tricked by My Wife
It was a perfect day and a perfect of perfect days for football. My futsal gears were packed and all ready for the 4pm game with my friends at East Coast Park. While I'm playing, my wife will visit her friend, Adeline Soh, who had just given birth and living in Joo Chiat area. Isn't that a lovely win-win situation...

The damsel soon remarked that Joo Chiat's roads were too complicated for her to drive on her own if she were to drop me off first at ECP. And she didn't want me to drop her off and intrude on the newly parents for 2 hours, no mdm...

Just a quick stop-over and we'll be on our way, she said. Ok. 15 minutes ought to be enough I thought. I pulled on my football jersey and a bermudas over my football shorts and we headed out at 3.30pm. We arrived at Sunshine Regency about 3.50pm and there was Adeline and Adrian with their cute little baby girl named.... gee, I forgot what's her name. Half my mind were thinking of my friends playing futsal now. :P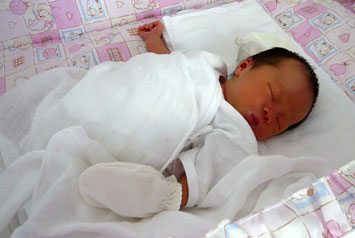 Adeline & Adrian's baby girl

I came to be very fascinated by the big, white clock in their living room and watch the time ticked by, with every second ebbing away my futsal playtime. Bumping my wife's knees with my knees only resulted in her asking to see more baby's photos!

Finally, she said that we better get going. It was 4.50pm. I thought about rushing down and playing for the last 1 hour. But lately our group has been getting larger and I'd at most get 2 play time on the pitch. At an average cost-sharing of $10 for the session, that would be $5 each time my futsal shoes gets on the pitch! What's more, we're picking up Soo Kee from the airport at 7.30pm.

Considering the limited play time, the cost, the inconvenience of washing up and then rushing to pick Soo Kee.... Forget it, I said. I'm not playing today. I can only blame myself for being tricked by my wife!

We ended up exploring Tanjong Katong area for a while and buying some stuffs before rushing home and then heading to the airport to pick Soo Kee. He smsed me this morning to say he wanted to eat the famous Geylang beef hor fun, and if I can pick him up, heehee. Sure, what are friends for... :)

On our way to Geylang Lorong 9 where the beef hor fun stall is, we (Soo Kee showed the way!) took a shortcut through Geylang Lorong 8 and oh my, there were lots of young chinese "girls" lining up along the narrow street in broad moonlight. It's only 8plus and they're out already and there's lots of guys wandering around also. Soo Kee... how you know these small roads so well....

We found a place to park near Lor 9, ordered the beef kway teow (hor fun), coffee pork ribs and toufu, and chit chat till 10pm or so before giving him a ride home to Jurong! Almost like going to Tuas, haha!



Sunday, 11 January 2009 - Early Reunion Dinner
We had an early Chinese New Year "reunion" dinner today, as Jason had to go for a leg operation next week, and we will also be in Padang this year for CNY.

My dad suggested this steamboat place in Golden Mile Tower, called Golden Mile Thien Kee Steamboat Restaurant. First time I'm in this building, haha! Oh my goodness, the car park.... the car park was one hell of an adventure! The passage way was narrow, the layout was like a labyrinth, and there are pillars everywhere in the middle of nowhere! Lydia was telling me to concentrate as I was laughing with amusement, heehee!

The restaurant was at the basement and wow, it is huge and packed! So many people down here! It's a pity the steamboat isn't a buffet. The food's so so. I'm so used to eating steamboat at my parent's home, where there's a nice abundance of quality food. But the satay was good. Better than Lau Pa Sat!



Jason & Fenny and my parents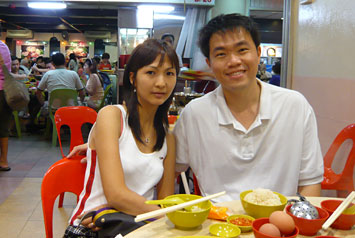 Just the two of us


Saturday, 10 January 2009 - An Eventful Saturday
Poor Lydia. She's gotto do OT on a Saturday. We went for breakfast at Tiong Bahru Food Centre first before she went to work while I went home and played Command & Conquer: Red Alert 3! Some missions are easy, especially with the co-op play with an AI. But some missions are very tough and always on the defensive..

I have to pull myself off the seat to quickly bathe, pack and head to Sports Planet @ East Coast Park for the 3pm futsal session with my friends! Well, it turned out to be a disappointing session as my team lost all games, except for 2 wins. 2 sessions without a goal now, for me. Maybe cos I was playing in a more defensive position. Oh well.

After rushing home and bathing again, I quickly head out to pick Lydia from the office before coming home again (for her to bathe) and going out again to Gillman Village, where we finally have the chance to meet George and Corrine for dinner!

Dinner's at Little Bali Seafood Restaurant at Gillman Village, a remote cluster of restaurants off Alexandra Road. The laid-back atmosphere is quite nice and surprisingly, it was quite crowded. We had pumpkin prawns, braised pork, salted crab and vege. The prawns were very nice! You can be sure they're really good, cos I ain't no prawn lover and I still liked it! The braised pork was a heavenly delight, the meat (and fat) simply dissolve in your mouth. The crab was very unique and tasty with its batter, but I think I still like to eat solid crab meat.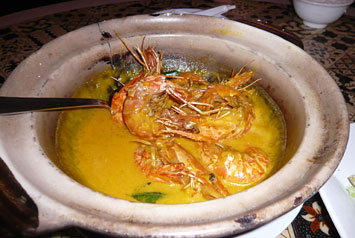 Pumpkin prawns! Superb!!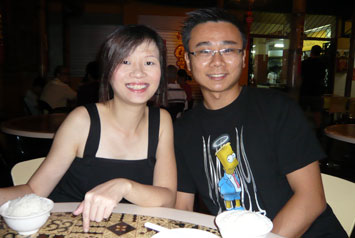 Corrine & George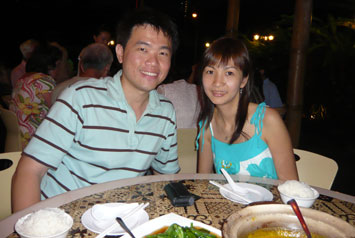 The two of us

The food aside, it was really good meeting up with the two of them again. We had a really good time chit chatting with them and later even drove down (they just got a new car too!) to McDonalds' at West Coast Park to continue with our chit chat until 11pm!


Thursday, 8 January 2009 - Terminator: The Sarah Connor Chronicles
Today's my last day of reservist and it's back to the office desk job again from tomorrow.

During my last reservist, I finish watching 4 seasons of the drama series, 24, heehee. This time round, I finish watching season 1 and 2 of the new drama series: Terminator, The Sarah Connor Chronicles!

If you're a fan of the Terminator movies, this is a must-watch. Season 1 picks up after Terminator 2: Judgement Day. Sarah and John Connor must evade Cromartie, a T-888 Terminator sent to kill him. Fortunately, they have Cameron Phillips, a female Terminator sent back to protect them. Together, they must put together the missing puzzles and destroy Skynet before Judgement Day arrives.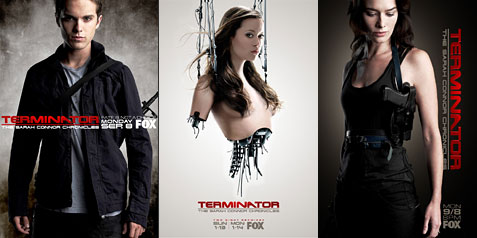 John Connor, Cameron Philips and Sarah Connor

Season 3 goes on air in the US on 13 Feb! Can't wait for it to be available!
By the way, 24, season 7 goes on air on 11 Jan too! Woo hoo!!


Thursday, 1 January 2009 - Happy New Year!
Happy New Year!

Wow, it is the year 2009 already.

In 2004, we applied for our Pinnacle flat.
In 2005, we got married.
In 2006, we experienced what Christmas was like in Sweden & Denmark.
In 2007, we got our first car, and experienced snow for the first time in Hokkaido.
In 2008, I watched a Champion's League match "live", Lydia colored her hair.

I thought of making a new year resolution, but I realise, out of my 5 new year resolutions for 2008, I probably only fulfilled 2 of them. Besides, we're now told new year's resolutions can be bad for you.

Hmm, what shall I say for 2009?

Life is short. Every year, it passes by and you grow 1 year older. 10 years ago, the world was worried about the Millenium bug. 10 years has since passed.

What have you done in this 10 years? What have I done in this 10 years?

Fight? Quarrel? Get angry? Get upset? Hurt someone? Be miserable?
Smile? Laugh? Love someone? Forgive? Be happy?

God gave us life and we should cherish it. No matter the doom and gloom forcasted for 2009, I will strive to make it a happy year for myself, and for the love ones around me.

Which is why we say, happy new year!