Entries by Joel


Sticky: Please sign the guestbook so that we know you've been here! We'd love to hear from u!


Wednesday, 30 September 2009 - Earthquake in Padang
"Oh, earthquake again in Padang?" I thought.

But apparently, it is a really massive earthquake in Padang. It was with great relief when Lydia finally managed to get through to her family and know that they were all safe and sound.

Thank God.


Sunday, 27 September 2009 - Spending Time @ Liang Court
After church, we went to Liang Court and had lunch at Marutama Ramen. The ramen here is still simply the best there is in Singapore!

And it's our clay making class again! We spent a good 3 hours here and the work is beginning to take shape! Tiring but fun!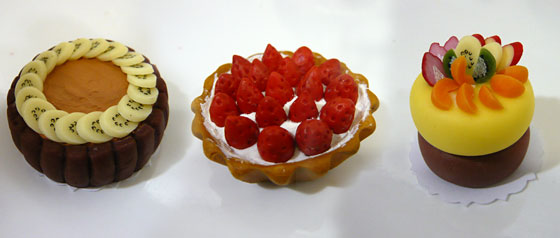 My cake creations!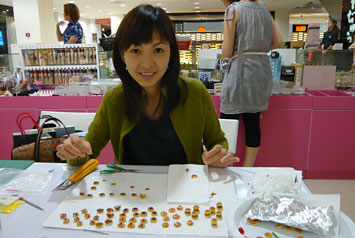 Lydia working on her tiny creations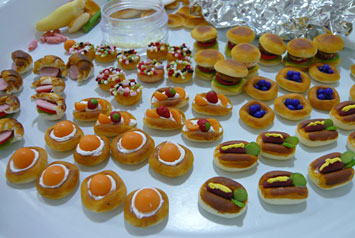 The product of her creations!

And for the record, Lewis Hamilton won the Singapore F1 Grand Prix. Again, it was a disappointing race for Ferrari. This season has been absolutely dismal for them.


Saturday, 26 September 2009 - ID Search
After futsal, we met up with Richard from Artoday at Turf City. The shop's just beside Lydia's ex-Guardian's (Priscilla) shop "Seul" and both shops are on close terms. We could sense Richard's sincerity and honesty and spent more than an hour discussion about our renovation with him. The price was quite reasonable too.

After which, we headed down to Linear Space to meet up with Marc! 2 ID companies in a row, ha! Wow, we are really impress with Marc's 3D drawings! Didn't know that our new flat can look so nice!

Unfortunately, it was more pricy than Artoday and offers less. This puts us in a dilemma cos we really liked what we see, but the price tag is way above budget. Marc comes across as a really great guy to work with too. It's a pity that the price is too high.

Headache.. headache...


Friday, 25 September 2009 - F1 Comes to Singapore
F1 is back in Singapore again!

You could really feel the fever, especially in the vicinity of Raffles City. The roar of the engines could be hear hundreds of metres away and there's just this fantastic vibe in the air. Lots of people were proudly wearing their F1 pass around their neck. :)

We made our way to Raffles Hotel for our haircut at Head-Quarters Salon. It was surprisingly crowded on the night of the F1!

After the haircut, we grabbed some fish and chips and spicy chicken take-away from Chippy British and sat at the seats outside SMRT Headquarters to watch the lively crowd pass by and listen to the F1 cars zoom by, heh!


Wednesday, 23 September 2009 - Letter From HDB!
We got a letter from HDB! Key collection for our new flat at The Pinnacle @ Duxton will begin from December this year!

Wow! After a 5-year wait, the day of reckoning is coming soon! Pretty excited about it, though at the same time, it means we have to crack our heads and think about the renovation.

We're also so used to staying in our current small and cosy rented flat too, with it's excellent location. We'll definitely miss this place!


Sunday, 20 September 2009 - Hong Kong - Day 6
After almost a week of work-free fun in Hong Kong, today's our last day here. Maybe that explains why KP went totally crazy over a Kamen/Masked Rider car sunshade he bought.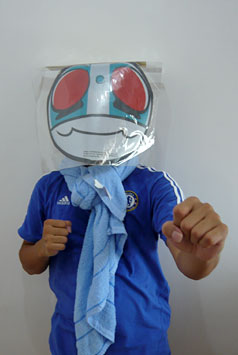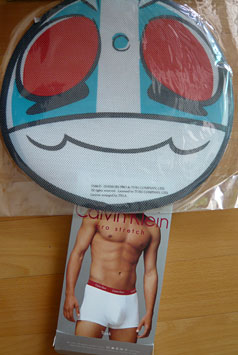 KP doing a Kamen Rider Not contented, he roped in Calvin Klein too

After cleaning up Rachel's home and bathing, we went to the nearby shopping mall for lunch with Khoo, who was really nice to come all the way here to send us off.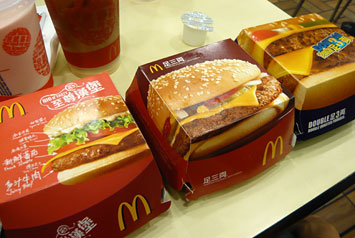 Interesting McDonalds' burgers in Hong Kong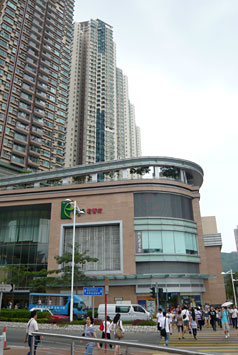 The Grandiose on top of The Edge shopping centre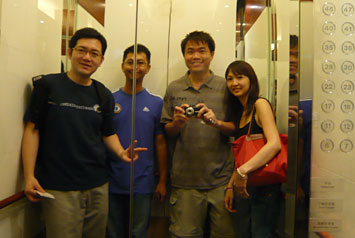 Lift photo again, heh!

All packed and ready, we took a cab to International Finance Centre (IFC) where Hong Kong station is, where there's the in-town check-in service. From there, we took the airport express train to the airport after bidding farewell to Khoo.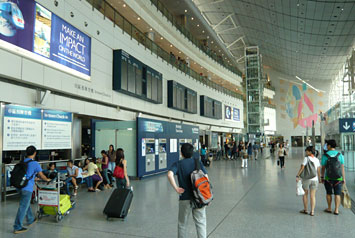 At the in-town check-in facility at IFC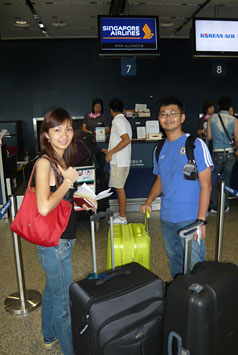 Waiting to check-in. Luggage weight: 61.41kg! Perfect!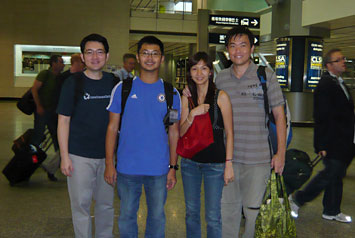 Thanks Khoo! See you in Singapore soon!



On the Airport Express train to Hong Kong International Airport

There's something we have to do before leaving Hong Kong. Eat desserts, haha! Arriving at the airport, we went to the arrival hall for desserts, heehee!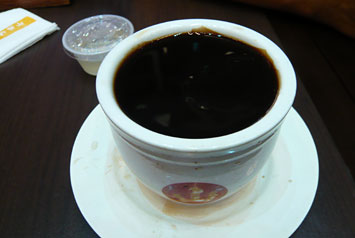 My gui ling gao. The best I ever tasted man!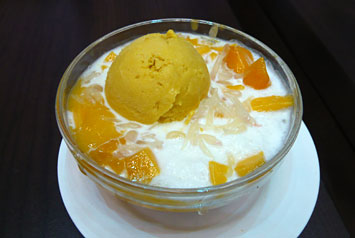 The last mango dessert for our Hong Kong trip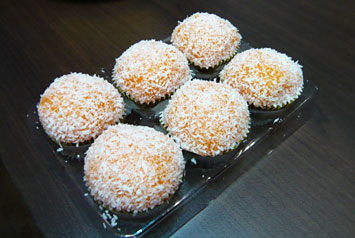 More mango-based dessert

You know what? We enjoyed the dessert so much so that we forgot the time! Flight departs in like 30 minutes!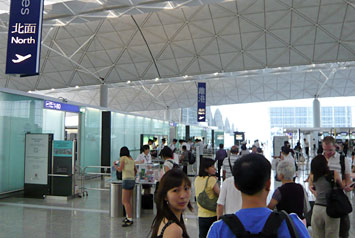 At the departure checkpoint. Lydia's anxious face says it all, heh!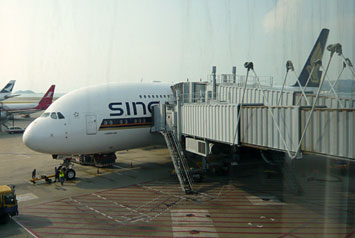 Phew! Our plane is still waiting for us. Among the last!



On the SQ A380 flight from Hong Kong to Singapore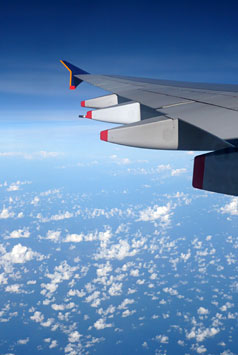 The gal in front has a soft toy, heehee! Cruising over the South China Sea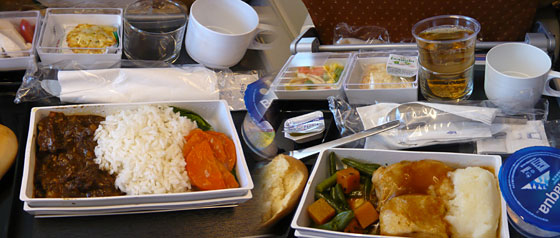 Airplane food wasn't very appealing after our nice dessert at the airport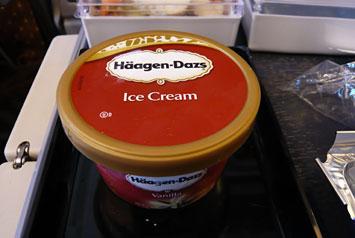 But Haagen Dazs ice cream we like!

Our flight arrived in Singapore about 8pm. After we have cleared immigration and collected our luggage, we sat down and proceeded to finish our mango dessert, haha! We didn't have time to eat them when we were rushing for the flight home!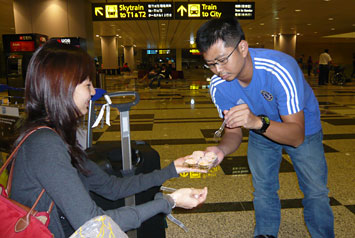 Eating the mango dessert at T3

Home sweet home! It's been a really great trip. Lots of shopping and eating and a decent amount of sightseeing too. My highlights of course are the 7 Revoltech toys I bought, and experiencing those authentic Hong Kong food and places. Hong Kong people are friendly, polite, and quite trendy too, especially the ladies. It's been a really fun 6D/5N in Hong Kong and we'll definitely visit again in the future!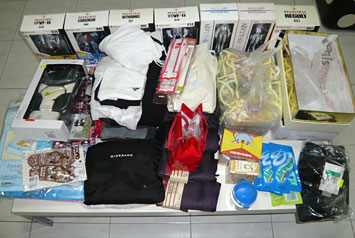 Our holiday loot from Hong Kong!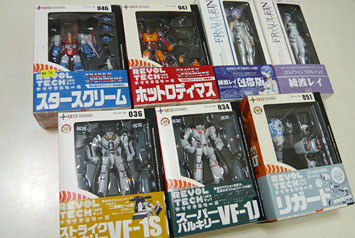 My precious Revoltech toys!


Saturday, 19 September 2009 - Hong Kong - Day 5
おはよう Ohayou! Good morning!

Our first night at Rachel's home went pretty well. Though her apartment is small and the hard floor was rather "hard" and the aircon was so cold we turned it off in the middle of the night, we're thankful for her hospitality and helping us shave off 2 nights of hotel stay.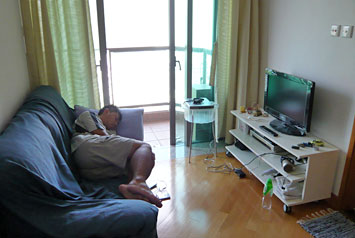 Rise and shine, sleepyhead!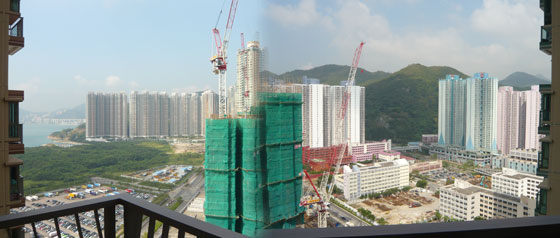 Great view from the balcony, especially the super tall condos!

We went to the mega big shopping centre at the foot of the condo for breakfast at Tai Hing New Century. We finally got to eat Hong Kong instant noodles, haha! Oh, the special "chilled original milk tea" is simply the best milk tea ever in Hong Kong. The milk tea is served chilled in a cup, without ice so that it doesn't dilute the tast, and it's then placed in a bowl of ice.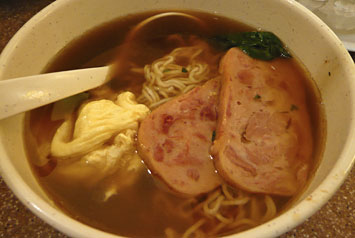 The Hong Kong classic luncheon meat instant noodle!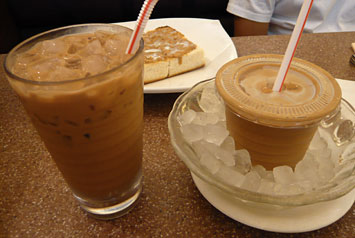 Normal milk tea (left) vs the special chilled milk tea (right)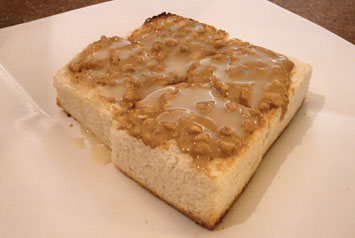 Thick toast - peanut butter & condensed milk on thick toast!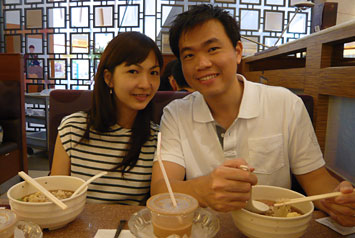 A breakfast to remember for a long time

The superb milk tea with its generous amount of evaporated milk has a side effect: it sent all three of us to the toilet within 30 minutes, haha! I've always been highly lactose-tolerant, so I was pretty amazed it could have such an effect on me, heehee!

After breakfast, we spent the late morning and early afternoon shopping at the neighbourhood mega malls at TKO, buying "grocery items" like chewing gums and getting small gifts from gift shops.

In the afternoon, we finally headed out of the suburbs and to Yau Ma Tei to meet Khoo, where he will bring us to more toy shops. Yay!!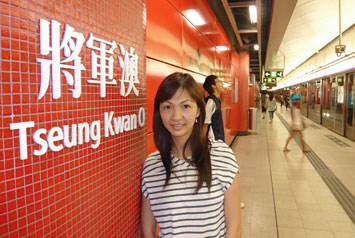 Waiting for the train at Tseung Kwan O (TKO) MTR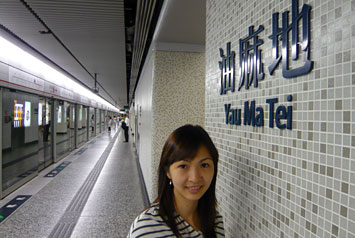 Arrived at Yau Ma Tei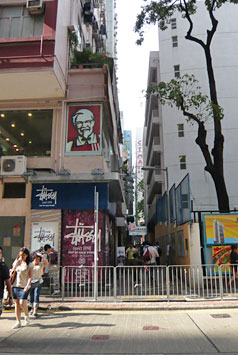 The narrow walkway to toy land

First stop is In's Point. When we stepped inside, it is truly like toy's heaven. The whole place consists of small toy shops!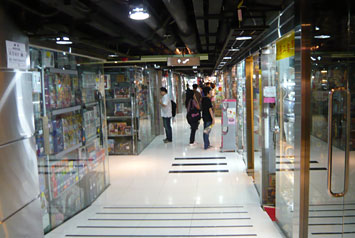 Oh la la!!!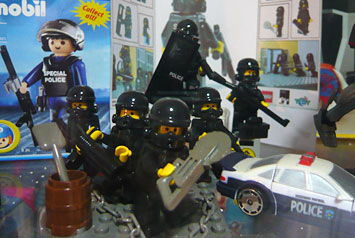 Lego SWAT team! How cool is that!?!!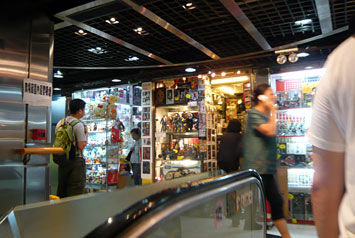 The next level is also full of toyshops. Woohoo!!

We combed the place and I was very happy to spot many of the Revoltech toys on my shopping list. With help from Khoo, I finally bagged those elusive and hard-to-find sets!! The original Rei Ayanami (Evangelion) and the Macross models VF-1S, VF-1J and Regult. So happy and delighted!! My trip to Hong Kong is complete. haha! :D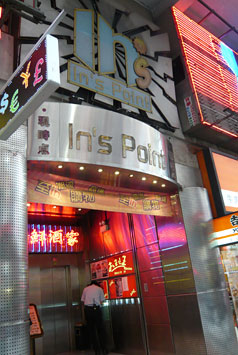 In's Point at Yau Ma Tei, along Nathan Road

Next stop is Sino Centre. It's not as hardcore toys as In's Point and has shops selling kiddy toys and other stuffs besides toys. But what stands out is the sheer crowd in this place! My eagle eye spotted the Revoltech Starscream (Tranformers) and he was soon in the black plastic bag together with my other precious buys. At HK60 (~SGD15), it's like 40% cheaper than in Singapore!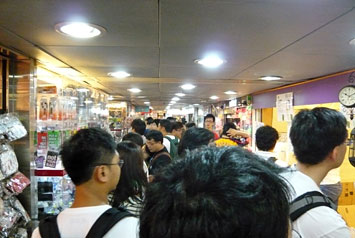 Plenty of small shops and packed corridors at Sino Centre

We went to Langham Place where we met Natalie for dinner. The food's alrite, nothing fantastic.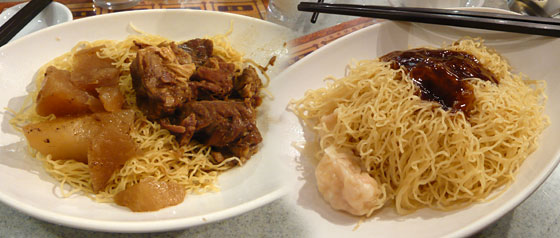 Beef and wanton noodles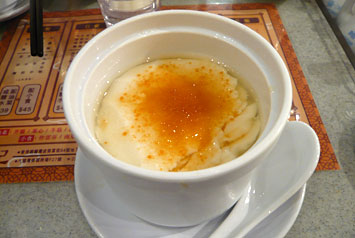 Beancurd dessert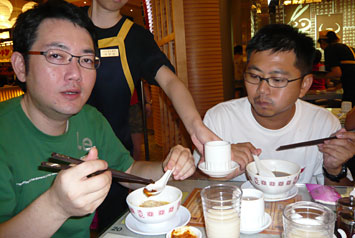 KP looked on intensely at the cup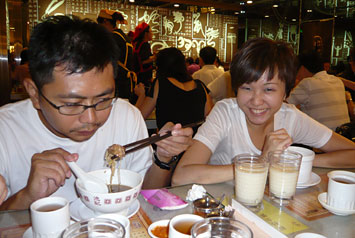 KP eyeing Natalie cautiously now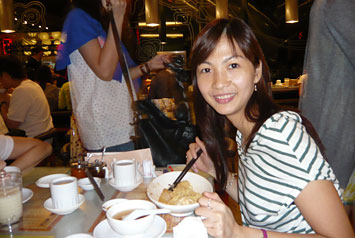 Lydia enjoying her food

We ventured out onto the street and a delightful array of neon signboards welcomed us in the darkness of the night. From Sai Yeung Choi Street, to Tung Choi Street and Fa Yuen Street, it was really lited up and crowded. Popular for its sports shops, we accompanied KP in search of his sports shoes.



Neon signboards along the streets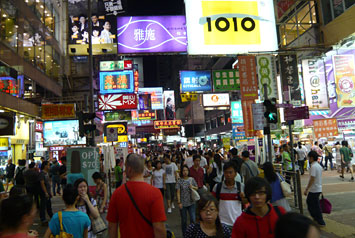 More street scenes in Yau Ma Tei / MongKok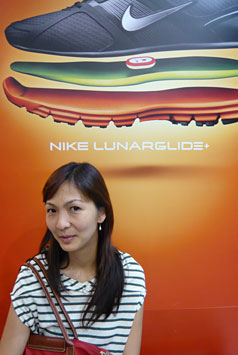 Modelling for Nike?

We are heading to The Peak! Yay! I thought that we might not have the time to go to The Peak, but oh yes, we're going afterall!



Taking the train at MongKok MTR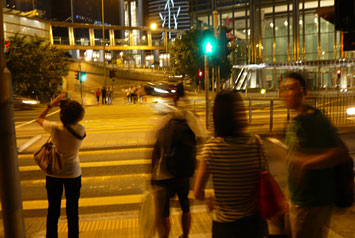 Walking from Central to The Peak Tram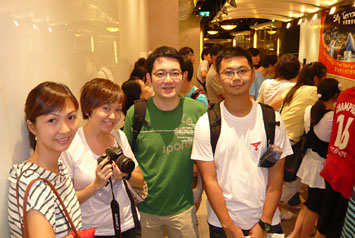 Waiting for the tram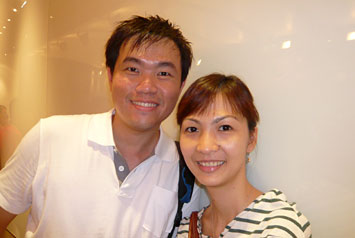 You can see I'm really thrilled to go to The Peak



All aboard the night train!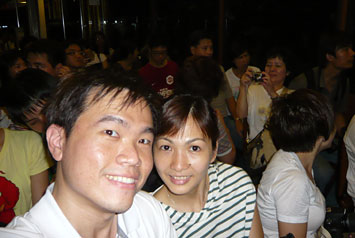 On the tram to The Peak

Ooh, you gotto pay a fee to go to the sky terrace at the top of The Peak. It used to be free leh. Well, we paid to go up and boy, it was well worth it. The view up here is spectacular!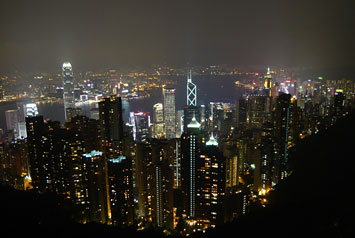 View of Hong Kong from The Peak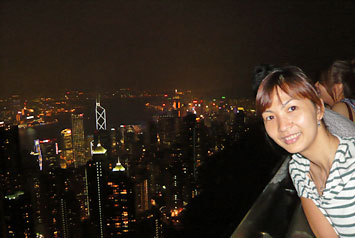 At the top of the "world"!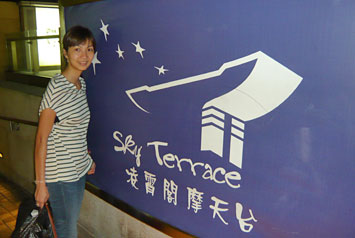 Gotto pay to goto Sky Terrace, you know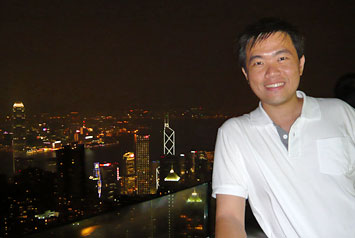 Me and Hong Kong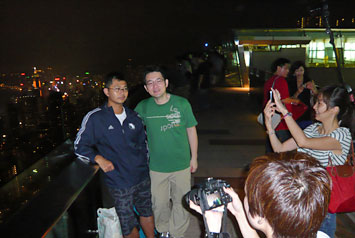 2 male models having a photoshoot at The Peak

It was almost impossible to get a decent group photo taken at The Peak at night without paying for the professional photo services. But with my trusty tripod and an ingenious way of setting it up on a staircase railing, managed to get some pretty decent shots! Not bad for a compact camera eh, without flash!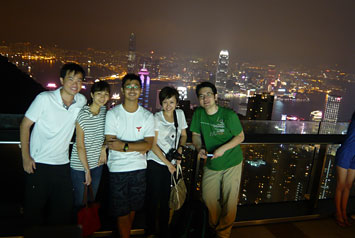 Group photo at The Peak, Hong Kong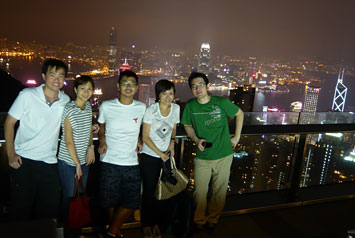 Group photo, without the "legs" in the earlier shot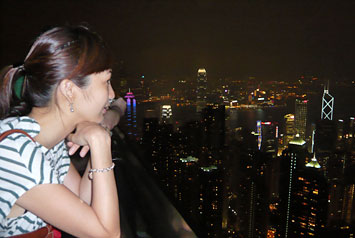 Admiring the night scenery at The Peak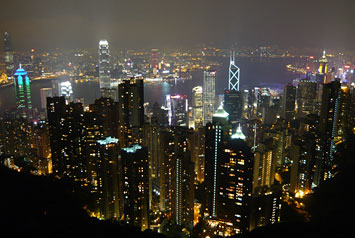 Last night in Hong Kong and it was gooood!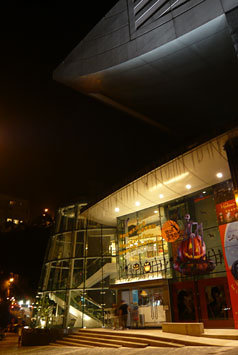 At ground level at The Peak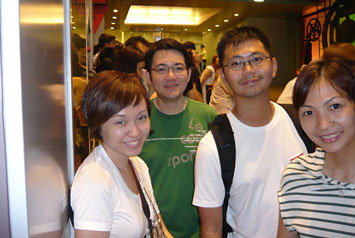 Waiting for the last tram back to Central

Back at Central, Natalie called it a night while we went to a cha chan teng near Lan Kwai Fong. The pork chop bun and condensed milk on thick toast was nice. And of course we had milk tea. :)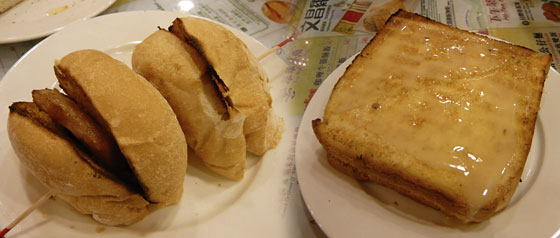 Supper at Hong Kong's cha chan teng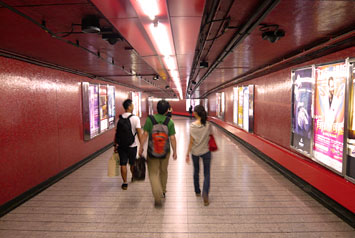 More haste as we rush for the last MTR train!



Arrived at TKO MTR @ 1.25am! Wah!! Really late night train in HK!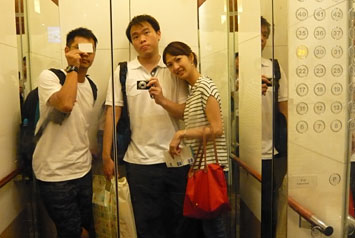 Finally, in the lift of Rachel's condo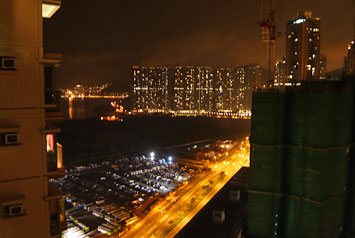 Night scenery from the balcony of The Grandiose

Well, this is our last night in Hong Kong! It's been a fantastic 5 nights in Hong Kong. :)


Friday, 18 September 2009 - Hong Kong - Day 4
It's Day 4 in Hong Kong and today we are going to every guys' favorite place in Hong Kong: Toy Shops!!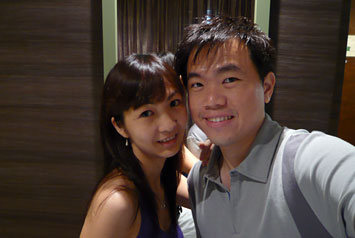 Good morning to Day 4!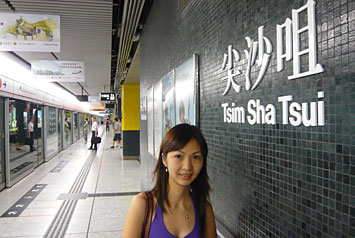 Taking the MTR from TST to Mongkok to meet KP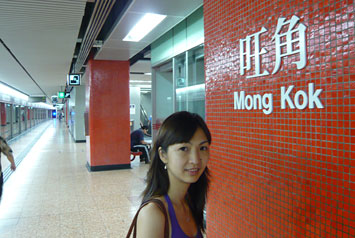 We're at Mong Kok!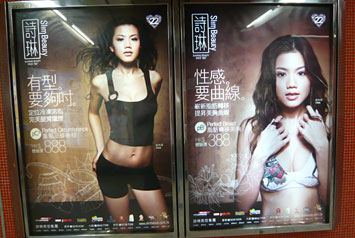 MTR's billboard ads of Chrissie Chau are a common sight

But first, we gotto fill our stomachs first. KP has already by the time we met him, so we went to Langham Place, a huge shopping mall at Mong Kok, to settle our breakfast. We went to Cafe De Coral, a popular chain of restaurants. The food was so so though. Definitely not authentic enough.

After breakfast, we roamed the shopping mall and found ourselves at the top floor where there's plenty of football shops! We wandered into Futbal Trend and wow, we were stuck in there for more than an hour! The stuffs are cheap here and there's a really huge variety. I bought a pair of Nike shorts and a pair of Nike goalkeeper gloves (only HK60! ~ SGD15). Cheap!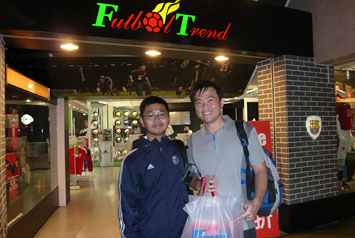 Futbal Trend @ Level 7 Langham Place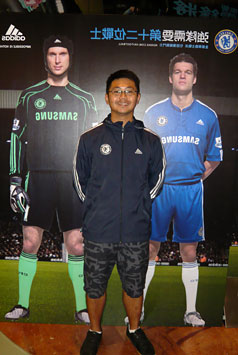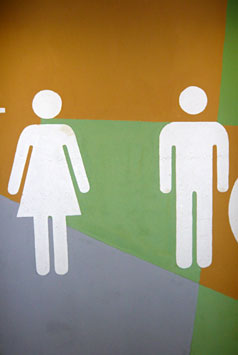 Having fun at Langham Place My obsession with Hong Kong toilets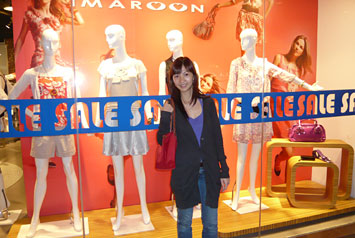 The four-letter word that makes her all excited

Tired from the shopping, KP took us to a dessert restaurant in the shopping mall to rejuvenate our spirits. We finally got to taste mango sago pamelo, and other mango desserts!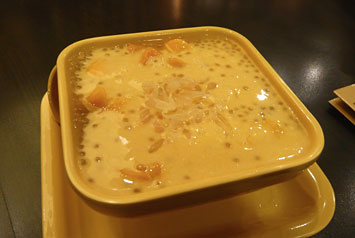 The Hong Kong must-eat mango sago pamelo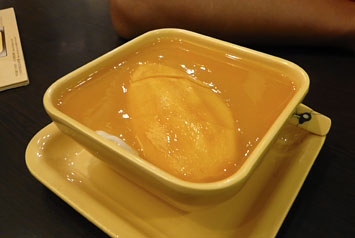 Quite literally a mango floating in there!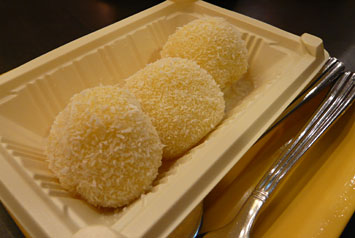 Inside these fluffy balls are....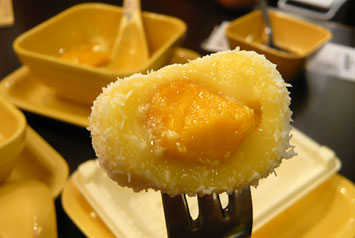 ...creamy mango fillings! Yummy!!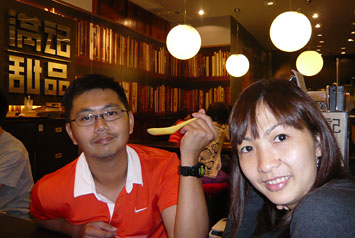 Enjoying our desserts

After we're done with our desserts, next stop is lunch, haha! KP says must eat at Lei Garden. I thought Singapore also have? Anyway, off we go to East Tsim Sha Tsui in search of Lei Garden at Houston Centre. Again, my MapKing Hong Kong map is proving extremely useful. Searchable road/buildings! :)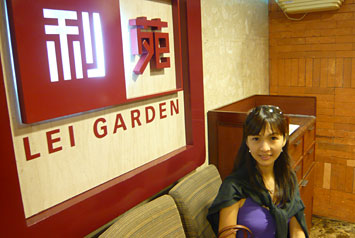 After a long underground TST MTR walk, we got to Lei Garden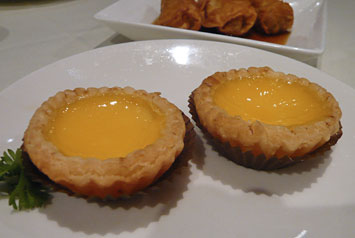 The egg tart was so super that we ordered another round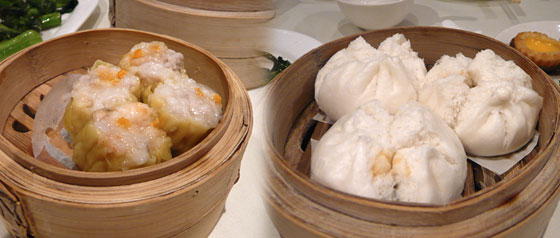 The cha sao bao was fantastic too! And the classic siew mai.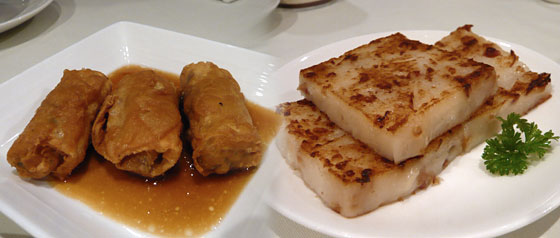 Carrot cake and some fried stuff. Both were good!

After lunch, it's back to Mong Kok again, haha! Cos you'd have realise, we haven't gone to the toy shops yet! The suspense is killing me! Can't wait to visit the toy shops and get my hands on those Revoltech toys!

We arrived at CTMA Centre. Wow! There really are lots of toy shops here. We split up (Lydia for her girl's stuffs, KP in search of his own shopping stuffs) and spent a good time exploring the shops in CTMA Centre. If you're interested in 12" figures, this place will be like heaven. There's Toy Hunters, producers of Hot Toys, with it's incredible range of highly-details products that called out to me to start a new hobby collecting 12" figures, haha! But sensibility prevailed as there was no way I can afford to start this expensive hobby. There's also Superman Toys, a super large toy shop that sells a super large variety of toys, heh!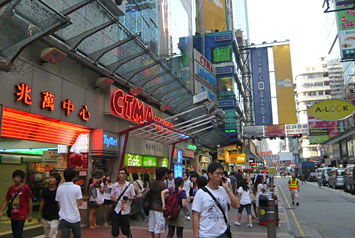 At CTMA Centre, along Sai Yeung Choi Street South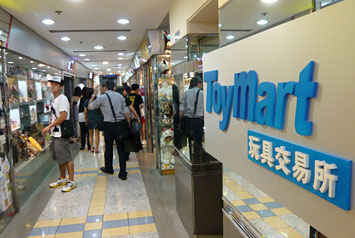 Corridors of toy shops!

Sadly though, I could hardly find any shops selling Revoltech. :(
Was quite disappointed as we left CTMA Centre and went over to Animate across the street. My disappointment was slightly eased as I found Revoltech's Rodimus (Transformers) and Rei Ayanami (bandaged version, Evangelion).

On our feet for so long, we took a dessert break and had more mango sago desserts at the dessert shop at the ground floor.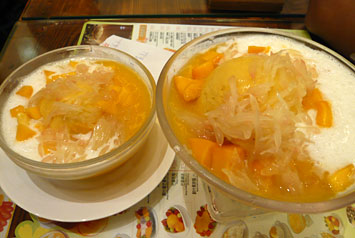 More Hong Kong mango desserts

After which, it was back to the basement of CTMA Centre as the shops down there only open in the evening. There wasn't any nice toy shops below unfortunately. But there is IC Soccer, a shop that sells cute cartoonish soccer t-shirts. Kian Pang literally bought like 20 t-shirts I think, mostly friend's request. Poor guy!

I didn't buy anything for myself cos the Englang tee shirt didn't look nice, and there wasn't any t-shirt designed for Blackburn Rovers, haha!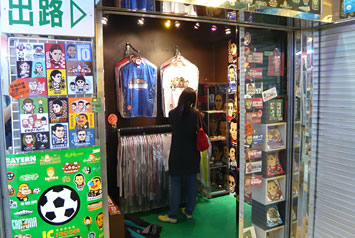 Outside IC Soccer. KP says the salesgirl is pretty.

We went back to our hotel Butterfly on Prat to repack some of the stuffs as we had already checked out this morning and left our luggage with the reception. There's still dinner with Lydia's office colleague later and we didn't want to lug all these stuffs along.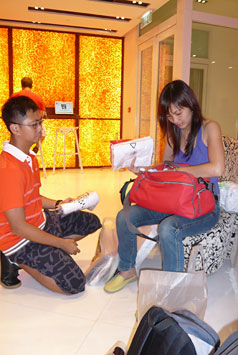 Luggage-packing at the lobby, hehheh!

We went to the harbour area (aka Kowloon public pier) to meet Lydia's office colleague Pheobus. Wow, the night scenery of Hong Kong Island looks fantastic!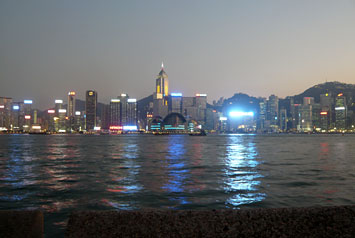 Skyline of Hong Kong Island

Pheobus took us to Peking Garden, a chinese restaurant by the pier. His wife was also present. The place is really crowded and the food was good too!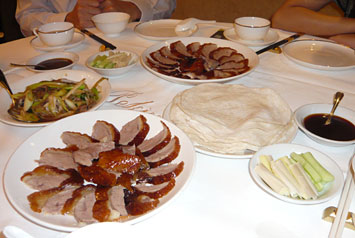 Peking duck was super!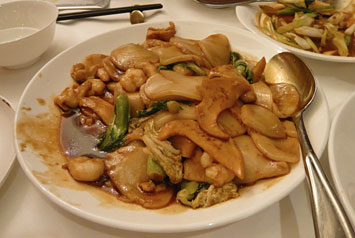 An interesting Hong Kong dish, dunno what it's called though



Sweet fried banana cooled in ice! Cool!!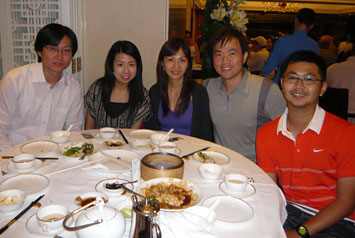 Thanks for the dinner, Pheobus!

After dinner, we went walking along the pier again to take in the fabulous night scenery and walked all the way to the east end!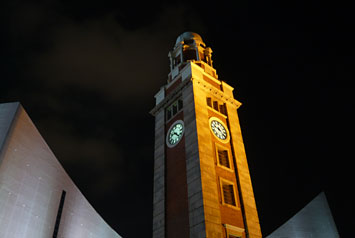 The clock tower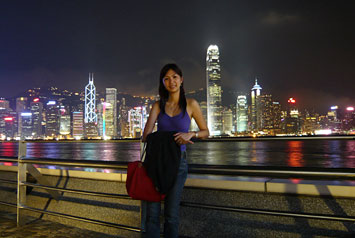 Amazing night scene taken by my compact camera, heh!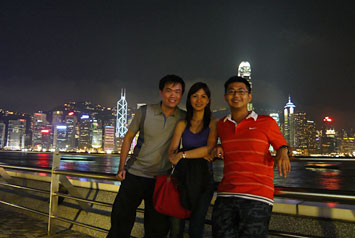 This would not have been possible without my $10 tripod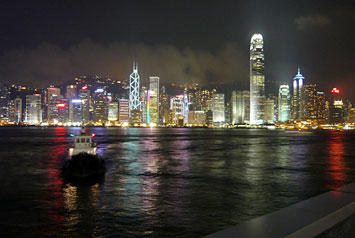 The tugboat wants the attention too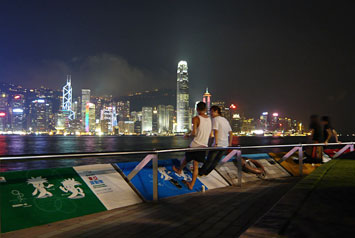 Interesting to see 2 guys chatting by the pier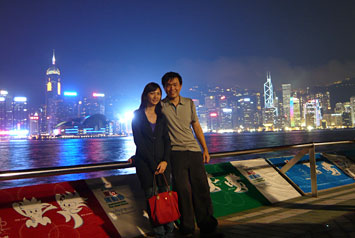 Slightly different backdrop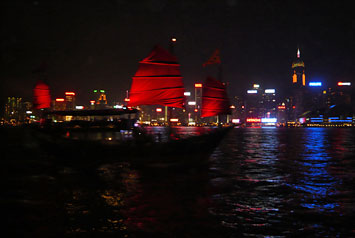 A junk boat passes by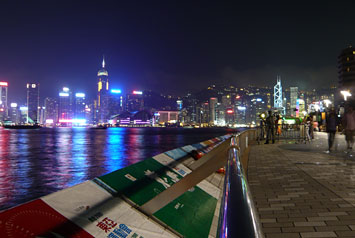 The stretch of pavement that forms Kowloon public pier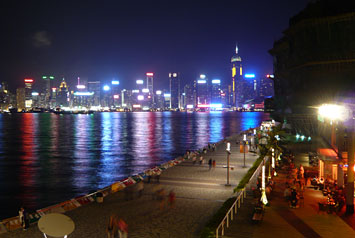 An overhead view

After the nice walk, we went back to the hotel to collect our luggage and took a cab to Rachel's place called The Grandiose @ Tseung Kwan O. It's a condo above The Edge, a shopping centre, located in the East of Kowloon. The condos in Hong Kong are very interesting. There's always a security guard at the lift lobby, just like what we see on TV, hehheh!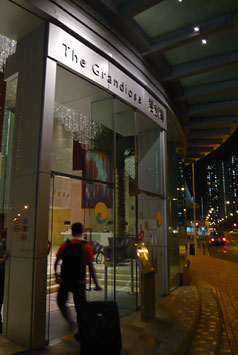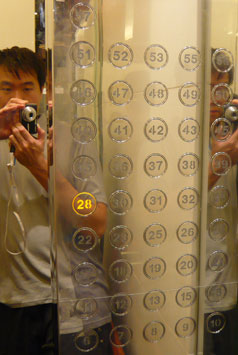 Arriving at The Grandiose There's no 14, 24, 29, 34, 44, 54!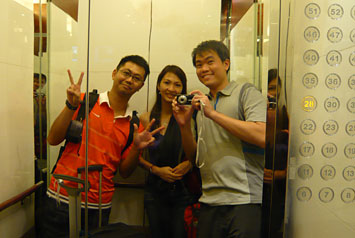 Looking forward to staying at Rachel's place!

Thanks Rachel for letting us stay in your apartment! Her apartment is a 2-room flat and she has gone overseas. KP sleeps in the sofa in the living room while Lydia gets Rachel's bed. Me, I sleep on the floor in Rachel's room so as to keep the wolf away.

Haha! Just kidding about the wolf. Cos there's air-con, that's why. :)


Thursday, 17 September 2009 - Hong Kong - Day 3
It's a nice sunny day today! No rain!!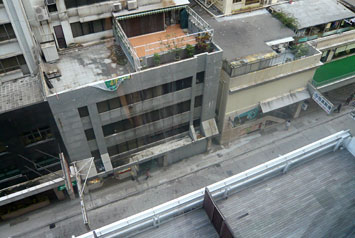 Looked outside the hotel window and no rain! Whee!!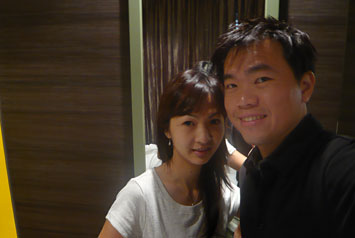 All ready for our 3rd day in Hong Kong

We're meeting KP for breakfast at Central. Instead of taking the train directly from TST, we walked down all the way to the Star Ferry harbour terminal, did some sight-seeing at the harbour and took the Star Ferry across to the other side. :)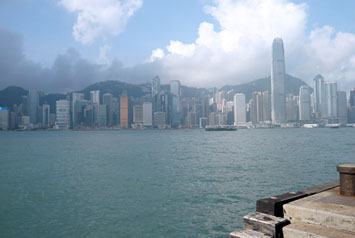 The skyline of Hong Kong Island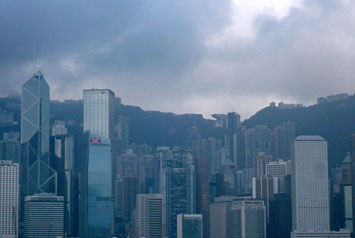 Can see The Peak?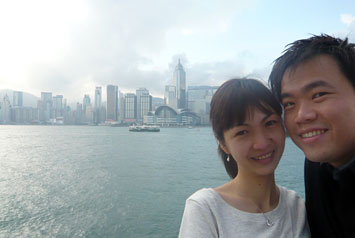 Couple photo at Hong Kong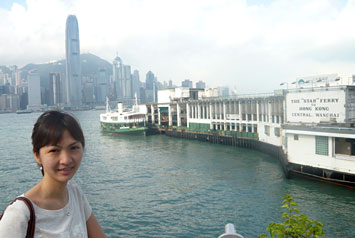 Our ferry is coming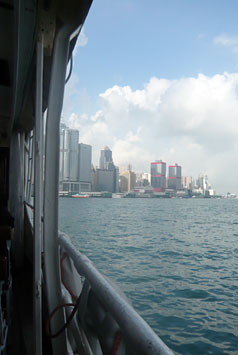 We are sailing...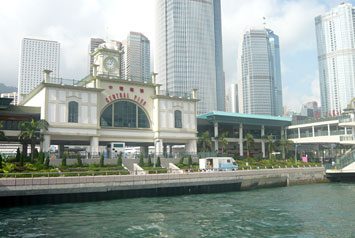 Arriving at Central Pier @ Hong Kong Island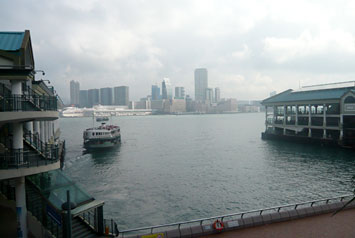 Looking back at Kowloon skyline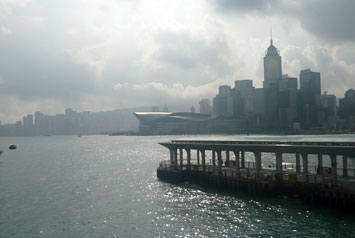 Super sunny day! HK Convention & Exhibition Centre in the background

What's for breakfast? Authentic local yum cha (aka dim sum) foodfare at Lin Heung Tea House @ 162 Wellington Street. It took us a while to find this place in Central but thankfully we found the place with help from MapKing Hong Kong map on my Omnia (even though GPS couldn't work), and my fantastic navigation skills, of course. :P

What's the first thing that hits you when you enter Lin Heung? Total awe! The place is super crowded, filled with people eating dim sum, reading newspapers, elderly ladies pushing dim sum carts and elderly waiters dressed in white! It's like travelling back in time to the original Hong Kong scene. Wow!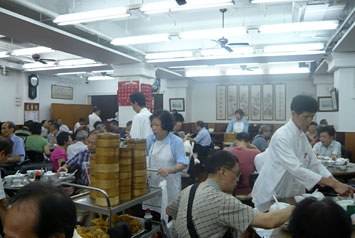 In total awe by the sight and experience in Lin Heung Tea House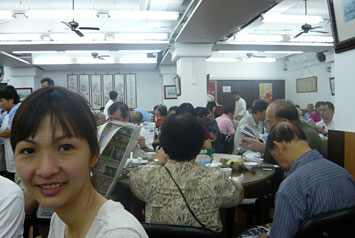 Old folks would sit here for hours to eat, drink, chat & read newspapers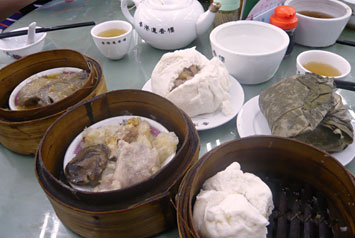 Let's tuck in to our dim sum!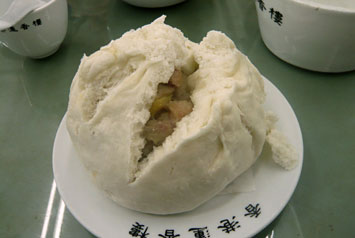 Chicken bao, Lin Heung's specialty. Only 100 a day!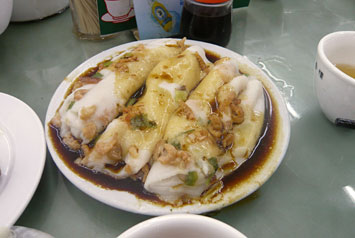 Chee cheong fun



Ma lai gao. Taste great!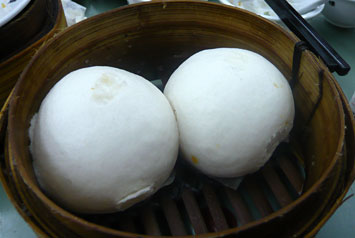 Lin yueng bao. Interestingly, it has egg yolk inside!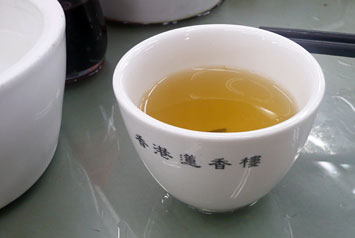 Washing down the delicious dim sum with tea, of cos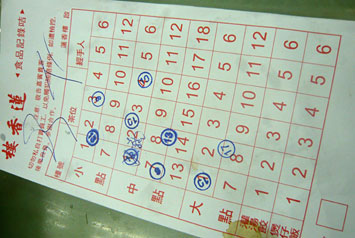 Bill please!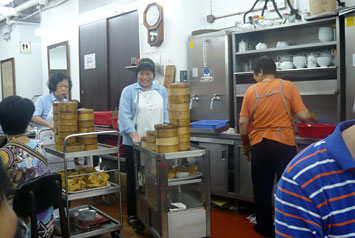 The old ladies pushing the dim sum carts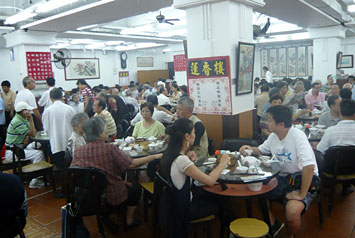 Love this place! So authentic!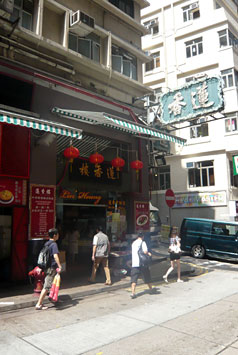 Must come back again next time!

Next stop is to Tung Chung, to Citygate Outlets, a shopping mall near the airport that has lots of factory outlets. We figured we won't have time to come here on the last day on the way to the airport, so we'll make a special trip instead!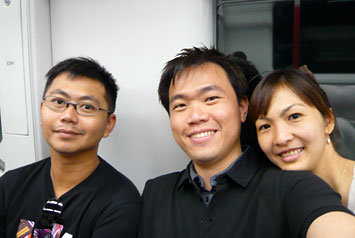 It's a long train ride!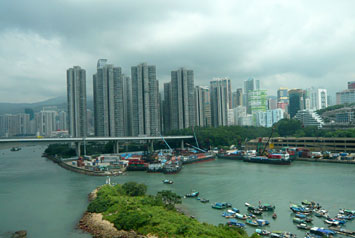 Nice scenery from the train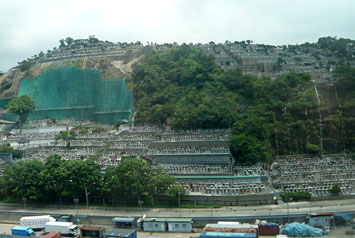 Hill-side cemetery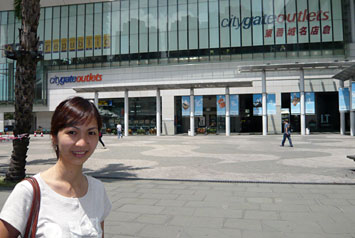 Finally, we're at Citygate Outlets!

There's really a lot of factory outlets here, like Nike, Armani, Coach, Esprit, etc. With a tight timeline, we quickly browse through the huge shopping mall and grabbed more clothings. I didn't know Esprit is a product of Hong Kong, hehheh! My favorite brand. Pity the Esprit prices here doesn't really offer a lot of discount compared to the Esprit sales in Singapore.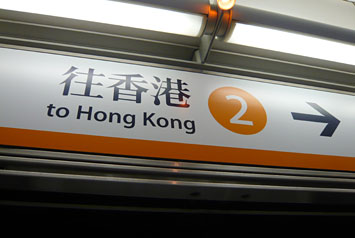 After a few hours of shopping, time for the long ride back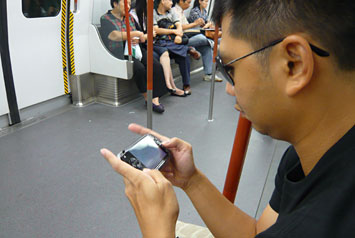 Some play games on their PSP...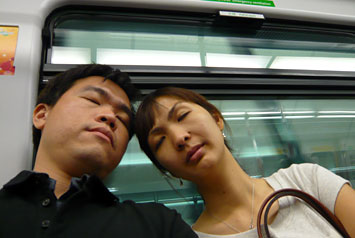 Some sleep...



Back in "Hong Kong"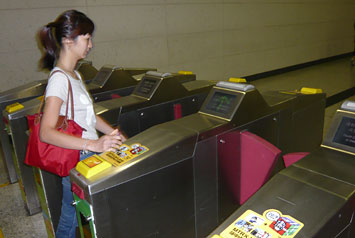 The familiar MTR gates

We went back to Central again, to H&M! Ever since Lydia stepped into H&M in Malmo (Sweden), she loved the shop. So it's a really pleasant surprise to find H&M in Hong Kong.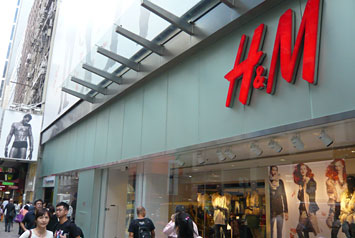 H&M at Queen's Road Central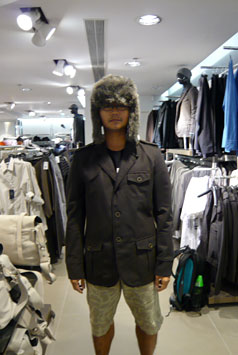 Security, we got a communist on the loose

After all that shopping, we took a break and had a bit of food at MacDonalds before continuing our exploration.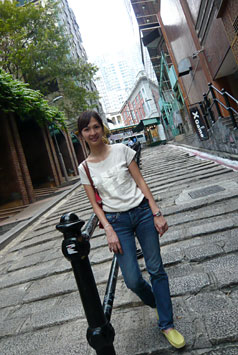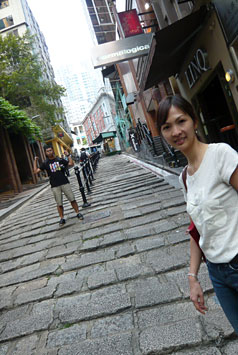 At the granite stone steps of Pottinger Street (aka Stone Slabs Street)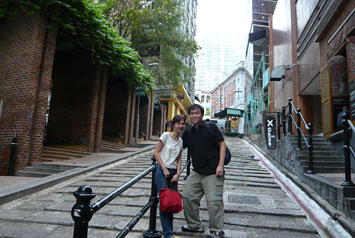 Joel and Lydia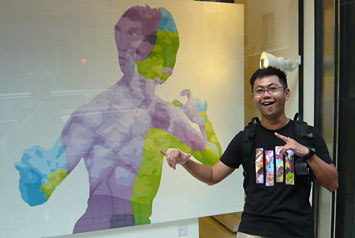 KP and Bruce Lee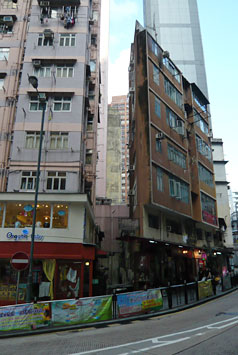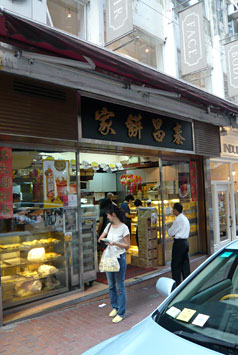 The building on the right is fascinating! Buying pastries at Tai Cheong Bakery



Look right before crossing the road? Ok, got it...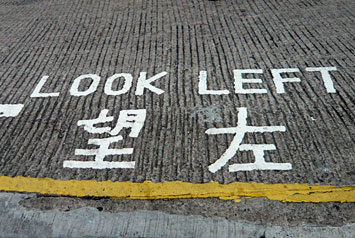 Huh? Look left also? Confused!

After all that walking, it's time for a tea break. KP took us through a local street market and suddenly turned into one of the stalls along the market. Hey, it's a small cha chaan teng called Lan Fong Yuen. KP said the instant noodles is good stuff, but dinner's about an hour or 2 away. So we just ordered 1 po luo bao and milk tea instead . The milk tea in Hong Kong is very nice and different from Singapore's version. There's a generous dose of evaporated milk!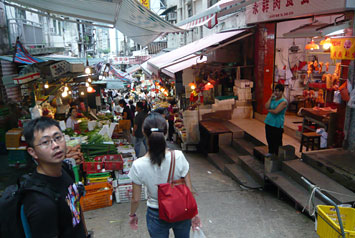 Taking a walk through the local street market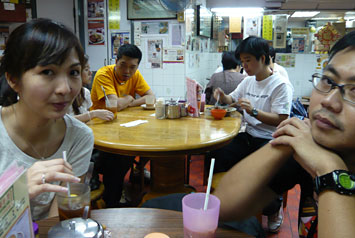 Tea time at Lan Fong Yuen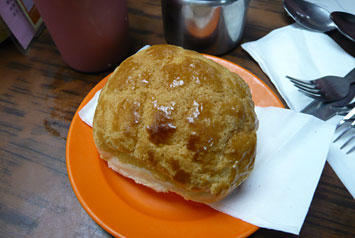 Po luo bao. Yummy!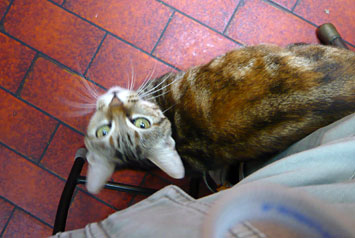 The cat came to me only, heh. There are hardly any strays in HK.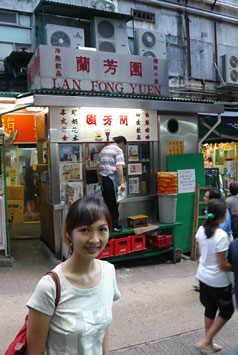 In front of the shop Super fire hydrant!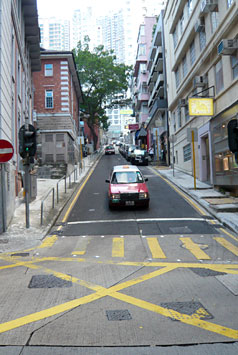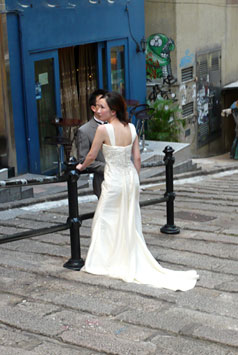 Super steep road! Hey, same spot where we took our photo

Dinner time! Dinner's at the famous Yung Kee Restaurant, popular for the roast goose and the century (preserved) eggs! The century egg is so good that even I, a non-century egg eater, will eat it! Natalie, who's based in Beijing but in Hong Kong for 2 weeks, also joined us for dinner.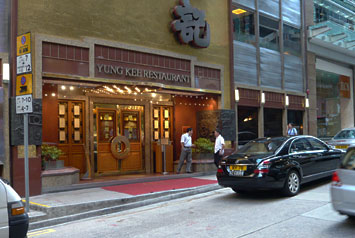 Yung Kee Restaurant along Wellington Street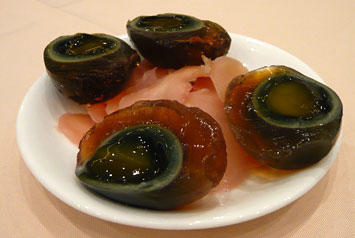 The best century eggs ever!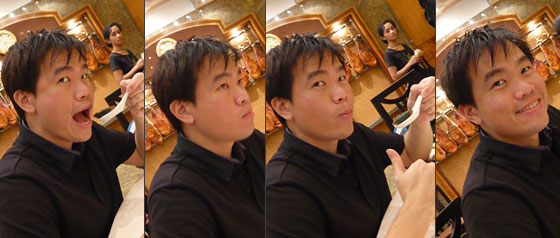 My century egg eating experience/expression, haha!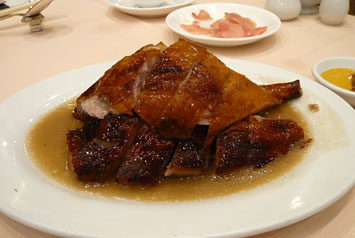 The famous roast goose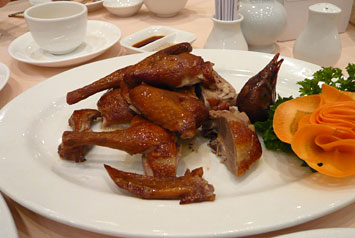 Let's have a roast pigeon as well too!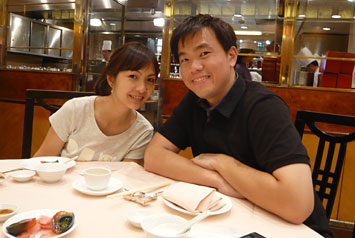 Lydia and Joel. Married.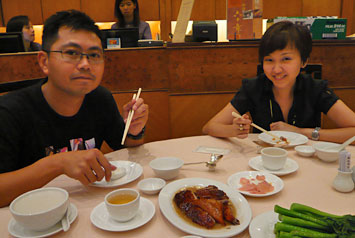 KP and Natalie. Plenty of chemistry. Sparks?

After dinner, we went walking to Lan Kwai Fong (lots of ang mohs) and took a ride on the mid-levels escalators as well.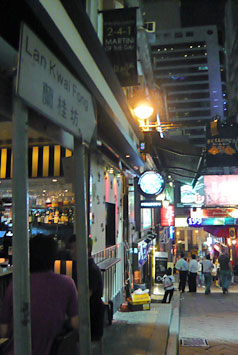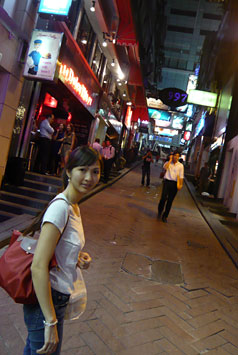 Walking along the streets of Lan Kwai Fong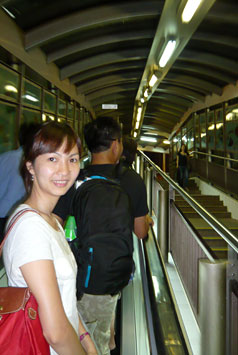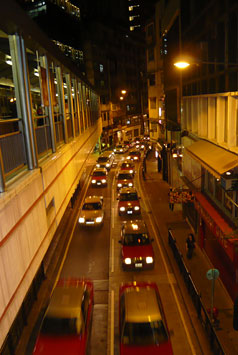 Up, up and away! Very nice street scene below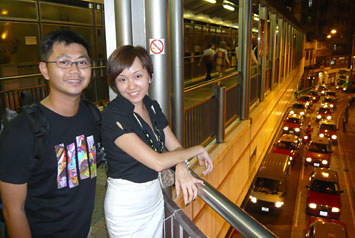 Aww.. very nice... I mean the traffic. And the couple?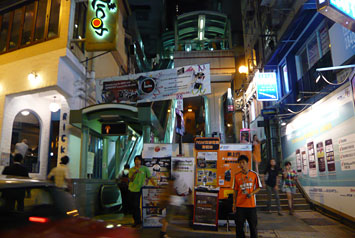 We can go higher, but it means a long walk down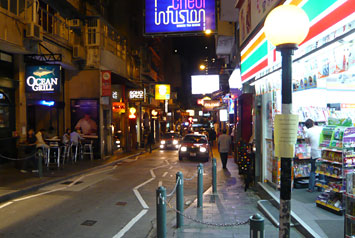 Very nice atmosphere up here. I've been saying a lot of "nice" eh?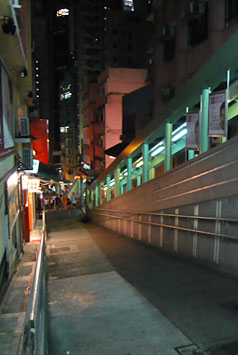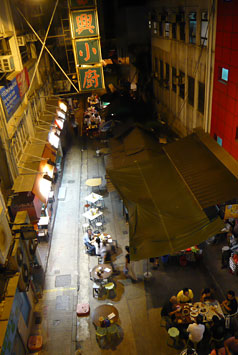 Long walk down! Very... err... nice! Haha!

We called it a night after we got back to ground zero at Central MTR and went our separate ways. Just as we got off at TST and wanted to walk back to our hotel, we decided that we should visit Temple Street. Temple Street's not in KP's agenda, so let's do it! So we begun a super long walk along Nathan Road from TST MTR all the way till Yau Ma Tei (YMT) MTR, venturing into Kowloon Park along the way too!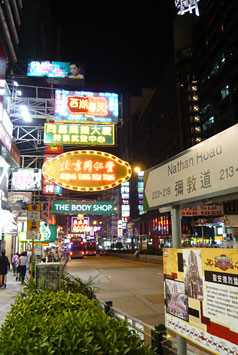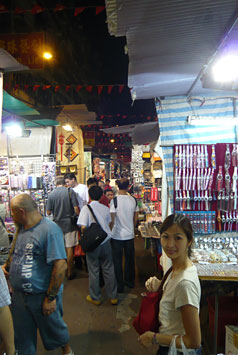 Night scene along Nathan Road Finally, we're at Temple Street!

Temple Street's pretty touristy, I'd say. We realise that we aren't really keen on buying fake or cheap stuffs. But it was still fun to bask in the atmosphere. The 2nd section of temple street (after the fortune tellers) though was a bit quiet and dark. We were glad to get to the end of the street and be back on the main Nathan Road again for the long way back to the hotel. Am I glad I've got my pair of sturdy Timberland shoes on. Else my feet would surely ache alot! It is already aching!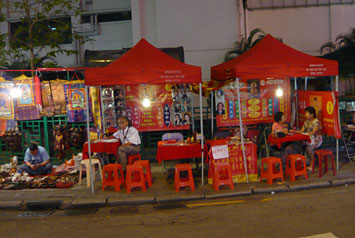 Rows of fortune tellers



2nd section of Temple Street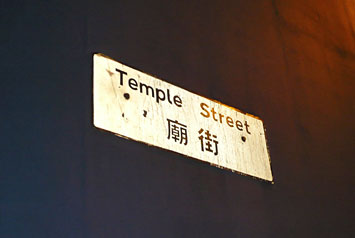 Temple Street, of cos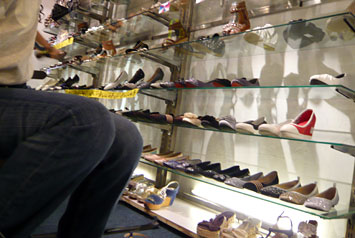 Back on Nathan Road, back to shopping again for Lydia.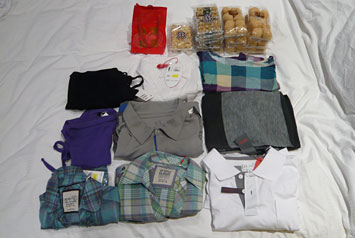 Back in the comfort of the hotel and our shopping loot! Ooh, my feet!!


Wednesday, 16 September 2009 - Hong Kong - Day 2
It's Day 2 in Hong Kong. Clothes bought yesterday were worn today, heehee. Perfect excuse to buy more clothes eh, haha.



Good morning!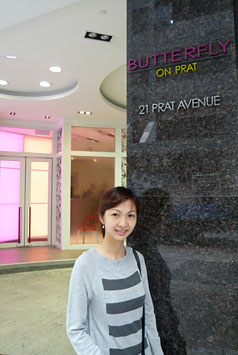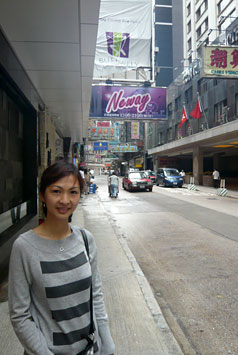 Outside the hotel

Oh oh, breakfast on our own. :P
This time, we found an eating place with pictures. :D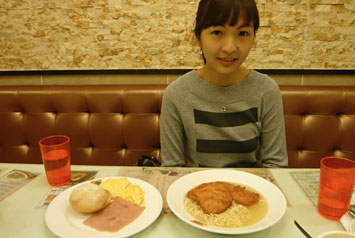 A set meal of pork chop noodles and ham and eggs

Our stomach filled, we made our way to Causeway Bay to meet Kian Pang. It started to rain heavily again unfortunately.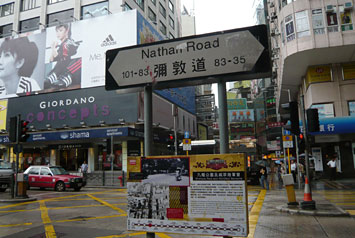 Walking along Nathan Road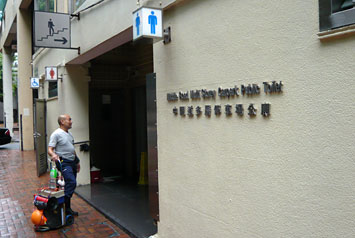 Did you know that toilets are hard to find in Hong Kong?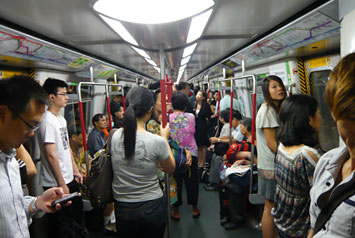 In the MTR with the morning commuters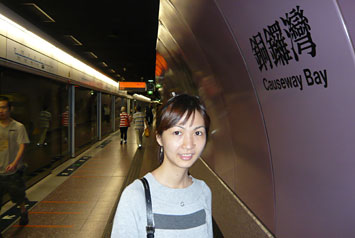 Arrived at Causeway Bay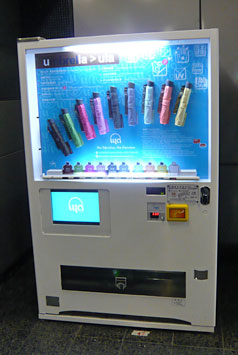 Umbrella vending machine! Cool!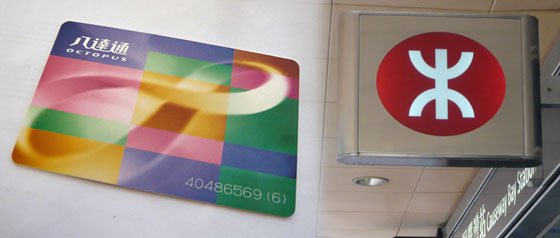 With the Octopus card and the MTR, you can go anywhere in Hong Kong!

At Causeway Bay, we visited Jardine's Crescent, but it was too early and the street stalls have not really started business yet. We met up with KP's friend Eric who's also from ManuLife, and had lunch at Tai Ping Koon Restaurant. I had beef fried rice while Lyydia had dark sauce chicken wings with noodles. The food's not bad and the portion is big.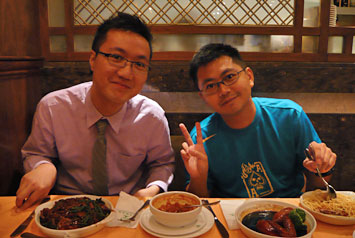 Eric and KP

After lunch, we went to Sogo, GOD and Island Beverley. No toys here, just lots of shopping places for Lydia to do. KP wandered off most of the time while I accompanied Lydia, heh. There's a lot of ladies shop here at Island Beverley, but the stuffs are not as cheap as yesterday. They are more "up-class" and features locally-designed fashion.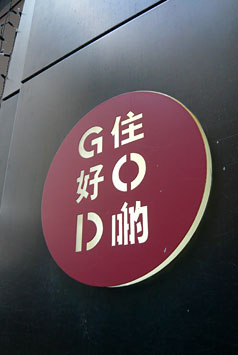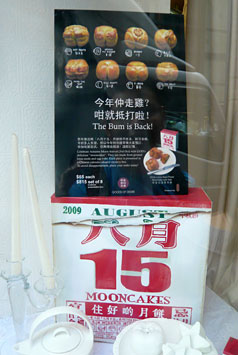 GOD - Goods Of Desire? Something about bum in Cantonese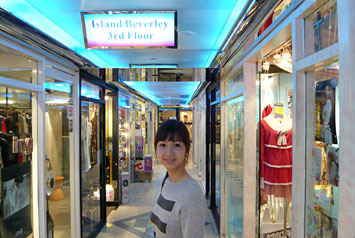 Happily shopping at Island Beverley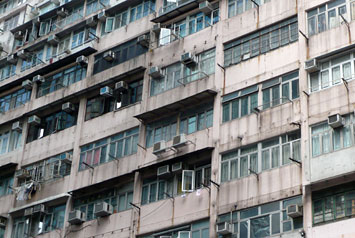 Amongst the modern buildings, there are interesting sights like these

We went to North Point for dinner, at a very interesting local place called Java Road Market & Cooked Food Centre. I thought we were going to a wet market or something, ha.

Turns out it is a very popular local "zi zha" eating restaurant called Tung Po Restaurant. Wow, it really is packed and crowded! We met up with Rachel (where KP is staying at and we will also for the last 2 days), Alison, Eric (same Eric) and Khoo!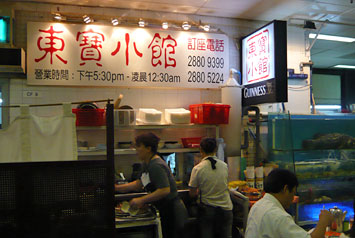 Tung Po Restaurant @ North Point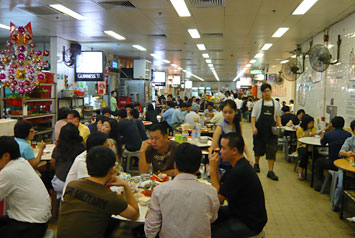 A very popular eating place indeed!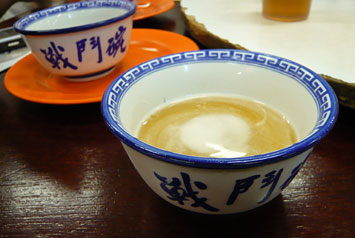 Asahi beer served in porcelain cups. Cool!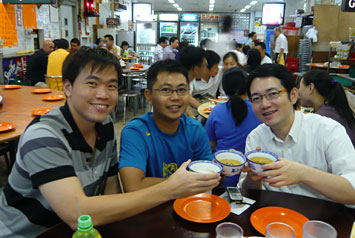 Kampai!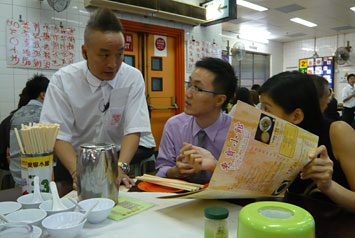 Eric and Rachel placing the order with the owner/chef!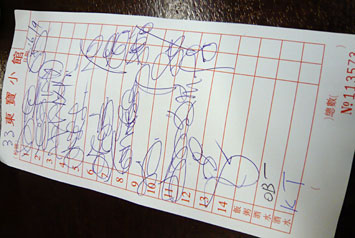 The amazing handwriting of the chef!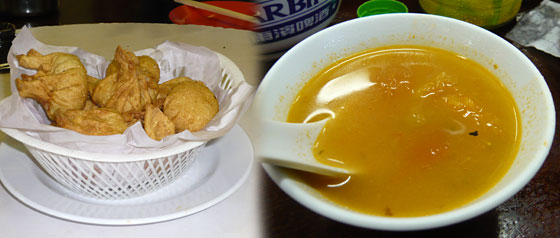 Fried wan ton with cheese, and some kind of fish soup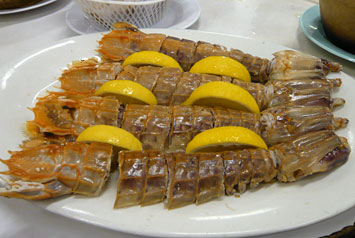 The most unusual seafood! Mix breed of prawn & crayfish?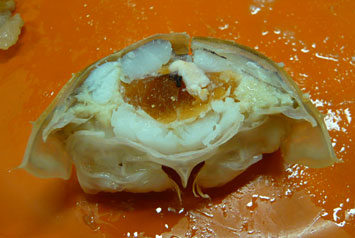 Cross-section of the most fascinating sea creature!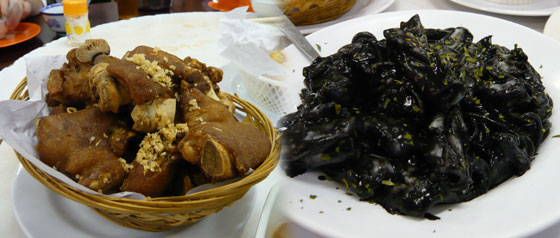 Pork knuckle and black ink squid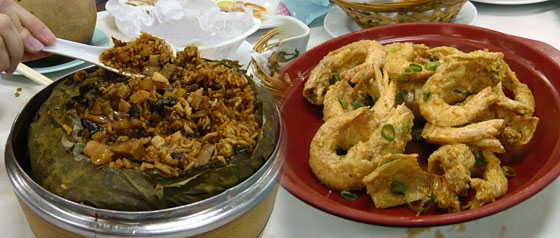 Lotus leaf rice and fried prawns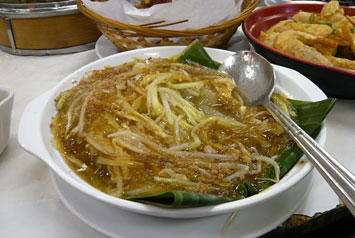 The last dish, a vegetable dish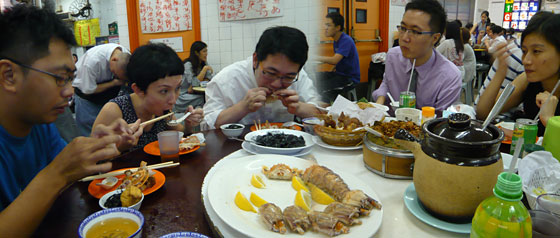 Enjoying the food with our table of friends

It was a very interesting meal, especially the strange-looking prawn/crayfish. KP said hardly any place in Singapore sells this, and if they do, it is very expensive. The guys treated us for the meal. Thanks!

After dinner, we took a cab to a dessert place somewhere at Fortress Hill, where we got to taste the wide variety of Hong Kong dessert delights. Yummy!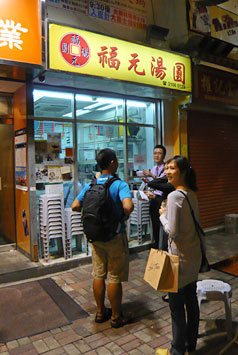 The dessert shop at Fortress Hill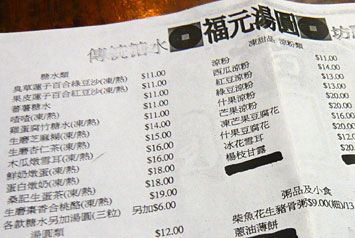 Haven't the foggiest idea what it says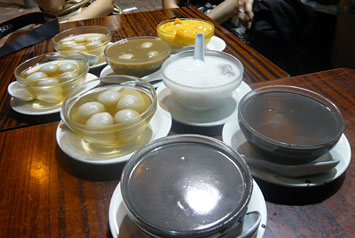 Yummy Hong Kong desserts!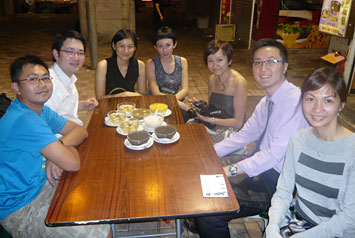 Desserts with KP's friends and Natalie who just joined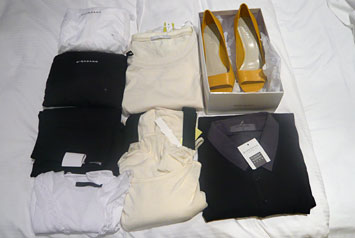 The loot for today is less. Until tomorrow!


Tuesday, 15 September 2009 - We're Going to Hong Kong! Day 1
Whee!! It's a free and easy 6D5N in Hong Kong!!!

We're not going alone though. With Kian Pang! With our hopeless Mandarin/Chinese/Cantonese, we're really relying on our man, KP!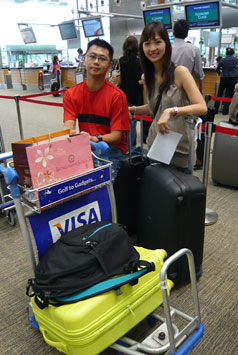 Big luggage for our Hong Kong shopping trip!

But due to Typhoon Koppu, our flight was delayed for 2 hours. At times like this, the benefits of flying SQ really shines, cos the national airline offered us complimentary breakfast ($15/pax cap) in any of the shortlisted restaurants. After much scouting, we had our most expensive roti prata ever in our entire life, at Kaveri, an Indian Vegetarian restaurant. $7.50 for 2 plain roti prata! Cool!!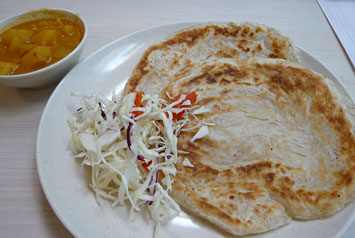 Our $7.50 roti prata!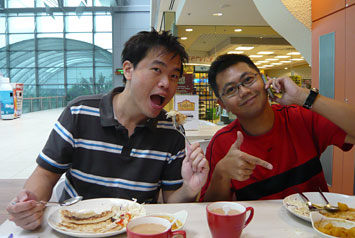 The boys were thrilled by their extravagant roti prata breakfast

With our stomachs filled and with time to kill, we roamed about the transit shopping malls and also headed to Terminal 2 via the Skytrain. Was also to buy Bengawan Solo stuffs for KP's friend in HK.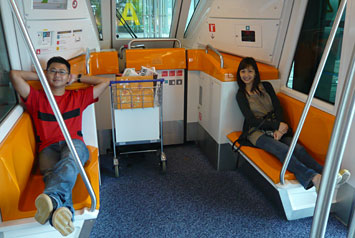 Relaxing on the Changi Airport Skytrain



They didn't say "No Sleeping"...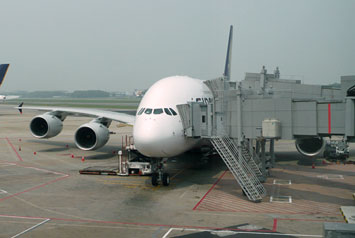 And finally, it was boarding time! Our SQ856 Airbus A380!



Joel & Lydia goes to Hong Kong. Yippee!

It was an interesting experience to fly on the A380. The entertainment system was new and cool, and best of all, it had a large screen. I think the seat is more spacious too. It has an upper deck for Economic class seats too. But unfortunately, our good impression of the A380 was ruined by 2 broken down toilets and a strange puddle of water leaking out of one of the toilet unto the carpet.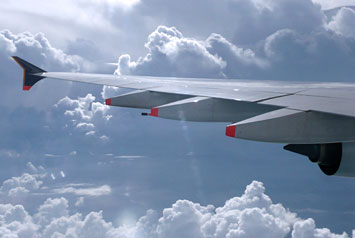 Flying on the A380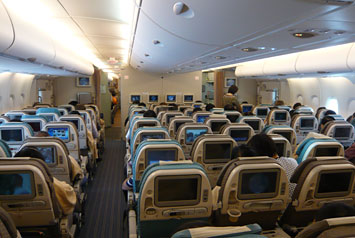 The spacious cabin of the Airbus A380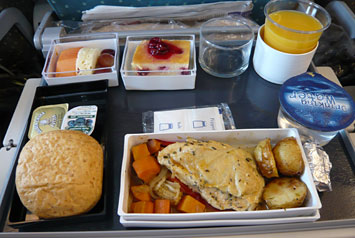 In-flight food!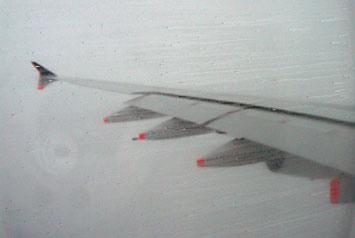 Yikes! Heavy rain as we approach Hong Kong.

After experiencing the roughest airplane landing ever, we are on Hong Kong soil! It was raining and not knowing the exact location of the hotel, we decided to take a cab. We had a shock when the taxi pulled into view. The hood was partialy propped open with a wooden block, the uncle was hastily taking down the white singlet from the hanger at the front passenger seat and pulling it on.

Wow, welcome to Hong Kong. :)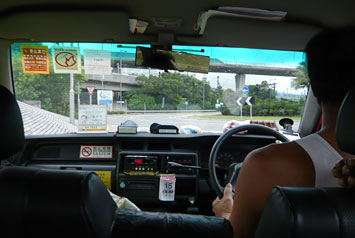 Singlet white uncle

Destination: Butterfly on Prat. Our white singlet uncle haven't the slightest clue where this place is, hehheh. Well, my office colleague Carina highly recommended this place and it was only completed in Dec 2008. Located in Tsim Sha Tsui along Prat Avenue, it's a boutique hotel.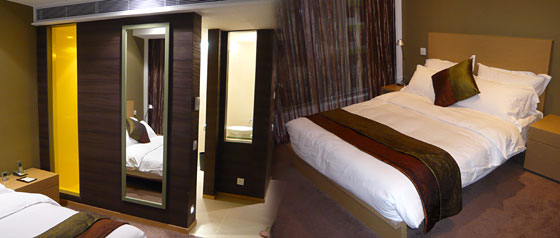 Our boutique hotel Butterfly on Prat. Very nice!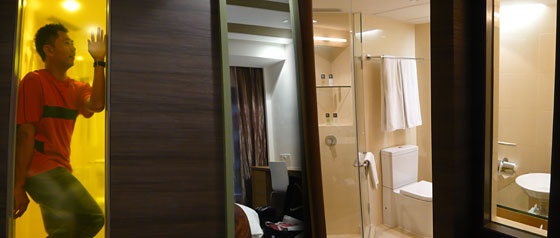 Very open concept, heehee! See-thru!! Thankfully KP is not staying with us, haha.

After resting for a while, we ventured out to the vicinity, walking along the streets of Granville Road, Cameron Road and Carnarvon Road. It didn't take long at all before Lydia made her first purchase: 2 pairs of sandals (buy 1 get 1 free). And very easily a couple more as these small local boutique shops called out to her.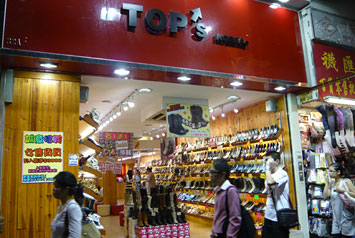 The first shop

After spending some time shopping, KP left us to head to Tseung Kwan O (TKO) to meet his girl friend for dinner. He'd be staying at his friend's place for the duration of the trip. Oooh... :)

That means we gotto settle our own dinner! Shoot, I can't speak Cantonese, I can barely read Chinese. :P We ventured into Hau Fook Street where rows of restaurants beckoned, and settled for a noodle restaurant.

Haha, I can read words like "niu rou mian" but it was a real struggle. The menu has no pictures. Thankfully the aunite was patient and we ordered a niu rou mian and yun tun mian. "Yao la ma?" she asked? How hot can Hong Kong chilli be? "Yao!"

Turns out to be a big mistake. The chilli is those oil-based chilli and wah, we really can't take it after a while! Perspiring!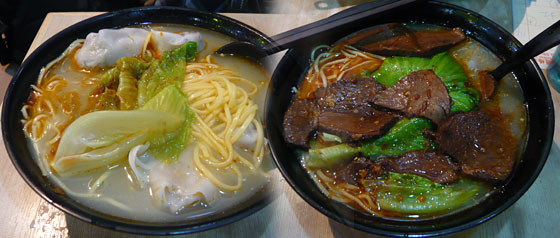 Our fiery chilli noodles

Well, overall, it has been an interesting experience in Hong Kong on Day 1. Looking forward to tomorrow. Pray for good weather!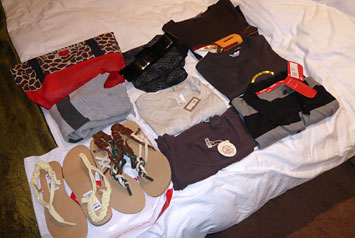 Our (Lydia's) shopping loot for today


Sunday, 13 September 2009 - Japanese Clay Making Class
We had our 2nd Japanese clay making class today for the miniature pastries and cakes. I finally got to see the fruits of my labour.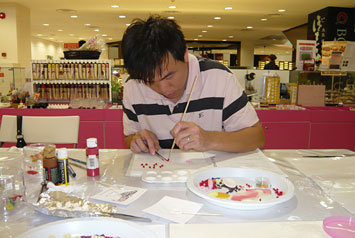 Painting tiny strawberries with a tweezer and brush in my hands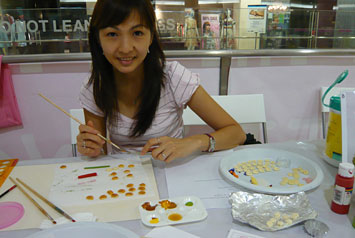 Clay making involves painting too, apparantly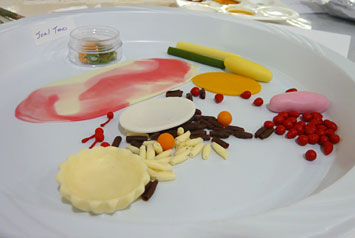 Making the small parts first.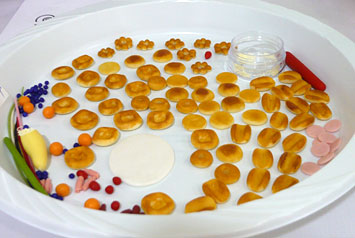 Pastries and dough!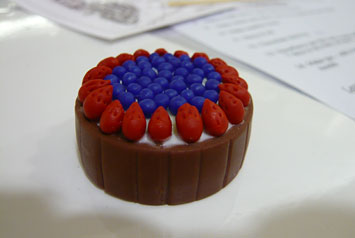 My strawberry chocolate cake with blueberry toppings!

Tiring but quite fun lah, haha!


Saturday, 12 September 2009 - Boon Chong's Birthday
Today's Boon Chong birthday! We had a surprised planned for him after the morning futsal game, hehheh! A special birthday cake!!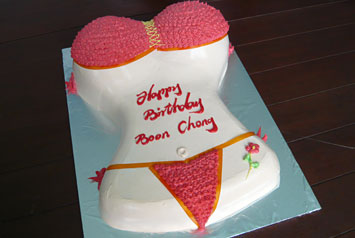 Sexy bikini cake for the birthday boy!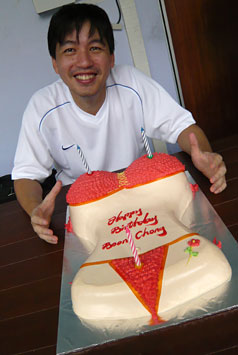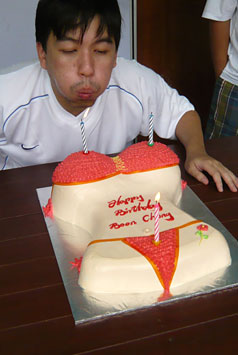 BC couldn't wait to get his hands on it! Total blow out!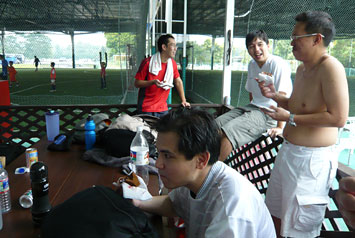 Andrew's (far right) dismayed that the beautiful cake was eaten

After the cake cutting ceremony and cake eating session, we had lunch at Turf City before going to Chinatown to buy bak kwa. Having not been walking in Chinatown for a long time, it was quite interesting. The place is quite touristy now, but it was fun walking through the streets and watching the tourists.

In the evening, we met up with J&F and my parents as it is Jason's birthday! Dinner was at Pasta Waraku @ The Central. Food's not too bad, the price is reasonable and the portion is big. Had fun dining with them!


Wednesday, 9 September 2009 - The Cage!
It's been a very long time I last played at The Cage. Way back in 17 July 2006 in fact, for my ex-company's futsal competition!

Tonight, courtesy of Radix who invited us down for a kick-about with drinks provided, we had a swell time! Cheng How, Max and Zhang Dong were present too, as well as Lydia. There were a total of about 15 players.

It was fun but very exhausting! It's a cool feeling stepping into the enclosure with a super huge industrial fan up in the ceiling. The ball never goes out of play at the side, so it's very draining. But we had a fantastic spell and scored plenty of goals against the opponents and remained on the pitch for ages, heehee! By the end of the 2hrs plus session, I had scored 4 goals, and my toes and thighs were on the verge of cramping! Timeout!


Sunday, 6 September 2009 - New Food, New Skills
We just couldn't drag ourselves out of bed today... and ended up skipping church. :P

Lunch was at Sapporo Ramen at Robertson Quay. We actually wanted to goto Martama Ramen at Liang Court but thought we'll try out this place.

Regrettably, it turned out to be a forgettable lunch experience. It started out well: The main dining venue was full and we were led to an adjoining venue. With a crowd like this, we were eagerly anticipating the food. Unfortunately, the soup-base was simply overwhelmingly salty. For Lydia, a ramen-lover who would usually drained out the whole bowl of soup, she left behind half a bowl of soup. For me, the noodle was too soggy and not firm and springy. But it really was just too salty for our liking.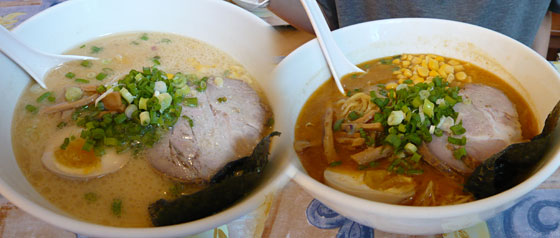 Should have gone to Marutama Ramen instead!

In the afternoon, we had our first Japanese clay making lessons by Craft It Yourself! Miniature pastries and cakes! My dear wife dragged me to sign up for it....

Can you imagine a guy straining his eyes and fiddling with clay between his big clumpsy fingers? Yup... that's me. I have to make like 80 tiny strawberries!



Japanese clay making session with our teacher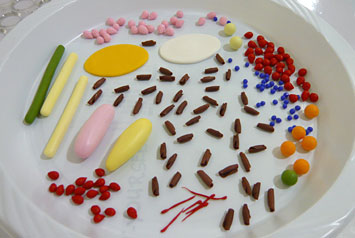 My mini clay creations in the works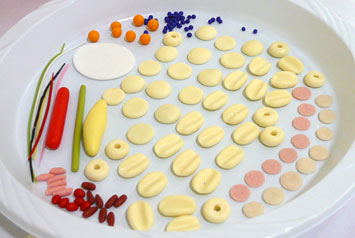 Lydia's clay creations

Well, at the end of the 2hr plus session, my eyes and hands were tired, but it was quite interesting making these tiny clay parts. Can't wait to see how the final masterpiece will look like!


Saturday, 5 September 2009 - A Packed Saturday
Just when I thought that I ain't going to score a goal in the weekly morning futsal session with my friends, Cheng How laid a pass into my path just outside the left-side of the box. Took one touch to stop the ball, look up to see the position of the goal post, look down, and took a swing at the ball with my left foot. The ball curled and arched nicely past a defender in the way, past Boon Chong, and nested in the bottom right corner. I was surprised for a while cos I thought the defender would have blocked it. And then I just raised both my hands I shouted "Yay!", haha! My friends teased me for the super calm manner that I scored and my celebration, hehheh!!

After the game, we went to Linear Space, an interior designer company at Beauty World Centre. The ID is Marc, who's the brother of Cheng How's friend. :) Well, we had seen the work on the website and liked what he did, so decided to check out Linear Space. Marc came across as a really nice guy and we were very comfortable talking to him. The company is not very big, but it's the results that matters. And price of course. :)

Wondering where to go for dinner, we decided to try somewhere out of our normal dinner venues. We went to East Coast Lagoon Food Village instead! Wow, the place is super crowded on a Saturday! It took us like 15 min before we found a seat. Both of us ordered Cheok Kee duck rice, heehee! Ever since Cheok Kee moved out of my parent's home's backyard (quite literally actually!) at MacPherson, we have always been craving for it!

After dinner, we took a stroll along the sandy beach and admired the scenery amidst the cover of darkness. Thankfully we returned to the car soon enough cos the parking coupon had expired 30 minutes ago and we spotted the car park warden making his rounds!! Phew!!!


Monday, 31 August 2009 - Dinner with KP & CH
Went out with Kian Pang and Cheng How for dinner at Keong Saik Road (Chinatown) at a zi cha restaurant that Kian Pang highly recommended. The food's pretty good. Had a great time chit chatting with these two guys. Boys will be boys... ;P


Sunday, 30 August 2009 - Enhancement to Off-Peak Car Scheme
Great news to all weekend-car, off-peak car (OPC) owners! LTA is going to implement the following initiatives:

1) Replacement of paper license with e-Day license (From 23 Nov 2009)
2) Unretricted usage on Saturdays and eve of 5 public holidays (By end Jan 2010. Woohoo!!!)
3) Cash rebates for conversion of normal cars to OPC scheme

I'm really excited about point 2 especially, cos that would mean I can drive out on Saturday morning and play futsal without using the $20 coupon! Yeah!!

Well, they will increase the cost of the road tax, but it still works out very well!


Saturday, 29 August 2009 - Team Outing!
On a nice Saturday morning, we had our team outing at Sentosa!

The first stop was at the newly opened Megazip Adventure Park! Opened to the public only next month, we got to try it out first! The first activity was ClimbMax, a high rope adventure obstacle course high up above ground and among the Eucalyptus trees. Oh boy, it was tough and tiring!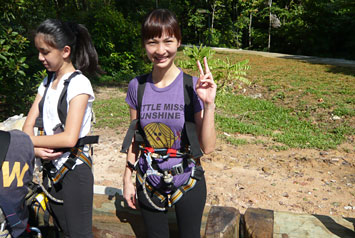 Little Miss Sunshine is all strapped up and ready!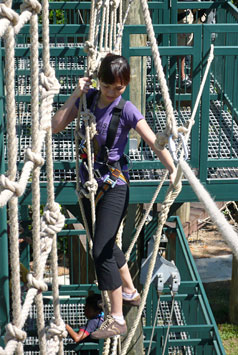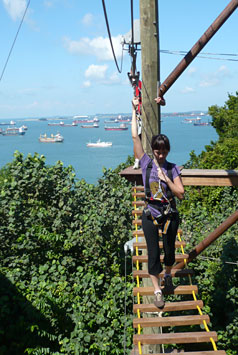 Bravely negotiating the high rope obstacle Fantastic view from up there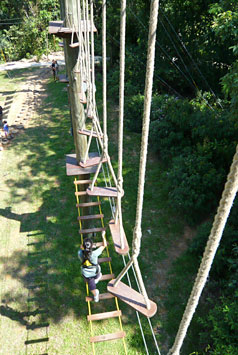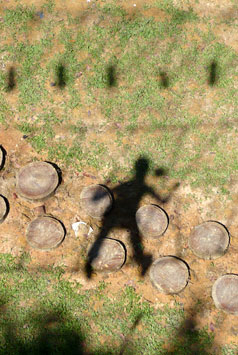 The toughest obstacle of all!! Little Miss Sunshine's shadow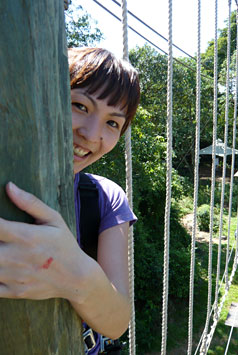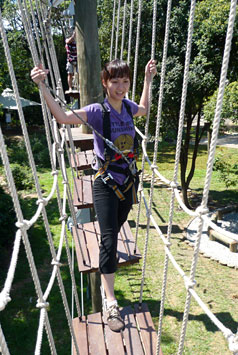 Nothing like the comfort of the rest log Almost there!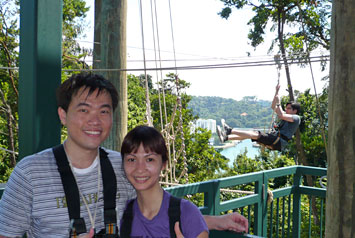 Level 2 ClimbMax completed!

The next activity is the ParaJump, a 50-foot leap of faith jump! It's like bungie jump without the springs, hehheh!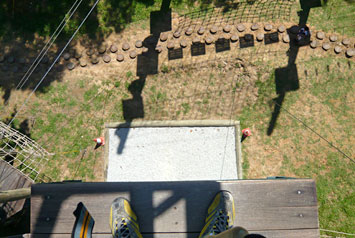 Scary! Just take a step forward!!

The hardest part was psyching yourself to take that step into thin air. Once that's out of the way, the rope system immediately brakes the decent. I thought I could free-fall for a while, but I could feel the rope resistant almost immediately. Was a bit disappointed with it. Bungie jumping was a lot more fun!



Amazed that my wife jumped so quickly! So daring of her!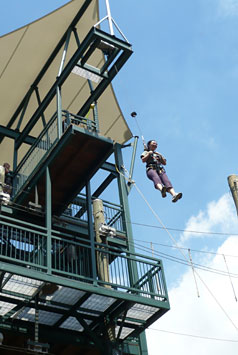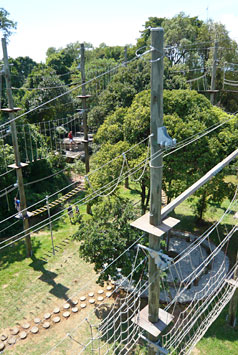 My boss leaping off the ParaJump Overview of the ClimbMax course

The final leg is the 450m flying fox ride, the MegaZip! Woohoo!! The ride from the middle of Sentosa island will bring you all the way down to an island in the lagoon at Siloso Beach! How cool is that eh!!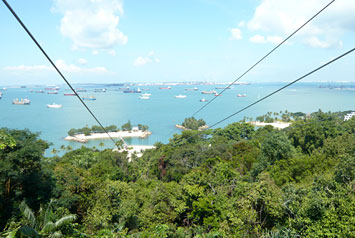 Can't wait for the flying fox ride down these ropes!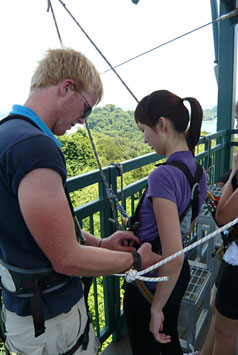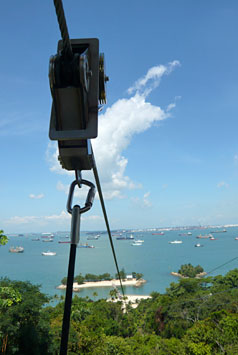 Hooking up for the ride of your life All systems go!!


Check out my video of the Megazip ride!

After the fun morning activities, we had lunch at Silver Shell Cafe at Rasa Sentosa. With our stomach filled, we gathered for a session of sharing and discussion.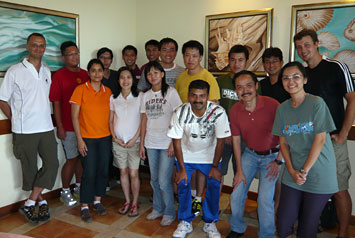 Team photo

After the session, it was free and easy as we checked into Rasa Sentosa and rest and freshen up for dinner.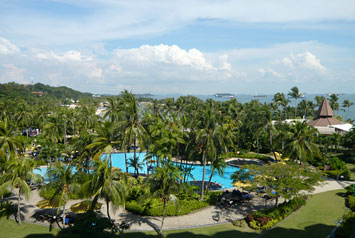 Nice view from the balcony!

Dinner was at Trapizza. With its alfresco dining by the beach, it made a great dining atmosphere for chit chats. Food was good too!

After dinner, we went for a night LugeRide! Whee! The Skyride was fun too!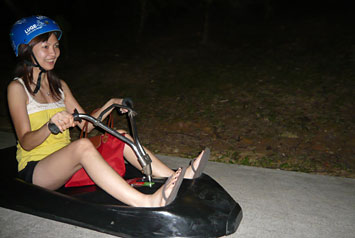 First time Luge-rider!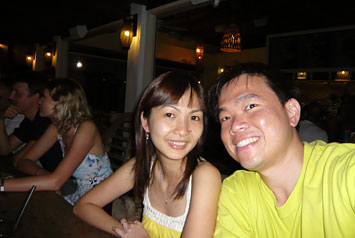 Chilling out at Coastes after the Luge Ride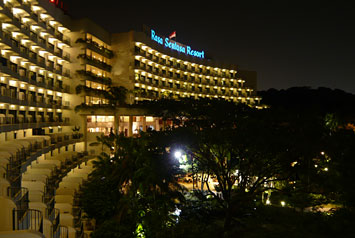 Night scenery from the balcony



Another night scenery from Rasa Sentosa


Friday, 28 August 2009 - Finally, a F1 SingTel Race Prize!
After months of playing in the F1 SingTel Race website's contest, I finally won a prize! Though it's just an exclusive T-shirt and not some tickets to the F1 event, I am still very happy, cos I was beginning to think that it is impossible to win any sort of prize!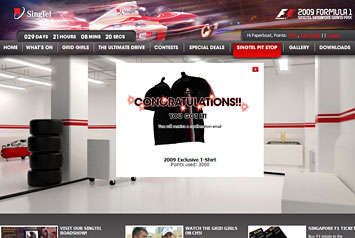 My prize from the F1 SingTel Race website. Yeah!


Sunday, 23 August 2009 - A Close Shave Car Accident
We were heading to Liang Court for lunch after church and I had exited from the CTE at Exit 4 near Cavenagh Road. We were coming down Buyong Road approaching the cross junction to Cavenagh Road when the traffic lights turned red and I stopped on the line, with a taxi just beside me on the left on the 2-lane road.

When the light turned green, both of us were moving off when out of the corner of my left vision, throught the taxi windows, I caught a glimpse of a fast moving car coming down Cavenagh Road! At the speed that it's going, it ain't look like it is stopping!!

I hit the brakes and so did the taxi driver. Less than a second later, a lady in a car zoomed across the road, barely a metre in front of our cars. The amazing thing is, she seem totally oblivious that she had shot a red light and almost caused an accident!

I looked at the taxi driver and he also looked at me and we both were like stunned. Stunned at the close shave and by the oblivious lady driver.

I am thankful that he was alerted enough to brake in time. Otherwise his taxi for sure will slam into my car from the force of the impact.

And I am grateful to God for giving me an alert mind to notice the incoming car out of the corner of my eye. For otherwise, that car will be crashing into the left side of my car where my wife is sitting.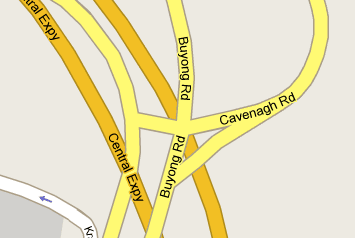 The cross junction of Buyong Road and Cavenagh Road

The moral of the story?

1) Ask God to watch over you everyday
2) When the traffic light turns green, always check for cars trying to beat the red light
3) Though taxi drivers are quite reckless, they are still alert
4) Lady drivers.... hiak. Incidents like this gives you a bad name
5) Don't be too fast to horn. The car behind me actually horn me for braking hard! Joker!!


Saturday, 22 August 2009 - My 1 in 20,000 Chance!
This Saturday's morning futsal yielded zero goals for me. Had a couple of chances but they didn't go in. Better luck next time!

Lunch was at the beehoon mee stall at Commonwealth. Been a long time since we ate here. As usual, we just ordered chicken wings and beehoon mee. Pity the chicken wings ain't as hot as during dinner time. Maybe cos it's a bit late for lunch already.

After lunch we rushed down to Raffles Place Park to drop in my contest form for "The Straits Times: A Part Of My Life". There are ten $200 cash voucher prizes and the top prize is the Volkswagen Golf 1.4 TSI. I've been deligently buying the Straits Times newspapers over the past 7 days and collected the "keys", heehee.

Wow, the place is packed with people! We squeezed our way in to drop off the entry form before roaming around the place while waiting for the event to begin. We found a spot on the greens at the left side of the stage and settled down for a "picnic".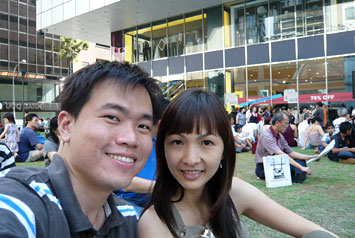 Sitting on the grass of Raffles Place Park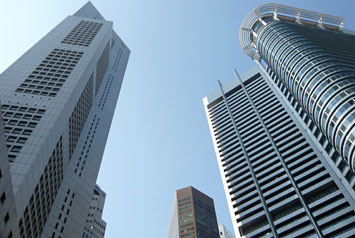 Skyscrapers towering overhead

Unfortunately the sound system was terribly terrible and couldn't hear what the MC was rambling about. The view of the stage from the side was terrible too and couldn't see the big screens as well. So we moved to the far end of the centre crowd with a more central view but had to stand.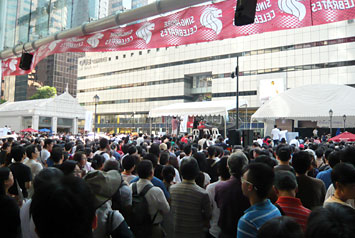 View from the back of the crowd

Things got started as the MC played some games with volunteers from the crowd. My wife was looking a bit bored and I wondered if I'm wasting my time here. What are the chances eh? But a thought in the back of my head tells me that this lucky draw will be different.

The draw for the 10 lucky readers for the $200 cash vouchers begins. Oh man, even with the speakers facing our direction, it was difficult deciphering the name dictated by the MC. 1st name: 3 syllables, can't be me. I wondered if I should have put my full name down on the entry form instead of just "Joel Teo". There might be another "Joel Teo" in this huge crowd!

The MC announced the 2nd name and it wasn't my name either. Will it be worth the effort and trouble coming down here under the hot sun and stand here among thousands of hopeful people?

The MC called out the 3rd name: "Joel Teo"

Huh? Did I hear correctly? He called out again "Joel Teo".

"Hey! It's me!!" I exclaimed to Lydia. Gee!! Amazing!! But shit, I'm like stuck all the way at the back with a huge crowd of people in front of me! We quickly did our uttermost best to squeeze through the crowd and signal to the spotters in white T-shirts. I was like barging my way through the sholder-thick crowd, looking for openings, walking over pavement, grass, stepping on a little girl's foot (heard her scream "ouch!!") ...

Man, it must have been like 3 minutes before we made our way to the front of the stage. The organiser verified my identity and when I saw the entry form that she was holding was indeed mine, I was really relieved cos was worried that maybe it was another "Joel Teo", haha!

I went up the stage, shoke hands with the guy up there who congratulated me and handed me an envelope, and posed for a photo. Was a bit nervous cos up on stage in front of thousands of people, yet very elated, hehheh!



Up on stage collecting my $200 prize!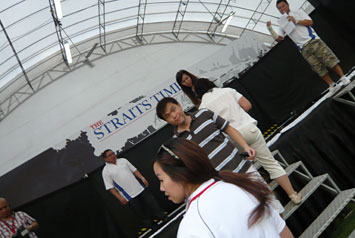 Coming down the stage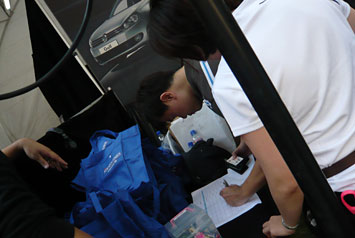 Signing off as one of the lucky winners

After collecting the prize, we left straight away and did not wait for the car teleportation magic performance by Magic Babe Ning and JC Sum.

Wow! It's quite unbelievable to have actually won the prize! $200 isn't a lot, but the incredible part is to be actually selected among thousands of entry forms! Really blessed by God!

*Later learnt that there were 16,000 people who turned up at Raffles Place Park and 20,000 entry forms. That's a 0.005% chance! Click here to see car winner*

Wanting to share in the happiness, we met up with my parents for dinner at Old Airport food centre and treated them to dinner. The food here is good and the place is very crowded!


Friday, 21 August 2009 - Dinner @ Gyu-Kaku
We're on leave today! Today being our "Couplehood 10th anniversay", heehee!

In the morning we went to Shenton Way cos I have a dental appointment at NTUC Denticare. Been almost a year since my last checkup. :P

In the evening, we went to Gyu-Kaku @ Chijmes for dinner! Have always loved the food at this restaurant!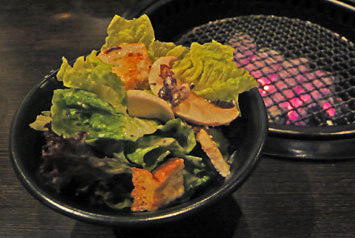 The solid caesar salad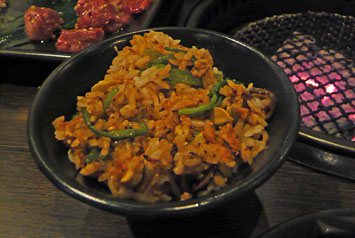 The best bibimba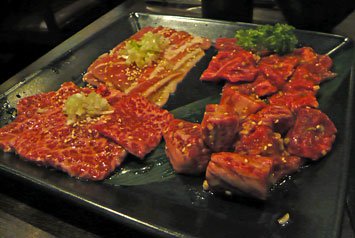 An assortment of pork, beef and Wagyu beef!



Juicy meat sizzling over the charcoal grill. Yummy!

To wrap up the fabulous dinner, we ordered the special Blackmore oyster blade Wagyu beef. 100% pure Japanese Wagyu beef! Oh man... the beef was simply superb. It melts in your mouth and leaves a tingling milk sensation. Oooh! The best of the best of Wagyu beef!!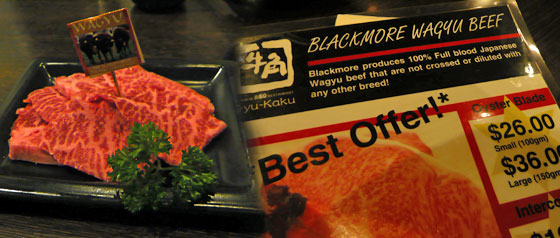 The best beef I ever tasted in my life!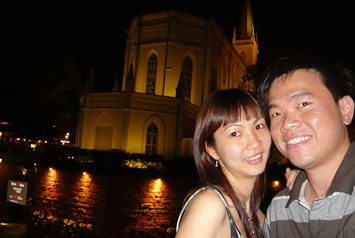 A romantic stroll in Chijmes after a fantastic dinner


Thursday, 20 August 2009 - The Proposal
Hehheh... not that I needed to propose again. :D

After work, we caught the movie "The Proposal" @ The Cathay Cineplex and had dinner at basement level 1. The show's not too bad actually. I wonder why the critics slammed it? Must be anti-Sandra Bullock, who appeared totally naked in the show, saved for a tiny towel in her hand.


Wednesday, 19 August 2009 - Dinner with Wai Seng & Elaine
Hiak, with our hectic work schedule, though Wai Seng stays a couple of blocks away only, we hardly have time to meet up. But tonite we met up for dinner at Alexandra Village at the zi cha stall. They actually wanted to go to another zi cha restaurant in the vicinity, but it was closed for renovation.

Anyway, it was great catching up with them and chatting over a nice dinner of "hum" (for WS & Elaine), BBQ stingray, sambal kangkong and prawn paste chicken. Nice!


Monday, 17 August 2009 - Birthday Girl in Orchard
There's nothing my wife likes more than shopping. The two of us are on leave today and we spent our time in Orchard, hehheh!

Lunch was at Crystal Jade Korean Restaurant @ Centrepoint. The food here is pretty good. And on Monday, the ginseng chicken is going at $16 (usual price: $25) only.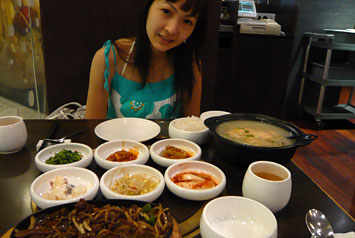 Tucking in to Korean delights

With her stomach filled, it's time to shop for her birthday present. She has been lamenting that her current bracklet is broken. Okie... I got the hint.

So we went to Tiffany @ Ngee Ann City and checked out their silver jewelry collection. After some searching, she picked the Toggle bracelet with an additional I Love You Heart lock charm.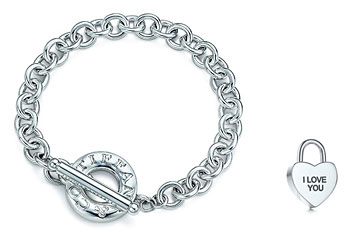 Birthday present from Tiffany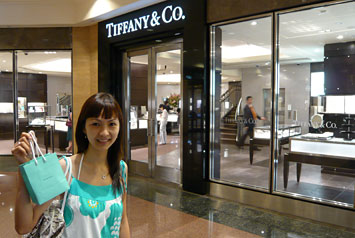 The happy birthday girl


Sunday, 16 August 2009 - The Weekend to Top it All!
It's the eve of Lydia's birthday and after church, we had lunch with my parents at Fish & Co @ Novena Square.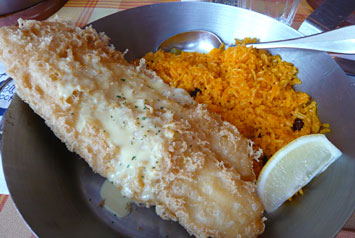 My yummy fish and chips. Actually fish and rice!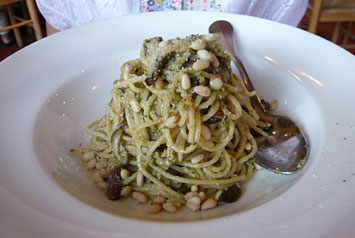 My mum's healthy spaghetti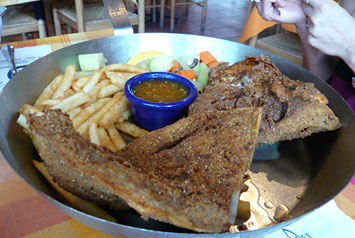 And the birthday girl gets a biggie swordfish!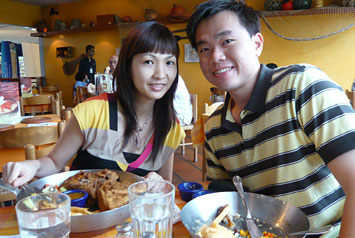 A very colorful photo, heehee!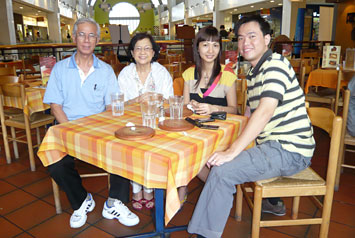 Lunch with mum and dad

After lunch, we met up with my guy friends to catch the cartoon movie UP, in 3D! The 3D effect is pretty cool, but it's a pity the oversized 3D glasses is totally uncomfortable. It doesn't rest on the nose bridge and throughout the movie, I was consciously adjusting the glasses all the time and devising novel ways of keeping it up.

The movie's pretty good I think, though the darkened vision brought on by the 3D glasses made me sleepy, haha! And if you think that cartoon movie is suitable for kids, this one is a tad too deep for kids! Halfway through, the kids in the row in front of me were getting restless.

After the movie, we headed down to Suntec with Kian Pang and Cheng How to.... Comic Con! aka Singapore Toy, Games and Comic Convention! Wow, so many varieties of interesting toys, cosplayers and even Master Chief in person!

Peeling away from all the distractions, my true-blue Lego instincts soon zeroed-in on the red and yellow signage beacon. Behold! The almighty Lego Starwars Death Star beckons!! 20% discount!!!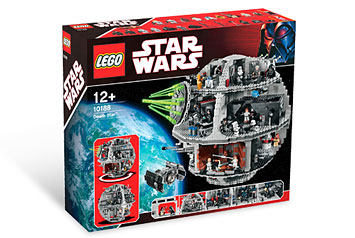 The Death Star (Item 10188)!

It was an offer too hard to resist and I soon hinted to my beloved half if I could indulge in this 3803 pieces masterpiece.

She agreed, heehee! :D



A happy owner of the Death Star!

Woohoo!! Simply elated, haha!! Oh boy, the massive set is super heavy!!

I also bought the Revoltech Soryu Asuka Langley at just $20. It has been a really happy trip to ComicCon, heehee!

After depositing the items in the car, we had dinner with the guys at a Japanese restaurant at Basement 1. Had lots of fun chatting with them and since it's Lydia's birthday, we gave them a treat.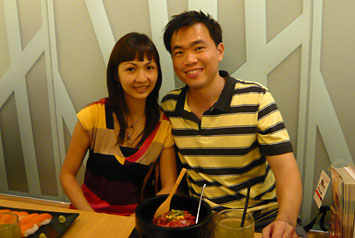 Dinner at the Jap restaurant at Suntec B1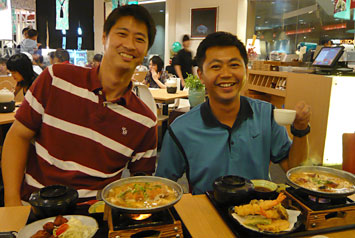 Dinner with the two jokers Cheng How and Kian Pang!

Back home, my wife was complaining that it seems like it was my birthday instead of her birthday, haha! Well, her present will come soon. :)

As per our birthday tradition, at the stroke of midnight, we celebrated with a birthday cake!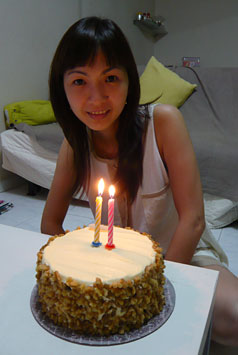 Happy birthday piggy!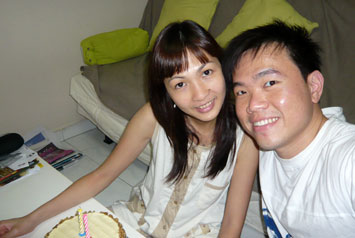 One year older, cannot be so pampered, hor?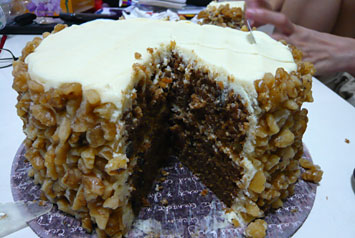 The delicious carrot cake from Cedele


Saturday, 15 August 2009 - Let the Weekend Begin!
I always look forward to futsal with my friends on Saturday morning. With Lydia happily helping out Priscilla at the shop at Turf City, I can play with less guilt too, heehee!

We played in the futsal big field today. Energy sapping! I always start off drained and have to rest a while before I warm up and get into the flow of the game. Probably cos other players start to tire? Haha!! I thought I won't be able to score today, but I did! At the edge of the box on the right, a short pass that resulted in the ball being almost behind me but I still struck it (and struck some portions of the turf too) and luckily it still packed sufficient power to nest in the bottom left corner.

My right foot is going to be a teeny bit sore, I think! :P

We went to Adam Road Food Centre for nasi lemak before going over to Serene Centre to buy some ice cream for a dinner gathering tonight. I managed to persuade my wife to detour to Toy Station on the 2nd floor. After some not-so-subtle hints, I manage to land two Lego sets! Yay!!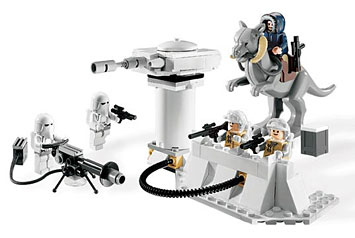 Starwars Lego: Echo Base (Item# 7749)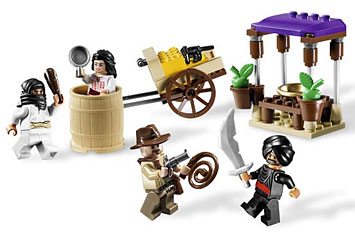 Indiana Jones Lego: Ambush in Cairo (Item# 7195)

Dinner was at Uncle Nick's condo at Regent Park, where a solid spread of BBQ food awaits! The crayfish was very good! Always look forward to meals by them cos quality food is always there. :P

Ooh, actually it was also for my cousins Hazel's and Gabriel's birthday. :P Didn't buy presents, but luckily we brought 3 tubs of Island Creamery ice cream. Heehee.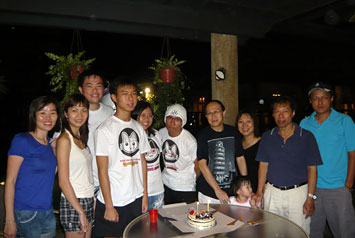 Cousin's BBQ birthday party

Had a fun time chatting with our relatives and playing with the 2 nieces! Should have more gatherings!


Tuesday, 11 August 2009 - Lovely Complex
I just finished watching another high school anime comedy titled Lovely Complex. :)

Spanning 24 episodes, Lovely Complex is a love story about a taller-than-average girl Risa Koizumi and a shorter-than-average guy Atsushi Otani. Though constantly bickering and getting into comical situations, Risa soon falls for the guy and confesses to him, only to be "rejected" time and time again by the blur guy. Despite all these, Risa's perserverance paid off and they got together in the end.

A nice, feel-good anime with some amazing opening and closing theme songs. Recommended!


Lovely Complex - Opening theme song 1


Lovely Complex - Ending theme song 2


Monday, 10 August 2009 - GI Joe & Bottle Tree Park
On this National Day public holiday, we met up with my parents and Cheung & Veron's family for lunch at Bottle Tree Park. Never been here before and it was quite an interesting place. There's longkang fishing, prawn fishing, fish fishing and a seafood restaurant.

The seafood restaurant was so-so. There's better quality and price elsewhere, but you won't be able to get this rustic atmosphere elsewhere.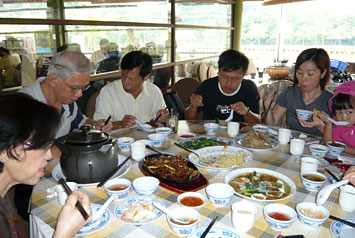 Lunch at Bottle Tree Park Seafood Restaurant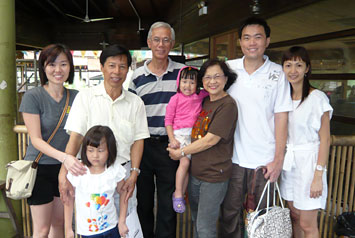 Family outing with KC & family :)

In the evening, we met up with my friends to catch GI Joe at Cathay. Go Joes!! G.I. Joes were my childhood toys, heehee! I bet my 1980s GI Joe toys are still somewhere in my parent's storeroom. :)

The show's pretty good. Lots of non-stop action from the beginning right to the end. It's a pity that the moive never showed Cobra Commander and Destro in their full glorious uniforms and masks. Where's the classic Cobra Commander mask?? Alas, the producers found it too similiar to Ku Klux Klan masks. Geez.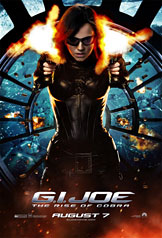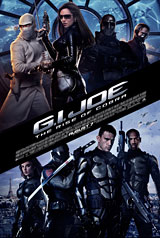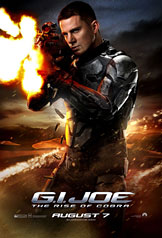 G.I. Joe: The Rise of Cobra - "Erm.... how is it the rise of Cobra?"

After the movie, we went to Paradiz Centre... wait a minute... it ain't Paradiz Centre anymore. It's PoMo! What the hell? What's PoMo?? Even my childhood shopping centre has gotten a facelift (like Cobra Commander) and a name change ("Call me.... Commander").

We went to Ishi Mura foodcourt on level 3, a Japanese themed foodcourt. The ambience is nice and cosy, though the food sucks. But it's cheap. Had fun chatting with the guys (Cheng How, Kian Pang, Andrew, Boon Teck, Boon Chong). Hey, I've been hanging out with them quite often these days, haha!


Sunday, 9 August 2009 - Happy National Day!
If one's luck is measured by how lucky one is to get ballot tickets to the National Day Parade (NDP), on a scale of 1 to 10 (10 being striking the lottery), mine would be a bird pooing on your head score of 1. For as far back as when the eBalloting of NDP tickets came into existence, I've been applying and have gotten ziltch. I've tried all combo (2, 4 or 6 tickets) with zero luck.

Oh well! It's National Day! What better way to show my typical Singaporean behaviour by complaining rite! Haha!

We still go to church in the morning and went for lunch at Jack's Place @ Ang Mo Kio with my parents. The place was amazingly crowded! The ribeye steak on hot plate was good, but the lunch time special sirloin steak on a cold ceramic plate was quite disappointing.

All appointments in the evening were cancelled as we stayed at home to watch the NDP2009 parade on TV. This year was once again held at the Marina Barrage, but with a creative touch as all the segments were ingeniously fused together to form a musical. And there were the fireworks and the new 8:22 Pledge Moment (why 8:22? The answer's here). It was really a fantastic parade.

My own lament is the short aerial airtime by the F-16s and the Apaches.

Happy 44th birthday Singapore!


Saturday, 8 August 2009 - Bar Bar Black Sheep, have you any food?
The fantastic thing about playing futsal from 4pm to 6pm is that I don't have to use the $20 weekend coupon! We played on the big pitch today and man, Kian Pang and Zhiwei were in tremendous form. I must have like 8 shots on target and all were repelled by them. Plus a couple of misses and balloons, it was a day where I just couldn't score.

Well, gotto "zero-in" my shooting, and work on ball control and shielding. Those guys are always harassing me off the ball! Dang!

After futsal, we went to Bar Bar Black Sheep @ 879 Cherry Avenue with Andrew, Boon Chong, Kian Pang and Cheng How for some super delicious Indian food! Love this unique, laid-back place located along Bukit Timah and situated at the corner of private houses. The crowd's a mixed of locals and foreigners.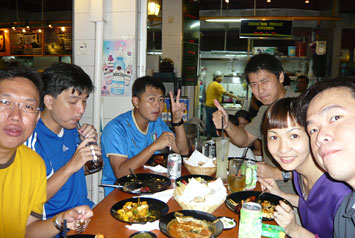 A rose among the hunks?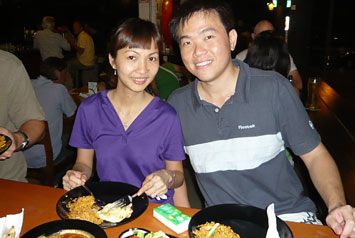 There's something about the purple-dress girl

The Indian food was really fantastic. We had plain naan, garlic and cheese naan, tandoori chicken, fish and some vege dish. The food was easily devoured by the 5 guys and a gal, and Andrew ordered more garlic and cheese naan with gravy, while Cheng How ordered ice cream waffle, calamari and fries and sausage from Smok'inn Frogz.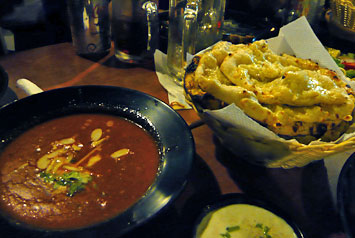 Garlic and cheese naan @ $4 each. Yummy!

At the end of it all, we were really full and it works out to $18/pax only! But the best thing that money can't buy are all the laughter, comical moments and chit chats that we had with these bunch of bachelor friends!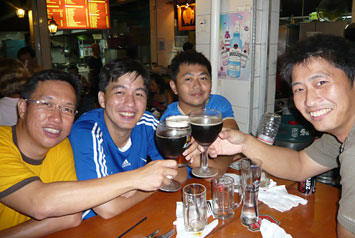 Andrew, Boon Chong, Kian Pang and Cheng How

Did I mention that they're swingin' bachelors? I'm always trying to match-make them, haha! Anyone? :D


Friday, 7 August 2009 - Dinner @ Adam Road Food Centre
It's been a long while since we went to Adam Road Food Centre, so we went there for dinner. Lydia just had nasi lemak for lunch, so she had satay instead. Me, it was nasi lemak of course, with otah. $4 for something so good, where to find? :)

As we looked at the crowd of people here and the many stalls, we wondered if the other food will be nice or not. The mutton kambing soup, the mee goreng... and what about the other half of the the non-Malay food stalls?

I guess maybe some day in the future, we may know. But in the near future, it's only nasi lemak or satay when we're here! Tried and tested!!


Thursday, 6 August 2009 - Holy Cow! WWII Kamikaze Pilot Lookalike?
While waiting at home for my wife, I was watching a recorded History Channel documentary on my Stahub Hubstation, entitled Military Blunders. The episode: Japan's mistakes at Midway / The failure of the Kamikaze.

Halfway into the show, the documentary was slowly panning across a group of Japanese kamikaze pilots and holy cow, I saw one of them that looked like me!! *stunned!!*

It took me a good 10 seconds or so before I hit the pause button and rewind for a 2nd look. And for a 3rd... 4th... 5th look. Woah, this guy looks like me! I look like this guy! Perhaps not exactly like the present me, but the resemblance is striking!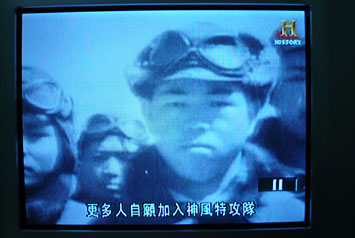 Does this WWII Japanese kamikaze pilot look like me?

Initially, I thought that maybe I was mistaken. I showed my wife when she got back and she went, "Hey! Looks like you leh!"

Wow. On one hand, it is pretty cool. On the other hand, it is quite unnerving. This dude is probably dead and he looks like me!

Gee. As a Christian, I don't believe in reincarnation, so it is a thought that I would never contemplate. But the similiarity is amazing. But I suppose the world is so big that there is a chance that someone else looks like you.

Well, I'm going to show the photo to my parents this Sunday and see what they say, heehee!


Sunday, 2 August 2009 - Hanging Out with the Bachelors
Going to catch a movie with my guy friends later in the afternoon! Together with my wife. :)

After church, we went to China Square Central to check out Ng's Collection, where Kian Pang said Revoltech was going for cheaps. Sadly, the Revoltech range was very little. I was out of the shop before you could spell Revoltech backwards.

Lunch was nearby at Hock Lam Beef for their beef noodles before we headed to Shaw Centre and met up with the rest to watch The Hangover.

The show's pretty funny, though I keep thinking that it's similiar in concept to Dude, Where's my car?, just with a crazier plot and Heather Graham.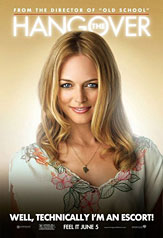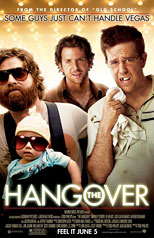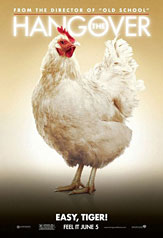 If you're watching this move, you must stay behind to see the hilarious scenes during the credits!

After the movies, we went with Kian Pang, Tzin Mein and Boon Teck to Spinelli @ Velocity to chit chat and chill. We stayed there so long until it was time for dinner! Boon Teck left, while we went to The Pizza Place @ Fortune Centre. The food's quite good! Had a great time dining and chatting with them!


Saturday, 1 August 2009 - Futsal Crazy
It's the annual BGC Radix Futsal competition today! My company took part again and I was in the 10-man team. Venue was at Choa Chu Kang Sports Complex.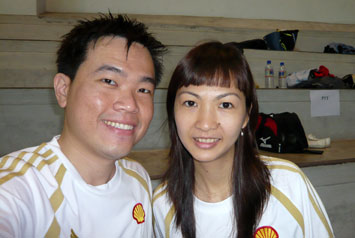 Futsal player and supporter!

The group stage consisted of 3 matches. We lost the 1st game 1-2, won the 2nd 1-0, and only needed to draw the 3rd to go through. Alas, against the favorites, we actually lead by a goal before going down 1-3. Pity. Pity too that with 10 guys in a team with only 4 outfield players excluding the goalkeeper, playing time was an absolute premium. :(

After a heavy lunch provided so kindly by Radix, we went down to Turf City and I continued playing with my futsal friends, haha! Hardcore!! They were surprised to see me. Well, if I'm here early, that means we got knocked out early, haha!

No goals scored today though. Don't have my lucky jersey, sticky tape lah... :P

In the evening, we went for dinner at the beehoon mee stall at Commonwealth. Haven't been here for a long time and miss the chicken wings! Yummy!


Friday, 31 July 2009 - Rest In Peace, Sir Bobby Robson
I was in Cheng How's car when the radio mentioned Bobby Robson's name. Was still talking to him when I thought I heard the words "memorial service." Huh? Told CH that I thought I heard that Bobby Robson had passed away but he told me how could it be? Yeah, I dismissed the thoughts too, but hurried back home to double check.

I did not hear wrongly. Bobby Robson had passed away today after a long battle with cancer. It's a pity, cos he was a capable and good manager, most notably as Newcastle's manager. His presence will be missed.

----------------------------------------------------------------------

We met up with Auntie Nancy and Fenny (Lydia's auntie and cousin) who were in Singapore for a short stay. First time we went to Orchard Ion. Wow, the place is huge and very "messy", due to numerous exits on multiple floors. And it was damn crowded too. We went to Crystal Jade Korean Restaurant at Ngee Ann City for dinner instead. Had always wanted to try the food here. Well, the food's so so, but the portion was generous! Not as classy as it looks from the outside, but it's affordable.


Thursday, 30 July 2009 - Cheng How's First Day!
Alrite! Cheng How's my office colleague now, heehee!! Today's his first day at work after passing the interview with my team lead and boss. I'm really really glad that my "good word" intro mail landed him the interview and he aced it. His glory days of bumming around are over, haha. Welcome aboard!!

And we welcome aboard Michael Schumacher to the Ferrari F1 team too! The legendary Schumacher has replaced Felipe Massa as the Ferrari F1 driver as the Brazilian recovers from his injuries. This is amazing stuff! Will definitely add more excitement to F1!


Wednesday, 29 July 2009 - Shoot Bird
Today's my annual reservist shoot. It was nice to see familiar faces, though as each year goes by, there are lesser and lesser of them.

Darn... try as I might, I failed to get marksman again. I thought I was shooting better but the results showed 23 in, 21 out, for a score of 67. The last time I got marksman was way back in 19 Apr 2006. Sigh...

In the evening, I met up with Kian Pang and we went down to China Square Central (CSC) to check out the Revoltech toys! Excited, heehee!! Wow, I didn't know there's so many toy shops here! We spent a good part of our time exploring the shops on the ground floor and checking out the prices. Ironically, when we went to Ng's Collection, which Kian Pang said offered the cheapest price, it just closed for the day! D'oh!!

Lydia joined us later also and we left the place without buying anything. Eric Yong joined us later and we went to Chinatown for dinner before going home.

Patience is a virtue...


Sunday, 26 July 2009 - Xiao Qiang has grown
I was getting into the car this morning when I spotted Xiao Qiang on my steering wheel. Wow, he has grown! He had disappeared for about a month or 2 and I thought he had died or left. He's about 2cm now.

Alas, again I failed to catch him and he slipped behind the steering wheel and disappeared. Damn!

In case you didn't know by now, Xiao Qiang is a cockroach. Why is it called Xiao Qiang? Well, you gotto thank Stephen Chow in the movie Filthy Scholar for coining up this affectionate name.

Breakfast was at Ya Kun, followed by church and then lunch at a Korean restaurant at Suntec City. In the evening, we went to wash the car and went to a new HDB washing bay, cos the one that dispenses 2 full pails of water with just 20 cents is always taken! Damn!


Saturday, 25 July 2009 - In-house Massage & More Goals
Whenever I'm back in Padang, I always look forward to having a massage by the old lady, who's skilled in the traditional Indonesian massage. So it was a pleasant surprise when Lydia's friend introduced us to an Indonesian lady in Singapore who makes house calls and offer massage service.

She came by in the morning just as I woke up and I went first. It was good, though not as good as the ones in Padang. But it was great being able to get a good Indonesian massage in Singapore, as compared to what you get in Spa massage. Only $35 for an hour!

After a nice relaxing massage with aromatic lavendar oil rubbed all over the body, the next thing I did was go play futsal with my friends, haha!! What a waste, hahaha.

But it ain't all wasted as I scored 2 goals today, both from similiar positions in the centre outside the circle, both first time shot with my left foot from a pass from the left, and both shots nesting in the bottom left corner. Sweeet!

In other news, Ferrari's disasterous F1 season worsens as Felipe Massa was struck on the head by debris and crashed hard. I'm not expecting much from Ferrari this season, but I really hope that Felipe Massa is okay after being air-lifted to the hospital.


Friday, 24 July 2009 - Haircut
It's been more than 2 months since my last haircut on 21 May and the hair was getting quite difficult to style.

Since I've got reservist next week, we thus went for a haircut today at Headquarters Salon. I requested for a shorter cut so that the hair can "last" longer and save more money. :P

At the end of almost 3 hours (including coloring), it's really shorter now, especially the sides. Lydia's got a new hairstyle too. Kiddy lah, haha!


Thursday, 23 July 2009 - Revoltech!!
Oh no... I fear that my dear friend Kian Pang has introduced me to a whole new world of toys, something as monumental as what Andrew Quek did to me with Lego! The world of Revoltech!

Revoltech is an action figure line from the Japanese company Kaiyodo. The cool thing about it is the "revolver" joint, which gives the figures a great degree of articulation, thus allowing it to have many poses. The coolest thing is, it has a wide range of products that includes Transformers, Evangelion and Macross!!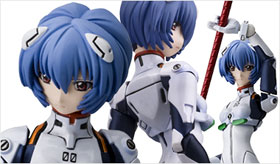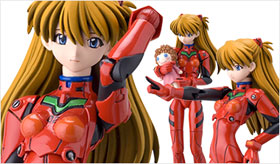 Rei Ayanami (Evangelion) Asuka Langley (Evangelion)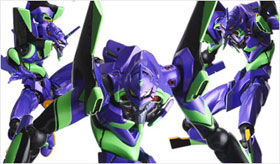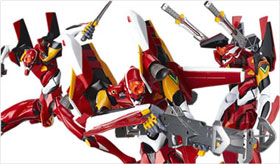 EVA-01 (Evangelion) EVA-02 (Evangelion)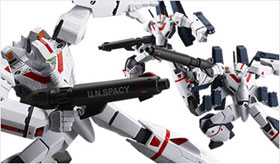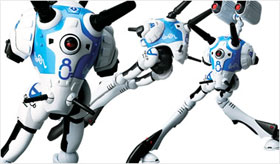 VF-1J (Macross) Regult (Macross)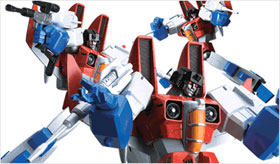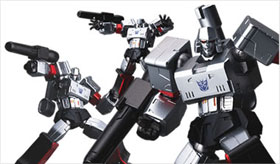 Starscream (Transformers) Megatron (Transformers)

Oh my goodness!!


Monday, 20 July 2009 - Back to Ikea
We haven't been to Ikea for ages and went back there again today. Well, Lydia's mum fancied one of our Ikea accessory and brought it back to Padang. :)

If there ever was a successful retail-cum-restaurant model to follow, Ikea has to be it. Who would have thought a furniture shop can have such a hugely successful in-house restaurant! We were there for dinner and it was really crowded! We had the usual 4 pieces of chicken wings and the Swedish meatballs.


Sunday, 19 July 2009 - No more Beef Chili Cheese Fries!
We went to Vivocity after church and had lunch at Carl's Jr. Shockingly, Carl's Junior no longer have Beef Chili Cheese Fries on their menu! Noooo!! That's our all-time favorite and only available in Carl's Jr!! I really hope they can bring it back again. :(

We went back home after doing some shopping in Vivocity and grabbing a polo shirt from Zara that was on sale.

After finishing with Evangelion and having an anime break with TTSC (Terminator: The Sarah Chronicles), it's back to anime again, with Gantz!

Gantz is about a group of people who are resurrected from their deaths by a mysterious black ball called Gantz. The people are then forced to participate in a game that requires them to kill highly dangerous aliens inhabiting the planet. There's lots of violence and gruesome deaths, as well as nudity.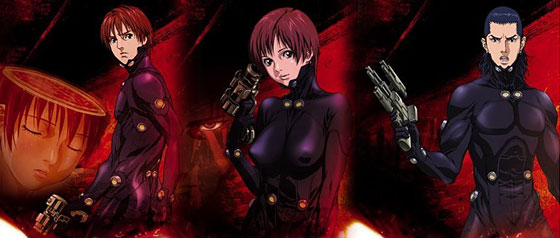 Karono Kei, Kishimoto Kei and Kato Masaku in Gantz


Saturday, 18 July 2009 - Scored Again :)
The blokes booked the full field at Turf City. Full field is tiring man! With only 13 of us to play 7-a-side, we roped in an uncle who was very eager to play and watching outside. He became our goalkeeper, hehheh. It was tiring but hey, I managed to score a goal today! Received a pass on the left and running down to the edge of the goalie's forbidden's circle, I toe-poked the ball with my right foot past the advancing keeper (Kian Pang) and into the bottom right corner. Very happy to have scored again after breaking the goal drought last week. :)

After futsal, on an impulse, we went down to Greenwood Avenue and bought a 1kg Lana cake! Their chocolate cake is still the best cake ever! Yummy!

We had nasi lemak lunch at Adam Road Food Centre before heading home to retire for the rest of the day. :P

Caught Terminator: The Sarah Chronicles Season 2, episode 14 to 22! The 2nd part of Season 2 was a bit slow moving but the last few episodes were simply fantastic and unexpected! It's a really great show. What a pity that Fox TV is cancelling the series. :(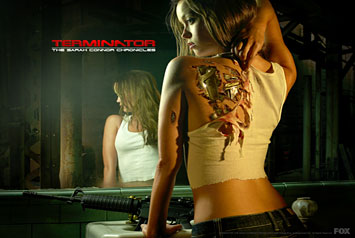 It's a pity Cameron (Summer Glau) is terminated by FoxTV


Tuesday, 14 July 2009 - This is 15kg?
It's Lydia's parents morning flight today and just like for her eldest sis, I helped them carry the luggage and flag a taxi. The amount of luggage they have is unbelievable! There's like 10 over pieces of luggage! I asked them if they can check in to Tiger Airways and my mum-in-law smiled and said that old folks are okay. Well, since TigerAirways now charge for check-in luggage, better not lose out!


Monday, 13 July 2009 - Billy Bombers' Milkshake
Haven't been to Billy Bombers for a very long time, and probably never with my wife, hehheh! But today, we went there for dinner with Lydia's parents as well as with my mum.

The food portion is still quite big as I had remembered. And the milkshakes are still nice! But how come my mother-in-law's milkshake came in a large stainless steel shaker, while mine came only in a single glass? Ah... that's the difference between a set menu with a free milkshake, and an ala carte milkshake.

Do all restaurants that offer a "special" set menu actually reduce the portion off their ala carte equivalent? Does it mean that while you think you're getting a good deal from the set menu, you're actually just paying less for less? Hmm....


Sunday, 12 July 2009 - Tales of Valor
It was an wee morning drive to the airport today, this time to pick up Lydia's parents who flew back from Hokkaido. Well, since this is a Sunday, after returning back to the home and they being all busy with unpacking and chatting, I decided to do some stuffs too: Play my computer game, Company of Heroes: Tales of Valor!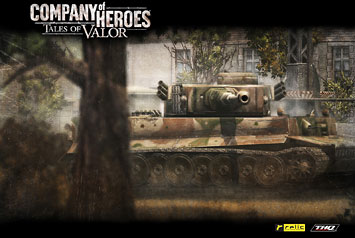 The fearsome Tiger tank!

The game comprises of 3 historic campaigns; Tiger Ace, Causeway and Falaise Pocket. Playing the first two campaign in normal difficulty, it was a walk in the park! So for Falaise Pocket, I upped it to hard and boy, it was a nightmare! Probably also cos I ain't too familiar with utilising the German infantry. But like all long drawn battle, there's nothing like gritting your teeth, getting stuck in, refusing to wave the white flag and fight your way to victory!

A nostalgic game for Company of Heroes (CoH) fans, but I think I get more kick playing the longer campaigns of the earlier releases. Too short, too quick!

For dinner, we went to Kenny Rogers at Great World City. Lydia's mum liked the chicken as well as the cheese macaroni.

Heh, the itinerary is very different with Lydia's parents as compared to Lydia's sister!


Saturday, 11 July 2009 - Goaaaal!!!
I finally broke my goal-less duck! Yay!!!!

The last goal I scored was on 9 May and it has been a torturous 2 month! It was the first goal I scored with my new futsal shoes bought on 14 May too!

Receiving a corner kick pass from Gabriel, I swung at the ball with my left foot and it rose and curled so sweetly into the top left corner. What a relief to break the duck!

After futsal, we went down to Imperial1, an automotive care service provider. Signing up with DBS-MSIG car insurance had entitled me to a free Classique Package. Located in Toh Guan Centre, it was very far, isolated and not easy to find. We eventually found the shop on the 3rd floor at the end of a multi-story car park!

The staff were polite and explained what the Classique Package comprises of. However (I knew it was coming, haha), it doesn't include Paintwork Recovery and Restoration. They explained that my car has quite a bad dose of swirl marks (and I still blame Mitsubishi Service Centre for it!) and some rain stains. If we do not do the paintwork recovery and just take the FOC package, the defects will still be visible but with a nice layer of wax on top. In Spa-terms, it would be like applying a Vitamin C mask on a face that has not been cleansed. The dude quoted $200 for this added service.

After some bargaining, we got it for $150. I dunno whether it's a good deal or not, but they look like a trustworthy company and are friendly.

With almost 5 hours to spare, we headed to IMM for lunch before going home to rest for an hour before heading back again close to 7pm.

Wow, the car looks superb! All the swirl marks are gone! They removed a lot of the white splash paint at the rear of the bumper too! The rims looks great and the car really looks stunning in a shiny black! Very happy indeed!! :D

They did intro a few maintenance package to us, but did not pressure us to sign up. With a weekend car, I don't really need to sign up for a quarterly maintenance. Nonetheless, we were really impressed and happy with the result and will probably come back again next time when the car's condition deteriorates!


Tuesday, 7 July 2009 - There She Goes
After a 1 night stay at our home, Lydia's sister caught the morning flight back to Padang. I went to office slightly later as I stayed back to help her carry her loads of stuffs to the roadside and helped her flag a taxi. Bye, jie!


Monday, 6 July 2009 - Early in the Morning at T3
We woke up at an unearthly hour at 4.20am and headed to the Changi Airport Terminal 3 to fetch Lydia's eldest sister who is returning from Hokkaido.

Gosh, the road is dead quiet. It was a good opportunity to allow my wife to drive to chalk up more road experience mileage, but seeing that we gotto get there by 5am and we're all not on our highest alert level, I decided not to pass her the wheel.

It was a good wait before she came out. We got back about 6am and I hit the bed while Lydia could find some energy in her to chit chat and see what her sis brought back.

An hour or so later, it was time to bathe and get ready for work. Didn't take leave today to accompany the sister.

But we picked her up with her after work at Vivocity, where she had gone shopping on her own. We went to Orchard Paragon for dinner at Spageddies. Love the mozarella cheesestick and their chicken salad. Good value for money! Been a long time since we had a nice western food. :)


Sunday, 5 July 2009 - Seeing Xuesha (S-Factor) in Person
During church service, we always asked each other, "Where shall we go for lunch later?" Haha!

Well, I hinted to my wife that WCG (World Cyber Games) is now on at Suntec. Besides, we haven't eaten Kenny Rogers for a long time. Onz?

Thankfully she was enticed by Kenny's chicken and macaroni cheese, so we made our way to Suntec after church. We had to wait a while for a seat cos it was crowded! But it was worth the wait, cos the food was nice. Love the corn muffin. Ironic, cos I am supposed to dislike corn.

We went up to Suntec Exhibition Hall after lunch to the WCG2009 event. Hey, Cosplayers! Cool! Glad to see a local interest in Cosplay.

We roamed around the hall and mingled with the mostly young male teenagers crowd, checked out the competition staging areas and the booths. Hey! At the Garena booth, the booth babe is Xuesha from S-Factor! We were quite surprised to see Xue Sha in person. She even handed me some Garena stickers. Lydia wanted a 2nd look and so we turned around and walked past the booth again, haha. Oh, Michelle from S-Factor is here too. She didn't look as fierce as she did in the show, heh!

I didn't buy anything from the booths. Tempted to get a Razor mouse, but, well, it's a "luxury" item that I can do without. See? Just look look only. It cost nothing to let me run loose in IT fairs and Lego BricksWorld.


Saturday, 4 July 2009 - Playing while She works
Poor Lydia. She gotto go back office to work on a Saturday morning. I dropped her off at her office before heading to Turf City for my weekly dose of futsal with my friends.

Sigh, I still can't break my goaless duck in my new futsal shoes. :/

After fetching Lydia from her office, we went to eat chicken rice at Loy Kee @ Balestier. When we got home after a late lunch, we were so tired and slept till like almost 8pm!


Friday, 3 July 2009 - The Most Expensive Dinner Ever
It's Revival Centre Church fund raising dinner today! In case you didn't know, my church is currently on a rebuilding project. We have been temporary putting up at Econ Building at Yio Chu Kang since moving out of the church premises at Moulmein Rise on 25 Nov 2007.

Our 200+ congregation have really worked a miracle and raised a significant amount of money. But the unexpected rise in construction cost meant more is required. The development fund committee thus came up with a novel idea; a fund raising dinner at Shangri-La Hotel @ a cool $10k a table, or $1k a seat!

Ouch!

Heh, just kidding. Though $2k (for two of us) is a lot of money, especially when we're saving up for our Pinnacle flat renovation estimated for completion in early next year, it was a foregone conclusion that we'll definitely be there to support the church. How can we possibly build our own house and neglect God's house? I would not have been able to live with that.

Together with my dad, Jason and Fenny, we took up half a table. My mum unfortunately couldn't make it due to an office function. Altogether, there are 46 tables. Cool!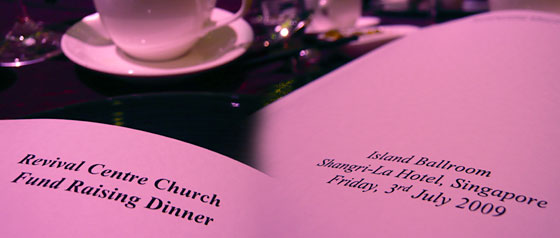 Revival Centre Church fund raising dinner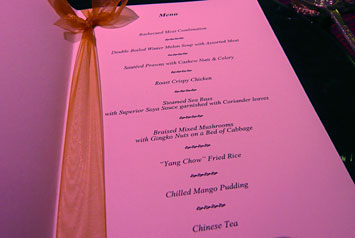 The $1k 8-course dinner!

I figured that since this is probably the most expensive dinner that I have ever eaten and will ever eat, I would like to have a photo of every single dish! :P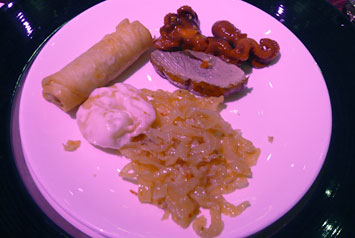 For starters, we have the Barbecued Meat Combination



Soup of the day: Double Boiled Winter Melon Soup with Assorted Meat

What?? No sharkfin??? I love sharkfin.... :(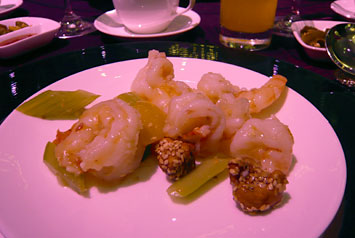 Sauteed Prawns with Cashew Nuts & Celery

Aww... I ain't a prawn lover. My accountant wife nonchalantly informed me that this is a $125 dish. Gee, I have 5 prawns, so that means each prawn is... $25! I quickly ate one prawn and told myself that it taste GOOOOD! Oh, who am I kidding? I exchanged one prawn with my wife for her cashew nuts, and gave my brother J an early $75 birthday present.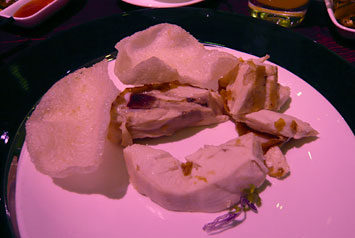 Roast Crispy Chicken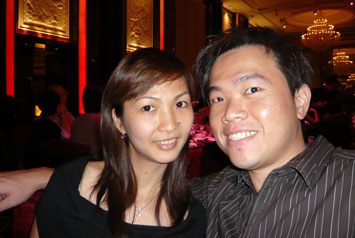 Photos of beautiful people for a change... :P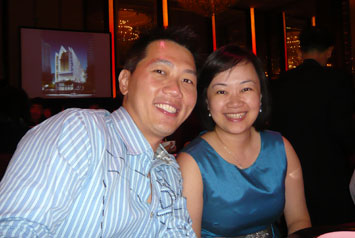 Jason & Fenny. Sorry! No picture of Dad!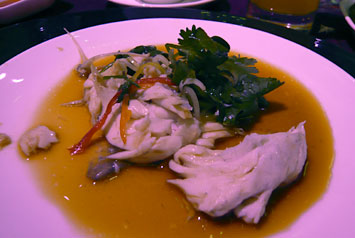 Steam Sea Bass with Superior Soya Sauce garnished with Coriander leaves

I always wonder why they have to say "superior" soya sauce. Would they have used inferior soya sauce?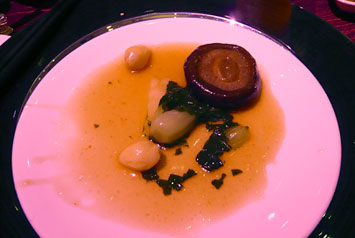 Braised Mixed Mushrooms with Ginko Nuts on a Bed of Cabbage

The mushroom and vegetable dish has never been my favorite, but I still whacked the cabbage and forgot to take the photo until the plate was almost cleaned! To show my love for my brother, I also gave him the prized black mushroom. Well, my wife didn't fancy the mushroom. :P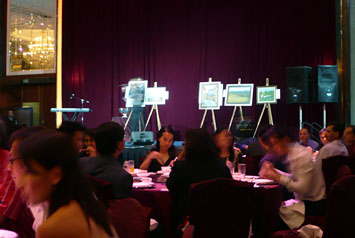 Paintings up for auction!

A couple of paintings by one of our church members were put on auction too, open for bidding from approx $1k. All of them were sold! God bless the generous buyers.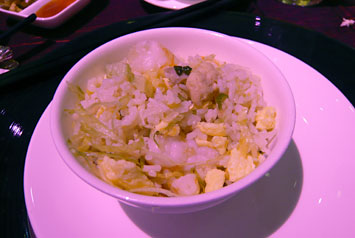 Yang Chow Fried Rice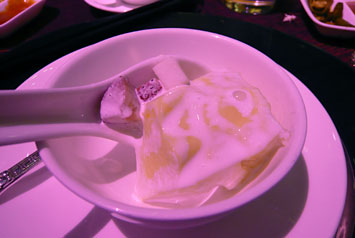 Chilled Mango Pudding

I hope everyone enjoyed the dinner! A toast to our new church building!