Entries by Joel


Sticky: Please sign the guestbook so that we know you've been here! We'd love to hear from u!


Monday, 29 June 2009 - Little Boy and Girl
This is very strange. I hardly drank Yakult when I was growing up. And now, when I'm one-third of a century-old, my wife is hooked on Yakult and getting me to drink it too! It all started when Stevan didn't like the purple-rish colored Yakult and we decided it would be a waste and helped him finish them.

This cultured milk drink contains probiotic bacteria and is scientifically proven to be beneficial to our health.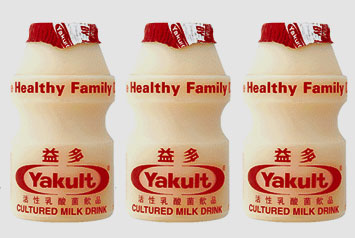 A Yakult a day keeps the H1N1 flu away?

I feel like a kid when drinking it, heh!


Sunday, 28 June 2009 - Neon Genesis Evangelion: My First Time
More than 10 years since the anime Neon Genesis Evangelion hit the TV, I finally watched it for the first time couple of weeks ago and completed watching all 26 episodes, plus the movies production Death and Rebirth and The End of Evangelion!

It is a very deep and fascinating anime, with lots of action and well-developed characters. It's like opening a window to a whole new world!

Teenagers Shinji Ikari (Eva Unit 01: Reclusive and withdrawn but talented), Rei Ayanami (Eva Unit 00: Emotionless, cool, but with a dark origin) and Asuka Langley Soryu (Eva Unit 02: Confident, brash and egoistic) are mecha pilots of the colossal super-entities known as Evangelions and they are the last line of defense against the Angels, mysterious apocalyptic beings.

The anime becomes more complex as it progresses and takes on a Judeo-Christian theme, making it very deep and quite hard to understand by itself without referring to the Wikipedia for explanation, ha!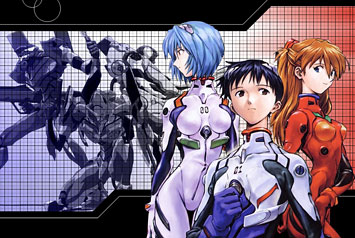 Rei Ayanami, Shinji Ikari and Asuka Langley Soryu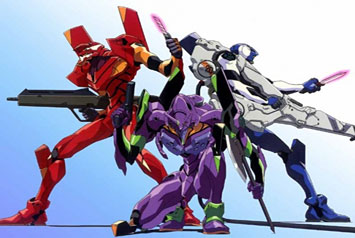 Evangelions: biomechanical mechas


Saturday, 27 June 2009 - Picnic at Botanic Gardens
After going to T3 yesterday night, this morning, it is time to send Stevan off at the Budget Terminal. His one month stay in Singapore is up and he's going back to Padang. His English has definitely improved a lot and he's more confident now.

After a month of no bak kut teh (cos Stevan doesn't like it), that's the first thing we ate for lunch after sending him off, heehee! It was really nice tasting the pepperish bak kut teh soup and the kiam chai.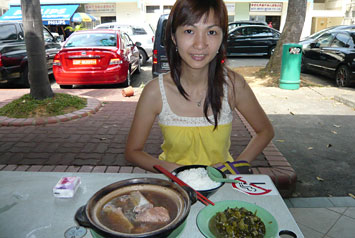 Miss our favorite bak kut teh at Alexandra Village!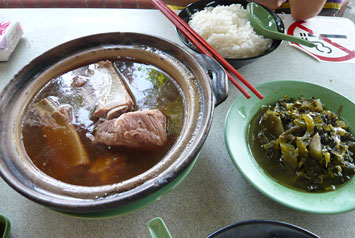 Hmm.... yummy!

While at Tiong Bahru Plaza, a man in a wheelchair asked us for help. I decided to help him while Lydia went off to run the errands. The man needed help to get to the food court on level 3, so I helped to push his wheelchair to the cargo lift (he wanted to take it) to take him up. On the way, he asked if I could help him buy lunch. Sure, why not, might as well help him all the way. Unfortunately, I did not have my wallet with me, or I wouldn't mind paying for him. Wow, he got a good appetite. Helped him to order Japanese grilled eel set, and then ran a few trips to order drinks for him and also dessert, which regretfully didn't have what he wanted.

It was about 20min later before I left him. Though it took up a lot of my time, it felt good to do a good deed for the man. :) I hope he would be able to meet other helpful people in future.

Hmm, it must be a blue moon today.... cos my wife suggested going to the Botanic Gardens, with my parents too! My parents were happy to come along and my mum quickly prepared curry chicken and stuffs. We picked them up and headed to the Botanic Gardens for a nice outdoor picnic.

Ahh... it felt great lying on the mat, on top of the grass, and grazing up at the sky above and over-hanging branches nearby. It feels really refreshing! Had lots of fun eating and chit chatting. :)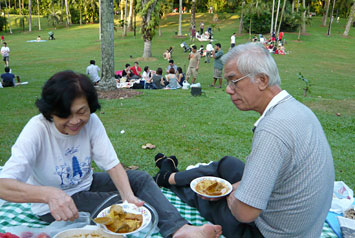 Picnic dinner of curry chicken and bread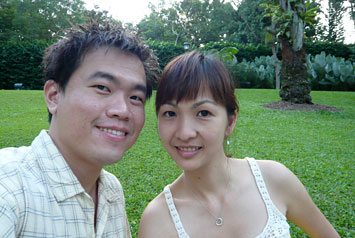 Yellow is the theme today :)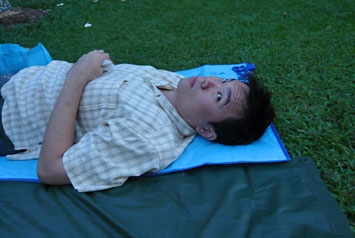 Really shiok lying on the mat!

Ooh, there's "free performance" at the Botanic Gardens too. About 20 metres away, under a tree, there was a young couple having some serious petting action. There were 2 groups of picnickers who were nearer to them also but they were like totally lost in their world and couldn't care less.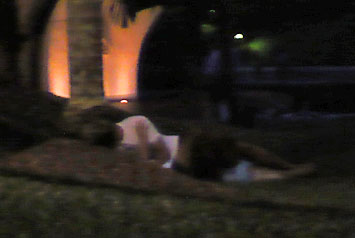 Young couple in some hanky panky action at Botanic Gardens

Tsk tsk....


Friday, 26 June 2009 - Michael Jackson is Dead
Michael Jackson, the king of pop, passed away suddenly after suffering a cardiac arrest.

I woke up this morning and saw the news on ChannelNewsAsia. Wow, the world has lost a pop icon. Nevermind all the scandals surrounding him, but Michael Jackson, MJ, the King of Pop, the one with the white glove... he is now gone from the world. It feels a little strange... if only for a while.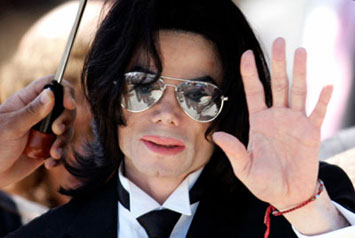 Farewell, Michael Jackson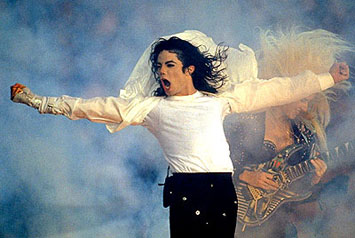 You'll not be forgotten

---------------------------------------------------------------

Tuning back...

It's dinner at Kuishinbo! Haven't ate here for a long time and was looking forward to the trip, though my cough and running nose was giving me a hard time. The snow crab was solid, so too the soup and many other food. Strangely, I didn't feel good eating my favorite food, the salmon sashimi. Probably my illness is wrecking havoc to my tastebuds. My mum joined later but my dad had to do OT and couldn't make it.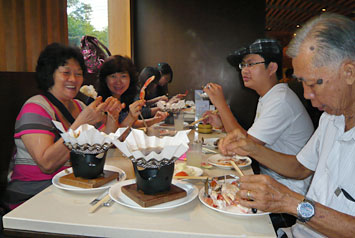 Parents-in-law, eldest sis and Stevan enjoying their food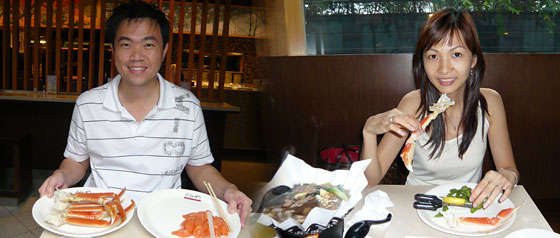 Very nice food indeed!

And they're off to Japan! My parents-in-law and eldest sis-in-law Sonny, that is. They'll be going to Hokkaido and staying with 2nd sister-in-law, Phebe. We sent them off at 11pm to Changi Airport Terminal 3. Enjoy your trip!


Thursday, 25 June 2009 - Meet the In-Laws
Lydia's parents and eldest sister are coming over to Singapore today! The place is still in a mess, and the car too!

Well, that's why I'm on leave today, haha! Woke up at 9.30am, had a quick breakfast before going down to wash the car all by myself. Man, it's tiring washing some of the areas that I've "allocated" to my wife. :P

1 1/2 hours later, I was back in the flat and busy vacuuming and mopping the place! That done, it was a quick shower before driving off to pick my wife from her office at 1pm! Tiring boy!

After lunch, we went down to Budget Terminal at 3pm to surprise my in-laws, cos they weren't expecting us to be on leave, heehee.We decided to sit at a corner and watch them from afar. It went too well, haha, and we had to run after them as they quickly streamed out of the gates and headed for the taxi stand!

With eldest sis Sonny in town, there's one thing that will surely be on the to-do list: shopping! After a brief rest back at our place, when Stevan returned at 5pm, we were soon heading to Takashimaya for some heavy shopping! I predicted that we'll be here for at least 4 hours and she didn't disappoint me! She even skipped her dinner, haha!

Really a shopping fanatic!


Wednesday, 24 June 2009 - Transformers: Revenge of the Fallen
We're watching Transformers today at Lido 1! I intentionally chose Lido 1, the biggest cinema in Singapore, so that Stevan could experience a large movie screening atmosphere.

The movie's pretty good as an action-packed movie. When the robots square up and get into close combat, the fight scenes were as messy and confusing like the first; can't tell the good from the bad and a punch from a kick. But it was peppered with lots of humous moments. Overall, it's a good movie to watch, with awesome computer graphics bringing my childhood favorite toys into life (though in a hideous form), lots of action and humour. If all else fail, there's Megan Fox too.



Optimus Prime, leader of the Autobots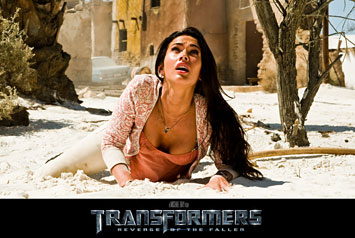 Megan Fox as the damsel Mikaela Banes


Sunday, 21 June 2009 - An Unusual Father's Day Request
For Father's Day, my dad had an unusual request: He wanted my brother and I to play badminton with him!

Gee, I haven't played badminton since.... secondary school? Which is like 17 years! Back in our "childhood" days, we used to play with my parents quite regularly.

My dad and my mum's regular badminton kakis play at the old Police Academy at Thomson Road. As I entered the compound, it brings back some nostalgia cos my 6-months Police BMT was spent here. Where once we thread fearfully under the watchful eyes of SI Sri Kanthan and his FIs, I can now roam freely with abandonment, not needing to march or jog.

Ok! Back to badminton! The only badminton attire I have was my futsal attire, haha! Even my futsal shoes cos hey, it is a good pair of street court shoes. I partnered with J and we played doubles against Uncle Bernard (Lionel's dad) and my dad.

You know what? We won both games! It's quite surreal, haha! The two of us have totally lost touch with the new rules of badminton, what who serves first and who stand where, and a good number of my return shots either hit the racket's metal frame, or I miss completely! Major parallax error man, I just couldn't understand it. :/ On hindsight, we should have let them win the closely-contested 2nd game, heee.

The next set was against a young man and an uncle. We thought we'd be goners but we won the first game and narrowly lost the 2nd match.

The last set was against my mum and my dad! We lost one, won one. Though my mum is not a strong badminton player, she is good at the net. Credit to them, though we go just a little bit easy on them, their style of play made them a harder opponent to play against then our earlier games.

All in all, it was fun and I was amazed that I could still play some decent badminton after 17 years of absence! My dad's friends were all saying it's so nice for his two sons to come down and play with him for Father's Day, hehheh!


Saturday, 20 June 2009 - Can't Score
Since buying my new futsal shoes on 14 May, I haven't score a single goal. :( That's 4 games with "zero returns". Maybe my lucky socks ain't that lucky anymore eh?

We picked up Stevan from East Coast Park before going to the mama stall at my parent's place for chicken briyani and roti prata for lunch.

Next stop was to Funan Centre as I needed to buy a SATA power cable adapter cum splitter. Chamoxa, the regular shop that my office get some of the supplies, was selling the adapter cheaper than those shops in Sim Lim Square! $4 compared to $8!

But shockingly, the ERP gantry is lited up and it cost a cool $2 to enter! I quickly turned into one of the shophouses street before Funan Centre. No way I'm going to pay $2. So I walked to Funan Centre and back!


Friday, 19 June 2009 - Jumbo @ Dempsey
At trip to Singapore is never complete without crabs! Chilli crab and black pepper crab!

And so we made our way to Jumbo @ Dempsey Hill for a nice solid meal of chilli crab, black pepper crab, fried squids, fried rice and kang kong. Always the same stuffs, hehheh!



All smiles at the thought of the feast before us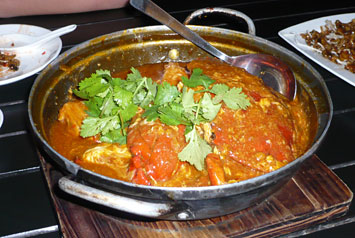 Chilli crab in a pot! We finished 14 fried buns!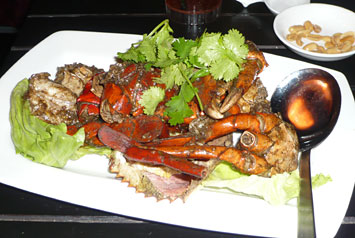 The pepperish black pepper crab is still my favorite!

After dinner, we popped over to Ben & Jerry's for their yummy ice cream. The outlet at Dempsey Hill is pretty cool!


Thursday, 18 June 2009 - An Enjoyable Dinner at Adam Road
Stevan sure knows what he wants to eat now. For dinner, he wanted to eat nasi lemak at Adam Road Food Centre and ice cream at Island Creamery at Serene Centre!

After swiftly finishing a plate of chicken nasi lemak, he ordered another plate of otah nasi lemak. On top of that, we had satay too. Downing all these with teh (tarik) peng, it just feels sooo good. :D

We walked over to Serene Centre to Island Creamery and bought the mudpie, as well as the ice cream. This place is just teeming with teenagers! Oh, you can print your own photos (foc!) and stick them on the wall too. Heh, I'm too old for these stuffs.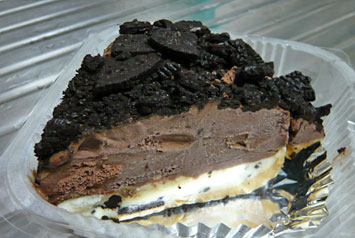 Mudpie from Island Creamery

But never too old to drag the two of them up to the 2nd floor to Toy Station to look at Lego, heehee! :P


Wednesday, 17 June 2009 - Durian Durian!
It's the durian season now! Wai Seng helped us buy 2 durians from his in-laws' fruit stall. A bitter one ($8) for me and a sweeter one ($5) for Lydia!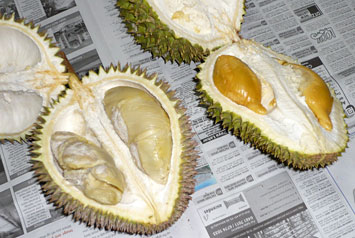 The durian flesh color didn't look impressive but the moment you savour it, it was good! We ate one each and at the end of the durian meal, we were truly satisfied. Yummy!

Well, Lydia had one complaint though. Her durian seeds were way bigger than my durian's tiny seeds!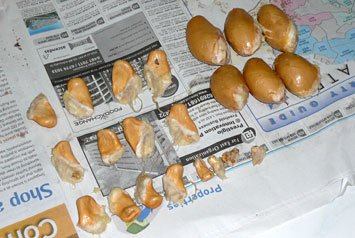 What a big difference in size!


Sunday, 14 June 2009 - Guri Guri (Green Green)
Was watching this Japanese anime titled Green Green. Hilarious anime, haha!

An all girls school visits an all boys school situated in the countryside for a month as an experiment to evaluate the possibility of going co-ed. Yuusuke, the nice guy, tries his best to make it a success, but his perverted friends Bacchi-Guu, Tenjin and Ichiban-Boshi are crazy over the girls. Are Midori and Yuusuke destined to be together or will Futaba, Sanae and the other girls fall for the nice guy too?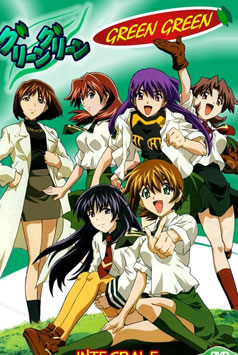 Green Green! It's M18, by the way


Thursday, 11 June 2009 - Feast @ Adam Road FC
We brought Stevan to Adam Road Food Centre to eat our favorite nasi lemak and ordered satay as well. Stevan liked the nasi lemak, especially the otah. Even ordered an additional otah set for him, hehheh! Boy, he sure can eat alot when he likes the food!

Padang satay or Singapore satay better? Stevan preferred Padang. For me, Padang satay got two kinds; one with the thick brown sauce with fried buffalo skin, which is very different and very nice. Cannot compare. The other more "Chinese" one, that one I still prefer Singapore satay. :)


Sunday, 7 June 2009 - It's Alive!
After yesterday's full day activities, we were so dead tired that we overslept and missed church! :P

Lunch was at Liang Court at Marutama Ra-men, where we had the really awesome-ly delicious yaki cha siew, together with ramen (of course).Stevan went for the more conventional marutama ramen (chicken-based soup) while I've grown a strong fondness for the unique aka ramen (7-kinds-of-nuts-based soup).
Oishi!!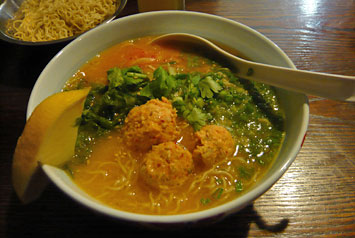 Nothing like my aka ramen

We dropped by the gothic outlet at Liang Court after our lunch, as Stevan had taken a fancy to gothic. Man, the clothes ain't cheap, starting from slightly below a $100. We didn't buy anything though we spent about half an hour in there while he tried out the clothes, as the clothes were too small (or was he too "big"?). Well, I've no complaints cos if it weren't for Stevan, I wouldn't have the guts to step into the shop myself and explore all the strange things of the gothic world!

In the evening, Lydia, Stevan and I spend a good hour plus washing my car, heehee! Ok, Lydia was more of like supervising and guiding Stevan on my perculiar and fussy way of washing. Grabbing the sponge and starting at the boot is a no-no. There's a sequence and area of responsibility. That's me. :P

After dinner, at Stevan's request, we went to watch Angels & Demons! It's a bit of a strange feeling to be watching on a Sunday night, haha. But well, it was fun and the show's pretty good! I thoroughly enjoyed the show! As I'm not a Catholic, there weren't anything in the film that disturbed me also. Easily the best movie so far in 2009!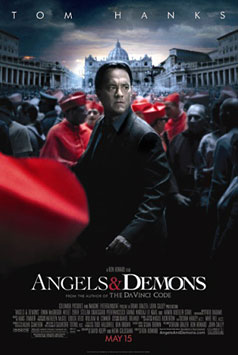 Action, suspense, touching... fantastic!

---------------------------------------------------------------

My computer has been resurrected and is alive again! Thank God! Secured the temporary motherboard onto the chasis, plugged in all the components, uttered a quick prayer as I pushed the power button and the sweet "beep" sound filled the air. Never has a single beep tone bring such joy to me. Simply music to the ears!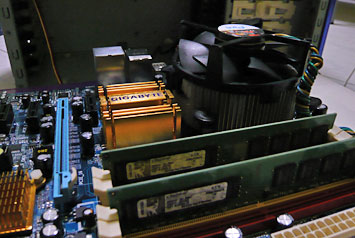 The mobo resurrection


Saturday, 6 June 2009 - A Furry of Activities
In the morning, I brought my dead Gigabyte GA-965P-DS3 motherboard to the distributor CBL at Commonwealth, hoping against hope that the tech guy could revive it. He fiddled with the jumpers for a while. Finally he shock his head and said those dreaded words, "Cannot, gotto send back to supplier."

My heart literally sank cos it meant an agonising 6 weeks wait, plus cost of shipment.
"How to survive without my computer for 6 weeks?", I muttered aloud.

And then the miracle happened. He offered to loan me a temporary motherboard! Same model, except with normal capacitors instead of solid-state capacitors. Nevermind if you don't know what the hell I'm talking about, but after testing that the temporary board is working fine, I signed the paperwork and I walked out of there a happy man with a temporary motherboard under my arm! No need to buy another motherboard and my computer can be revived again!

But first, there's futsal at Turf City with my friends. I was really worried about the ferocious sun bearing all its afternoon powers on the boot of my black car, where the motherboard was kept. 2 hours later, the board was indeed hot to the touch. It's going to be super idiotic if the board has been damaged by the sun.

Lunch was at Beo Crescent, to allow Stevan to sample the yummy curry rice. Wow, he totally loved it! He single-handedly finished 2 1/2 plates of rice! Even ordered an extra serving of "ba pak", which he liked very much. :)

In the evening, we dropped Stevan off at Lydia's Guardian's (Priscilla) place at Pandan Valley before going to Andrew and San San's baby girl's (Faith) 1 yr-old birthday party! It's been a looong time since I went to Birdman's home in Lim Chu Kang, where his bird farm is. Reminds me of the good old NTU days, heehee!

As I entered his "game room", I was in total awe! On one wall stands multiple full height IKEA compartment shelves full of his Lego collections! Awesome! Each compartment was theme-labelled and held his vast collection which he had assembled and dis-assembled and zip-locked. It was really a sight to behold, but just a pity that it is "non-displayable". I still prefer to have a glass display wall cabinet for my new home. :)

In the courtyard, we all gathered to chit chat and join in the feast that was layed before us. It was a really impressive spread of food... Indonesian food! Really enjoyed the meal and chatting with the friends.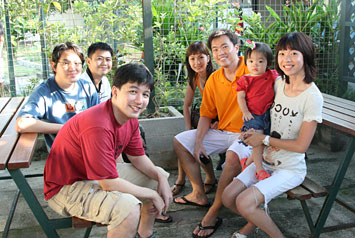 Relaxing at the courtyard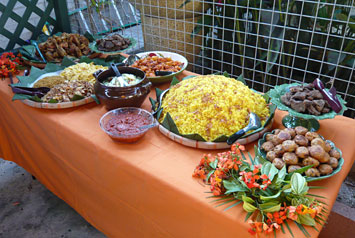 What a feast!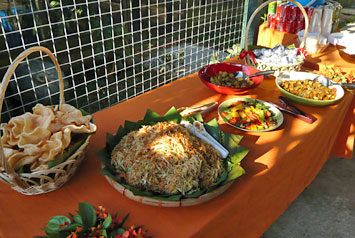 Table 2 also!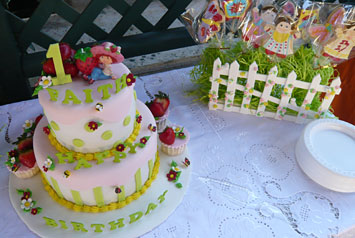 Birthday cake + kiddy lollipops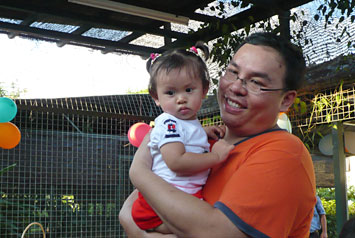 Faith & Andrew. Cute!

Unfortunately we had to leave after the cake-cutting as we had to pick up Stevan. We ended up spending about 2 hours at Priscilla's condo, Mount Sinai. She gave us a tour of her new place and we sat in the large balcony area and chatted. Fantastic place. With a cool price tag!


Friday, 5 June 2009 - Feeling Young Again
Stevan wanted to buy some accessories, so I brought him to Far East Plaza. Gee, this place is full of teenagers! Teenagers here, there, everywhere. These people are like almost 1/2 my age, haha! It felt a little weird stepping into the likes of 77th Street, heehee! But anyways, I accompanied him to buy his ring and necklace and we had dinner at Pepper Lunch.

Did I see anything that I liked? Nah... haha! But it was still a fascinating trip. :)


Thursday, 4 June 2009 - Loy Kee Chicken Rice
No trip to Singapore is completed without sampling the local's favorite food, chicken rice! We went to Loy Kee @ Balestier and ordered a roast chicken with water-crest soup. Though it's a bit more expensive here, I like their fragrant rice and the soup. Stevan had 2 bowls of rice, hehheh! But unfortunately he doesn't eat vegetables, so Lydia and I had to finish the large pot of water-crest soup!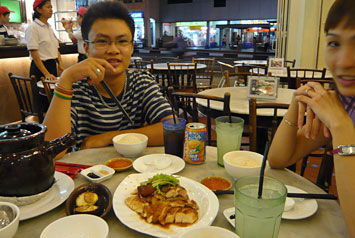 Chicken rice dinner @ Loy Kee Balestier

J & Fenny came over at night to pick up the assembled computer. Glad that he likes it! Passed him some computer games too, much to Fenny's dismay, haha!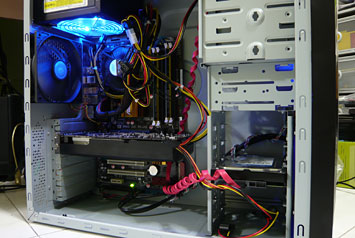 The internal components with the huge nVidia GeForce GTS 250 card!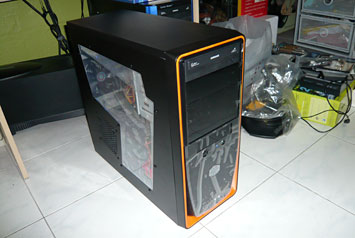 The CoolerMaster Elite 310 chassis with see-thru side panel

I know this is silly, but I was a bit sad to handover the computer to J, haha. Well, it was probably cos I had personally selected its components, put them together, brought it life, and then now I have to hand it over to someone else. Silly ol' me....


Wednesday, 3 June 2009 - Faulty PSU
I'm really down on my luck with computers these days. After killing my PC's motherboard, I discovered that J's new system has a problem: The power supply unit (PSU) is making intermittent buzzing sound! Even when the PSU is off, the sound can be heard. After contemplating for a few days whether to bring it in for a 1-1 exchange or keep quiet and hope that J's hearing is not as sensitive as mine, I decided that I shouldn't be so mean to my brother. :P

So during lunch time, I took a bus to VideoPro @ Sim Lim Square and got a 1-to-1 exchange for the AcBel 520W PSU. Had bak cho mee at SLS too. :)

Back home, I took apart all the components of my computer but dang, even a 520W PSU couldn't "jolt" the motherboard to life. :/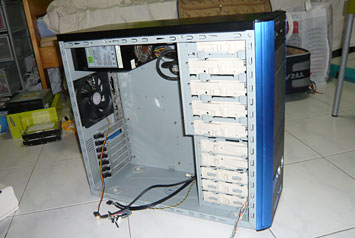 An empty shell... sigh


Monday, 1 June 2009 - First Day of School & a Dead Computer!
Today's Stevan's first day of school at Lorna Whiston @ United Square. Our 14 yr-old nephew is here on a 1-month course for the school's preparatory programme for foreign students. Not that he's intending to enrol into Singapore school soon, but his parents wanted to immerse him in the school programme here, where he will study English. Maths and Science. It's also to broaden his horizons, get him to interact more in English, and instill responsibility, independence and ambition into him.

We took leave to accompany him to his first day of school. How exciting ya?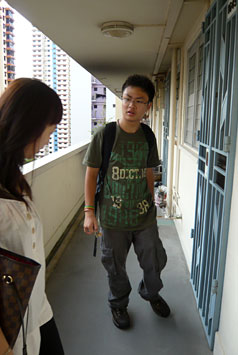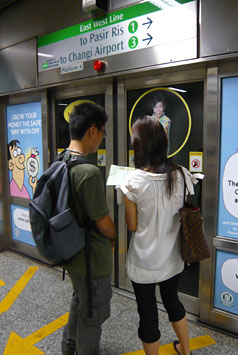 First day of school! Excited or butterflies? Lydia showing Stevan how to take the MRT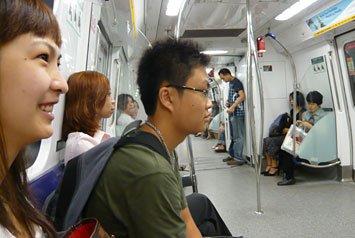 On the MRT to Novena Square. Remember to change at Raffles Place!

After dropping him off at the school at 9am, we went to McDonalds for a nice morning breakfast. We sat there and chit chat and discussed about our ID selection.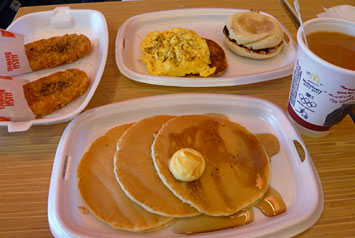 A nice breakfast meal at McDonalds: Hotcakes and Big Breakfast

As lunch time approaches, we packed up and went up to look for Stevan. Who knows the brave boy already made new friends and had made his way to McDonalds for lunch! After checking that he's settling down fine in his new school, we headed back home for a brief rest.

After a couple of hours of rest, I went back to United Square to pick him up while Lydia went for her dental appointment. We then went to Vivocity for dinner at Carl's Junior and to shop for more clothes for Stevan. He didn't bring a lot of clothes to Singapore!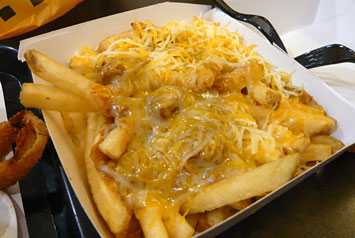 The beef chilli cheese fries is simply good!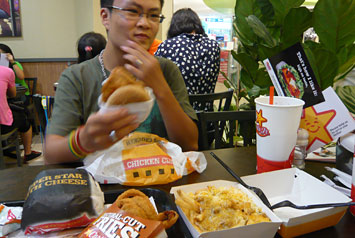 Steve enjoying his fast food dinner at Carl's Junior

---------------------------------------------------------

My home computer is dead! D.E.A.D!! It was a series of stupid catastrophe events that lead to it's disasterous death:

1) I was installing a new operating system for J's new system and there was a large application installer that I had to copy out of my own PC. My external hard drive was too full and so I decided to format it to free up the disk space. However, it kept telling me that disk drive in use and cannot be formatted. Irritated, I kept selecting the external H drive and kept trying to format it. In my 5th-6th attempt, I accidentally selected my D drive instead, which is my secondary internal hard drive.

2) Lo and behold, the formatting process started and the brief smile on my lasted for a mere second, no longer than a 7200rpm spin on the hard disk, when the horrors dawned on me and I quickly cancelled the format! Alas, it was too late. The drive could not be read!

3) I cursed my own stupidity, took a deep breathe and began to think rationally, like the "IT Expert" that I am. A formatted hard disk is no big deal. The data can still be recovered. But I need another hard disk to store the recovered data as my C drive is bursting at the limit. No problem, I've got my spanking new WD 1TB Caviar Green hard disk!

4) 1TB of luxurious space... no sweat man. I easily connected the 1TB hard disk to the open chasis of my PC and powered it up. What the?? The OS only detected 32MB! There must be some serious mistake. It's a 1TB hard disk! 1000GB!! 1000000MB!!! Not a puny 32MB hard disk! I searched the Internet and it shed some light on this. Apprently, the 32MB cache of my almighty 1TB Caviar Green hard disk can lead to some manufacturers recognising the cache size instead, what with reservation disk space and some crap.

5) Ok, that means I should update my motherboard's Bios to the latest version so that it can detect correctly. I downloaded the latest bios version from Gigabyte for my P965-DS3 motherboard rev 1, loaded it into a floppy disk, rebooted and successfully flashed the bios to the latest version via QFlash.

6) I rebooted the computer. Blank screen. Force power off and rebooted again. Still blank screen. Huh?? Cannot be, it said the bios update was successful! Many reboots later, it was still a blank screen with zero beeping sound. My worse fears were realised:

"Honey, I just screwed the motherboard."


Sunday, 31 May 2009 - 33 Already! :P
I'm 33 year's old today! I don't feel so old, haha! :P

Well, I suppose after hitting the magical 30 three years ago, 33 is nothing. It's just +3 to 30 that's all. Probably when I'm approaching 40, I will feel something.

There ain't gonna be any romantic outings or dinner, cos Stevan is with us, hehheh! We went to Modestos @ Orchard for lunch. Lydia has never eaten at Modestos before, heehee. So kampong.... :P

We had spaghette alla carbonara, bolognese pizza and quattro formaggi pizza. The pizza portion is pretty large and really struggled to finish them all! The food's not too bad, but the pizza is not really hot. Pizza Hut's pizza come out hotter! Well, it's good to try out new place sometimes.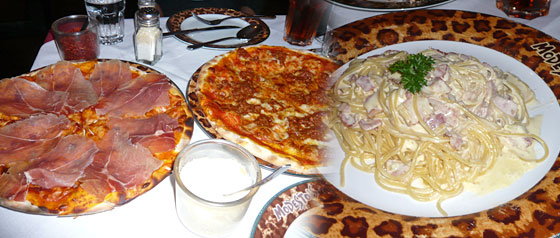 Pizzas and pasta at Modestos

After lunch, we went shopping at Centrepoint before going to Sim Lim Square where I helped my brother J buy a new Core2Quad computer system for only $1072! Bought myself a 1TB (terabyte) Western Digital Caviar Green hard disk too! My first terabyte hard disk, woohoo!!

Well, I guess for someone who had played computer games off 5 1/4" floppy disks (not 3 1/2"), 1TB is indeed a big milestone. The first computer game I played was Dig Dug, way back in the early 1980s, on a Sherry computer with a CGA monitor, 16 colors only!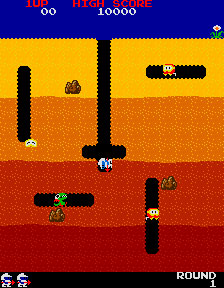 I'm older than DigDug!

33 years... it is indeed a long time on Earth.


Saturday, 30 May 2009 - Stevan in Singapore
Stevan's coming to Singapore for a month to study. His flight will arrive about 3pm, which gives me sufficient time for.... morning futsal! :P

Again, no goals scored so far in my new futsal shoes. Sigh...

After picking Stevan from the Budget Terminal, we dropped off some goodies at Lydia's guardian's shop at Turf City, rested a while at home before going to St. Andrew's Cathedral to catch a special screening of Creation Ministries International's Darwin film, "The Voyage That Shook The World".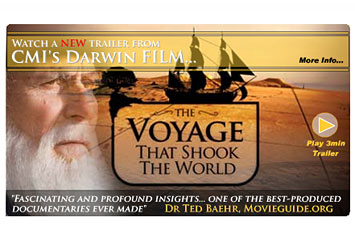 Taken from the website:
The documentary is intended to be a thoughtful exploration, a crossover product to seek to influence the "mainstream" to "think again" about Darwin. Structured around Darwin's famous HMS Beagle voyage, it features stunning wildlife photography, period re-enactments and interviews with leading authorities from around the world.

The documentary wasn't too bad. It stayed as neutral as possible and simply presented facts that gently seeks to urge you to reconsider if Darwin's theories were right. Well, it was a little too neutral for me, haha. So it didn't have the "kick" that I thought it would have. But I suppose if this is meant for mainstream documentary broadcast, then it has done a good job.

We dropped by Raffles City for a while after the show. This being my birthday week, my wife was being generous and bought me a Lego! The Indiana Jones classic set, Shanghai Chase! This set brings back fond childhood memories of the Indiana Jones movie!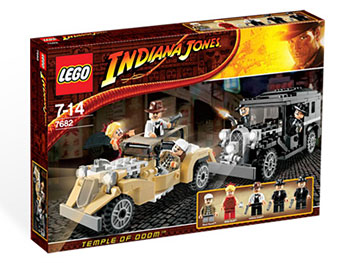 Indiana Jones LEGO set 7782: Shanghai Chase

As per tradition, at the stroke of midnight, we have a cake! The blackforest cake was specially ordered by Lydia's mum from Padang and brought over by Stevan. :)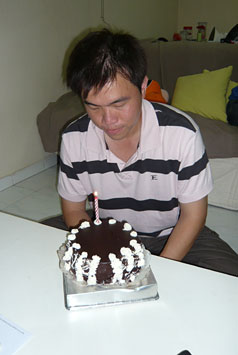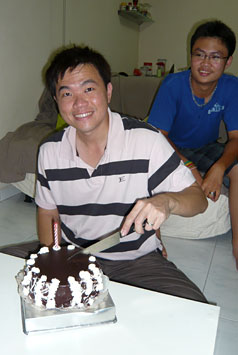 Making a birthday wish Cutting the cake with Stevan looking on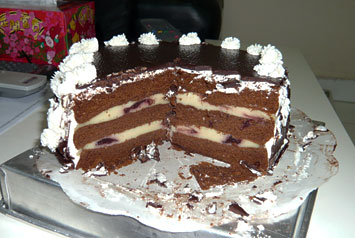 Cross-section of the blackforest cake


Friday, 29 May 2009 - Company IT Event & Terminator Salvation!
It's my company's IT staff mid year event this evening! Venue: LilliPutt at Playground @ Big Splash, followed by dinner at the seafood restaurant at the vicinity.

LilliPutt is a Singapore-themed mini golf course. We broke up into 6 teams of 5-6 players and had fun putting our way through the 18-holes. As the "grass" is more like carpet, it was difficult to gauge the distance the golfball will roll, plus the many tricky obstacles in the way. But it was still fun and very interesting to see all the unique structures of Singapore's attractions. My team came in 3rd and we won a LilliPutt towel.

After the event and dinner, Lydia came to pick me up and we went home for a short rest before catching the midnight movie of Terminator Salvation at Shaw Lido 1! Watching a movie in Lido 1 is just very special and grand, cos it's the the biggest cinema in Singapore! The sound, and the especially the bass, we could literally felt it through out feet!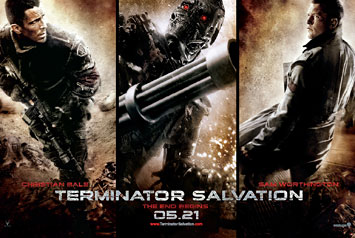 The show was good for its action scene and it was great watching another movie of the Terminator series, especially in post Judgement Day. But storyline-wise, I felt it left me feeling a little "disappointed". I guess the lack of a grand finale was the reason, as the movie ends on a note that allows for further development into the Terminator series.


Thursday, 28 May 2009 - Early Birthday Dinner with Family
I had a early birthday celebration with my parents and J&F at Jumbo @ Dempsey Hill! It's been a long time since I ate Sri Lankan crabs! :D

We ordered the usual stuffs: crispy baby squids, scallop wrapped in yam ring, sambal kang kong, salted fish fried rice and.... *drumroll*.... a 1.5kg Sri Lankan black pepper crab and a 1.3kg Sri Lankan chilli crab! *slurp!*

Oooh, the black pepper crab was simply humongous! The biggest I ever ate at 1.5kg! The meat was really solid!

The service at this outlet is fantastic too, much better than the other outlets. The atmosphere is good too!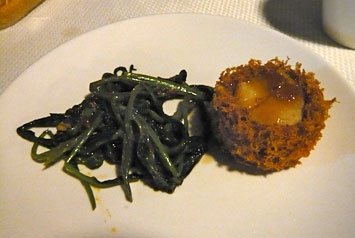 Kang kong and scallop in yam ring. Wished I had a better camera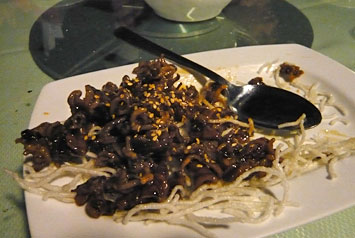 My compact camera doing no justice to the crispy baby squid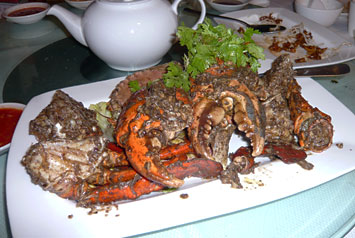 Black pepper chilli crab! Look at the size of the claws!!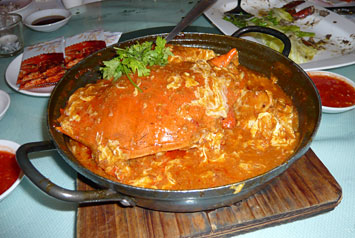 Chilli crab! Best with fried buns!!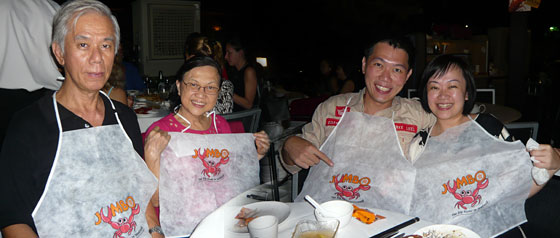 My parents and Jason & Fenny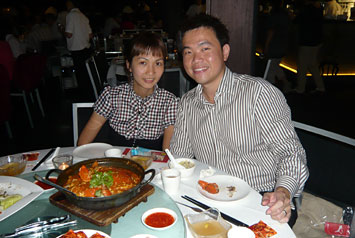 Photo of just the two of us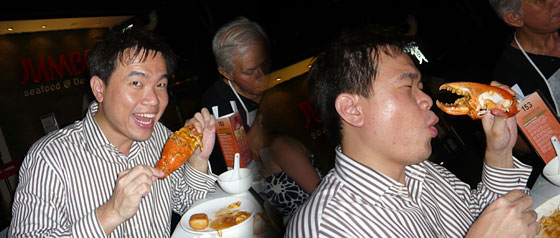 Crab attack!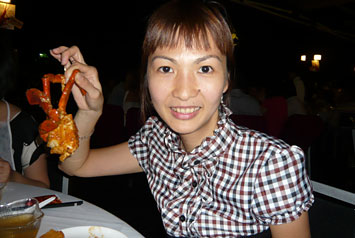 Lydia poses sweetly with the crab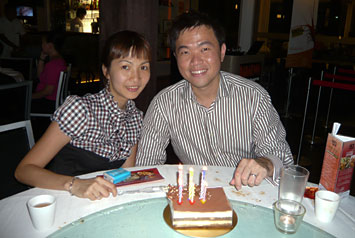 A Bakerzin tiramisu birthday cake on the house!


Wednesday, 27 May 2009 - First Flu Case in Singapore
It was bound to happen, sooner or later. Singapore confirmed its first case of the H1N1 flu virus, a SMU student who had returned from New York.

With a first case on our shore, more will surely follow. So should we all stay at home? Wear face mask when going out? Well, the swine flu is turning out to be a new strain of a seasonal flu. Unless you have some serious underlying medical conditions, it should come and go like a normal flu.

But of course, no one wants to catch it and be the "super infector" or something like that and cause others to be infected.

With the flu scare, after work, I still go down to NUS to play futsal with the office colleagues. Oh man, playing on hard court is a whole new playing surface. Think 10x more friction!! It was a lousy game for me. Hope not to play on hard court again!


Sunday, 24 May 2009 - Meet Hebe
We went to visit George and Corrine at their home in Jurong to see their little bundle of joy, Hebe! The baby girl was born on 15 May. She has a very good temper! The father teased and disturbed her but she still doesn't cry!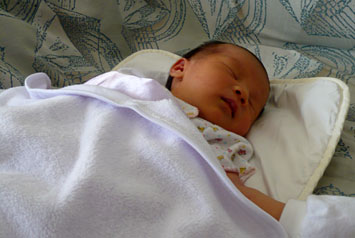 Sound asleep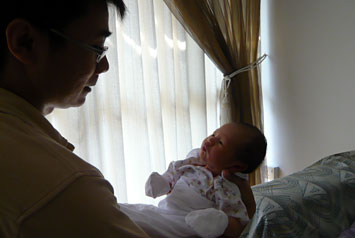 Father and baby moment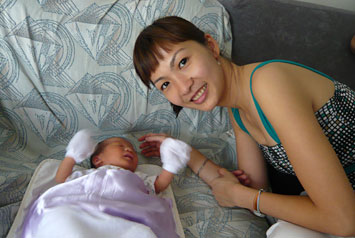 Auntie Lydia and Hebe


Saturday, 23 May 2009 - Cherry Avenue & Futsal Shoes Test
After weeks of playing futsal at 11am to 1pm,just for today, it's back to 4pm to 6pm. That saves me $20 on the weekend coupon.

Today's the first time I'm taking to the field in my new futsal shoes. It felt... awkward. Is it too tight? How come got gap there? How come it is not very flexible? Hm, am I getting cold feet? Haha!

I guess it just needed to be "seasoned". After a good 2 hours workout, at the end of it, no blisters at all! I still need some more time adjusting to the new shoes. It's zero goals today, though there were some good shots on target that the goalie saved.

After the game, we went with the guys to a little enclave eating place at Cherry Avenue. I was surprised to see quite a number of Caucasians there! It's like an cosy alfresco, laid-back, ang moh bar-cum-coffeeshop kinda place. Cool! There are a couple of stalls selling different food, from the Indian stall to the western food stall and to a Thai stall.

After waiting for a while for available seats, we found ourselves sitting comfortably outside on wooden benches and tables. We went for the Indian food, with the naan and tandoori chicken and fish. The price was ex, but the food was simply superb! Fantastic!

We ordered some fries and calamari as finger food from the western food stall, and the fish and chips that Boon Teck and Novita had looks good also. But the French onion soup was a bit weak though.

Overall, this looks like a real gem of a place and the Indian food is a definite must-try! We'll definitely be back again! Parking is a little tricky, but it's a lovely cosy place!


Friday, 22 May 2009 - A Trip to the Abyss
Despite my best effort to procastinate and resist, I was soon dragged to DFS @ Orchard by my wife. She wanted to check out some wristlet bag, or something like that.

What's a wristlet bag? A bag that hangs on the wrist. Now, a bag that hangs on the wrist can't be too big, else it will cause some wrist injury to the lady's arm/wrist. So the bag gotto be small. But if the bag is too small, it will not be able to fit in a lady's (read: my wife's) typical stuffs: mobile phone, umbrella, wallet, card wallet, pen, tissue paper, coin pouch... and sometimes just a bit of my stuffs; 2 mobile phones and my wallet, that's all...

So despite us walking dangerously into LV, Prada, Gucci and God knows where else, we came out empty-handed!

Three cheers for indecisiveness!


Thursday, 21 May 2009 - Finally, Snip Snip!
My hair has been getting quite hard to manage since the last haircut on 25 March. Too long, so harder to make it spikey, heehee. And gotto spend more time in front of the mirror getting ready too. :P

So it was a great relief that we finally went to Headquarters Salon to have our hair cut by Ann. I skipped the coloring cos DIY is much cheaper, kekeke. Besides, I got my personal coloring specialist at home anyway. :D


Tuesday, 19 May 2009 - Dieting at Botak Jones
Sigh, I've begun to put on more weight now. :/

And where did I decide to go for dinner? Botak Jones @ Depot Road...
What better way to lose weight than to have a fish & chips with chilli fries and cheese potato salad huh? Lydia had a Botak burger with coleslaw and cheese potato salad.

Dang!!


Sunday, 17 May 2009 - Goodbye Auntie Pauline
Auntie Pauline, my mum's sister, passed away on the night of 13 Dec. The past few days, we've been going down to the wake at Admiralty, staying up till 4am last Friday to accompany Chueng so that he could catch some sleep.

Affectionately known as Ziyi (2nd auntie in Hokkien) to us, she has fought a good hard fight with cancer before God finally took her away from her suffering. She was always a energetic out-spoken auntie who's never afraid to speak her mind and never liked to impose on others.

Even when her health was deteriorating, she still travelled all the way from Admiralty to Hougang to attend the wake of her eldest sis who passed away in Jun 2008. Every night when we offer to send her home, she would refuse to trouble us and only relented after we insisted. She was a real fighter, especially with her red bandana on her head. How many aunties have you come across that wears a red bandana? It just goes to show her fiesty spirit.

Today, as all of us turned around and faced away from the coffin as they closed the cover forever, tears of sadness rolled down my mum's eyes as I stood beside her. I put my arm around her shoulder to comfort her. To lose both her sisters in less than a year must be devastating.

According to Ziyi's wishes, her body was cremated at the Mandai Crematorium before her ashes were laid to rest in the sea.

We will miss her very much.


Saturday, 16 May 2009 - Manchester United & Blackburn wins!
Manchester United takes the 2008/2009 Premier League championship title with 1 game to spare! It was one of the tightest title race ever, with Liverpool putting on a good fight.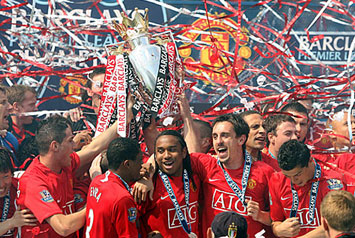 Better luck next time, Liverpool!

But the best news of the season is that Blackburn is safe from relegation! In free-fall under the reins of Paul Ince, Sam Allardyce slowly and steadfastly pulled the team out of the relegation zone and ensure top flight status again for the next season! Yeah!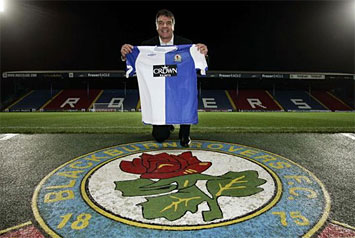 Saving Blackburn's Ass: Sam Allardyce in Dec'08


Thursday, 14 May 2009 - My New Futsal Shoes!
During lunch time, dragged Desmond and Min Hui to Peninsula Plaza to buy a new pair of futsal street soccer shoes, heehee!

We went to Desmond's regular shop, Weston Corporation. After browsing around, I set my sights on the Nike Total90 Shoot II IC. What a long complicated name, haha! The design is quite nice and it fits well also. Most importantly, it didn't cost me an arm and a leg! $60, instead of the usual price of $72.

I bought it, of course. :)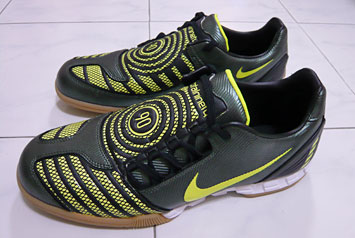 Cool!!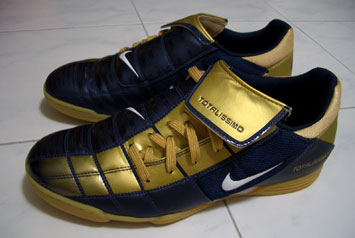 My old street soccer shoes, back in Jun 2006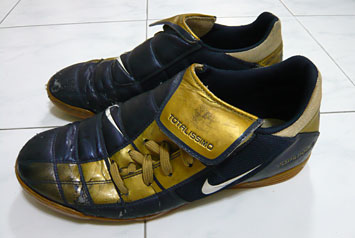 Condition now after almost 3 years



Damage report I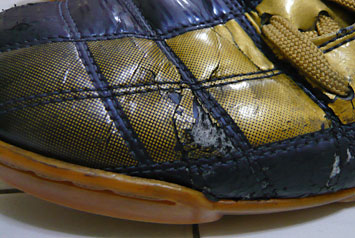 Damage report II



Damage report III


Wednesday, 13 May 2009 - Futsal with my Office Colleagues
After work, a bunch of us went down to NUS to play futsal! Wow, the place was crowded! Ain't these students supposed to be studying for their exams?

One thing good about playing here is that it is FOC. The bad things are: 1) The courts are occupied 2) Hard court instead of artificial turf. My good old futsal shoes which were already beginning to show some wear and tear on the soles simply couldn't withstand the pounding on the hard court. The side "mouth" got bigger and bigger...

Well, blaming my futsal shoes is just the prelude to say that I played badly today, haha. Discounting the hard court, poor shoes and super sticky new size 5 ball, I felt like a toad on concrete!

No more hard courts for me, man! :P


Monday, 11 May 2009 - Off Day on Monday!
It's an off-in-lieu day for me due to Vesak Day and Lydia took leave also so that we can spend some time together. :)

In the morning, we went to Tiong Bahru Food Centre but surprisingly, lots of the stalls were closed, including my favorite glutinous rice stall. :( We ended up eating chui kway, which was actually very tasty! I like chui kway, but just that Lydia doesn't like it, so we hardly eat it.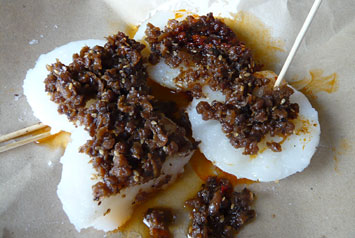 Chui kway with a generous dose of chai po topping!

Next stop is Marina Barrage! The place is very interesting and we took a walk up to the roof to see the grass-covered roof. With the blazing sun over our head, it wasn't long before the little princess started complaining about the heat and dragged me back into the shade again below.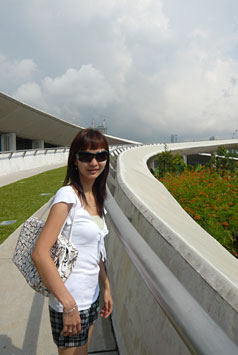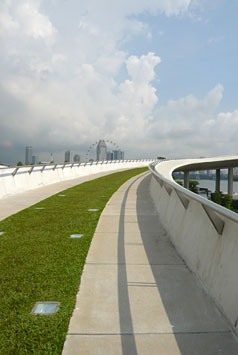 "Soooo hot here, deeear!"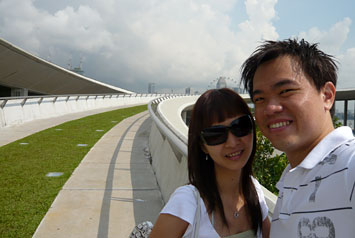 Posing under the blazing sun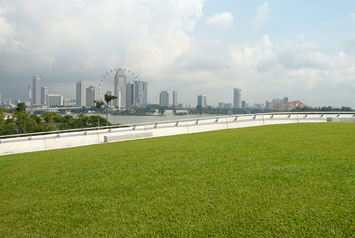 Nice green lawn with the city in the backdrop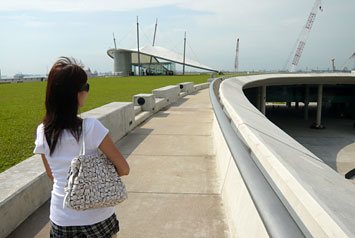 The little princess heads for the shelter in front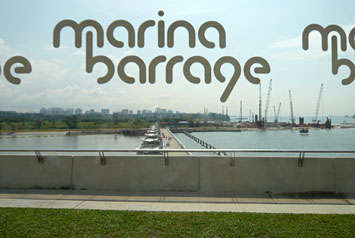 The dam below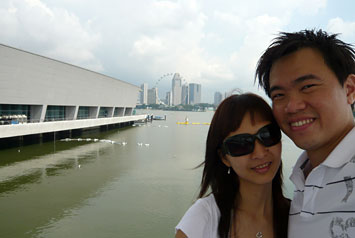 After some persuasion, we made it to the dam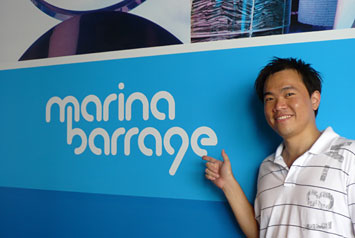 In case you didn't know, we are at the Marina Barrage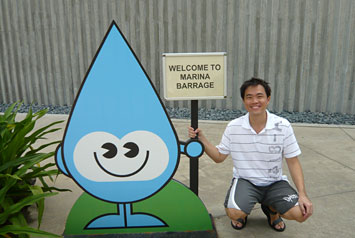 Auditions for the Marina Barrage mascot is now open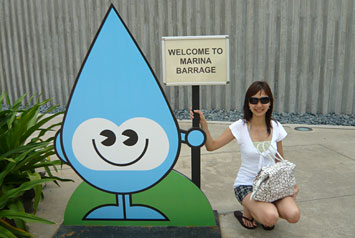 Who's cuter?

After a good baking in the sun, we went to Crytal Jade Korean Restaurant @ Centrepoint for lunch. The set lunch menu was pretty worth it and we ordered the bibimbap and the Monday special ginseng chicken soup! Very good, and very full!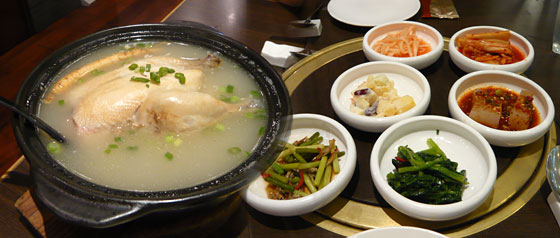 Korean ginseng chicken soup and assorted side dishes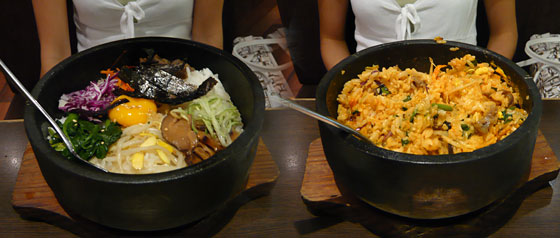 Bibimbap: before and after!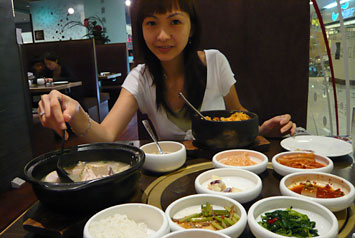 A Korean feast

After lunch, we dropped by Home Guide to have another round of discussion with Lance. Hmm, it's not easy to decide between the 3 IDs that we've checked out so far.


Sunday, 10 May 2009 - Chong Pang Nasi Lemak & Mas Selamat
After church, we drove down to Chong Pang for their famous nasi lemak, together with my mum. Haven't been there before and needed some directions from my cousin, Chueng. Apparently there's 2 outlets and the original one only opens in the late evening. Nonethless, we managed to get to the 2nd outlet, located at Blk 101 Yishun Avenue 5, opposite Chong Pang Camp. The food's not too bad and cheap too. Three of us with 3 items added each, only came up to less than $10. Compared to Chong Pang at Vivocity where just me alone cost me $5!

We dropped by to visit Ziyi for a while before sending my mum home.

------------------------------------------------

In other news, Mas Selemat have been captured! Apparently he has spent a good few days hiding in Singapore before crossing the waters using an improvised floatation device to get to Skudai, Johor Bahru. Like all good mysteries, I'm glad that it has been solved. But I wonder:

1) How did he manage to slip past the massive manhunt and tight border security?
2) How in the first place could he miraculously escaped from Whitley Road Detention Centre? It was so incredible that that were rumours that he is dead and it was a coverup.
3) Why the bombastic word "Improvised floatation device"? To emphasis on his unique stealthy method of crossing the waters so that it doesn't sound too bad that he wasn't detected?

Well, in any case, I'm glad that he is caught and the truth is out. Seeing that he'd probably be locked up in prision for a longer time, the prison should give him a bike to practice. The next time he tries another prison break, he'll then be able to do a triathlon: Cycle, swim and run!


Saturday, 9 May 2009 - Futsal & Mother's Day
Today being Vesak Day, a public holiday, I get to drive out my weekend car without needing to use the weekend coupon!

After picking up Tzin Mein from his home, we stopped by Simply Bread @ Sixth Avenue to buy their yummy range of cinnamon bread, before heading to The Pitch @ Turf City for our morning futsal game.

This time round, I've got my regular socks back on and coincidentally, scored two goals today, as well as having a goal disallowed for supposedly scoring from inside the box.

The first goal was nicely taken, after intercepting a pass from the last defender. I had time to look up and see which area of the goalpost has the biggest gap (top left hand corner) and then blasted the ball with my left foot past Andrew's uncle (the goalkeeper), hitting the exact spot where I had wanted. Cool.

With like 23 futsal crazy guys today, the next goal took a long time coming. Most games ended in dull draw-mates, sending both teams crashing out. But as the minutes ticked away, I was grouped together with a bunch of guys who were also in white jerseys also and wow, we broke the dull draws and went on a 3-4 match winning spree! The 2nd goal was from a corner kick on the right. With no one picking me up as I ran in from deep towards the taker, he passed the ball perfectly into my path just outside the box and I hit the ball fully and firmly with the centre of my right foot. It was delightful to see the ball fly straight and low and nest nicely into the bottom left hand corner of the goalpost. :)

There were also a few wasted golden opoprtunities. :P But it was a fun game today, especially after my white team routed the rest, heehee! :P

We bumped into Priscilla (Lydia's guardian when she first arrived in Singapore) at her shop in Turf City. Ended up having a long chat and missed the lunch with my friends. :P

In the evening, we went over to my parent's place to celebrate Mother's Day. Potluck dinner was the theme! J&F brought along a pot of watercrest soup with pork ribs, we brought along our grilled plate with black pepper seasoned beef, chicken and cheese hotdogs, my mum prepared ngo hiang and potatoes, plus pork and fish for the grill. It was fun to eat grill food again and chit chat with all of them.



Yummy!

Here's Elvis, the adopted stray cat that my mum took in. :) He was really skinny and scrawny when my parent's took him in and now, he's got such a rich coat of fur and have put on a good amount of weight! What a vast difference! With his blue eyes and brown coat of fur, he looks like a siamese cat! He probably is!

He's also more friendly and less afraid of people now. He was in my neighbour's backyard when I called him. He came to the fence and then jumped onto the neighbour's backyard kitchen sink, up the fence, onto the toilet's window ledge, down to the floor and came over to me! Good kitty!!



Elvis is in the house!


Sunday, 3 May 2009 - Dinner at Jurong Point
After more than a month, we finally washed the car again. The dirt on the rims were hard to remove though. But it's so nice to see the car clean again! It has been like coated with dust for a while!

We met up with George and Corrine at Jurong Point to hear their opinion on the renovation and IDs. We had our dinner at Bakerzin, which is quiet and condusive for chit chats and discussions. George really had a talent for planning his own renovation and he shared lotsa useful info with us. Wow, we chatted till 10plus!



Corrine's tummy is really getting bigger and bigger!


Saturday, 2 May 2009 - Where's My Lucky Socks?
Morning futsal with my friends at Turf City again! Yay!

But dDidn't score any goals today though. Must be cos I wasn't wearing my lucky socks... yeah, was at the car park when I realised I forgot to bring my socks and my wife just grabbed the first pair she could find.

After the game, we had chicken briyani at the Indian stall near my parent's place before popping over to U-Home for the 2nd round of discussion. And again, we spent like 3 hours there, haha! U Home was very nice, as they even showed us the 3D drawings, unlike most IDs which would have required a deposit or design fees first.

Dinner was at Alexandra Village's bak kut teh, after Lydia firmly insisted that there be no fish or chicken for dinner!


Friday, 1 May 2009 - Trip to the Zoo!
On this Labour Day public holiday, we're off to the zoo with Chueng, Veron, Vannis and Kenzie!

We arrived at the zoo at about 11am and boy, the car park is almost full, all the way to the back! Very surprised, cos considering that MOH just announced a code Orange for the swine flu yesterday, I thought everyone's going to avoid public places and stay safe.

Lots of the people here are families with kids, heehee! Lydia and I are like the rare few kid-less couple, haha. Well, the 2 girls didn't take long to warm up to us, especially with Lydia.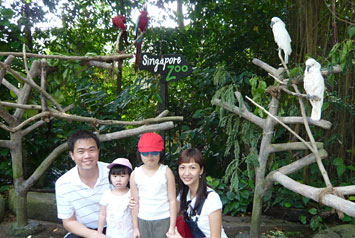 "Family" photo with Kenzie and Vannis

It's a blazing hot day as we explored around the zoo. Haven't been here since Jan 2007. I think it hasn't change much. But this is the first time we're here with the 2 little girls and it was quite an interesting and fun experience. :)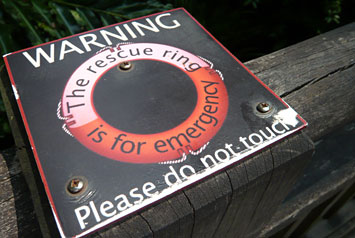 Careful! The zoo is afterall a habitat for wild animals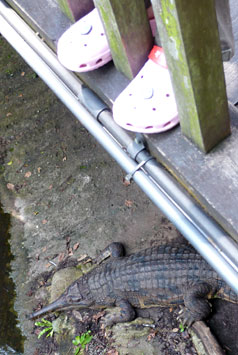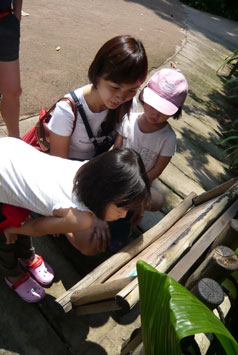 The alligator just below Kenzie's shoes Read and learn @ the Zoo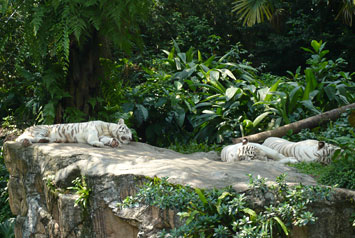 "Sleeping tigers, hidden zookeepers"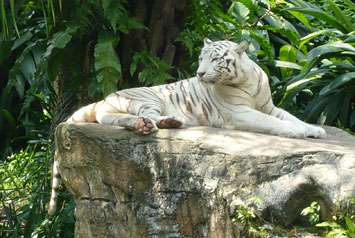 The majestic cat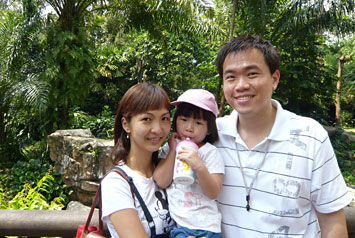 Can pass off as our daughter? Heehee...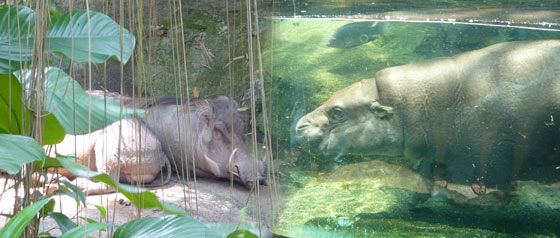 The sleeping "swine" warthogs and the cute pygmy hippo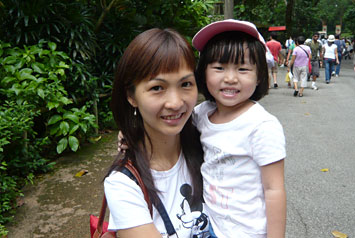 After all the walking, Lydia's carrying Kenzie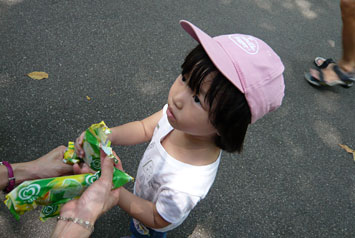 Spoiling her now, with ice cream!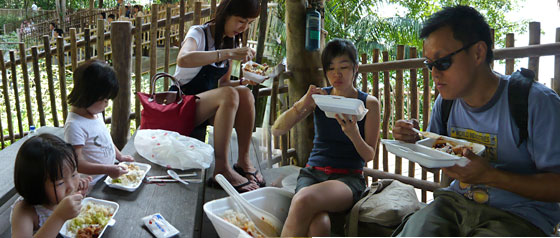 Lunch time at the elephant viewing theatre. Finally there's a photo of the girls' parents!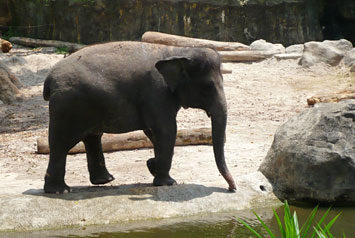 Did the elephant caught a wiff of our Chong Pang nasi lemak?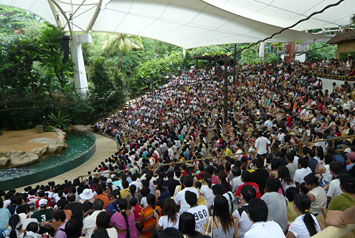 What a large crowd!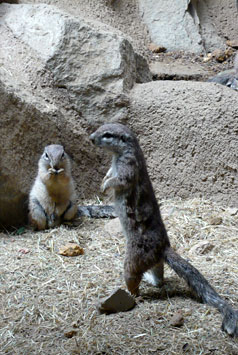 Cute furry creatures! :)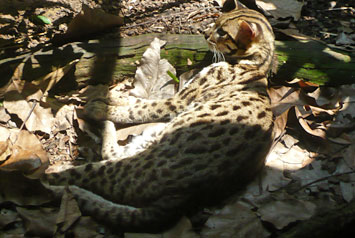 Leopard cat! I love cats! :D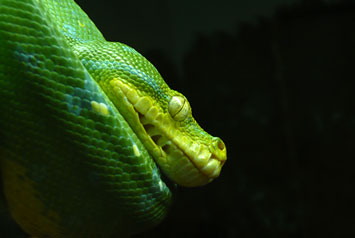 Love this shot of the green tree snake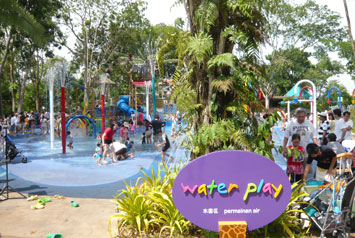 The girls perked up immediately on arriving here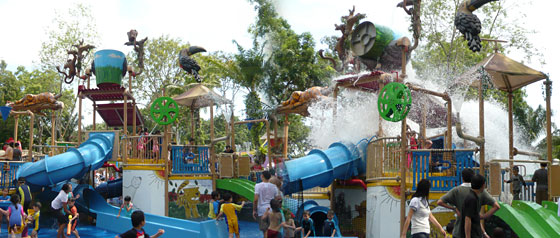 The fascinating water playground! A huge bucket load of water crashes down at intervals! Wheee!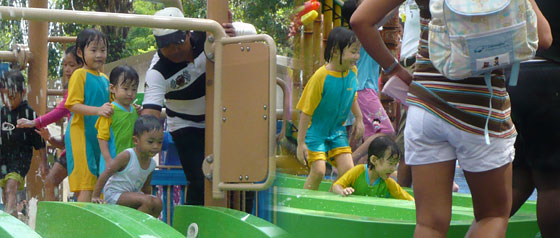 The girls having fun on the slide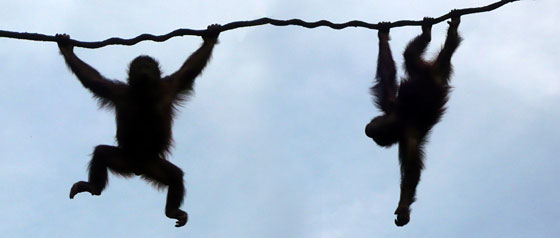 A trip's not completed without the iconic orang utans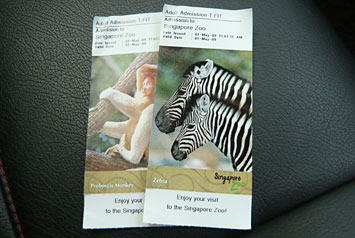 Until next time! Was fun!!


Wednesday, 29 Apr 2009 - ID Meeting With Chew Interior
We met up with Carmen from Chew Interior after work. For this 2nd meeting, she provided us with the quotation for the proposed work. Well, it wasn't the cheapest but there's a sense of feeling that their finishing quality can be assured. Their ideas are good too and she's much warmer compared to the first visit. Only thing is we have to put down a deposit of $2K before they will do 3D drawings.

Well, there's plenty of time and we'll evaluate all our choices, options and requirements.

After the meeting, we dropped by the duck stall near my my parents place for kuay chap dinner before snipping off some pandan leaves from my parent's garden, heehee. We blended the pandan leaves later to obtain their essence extract so that Lydia can finally bake her pandan chiffon cake! It looks good. And hopefully it tastes good too! :P


Tuesday, 28 Apr 2009 - 50% Discount at Tampopo!
Lydia's colleague had a 50% Tampopo discount "chop" card which expires today and she couldn't make it, so she gave it to us! Yippee!!

We ordered the black pig tonkatsu which is really heavenly with the marbled pork. The card also came with a free drink and zaru soba. The "fried chicken aka chicken karrage" was a bit strange, cos it didn't taste like the usual karrage, haha. Unfortunately, the strawberry scoop shortcake was sold out, and we ordered the salmon sashimi instead, which was really firm and delicious.

It was really tempting to order more, cos with the 50% discount, everything was like half price! The 5 slices of salmon sashimi which would have cost $10 became $5 only! We started going "Eh, 50% discount leh! Want or not?", hahaha!


Monday, 27 Apr 2009 - Bowling on a Weekday Afternoon :)
On leave today, yay! Woke up past 11am, rested at home, and then took a bus to SAFRA Mount Faber for bowling! The last time I bowled was on... 30 June 2007! I sure hope I don't play badly and I certainly hope my dusty bowling shoes won't do a split of its own!

Wow, SuperBowl sure is quiet on a weekday afternoon, heehee. It was so hard to get a lane on Friday nite.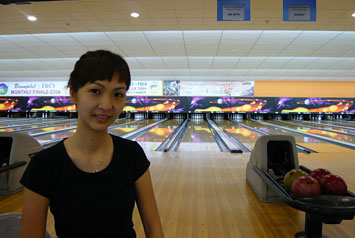 At the bowling alley

Gee... on the first throw, I injured my left thumb already. Too long never bowl? Not sure why, but the nail was causing the flesh to bruise. Even cutting the nail didn't help much. In the end, I had to alter my style of throwing and cut back on the spin. Surprisingly, I started to throw better! Without bothering about spinning the ball, it was more accurate and I found that just a bit of spin is just enough. ;)

We played 3 games and the final score is:
Joel: 136 153 175
Lydia: 56, 71, 121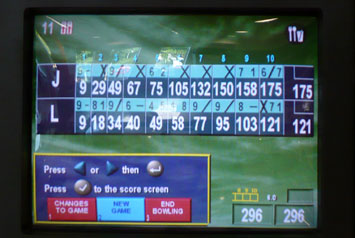 Bowling scoreboard for our 3rd game

Wah, very happy that after such a long layoff and an injured thumb, I can actually hit 175, plus a turkey to boot! And Lydia's 121 is a very good achievement after her first two games, heehee!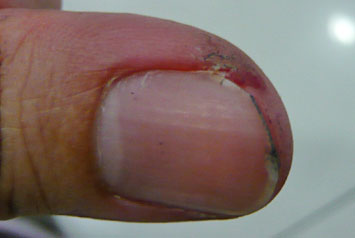 My thumb!


Sunday, 26 Apr 2009 - Lunch with Seng Seng
After church, we went down to Vivocity and met Wai Seng and Elaine for lunch at Food Republic, Vivocity. Lydia was craving for Korean food, so she had the bibimbap. Me... I don't have a favorite food here and settled for Chomp Pang nasi lemak. Wah, add one chicken wing, otah and fishcake and it cost me $5!

We went grocery shopping at Giant later and by the time we're done, it was like 4pm! How on earth did the time past by so quickly?

I always wanted to visit the National Geographic store at Vivocity, but time and again, I've always been thwarted by my wife! Previously, she said we'll visit after lunch and I forgot about it. And another time, she distracted me till I got to the car park. This time round, with so many grocery plastic bags in our hands, it was quite impossible to be ladened with all these weight and visit the National Geographic store. :(

"I'll be back!"


Saturday, 25 Apr 2009 - An Evening with Our Europe Tourmates
How time flies since our Europe honeymoon trip in Nov 2005! After 3 1/2 years, we're still in contact with 2 of the lovely couples whom we got to know on the trip! :)

We met up for dinner at Hooked!, a fish speciality restaurant at Rail Mall. The food's not too bad, though I think Greenwood Fish Bistro is still the best we've ever had. In Singapore, that is. Nothing beats the fish and chips in Australia.... slurp...

Anyway! We had a good time catching up with George & Corrine and Holy & Weiling. We usually meet about once a year, or more often when possible. Corrine's now like 8 months pregnant!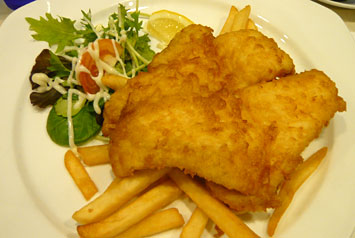 My fish and chips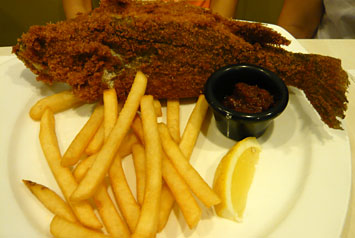 Lydia's deep fried seabass with sambal chilli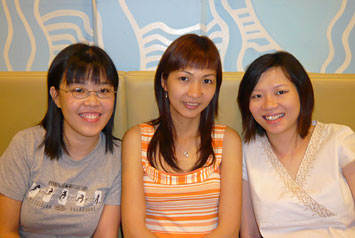 The roses...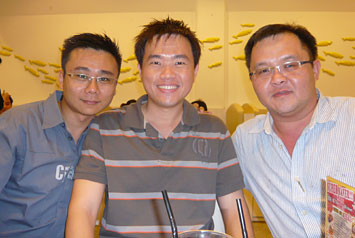 ...and the thorns hunks

After dinner, we popped over to Coffee Bean for another round of chit chat, this time with ice blended drinks and cakes on the table. We shared with them our Pinnacle floorplan too and got some very useful feedback from them. Must catch up again, you guys!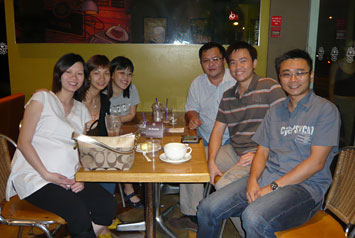 Group photo at CoffeeBean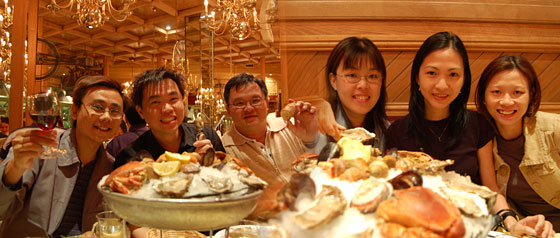 Flashback to Nov 2005 @ La Taverne, Paris! Our plateau de fruits de mer!


Friday, 24 Apr 2009 - Satisfying My Craving
After work, we discussed where we should go for... dinner! Adam Road's nasi lemak? Been there this Wednesday. Chicken? Lydia's had enough of chicken and fish from her company meals.

Beef noodles! The only place I know that has nice beef noodles is at Food Republic @ Wisma Atria, haha! So we drove into Orchard just to eat beef noodles, heehee! And it was really worth it, cos the thick sauce was really good and the beef was very tender and tasty. Yummy!!

We caught a midnight show at GV Tiong Bahru. Taken, a movie about a dad who single-handedly tracked down his kidnapped daughter to save her from the bad guys. Realistic at first , though it started to border on extreme as it moves on. Overall it was still a very enjoyable action thriller show.


Wednesday, 22 Apr 2009 - My DVD-writer Mistake
During lunchtime, I went down to Sim Lim Square with some of the guys for some "window shopping", but instead, I ended up buying a Samsung 22x SATA DVD double-layer writer! The Samsung SH-223F @ $33. Well, the purpose of buying it was because I wanted to be able to burn double layer DVDs, which the current DVD writer is not capable of.

Or so I thought! Imagine my surprise when I see the lettering DVD+R DL on my existing DVD writer! Doh!!! Oh well, at least I upgraded from a PATA writer to a SATA.

Oooh!!! Double layer DVD media is very expensive though! 10 pieces of Verbatim DVD+R DL cost me $39!! Crazy!! That's like $4 a piece. A normal DVD media is about $0.50 a piece only. Ouch!!


Sunday, 19 Apr 2009 - Something about S Factor
After hearing all the hoohaa about Channel 5 new reality TV show, S Factor, we (meaning, my wife and I) were curious and thus tuned on to the show to see what it's all about.

Well... it's about a bunch of female contestants vying in various contests to be the final winner of the top prize of $10,000 and land on the cover of FHM magazine. :)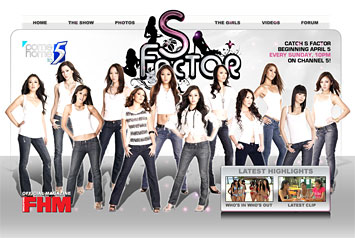 S-factor. S is for....?

Some people complained that it is a demeaning show, an insult to women and blah blah blah. But hey, this is not Miss Universe, Amazing Race, or "I'm not smarter than a fifth grader". Brains are useful, but that's not going to be the main criteria for FHM. I'd say it's a mix between "America's Next Top Model" and some cheesy Japanese/Taiwanese game show. And maybe a bit of Wrestlemania.

But of course if my wife wants to take part, it would be over my dead body.


Saturday, 18 Apr 2009 - Are there Aliens and UFOs?
Am I glad to have another week of futsal with my friends again at Turf City! Only 1 goal scored, but it was alrite. The weather was very hot and it was pretty tiring!

We rushed off after the game and picked up my parents before going to church for a special Saturday session. The topic: Aliens & UFOs!

I'm really looking forward to hearing what the speaker has to say about aliens and UFOs (unidentified flying objects) and to see what's the Christian angle on it. I regularly watch UFO Hunters on The History Channel and in my old bedroom back at my parent's home, on the wall hung the X-Files poster, "I want to believe".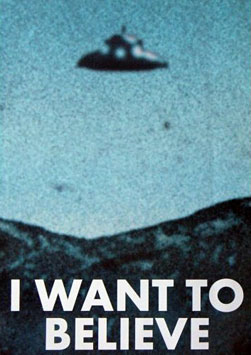 The "I want to believe" poster

With an open mind, it turned out to be a really intriguing 3 hours long session, with a break in between! The first half was talking about Evolution and dinosaurs, I think, which was interesting enough for me to sign up for the quarterly magazine subscription to the speaker's organisation, Creation Ministries International. It was really amazing and fascinating to see things from the Christian and Bible's perspective. Is Darwin's evolution theory really true? Is it scientifically true? There's a whole lot of questions and answers which really stirs and excite the mind!

But the 2nd half was what I was really, really interested in, which is the topic on UFOs. Do they exist? After removing all the hoaxes and explainable natural phenomena, the answer is.... yes! My eyes lighted up. But what are they? Where do they come from? Along these lines though, my "hopes" were dashed. They are not from outer space, which is the commonly held belief that they are extra terrestrials aliens that lived in faraway distant planets. Discounting the theory of wormhole space travel, it is scientifically impossible for spaceships to travel such vast distance that takes thousands of years even at light-speed. Even if light-speed was even possible, a collision at light-speed with any object, even a small dust particle, would generate a tremendous impact due to the massive kinetic energy created by light-speed.

Instead, they are from within Earth. Huh? Really? And even more surprising, believing that aliens are from outer space would be contradicting the Bible, which I didn't realise it, and was quite a shocking revelation to me. The Bible says that everything is created by God. In His image, man was created and Jesus died for our human sins due to Adam's first sin. If aliens were indeed created by God, Jesus only died for mankind but not alien-kind. So must God send Jesus (which is impossible) to save them, or otherwise these alien blokes are gonna be eternally condemned through no fault of theirs (it's Adam's fault!) when Judgement Day comes? Man also is to have dominion over all the creatures of the world. If aliens exist, then their technological superiority would mean they can have dominion over man.

So what are aliens and UFOs then?
The dark forces of evil spirits and demons. What?? That... is not easy to accept. Well, that's why I bought the book and the DVDs. This shift in thinking will take some time to absorb and digest. For one thing, it certainly shook my long-held desire and hope that there are aliens in outer space. Goodbye SETI!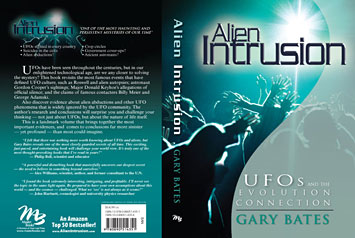 Alien Intrusion: UFOs and the evolution connection, by Gary Bates

Does it mean I'll stop watching UFO Hunters? No. I'll still watch it. But I'll try to understand it from the Christian angle also and see if it makes sense and adds up. Don't just take my word for it, or what speaker has said. Find out more yourself, make sense of the info and discover your own belief.

To know more, goto Alien Intrusion.

I still want to believe. in the truth.


Thursday, 16 Apr 2009 - Meeting with Home Guide
After work, we rushed down to Home Guide to meet our ID for the 2nd time. He made some modifications to the layout to meet our requirements. Hmm, his ideas and concepts are quite interesting.

And then, the moment of truth: Quotation! As he ran through the itemized works (masonry, carpentry, etc), the costs just ran higher and higher, especially for our "Super 4"! I shan't reveal the final cost now, but to put it mildy, I lost my dinner appetite after that.

He assured us that that was the highest possible cost after including everything and putting in the high-quality stuffs. Glass, he emphasized, is expensive.

Hmm... we gave him our budget and he'll revise them before calling for the next meeting.

Ouch.


Sunday, 12 Apr 2009 - Easter Sunday
I always wondered why is the Sunday following Good Friday called "Easter" Sunday? How did Easter rabbits and eggs came into play on a date that commemorated Jesus' resurrection?

After digging through the Internet all over, turns out that Easter is simply... Easter, an annual Christian festival in commemoration of the resurrection of Jesus Christ, observed on the first Sunday after the first full moon after the vernal equinox.

The what vernal equinox? That's when the tilt of the Earth's axis inclined neither away from nor towards the sun, when day and night is evenly balanced, typically around 20-21 Mar. Factoring in wait time for the full moon, Easter will fall between 22 Mar and 25 Apr.

Phew! Information overload.... Well, about Easter rabbits and eggs, I'll leave it to next year to dig for the info!

After having lunch at Carl's Junior @ Vivocity, as went to Wai Seng's home to check out his renovation works so that we have a better understanding of the works involved and what Home Guide has done for him. Well, it's still a long way to go till our place is ready, but it's good to start early so that we have plenty of time and can afford to wait and check out more IDs.


Saturday, 11 Apr 2009 - A Fun Saturday!
I haven't been playing futsal since.... 10 Jan! Wow, more than 3 months! Blame it on my friends shifting the timing to Saturday morning! Heh, it wasn't entirely their doings. Was busy on a couple of Saturdays too.

But today I will be joining them at 11am! We made use of the weekend coupon and drove to Toa Payoh for breakfast as well as to renew our HDB rental. It was a struggle to get out of bed so early on a Saturday, haha! Running late, I somehow forgotten that we're now playing at Turf City instead of East Coast Park! From Toa Payoh, I headed down all the way till Fort Road before realising the stupid mistake. D'oh!!

Arrived at The Pitch (formerly known as The Premier Pitch) about 11.30am and quickly changed and joined them. It was really fun and nice to be back playing on the artificial turf, heehee! Really enjoyed myself even though was gasping for breathe and stamina at times. After a long lay-off, managed to score 2 goals and also had a shot/cross that was going wide until the defender stuck out a foot and diverted it into the net. One of the goals was pretty memorable: chesting down a high ball before striking it with my right foot to score between the legs of the advancing goalkeeper. :)

We joined the group for lunch later at Turf City. It was fun chatting with these group of friends and very glad that Lydia didn't feel left out or something. We gave Tzin Mein a ride home and had a good rest before going out with Wai Seng and Elaine for dinner a Taiwanese restaurant at Liang Seah Street.

We had Taiwanese beef noodles plus some other side orders. Hmm, maybe I'm not used to the taste, but I think I prefer Singapore-style sticky beef noodles better!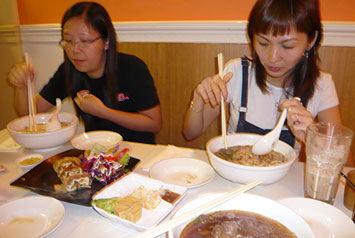 Elaine and Lydia enjoying their Taiwanese beef noodles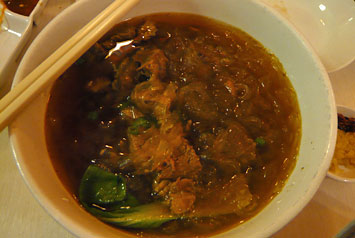 My bowl of Taiwanese beef "potato noodles"


Friday, 10 Apr 2009 - Good Friday Outings
After the morning Good Friday service, we went to Upper Thomson Road for lunch at the famous ampang yong tau foo with my parents. It was nice to eat here again after a long break and wow, the place was really very crowded!

After lunch, we met up with my ex-colleague who's now with EA, and she passed me like 10 EA games and didn't wanna take a cent! For charity, she said and asked me to accept. Thanks!! Wahahaha! How to finish so many games?? Need For Speed, LOTR, Medal of Honour.... :D

Dinner time and we decided to be adventurous and ventured to Botak Jones @ Depot Road! We ordered the The Massive and Fish & Chips. Yum yum!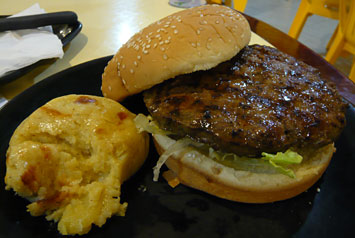 The Massive! Pity there isn't any cheese.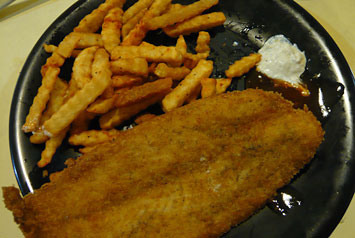 Good ol' fish n chips

On the way back, we detoured to Telok Blangah Hill Park and embarked on a romantic stroll along Forest Walk, an elevated metal walkway that meanders through the forest. It really is nice walking hand-in-hand together in the night under the full moon, along the dimly lited path surrounded by trees below, above and from the sides.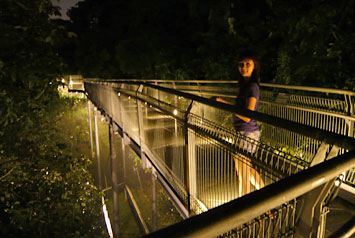 Illuminated elevated walkways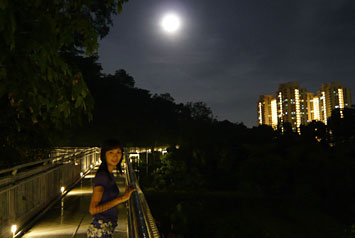 Under the bright moonlight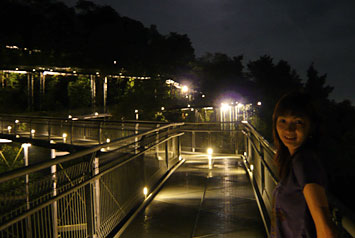 It's very rare for my wife to walk so much outside of shopping centres


Thursday, 9 Apr 2009 - Chicken Rice Talk
It's the long weekend coming up! We decided to venture a bit further for dinner and drove down to Balestier to eat at Loy Kee. I liked their chicken rice cos the rice is very fragrant and soft! The chicken is also tender and nice. Some people's decision is solely based on the chilli sauce, but I think that's a bit strange. Maybe cos I ain't that a crazy chicken rice chilli lover. The condiments are there to enhance the food.

Well, unless you're talking about BBQ stingray, then the sambal chilli plays a much vital role. There ain't many ways of bbqing a stingray, so what differentiates a good bbq stingray from a mediocre one is the sambal chilli. And for this, I like it wet and hot. :)


Sunday, 5 Apr 2009 - Qing Ming
It's that time of the year again for the annual visit to pay our respect to our departed loved ones. We dropped by Chua Chu Kang in the evening to visit the graves of my grandparents from my mum's side. It was raining but still quite crowded! My grandfather is buried in the Chinese cemetery while my grandmother is buried in the Christian cemetery.

Is Qing Ming a conflict to a Christian's belief? Is it a Chinese custom, or does it have any religious inclination? Thankfully, my pastor confirmed my belief that there is nothing wrong in paying respect to our ancestors. But there shouldn't be any offering of food, burning paper money or offering of joss sticks, of course.

As per our tradition, after the trip for the tomb sweeping day, all of us would adjourned for drinks and food. We went to a friend's Korean restaurant for dinner at Pandan Valley and really enjoyed the food. Had a good time catching up with all the relatives. :)


Satursay, 4 Apr 2009 - Having Fun after Work!
Of all the days that I had to go back to the office to work on a Saturday, my friends gotto choose this day also to hold a triple birthday celebration dinner....

Well, I ain't gonna rant or rat about my work, so... basically, by the time I'm finished, it was about 9pm! My friends were still at Robertson Quay having dinner, but I still went home as Lydia was at home. A couple of SMSes with my beloved friends later, we were soon heading back to The Pier @ Robertson again, this time to meet them for drinks at Tasting Notes!

Hey, hey! Andrew "birdman" Quek is here too! Together with San San, as well as Tzin Mein, Eric Yong, Boon Teck, Novita, Cheng How, Andrew "Ah Beng" Woon, Kian Pang and Boon Chong! Lydia had a Shirley's Temple while I had a Japanese beer which Andrew Woon recommended, Yebisu Premium. On a "high" after my Blackburn beat Andrew Woon's Tottenham with 2 goals in the last 10 minutes, I treated Andrew to his drink, hehheh!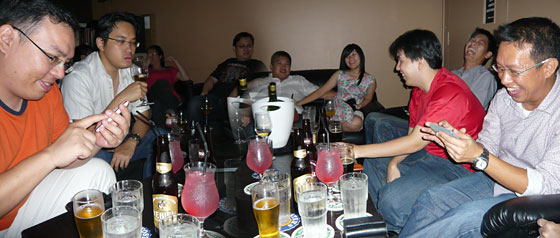 The merry men from my JC/NTU days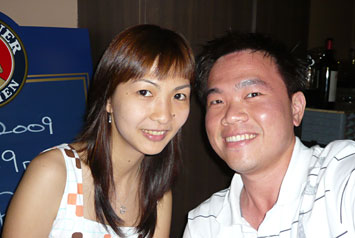 Gosh... I certainly turn red easily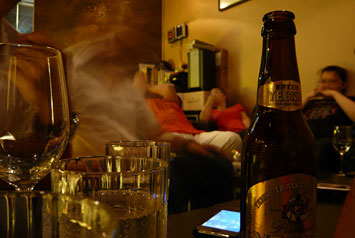 Interesting view from the top of the glass, literally :)

Well, the drinks ain't the main attraction here. The fun was having a good laugh and a good chat with the guys! Like birdman Andrew, I haven't seen him for ages! And these bunch of friends surely have a fondness for iPhones and showed me all the cool games they have! I think only 3 of us are non-iPhone users!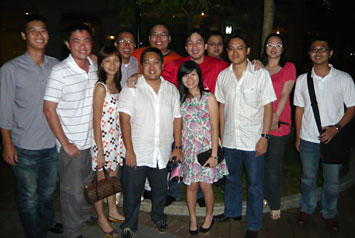 School excursion's over, boys and girls!

Really had fun drinking and chatting with them! I really miss these bunch of jokers ever since they shifted the futsal playtime to Saturday morning!


Friday, 3 Apr 2009 - From Beef Noodles to Sushi
After a hectic work week, we usually go out for dinner on Friday. This time round we chose the beef noodles shop @ China Street, near our Sunday's Ya Kun shop. But lo and behold, when we got there, it was closing! Dang!

After walking around the restaurants at China Square, we ended up back at Sushi Tei. The outlet here is remarkably more interesting and like more classy too! Really enjoyed our food! My crab fried rice was very unusual and interesting, heehee!


Wednesday, 1 Apr 2009 - ID Meetup & Good News for Gamers!
After work, we went down to another ID company called Home Guide, which Wai Seng had engaged. Though the company was located in Leng Kee, the interior layout and design of the company was rather impressive! We sat down and had a good chat with the interior designer, who had quite a lot of good ideas and designs too. Pretty impressed by him! Only thing is he's strong in Mandarin and weak in English. So to allow him to express his ideas better, we had a rojak conversation of English-Mandarin!

-------------------------------------

All ye gamers rejoice! Hear ye, hear ye!! Gaming actually improves your vision!!

according to a findings published in NAture Neuroscience and reported in ChannelNewsAsia, fast action first person shooter games provide excellent training for contrast sensitivity, which is critical to everyday activities.

This is excellent news!! My wife can no longer nag at me for playing too long lest it spoils my eyesight. Bookworm spectacle kids may actually be forced to play games by their parents, hahaha!

But seriously, my eyesight had actually improved over the tears! In my JC days, I had sub-100 degrees and now, I'm actually 6/6 on the myopia scale! Serious! But I've got astig though at sub-100 level. But in eye chart examination, doctors has recently been certifying me as perfect eyesight, with one even certifying that I had better than 6/6 vision. :P