Entries by Joel


Sticky: Please sign the guestbook so that we know you've been here! We'd love to hear from u!


Saturday, 31 March 2007 - My Brave Korean Driver
Youngho, my office colleague and friend is amazing. Fed up with taxi drivers taking him for a ride all the time (imagine a single trip costing close to $50!!), he signed up for a rented car! All these barely a month in Singapore and not having a clue about PIE, BKE, ERP, coupon parking and general locations in Singapore!

After getting a phone call from him enquiring about how to get to the AYE from Orchard (he originally wanted to goto IKEA at Alexandra Road but ended up at Orchard!), I figured it was best to meet up with him since we were on our way to Orchard, en route for my cousin's birthday at Clementi. Else he may end up in JB on the way to Yew Tee where he stays!

We met up with him and gave him a Singapore street directory. First stop was at Shell petrol station and I showed him how to top up petrol and where to pay. We stopped by to look at an electrical shop at Queensway before heading to The Regent Park where my uncle stays. Before getting off, I gave him directions on how to get from here to the PIE, then to the BKE, and then to the KJE. He smiled and said thank you. I smiled and think, "Dear Lord, please bring him home safely and not to JB."

Kidding about the JB part. :P But I really did hope that he wouldn't get lost and would get home safely. :)

We were almost an hour late for George's birthday dinner. The food was very nice, especially Auntie Helen's house speciality, kueh pie ti. Yummy! And it was very fun playing with Cheung and Veron's kids Vannis and Kenzie. It's really interesting to see Kenzie, who's slightly more than a year old, sitting on Lydia's lap and flipping through a story book. Zi yi commented that she has never see Kenzie sit still for so long while away from Veron. :)


Friday, 30 March 2007 - Only on the Last Friday of The Month
Oh boy, if we have so much fun/food/party/clubbing/liquor every week, I will drop from exhaustion!

A last-minute BBQ "inspiration" from Vernon led to a bunch of us (Soo Kee, Swee Wai, Pei Sze, Mandy, Vincent, Steven, Kelly, Terence, Lydia and me!) gathering at his condo for a BBQ dinner. One thing I've come to know about Vernon & Steven's BBQ philosophy: they don't stinge on food quality! So we had pre-marinated chicken wings, slabs of beef, sausages and satay, plus seafood porridge prepared by Vernon himself (how it fits into a BBQ theme, I don't know, heehee..).

At the end of the BBQ, Soo Kee, so full of energy that belittles his age (heehee!), headed down to Bar None with Lydia and me in tow (oh, how can we abandon our driver? Haha!). Lydia, on knowing that we're going to Bar None, which is located in Orchard Road, happily told Soo Kee we'll join him after doing a little "last Friday of the month late-night shopping"! In the one-hour shopping spree till midnight, she snapped up 3 pieces of clothings from Forever21. In that one-hour that I was in the shop, I'm totally amazed how I am feeling all sleepy and blurry while the large crowd of mostly females in the shop can still be shopping with such enthusiasm and awakeness!

After dumping the shopping bags in Soo Kee's car, we joined him and the others (Chuen Kiat, Kuan Han, Serin and her friends William, Max, Jamie & unknown girl in white top) at Bar None. There was a good crowd there and it was interesting to see some girls chatting up the guys and getting cosy, as well as a couple putting on an elaborated body-shake and hand-movement dance style, which led us to believe (and watch with glee!) that they must be trained ballroom dancers!

After a slow beginning (in terms of drinks, that is!), things start to heat up. These bunch of people like bottoms-up and half-glass challenges! It is hard to refuse when a girl offers you a glass and she takes one down herself too.

At the end of it all (around 3 plus in the morning!), three bottles of Remy Martin VSOP (1 prior to my arrival) were cleaned out!

What have I learned at the end of 3 hours of partying?

1) Don't drink too much on your own if there are going to be bottoms-up challenges coming along
2) My stomach hurts but my face is not red (which is a concern!)
3) My office colleague Ali Azturk was there too
4) Left alone intentionally, a particular girl came up and started dancing in front of me
5) Soo Kee won the bet with Lydia for point 4 above
6) Lydia has another run at driving us home and she is getting better
7) Soo Kee likes to do a merlion while I stubbornly refuse to

Good nite! Or good morning!!


Tuesday, 27 March 2007 - Coach Soho Signature Mini Skinny
If you don't understand what the above means... there's still hope for you!

Arek dropped by the office today with my special US delivery of some toys (Yay! Tell u some other time!) and Lydia's "surprise" Coach present. Together with Lydia, David, Masaya, Yuli and Ivan, we met him for dinner later at Kuriya @ Shaw Centre.

The food was excellent, and the price was just as "excellent" too! A set meal cost a minimum of $30+! Oh well, we pampered ourselves today with beef tepanyaki and Kuriya Bento set.

Needless to say, the highlight for Lydia is of course her Coach present! It's a silver/light blue Coach Soho Signature Mini Skinny (in short, a coin pouch!)! This was going for $95 in Singapore and the color isn't available too. I got it for $78.82, including US local shipping!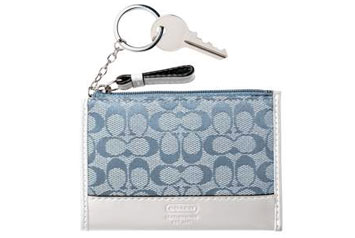 Hope she likes it! She has already swapped her Hello Kitty coin pouch for the new one on the bus ride home, heehee!


Monday, 26 March 2007 - And 1, 2, 3... 1, 2, 3...
Today's the first session of our waltz & foxtrot dance class! It's another event by my company's sports and recreational club and with me in charge again. 12 brave dance-wannabes signed up for the class (or did so after being relentlessly pestered by me, haha!): Vernon, Pei Sze, Dominic, Chee Yong, Wartina, Erica, Erica's friend, Masaya, Soo Kee, Young Ho (but didn't make it today), Lydia and me!

And it's at Shawn & Gladys DanceWorld. Gladys, if you have been following The Dance Floor on Channel 5, is one of the judges on the show. We got to see Vas and Pris practicing at the studio too! Pris (Priscilla) looks different in real life.

Our class size was 19 I think, with just a gal short (surprisingly for a dance class to be short of gals!). Our instructor is Kelvin (whom we later found out that he is also in The DanceFloor as a member of Batucadas! ) and it was very interesting as he taught us the waltz stance on arm positioning, body posture and leg movement. Surprisingly, it was quite tiring! Reminds me of my Police NS days when we had to stretch our arms straight forward, clutching and releasing our hands hundreds of times as part of our arms training cum shooting exercise. It was sheer torture, haha!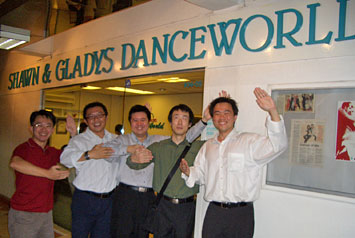 Tetra Pak's all-male dance troupe..

At the end of an enjoyable class, we went to Redhill with Soo Kee, Vernon and Pei Sze for supper! Oh boy, we had so much food that all the calories we lost in the dance class were reclaimed back 5 folds easily!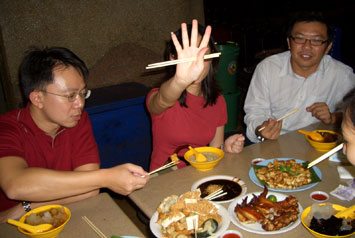 Pei Sze objecting to being photographed by Joe Paparazzi


Saturday, 25 March 2007 - Let's Ride the Wakeboard!
We're going wakeboarding again! Organised by my company's sports club (and by me, ahem!), this was the 2nd wakeboarding event and we had a good turnout of 24 people (excluding 2 who reported sick!), including Jason, Fenny and Chueng!

The morning sun was really blazing as the boats set off, with Lydia, Erica and me in one boat. The old wakeboarding areas near Ponggol Marina Country Club were now under major construction to be converted into a reservoir, so we got to enjoy a high-speed ride out northwest to somewhere near Pulau Seletar (I think!).



Reservoir construction at Ponggol Marina Country Club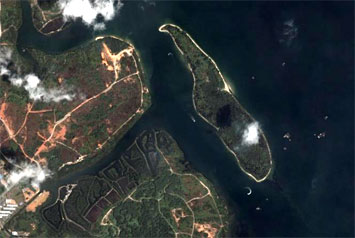 Satellite image of wakeboarding areas near Pulau Seletar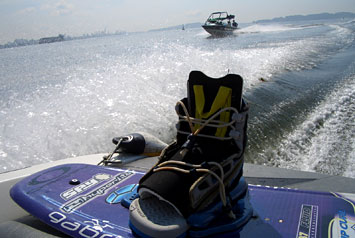 The high-speed ride there with our Hyperlite wakeboard

I was unanimously voted to be the first into the water, since Lydia hasn't quite master it yet and Erica is a first-timer. Yikes, I hope I can still remember how to get up!

Thankfully I didn't disappoint their faith in me! Was up and surfing on the first-attempt! Managed to practice weaving left and right between the boat wake before some big waves (ok, maybe not that big, heehee) brought me down. Over the whole 2-hour session, I managed a first! Managed to return back into the boat wake from the right! Yay! Oh boy, was totally exhausted at the end!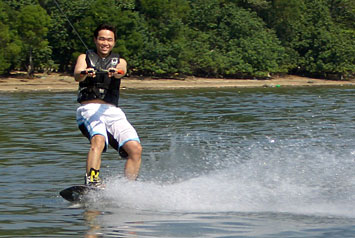 That's me riding on the right side of the boat!

As for Lydia... after many, many crashes, she managed to get up twice and stayed up for 10 seconds or so! Yay!! Another achievement! Erica also managed to get up for a little while. Not bad for a first-timer!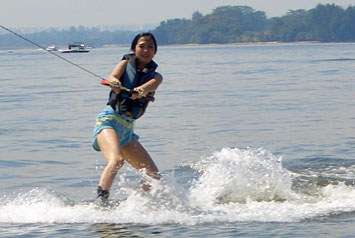 Yes! She's up!!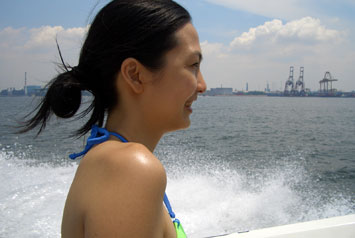 Lydia reflecting on a fruitful wakeboarding session

We went to Jalan Kayu for lunch later with Soo Kee, Hayley, Valerie (Hayley's cousin), Veron, Chueng, Jason and Fenny. The food was nice but I think the back alley Indian stall near my parent's home is still better!

Later on we went to Queensway Shopping Centre with Soo Kee, where Lydia bought a sporty top and Soo Kee bought two footballs. That crazy guy is still going to play street soccer later at 4pm!

Already aching from wakeboarding and 2 hours of sun, I must be nuts to go play soccer with him! But with two footballs in our hands.... the temptation was too great!! So I went!

Oh man, the sun was totally blazing hot. I doubt the sunblock I applied will save me. Man, I'm going to regret this in days to come!!


Thursday, 22 March 2007 - I Say, You Say
After celebrating our 8 years 7 months anniversary of couplehood (yes, I have to keep track of these monthly dates too!!) at Pastamania @ Funan Centre, we met up with Soo Kee and went to Lao Pa Sat for teh tarik to discuss about the boat grouping for Saturday's wakeboarding session.

It was really funny the number of nonsensical thoughts and theories that were put on the table; from the serious, like limiting the number of first-timers in each boat, to the hilarious, like who to match-make and how to make someone's boyfriend jealous so as to cut short his wakeboarding time! Haha!!

I like to think that after a hard day's work, it is important to unwind and de-stress too!


Wednesday, 21 March 2007 - Her Magic Words
In Lydia's dictionary, nothing pleases her more than the magical words of Coach, LV and Blue Label...

So you can imagine how she reacted when she came across the following line in my credit card statement: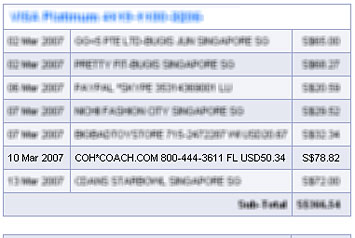 It was meant to be a surprise present but the more I told her she cannot see my bill, the more she had to see!

First thing she did was to goto Coach website and analyse what I could have possibly bought for her. After relentless "tell me lah....." and "cannot wait lah.....", I conceded to her that it was what she had been looking for: a coin pouch!

Well, she gotto wait till next week when Arek is back from US to know exactly what she will get. In the meantime, she has already started to talk suggestively:

"Is it red, pink, blue or white?" "Is it big C, or small C?"

Heehee! :)


Tuesday, 20 March 2007 - It's Bowling Time!
After work, went down to HomeTeamNS @ Bukit Batok in Soo Kee's car together with Veron, Chuen Kiat and Adeline for bowling! Ok, actually SK and CK (heehee..) went golfing first and Adeline went home, but in the end, we had Chueng and Lydia joining us for bowling too!

It was really fun and I managed to improve my score and sparing! After 6 games, 154 was the highest I had. We went for supper later and finally reached home past 10pm! Wah!

Ok, I think I've sufficient practice to join Lydia and her bowling gals for their tournament training the next time round. Last time so paiseh with my pathetic score, heehee. :P


Sunday, 18 March 2007 - Lydia's Chiffon Cake
My dear wife baked two pandan chiffon cakes yesterday! Guess who was the guinea pig? :P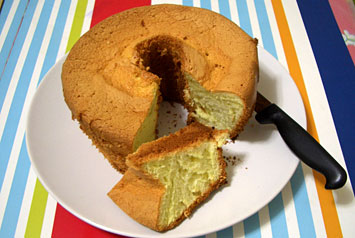 Joking lah. I happily ate up the cakes. The cakes were nice and soft. It's a pity she had to use artificial pandan flavouring instead of real pandan leaves extracts. It was a little dry, perhaps baked too long? And a little burnt on the sides too.

But still, the minus points are no big deal compared to the efforts and love she had put into the cake. Thank you dear! :D

Just remind me to buy a fire extinguisher though. Our oven was smoking and on fire for a brief moment!!


Friday, 16 March 2007 - Happy Birthday Daddy!
It's my dad's birthday today and he's 59 already! Happy birthday!!

We went to Sakae Sushi at HarbourFront to celebrate his birthday, together with my mum, Jason and Fenny. His birthday present from us was a multi-card reader (so that he don't have to borrow J's one) and a cool bluetooth earpiece for his Dopod phone. Hope he likes them!


Thursday, 15 March 2007 - Website Go "Live!"
A website project that I had been doing for months has finally been completed! Yeah!!

Built from scratch with Dreamweaver, it incorporates CSS, ASP photo gallery, Flash and lightbox technology, with a generous dose of mouse-over effects. Final images produced with Photoshop. Click here to check out the website of AL-SUS Industries Pte Ltd, a Singapore company specialising in sheet metal works!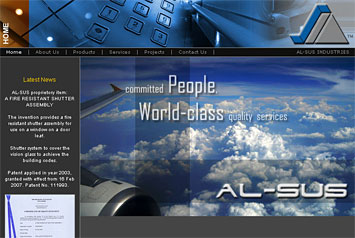 So guys and gals (you know who you are), when are we going to celebrate!? :)


Wednesday, 14 March 2007 - Music & Lyrics
If you're going to watch a movie, this is it!

Music and Lyrics is an excellent feel-good movie on love and music, starring Hugh Grant and Drew Barrymore. Be mesmerised by catchy original soundtracks written for the movie and be enchanted as Haley Bennett heats up the screen in her film debut as super popstar Cora Corman.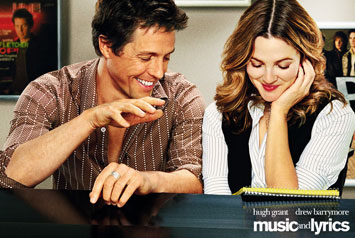 Hey, we've watched two movies in a month! That's a new record I think, in the age of pirated DVDs. :P


Sunday, 11 March 2007 - Sotong's Wedding
Our dear sotong friend Sok Fung got married today! To Jack, the lucky groom!

Together with YoungHo, we went to the bridal suite before the wedding started to look for the bride. Wah! She looks so different from the sotong we know! Stun until didn't shake her hand, haha!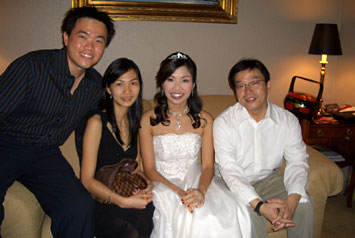 Back to the ballroom later, at our table were also office colleagues Peter, Magdalene and LP. Ex-colleagues Mr Teh and Irene were there too! It was great to catch up with Mr Teh again! And what do you get when LP and Mr Teh are put at the same table? Lots of drinking, heehee! We must have finished at least 5 bottles of red wine I think. I lost count...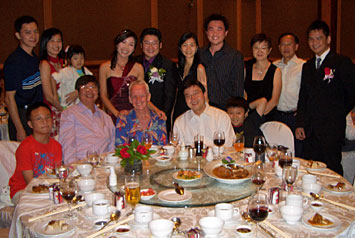 The Tetra Pak & ex-Tetra Pak table. Spot my red face? :P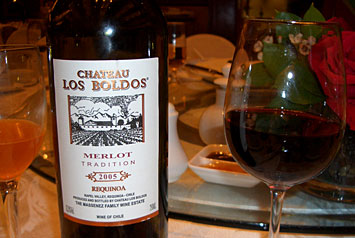 The Culprit. Cheers!

This was really one of the most fun wedding dinner I ever attended, haha! At the end of the dinner, we were the last table still hanging around, talking and drinking! Someone even chat-up the bridesmaid! :D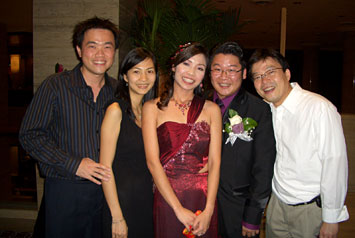 With the bridge & groom at the end. My face color normal again!


Saturday, 10 March 2007 - Our Future Home
This morning, we went down to Cantonment Road to check out how is The Pinnacle construction coming along. Hey, our unit is about to be built! The next level up will be the construction of our floor! Wow!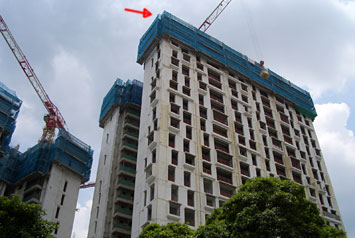 At the entrance to the construction site, we came across an interesting info. Contract period was stated as 4 April 2005 - 3 April 2009. Does it mean it will be ready by early 2009? It was originally slated for 2010.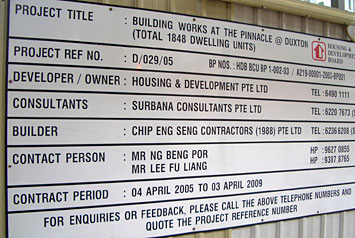 Hmm.. like that in a few months time, better start buying and reading up on interior design magazines to get ideas and inspirations. 2 years in advance not kiasu rite? Same like wedding preparation also mah. :D


Friday, 9 March 2007 - It's The Ball's Fault
Lydia and her colleagues had their bowling practice session today at Plaza Starbowl @ Textile Centre. Cos they're taking part in their office bowling competition. :)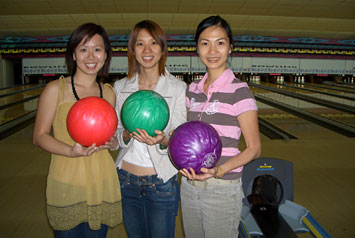 Charlene, Tricia and Lydia: Potential winners in the making?

I joined them after work after laying off bowling for many months. At the end of 2 rounds, my score was... 107 and 111. My sparing was simply horrendous.

It's the ball's fault lah! The finger holes were too shallow and I couldn't gripe properly. The base of my thumb hurts now you know... :P


Wednesday, 7 March 2007 - I Eat Cannibals
Today's our ROM 4th year anniversary! Whee! We're lawfully married for 4 years, heehee. But traditionally married for 1 year and 122 days.

That's why there were some surprises and movie-watching yesterday and tonite's dinner date at Carnivore @ VivoCity. :)

This buffet-styled Brazilian restaurant is really one of a kind! Knife-welding waiters roam the restaurant and slice hot pieces of meat from the skewers onto your plate! Huge selection of meat to choose from, like beef, pork, chicken (even chicken heart! Eeek!!) , fish, sausage and even pineapple!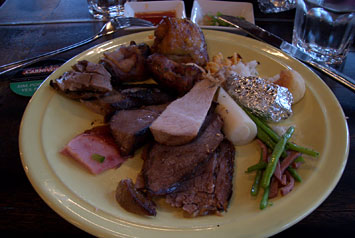 All sorts of meat on the plate!

We had at least one round of everything and were really full at the end of the dinner. Lydia said she's not going to eat meat for a while, haha! It was really that good, but unfortunately a little saturating at the same time too.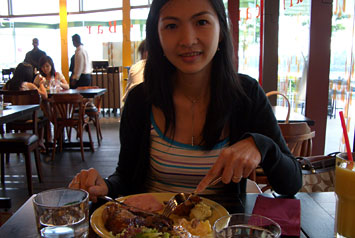 Lydia going strong in the beginning..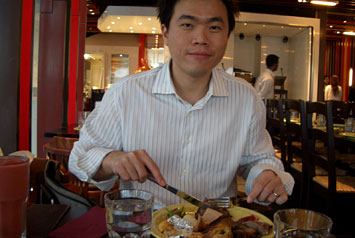 The beef was totally delicious. I had like 4 servings!

Would really recommend this restaurant if you're a meat-eater. Really felt like a canivore here actually, haha! Which led me to start singing this song by Toto Coelo:

I Eat Cannibals (click here to listen & sing along!)

I eat cannibal, feed on animal
Your love is so edible to me, I eat cannibals
I eat cannibal, it's incredible
You bring out the animal in me, I eat cannibals

What can you do, you're in a stew
Hot pot, cook it up, I'm never gonna stop
Fancy a bite, my appetite, yum, yum, gee it's fun
Banging on a different drum

And I eat cannibal, feed on animal
Your love is so edible to me, I eat cannibals
I eat cannibal, it's incredible
You bring out the animal in me, I eat cannibals

I like it spice, tasty and nice
Roasting, vitamin, forget the dieting
Mmm, such a dish, I can't resist
Healthy recipe, what you got it's good for me

All I wanna do, make a meal of you
We are what we eat, you're my kind of meat
Got a hunger for your love, it's what I'm speaking of
Give a dog a bone, I can take it home

I eat cannibal, feed on animal
Your love is so edible to me, I eat cannibals
I eat cannibal, it's incredible
You bring out the animal in me, I eat cannibals

Roast it, toast it, you're the one I'm boasting
Eat me, eat you, incredibly delicious too
Gourmet, flambe, serve you up an entree
Intake, home bake, you're the icing on the cake

Eat me, eat you, incredibly delicious too
Gourmet, flambe, serve you up an entree
Intake, home bake, you're the icing on the cake
Full up, can't stop, dicing on a chop chop

*Disclaimer: Song is for promo-listening only. If you like it, please buy it


Tuesday, 6 March 2007 - A Blue Moon Today?
I don't believe it! My wife bought me Lego! A red ninja minifig and a Lego Starwars AT-ST! Thanks! I am really touch! First time she bought me Lego since our early courtship days!




We went out to catch a movie at Tiong Bahru Plaza as well: Just Follow Law. It's a local production by Jack Neo, starring Fann Wong and Gurmit Singh. Fann Wong is really hilarious in this show! It's a definite must-watch for Fann Wong fans. Catch her funny expressions and actions, crude-talking, butt scratching and even grabbing her own boobs. :)

Can you imagine Zoe Tay acting like this? Nah!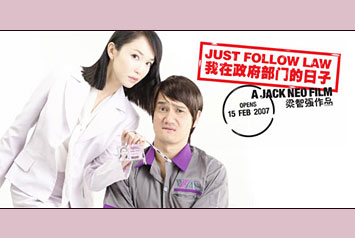 Monday, 5 March 2007 - More Than Meets The Eye
I finally gotto open up my toy that was bought in Japan: Optimus Prime from Transformer!

Fully posable with several ball-point joints and movable parts, I just love this action figure! Reminds me of the good old childhood days in the 1980s.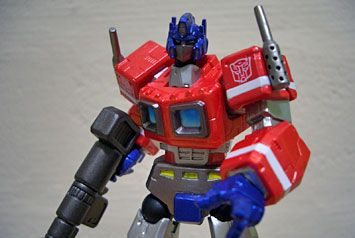 "Autobots! Roll out!!"


Sunday, 4 March 2007 - Yu Sheng 2007
After breakfast at Elizabeth Hotel with YoungHo, we went to church together. The poor guy had trouble keeping awake during the sermon due to jet lag, heehee. It's a pity he didn't enjoy Malmo as much as we did.

Lunch was at Soup Restaurant at United Square, where we had their specialty ginger chicken, together with yang chuo fried rice and black pepper venison. And on the very last day of Chinese New Year (15th day), I finally got to have yu sheng together with my wife! Yay! Just made it!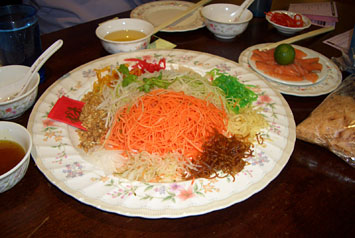 The must-have yu sheng every Chinese New Year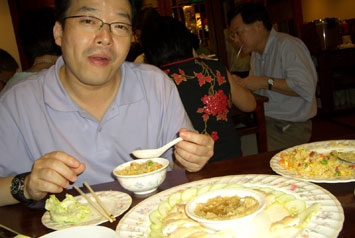 YoungHo enjoying his ginger chicken. He eats everything!


Saturday, 3 March 2007 - The Lucky Red Devils!
Manchester United vs Liverpool tonite live at 8.40pm!!

When YoungHo wanted to meet up for dinner, the first thing on my mind was, "where can I go to eat where there's a live screening too?" :P

So we went to Bobby Rubino's at Chijmes and sat stubbornly in the outdoor Fountain Court, even though it was drizzling on and off!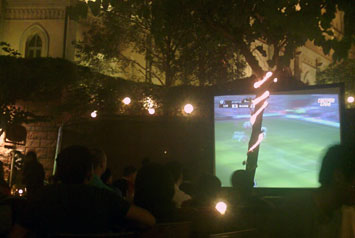 Can someone chop down the silly tree smacked in the middle of the screen?

The dinner was great and the soccer atmosphere was fantastic! The people there just wanted to see a good game, so every goal scoring opportunity from either side was greeted with shouts and excitement.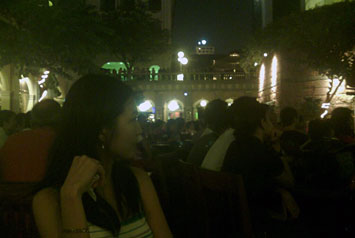 For the first time in ages, Lydia sat through an entire match!

But of course, with Man U outplayed for 90 minutes and with Paul Scholes sent off in the 86th min, everyone (as far as I could see, except maybe those sitted guys with arms down who quite possibly are Liverpool or Chelsea fans..) jumped and cheered when John O Shea scored the dramatic winner in the 92 minute.

Fantastico! I love this game!!

For the record, YoungHo downed 5 1/2 pints of beer. And I am a Blackburn fan.


Thursday, 1 March 2007 - Playstation3 Available for Pre-order in Singapore
MySony members in Singapore, rejoice!

The Playstation 3 is now available for pre-order from 1 to 5 Mar, and you can collect it during the IT Show 2007 between 8 to 11 Mar! Go check out MySony website.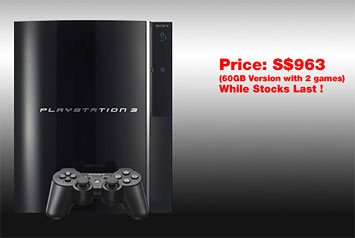 Price: S$963!!!

Else you can try your luck at the retail store when the product is launched on 7 March in Singapore at retail price of $799 (without games).

Man, this is some expensive stuff! Thankfully, I'm not a console fan. Nothing beats playing games on computer!


Wednesday, 28 February 2007 - Is it a PocketPC or a SmartPhone?
Tech quiz:

What's the difference between a Pocket PC phone and a SmartPhone?

Pocket PC Phone
- Comes with a stylus and has touch screen capability
- Windows start button appears on the top left of the screen

SmartPhone:
- Do not have touchscreen capability
- Windows start button appears on the bottom left of the screen

Now you know! I didn't know earlier!


Sunday, 25 February 2007 - Mum's London Flight & Lydia's YouTube Obsession
My mum left this morning on a 9 plus flight to London for a 3-day business trip. We almost didn't make it to send her off actually. Yesterday we went to bed at about 3am and the alarm clock didn't go off at 5 plus as intended (or we didn't hear, or Lydia turned it off?). I only woke up at 7.15am when I could "see" sunlight through my eyelids and know we're late!

Well, it's my mum's first trip so far away on her own. Hope everything will turn out fine and she won't lose anything! Bon Voyage! She can finally do some shopping in England instead of just visiting football stadiums back in 1997 with 3 soccer fans (me, my brother and dad!).

In case you're wondering why we slept at 3am, it is partly due to my wife's latest obsession: Korean drama series on YouTube! Within 1-2 weeks, she can finish an entire Korean drama series! She has learnt to be more tech-savvy too, opening multiple parts of each episode so as to download them for viewing later and hijacking my computer for its LCD screen and stable network connection.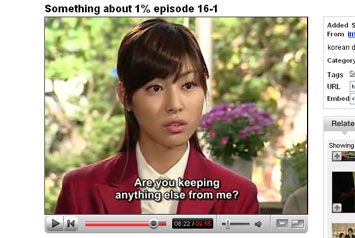 Something about 1%, Lydia's latest Korean drama series

I can always hear her giggling away now and then when watching YouTube. And last Friday nite, after saying goodnite to her at 2am, she finally slept around 4plus!! Initially she said it was 2plus. But after I told her I could check the computer log and know what time she slept, she confessed and revised her declared sleeptime from 2plus, to 3plus, to 4plus!

It's all her 2nd sister's (Phebe, who is in Hokkaido) fault for introducing YouTube Korean drama series to her! Without a TV in Japan, YouTube was her TV!


Saturday, 24 February 2007 - CNY Gatherings
Yesterday I had my company's CNY dinner at Tung Lok @ Noble House. The food was quite nice, service was not very good (but no heart to get upset with forgetful, friendly aunties) and the interior deco was nice. But at the end of the dinner, there was still space for a McDonalds' Big Mac meal in my stomach. Upsize to Extra Value meal also can...

Anyway, we had a lunch gathering at Charlene's (Lydia's office colleague) home at Whitewater at.... Pasir Ris! Thankfully Tricia gave us a ride there and with my best navigational attempt, we unfortunately still came out of the TPE one exit too early (it's not my fault the condo map didn't show an extra exit after Elias Road). We finally made it to the condo after pulling out the street directory, getting trapped in Ikea Tampines and Tricia unknowingly shooting a red light (no cameras detected, checked!).

The home was nicely furnished and designed, and the home-cooked food was nice too! After a series of card games and chit chats, it was mid afternoon and Tricia gave us a lift back home.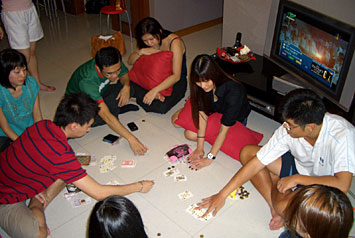 Lydia (bottom-left head), Tricia (bottom-right head) & Charlene (top-left white shorts)

And in the evening, we went out again to Merchant Court for the annual CNY dinner at Ellenborough Merket Cafe with relatives from my mum's side. I wouldn't say the food is fantastic. What saved the day was these two dishes below: salmon sashimi & durian paste dessert (excellent!)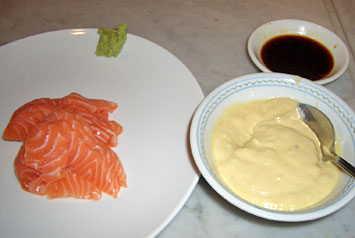 Solid durian paste dessert. Had loads of salmon sashimi too!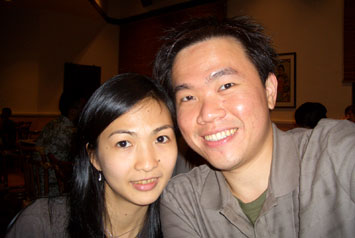 In our new brown-theme CNY clothes


Thursday, 22 February 2007 - Back From Padang, Indonesia!
This year, we spent Chinese New Year with Lydia's family! We flew over on the 15th and returned on 20th actually.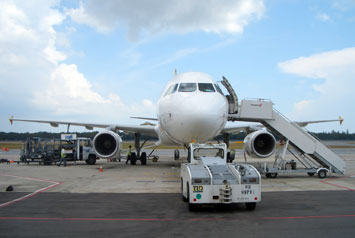 Our TigerAirways flight waiting at Budget Terminal

It was interesting to experience CNY in Padang. The people hang red lanterns outside their home, and play karaoke CNY videos on their TVs. I got ang paos from my in-laws too (even though married!)!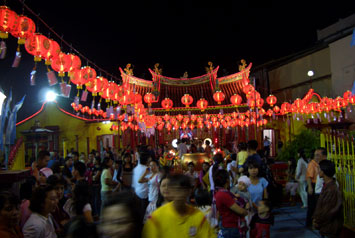 Lanterns everywhere in Padang during Chinese New Year

The food there is fantastic! We had really great food like fish head curry (twice!), ikan bakar and es durian. What better way to enjoy the meals by eating with your fingers (no fork and spoon!)! Yummy!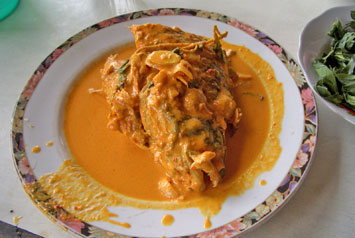 Fishhead curry, Padang-style! Only SGD16 for 4 superb fishheads!!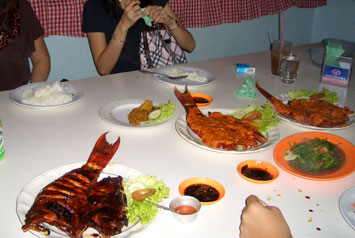 Have your ikan bakar (fish) in curry sauce or BBQ sauce.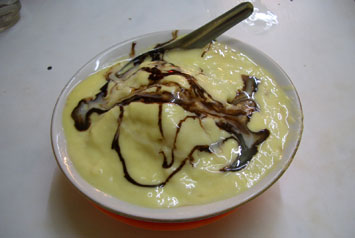 Es durian! Rich, creamy durian paste generously layered on ice..

And we also totally pampered ourselves with hair massage (SGD6 only!), foot reflexology and body massage. I had a haircut too at SGD3 and dyed my hair as well. Besides eating and being pampered, we accompanied Esther (Lydia's sister) for her wedding gown fitting and also checked out her partially renovated new home.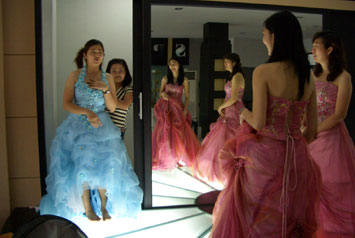 Esther, Lydia and eldest sis Sonny having their try-outs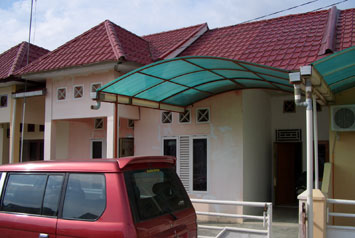 Esther's new home

Overall, it has been a really relaxing and stomach-fulfilling trip! Only bad thing is that I've got lots of pimples in return! :(


Wednesday, 14 February 2007 - Happy Valentine's Day!
She said, "No need to give flowers lah."

What will you do?
A) Okay lor, she said no need to give, dun give lor...
B) Dun be a blockhead. Of course you give!

I chose B! And it was her first time receiving it on Valentine's Day in her new company. :)




We went to Bugis Junction for dinner at Pastamania, together with Matthew, the cute and cuddly bear. She really likes the bear, cos it is very soft, big and can hug, haha! Tonite I may have to share the bed with him!

Some people think it is crazy to go out on Valentine's Day cos it is soo crowded and eating places are so packed. But I like going out on Valentine's Day. Cos that is one day where you really see a lot of people in-love, in-like, walking with flowers, soft toys, and other presents in their hands. A day where you just smile to yourself whenever you see a guy alone, with flowers in his hand, knowing that for the sake of love, he'd do something so totally icky, yet romantic, for a girl of his dreams.

Happy Valentine's Day everyone, whether single, married or dating!


Thursday, 8 February 2007 - Farewell, My ex-Mistress
It was in August 2002 that we met. My wife calls her my mistress cos I spent so much time with her.

Well, it is ex-mistress now. I sold her off on Yahoo auction for $200 and the buyer took her away today. Farewell my love!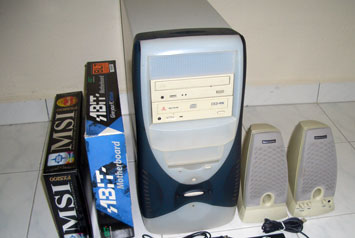 With fond memories:
Intel Pentium4 1.8GHz (Socket 478)
Abit BL7 Motherboard (Intel i845 chipset, 6 PCI slots, 1 AGP, 2 serials, 1 parallel, 2 PS/2, 3 USB ports)
512MB SDRAM @ 133MHz (256MB Kingston PC-133 + 128MB Kingston PC-133 + 128MB Kingston PC-133)
128MB MSI nVidia GeForce FX5200 AGP graphics card (with TV-out, VGA/DVI-out)
80GB IBM Deskstar 120GXP Harddisk (7,200RPM, ATA-100, 2MB cache)
3Com 32900TPO 10Mbps network adapter
Creative SoundBlaster Live! audio card (Motherboard comes with integrated AC'97 audio also)
IOMEGA CDRW23040 CD-RW drive (40x12x40)
Hitachi GD-2000 DVD-ROM drive
Floppy drive
iCute 550W Power Supply Unit
ATX casing


Monday, 29 January 2007 - Back From The Land of Snow!
We're back in Singapore! After a 11D/8N trip to Japan!! Together with my parents, we went on a 3-night tour package holiday in Tokyo, before going free and easy in Hokkaido for 5 nights!!

It was a truly enjoyable experience, especially when we were in Hokkaido. Cos that was when we explored the most (from Sapporo to Otaru to Kotoni, by JR railways, subway trains and bus!), experienced the most (wonderful snow, sub-zero temperature, skiing, snow-mobile and lots of food!), and really appreciated and witnessed the Japanese culture and lifestyle (super-ultra politeness, cleaniness, gals in mini skirts & boots with immaculate hairstyle & makeup, men in suits, porn mags in convenient stores, and much more!).

If I have the time, I'll post-blog the travel experience day-by-day with photos. Keep a lookout for it!

In the meantime, here are some teaser photos!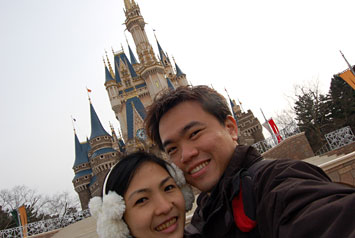 At Tokyo Disneyland!



A night walk in Maruyama Park, near Hokkaido Shrine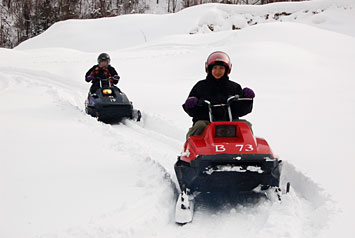 Snow-mobile rides up the mountain of Mt. Goten!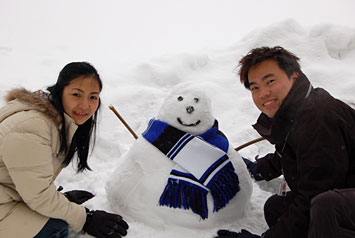 Our first snowman. :)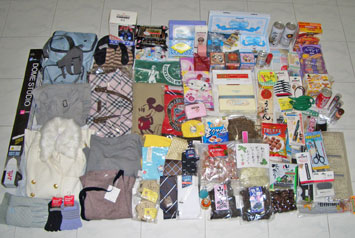 Our shopping goodies! How on earth did they fit our luggage??


Wednesday, 17 January 2007 - A Snowy Dream
No matter how sua ku this may sound... but after 30 years on Planet Earth, I am finally going to have the chance to see some real snow!

Yes! Not those fake artificial snow at Snow City, or hard-like-rock snow on the grounds of Mount Titlis. But real, fluffy, snow that falls out of the blue sky (will it be blue?) and lands on your face. Where you can have snow fights and build snowman, and dive into the snow and not hurt yourself. That kinda snow...

I'm dreaming already of the days to come. Sayonara! :)


Saturday, 13 January 2007 - The Big Plan
We had a 3 1/2 hour marathon discussion with my parents today at McDonald's @ Ridout Tea Garden. We trashed things out and at the end of it all, we managed to settle almost every issues at hand. Through much perseverance, we have almost completed our.... Japan trip itinerary plan!

What, you didn't think it was some big quabble, did you? :)

Unfortunately, for the 2nd time when we met my parents, there was a parking fine again! $40 this time!! I thought it was free parking here! I've never put any parking coupons when I'm here previously leh...

After dinner, we returned home where I was looking forward to some EPL soccer action on TV. Unfortunately, the TV was hijacked by my dear wife for her Korean drama serials! I missed out on all the action from the 3-1 Man U victory to the 4-0 Chelsea victory!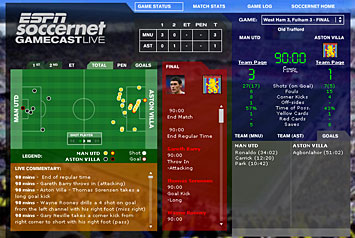 Who needs CableTV live action when there's web-based live action..


Monday, 8 January 2007 - $6 ok, $6000 not ok
I had to pay a $6 parking fine. Hey, it was not my underdoing, but was paying on behalf of my dad! Anyway, imagine the irony when I discovered that I can pay the $6 fine at URA website by..... yes! Credit card! AMEX also can!

I can't help but ponder how ridiculous this looks: I could use my credit card to pay a $6 fine, but I can't use my credit card to pay a $6000 tour package??? It doesn't make sense right??


Sunday, 7 January 2007 - Babies Day Out?
Every year or so, we would have a meet up with my JC friends. No, not my science class of techie guy pals, but Cindy, Christina and Victor from the arts class. It's a long story how we became friends, but our friendship has lasted since 1994!

Today, we met up to celebrate Cindy's 2nd baby (!!!) Dave's first month anniversary at her home. Wow, her place is like a childcare centre! Lots of toys here and there, and kids and baby stuffs. :)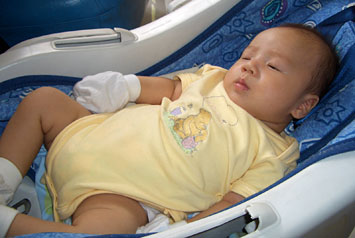 Meet baby Dave!

Christina also brought along baby Christian. Very cute baby and he certain likes to drool and speak (make noise)!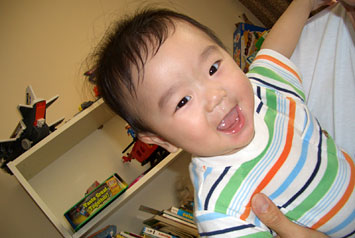 Meet baby Christian!

Throw in Phil (Cindy's 1st kid) and it certainly starts to feel that I'm in a baby's childcare gathering!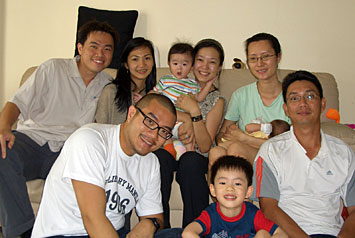 The evolution of AJC class of 1993/1994


Saturday, 6 January 2007 - The Tricks Tour Agencies Have
This morning, we went down to Asia-Euro with my parents to complete the deal and payment of our Japan tour package. Oh man... I tell you, dealing with tour agency certainly ranks up there with dealing with credit card Telemarketeers and Timeshare promoters. In fact, I think they are worthy to be called the pinnacle of the pyramid. Just when you overcome one obstacle, another one comes along.

Scene X:
Mode of payment

The Good Guys:
Meet Jane and John. Jane and John signed up for a tour package at the NATAS fair, together with John's parents. They paid for the deposit with John's credit card and were informed remaining amount can be paid with credit card installments.

The Bad Guys:
Meet Asia-Euro. The tour agency dropped da bomb that only cash or cheque payment is accepted for remaining payment. Otherwise, they will have to impose a 2.5% merchant fee. Whatever took place at NATAS fair... is limited to special NATAS fair promotion/agreement at that time only, and any mistakes by their tour agent is regretted.

What it means: Tour agent didn't tell Jane and John that remaining amount has to be cash? Too bad! How come Jane and John can pay deposit by credit card but not remaining amount? Becos there was some special NATAS fair merchant fee absorbent which tour agency is now not obliged to absorb. Too bad!!!

The Outcome:
As much as Jane and John could argue and reason with the tour agency till the cow comes home, the merchant fee still has to be imposed. Although the tour agency is no fly-by-night, 1-man-operation business, merchant fee has to be imposed for credit card payment. Jane and John just have to take the deal. It's their way, or the highway.

Almost $6000 in cash payment. At times like this, I wished I had some lawyer friends to consult. Any out there??


Friday, 5 January 2007 - A Dragonfly That Can't Fly
Met up with George, Corrine and Charmaine at Island Cafe @ Vivo City after work. Though the menu selection is pretty limited, it's a very cosy and quiet cafe. It was perfect for chit chats!

We headed over to Dragonfly at St James Power Station around 10pm. It's amazing an old power station can be converted into the current hottest clubbing destination. Here's an idea: Convert the non-operational LRT stations in Punggol to a night spot too!

Anyways! George is a club member of Dragonfly! Wah, so happening huh! We all got in for free with cover charges waived. :)

And it was very crowded inside! Saw Serin inside too! We barely found a spot with some table space where it could accomodate the ice bucket, 5 glasses, 2 jugs of green tea and George's bottle of Hennessy.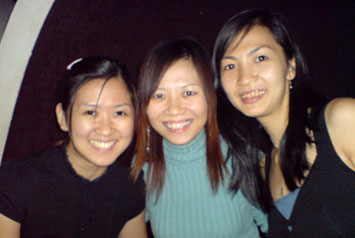 Charmaine, Corrine & Lydia @ Dragonfly

The music was not bad too. And it was in english! I was misinformed into expecting mandarin and canto pop! Only the live performance were in mandarin, cantonese, and thai too! Sylvester Sim was also one of the performing artiste. With his new haircut, I could barely recognise the boyish Sylvester.

As usual, my face starts to get flushed after a few drinks. Actually, I thought I was pretty sober. The green tea masked the taste of Hennessy so much it feels like drinking... green tea. Or maybe I had underestimated Mr Hennessy...?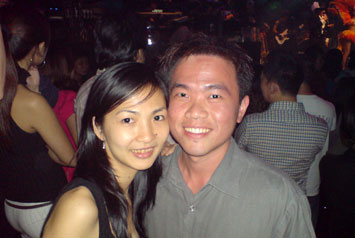 I am completely sober! Ok, maybe 70%...

We left the place about 12 plus and went for supper at an Indian prata stall along Kampong Bahru. It was really hilarious and fun chatting with them. We learnt something new about them, like where Corrine's hands wander to when she sleeps, George's happening nightlife, and Charmaine's driving skills (in a positive way, that is!).

By the time we hit the bed after bathing, etc, it was 3.30am! Good night!!


Tuesday, 2 January 2007 - Wakeboarding! Yeah!
Poor Lydia gotto go back to work today cos her German company do not celebrate Hari Raya and they had to meet the closing. I was thus responsible for taking the family out for breakfast, do some last minute strawberry and kiwi fruit purchases, and getting them to the airport for their 2.30pm TigerAirways flight. Soo Kee was very nice to offer to send them to the airport. My parents also came and drove them to the airport (two cars needed!).

At 2pm, Soo Kee, his friend and I went wakeboarding at Punggol! Swee Wai was supposed to go, but that girl was mysteriously uncontactable. Anyway, it's been a few months since our first time, so was wondering if I could still manage to get up and wakeboard.

I failed on the first two tries. :P The instructor told me not to get up so fast. Ok..

And I was successful on the 3rd attempt! Yay! This time round was more stable on the waters. After a while of staying in the boat's wake, the instructor motioned me to move out of the wake. "What? Is he crazy? I'll never make it past the turbulent wake waves!"

True enough, I crashed! :D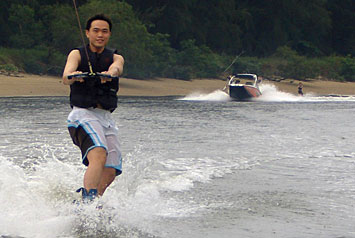 Oh yeah!

But I made it across on the 2nd try! It was a really exciting feeling and the pull definitely feels different compared to the middle. I was totally exhausted by the next crash and handed over to Soo Kee to take over. The dude managed to get up on his 2nd attempt. Not bad at all! Considering he took like 6-7 attempts the previous time. :D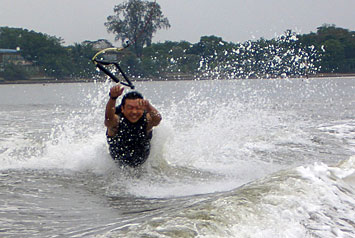 Soo Kee demostrating the superman stance

We had lots of fun. There were a couple of boats zipping by with wakeboarders who could do one-hand and flying over the waves, and all that. Females too! It comforted us when the instructor said that they are regulars. :P Only pity is that Soo Kee's friend didn't manage to get up and wakeboard properly, and also that our boat's engine died after 1 1/2 hours.

Must do this again sometime! Expensive though! Cost me $50 today!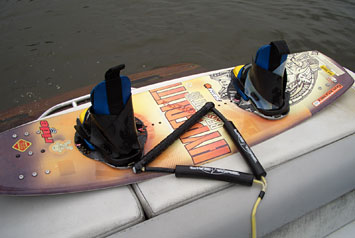 Our wakeboard!

On another note, Lydia and I met up briefly with the PMC (Pre-marital counselling) group at Settlers Cafe @ Clarke Quay for dinner. Jason and Fenny was there too. Unfortunately, we couldn't stay long and join them in the board game cafe as Lydia was really not feeling well. But it looks like quite a fun game (took part a little bit) and definitely an interesting cafe concept!


Monday, 1 January 2007 - It is 2007 Already!
Wah! We're living in 2007 already! Time really just flies by!

After breakfast at Toa Payoh's MacDonalds, we headed to Singapore Zoo! I think I was there about 6 years ago! There was already a big crowd and it was quite a hot day. A couple of hours later, we were pretty drained and longing for lunch. The on-site KFC was very much welcomed, but the queue was atrocious! But bo pian, still kuai kuai gotto queue to fill our stomachs.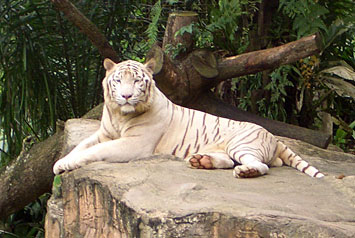 The majestic white tiger stares back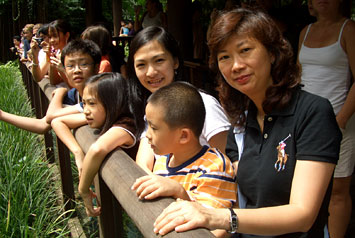 Lydia, her sis, and the 3 little kids

Our plans to visit Jurong Bird Park was scrapped as it was already in the evening when we were done with the zoo. After returning the car to my parent's home, we headed to Vivocity for a while before calling it a day.